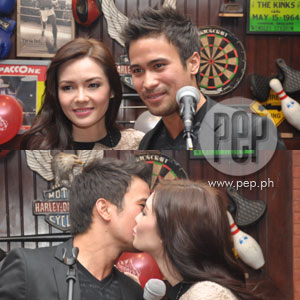 ---
Sam Milby was the special surprise guest of Marie Digby, Youtube sensation and international acoustic singer extraordinaire at her album launch of Your Love in TGIF Trinoma last October 26. Marie (pronounced Marie-ey) even though she is surprisingly already 28 years old, looked like a blushing young woman in lace and boots and warmly welcomed Sam when he joined her onstage.
Sam had just finished a pictorial, but smelled and looked good all the same despite the rush hour traffic.
What did Sam think when he was asked to sing with Marie Digby and eventually do a music video with her?
"I've been a fan.. a fan... even before I knew her. To actually be doing one of her songs and music videos... the first time to perform together was like, wala lang. Thankful talaga na she allowed me not only to do a duet with her but to allow it on my album too!" he says with a wide, wide smile.
"Sobrang bait siya, sobrang bait."
What Sam appreciates most about Marie is that "even when she's tired and upset...." He goes on to relate the story of a boy begging from Marie, with Marie giving him twenty and the boy throwing it back at her as if to say, 'yun lang?' Marie, Sam explains, was dead-tired and had just arrived at the airport. When he heard this story from Marie, he said his reaction would have so different, "magagalit ako, manlilimos ka sa akin tapos magiging..."
Sam relates, "Siya [Marie], ang sabi niya, 'I'm sorry, kailangan ko ng pang-taxi, pasensya na po. Parang ganoon. Sobrang bait, hindi siya nagalit!"
As a friend, Sam shares that Marie is very thoughtful and sweet. He says, "of course one of the nice things is singing with her, and her allowing the song on my album. She went to Japan and she knew that I had lost my coffee mug [tumbler], mayroon lang noon [design] na yun sa Japan. And she got one there and brought it to me here. She gave it to me the other day. Tapos last year when she was in Hawaii, postcard and pasalubong."
ADVERTISEMENT - CONTINUE READING BELOW
The two ended up giving everyone the full worth of the song as they sang for the first time, live, Your Love, the carrier single of Marie Digby's newest album co-produced by Star Records and MCA Music. They swayed together, looked into each other's eyes and simply had great chemistry singing one of Marie's own compositions.
NEW ALBUM. Marie Digby, who interestingly has no Filipino blood whatsoever, is now based out of Los Angeles and Tokyo but will be here in the Philippines for an extended amount of time.
This is to promote her album Your Love, co-produced by Star Records and MCA Music. She loves living in the Philippines though, given the little time she spends here. "I love it here. But I feel like a gypsy, living out of a suitcase. So I'm like wearing the same things over and over again."
But with Marie's lithe frame and beautiful bone structure from head to toe, she could be wearing rags and still look fab in them.
Your Love is a lot brighter than the other albums, Marie says. This album conveys her struggle to let people really see who she is, "I was a bit selfish, I wanted to forget about some of the bad things I'd faced, so I just wanted it to be pure, bright, uplifting."
For her, soaps and acting on TV shows are not an option right now. She does say she'll be on ASAP Rocks some more. And perhaps some musical shows, too. She remains open to acting though but probably not for this season.
Does it still baffle her why she has so many Filipino fans? She thought at first, "do they like me, really like me or do they think I'm Filipino, part-Filipino that's why they like me? I don't know what the answer is, and I don't care. I'm just grateful."
ADVERTISEMENT - CONTINUE READING BELOW
So what's going on now with her career in Japan? Considering that shs hails from the land of the rising sun, what is Marie doing for and with them? "I'm doing an album out there, I'm working on it and it's gonna come out next year. That will be under an independent record label in the United States."
What continues to surprise, and frankly baffle her, is how Filipinos love music, sing along to her songs, but then, when she puts the microphone in their face at a concert or show, they go "mmm, quiet... and yet they've been singing along the whole show! What I appreciate though is that they're not just on the surface, they wanna go deeper, they wanna know you," relating it to how involved Filipino fans actually are.
"They want to know what you like, what your inspirations are, and they're life-long fans..."
Marie says that Filipinos are not necessarily hard to please, just that because of the level of talent here, she says "that if you're not at a certain level I don't know if you'll be successful..."
Does she ever feel that the curiosity and endless fascination that Pinoys have with their favorite stars, including her now, is somewhat invasive? Or does she consider it a welcome treat? "That's actually really, really welcome. The invasive part, asking about my dating life... or things that I'm not comfortable talking about even to my parents, things that I don't want to talk about... everything else I'm completely open."
Marie has discovered that the balance between keeping things open and what to keep private is this: "My usual rule is I don't talk about my dating life, religion or politics because I have an opinion on all three but so does everybody else and I don't really want to step on anyone's toes."
ADVERTISEMENT - CONTINUE READING BELOW
She tries her best to keep that rule but bends it occasionally for her Filipino fans.
FRIENDSHIP WITH JERICHO ROSALES AND JAMES YAP. The happily single Marie Digby also shares about her friendship with Jericho Rosales who recently went to New York for 2-3 months. They are good friends even if they don't keep in touch as much. She says, "he let me know that he bought the album when he came back and that he loved the way our duet turned out. We're good friends."
Of her writing and singing, Marie says this is when she is at her most "pure, at ease. The most me."
Speaking of being at ease, Marie also clarifies that she doesn't feel the need for James Yap to apologize to her for whatever may have purportedly happened. She points out, "We don't date. We would have dated a long time ago, if ever. We've been friends for 6-7 months."
She explains how they met through a mutual friend and how things got started on Facebook through an exchange of messages. She says that he doesn't need to apologize because "it's not a big deal. There's nothing to apologize about."
"At the end of the day, I have control of what I want to say. I can really be asked anything and it's up to me to decide what I want to reveal."