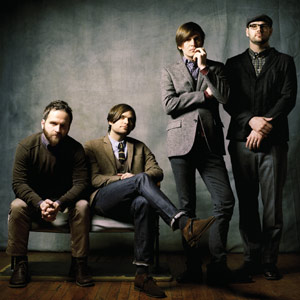 ---
Death Cab for Cutie, an American alternative rock band from Washington, is scheduled to perform at the NBC Tent, Taguig on March 5, 2012 at 8PM.
The band is known for their songs "The Sound of Settling" (from 2004's Transatlanticism), "I Will Follow You into the Dark" (from 2005's Plans) and "I Will Possess Your Heart" (from 2008's Narrow Stairs). Perhaps Rolling Stone said it best when it described the band's last independent outing as having "melodic, melancholy songs about feeling both smart and confused, hopelessly romantic but wary of love."
The group's underground successes soon made way to mainstream programs. TV shows (The O.C., Six Feet Under, Californication) and movies (Wedding Crashers, Twilight: New Moon) started carrying their material.
Death Cab for Cutie is composed of singer-songwriter Ben Gibbard, bassist Nick Harmer, guitarist Chris Walla, and drummer Jason McGerr. Their newest release, 2011's "Codes and Keys," was written during a time of radical changes in Gibbard's personal life. But, contrary to their previous material, fans can openly embrace this new record without shedding buckets of tears.
"I feel like if there is a theme of home throughout [Codes and Keys], it has as much to do because of the changes that have happened in my life," the songwriter said some time ago in a press statement. "I've rediscovered what the definition of home is," the low-key musician admitted.
VIP tickets are priced at P3,800, while Gold tickets are at P2,800. Visit TicketNet outlets to purchase.
DCFC's music is distributed locally by Warner Music Philippines.