After Gigi De Lana's cover of "Bakit Nga Ba Mahal Kita" broke the internet a few months ago—thanks to her bandmates' prank that made her unleash her impressive vocals for the online community to hear—fans have been wondering what's next for the up-and-coming Star Magic artist and RISE Artists Studio talent.
You don't need to follow Gigi or her band GG Vibes on social media to know about her upcoming project with one of today's award-winning showbiz personalities Gerald Anderson, though—which is among the interesting projects we've been looking forward to seeing. As for the rest of her must-watch gigs, we've rounded up below what's in store for the singer-actress-TikTokerist and now PLDT Home ambassador: 
Releasing her debut album
While we're counting the days before 2021 comes to an end, Gigi and her bandmates Jon Cruz (musical director, keys), Jake Manalo (bass), LA Arquero (guitars), and Romeo Marquez (drums) are counting the ways to give back to their fans who've supported them throughout their journey.
Just recently, Gigi, at 26, dropped her first single "Sakalam" which immediately became Spotify Philippines' top song in the Fresh Finds playlist. The original music was produced by ABS-CBN Music and written by the band's director Tritone and drummer Marquez. Dropped last September, the song 'Sakalam' is a slang word for 'Malakas' ['strong'] which is meant to bring out strong and deep emotions from the listeners, especially those experiencing heartbreaks.
Gigi revealed details of her debut recording at the PLDT Home media event, along with the creative work that went into the album. It was all about composing songs that are "very personal," she said. Think alternative pop or rock genre, Avril Lavigne or Haley Williams, she added.
"We want to show people that we are authentic," Gigi declared.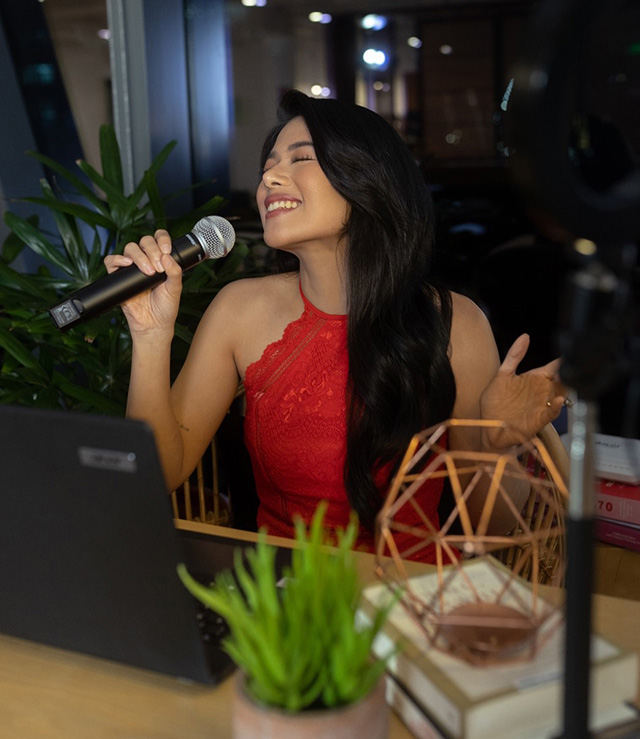 Headlining her first digital concert and joining a Pinoy music festival
Gigi's budding recording career will only complement her already thriving life as a performer. The multi-hyphenate is also set to stage her first YouTube Music Night concert in December.
She shared: "We have a digital concert. We are preparing by rehearsing. Ina-areglo [namin] ang songs so that [they] match the personality of the band. We are preparing by making the songs our own."
On December 3, before her year-ender musical treat to fans, Gigi will head to Dubai to be part of 1MX (One Music X) Dubai, one of the biggest Filipino music festivals being toured around the world.
Launching more livestreams to spread good vibes
Gigi started her journey with GG Vibes performing at weddings and, yes, funerals. Then the pandemic happened and the band had to innovate to share their music with their fans. Thus, the Gigi De Lana and The Gigi Vibes livestream channels on YouTube and Facebook were born. And then the viral Roselle Nava cover happened.
Gigi promises to be still at it: Spreading positive vibes and entertaining listeners as a way to help amid these trying times. Fans can expect more double-tap-worthy content from GG Vibes, she says, especially now that the band has a high-speed and reliably stable internet connection in PLDT Home. More interactive and engaging livestreams that feel like an actual concert brought to your home, she teases followers.
"We can immediately react and engage with our fans now during our live shows without worries about any connection interruption," Gigi told PEP.ph exclusively. "Our fans can also enjoy a high-definition quality of our video streams."
Joining the PLDT Home Family
As the new face of PLDT Home, Gigi could only feel a mix of glee and gratitude.
"I'm very happy, [and] my mom is also happy," she said at the brand's media event. Adding to this, Gigi mentioned how she's elated to fulfill her mom's dreams for her – to be successful in her music career and in the future, be featured in her own billboard.
"PLDT Home helped me connect with my fans online and grow my audience. As a PLDT Home subscriber myself, ever since we started livestreaming, PLDT Home has never let us down."
Gigi's road to stardom continues to pave the way for her to share her talents and values with her fans. Her word of advice to other dreamers who wish to follow in her footsteps? Harnessing the power of consistency.
"For those who are trying to stay productive, remember that when you start anything, you have to be consistent. Trust the process," she said.
Making the experience all the more rewarding for Gigi as PLDT Home's newest brand ambassador, she gets to share with fellow PLDT subscribers the exciting rewards of the PLDT Home Rewards Grand Giveaway program. Gigi shares how PLDT Home subscribers like her can get a chance to win gadgets, P50,000 cash weeky, and P1.5 million worth of SM Gift Cards at the PLDT Home Rewards Grand Giveaway running this November.
Also up for grabs as part of PLDT Home's major prizes would be two (2) Watch-at-Home bundles, two (2) Sony PlayStation® 5 Game-at-Home bundles, and two (2) Crate & Barrel makeovers worth Php 500,000 each. And the best part is, one lucky PLDT Home subscriber will get to take home a whopping P5 million in cash at the grand draw on December 8!
New and loyal members of the PLDT Home Rewards program like Gigi can join the Grand Giveaway. They can score one raffle entry for every five (5) crystals earned. Enrolled subscribers can obtain crystals by paying PLDT bills on time and in full, applying for paperless billing, using digital payments, and availing other PLDT services.
For more information about PLDT Home, you can visit this link.
Per DTI Fair Trade Permit No.FTEB-116765 Series of 2021
Follow PLDT Home
Website
https://web.facebook.com/PLDTHome
Read the story? Tell us what you think!
How and where can I get this?