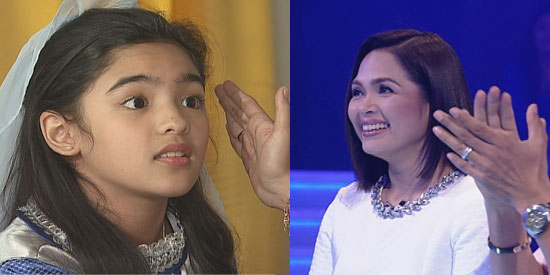 ---
In the primetime block, Honesto is still the most watched soap opera among teleseryes.

Meanwhile, ABS-CBN's TV Patrol is still the most watched news program among urban and rural households nationwide.

ABS-CBN's remake of Annaliza has consistently landed on the No. 3 slot since November 8, 2013. In the storyline, Annaliza (played by Andrea Brillantes) gets tougher and finds the courage to defend herself from those bullying her.

Judy Ann Santos' Bet On Your Baby took the No. 1 spot on Saturday primetime, November 9, while Pepito Manaloto (led by Michael V) took the top spot on Sunday, November 10.
Nonito Donaire is the king of the ring as he knocked out anew Victor Darchinyan in their rematch. This boxing match registered ratings of 26.4 percent when it aired on ABS-CBN, allowing it to become the most-watched program last November 10.
Here are the comparative Household Ratings of ABS-CBN, TV5, and GMA-7 programs from November 7 to 13, 2013 based on the overnight ratings of Kantar Media/TNS among Total Philippines (Urban & Rural) households:
November 7, 2013 (Thursday)

MORNING:
Kape't Pandasal (ABS-CBN) 0.3%; TNT Tapatan Ni Tunying - Replay (ABS-CBN) 1.1%; Born To Be Wild - Replay (GMA-7) 1.3%

Umagang Kay Ganda (ABS-CBN) 6.8%; Unang Hirit (GMA-7) 4.4%
Kris TV (ABS-CBN) 6.5%; Dragon Ball (GMA-7) 6.5%; Pokemon (GMA-7) 7.5%; One Piece (GMA-7) 7.1%
Power Rangers Samurai (ABS-CBN) 7.3%; Bleach (GMA-7) 6.6%
Jackie Chan Fantasia (ABS-CBN) 7.2%; Shaman King (GMA-7) 6.6%
Harapan Sa Senado: The ABS-CBN News And Current Affairs Special (ABS-CBN) 8.4%; Kusina Master - Sikreto Ng Experto (GMA-7) 5.4%
Crazy Love (ABS-CBN) 8.7%; Harapan Sa Senado: The ABS-CBN News And Current Affairs Special (ABS-CBN) 10.5%; Minute To Win It (ABS-CBN) 12%; Lola (GMA-7) 5.6%

AFTERNOON:
Be Careful With My Heart (ABS-CBN) 15.7%; It's Showtime (ABS-CBN) 12.3%; Eat... Bulaga! (GMA-7) 9.4%; Villa Quintana (GMA-7) 8.2%
Kapamilya Blockbusters: Crazy Little Thing Called Love (ABS-CBN) 12%; Magkano Ba Ang Pag-Ibig? (GMA-7) 7.8%
Galema: Anak Ni Zuma (ABS-CBN) 13.8%; Pyra: Babaeng Apoy (GMA-7) 9.2%
TNT Tapatan Ni Tunying (ABS-CBN) 11.5%; The Love Story of Kang Chi (ABS-CBN) 17%; Fabulous Boys (GMA-7) 8.9%
ADVERTISEMENT - CONTINUE READING BELOW
EVENING:
Annaliza (ABS-CBN) 24.4%; Prinsesa Ng Buhay Ko (GMA-7) 13.4%
TV Patrol (ABS-CBN) 29.3%; 24 Oras (GMA-7) 18.8%; Let's Ask Pilipinas (TV5) 3.2%; Madam Chairman (TV5) 3.2%
Honesto (ABS-CBN) 29.4%; Genesis (GMA-7) 14.1%; For Love or Money (TV5) 2.9%
Got To Believe (ABS-CBN) 24.6%; Kahit Nasaan Ka Man (GMA-7) 12.6%; Positive (TV5) 2.3%
Maria Mercedes (ABS-CBN) 15.9%; Akin Pa Rin Ang Bukas (GMA-7) 11.2%; History With Lourd Tsismis Noon Kasaysayan Ngayon (TV5) 1.8%
Bukas Na Lang Kita Mamahalin (ABS-CBN) 11.6%; A 100-Year Legacy (GMA-7) 6.1%; Pilipinas News (TV5) 1.7%
Bandila (ABS-CBN) 5.7%; Saksi - Liga Ng Katotohanan (GMA-7) 4.5%; Reaksyon - Kasama Si Luchi Cruz-Valdes (TV5) 0.8%
Banana Nite (ABS-CBN) 2.1%; Alisto! (GMA-7) 2.5%; NCAA 89 Men's Basketball: SBC vs. UPHSD (TV5) 0.3%
O Shopping (ABS-CBN) 0.7%; Tim Yap Show (GMA-7) 1.3%
November 8, 2013 (Friday)
MORNING:
Kape't Pandasal (ABS-CBN) 0.4%; Matanglawin - Replay (GMA-7) 1.2%; Born Impact Born To Be Wild Weekend Edition – Replay (GMA-7) 0.9%
Umagang Kay Ganda (ABS-CBN) 7.7%; Unang Hirit (GMA-7) 6.2%
Kris TV (ABS-CBN) 6.6%; Dragon Ball (GMA-7) 6.9%; Pokemon (GMA-7) 7.1%; One Piece (GMA-7) 7.5%; Bleach (GMA-7) 6.4%
Mr. Bean (ABS-CBN) 6.1%; Shaman King (GMA-7) 6%
Crazy Love (ABS-CBN) 6.5%; Kusina Master - Sikreto Ng Experto (GMA-7) 4.1%; Lola (GMA-7) 4.9%
Minute To Win It (ABS-CBN) 9.7%; Anak Ko 'Yan! (GMA-7) 5%
AFTERNOON:
Be Careful With My Heart (ABS-CBN) 13.3%; It's Showtime (ABS-CBN) 10.6%; Eat... Bulaga! (GMA-7) 10.4%

Kapamilya Blockbusters: Wag Kang Lilingon (ABS-CBN) 10.2%; Villa Quintana (GMA-7) 8.8%; Magkano Ba Ang Pag-Ibig? (GMA-7) 8.3%
Galema: Anak Ni Zuma (ABS-CBN) 11.3%; Pyra: Babaeng Apoy (GMA-7) 9.4%
News Patrol (ABS-CBN) 12.6%; The Love Story of Kang Chi (ABS-CBN) 14.7%; Fabulous Boys (GMA-7) 9.7%
EVENING:
Annaliza (ABS-CBN) 19.6%; Prinsesa Ng Buhay Ko (GMA-7) 12.7%
TV Patrol (ABS-CBN) 22.9%; 24 Oras (GMA-7) 17.5%; Let's Ask Pilipinas (TV5) 2.9%; Madam Chairman (TV5) 3.5%
Honesto (ABS-CBN) 21.2%; Genesis (GMA-7) 11.9%; Friday Night Action: Faster (TV5) 5.5%
Got To Believe (ABS-CBN) 18.5%; Kahit Nasaan Ka Man (GMA-7) 9.8%
Maria Mercedes (ABS-CBN) 12.3%; Akin Pa Rin Ang Bukas (GMA-7) 9.5%
Bukas Na Lang Kita Mamahalin (ABS-CBN) 8.7%; Bandila (ABS-CBN) 4%; Bubble Gang (GMA-7) 6.9%; Astig: Sa Sports Walang Tsamba (TV5) 1.9%; Pilipinas News (TV5) 1.1%; Reaksyon - Kasama Si Luchi Cruz-Valdes (TV5) 0.5%; Chef vs. Mom (TV5) 0.4%
ADVERTISEMENT - CONTINUE READING BELOW
Banana Nite (ABS-CBN) 1.4%; Saksi - Liga Ng Katotohanan (GMA-7) 3.8%


O Shopping (ABS-CBN) 0.6%; Tim Yap Show (GMA-7) 1.2%



November 9, 2013 (Saturday)
MORNING:
Sa Kabukiran (ABS-CBN) 2.4%; Kapwa Ko Mahal Ko (GMA-7) 2.1%
Salamat Dok (ABS-CBN) 5%; Pinoy MD: Mga Doktor Ng Bayan (GMA-7) 4.5%
Swak Na Swak (ABS-CBN) 4.1%; Cinderella (GMA-7) 6.9%


Honey Watch Out (ABS-CBN) 3%; Super Book (ABS-CBN) 9.6%


Why Not? (ABS-CBN) 3%; Paddle Pop Begins (GMA-7) 10.5%


Fanboy & Chum Chum (ABS-CBN) 3.2%; Angry Birds Toons (GMA-7) 11.5%


The Penguins of Madagascar (ABS-CBN) 4.3%; Pororo (GMA-7) 9.5%


Kung Fu Panda Legends of Awesomeness (ABS-CBN) 5.6%; Tropang Potchi (GMA-7) 6.1%


Spongebob Squarepants (ABS-CBN) 6.6%; Sarap Diva (GMA-7) 5%
Be Careful With My Heart Sabado Rewind (ABS-CBN) 6.8%; Maynila (GMA-7) 6.9%


AFTERNOON:
News Patrol (ABS-CBN) 12.4%; It's Showtime (ABS-CBN) 14.5%; Eat... Bulaga! (GMA-7) 13.8%; Startalk (GMA-7) 6.3%
Bagsik Ni Yolanda: An ABS-CBN Special (ABS-CBN) 13.5%; Bingit (GMA-7) 5.9%; Wish Ko Lang! (GMA-7) 9.8%
EVENING:
TV Patrol Weekend (ABS-CBN) 25%; 24 Oras Weekend (GMA-7) 17.6%;One Day, Isang Araw (GMA-7) 15.6%; Showbiz Police Intriga Under Arrest (TV5) 1.5%
Bet On Your Baby (ABS-CBN) 25.7%; Vampire Ang Daddy Ko (GMA-7) 15.7%; Pinoy Explorer (TV5) 2.7%
Wansapanataym: Moomoo Knows Best (ABS-CBN) 21.4%; Magpakailanman (GMA-7) 14.4%; Tropa Mo Ko Unli (TV5) 3%
MMK - Ang Tahanan Mo: Singsing (ABS-CBN) 15.5%; Celebrity Bluff (GMA-7) 11.2%; Killer Karaoke (TV5) 3.1%; Juan Direction (TV5) 1.6%
I Dare You (ABS-CBN) 4.5%; Katipunan (GMA-7) 4.9%; Tunay Na Buhay (GMA-7) 2.9%; What's Up Doods? (TV5) 0.7%; Pilipinas News Weekend (TV5) 0.7%
Bandila (ABS-CBN) 2%; The Bottom Line With Boy Abunda (ABS-CBN) 0.8%; Walang Tulugan With Master Showman (GMA-7) 1%
November 10, 2013 (Sunday)
MORNING:
The Healing Eucharist (ABS-CBN) 4.5%; In Touch (GMA-7) 1.3%
Swak Na Swak (GMA-7) 4.2%; Aha (GMA-7) 4.6%


Salamat Dok (ABS-CBN) 4.7%; Super Book (GMA-7) 7.6%; Paddle Pop Begins (GMA-7) 8.7%

Iron Man (ABS-CBN) 5.6%; Pororo (GMA-7) 8%


Miss Universe - Moscow 2013 (ABS-CBN) 17%; Kapuso Movie Festival:
Tiktik The Aswang Chronicles (GMA-7) 10.4%
AFTERNOON:
Vanes Martirosyan vs. Demetrius Andrade (ABS-CBN) 20.5%; Nonito Donaire vs. Victor Darchinyan (ABS-CBN) 23.6%; The Rematch: Nonito Donaire vs.Victor Darchinyan (ABS-CBN) 26.4%; Sunday Power Punch: Pacquiao vs. Dela Hoya (GMA-7) 10.6%; Sunday Power Punch: Pacquiao vs. Cotto (GMA-7) 9.4%

ASAP 18 (ABS-CBN) 10%; Sunday All Stars (GMA-7) 6.6%; GMA Blockbusters: Osmosis Jones (GMA-7) 6.1%

Luv U (ABS-CBN) 10%; I Bilib - Featuring: Is It Possible? (GMA-7) 6.9%
ADVERTISEMENT - CONTINUE READING BELOW
EVENING:
Buzz Ng Bayan (ABS-CBN) 15.7%; 24 Oras Weekend (GMA-7) 14.8%; Kap's Amazing Stories (GMA-7) 18.3%
TV Patrol Weekend (ABS-CBN) 20.9%; Pepito Manaloto - Ang Tunay Na Kuwento (GMA-7) 21.2%; Who Wants To Be A Millionaire (TV5) 3.3%
Goin' Bulilit (ABS-CBN) 19.9%; Rated K - Handa Na Ba Kayo? (ABS-CBN) 17.7%; Kapuso Mo, Jessica Soho (GMA-7) 18.2%; Wow Mali Pa Rin! (TV5) 4.2%
Star Cinema Originals: No Other Woman (ABS-CBN) 10.9%; Imbestigador (GMA-7) 10.9%; The Mega And The Song Writer (TV5) 0.7%
Gandang Gabi Vice (ABS-CBN) 6.1%; Sunday Night Box Office: Tanduay Rhum Rock Fest Year 7 (GMA-7) 3.9%
Sunday's Best: Miss Universe - Moscow 2013 (ABS-CBN) 2.6%; Sunday Night Box Office: Prankista (GMA-7) 2.4%; Diyos At Bayan (GMA-7) 0.2%


November 11, 2013 (Monday)
MORNING:
Kape't Pandasal (ABS-CBN) 0.6%; Sports Unlimited - Replay (ABS-CBN) 1.2%; Tunay Na Buhay - Replay (GMA-7) 1.4%
Umagang Kay Ganda (ABS-CBN) 5.5%; Unang Hirit (GMA-7) 5.1%
Kris Tv (ABS-CBN) 6%; Dragon Ball (GMA-7) 4.6%; Pokemon (GMA-7) 5.1%; One Piece (GMA-7) 5.2%; Bleach (GMA-7) 5.3%
Mr. Bean (ABS-CBN) 6%; Shaman King (GMA-7) 6%


Crazy Love (ABS-CBN) 7.7%; Kusina Master - Sikreto Ng Experto (GMA-7) 4.5%; Lola (GMA-7) 5.3%
Minute To Win It (ABS-CBN) 10.7%; Anak Ko 'Yan! (GMA-7) 5%
AFTERNOON:
Be Careful With My Heart (ABS-CBN) 16.2%; The Ryzza Mae Show (GMA-7) 8%
It's Showtime (ABS-CBN) 12%; Eat... Bulaga! (GMA-7) 12.4%; Villa Quintana (GMA-7) 8.8%
Kapamilya Blockbusters: My Only U (ABS-CBN) 12.1%; Magkano Ba Ang Pag-Ibig? (GMA-7) 8.3%
Galema: Anak Ni Zuma (ABS-CBN) 13.1%; Pyra: Babaeng Apoy (GMA-7) 9%
Bistado (ABS-CBN) 13.4%; The Love Story of Kang Chi (ABS-CBN) 17%; Fabulous Boys (GMA-7) 9%


EVENING:
Annaliza (ABS-CBN) 24.9%; Prinsesa Ng Buhay Ko (GMA-7) 13.4%
TV Patrol (ABS-CBN) 29.5%; 24 Oras (GMA-7) 17.9%; Let's Ask Pilipinas (TV5) 2.9%; Madam Chairman (TV5) 2.9%
Honesto (ABS-CBN) 27%; Genesis (GMA-7) 13.1%; Monday Night Blockbusters (TV5) 4.6%
Got To Believe (ABS-CBN) 22.6%; Kahit Nasaan Ka Man (GMA-7) 10.8%
Maria Mercedes (ABS-CBN) 15%; Akin Pa Rin Ang Bukas (GMA-7) 10.3%; Demolition Job (TV5) 2.4%
Bukas Na Lang Kita Mamahalin (ABS-CBN) 11.6%; A 100-Year Legacy (GMA-7) 6.4%; Pilipinas News (TV5) 1.8%
Bandila (ABS-CBN) 4.8%; Saksi - Liga Ng Katotohanan (GMA-7) 4.4%; Reaksyon - Kasama Si Luchi Cruz-Valdes (TV5) 1.6%; Cocktales (TV5) 0.4%
Banana Nite (ABS-CBN) 1.3%; i-Witness: The GMA Documentaries (GMA-7) 2.4%
ADVERTISEMENT - CONTINUE READING BELOW
O Shopping (ABS-CBN) 0.4%; Tim Yap Show (GMA-7) 1%
November 12, 2013 (Tuesday)

MORNING:
Kape't Pandasal (ABS-CBN) 0.6%; Mutya Ng Masa - Replay (ABS-CBN) 1.1%; I-Witness The GMA Documentaries - Replay (GMA-7) 1.8%

Umagang Kay Ganda (ABS-CBN) 6.3%; Unang Hirit (GMA-7) 4.6%
Kris TV (ABS-CBN) 7.7%; Dragon Ball (GMA-7) 6.3%; Pokemon (GMA-7) 7.3%; One Piece (GMA-7) 8.0%; Bleach (GMA-7) 6.2%; Shaman King (GMA-7) 6.2%
Mr. Bean (ABS-CBN) 8.7%; Kusina Master - Sikreto Ng Experto (GMA-7) 5.7%
Crazy Love (ABS-CBN) 8.7%; Lola (GMA-7) 6.5%
Minute To Win It (ABS-CBN) 12.9%; Anak Ko 'Yan! (GMA-7) 6.0%
AFTERNOON:
Be Careful With My Heart (ABS-CBN) 17.5%; The Ryzza Mae Show (GMA-7) 8.7%
It's Showtime (ABS-CBN) 12.8%; Eat Bulaga! (GMA-7) 12.4%
Kapamilya Blockbusters: A Very Special Love (ABS-CBN) 12.2%; Villa Quintana (ABS-CBN) 9.9%; Magkano Ba Ang Pag-Ibig? (GMA-7) 8.8%
Galema: Anak Ni Zuma (ABS-CBN) 12.6%; Pyra: Babaeng Apoy (GMA-7) 8.3%
Mutya Ng Masa (ABS-CBN) 10.5%; The Love Story of Kang Chi (ABS-CBN) 16.6%; Fabulous Boys (GMA-7) 8.8%
EVENING:
Annaliza (ABS-CBN) 25.1%; Prinsesa Ng Buhay Ko (GMA-7) 12.9%
TV Patrol (ABS-CBN) 28.4%; 24 Oras (GMA-7) 18.0%; Let's Ask Pilipinas (TV5) 3.1%; Madam Chairman (TV5) 3.3%
Honesto (ABS-CBN) 28.1%; Genesis (GMA-7) 13.9%; Tuesday Christmas Countdown Movies: RV (TV5) 4.7%
Got To Believe (ABS-CBN) 24.3%; Kahit Nasaan Ka Man (GMA-7) 11.2%
Maria Mercedes (ABS-CBN) 16.8%; Akin Pa Rin Ang Bukas (GMA-7) 10.2%
Bukas Na Lang Kita Mamahalin (GMA-7) 13.1%; A 100-Year Legacy (GMA-7) 6.8%; Numero (TV5) 2.4%; Pilipinas News (TV5) 1.9%
Bandila (ABS-CBN) 5.7%; Saksi - Liga Ng Katotohanan (GMA-7) 4.3%; Reaksyon - Kasama Si Luchi Cruz-Valdes (TV5) 1.3%; Wasak (TV5) 0.6%
Banana Nite (ABS-CBN) 2.5%; Reporter's Notebook (GMA-7) 2.8%

O Shopping (ABS-CBN) 0.8%; Tim Yap Show (GMA-7) 1.2%
November 13, 2013 (Wednesday)
MORNING:
Kape't Pandasal (ABS-CBN) 0.9%; My Puhunan - Replay (ABS-CBN) 1.3%; Reporter's Notebook - Replay (GMA-7) 1.5%
Umagang Kay Ganda (ABS-CBN) 6.1%; Unang Hirit (GMA-7) 5.5%
Kris TV (ABS-CBN) 7.3%; Dragon Ball (GMA-7) 7.0%; Pokemon(GMA-7) 7.6%; One Piece (GMA-7) 7.9%; Bleach (GMA-7) 6.6%; Shaman King (GMA-7) 6.4%

Mr. Bean (ABS-CBN) 7.5%; Kusina Master - Sikreto Ng Experto (GMA-7) 5.5%
Crazy Love (ABS-CBN) 8.8%; Lola (ABS-CBN) 6.1%
Minute To Win It (ABS-CBN) 13.2%; Anak Ko 'Yan! (GMA-7) 6.3%
AFTERNOON:
Be Careful With My Heart (ABS-CBN) 20.5%; The Ryzza Mae Show (GMA-7) 9.2%
It's Showtime (ABS-CBN) 13.8%; Eat Bulaga! (GMA-7) 12.9%
ADVERTISEMENT - CONTINUE READING BELOW
Kapamilya Blockbusters: Kung Fu Hustle (ABS-CBN) 12.4%; Villa Quintana (GMA-7) 9.7%; Magkano Ba Ang Pag-Ibig? (GMA-7) 8.9%
Galema: Anak Ni Zuma (ABS-CBN) 13%; Pyra: Babaeng Apoy (GMA-7) 9.7%
My Puhunan (ABS-CBN) 10.5%; The Love Story of Kang Chi (ABS-CBN) 16.1%; Fabulous Boys (GMA-7) 9.5%
EVENING:
Annaliza (ABS-CBN) 24.7%; Prinsesa Ng Buhay Ko (GMA-7) 13.1%
TV Patrol (ABS-CBN) 28.5%; 24 Oras (GMA-7) 17.7%; Let's Ask Pilipinas (TV5) 3.1%; Madam Chairman (TV5) 3.3%
Honesto (ABS-CBN) 29.2%; Genesis (GMA-7) 12.1%; Wednesday Night Thriller Movies: Jennifer's Body (TV5) 5.9%
Got To Believe (ABS-CBN) 24.4%; Kahit Nasaan Ka Man (GMA-7) 10.8%
Maria Mercedes (ABS-CBN) 17%; Akin Pa Rin Ang Bukas (GMA-7) 10.5%; Dayo (TV5) 2.2%
Bukas Na Lang Kita Mamahalin (ABS-CBN) 12.9%; A 100-Year Legacy (GMA-7) 6.6%; Pilipinas News (TV5) 1.7%
Bandila (ABS-CBN) 5.2%; Saksi - Liga Ng Katotohanan (GMA-7) 4.6%; Reaksyon - Kasama Si Luchi Cruz-Valdes (TV5) 1.1%; News5 Imbestigasyon (TV5) 0.6%
Banana Nite (ABS-CBN) 2.1%; Born To Be Wild (GMA-7) 2.6%
O Shopping (ABS-CBN) 0.8%; Tim Yap Show (GMA-7) 0.7%
Here are the Top 10 daytime and primetime programs from November 7 to 13, 2013 among Total Philippines (Urban & Rural) households:
November 7, Thursday
Daytime:
The Love Story Of Kang Chi (ABS-CBN) – 17%
Be Careful With My Heart (ABS-CBN) – 15.7%
Galema: Anak Ni Zuma (ABS-CBN) – 13.8%
It's Showtime (ABS-CBN) – 12.3%
Minute To Win It (ABS-CBN) - 12% / Kapamilya Blockbusters: Crazy Little Thing Called Love (ABS-CBN) – 12%
TNT – Tapatan ni Tunying (ABS-CBN) – 11.5%
Harapan Sa Senado: The ABS-CBN News And Current Affairs Special (ABS-CBN) – 10.5%
Eat Bulaga (GMA-7) – 9.4%
Pyra: Babaeng Apoy (GMA-7) - 9.2%
Fabulous Boys (GMA-7) - 8.9%
Primetime:
Honesto (ABS-CBN) – 29.4%
TV Patrol (ABS-CBN) – 29.3%
Got To Believe (ABS-CBN) – 24.6%
Annaliza (ABS-CBN) - 24.4%
24 Oras (GMA-7) – 18.8%
Maria Mercedes (ABS-CBN) – 15.9%
Genesis (GMA-7) - 14.1%
Prinsesa Ng Buhay Ko (GMA-7) – 13.4%
Kahit Nasaan Ka Man (GMA-7) – 12.6%
Bukas Na Lang Kita Mamahalin (ABS-CBN) – 11.6%
November 8, Friday
Daytime:
The Love Story Of Kang Chi (ABS-CBN) - 14.7%
Be Careful With My Heart (ABS-CBN) – 13.3%
News Patrol (ABS-CBN) – 12.6%
Galema: Anak Ni Zuma (ABS-CBN) – 11.3%
It's Showtime (ABS-CBN) – 10.6%
Eat Bulaga (GMA-7) 10.4%
Kapamilya Blockbusters: Wag Kang Lilingon (ABS-CBN) – 10.2%
Minute To Win It (ABS-CBN) - 9.7% / Fabulous Boys (GMA-7) – 9.7%
Pyra: Babaeng Apoy (GMA-7) - 9.4%
Villa Quintana (GMA-7) – 8.8%
Primetime:
TV Patrol (ABS-CBN) – 22.9%
Honesto (ABS-CBN) – 21.2%
Annaliza (ABS-CBN) – 19.6%
Got To Believe (ABS-CBN) – 18.5%
24 Oras (GMA-7) – 17.5%
Prinsesa Ng Buhay Ko (GMA-7) – 12.7%
Maria Mercedes (ABS-CBN) – 12.3%
Genesis (GMA-7) – 11.9%
Kahit Nasaan Ka Man (GMA-7) – 9.8%
Akin Pa Rin Ang Bukas (GMA-7) 9.5%
November 9, Saturday
Daytime:
It's Showtime (ABS-CBN) – 14.5%
Eat Bulaga (GMA-7) – 13.8%
Bagsik Ni Yolanda: An ABS-CBN Special (ABS-CBN) - 13.5%
News Patrol (ABS-CBN) - 12.4%
Angry Birds Toons (GMA-7) – 11.5%
Paddle Pop Begins (GMA-7) – 10.5%
Wish Ko Lang (GMA-7) – 9.8%
Super Book (GMA-7) – 9.6%
Pororo (GMA-7) – 9.5%
Cinderella (GMA-7) – 6.9% / Maynila: Larawan ng Bansa (GMA-7) – 6.9%
Primetime:
Bet On Your Baby (ABS-CBN) – 25.7%
TV Patrol Weekend (ABS-CBN) – 25%
Wansapanataym: Moomoo Knows Best (ABS-CBN) – 21.4%
24 Oras Weekend (GMA-7) - 17.6%
Vampire Ang Daddy Ko (GMA-7) – 15.7%
One Day, Isang Araw (GMA-7) – 15.6%
MMK - Ang Tahanan Mo: Singsing (ABS-CBN) – 15.5%
Magpakailanman (GMA-7) – 14.4%
Celebrity Bluff (GMA-7) – 11.2%
Katipunan (GMA-7) - 4.9%
November 10, Sunday
Daytime:
The Rematch: Nonito Donaire vs.Victor Darchinyan (ABS-CBN) - 26.4%
Miss Universe - Moscow 2013 (ABS-CBN) - 17%
Sunday Power Punch: Pacquiao vs. Dela Hoya (GMA-7) - 10.6%
Kapuso Movie Festival: Tiktik - The Aswang Chronicles (GMA-7) - 10.4%
ASAP 18 (ABS-CBN) – 10% / Luv U (ABS-CBN) – 10%
Sunday Power Punch: Pacquiao vs. Cotto (GMA-7) 9.4%
Paddle Pop Begins (GMA-7) – 8.7%
Pororo (GMA-7) – 8%
Super Book (GMA-7) - 7.6%
I-Bilib (GMA-7) – 6.9%
Primetime:
Pepito Manaloto: Ang Tunay na Kuwento (GMA-7) – 21.2%
TV Patrol Weekend (ABS-CBN) – 20.9%
Goin' Bulilit (ABS-CBN) – 19.9%
Kap's Amazing Stories (GMA-7) – 18.3%
Kapuso Mo Jessica Soho (GMA-7) – 18.2%
Rated K: Handa Na Ba Kayo? (ABS-CBN) – 17.7%
Buzz ng Bayan (ABS-CBN) – 15.7%
24 Oras Weekend (GMA-7) 14.8%
Star Cinema Originals: No Other Woman (ABS-CBN) 10.9% / Imbestigador (GMA-7) – 10.9%
Gandang Gabi Vice (ABS-CBN) – 6.1%


November 11, Monday
Daytime:
The Love Story Of Kang Chi (ABS-CBN) – 17%
Be Careful With My Heart (ABS-CBN) – 16.2%
Bistado (ABS-CBN) – 13.4%
Galema: Anak Ni Zuma (ABS-CBN) – 13.8%
Eat Bulaga (GMA-7) – 12.4%
Kapamilya Blockbusters: My Only U (ABS-CBN) – 12.1%
It's Showtime (ABS-CBN) – 12%
Minute To Win It (ABS-CBN) – 10.7%
Pyra: Babaeng Apoy (GMA-7) - 9% / Fabulous Boys (GMA-7) - 9%
Villa Quintana (GMA-7) – 8.8%
Primetime:
TV Patrol (ABS-CBN) – 29.5%
Honesto (ABS-CBN) – 27%
Annaliza (ABS-CBN) - 24.9%
Got To Believe (ABS-CBN) – 22.6%
24 Oras (GMA-7) – 17.9%
Maria Mercedes (ABS-CBN) – 15%
Prinsesa Ng Buhay Ko (GMA-7) – 13.4%
Genesis (GMA-7) - 13.1%
Bukas Na Lang Kita Mamahalin (ABS-CBN) – 11.6%
Kahit Nasaan Ka Man (GMA-7) – 10.8%
November 12, Tuesday
Daytime:
Be Careful With My Heart (ABS-CBN) – 17.5%
The Love Story Of Kang Chi (ABS-CBN) – 16.6%
Minute To Win It (ABS-CBN) – 12.9%
It's Showtime (ABS-CBN) – 12.8%
Galema: Anak Ni Zuma (ABS-CBN) – 12.6%
Eat Bulaga! (GMA-7) – 12.4%
Kapamilya Blockbusters: A Very Special Love (ABS-CBN) - 12.2%
Mutya ng Masa (ABS-CBN) – 10.5%
Villa Quintana (GMA-7) – 9.9%
Fabulous Boys (GMA-7) – 8.8% / Magkano Ba Ang Pag-ibig? (GMA-7) – 8.8%
Primetime:
TV Patrol (ABS-CBN) – 28.4%
Honesto (ABS-CBN) – 28.1%
Annaliza (ABS-CBN) – 25.1%
Got To Believe (ABS-CBN) – 24.3%
24 Oras (GMA-7) – 18%
Maria Mercedes (ABS-CBN) – 16.8%
Genesis (GMA-7) – 13.9%
Bukas Na Lang Kita Mamahalin (ABS-CBN) – 13.1%
Prinsesa Ng Buhay Ko (GMA-7) – 12.9%
Kahit Nasaan Ka Man (GMA-7) – 11.2%
November 13, Wednesday
Daytime:
Be Careful With My Heart (ABS-CBN) – 20.5%
The Love Story Of Kang Chi (ABS-CBN) – 16.1%
It's Showtime (ABS-CBN) – 13.8%
Minute To Win It (ABS-CBN) – 13.2%
Galema: Anak Ni Zuma (ABS-CBN) – 13%
Eat Bulaga! (GMA-7) – 12.9%
Kapamilya Blockbusters: Kung Fu Hustle (ABS-CBN) - 12.4%
My Puhunan (GMA-7) – 10.5%
Villa Quintana (GMA-7) – 9.7% / Pyra: Babaeng Apoy (GMA-7) – 9.7%
Fabulous Boys (GMA-7) – 9.5%
Primetime:
Honesto (ABS-CBN) – 29.2%
TV Patrol (ABS-CBN) – 28.5%
Annaliza (ABS-CBN) – 24.7%
Got To Believe (ABS-CBN) – 24.4%
24 Oras (GMA-7) – 17.7%
Maria Mercedes (ABS-CBN) – 17%
Prinsesa Ng Buhay Ko (GMA-7) – 13.1%
Bukas Na Lang Kita Mamahalin (ABS-CBN) – 12.9%
Genesis (GMA-7) – 12.1%
Kahit Nasaan Ka Man (GMA-7) – 10.8%


Source: Kantar Media/TNS