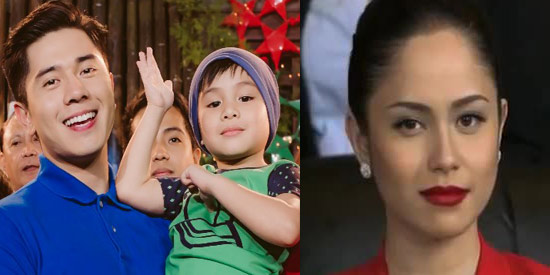 ---
Primetime top ten programs remained unchanged as five ABS-CBN Primetime Bida shows are occupying the first 5 slots: Honesto, TV Patrol, Got To Believe, Annaliza and Maria Mercedes, in that particular order.

Be Careful With My Heart remains unrivaled in the daytime block during weekdays as it continues to score big numbers in the ratings game.


Same story goes during weekend as Wansapanataym and Pepito Manaloto still reign supreme on Saturday and Sunday nights, respectively.

In Saturday's ratings game, The Singing Bee is steady at No. 2 behind It's Showtime. Another boxing match rules in Sunday with Pinoy Pride XXIII: Filipinos Kontra Latinos - WBO Double World.

Here are the comparative Household Ratings of ABS-CBN, TV5, and GMA-7 programs from November 25 to December 1, 2013 based on the overnight ratings of Kantar Media/TNS among Total Philippines (Urban & Rural) households:
November 25, 2013 (Monday)

MORNING:
Kape't Pandasal (ABS-CBN) 0.3%; Sports Unlimited - Replay (ABS-CBN) 0.8%; Aha! - Replay (GMA-7) 1.4%


Umagang Kay Ganda (ABS-CBN) 4%; Unang Hirit (GMA-7) 4.8%


Kris TV (ABS-CBN) 5%; Dragon Ball (GMA-7) 5.9%; Pokemon (GMA-7) 6.9%


Power Rangers Samurai (ABS-CBN) 4.3%; One Piece (GMA-7) 7%


Jackie Chan Fantasia (ABS-CBN) 4.3%; Bleach (GMA-7) 6.6%


Mr. Bean (ABS-CBN) 6.2%; Flame of Recca (GMA-7) 6.9%


Crazy Love (ABS-CBN) 8%; Shaman King (GMA-7) 7.4%; Kusina Master - Sikreto Ng Experto (GMA-7) 5.7%
Minute To Win It (ABS-CBN) 11.5%; Tunay Na Buhay (GMA-7) 6%
AFTERNOON:
Be Careful With My Heart (ABS-CBN) 18.7%; The Ryzza Mae Show (GMA-7) 9%
It's Showtime (ABS-CBN) 12.5%; Eat Bulaga! (GMA-7) 12.9%
Kapamilya Blockbusters: D' Anothers (ABS-CBN) 10.3%; Villa Quintana (GMA-7) 9.5%; Magkano Ba Ang Pag-Ibig? (ABS-CBN) 8.4%
Galema: Anak Ni Zuma (ABS-CBN) 10%; Pyra: Babaeng Apoy (GMA-7) 9.6%
Bistado (ABS-CBN) 7.9%; Princess Hours (ABS-CBN) 12.1%; Fabulous Boys (GMA-7) 8.6%
EVENING:
Annaliza (ABS-CBN) 24%; Prinsesa Ng Buhay Ko (GMA-7) 11.9%; Aksyon (TV5) 4.7%
TV Patrol (ABS-CBN) 26.4%; 24 Oras (GMA-7) 16.3%; Let's Ask Pilipinas (TV5) 4%; Madam Chairman (TV5) 4.9%
Honesto (ABS-CBN) 28.2%; Adarna (GMA-7) 13%; Monday Night Blockbusters: Angels & Demons (TV5) 4.4%
Got To Believe (ABS-CBN) 26%; Genesis (GMA-7) 11.8%
Maria Mercedes (ABS-CBN) 17.8%; Akin Pa Rin Ang Bukas (GMA-7) 11.7%
ADVERTISEMENT - CONTINUE READING BELOW
When A Man Falls In Love (ABS-CBN) 9.5%; A 100-Year Legacy (GMA-7) 6.7%; Demolition Job (TV5) 2.3%; Pilipinas News (TV5) 1.8%
Bandila (ABS-CBN) 3%; Saksi - Liga Ng Katotohanan (GMA-7) 3.9%; Reaksyon - Kasama Si Luchi Cruz-Valdes (TV5) 1%; Cocktales (TV5) 0.4%
Banana Nite (ABS-CBN) 1.2%; i-Witness: The GMA Documentaries (GMA-7) 2.5%
O Shopping (ABS-CBN) 0.3%; Tim Yap Show (GMA-7) 0.7%
November 26, 2013 (Tuesday)

MORNING:

Kape't Pandasal (ABS-CBN) 0.2%; Mutya Ng Masa - Replay (ABS-CBN) 0.7%; i-Witness: The GMA Documentaries - Replay (GMA-7) 1.6%
Umagang Kay Ganda (ABS-CBN) 3.9%; Unang Hirit (GMA-7) 3.9%


Kris TV (ABS-CBN) 4.6%; Dragon Ball (GMA-7) 5.9%; Pokemon (GMA-7) 6.2%


Power Rangers Samurai (ABS-CBN) 5.4%; One Piece (GMA-7) 5.9%


Jackie Chan Fantasia (ABS-CBN) 4.8%; Bleach (GMA-7) 5.4%


Mr. Bean (ABS-CBN) 5.5%; Flame of Recca (GMA-7) 6%


Crazy Love (ABS-CBN) 8.4%; Shaman King (GMA-7) 6.1%; Kusina Master - Sikreto Ng Experto (GMA-7) 4.4%
Minute To Win It (ABS-CBN) 12.8%; Tunay Na Buhay (GMA-7) 5.2%
AFTERNOON:
Be Careful With My Heart (ABS-CBN) 19.1%; The Ryzza Mae Show (GMA-7) 8.4%
It's Showtime (ABS-CBN) 11.7%; Eat Bulaga! (GMA-7) 11.9%


Kapamilya Blockbusters: You Changed My Life (ABS-CBN) 9.7%; Villa Quintana (GMA-7) 9.1%; Magkano Ba Ang Pag-Ibig? (GMA-7) 9%
Galema: Anak Ni Zuma (ABS-CBN) 10.8%; Pyra: Babaeng Apoy (GMA-7) 9.8%
Mutya Ng Masa (ABS-CBN) 8.7%; Princess Hours (ABS-CBN) 13.1%; Fabulous Boys (GMA-7) 8.7%
EVENING:
Annaliza (ABS-CBN) 24%; Prinsesa Ng Buhay Ko (GMA-7) 12.5%; Aksyon (4.5%)
TV Patrol (ABS-CBN) 27.4%; 24 Oras (GMA-7) 17.6%; Let's Ask Pilipinas (TV5) 3.6%; Madam Chairman (TV5) 4%
Honesto (ABS-CBN) 29.3%; Adarna (GMA-7) 14.9%; Tuesday Christmas Countdown Movies: Snow Dogs (TV5) 4.9%
Got To Believe (ABS-CBN) 27.2%; Genesis (GMA-7) 13.4%
Maria Mercedes (ABS-CBN) 18.7%; Akin Pa Rin Ang Bukas (GMA-7) 12.9%
When A Man Falls In Love (ABS-CBN) 9.9%; A 100-Year Legacy (GMA-7) 7.1%; Numero (TV5) 2.7%; Pilipinas News (TV5) 1.4%
Bandila (ABS-CBN) 3.3%; Saksi - Liga Ng Katotohanan (GMA-7) 4.1%; Reaksyon - Kasama Si Luchi Cruz-Valdes (TV5) 1.1%; Wasak (TV5) 0.5%
Banana Nite (ABS-CBN) 1.6%; Reporter's Notebook (GMA-7) 2.2%


O Shopping (ABS-CBN) 0.7%; Tim Yap Show (GMA-7) 0.7%
November 27, 2013 (Wednesday)


MORNING:
Kape't Pandasal (ABS-CBN) 0.5%; My Puhunan - Replay) (ABS-CBN) 1.1%; Reporter's Notebook - Replay (GMA-7) 1.4%
Umagang Kay Ganda (ABS-CBN) 3.7%; Unang Hirit (GMA-7) 3.7%
Kris TV (ABS-CBN) 5.3%; Dragon Ball (GMA-7) 5.6%; Pokemon (GMA-7) 7.1%


ADVERTISEMENT - CONTINUE READING BELOW
Power Rangers Samurai (ABS-CBN) 5.4%; One Piece (GMA-7) 7.9%


Jackie Chan Fantasia (ABS-CBN) 5%; Bleach (GMA-7) 7.4%


Mr. Bean (ABS-CBN) 5.2%; Flame of Recca (GMA-7) 6.7%


Crazy Love (ABS-CBN) 7.7%; Shaman King (GMA-7) 6.2%; Kusina Master - Sikreto Ng Experto (GMA-7) 5.2%
Minute To Win It (GMA-7) 11.8%; Tunay Na Buhay (GMA-7) 5.7%
AFTERNOON:
Be Careful With My Heart (ABS-CBN) 17.7%; The Ryzza Mae Show (GMA-7) 9.4%
It's Showtime (ABS-CBN) 11.9%; Eat Bulaga! (GMA-7) 12.8%


Kapamilya Blockbusters: The Host (ABS-CBN) 11.9%; Villa Quintana (GMA-7) 9.9%; Magkano Ba Ang Pag-Ibig? (GMA-7)9.2%
Galema: Anak Ni Zuma (ABS-CBN) 10.6%; Pyra: Babaeng Apoy (GMA-7) 10.5%
My Puhunan (ABS-CBN) 7.8%; Princess Hours (ABS-CBN) 12.5%; Fabulous Boys (GMA-7) 8.8%
EVENING:
Annaliza (ABS-CBN) 23.4%; Prinsesa Ng Buhay Ko (GMA-7) 12%; Aksyon (TV5) 5.4%
TV Patrol (ABS-CBN) 27.2%; 24 Oras (GMA-7) 16.6%; Let's Ask Pilipinas (TV5) 3.5%; Madam Chairman (TV5) 3.8%
Honesto (ABS-CBN) 29.1%; Adarna (TV5) 15%; MyDSL PBA 2014 Philippine Cup: Petron Blaze Boosters vs. San Mig Coffee Mixers (TV5) 3.5%
Got To Believe (ABS-CBN) 26.7%; Genesis (GMA-7) 13.3%
Maria Mercedes (ABS-CBN) 18.1%; Akin Pa Rin Ang Bukas (GMA-7) 12.3%
When A Man Falls In Love (ABS-CBN) 10.2%; A 100-Year Legacy (GMA-7) 7.1%; History With Lourd: Tsismis Noon, Kasaysayan Ngayon (TV5) 2%; Pilipinas News (TV5) 1.4%
Bandila (ABS-CBN) 3.8%; Saksi - Liga Ng Katotohanan (GMA-7) 3.8%; Reaksyon - Kasama Si Luchi Cruz-Valdes (TV5) 0.7%; MyDSL PBA 2014 Philippine Cup: Air 21 Express vs. Meralco Bolts (TV5) 0.2%
Banana Nite (ABS-CBN) 1.5%; Born To Be Wild (GMA-7) 2.2%


O Shopping (ABS-CBN) 0.5%; Tim Yap Show (GMA-7) 0.9%



November 28, 2013 (Thursday)
MORNING:
Kape't Pandasal (ABS-CBN) 0.3%; TNT-Tapatan Ni Tunying - Replay (ABS-CBN) 0.8%; Born To Be Wild - Replay (GMA-7) 1.4%
Umagang Kay Ganda (ABS-CBN) 4.2%; Unang Hirit (GMA-7) 3.8%
Kris TV (ABS-CBN) 5.2%; Dragon Ball (GMA-7) 5.7%; Pokemon (GMA-7) 6.9%


Power Rangers Samurai (ABS-CBN) 5.1%; One Piece (GMA-7) 7.4%


Jackie Chan Fantasia (ABS-CBN) 5.5%; Bleach (GMA-7) 7%


Mr. Bean (ABS-CBN) 5.6%; Flame of Recca (GMA-7) 7.1%


Crazy Love (ABS-CBN) 7%; Shaman King (GMA-7) 7.4%; Kusina Master - Sikreto Ng Experto (GMA-7) 5%

Minute To Win It (ABS-CBN) 10.6%; Tunay Na Buhay (GMA-7) 5.5%
AFTERNOON:
Be Careful With My Heart (ABS-CBN) 18.2%; The Ryzza Mae Show (GMA-7) 8.5%
It's Showtime (ABS-CBN) 13%; Eat Bulaga! (GMA-7) 12.1%
ADVERTISEMENT - CONTINUE READING BELOW
Kapamilya Blockbusters: Isprikitik Walastik Kung Pumitik (ABS-CBN) 11.7%; Villa Quintana (GMA-7) 9.4%; Magkano Ba Ang Pag-Ibig? (GMA-7) 8.9%
Galema: Anak Ni Zuma (ABS-CBN) 11.6%; Pyra: Babaeng Apoy (GMA-7) 11%
TNT - Tapatan Ni Tunying (ABS-CBN) 8.9%; Princess Hours (GMA-7) 13.4%; Fabulous Boys (GMA-7) 9.9%
EVENING:
Annaliza (ABS-CBN) 22.7%; Prinsesa Ng Buhay Ko (GMA-7) 13.5%; Aksyon (TV5) 5.3%
TV Patrol (ABS-CBN) 26.7%; 24 Oras (GMA-7) 17%; Let's Ask Pilipinas (TV5) 3.9%; Madam Chairman (TV5) 3.5%
Honesto (ABS-CBN) 30.4%; Adarna (GMA-7) 14.6%; For Love or Money (TV5) 3.1%
Got To Believe (ABS-CBN) 26.9%; Genesis (GMA-7) 14.5%; Posi+ive (TV5) 2.5%
Maria Mercedes (ABS-CBN) 18.5%; Akin Pa Rin Ang Bukas (GMA-7) 14.4%; Dayo (TV5) 1.5%
When A Man Falls In Love (ABS-CBN) 9.5%; A 100-Year Legacy (GMA-7) 7%; Pilipinas News (TV5) 1.6%
Bandila (ABS-CBN)3.4%; Saksi - Liga Ng Katotohanan (GMA-7) 4.2%; Reaksyon - Kasama Si Luchi Cruz-Valdes (TV5) 1.1%
Banana Nite (ABS-CBN) 1.6%; Alisto! (GMA-7) 2.4%; MyDSL PBA 2014 Philippine Cup: Bgy. Ginebra vs. Global Port (TV5) 1%
O Shopping (ABS-CBN) 0.6%; Tim Yap Show (GMA-7) 0.9%; MyDSL PBA 2014 Philippine Cup: Alaska Aces vs. Talk N' Text (TV5) 0.3%
November 29, 2013 (Friday)

MORNING:
Kape't Pandasal (BAS-CBN) 0.1%; Matanglawin - Replay (ABS-CBN) 0.7%; Born Impact Born To Be Wild Weekend Edition - Replay (GMA-7) 1.1%


Umagang Kay Ganda (ABS-CBN) 4%; Unang Hirit (GMA-7) 3.9%
Kris TV (ABS-CBN) 5.1%; Dragon Ball (GMA-7) 5.9%; Pokemon (GMA-7) 7.3%


Power Rangers Samurai (ABS-CBN) 5.5%; One Piece (GMA-7) 7.5%


Jackie Chan Fantasia (ABS-CBN) 5.5%; Bleach (GMA-7) 6.5%


Mr. Bean (ABS-CBN) 6.2%; Flame of Recca (GMA-7) 6.7%


Crazy Love (ABS-CBN) 8.3%; Shaman King (GMA-7) 6.9%; Kusina Master - Sikreto Ng Experto (GMA-7) 6%
Minute To Win It (ABS-CBN) 12.8%; Tunay Na Buhay (GMA-7) 5.9%
AFTERNOON:
Be Careful With My Heart (ABS-CBN) 18.9%; The Ryzza Mae Show (GMA-7) 8%
It's Showtime (ABS-CBN) 13.6%; Eat Bulaga! (GMA-7) 12.1%
Kapamilya Blockbusters: Mag-Ingat Ka Sa… Kulam (ABS-CBN) 12.3%; Villa Quintana (GMA-7) 9.6%; Magkano Ba Ang Pag-Ibig? (GMA-7) 10%
Galema: Anak Ni Zuma (ABS-CBN) 11.4%; Pyra: Babaeng Apoy (GMA-7) 11.6%


Hiwaga (ABS-CBN) 8.3%; Princess Hours (ABS-CBN) 13.3%; Fabulous Boys (GMA-7) 10%
EVENING:
Annaliza (ABS-CBN) 24.2%; Prinsesa Ng Buhay Ko (GMA-7) 13.2%; Aksyon (TV5) 4.7%
TV Patrol (ABS-CBN) 25.7%; 24 Oras (GMA-7) 16.7%; Let's Ask Pilipinas (TV5) 4%; Madam Chairman (TV5) 4.1%
ADVERTISEMENT - CONTINUE READING BELOW
Honesto (ABS-CBN) 29.3%; Adarna (GMA-7) 15%
Got To Believe (ABS-CBN) 25.4%; Genesis (GMA-7) 14.5%; MyDSL PBA 2014 Philippine Cup: Alaska Aces vs. Talk N' Text (TV5) 3.3%
Maria Mercedes (ABS-CBN) 19%; Akin Pa Rin Ang Bukas (GMA-7) 14.1%
When A Man Falls In Love (ABS-CBN) 10.4%; Bandila (ABS-CBN) 3.9%; Bubble Gang (GMA-7) 8.8%; Astig: Sa Sports Walang Tsamba (TV5) 1.6%; Pilipinas News (TV5) 0.8%; Reaksyon - Kasama Si Luchi Cruz-Valdes (TV5) 0.4%
Banana Nite (ABS-CBN) 2%; Saksi – Liga Ng Katotohanan (GMA-7) 3.3%; MyDSL PBA 2014 Philippine Cup: Bgy. Ginebra vs. Global Port (TV5) 0.4%
O Shopping (ABS-CBN) 0.5%; Tim Yap Show (GMA-7) 1.3%
November 30, 2013 (Saturday)


MORNING:
Sa Kabukiran (ABS-CBN) 0.9%; Kapwa Ko, Mahal Ko (ABS-CBN) 1.5%


Salamat Dok (ABS-CBN) 2.3%; Pinoy MD: Mga Doktor Ng Bayan (GMA-7) 3%


Swak Na Swak (ABS-CBN) 2.7%; Cinderella (GMA-7) 6.8%


Honey Watch Out(ABS-CBN) 2.4%; Super Book (GMA-7) 10.1%


Why Not? (ABS-CBN) 3.8%; Paddle Pop Begins (GMA-7) 12%


Fanboy & Chum Chum (ABS-CBN) 4.3%; Angry Birds Toons (GMA-7) 13.1%


The Penguins Of Madagascar (ABS-CBN) 5.4%; Pororo (GMA-7) 11.4%


Kung Fu Panda: Legends of Awesomeness (ABS-CBN) 7.7%; Spongebob Squarepants (ABS-CBN) 9.1%; Tropang Potchi (GMA-7) 6.8%
NBA 2013-2014 Season: Golden State vs. Oklahoma City (ABS-CBN) 8.1%; Sarap Diva (GMA-7) 5.9%; Maynila 14: Larawan Ng Bansa (GMA-7) 9.2%


AFTERNOON:
It's Showtime (ABS-CBN) 14.1%; Eat Bulaga! (GMA-7) 13.1%
The Singing Bee (ABS-CBN) 13.9%; Startalk (GMA-7) 6.9%
S.O.C.O. - A Scene of The Crime Operatives (ABS-CBN) 12.9%; Out Of Control (GMA-7) 6%
Failon Ngayon (ABS-CBN) 13.5%; Wish Ko Lang! (GMA-7) 7.8%
EVENING:
TV Patrol Weekend (ABS-CBN) 22.9%; 24 Oras Weekend (GMA-7) 12.2%; Aksyon Weekend (TV5) 3%; Showbiz Police Intriga Under Arrest (TV5) 2.1%
Bet On Your Baby (ABS-CBN) 26.9%; Picture! Picture! (GMA-7) 14.7%; Pinoy Explorer (TV5) 3.1%
Wansapanataym: Give Gloves On Christmas Day (ABS-CBN) 28.5%; Vampire Ang Daddy Ko (GMA-7) 15.2%; Tropa Mo Ko Unli (TV5) 3.1%
MMK - Ang Tahanan Mo: Wedding Booth (ABS-CBN) 26.4%; Magpakailanman (GMA-7) 16.3%; Killer Karaoke: Pinoy Naman (TV5) 4.6%
I Dare You (ABS-CBN) 10.5%; Celebrity Bluff (GMA-7) 13%; Katipunan (GMA-7) 6.1%; Juan Direction (TV5) 2.8%; What's Up Doods? (TV5) 1.4%
Banana Split - Extra Scoop (ABS-CBN) 3.3%; The Bottom Line With Boy Abunda (ABS-CBN) 1.1%; Sabado Horror Night: Visible Secret (GMA-7) 2.4%; Spinnation (TV5) 0.3%;
Pilipinas News Weekend (TV5) 0.1%
ADVERTISEMENT - CONTINUE READING BELOW
Sports Unlimited (ABS-CBN) 0.6%; O Shopping (ABS-CBN) 0.2%; Walang Tulugan With Master Showman (GMA-7) 0.7%
December 1, 2013 (Sunday)

MORNING:
The Healing Eucharist (ABS-CBN) 4.8%; In Touch (GMA-7) 1.3%
Swak Na Swak (ABS-CBN) 4.5%; Scooby-Doo! Mystery Incorporated (GMA-7) 5.2%


Salamat Dok (ABS-CBN) 3.6%; Super Book (GMA-7) 9.2%; Paddle Pop Begins (GMA-7) 8.9%
The Super Hero Squad Show (ABS-CBN) 5.1%; Pororo (GMA-7) 8.3%


Iron Man (ABS-CBN) 5%; Aha! (GMA-7) 7.3%


Matanglawin (ABS-CBN) 8.2%; Born Impact Born To Be Wild - Weekend Edition (GMA-7) 8%
Merlito Sabillo vs. Carlos Buitrago (ABS-CBN) 14.1%; Pinoy Pride XXIII: Filipinos Kontra Latinos - WBO Double World (ABS-CBN) 16.1%; Donnie Nietes vs. Sammy Gutierrez (ABS-CBN) 20.4%; Kapuso Movie Festival: Beastly (GMA-7) 10.9%
AFTERNOON:
ASAP 18 (ABS-CBN) 12.9%; Sunday All Stars (GMA-7) 8.3%; Dormitoryo (GMA-7) 8.3%
Luv U (ABS-CBN) 10.8%; Buzz Ng Bayan (ABS-CBN) 7%; GMA Blockbusters: Anastasia (GMA-7) 9.7%;I Bilib Featuring: Is It Possible? (GMA-7) 7.8%
TV Patrol Weekend (ABS-CBN) 14.7%; 24 Oras Weekend (GMA-7) 11%

EVENING:
Goin' Bulilit (ABS-CBN) 19.7%; Kap's Amazing Stories (GMA-7) 15.8%; MyDSL PBA 2014 Philippine Cup: Barako Bull vs. Rain or Shine (TV5) 4%
Rated K: Handa Na Ba Kayo? (ABS-CBN) 21.3%; Pepito Manaloto: Ang Tunay Na Kuwento (GMA-7) 21.6%
Star Cinema Originals: One More Try (ABS-CBN) 19.3%; Kapuso Mo, Jessica Soho (GMA-7) 20.9%; Imbestigador (GMA-7) 11.4%; Who Wants To Be A Millionaire (TV5) 4.4%; Wow Mali Pa Rin! (TV5) 3.5%
Gandang Gabi Vice (ABS-CBN) 13.4%; Sunday's Best: 27th PMPC Star Awards For Television (ABS-CBN) 3%;O Shopping (ABS-CBN) 0.5%); Sunday Night Box Office: First Blood (GMA-7) 9%; Diyos At Bayan (GMA-7) 0.6%; The Mega And The Song Writer (TV5) 0.8%; Sine Ko 5ingko: The Curious Case of Benjamin Button (TV5) 1.1%; Pilipinas News Weekend (TV5) 0.4%


Here are the Top 10 daytime and primetime programs from November 25 to December 1, 2013 among Total Philippines (Urban & Rural) households:
November 25, Monday
Daytime:
Be Careful With My Heart (ABS-CBN) – 18.7%
Eat Bulaga (GMA-7) – 12.9%
It's Showtime (ABS-CBN) – 12.5%
Princess Hours (ABS-CBN) – 12.1%
Minute To Win It (ABS-CBN) – 11.5%
Kapamilya Blockbusters: D' Anothers (ABS-CBN) - 10.3%
Galema: Anak Ni Zuma (ABS-CBN) – 10%
Pyra: Babeng Apoy (GMA-7) – 9.6%
Villa Quintana (GMA-7) – 9.5%
The Ryzza Mae Show (GMA-7) – 9%
Primetime:
Honesto (ABS-CBN) – 28.2%
TV Patrol (ABS-CBN) – 26.4%
Got To Believe (ABS-CBN) – 26.0%
Annaliza (ABS-CBN) – 24%
Maria Mercedes (ABS-CBN) – 17.8%
24 Oras (GMA-7) – 16.3%
Adarna (GMA-7) – 13%
Prinsesa Ng Buhay Ko (GMA-7) – 11.9%
Genesis (GMA-7) – 11.8%
Akin Pa Rin Ang Bukas (ABS-CBN) – 11.7%
November 26, Tuesday
Daytime:
Be Careful With My Heart (ABS-CBN) – 19.1%
Princess Hours (ABS-CBN) – 13.1%
Minute To Win It (ABS-CBN) – 12.8%
Eat Bulaga (GMA-7) – 11.9%
It's Showtime (ABS-CBN) – 11.7%
Galema: Anak Ni Zuma (ABS-CBN) – 10.8%
Pyra: Babeng Apoy (GMA-7) – 9.8%
Kapamilya Blockbusters: You Changed My Life (ABS-CBN) - 9.7%
Villa Quintana (GMA-7) – 9.1%
Magkano Ba Ang Pag-Ibig? (GMA-7) – 9%
Primetime:
Honesto (ABS-CBN) – 29.3%
TV Patrol (ABS-CBN) – 27.4%
Got To Believe (ABS-CBN) – 27.2%
Annaliza (ABS-CBN) – 24%
Maria Mercedes (ABS-CBN) – 18.7%
24 Oras (GMA-7) – 17.6%
Adarna (GMA-7) – 14.9%
Genesis (GMA-7) – 13.4%
Akin Pa Rin Ang Bukas (ABS-CBN) – 12.9%
10. Prinsesa Ng Buhay Ko (GMA-7) – 12.5%
November 27, Wednesday
Daytime:
Be Careful With My Heart (ABS-CBN) – 17.7%
Eat Bulaga (GMA-7) – 12.8%
Princess Hours (ABS-CBN) – 12.5%
It's Showtime (ABS-CBN) – 11.9% / Kapamilya Blockbusters: The Host (ABS-CBN) – 11.9%
Minute To Win It (ABS-CBN) – 11.8%
Galema: Anak Ni Zuma (ABS-CBN) – 10.6%
Pyra: Babeng Apoy (GMA-7) – 10.5%
Villa Quintana (GMA-7) – 9.9%
The Ryzza Mae Show (GMA-7) – 9.4%
Magkano Ba Ang Pag-Ibig? (GMA-7) - 9.2%
Primetime:
Honesto (ABS-CBN) – 29.1%
TV Patrol (ABS-CBN) – 27.2%
Got To Believe (ABS-CBN) – 26.7%
Annaliza (ABS-CBN) – 23.4%
Maria Mercedes (ABS-CBN) – 18.1%
24 Oras (GMA-7) – 16.6%
Adarna (GMA-7) – 15%
Genesis (GMA-7) – 13.3%
Akin Pa Rin Ang Bukas (ABS-CBN) – 12.3%
Prinsesa Ng Buhay Ko (GMA-7) – 12%


November 28, Thursday
Daytime:
Be Careful With My Heart (ABS-CBN) – 18.2%
Princess Hours (ABS-CBN) – 13.4%
It's Showtime (ABS-CBN) – 13%
Eat Bulaga! (GMA-7) – 12.1%
Kapamilya Blockbusters: Isprikitik Walastik Kung Pumitik (ABS-CBN) - 11.7%
Galema: Anak Ni Zuma (ABS-CBN) – 11.6%
Pyra: Babaeng Apoy (GMA-7) – 11%
Minute To Win It (ABS-CBN) – 10.6%
Fabulous Boys (GMA-7) – 9.9%
Villa Quintana (GMA-7) – 9.4%
Primetime:
Honesto (ABS-CBN) – 30.4%
Got To Believe (ABS-CBN) – 26.9%
TV Patrol (ABS-CBN) – 26.7%
Annaliza (ABS-CBN) – 22.7%
Maria Mercedes (ABS-CBN) – 18.5%
24 Oras (GMA-7) – 17%
Adarna (GMA-7) – 14.6%
Genesis (GMA-7) – 14.5%
Akin Pa Rin Ang Bukas (GMA-7) – 14.4%
Prinsesa ng Buhay Ko(GMA-7) – 13.5%
November 29, Friday
Daytime:
Be Careful With My Heart (ABS-CBN) – 18.9%
It's Showtime (ABS-CBN) – 13.6%
Princess Hours (ABS-CBN) – 13.3%
Minute To Win It (ABS-CBN) – 12.8%
Kapamilya Blockbusters: Mag-Ingat Ka Sa… Kulam (ABS-CBN) - 12.3%
Eat Bulaga (GMA-7) 12.1%
Pyra: Babaeng Apoy (GMA-7) – 11.6%
Galema: Anak Ni Zuma (ABS-CBN) – 11.4%
Magkano Ba Ang Pag-ibig? (GMA-7) – 10% / Fabulous Boys (GMA-7) – 10%
Villa Quintana (GMA-7) – 9.6%
Primetime:
Honesto (ABS-CBN) – 29.3%
TV Patrol (ABS-CBN) – 25.7%
Got To Believe (ABS-CBN) – 25.4%
Annaliza (ABS-CBN) – 24.2%
Maria Mercedes (ABS-CBN) – 19%
24 Oras (GMA-7) – 16.7%
Adarna (GMA-7) – 15%
Genesis (GMA-7) – 14.5%
Akin Pa Rin Ang Bukas (GMA-7) 14.1%
Prinsesa ng Buhay Ko (GMA-7) – 13.2%
November 30, Saturday
Daytime:
It's Showtime (ABS-CBN) – 14.1%
The Singing Bee (ABS-CBN) – 13.9%
Failon Ngayon (ABS-CBN) – 13.5%
Angry Birds Toons (GMA-7) – 13.1% /Eat Bulaga (GMA-7) – 13.1%
SOCO (ABS-CBN) – 12.9%
Paddle Pop Begins (GMA-7) – 12%
Pororo (GMA-7) – 11.4%
Super Book (GMA-7) – 10.1%
Maynila 14: Larawan Ng Bansa (GMA-7) - 9.2%
Spongebob Squarepants (ABS-CBN) - 9.1%
Primetime:
Wansapanataym (ABS-CBN) – 28.5%
Bet On Your Baby (ABS-CBN) – 26.9%
MMK - Ang Tahanan Mo (ABS-CBN) – 26.4%
TV Patrol Weekend (ABS-CBN) – 22.9%
Magpakailanman (GMA-7) – 16.3%
Vampire Ang Daddy Ko (GMA-7) – 15.2%
Picture! Picture! (GMA-7) – 14.7%
Celebrity Bluff (GMA-7) – 13%
24 Oras Weekend (GMA-7) – 12.2%
I Dare You (ABS-CBN) – 10.5%
December 1, Sunday
Daytime:
Pinoy Pride XXIII: Filipinos Kontra Latinos - WBO Double World (ABS-CBN) - 16.1%
TV Patrol Weekend (ABS-CBN) – 14.7%
ASAP 18 (ABS-CBN) - 12.9%
24 Oras Weekend (GMA-7) – 11%
Kapuso Movie Festival: Beastly (GMA-7) - 10.9%
6. Luv U (ABS-CBN) – 10.8%
GMA Blockbusters: Anastasia (GMA-7) - 9.7%
Super Book (GMA-7) – 9.2%
Paddle Pop Begins (GMA-7) – 8.9%
Pororo (GMA-7) – 8.3% / Sunday All Stars (GMA-7) – 8.3% / Dormitoryo (GMA-7) – 8.3%
Primetime:
Pepito Manaloto: Ang Tunay na Kuwento (GMA-7) – 21.6%
Rated K: Handa Na Ba Kayo? (ABS-CBN) – 21.3%
Kapuso Mo Jessica Soho (GMA-7) – 20.9%
Goin' Bulilit (ABS-CBN) – 19.7%
Star Cinema Originals: One More Try (ABS-CBN) – 19.3%
Kap's Amazing Stories (GMA-7) – 15.8%
Gandang Gabi Vice (ABS-CBN) – 13.4%
Imbestigador (GMA-7) – 11.4%
Sunday Night Box Office: First Blood (GMA-7) - 9%
Who Wants To Be A Millionaire (TV5) - 4.4%
Source: Kantar Media/TNS