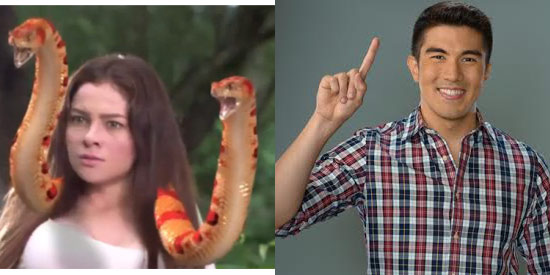 ---
ABS-CBN's Kapamilya Gold dramas Galema: Anak ni Zuma and Princess Hours are gaining strength in the daytime block as they are pitted against movies being aired on GMA Network.

Meanwhile, It's Showtime and Minute To Win It are also gaining momentum as they are climbing up the charts. Luis Manzano's game show, Minute To Win It, has consistently beaten Rhea Santos's biographical documentary program Tunay na Buhay.

Primetime Bida dramas Honesto, Got To Believe, Annaliza and Maria Mercedes continue to be more popular in urban and rural households in the country.
TV Patrol remains to be the choice of Pinoys among primetime newscasts. As for late-night newscasts, it's a relatively close fight between Bandila and Saksi.
Here are the comparative Household Ratings of ABS-CBN, TV5, and GMA-7 programs from December 2 to 4, 2013 based on the overnight ratings of Kantar Media/TNS among Total Philippines (Urban & Rural) households:
December 2, 2013 (Monday)


MORNING:
Kape't Pandasal (ABS-CBN) 0.1%; Sports Unlimited - Replay (ABS-CBN) 0.8%; Aha! - Replay (GMA-7) 1.3%
Umagang Kay Ganda (ABS-CBN) 3.9%; Unang Hirit (GMA-7) 4.1%


Kris TV (ABS-CBN) 4.7%; Dragon Ball (GMA-7) 5.8%; Pokemon (GMA-7) 7.6%


Power Rangers Samurai (ABS-CBN) 5.6%; One Piece (GMA-7) 7.6%


Jackie Chan Fantasia (ABS-CBN) 5.5%; Bleach (GMA-7) 6.7%


Mr. Bean (ABS-CBN) 6.1%; Flame of Recca (GMA-7) 6.3%


Crazy Love (ABS-CBN) 7.2%; Shaman King (GMA-7) 6.7%; Kusina Master - Sikreto Ng Experto (GMA-7) 5.4%
Minute To Win It (ABS-CBN) 10.8%; Tunay Na Buhay (GMA-7) 6.7%
AFTERNOON:
Be Careful With My Heart (ABS-CBN) 19.1%; The Ryzza Mae Show (GMA-7) 8.3%
It's Showtime (ABS-CBN) 13.1%; Eat Bulaga! (ABS-CBN) 12%
Kapamilya Blockbusters: Wedding Tayo, Wedding Hindi (ABS-CBN) 11.2%; Villa Quintana (GMA-7) 7.7%; Magkano Ba Ang Pag-Ibig? (GMA-7) 7.4%
Galema: Anak Ni Zuma (ABS-CBN) 11.8%; Bistado (ABS-CBN) 8.5%; Princess Hours (ABS-CBN) 13.4%; GMA Blockbusters: Of All The Things (GMA-7) 7.7%
EVENING:


Annaliza (ABS-CBN) 22.9%; Prinsesa Ng Buhay Ko (GMA-7) 12.4%; Aksyon (TV5) 4.9%
TV Patrol (ABS-CBN) 25%; 24 Oras (GMA-7) 16.4%; Let's Ask Pilipinas (TV5) 3.7%; Madam Chairman (TV5) 3.7%
Honesto (ABS-CBN) 27.4%; Adarna (GMA-7) 14.1%; Monday Night Blockbusters: Bad Boys II (TV5) 5%
ADVERTISEMENT - CONTINUE READING BELOW
Got To Believe (ABS-CBN) 26%; Genesis (GMA-7) 12.6%
Maria Mercedes (ABS-CBN) 18.2%; Akin Pa Rin Ang Bukas (GMA-7) 12.1%
When A Man Falls In Love (ABS-CBN) 10%; A 100-Year Legacy (GMA-7) 7.9%; Demolition Job (TV5) 2%; Pilipinas News (TV5) 1.3%
Bandila (ABS-CBN) 2.6%; Saksi - Liga Ng Katotohanan (GMA-7) 4.3%; Reaksyon - Kasama Si Luchi Cruz-Valdes (TV5) 0.8%; Cocktales (TV5) 0.5%
Banana Nite (ABS-CBN) 1.2%; i-Witness - The GMA Documentaries (GMA-7) 2.4%
O Shopping (ABS-CBN) 0.5%; Tim Yap Show (GMA-7) 0.8%
December 3, 2013 (Tuesday)
MORNING:
Kape't Pandasal (ABS-CBN) 0.2%; Mutya Ng Masa - Replay (ABS-CBN) 0.5%; i-Witness: The GMA Documentaries - Replay (GMA-7) 2%
Umagang Kay Ganda (ABS-CBN) 3.8%; Unang Hirit (GMA-7) 4.1%


Kris TV (ABS-CBN) 4.5%; Dragon Ball (GMA-7) 5.2%; Pokemon (GMA-7) 6.6%


Power Rangers Samurai (ABS-CBN) 5.5%; One Piece (GMA-7) 7.7%


Jackie Chan Fantasia (ABS-CBN) 4.6%; Bleach (GMA-7) 7.6%


Mr. Bean (ABS-CBN) 5.9%; Flame of Recca (GMA-7) 7.1%


Crazy Love (ABS-CBN) 7.8%; Shaman King (GMA-7) 7%; Kusina Master - Sikreto Ng Experto (GMA-7) 5.3%
Minute To Win It (ABS-CBN) 12.3%; Tunay Na Buhay (GMA-7) 6.6%
AFTERNOON:
Be Careful With My Heart (ABS-CBN) 19.5%; The Ryzza Mae Show (GMA-7) 8.3%
It's Showtime (ABS-CBN) 12.5%; Eat Bulaga! (GMA-7) 11.5%
Kapamilya Blockbusters: Enteng Ng Ina Mo (ABS-CBN) 11.5%; Villa Quintana (GMA-7) 8.2%; Magkano Ba Ang Pag-Ibig? (GMA-7) 7.8%
Galema: Anak Ni Zuma (ABS-CBN) 12.3%; Mutya Ng Masa (ABS-CBN) 8.3%; Princess Hours (ABS-CBN) 12.1%; GMA Blockbusters: Inang Yaya (GMA-7) 8%

EVENING:
Annaliza (ABS-CBN) 22.6%; Prinsesa Ng Buhay Ko (GMA-7) 12.4%; Aksyon (TV5) 4.7%
TV Patrol (ABS-CBN) 26.3%; 24 Oras (GMA-7) 15.3%; Let's Ask Pilipinas (TV5) 3.7%; Madam Chairman (TV5) 3.7%
Honesto (ABS-CBN) 28.6%; Adarna (GMA-7) 14%; MyDSL PBA 2014 Philippine Cup: Barangay Ginebra San Miguel vs. Meralco Bolts (TV5) 4.2%
Got To Believe (ABS-CBN) 25.9%; Genesis (GMA-7) 13.1%
Maria Mercedes (ABS-CBN) 20.4%; Akin Pa Rin Ang Bukas (GMA-7) 13.1%
When A Man Falls In Love (ABS-CBN) 10.2%; A 100-Year Legacy (GMA-7) 7.1%; Numero (TV5) 1.8%; Pilipinas News (TV5) 1%
Bandila (ABS-CBN) 3.5%; Saksi - Liga Ng Katotohanan (GMA-7) 4%; Reaksyon - Kasama Si Luchi Cruz-Valdes (TV5) 0.5%
Banana Nite (ABS-CBN) 1.7%; Reporter's Notebook (GMA-7) 2.4%; MyDSL PBA 2014 Philippine Cup: Global Port Batang Pier vs. Talk N' Text Tropang Texters (TV5) 0.4%
O Shopping (ABS-CBN) 0.4%; Tim Yap Show (GMA-7) 0.9%
ADVERTISEMENT - CONTINUE READING BELOW
December 4, 2013 (Wednesday)

MORNING:
Kape't Pandasal (ABS-CBN) 0.6%; My Puhunan - Replay (ABS-CBN) 0.8%; Reporter's Notebook - Replay (GMA-7) 1.5%
Umagang Kay Ganda (ABS-CBN) 3.8%; Unang Hirit (GMA-7) 3.6%
Kris TV (ABS-CBN) 5%; Dragon Ball (GMA-7) 5.3%; Pokemon (GMA-7) 6.9%
Power Rangers Samurai (ABS-CBN) 4.5%; One Piece (GMA-7) 7.7%


Jackie Chan Fantasia (ABS-CBN) 4.7%; Bleach (GMA-7) 7.5%


Mr. Bean (ABS-CBN) 6.1%; Flame of Recca (GMA-7) 7.3%


Crazy Love (ABS-CBN) 8.8%; Shaman King (GMA-7) 7%; Kusina Master - Sikreto Ng Experto (GMA-7) 4.6%
Minute To Win It (ABS-CBN) 12.5%; Tunay Na Buhay (GMA-7) 5.2%
AFTERNOON:
Be Careful With My Heart (ABS-CBN) 18%; The Ryzza Mae Show (GMA-7) 7.7%
It's Showtime (ABS-CBN) 13.1%; Eat Bulaga! (GMA-7) 11.1%
Kapamilya Blockbusters: D' Kilabots Pogi Brothers – Weh?! (ABS-CBN) 10.9%; Villa Quintana (GMA-7) 8.2%; Magkano Ba Ang Pag-Ibig? (GMA-7) 8.1%
Galema: Anak Ni Zuma (ABS-CBN) 11.5%; My Puhunan (ABS-CBN) 7.7%; Princess Hours (ABS-CBN) 12.5%; GMA Blockbusters: Happily Ever After (GMA-7) 7.8%
EVENING:
Annaliza (ABS-CBN) 22.7%; Prinsesa Ng Buhay Ko (GMA-7) 11.9%; Aksyon (TV5) 5%
TV Patrol (ABS-CBN) 26.8%; 24 Oras (GMA-7) 15.7%; Let's Ask Pilipinas (TV5) 3.9%; Madam Chairman (TV5) 3.9%

Honesto (ABS-CBN) 30.3%; Adarna (GMA-7) 14.6%
Got To Believe (ABS-CBN) 27.9%; Genesis (GMA-7) 12.2%; MyDSL PBA 2014 Philippine Cup: Air 21 Express vs. Alaska Aces (TV5) 3.7%
Maria Mercedes (ABS-CBN) 20.7%; Akin Pa Rin Ang Bukas (GMA-7) 12.2%
When A Man Falls In Love (ABS-CBN) 8.8%; A 100-Year Legacy (GMA-7) 7.4%; History With Lourd: Tsismis Noon, Kasaysayan Ngayon (TV5) 2.1%; Pilipinas News (TV5) 1.2%
Bandila (ABS-CBN) 3.4%; Saksi - Liga Ng Katotohanan (GMA-7) 3.5%; Reaksyon - Kasama Si Luchi Cruz-Valdes (TV5) 0.8%
Banana Nite (ABS-CBN) 1.2%; Born To Be Wild (GMA-7) 1.9%; MyDSL PBA 2014 Philippine Cup: Barako Bull Energy Cola vs. Petron Blaze Boosters (TV5) 0.3%
O Shopping (ABS-CBN) 0.3%; Tim Yap Show (GMA-7) 0.7%
Here are the Top 10 daytime and primetime programs from December 2 to 4, 2013 among Total Philippines (Urban & Rural) households:
December 2, Monday
Daytime:
Be Careful With My Heart (ABS-CBN) – 19.1%
Princess Hours (ABS-CBN) – 13.4%
It's Showtime (ABS-CBN) – 13.1%
Eat Bulaga (GMA-7) – 12%
Galema: Anak Ni Zuma (ABS-CBN) – 11.8%
Kapamilya Blockbusters: Wedding Tayo, Wedding Hindi (ABS-CBN) – 11.2%
Minute To Win It (ABS-CBN) – 11.5%
Bistado (ABS-CBN) – 8.5%
The Ryzza Mae Show (GMA-7) – 8.3%
Villa Quintana (GMA-7) – 7.7% / GMA Blockbusters: Of All The Things (GMA-7) – 7.7%
Primetime:
Honesto (ABS-CBN) – 27.4%
Got To Believe (ABS-CBN) – 26%
TV Patrol (ABS-CBN) – 25%
Annaliza (ABS-CBN) – 22.9%
Maria Mercedes (ABS-CBN) – 18.2%
24 Oras (GMA-7) – 16.4%
Adarna (GMA-7) – 14.1%
Genesis (GMA-7) – 12.6%
Prinsesa Ng Buhay Ko (GMA-7) – 12.4%
Akin Pa Rin Ang Bukas (ABS-CBN) – 12.1



December 3, Tuesday

Daytime:
Be Careful With My Heart (ABS-CBN) – 19.5%
It's Showtime (ABS-CBN) – 12.5%
Minute To Win It (ABS-CBN) – 12.3% / Galema: Anak Ni Zuma (ABS-CBN) – 12.3%
Princess Hours (ABS-CBN) – 12.1%
Kapamilya Blockbusters: D' Kilabots Pogi Brothers – Weh?! (ABS-CBN) – 11.5% / Eat Bulaga (GMA-7) – 11.5%
Mutya ng Masa (ABS-CBN) – 8.3% / The Ryzza Mae Show (GMA-7) – 8.3%
Villa Quintana (GMA-7) – 8.2%
GMA Blockbusters: Inang Yaya (GMA-7) - 8%
Crazy Love (ABS-CBN) – 7.8% / Magkano Ba Ang Pag-Ibig? (GMA-7) – 7.8%
One Piece (GMA-7) 7.7%
Primetime:
Honesto (ABS-CBN) – 28.6%
TV Patrol (ABS-CBN) – 26.3%
Got To Believe (ABS-CBN) – 25.9%
Annaliza (ABS-CBN) – 22.6%
Maria Mercedes (ABS-CBN) – 20.4%
24 Oras (GMA-7) – 15.3%
Adarna (GMA-7) – 14%
Genesis (GMA-7) – 13.1% / Akin Pa Rin Ang Bukas (ABS-CBN) – 13.1%
Prinsesa Ng Buhay Ko (GMA-7) – 12.4%
When A Man Falls In Love (ABS-CBN) – 10.2%
December 4, Wednesday
Daytime:
Be Careful With My Heart (ABS-CBN) – 18%
It's Showtime (ABS-CBN) – 13.1%
Minute To Win It (ABS-CBN) – 12.5% / Princess Hours (ABS-CBN) – 12.5%
Galema: Anak Ni Zuma (ABS-CBN) – 11.5% / Kapamilya Blockbusters: Enteng Ng Ina Mo (ABS-CBN) - 11.5%
Eat Bulaga (GMA-7) – 11.1%
Crazy Love (ABS-CBN) – 8.8%
Villa Quintana (GMA-7) – 8.2%
Magkano Ba Ang Pag-Ibig? (GMA-7) – 8.1%
GMA Blockbusters (GMA-7) – 7.8%
My Puhunan (GMA-7) – 7.7% / One Piece (GMA-7) – 7.7% / The Ryzza Mae Show (GMA-7) – 7.7%
Primetime:
Honesto (ABS-CBN) – 30.3%
Got To Believe (ABS-CBN) – 27.9%
TV Patrol (ABS-CBN) – 26.8%
Annaliza (ABS-CBN) – 22.7%
Maria Mercedes (ABS-CBN) – 20.7%
24 Oras (GMA-7) – 15.7%
Adarna (GMA-7) – 14.6%
Genesis (GMA-7) – 12.2% / Akin Pa Rin Ang Bukas (ABS-CBN) – 12.2%
Prinsesa Ng Buhay Ko (GMA-7) – 11.9%
10. When A Man Loves A Woman (ABS-CBN) – 8.8%

Source: Kantar Media/TNS