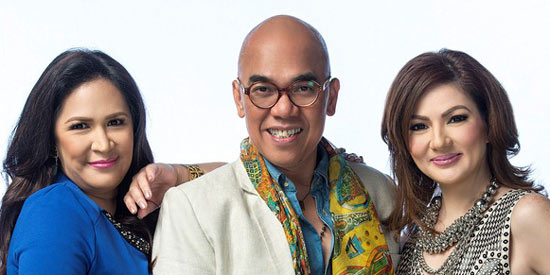 ---
ABS-CBN is still the leading network nationwide in terms of viewership. This is according to data based on the overnight ratings of Kantar Media/TNS among Total Philippines (Urban & Rural) from February 15 to 21, 2014.
The Kapamilya network conquers both weekday and weekend programming, thanks to its top-rating shows on both daytime and primetime.
ABS-CBN's weekday primetime soap operas continue to conquer the airwaves, constantly placing in the top five most-watched shows on weekday nights.

The Raikko Mateo-starrer Honesto is still the frontrunner, getting an impressive rating of above 30% daily. The next three shows get ratings above 20%: Got to Believe, Annaliza, and the primetime newscast TV Patrol. In fifth place is Angel Locsin's The Legal Wife, which gets ratings above 15% daily.
This is in stark contrast to GMA-7's primetime offerings, which almost always lag behind its rival programs.
Only Adarna, which stars Kylie Padilla, gets above 15% ratings daily. The rest—24 Oras, Carmela, Rhodora X, A 100-Year Legacy, and Paraiso Ko'y Ikaw—get lower then 15% on average.
In fact, there are days when TV5's coverage of the PBA 2014 Philippine Cup Finals overtakes the Kapuso shows in the rankings. The sports coverage placed in the top ten on February 19 and 21.
But not all shows are triumphant in ABS-CBN's primetime block. The Biggest Loser: Pinoy Edition Doubles is having a tough time beating the Koreanovela A 100-Year Legacy, which airs on GMA-7.
Weekday afternoons are just as rosy for ABS-CBN. Programs such as It's Showtime, Kapamilya Blockbusters, Galema: Anak ni Zuma and Princess Hours always beat the competition, which includes GMA-7's Innamorata that premiered last February 17.

Innamorata, starring Max Collins, was able to get 9.1% while its competing show Kapamilya Blockbusters: Crocodile Jones got 11.5%.
Weekends are also great for ABS-CBN. Buzz ng Bayan has double the ratings garnered by Startalk, TV Patrol Weekend is still the most-watched weekend news program, and Home Sweetie Home is the most-popular weekend sitcom.
ADVERTISEMENT - CONTINUE READING BELOW
Here are the comparative Household Ratings of ABS-CBN, TV5, and GMA-7 programs from February 15 to 21, 2014 based on the overnight ratings of Kantar Media/TNS among Total Philippines (Urban & Rural) households.
February 15, 2014 (Saturday)
Morning:
Sa Kabukiran (ABS-CBN) 1.2%; Kapwa Ko Mahal Ko (GMA-7) 1.4%
Salamat Dok (ABS-CBN) 2.1%; Pinoy MD Mga Doktor Ng Bayan (GMA-7) 2.4%
Swak Na Swak (ABS-CBN) 2.8%; Scooby-Doo! Mystery Incorporated (GMA-7) 5%
Honey Watch Out (ABS-CBN) 2.8%; Super Book (GMA-7) 7.4%; Paddle Pop Kombatei (GMA-7) 8.4%
Sineskwela (ABS-CBN) 3.8%; Angry Birds Toons (GMA-7) 9.8%
Avatar: The Legend Of Aang (ABS-CBN) 5.3%; Pororo (GMA-7) 9.5%
Teenage Mutant Ninja Turtles (ABS-CBN) 5.7%; Toriko (GMA-7) 9.9%
Spongebob Squarepants (ABS-CBN) 7.6%; Tropang Potchi (GMA-7) 6.1%; Sarap Diva (GMA-7) 5.3%
2013-2014 NBA All-Stars Weekend BBVA Compass Rising Stars Challenge (ABS-CBN) 6.9%; Maynila (GMA-7) 8.9%
Afternoon:
It's Showtime (ABS-CBN) 14.1%; Eat Bulaga! (GMA-7) 12.5%
The Singing Bee (ABS-CBN) 9.5%; GMA Blockbusters: The Back-Up Plan (GMA-7) 8%
S.O.C.O. A Scene of The Crime Operatives (ABS-CBN) 9.8%; Wish Ko Lang! (GMA-7) 7.2%
Failon Ngayon (ABS-CBN) 9.2%; 24 Oras Weekend (GMA-7) 7.8%
Evening:
TV Patrol Weekend (ABS-CBN) 18.2%; Picture Picture (GMA-7) 10.2%; Aksyon Weekend (TV5) 3%; Magic Gimik Revealed! (TV5) 4.9%
Bet On Your Baby (ABS-CBN) 29.5%; Vampire Ang Daddy Ko (GMA-7) 15.4%; Pinoy Explorer (TV5) 4.7%
Wansapanataym 'Enchanted House' (ABS-CBN) 31.3%; MMK: Ang Tahanan Mo 'Gitara' (ABS-CBN) 28.2%; Magpakailanman (GMA-7) 17.7%; Celebrity Bluff (GMA-7) 15.3%; Tropa Mo Ko Unli (TV5) 4.3%; Killer Karaoke Pinoy Naman (TV5) 3.3%
The Biggest Loser Pinoy Edition Doubles (ABS-CBN) 9.7%; i-Witness (GMA-7) 11.6%; Juan Direction (TV5) 1.9%; 2014 Ronda Pilipinas (TV5) 1.8%; Kaya (TV5) 1%
Banana Split Extra Scoop (ABS-CBN) 4.6%; The Bottom Line With Boy Abunda (ABS-CBN) 1.8%; Kapuso Movie Night: Mulan (GMA-7) 7.2%; SpinNation (TV5) .2%
Sports Unlimited (ABS-CBN) .9%; O Shopping (ABS-CBN) 0.5%; Walang Tulugan With Master Showman (GMA-7) 1%; Pilipinas News Weekend (TV5) .4%; 2014 Sochi Winter Olympics Speed Skating (TV5) .3%



February 16, 2014 (Sunday)
Morning:
The Healing Eucharist (ABS-CBN) 4.1%; Mojacko (GMA-7) .6%; Puppy In My Pocket (GMA-7) 1.8%; Scan 2go (GMA-7) 3.5%
Swak Na Swak (ABS-CBN) 3.3%; The Batman (GMA-7) 5.3%; Super Book (GMA-7) 7%
Salamat Dok (ABS-CBN) 4%; Paddle Pop Kombatei (GMA-7) 7.6%; Pororo (GMA-7) 7.7%
X-Men (ABS-CBN) 4.4%; Toriko (GMA-7) 7.4%
ADVERTISEMENT - CONTINUE READING BELOW
Blade (ABS-CBN) 4.3%; Aha! (GMA-7) 6.7%
Matanglawin (ABS-CBN) 5.8%; Born To Be Wild (GMA-7) 6.6%
Petrang Kabayo (ABS-CBN) 12.8%; Kapuso Movie Festival: Chronicles of Narnia: The Voyage of the Dawn Treader (GMA-7) 11.2%
Afternoon:
ASAP 19 (ABS-CBN) 12.3%; Sunday All Stars (GMA-7) 7.8%; True Horror Stories (GMA-7) 9%
Luv U (ABS-CBN) 11.6%; iBilib Featuring: Is It Possible? (GMA-7) 6.6%
Buzz Ng Bayan (ABS-CBN) 10.5%; Startalk (GMA-7) 4.8%
TV Patrol Weekend (ABS-CBN) 11.4%; 24 Oras Weekend (GMA-7) 5.3%; PLDT MyDSL PBA 2014 Philippine Cup Finals Live (TV5) 6.4%
Evening:
Goin' Bulilit (ABS-CBN) 18.2%; Kap's Amazing Stories (GMA-7) 10.8%
Home Sweetie Home (ABS-CBN) 22.1%; Pepito Manaloto Ang Tunay Na Kuwento (GMA-7) 21.3%; Astig (TV5) 4.3%; Astig (TV5) 3.3%
Rated K: Handa Na Ba Kayo? (ABS-CBN) 22.7%; Kapuso Mo Jessica Soho (GMA-7) 20.9%; Who Wants To Be A Millionaire (TV5) 3.5%; Wow Mali Pa Rin! (TV5) 3.2%
Gandang Gabi Vice (ABS-CBN) 17.7%; Imbestigador (GMA-7) 14%; Sunday Sineplex (TV5) 3.2%
Sunday's Best: Lea Salonga Playlist (ABS-CBN) 5.2%; Sunday Night Box Office: Night Watch (GMA-7) 7.4%; Ronda Pilipinas (TV5) 7.4%; Pilipinas News Weekend (TV5) .5%; Astig (TV5) .2%
O Shopping (ABS-CBN) .6%; Diyos At Bayan (GMA-7) .5%; 2014 Sochi Winter Olympics Bobsleigh (TV5) .3%



February 17, 2014 (Monday)
Morning:
Kape't Pandesal (ABS-CBN) 0.2%; Sports Unlimited Replay (ABS-CBN) .7%; Aha! Replay (GMA-7) 0.6%
Umagang Kay Ganda (ABS-CBN) 4.3%; Unang Hirit (GMA-7) 3.5%
Kris TV (ABS-CBN) 6%; Doraemon (GMA-7) 6.3%; Pokemon (GMA-7) 7.3%
Ultraman Mebius (ABS-CBN) 5.7%; Detective Conan (GMA-7) 7.1%;
Kuroko's Basketball (ABS-CBN) 4.7%; Inuyasha (GMA-7) 6.9%
Naruto Shippuuden (ABS-CBN) 5.5%; Flame of Recca (GMA-7) 6.6%
Crazy Love (ABS-CBN) 8.8%; Dragon Ball Z Kai (GMA-7) 7.2%; Kusina Master (GMA-7) 5.3%
Minute To Win It (ABS-CBN) 13.7%; Tunay Na Buhay (GMA-7) 6.5%
Be Careful With My Heart (ABS-CBN) 19.8%; The Ryzza Mae Show (GMA-7) 9.2%
Afternoon:
It's Showtime (ABS-CBN) 15%; Eat Bulaga! (GMA-7) 11.8%
Kapamilya Blockbusters: Crocodile Jones (ABS-CBN) 11.5%; Villa Quintana (GMA-7) 9.9%; Innamorata (GMA-7) 9.1%
Galema: Anak Ni Zuma (ABS-CBN) 11.3%; The Borrowed Wife (GMA-7) 8.9%
Bistado (ABS-CBN) 8.8%; Princess Hours (ABS-CBN) 13%; Tale of Arang (GMA-7) 6.9%
Evening:
Annaliza (ABS-CBN) 25.5%; Paraiso Ko'y Ikaw (GMA-7) 7%
TV Patrol (ABS-CBN) 30.4%; 24 Oras (GMA-7) 14.6%; Aksyon (TV5) 4.5%; Lets Ask Pilipinas (TV5) 3.8%; Madam Chairman (TV5) 3.4%
Honesto (ABS-CBN) 34.4%; Adarna (GMA-7) 16.2%; Gilas Pilipinas (TV5) 3.4%
Got To Believe (ABS-CBN) 31.4%; Carmela (GMA-7) 14.7%; Monday Night Blockbusters (TV5) 2.7%
ADVERTISEMENT - CONTINUE READING BELOW
The Legal Wife (ABS-CBN) 18.7%; Rhodora X (GMA-7) 11.2%
Aquino & Abunda Tonight (ABS-CBN) 9.4%; The Biggest Loser: Pinoy Edition Doubles (ABS-CBN) 6.3%; A 100-Year Legacy (GMA-7) 8.6%; Demolition Job (TV5) 2.5%; Pilipinas News (TV5) 1.3%; Reaksyon (TV5) .9%
Bandila (ABS-CBN) 3.5%; Saksi (GMA-7) 4.2%; Front Row (GMA-7) 2.5%; Sochi.Ru 2014 Figure Skating Live (TV5) .8%
Banana Nite (ABS-CBN) 1.9%; O Shopping (ABS-CBN) .6%; The Medyo Late Night Show With Jojo A. (GMA-7) .7%



February 18, 2014 (Tuesday)
Morning:
Kape't Pandesal (ABS-CBN) 0.2%; Mutya Ng Masa Replay (ABS-CBN) 0.5%; I-Witness Replay (GMA-7) .9%
Umagang Kay Ganda (ABS-CBN) 3.9%; Unang Hirit (GMA-7) 3.5%
Kris TV (ABS-CBN) 5.5%; Doraemon (GMA-7) 5.7%; Pokemon (GMA-7) 6.9%
Ultraman Mebius (ABS-CBN) 5.3%; Detective Conan (GMA-7) 7.4%
Kuroko's Basketball (ABS-CBN) 4.6%; Inuyasha (GMA-7) 7.2%
Naruto Shippuuden (ABS-CBN) 6.2%; Flame of Recca (GMA-7) 6.8%; Dragon Ball Z Kai (GMA-7) 7.2%
Crazy Love (ABS-CBN) 8.5%; Kusina Master (GMA-7) 5.5%
Minute To Win It (ABS-CBN) 13.6%; Tunay Na Buhay (GMA-7) 6.3%
Be Careful With My Heart (ABS-CBN) 18.6%; The Ryzza Mae Show (GMA-7) 9.4%
Afternoon:
It's Showtime (ABS-CBN) 13.7%; Eat Bulaga! (GMA-7) 11.5%
Kapamilya Blockbusters Home: Super Inday and the Golden Bibe (ABS-CBN) 11.7%; Villa Quintana (GMA-7) 9.2%; Innamorata (GMA-7) 8.8%
Galema: Anak Ni Zuma (ABS-CBN) 11.1%; The Borrowed Wife (GMA-7) 8.4%
Mutya ng Masa (ABS-CBN) 7.7%; Princess Hours (ABS-CBN) 10%; Tale of Arang (GMA-7) 6.8%
Evening:
Annaliza (ABS-CBN) 23.3%; Paraiso Ko'y Ikaw (GMA-7) 7.7%
TV Patrol (ABS-CBN) 29.5%; 24 Oras (GMA-7) 15.1%; Aksyon (TV5) 3.9%; Lets Ask Pilipinas (TV5) 3.6%; Madam Chairman (TV5) 3.9%
Honesto (ABS-CBN) 32.1%; Adarna (GMA-7) 15.3%
Got To Believe (ABS-CBN) 30.5%; Carmela (GMA-7) 14.5%; Studio 5 Original Movies (TV5) 2.9%
The Legal Wife (ABS-CBN) 19.4%; Aquino & Abunda Tonight (ABS-CBN) 10.9%; Rhodora X (GMA-7) 11.9%; Numero (TV5) 1.4%
The Biggest Loser: Pinoy Edition Doubles (ABS-CBN) 6.3%; A 100-Year Legacy (GMA-7) 8.8%; Pilipinas News (TV5) 1%; Reaksyon (TV5) .7%
Bandila (ABS-CBN) 3.4%; Saksi (GMA-7) 3.9%; Sochi.Ru 2014 Figure Skating Live (TV5) .6%
Banana Nite (ABS-CBN) 1.5%; Reporter's Notebook (GMA-7) 2.3%
O Shopping (ABS-CBN) .3%; The Medyo Late Night Show With Jojo A. (GMA-7) .8%; Sochi.Ru 2014 Figure Skating Live (TV5) .5%



February 19, 2014 (Wednesday)
Morning:
Kape't Pandesal (ABS-CBN) .5%; My Puhunan Replay (ABS-CBN) .9%; Reporter's Notebook Replay (GMA-7) .7%
Umagang Kay Ganda (ABS-CBN) 4.2%; Unang Hirit (GMA-7) 3.5%
Kris TV (ABS-CBN) 5.8%; Doraemon (GMA-7) 6.1%; Pokemon (GMA-7) 6.9%
ADVERTISEMENT - CONTINUE READING BELOW
Ultraman Mebius (ABS-CBN) 6.1%; Detective Conan (GMA-7) 7.1%
Kuroko's Basketball (ABS-CBN) 5.7%; Inuyasha (GMA-7) 7.3%
Naruto Shippuuden (ABS-CBN) 6.6%; Flame of Recca (GMA-7) 7%; Dragon Ball Z Kai (GMA-7) 7%
Crazy Love (ABS-CBN) 9.1%; Kusina Master (GMA-7) 4.6%
Minute To Win It (ABS-CBN) 12.5%; Tunay Na Buhay (GMA-7) 4.6%
Be Careful With My Heart (ABS-CBN) 18.5%; The Ryzza Mae Show (GMA-7) 8.4%
Afternoon:
It's Showtime (ABS-CBN) 13.6%; Eat Bulaga! (GMA-7) 11.1%
Kapamilya Blockbusters Bala at Lipistik (ABS-CBN) 10.9%; Villa Quintana (GMA-7) 9.7%; Innamorata (GMA-7) 8.8%
Galema: Anak Ni Zuma (ABS-CBN) 10.1%; The Borrowed Wife (GMA-7) 8.2%
My Puhunan (ABS-CBN) 7%; Princess Hours (ABS-CBN) 10.6%; Tale of Arang (GMA-7) 6%
Evening:
Annaliza (ABS-CBN) 24.1%; Paraiso Ko'y Ikaw (GMA-7) 6.9%
TV Patrol (ABS-CBN) 28.3%; 24 Oras (GMA-7) 13.8%; Aksyon (TV5) 4.8%; Lets Ask Pilipinas (TV5) 3.8%
Honesto (ABS-CBN) 30.1%; Adarna (GMA-7) 15.4%; Madam Chairman (TV5) 4.2%
Got To Believe (ABS-CBN) 28.1%; Carmela (GMA-7) 13.8%; PLDT MyDSL PBA 2014 Philippine Cup Finals Live (TV5) 10.5%
The Legal Wife (ABS-CBN) 16.3%; Aquino & Abunda Tonight (ABS-CBN) 9.8%; Rhodora X (GMA-7) 11.5%; History With Lourd (TV5) 4%
The Biggest Loser: Pinoy Edition Doubles (ABS-CBN) 6.9%; A 100-Year Legacy (GMA-7) 9%; Pilipinas News (TV5) 2.2%; Reaksyon (TV5) 1.6%
Bandila (ABS-CBN) 3.7%; Saksi (GMA-7) 4.5%; Sochi.Ru 2014 Figure Skating Live (TV5) 1%
Banana Nite (ABS-CBN) 2.2%; Powerhouse (GMA-7) 2.6%
O Shopping (ABS-CBN) .3%; The Medyo Late Night Show With Jojo A. (GMA-7) .9%



February 20, 2014 (Thursday)
Morning:
Kape't Pandesal (ABS-CBN) 0.3%; TNT Tapatan Ni Tunying Replay (ABS-CBN) 0.8%; Born To Be Wild Replay (GMA-7) .8%
Umagang Kay Ganda (ABS-CBN) 4.1%; Unang Hirit (GMA-7) 3.2%
Kris TV (ABS-CBN) 6%; Doraemon (GMA-7) 5.9%; Pokemon (GMA-7) 7.1%
Ultraman Mebius (ABS-CBN) 5.8%; Detective Conan (GMA-7) 7.2%
Kuroko's Basketball (ABS-CBN) 5.6%; Inuyasha (GMA-7) 7.2%
Naruto Shippuuden (ABS-CBN) 6.3%; Flame of Recca (GMA-7) 6.5%
Crazy Love (ABS-CBN) 8.9%; Dragon Ball Z Kai (GMA-7) 6.7%; Kusina Master (GMA-7) 5.3%
Minute To Win It (ABS-CBN) 15.5%; Tunay Na Buhay (GMA-7) 6.1%
Be Careful With My Heart (ABS-CBN) 20.3%; The Ryzza Mae Show (GMA-7) 9.1%
Afternoon:
It's Showtime (ABS-CBN) 14%; Eat Bulaga! (GMA-7) 11.7%
Kapamilya Blockbusters Pido Dida Sabay Tayo (ABS-CBN) 10.9%; Villa Quintana (GMA-7) 9.9%; Innamorata (GMA-7) 9.2%
Galema: Anak Ni Zuma (ABS-CBN) 10.6%; The Borrowed Wife (GMA-7) 9.7%
Tapatan Ni Tunying (ABS-CBN) 7%; Princess Hours (ABS-CBN) 11%; Tale of Arang (GMA-7) 7%
ADVERTISEMENT - CONTINUE READING BELOW
Evening:
Annaliza (ABS-CBN) 24.1%; Paraiso Ko'y Ikaw (GMA-7) 7.2%
TV Patrol (ABS-CBN) 29.8%; 24 Oras (GMA-7) 14.5%; Aksyon (TV5) 5%; Lets Ask Pilipinas (TV5) 3.8%
Honesto (ABS-CBN) 32.4%; Adarna (GMA-7) 17.8%; Madam Chairman (TV5) 3.5%
Got To Believe (ABS-CBN) 31.2%; Carmela (GMA-7) 17.3%; Obsession (TV5) 1.9%
The Legal Wife (ABS-CBN) 19.5%; Aquino & Abunda Tonight (ABS-CBN) 12.4%; Rhodora X (GMA-7) 13.2%; Asia's Next Top Model (TV5) 1.7%
The Biggest Loser: Pinoy Edition Doubles (ABS-CBN) 6.8%; A 100-Year Legacy (GMA-7) 9.5%; Bigtime (TV5) 1.3%; Pilipinas News (TV5) .8%; Reaksyon (TV5) .6%
Bandila (ABS-CBN) 3.1%; Saksi (GMA-7) 5.1%; Sochi.Ru 2014 Figure Skating Live (TV5) .7%
Banana Nite (ABS-CBN) 1.8%; Alisto! (GMA-7) 2.4 %
O Shopping (ABS-CBN) .5%; The Medyo Late Night Show With Jojo A. (GMA-7) .6%



February 21, 2014 (Friday)
Morning:
Kape't Pandesal (ABS-CBN) 0.2%; Matanglawin Replay (ABS-CBN) .5%; Alisto! Replay (GMA-7) .7%
Umagang Kay Ganda (ABS-CBN) 3.7%; Unang Hirit (GMA-7) 3.5%
Kris TV (ABS-CBN) 5.4%; Doraemon (GMA-7) 6.2%; Pokemon (GMA-7) 7.6%
Ultraman Mebius (ABS-CBN) 5.7%; Detective Conan (GMA-7) 8.2%
Kuroko's Basketball (ABS-CBN) 6%; Inuyasha (GMA-7) 7.2%
Naruto Shippuuden (ABS-CBN) 6.7%; Flame of Recca (GMA-7) 7.5%
Crazy Love (ABS-CBN) 9.6%; Dragon Ball Z Kai (GMA-7) 7.8%; Kusina Master (GMA-7) 5.6%
Minute To Win It (ABS-CBN) 17.3%; Tunay Na Buhay (GMA-7) 5.3%
Be Careful With My Heart (ABS-CBN) 21.1%; The Ryzza Mae Show (GMA-7) 8.5%
Afternoon:
It's Showtime (ABS-CBN) 13.5%; Eat Bulaga! (GMA-7) 11.5%
Kapamilya Blockbusters Tiyanak (ABS-CBN) 12.4%; Villa Quintana (GMA-7) 9.9%; Innamorata (GMA-7) 9.8%
Galema: Anak Ni Zuma (ABS-CBN) 12.6%; Hiwaga (ABS-CBN) 9.5%; The Borrowed Wife (GMA-7) 9.1%
Princess Hours (ABS-CBN) 11.3%; Tale of Arang (ABS-CBN) 7.2%
Evening:
Annaliza (ABS-CBN) 24.4%; Paraiso Ko'y Ikaw (GMA-7) 8.5%
TV Patrol (ABS-CBN) 30%; 24 Oras (GMA-7) 15.1%; Aksyon (TV5) 4.7%; Lets Ask Pilipinas (TV5) 4.3%; Madam Chairman (TV5) 4.8%
Honesto (ABS-CBN) 31.4%; Adarna (GMA-7) 16.1%; PLDT MyDSL PBA 2014 Philippine Cup Finals Live (TV5) 10.8%
Got To Believe (ABS-CBN) 29.5%; Carmela (GMA-7) 14.5%
The Legal Wife (ABS-CBN) 16.8%; Rhodora X (GMA-7) 10.5%
Aquino & Abunda Tonight (ABS-CBN) 9.8%; The Biggest Loser: Pinoy Edition Doubles (ABS-CBN) 5.7%; Bubble Gang (GMA-7) 8.6%; Astig (TV5) 3.2%; Pilipinas News (TV5) 1.5%; Reaksyon (TV5) .8%
Bandila (ABS-CBN) 3.1%; Saksi (GMA-7) 3.8%; 2014 Sochi Winter Olympics (TV5) .7%
Banana Nite (ABS-CBN) 2.1%; O Shopping (ABS-CBN) .5%; The Medyo Late Night Show With Jojo A. (GMA-7) 1.4%; Sochi.Ru 2014 Short Track Speed Skating Live (TV5) .3%
ADVERTISEMENT - CONTINUE READING BELOW
--
Here are the Top 10 daytime and primetime programs from February 8 to 14, 2014 among Total Philippines (Urban & Rural) households:


February 15, 2014 (Saturday)
DAYTIME:
TV Patrol Weekend (ABS-CBN) - 18.2%
It's Showtime (ABS-CBN) - 14.1%
Eat Bulaga! (GMA-7) - 12.5%
Toriko (GMA-7) - 9.9%
SOCO (ABS-CBN) / Angry Birds Toons (GMA-7) - 9.8%
The Singing Bee (ABS-CBN) / Pororo (GMA-7) - 9.5%
Failon Ngayon (ABS-CBN) - 9.2%
Maynila (GMA-7) - 8.9%
Paddle Pop Kombatei (GMA-7) - 8.4%
GMA Blockbusters 'The Back-Up Plan' (GMA-7) - 8%
PRIMETIME:
Wansapanataym (ABS-CBN) - 31.3%
Bet On Your Baby (ABS-CBN) - 29.5%
MMK: Ang Tahanan Mo (ABS-CBN) - 28.2%
Magpakailanman (GMA-7) - 17.7%
Vampire Ang Daddy Ko (GMA-7) - 15.4%
Celebrity Bluff (GMA-7) - 15.3%
i-Witness (GMA-7) 11.6%
Picture! Picture! (GMA-7) - 10.2%
The Biggest Loser: Pinoy Edition Doubles (ABS-CBN) - 9.7%
Kapuso Movie Night: Mulan (GMA-7) - 7.2%
February 16, 2014 (Sunday)
DAYTIME:
Petrang Kabayo (ABS-CBN) - 12.8%
ASAP 19 (ABS-CBN) - 12.3%
Luv U (ABS-CBN) - 11.6%
TV Patrol Weekend (ABS-CBN) - 11.4%
Kapuso Movie Festival: Chronicles of Narnia: The Voyage of the Dawn Treader (GMA-7) - 11.2%
Buzz ng Bayan (ABS-CBN) - 10.5%
True Horror Stories (GMA-7) - 9%
Sunday All Stars (GMA-7) - 7.8%
Pororo (GMA-7) - 7.7%
Paddle Pop Kombatei (GMA-7) - 7.6%
PRIMETIME:
Rated K: Handa na ba Kayo? (ABS-CBN) - 22.7%
Home Sweetie Home (ABS-CBN) - 22.1%
Pepito Manaloto: Ang Tunay na Kuwento (GMA-7) - 21.3%
Kapuso Mo, Jessica Soho (GMA-7) - 20.9%
Goin' Bulilit (ABS-CBN) - 18.2%
Gandang Gabi Vice (ABS-CBN) - 17.7%
Imbestigador (GMA-7) - 14%
Kap's Amazing Stories (GMA-7) - 10.8%
Sunday Night Box Office: Night Watch (GMA-7) - 7.4%
Sunday's Best: Lea Salonga Playlist (ABS-CBN) - 5.2%
February 17, 2014 (Monday)
DAYTIME:
Be Careful With My Heart (ABS-CBN) - 19.8%
It's Showtime (ABS-CBN) - 15%
Minute To Win It (ABS-CBN) - 13.7%
Princess Hours (ABS-CBN) - 13%
Eat Bulaga! (GMA-7) - 11.8%
Kapamilya Blockbusters 'Crocodile Jones' (ABS-CBN) - 11.5%
Galema: Anak ni Zuma (ABS-CBN) - 11.3%
Villa Quintana (GMA-7) - 9.9%
The Ryzza Mae Show (GMA-7) - 9.2%
Innamorata (GMA-7) - 9.1%
PRIMETIME:
Honesto (ABS-CBN) - 34.4%
Got to Believe (ABS-CBN) - 31.4%
TV Patrol (ABS-CBN) - 30.4%
Annaliza (ABS-CBN) - 25.5%
The Legal Wife (ABS-CBN) - 18.7%
Adarna (GMA-7) - 16.2%
Carmela (GMA-7) - 14.7%
24 Oras (GMA-7) - 14.6%
Rhodora X (GMA-7) - 11.2%
Aquino & Abunda Tonight (ABS-CBN) - 9.4%
February 18, 2014 (Tuesday)
DAYTIME:
Be Careful With My Heart (ABS-CBN) - 18.6%
It's Showtime (ABS-CBN) - 13.7%
Minute To Win It (ABS-CBN) - 13.6%
Kapamilya Blockbusters Home: Super Inday and the Golden Bibe(ABS-CBN) - 11.7%
Eat Bulaga! (GMA-7) - 11.5%
Galema: Anak ni Zuma (ABS-CBN) - 11.1%
Princess Hours (ABS-CBN) - 10%
The Ryzza Mae Show (GMA-7) - 9.4%
Villa Quintana (GMA-7) - 9.2%
Innamorata (GMA-7) - 8.8%
PRIMETIME:
Honesto (ABS-CBN) - 32.1%
Got to Believe (ABS-CBN) - 30.5%
TV Patrol (ABS-CBN) - 29.5%
Annaliza (ABS-CBN) - 23.3%
The Legal Wife (ABS-CBN) - 19.4%
Adarna (GMA-7) - 15.3%
24 Oras (GMA-7) - 15.1%
Carmela (GMA-7) - 14.5%
Rhodora X (GMA-7) - 11.9%
Aquino & Abunda Tonight (ABS-CBN) - 10.9%
February 19, 2014 (Wednesday)
DAYTIME:
Be Careful With My Heart (ABS-CBN) - 18.5%
It's Showtime (ABS-CBN) - 13.6%
Minute To Win It (ABS-CBN) - 12.5%
Eat Bulaga! (GMA-7) - 11.1%
Kapamilya Blockbusters Bala at Lipistik (ABS-CBN) - 10.9%
Princess Hours (ABS-CBN) - 10.6%
Galema: Anak ni Zuma (ABS-CBN) - 10.1%
Villa Quintana (GMA-7) - 9.7%
Crazy Love (ABS-CBN) - 9.1%
Innamorata (GMA-7) - 8.8%
PRIMETIME:
Honesto (ABS-CBN) - 30.1%
TV Patrol (ABS-CBN) - 28.3%
Got to Believe (ABS-CBN) - 28.1%
Annaliza (ABS-CBN) - 24.1%
The Legal Wife (ABS-CBN) - 16.5%
Adarna (GMA-7) - 15.4%
24 Oras (GMA-7) / Carmela (GMA-7) - 13.8%
Rhodora X (GMA-7) - 11.5%
PLDT MyDSL PBA 2014 Philippine Cup Finals Live (TV5) - 10.5%
Aquino & Abunda Tonight (ABS-CBN) - 9.8%
A 100-Year Legacy (GMA-7) 9%
February 20, 2014 (Thursday)
DAYTIME:
Be Careful With My Heart (ABS-CBN) - 20.3%
Minute To Win It (ABS-CBN) - 15.5%
It's Showtime (ABS-CBN) - 14%
Eat Bulaga! (GMA-7) - 11.7%
Princess Hours (ABS-CBN) - 11%
Kapamilya Blockbusters: Pido Dida Sabay Tayo(ABS-CBN) - 10.9%
Galema: Anak ni Zuma (ABS-CBN) - 10.6%
Villa Quintana (GMA-7) - 9.9%
The Borrowed Wife (GMA-7) - 9.7%
Innamorata (GMA-7) - 9.2%
PRIMETIME:
Honesto (ABS-CBN) - 32.4%
Got to Believe (ABS-CBN) - 31.2%
TV Patrol (ABS-CBN) - 29.8%
Annaliza (ABS-CBN) - 24.1%
The Legal Wife (ABS-CBN) - 19.5%
Adarna (GMA-7) - 17.8%
Carmela (GMA-7) - 17.3%
24 Oras (GMA-7) - 14.5%
Rhodora X (GMA-7) - 13.2%
Aquino & Abunda Tonight (ABS-CBN) - 12.4%
February 21, 2014 (Friday)
DAYTIME:
Be Careful With My Heart (ABS-CBN) - 21.1%
Minute To Win It (ABS-CBN) - 17.3%
It's Showtime (ABS-CBN) - 13.5%
Galema: Anak ni Zuma (ABS-CBN) - 12.6%
Kapamilya Blockbusters: Tiyanak (ABS-CBN) - 12.4%
Eat Bulaga! (GMA-7) - 11.5%
Princess Hours (ABS-CBN) - 11.3%
Crazy Love (ABS-CBN) - 10.4%
Villa Quintana (GMA-7) - 9.9%
Innamorata (GMA-7) - 9.8%
PRIMETIME:
Honesto (ABS-CBN) - 31.4%
TV Patrol (ABS-CBN) - 30%
Got to Believe (ABS-CBN) - 29.5%
Annaliza (ABS-CBN) - 24.4%
The Legal Wife (ABS-CBN) - 16.8%
Adarna (GMA-7) - 16.1%
24 Oras (GMA-7) - 15.1%
Carmela (GMA-7) - 14.5%
PLDT MyDSL PBA 2014 Philippine Cup Finals Live (TV5) - 10.8%
Rhodora X (GMA-7) - 10.5%


Source: Kantar/TNS