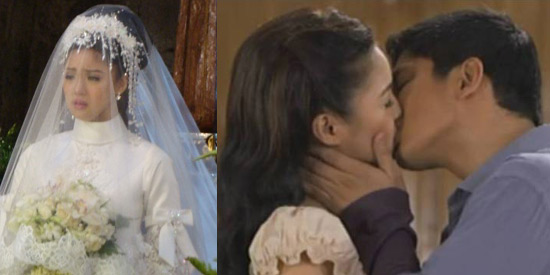 ---
ABS-CBN carries the most-watched shows on TV from Monday to Sunday. This is according to data based on the overnight ratings of Kantar Media/TNS among Total Philippines (Urban & Rural) for April 26 to May 2, 2014.
On weekdays, the Jodi Sta. Maria-Richard Yap starrer Be Careful With My Heart tops daytime ratings, while Ikaw Lamang tops primetime ratings. Last May 1, Ikaw Lamang was able to land on the No. 1 slot with its rating of 29.7%. During that episode, Gonzalo (John Estrada) stopped the supposed wedding of Coco Martin and Kim Chiu's characters Samuel and Isabelle.
Other ABS-CBN shows also dominate primetime. The next four spots on the list of most-watched shows are from Channel 2: Dyesebel, The Legal Wife, TV Patrol and Mirabella.
Two other ABS-CBN make the top 10 list: the talk show Aquino & Abunda Tonight and the reality show Pinoy Big Brother All In.
Only a few shows from GMA-7 get enough ratings to occassionally make it to the top 10 most-watched primetime shows: Carmela, Kambal Sirena, Rhodora X and 24 Oras.
ADVERTISEMENT - CONTINUE READING BELOW
On weekends, ABS-CBN's It's Showtime, MMK: Ang Tahanan Mo, TV Patrol Weekend and Rated K are the top-raters.
Here are the comparative Household Ratings of ABS-CBN, TV5, and GMA-7 programs from April 26 to May 2, 2014 based on the overnight ratings of Kantar Media/TNS among Total Philippines (Urban & Rural) households:
April 26, 2014 (Saturday)
Sa Kabukiran (ABS-CBN) .9%; Kapwa Ko Mahal Ko (GMA-7) 1.1%
Salamat Dok (ABS-CBN) 2.3%; Pinoy MD Mga Doktor Ng Bayan (GMA-7) 2.7%
Swak Na Swak (ABS-CBN) 2.5%; Scooby-Doo! Mystery Incorporated (GMA-7) 5.6%; Super Book (GMA-7) 9.5%
Honey Watch Out (ABS-CBN) 2.3%; Angry Birds Toons (GMA-7) 12.2%
Sineskwela (ABS-CBN) 3.3%; Hayate the Combat Butler (GMA-7) 11.9%
Teenage Mutant Ninja Turtles (ABS-CBN) 3.8%; Toriko (GMA-7) 11.1%
Spongebob Squarepants (ABS-CBN) 6.1%; Tropang Potchi (GMA-7) 7.5%
2013-2014 NBA Playoffs Eastern Conference First Round Live (ABS-CBN) 8.4%; Sarap Diva (GMA-7) 6%; Maynila (GMA-7) 8.5%
Afternoon:
It's Showtime (ABS-CBN) 15.7%; Eat Bulaga! (GMA-7) 11.9%
Sabado Specials: Shake, Rattle and Roll 12 Isla (ABS-CBN) 10.9%; SOCO (ABS-CBN) 10.1%; GMA Blockbusters: Big Momma's House (GMA-7) 9.2%
Failon Ngayon (ABS-CBN) 7.9%; Wish Ko Lang (GMA-7) 8.9%; Aksyon Weekend (TV5) 2.6%
ADVERTISEMENT - CONTINUE READING BELOW
TV Patrol Weekend (ABS-CBN) 8.2%; 24 Oras Weekend (GMA-7) 7%; PLDT Home TVolution PBA 2014 Commissioner's Cup Live (TV5) 6.3%
Evening:
Bet On Your Baby (ABS-CBN) 17.1%; Picture Picture (GMA-7) 11.2%
Wansapanataym My Guardian Angel (ABS-CBN) 26.2%; Vampire Ang Daddy Ko (GMA-7) 16.8%; Tropa Mo Ko Unli (TV5) 2.8%
MMK: Ang Tahanan Mo Cellphone (ABS-CBN) 27.1%; Magpakailanman (GMA-7) 23%; Celebrity Dance Battle (TV5) 1.8%
The Biggest Loser Pinoy Edition Doubles (ABS-CBN) 19.1%; Celebrity Bluff (GMA-7) 14.2%; Killer Karaoke Pinoy Naman (TV5) 1.9%
Banana Split Extra Scoop (ABS-CBN) 6.8%; i-Witness (GMA-7) 7.8%; Reporter's Notebook (GMA-7) 5.5%; Yaman ng Bayan (TV5) 1.2%; Spin Nation (TV5) .3%
The Bottom Line With Boy Abunda (ABS-CBN) 2.1%; Sports Unlimited (ABS-CBN) .9%; O Shopping (ABS-CBN) 0.4%; Walang Tulugan With Master Showman (GMA-7) 1.3%; Pilipinas News Weekend (TV5) .2%
April 27, 2014 (Sunday)
Morning:
The Healing Eucharist (ABS-CBN) 3.6%; Grimm's Fairy Tales (GMA-7) 1.7%; Puppy in My Pocket (GMA-7) 3.4%; Scan 2go (GMA-7) 5.3%
Swak Na Swak (ABS-CBN) 3.5%; The Batman (GMA-7) 5.9%
Salamat Dok (ABS-CBN) 3.1%; Super Book (GMA-7) 6.9%; Hayate the Combat Butler (GMA-7) 8.6%; One Piece Strong World (GMA-7) 11.5%
Matanglawin (ABS-CBN) 4.5%; Aha! (GMA-7) 9.2%
ADVERTISEMENT - CONTINUE READING BELOW
2014 NBA Playoffs Eastern Conference First Round Live (ABS-CBN) 9.6%; Born To Be Wild (GMA-7) 9.6%; iBilib (GMA-7) 9.2%; Kapuso Movie Festival: Looney Tunes Back in Action (GMA-7) 12.1%
Afternoon:
ASAP 19 (ABS-CBN) 10.9%; Sunday All Stars (GMA-7) 7.9%
Luv U (ABS-CBN) 8.7%; Asian Horror Stories: Visible Secret II (GMA-7) 8.4%
News Patrol (ABS-CBN) 7.2%; Buzz Ng Bayan (ABS-CBN) 11.1%; Startalk (GMA-7) 5.4%; 24 Oras Weekend (GMA-7) 6.6%
TV Patrol Weekend (ABS-CBN) 15.5%; Kap's Amazing Stories (GMA-7) 14.2%; Sunday Sineplex (TV5) 4.7%
Evening:
Goin' Bulilit (ABS-CBN) 19.4%; Home Sweetie Home (ABS-CBN) 22.3%; Pepito Manaloto Ang Tunay Na Kuwento (GMA-7) 20.5%; Who Wants To Be A Millionaire (TV5) 5.1%
Rated K: Handa Na Ba Kayo? (ABS-CBN) 23%; Kapuso Mo Jessica Soho (GMA-7) 16.4%; Wow Mali Pa Rin! (TV5) 4.7%
Pinoy Big Brother All In (ABS-CBN) 20.5%; Imbestigador (GMA-7) 14.1%; Juan Direction (TV5) 1.4%; Beki Boxer Marathon (TV5) .8%
Gandang Gabi Vice (ABS-CBN) 9.6%; Sunday Night Box Office: Quantum of Solace (GMA-7) 6.1%
UFC 172: Jones vs Teixeria (ABS-CBN) 2.8%; Diyos At Bayan (GMA-7) .6%; Pilipinas News Weekend (TV5) .4%
April 28, 2014 (Monday)
Morning:
Kape't Pandesal (ABS-CBN) 0.1%; Sports Unlimited Replay (ABS-CBN) .3%; Aha! Replay (GMA-7) .3%
ADVERTISEMENT - CONTINUE READING BELOW
Umagang Kay Ganda (ABS-CBN) 2.9%; Unang Hirit (GMA-7) 3.1%
Kris TV (ABS-CBN) 4.2%; Jackie Chan Adventures (GMA-7) 10.3%; One Piece (GMA-7) 13.9%; Detective Conan (GMA-7) 15%; Inuyasha (GMA-7) 15.6%
Mr. Bean (ABS-CBN) 4.9%; Fairy Tail (GMA-7) 15.7%
Kapamilya Kiddie Blockbusters: 102 Dalmatians (ABS-CBN) 8%; Slam Dunk (GMA-7) 14.6%; Dragon Ball Z Kai (GMA-7) 13%; Kusina Master (GMA-7) 7.4%
The Singing Bee (ABS-CBN) 13.9%; Tunay Na Buhay (GMA-7) 6.6%
Be Careful With My Heart (ABS-CBN) 16.3%; The Ryzza Mae Show (GMA-7) 9.5%
Afternoon:
It's Showtime (ABS-CBN) 15%; Eat Bulaga! (GMA-7) 12.8%
Moon of Desire (ABS-CBN) 13.8%; Bistado (ABS-CBN) 12.1%; Villa Quintana (GMA-7) 8.6%
Meteor Garden (ABS-CBN) 12.5%; Innamorata (GMA-7) 10%; Mischievous Kiss: Love in Tokyo (GMA-7) 9.5%
Evening:
Mirabella (ABS-CBN) 20.4%; My Love from the Star (GMA-7) 11.7%
TV Patrol (ABS-CBN) 26.2%; 24 Oras (GMA-7) 15.4%; Aksyon (TV5) 2.6%; Beki Boxer (TV5) 3.4%; Confessions of a Torpe (TV5) 4.7%
Dyesebel (ABS-CBN) 28.7%; Kambal Sirena (GMA-7) 16.1%; PLDT Home TVolution PBA 2014 Commissioner's Cup Live (TV5) 6.8%
Ikaw Lamang (ABS-CBN) 29.2%; Carmela (GMA-7) 14.7%;
The Legal Wife (ABS-CBN) 28.2%; Aquino & Abunda Tonight (ABS-CBN) 17.8%; Rhodora X (GMA-7) 11.3%; Demolition Job (TV5) 2.6%
Pinoy Big Brother All In (ABS-CBN) 15.7%; A 100-Year Legacy (GMA-7) 9.2%; Pilipinas News (TV5) 1.3%; Reaksyon (TV5) .8%
ADVERTISEMENT - CONTINUE READING BELOW
Bandila (ABS-CBN) 3.8%; Saksi (GMA-7) 5.4%; Front Row (GMA-7) 2.3%; Showbiz Police Replay (TV5) .5%; T3 Reload Replay (TV5) .3%
Banana Nite (ABS-CBN) 1.7%; O Shopping (ABS-CBN) .6%; The Medyo Late Night Show with Jojo A (GMA-7) .8%
April 29, 2014 (Tuesday)
Morning:
Kape't Pandesal (ABS-CBN) 0.2%; Mutya Ng Masa Replay (ABS-CBN) 0.4%; I-Witness Replay (GMA-7) .5%
Umagang Kay Ganda (ABS-CBN) 3.2%; Unang Hirit (GMA-7) 2.9%
Kris TV (ABS-CBN) 5%; Jackie Chan Adventures (GMA-7) 11.7%; One Piece (GMA-7) 14.2%; Detective Conan (GMA-7) 14.7%
Mr. Bean (ABS-CBN) 6.9%; Inuyasha (GMA-7) 14.9%; Fairy Tail (GMA-7) 14.3%
Kapamilya Kiddie Blockbusters: Beverly Hills Chihuahua (ABS-CBN) 10%; Slam Dunk (GMA-7) 12.6%
Obama in Manila (ABS-CBN) 12.5%; Dragon Ball Z Kai (GMA-7) 13%
The Singing Bee (ABS-CBN) 16.7%; Kusina Master (GMA-7) 8.3%
Be Careful With My Heart (ABS-CBN) 20%; The Ryzza Mae Show (GMA-7) 8.9%
Afternoon:
It's Showtime (ABS-CBN) 15.6%; Eat Bulaga! (GMA-7) 9.5%
Moon of Desire (ABS-CBN) 15.1%; Villa Quintana (GMA-7) 9%
Pinoy Big Brother All In Uber (ABS-CBN) 12.7%; Innamorata (GMA-7) 10.5%
Mutya ng Masa (ABS-CBN) 12.1%; The Borrowed Wife (GMA-7) 10.5%
Meteor Garden (ABS-CBN) 14.2%; Mischievous Kiss: Love in Tokyo (GMA-7) 9.2%
Evening:
ADVERTISEMENT - CONTINUE READING BELOW
Mirabella (ABS-CBN) 21%; My Love from the Star (GMA-7) 12%
TV Patrol (ABS-CBN) 25.4%; 24 Oras (GMA-7) 15.5%; Aksyon (TV5) 3.7%; Beki Boxer (TV5) 3.4%; Confessions of a Torpe (TV5) 4.7%
Dyesebel (ABS-CBN) 27.9%; Kambal Sirena (GMA-7) 16.5%; PLDT Home TVolution PBA 2014 Commissioner's Cup Live (TV5) 7.3%
Ikaw Lamang (ABS-CBN) 29.6%; Carmela (GMA-7) 14.1%
The Legal Wife (ABS-CBN) 28.5%; Rhodora X (GMA-7) 11.7%
Aquino & Abunda Tonight (ABS-CBN) 17.5%; Pinoy Big Brother All In (ABS-CBN) 15.8%; A 100-Year Legacy (GMA-7) 9.3%; Numero (TV5) 1.7%; Pilipinas News (TV5) 1.1%
Bandila (ABS-CBN) 4.2%; Saksi (GMA-7) 5.6%; Reaksyon (TV5) .7%; Showbiz Police Replay (TV5) .6%
Banana Nite (ABS-CBN) 2.3%; Alisto! (GMA-7) 3.1%; T3 Reload Replay (TV5) .6%
O Shopping (ABS-CBN) .6%; The Medyo Late Night Show (GMA-7) 1.1%
April 30, 2014 (Wednesday)
Morning:
My Puhunan Replay (ABS-CBN) .5%; Reporter's Notebook Replay (GMA-7) .8%
Umagang Kay Ganda (ABS-CBN) 2.4%; Unang Hirit (GMA-7) 2.8%
Kris TV (ABS-CBN) 4.7%; Jackie Chan Adventures (GMA-7) 11%; One Piece (GMA-7) 14.1%; Detective Conan (GMA-7) 14.6%; Inuyasha (GMA-7) 14.4%
Mr. Bean (ABS-CBN) 6.9%; Fairy Tail (GMA-7) 14%
Kapamilya Kiddie Blockbusters: Planet 51 (ABS-CBN) 9.2%; Slam Dunk (GMA-7) 14.7%; Dragon Ball Z Kai (GMA-7) 14.5%; Kusina Master (GMA-7) 7.4%
ADVERTISEMENT - CONTINUE READING BELOW
The Singing Bee (ABS-CBN) 14.2%; Tunay Na Buhay (GMA-7) 6.4%
Be Careful With My Heart (ABS-CBN) 19%; The Ryzza Mae Show (GMA-7) 8.7%
Afternoon:
It's Showtime (ABS-CBN) 16%; Eat Bulaga! (GMA-7) 10.7%
Moon of Desire (ABS-CBN) 13.7%; Villa Quintana (GMA-7) 10%
Pinoy Big Brother All In Uber (ABS-CBN) 11.9%; Innamorata (GMA-7) 11.3%
My Puhunan (ABS-CBN) 11.1%; The Borrowed Wife (GMA-7) 10.7%
Meteor Garden (ABS-CBN) 12.6%; Mischievous Kiss: Love in Tokyo (GMA-7) 8%
Evening:
Mirabella (ABS-CBN) 21%; My Love from the Star (GMA-7) 11.1%
TV Patrol (ABS-CBN) 25.8%; 24 Oras (GMA-7) 13.5%; Aksyon (TV5) 3%; Beki Boxer (TV5) 3.4%; Confessions of a Torpe (TV5) 4.6%
Dyesebel (ABS-CBN) 28%; Kambal Sirena (GMA-7) 16.6%; PLDT Home Tvolution PBA 2014 Commissioner's Cup Live (TV5) 7%
Ikaw Lamang (ABS-CBN) 29.8%; Carmela (GMA-7) 14.8%
The Legal Wife (ABS-CBN) 27.1%; Rhodora X (GMA-7) 11.9%
Aquino & Abunda Tonight (ABS-CBN) 17.6%; Pinoy Big Brother All In (ABS-CBN) 15%; A 100-Year Legacy (GMA-7) 9.7%; History with Lourd (TV5) 1.8%; Pilipinas News (TV5) 1.1%
Bandila (ABS-CBN) 4.6%; Saksi (GMA-7) 5.3%; Reaksyon (TV5) .5%; Showbiz Police Replay (TV5) .4%
Banana Nite (ABS-CBN) 2.4%; Powerhouse (GMA-7) 3.1%
O Shopping (ABS-CBN) .7%; The Medyo Late Night Show (GMA-7) .9%; T3 Reload Replay (TV5) .5%
ADVERTISEMENT - CONTINUE READING BELOW
May 1, 2014 (Thursday)
Morning:
Kape't Pandesal (ABS-CBN) 0.3%; Tapatan ni Tunying Replay (ABS-CBN) .5%; Born to be Wild Replay (GMA-7) .6%
Umagang Kay Ganda (ABS-CBN) 2.4%; Unang Hirit (GMA-7) 2.9%
Kris TV (ABS-CBN) 5.1%; Jackie Chan Adventures (GMA-7) 10.8%; One Piece (GMA-7) 14.1%; Detective Conan (GMA-7) 15.4%
Mr. Bean (ABS-CBN) 5.1%; Inuyasha (GMA-7) 15.5%
2014 NBA Playoffs Eastern Conference First Round Live (ABS-CBN) 7.5%; Fairy Tail (GMA-7) 16.5%; Slam Dunk (GMA-7) 16.8%; Dragon Ball Z Kai (GMA-7) 15.4%; Kusina Master (GMA-7) 7.8%; Tunay Na Buhay (GMA-7) 6.9%
Be Careful With My Heart (ABS-CBN) 19.4%; The Ryzza Mae Show (GMA-7) 8.1%
Afternoon:
It's Showtime (ABS-CBN) 14.7%; Eat Bulaga! (GMA-7) 10.9%
Moon of Desire (ABS-CBN) 13%; Villa Quintana (GMA-7) 9%
Pinoy Big Brother All In Uber (ABS-CBN) 11.6%; Innamorata (GMA-7) 10.2%
Tapatan ni Tunying (ABS-CBN) 11.4%; The Borrowed Wife (GMA-7) 10.7%
Meteor Garden (ABS-CBN) 13.1%; Mischievous Kiss: Love in Tokyo (GMA-7) 8.7%
Evening:
Mirabella (ABS-CBN) 20.6%; My Love from the Star (GMA-7) 11.4%
TV Patrol (ABS-CBN) 24.3%; 24 Oras (GMA-7) 14%; Aksyon (TV5) 2.9%; Beki Boxer (TV5) 4%; Confessions of a Torpe (TV5) 4.7%
Dyesebel (ABS-CBN) 28.3%; Kambal Sirena (GMA-7) 16.6%; PLDT Home Tvolution PBA 2014 Commissioner's Cup Live (TV5) 7%
ADVERTISEMENT - CONTINUE READING BELOW
Ikaw Lamang (ABS-CBN) 29.7%; Carmela (GMA-7) 16.1%
The Legal Wife (ABS-CBN) 26.5%; Rhodora X (GMA-7) 12.4%
Aquino & Abunda Tonight (ABS-CBN) 16.1%; Pinoy Big Brother All In (ABS-CBN) 12.9%; A 100-Year Legacy (GMA-7) 9.2%; Bigtime (TV5) 1.6%; Pilipinas News (TV5) .8%
Bandila (ABS-CBN) 4.3%; Saksi (GMA-7) 4.8%; Reaksyon (TV5) .6%; Showbiz Police Replay (TV5) .4%
Banana Nite (ABS-CBN) 2.4%; Human Planet (GMA-7) 3.2%; T3 Reload Replay (TV5) .2%
O Shopping (ABS-CBN) .5%; The Medyo Late Night Show (GMA-7) .9%
May 2, 2014 (Friday)
Morning:
Kape't Pandesal (ABS-CBN) 0.1%; Matanglawin Replay (ABS-CBN) .4%; Alisto! Replay (GMA-7) .4%
Umagang Kay Ganda (ABS-CBN) 2.3%; Unang Hirit (GMA-7) 3.3%
Kris TV (ABS-CBN) 4.7%; Jackie Chan Adventures (GMA-7) 11.5%; One Piece (GMA-7) 14.4%; Detective Conan (GMA-7) 13.3%
Mr. Bean (ABS-CBN) 5.1%; Inuyasha (GMA-7) 13.3%; Fairy Tail (GMA-7) 13.3%
Kapamilya Kiddie Blockbusters: The Mighty Ducks (ABS-CBN) 7.1%; Slam Dunk (GMA-7) 13.7%; Dragon Ball Z Kai (GMA-7) 13.6%; Kusina Master (GMA-7) 7.2%
The Singing Bee (ABS-CBN) 14.2%; Tunay Na Buhay (GMA-7) 5%; The Ryzza Mae Show (GMA-7) 7.9%
Afternoon:
Be Careful With My Heart (ABS-CBN) 19.3%; It's Showtime (ABS-CBN) 14.2%; Eat Bulaga! (GMA-7) 10.9%; Villa Quintana (GMA-7) 9.7%
Moon of Desire (ABS-CBN) 13.7%; Pinoy Big Brother All In (ABS-CBN) 12.7%; Innamorata (GMA-7) 10.3%
ADVERTISEMENT - CONTINUE READING BELOW
Red Alert (ABS-CBN) 12.4%; The Borrowed Wife (GMA-7) 10.8%
Meteor Garden (ABS-CBN) 12.2%; Mischievous Kiss: Love in Tokyo (GMA-7) 9%
Evening:
Mirabella (ABS-CBN) 19.7%; My Love from the Star (GMA-7) 12.3%
TV Patrol (ABS-CBN) 24.1%; 24 Oras (GMA-7) 13.4%; Aksyon (TV5) 2.7%; Beki Boxer (TV5) 3.5%
Dyesebel (ABS-CBN) 28.6%; Kambal Sirena (GMA-7) 15.6%; Confessions of a Torpe (TV5) 4.3%
Ikaw Lamang (ABS-CBN) 29.7%; Carmela (GMA-7) 16.4%; PLDT Home Tvolution PBA 2014 Commissioner's Cup Live (TV5) 6%
The Legal Wife (ABS-CBN) 26.5%; Rhodora X (GMA-7) 13.4%
Aquino & Abunda Tonight (ABS-CBN) 16.3%; Pinoy Big Brother All In (ABS-CBN) 12.3%; Bubble Gang (GMA-7) 10.4%; Astig: Sa Sports (TV5) 2.7%; Pilipinas News (TV5) 1.2%; Reaksyon (TV5) .9%
Bandila (ABS-CBN) 4.5%; Saksi (GMA-7) 4.1%; Showbiz Police Replay (GMA-7) .5%
Banana Nite (ABS-CBN) 2.4%; O Shopping (ABS-CBN) .5%; The Medyo Late Night Show (GMA-7) 1.4%; T3 Reload Replay (TV5) .4%
--
Here are the Top 10 daytime and primetime programs from April 26 to May 2, 2014 among Total Philippines (Urban & Rural) households:
April 26, 2014 (Saturday)
DAYTIME:
It's Showtime (ABS-CBN) - 15.7%
Angry Birds Toons (GMA-7) - 12.2%
Hayate the Combat Butler (GMA-7) / Eat Bulaga! (GMA-7) - 11.9%
Toriko (GMA-7) - 11.1%
Sabado Specials: Shake, Rattle and Roll 12 Isla (ABS-CBN) - 10.9%
SOCO (ABS-CBN) - 10.1%
Super Book (GMA-7) - 9.5%
GMA Blockbusters: Big Momma's House (GMA-7) - 9.2%
Wish Ko Lang! (GMA-7) - 8.9%
Maynila 15 (GMA-7) - 8.5%
PRIMETIME:
MMK: Ang Tahanan Mo (ABS-CBN) - 27.1%
Wansapanataym (ABS-CBN) - 26.2%
Magpakailanman (GMA-7) - 23%
The Biggest Loser: Pinoy Edition Doubles (ABS-CBN) - 23%
Bet On Your Baby (ABS-CBN) - 17.1%
Vampire Ang Daddy Ko (GMA-7) - 16.8%
Celebrity Bluff (GMA-7) - 14.2%
Picture! Picture! (GMA-7) - 11.2%
I-Witness (GMA-7) - 7.8%
Banana Split Extra Scoop (ABS-CBN) - 6.8%
April 27, 2014 (Sunday)
DAYTIME:
TV Patrol Weekend (ABS-CBN) - 15.5%
Kapuso Movie Festival: Looney Tunes Back in Action (GMA-7) - 12.1%
One Piece Strong World (GMA-7) - 11.5%
Buzz ng Bayan (ABS-CBN) - 11.1%
ASAP 19 (ABS-CBN) - 10.9%
2014 NBA Playoffs Eastern Conference First Round Live (ABS-CBN) / Born to be Wild (GMA-7) - 9.6%
- 16.9%
Aha! (GMA-7) / iBilib (GMA-7) - 9.2%
Luv U (ABS-CBN) - 8.7%
Hayate the Combat Butler (GMA-7) - 8.6%
PRIMETIME:
Rated K: Handa na ba Kayo? (ABS-CBN) - 23%
Home Sweetie Home (ABS-CBN) - 22.3%
Pinoy Big Brother All In (ABS-CBN) / Pepito Manaloto: Ang Tunay na Kuwento (GMA-7) - 20.5%
Goin' Bulilit (ABS-CBN) - 19.4%
Kapuso Mo, Jessica Soho (GMA-7) - 16.4%
Kap's Amazing Stories (GMA-7) - 14.2%
Imbestigador (GMA-7) - 10.9%
Gandang Gabi Vice (ABS-CBN) - 9.6%
Sunday Night Box Office: Quantum of Solace (GMA-7) - 6.1%
Who Wants To Be A Millionaire (TV5) - 5.1%
April 28, 2014 (Monday)
DAYTIME:
Be Careful With My Heart (ABS-CBN) - 16.3%
Fairy Tail (ABS-CBN) - 15.7%
Inuyasha (GMA-7) - 15.6%
It's Showtime (ABS-CBN) / Detective Conan (GMA-7) - 15%
Slam Dunk (GMA-7) - 14.6%
The Singing Bee (ABS-CBN) / One Piece (GMA-7) - 13.9%
Moon of Desire (ABS-CBN) - 13.8%
Dragon Ball Z Kai (GMA-7) - 13%
Eat Bulaga! (GMA-7) - 12.8%
Meteor Garden (ABS-CBN) - 12.5%
PRIMETIME:
Ikaw Lamang (ABS-CBN) - 29.2%
Dyesebel (ABS-CBN) - 28.7%
The Legal Wife (ABS-CBN) - 28.2%
TV Patrol (ABS-CBN) - 26.2%
Mirabella (ABS-CBN) - 20.4%
Aquino & Abunda Tonight (ABS-CBN) - 17.8%
Kambal Sirena (GMA-7) - 16.1%
Pinoy Big Brother All In (GMA-7) - 15.7%
24 Oras (GMA-7) - 15.4%
Carmela (GMA-7) - 14.7%
April 29, 2014 (Tuesday)
DAYTIME:
Be Careful With My Heart (ABS-CBN) - 20%
The Singing Bee (ABS-CBN) - 16.7%
It's Showtime (ABS-CBN) - 15.6%
Moon of Desire (ABS-CBN) - 15.1%
Inuyasha (GMA-7) - 14.9%
Detective Conan (GMA-7) - 14.7%
Fairy Tail (ABS-CBN) - 14.3%
Meteor Garden (ABS-CBN) / One Piece (GMA-7) - 14.2%
Dragon Ball Z Kai (GMA-7) - 13%
Pinoy Big Brother All In Uber (ABS-CBN) - 12.7%
PRIMETIME:
Ikaw Lamang (ABS-CBN) - 29.6%
The Legal Wife (ABS-CBN) - 28.5%
Dyesebel (ABS-CBN) - 27.9%
TV Patrol (ABS-CBN) - 25.4%
Mirabella (ABS-CBN) - 21%
Aquino & Abunda Tonight (ABS-CBN) - 17.5%
Kambal Sirena (GMA-7) - 16.5%
Pinoy Big Brother All In (GMA-7) - 15.8%
24 Oras (GMA-7) - 14.7%
Carmela (GMA-7) - 14.1%
April 30, 2014 (Wednesday)
DAYTIME:
Be Careful With My Heart (ABS-CBN) - 19%
It's Showtime (ABS-CBN) - 16%
Slam Dunk (GMA-7) - 14.7%
Detective Conan (GMA-7) - 14.6%
Dragon Ball Z Kai (GMA-7) - 14.5%
Inuyasha (GMA-7) - 14.4%
The Singing Bee (ABS-CBN) - 14.2%
One Piece (GMA-7) - 14.1%
Fairy Tail (GMA-7) - 14%
Moon of Desire (ABS-CBN) - 13.7%
PRIMETIME:
Ikaw Lamang (ABS-CBN) - 29.8%
Dyesebel (ABS-CBN) - 28%
The Legal Wife (ABS-CBN) - 27.1%
TV Patrol (ABS-CBN) - 25.8%
Mirabella (ABS-CBN) - 21%
Aquino & Abunda Tonight (ABS-CBN) - 17.6%
Kambal Sirena (GMA-7) - 16.6%
Pinoy Big Brother All In (ABS-CBN) - 15%
Carmela (GMA-7) - 14.8%
24 Oras (GMA-7) - 13.5%
May 1, 2014 (Thursday)
ADVERTISEMENT - CONTINUE READING BELOW
DAYTIME:
Be Careful With My Heart (ABS-CBN) - 19.4%
Slam Dunk (GMA-7) - 16.8%
Fairy Tail (GMA-7) - 16.5%
Inuyasha (GMA-7) - 15.5%
Detective Conan (GMA-7) / Dragon Ball Z Kai (GMA-7) - 15.4%
It's Showtime (ABS-CBN) - 14.7%
One Piece (GMA-7) - 14.1%
Meteor Garden (ABS-CBN) - 13.1%
Moon of Desire - 13%
Pinoy Big Brother All In Uber (ABS-CBN) - 11.6%
PRIMETIME:
Ikaw Lamang (ABS-CBN) - 29.7%
Dyesebel (ABS-CBN) - 28.3%
The Legal Wife (ABS-CBN) - 26.5%
TV Patrol (ABS-CBN) - 24.3%
Mirabella (ABS-CBN) - 20.6%
Kambal Sirena (GMA-7) - 16.6%
Aquino & Abunda Tonight (ABS-CBN) / Carmela (GMA-7) - 16.1%
24 Oras (GMA-7) - 14%
Pinoy Big Brother All In (ABS-CBN) - 12.9%
Rhodora X (GMA-7) - 12.4%
May 2, 2014 (Friday)
DAYTIME:
Be Careful With My Heart (ABS-CBN) - 19.3%
One Piece (GMA-7) - 14.4%
The Singing Bee (ABS-CBN) / It's Showtime (ABS-CBN) - 14.2%
Moon of Desire (ABS-CBN) / Slam Dunk (GMA-7) - 13.7%
Dragon Ball Z Kai (GMA-7) - 13.6%
Detective Conan (GMA-7) / Inuyasha (GMA-7) / Fairy Tail (GMA-7) - 13.3%
Pinoy Big Brother All In (ABS-CBN) - 12.7%
Red Alert (ABS-CBN) - 12.4%
Meteor Garden (ABS-CBN) - 12.2%
Jackie Chan Adventures (GMA-7) - 11.5%
PRIMETIME:
Ikaw Lamang (ABS-CBN) - 29.7%
Dyesebel (ABS-CBN) - 28.6%
The Legal Wife (ABS-CBN) - 26.5%
TV Patrol (ABS-CBN) - 24.1%
Mirabella (ABS-CBN) - 19.7%
Carmela (GMA-7) - 16.4%
Aquino & Abunda Tonight (ABS-CBN) - 16.3%
Kambal Sirena (GMA-7) - 15.6%
24 Oras (GMA-7) / Rhodora X (GMA-7) - 13.4%
Pinoy Big Brother All In (ABS-CBN) / My Love from the Star (GMA-7) - 12.3%
Source: Kantar/TNS