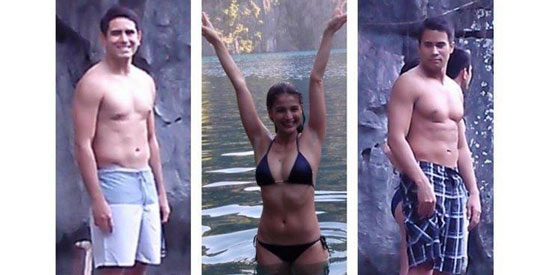 ---
ABS-CBN's shows are still the most-watched programs on television. This is according to data based on the overnight ratings of Kantar Media/TNS among Total Philippines (Urban & Rural) for May 3 to 9, 2014.
Anne Curtis's Dyesebel is now the number one show on weekday primetime, getting as high as 30% ratings daily. During this period, it peaked at 31.9% last May 8.
Other ABS-CBN dramas follow the mermaid series: the period piece Ikaw Lamang and the adultery-themed The Legal Wife take second and third places daily.
Weekday mornings are also for ABS-CBN, with the family drama-comedy series Be Careful With My Heart taking the lead, followed by the karaoke-themed contest The Singing Bee.
GMA-7's strongest programs, on the other hand, are on weekends. On Sunday, the recap episode for the Korean series My Love from the Star gets top ratings in daytime, while the magazine show Kapuso Mo, Jessica Soho takes top spot in the evenings.


ADVERTISEMENT - CONTINUE READING BELOW
Here are the comparative Household Ratings of ABS-CBN, TV5, and GMA-7 programs from May 3 to 9, 2014 based on the overnight ratings of Kantar Media/TNS among Total Philippines (Urban & Rural) households:


May 3, 2014 (Saturday)
Sa Kabukiran (ABS-CBN) .4%; Kapwa Ko Mahal Ko (GMA-7) 1.2%
Salamat Dok (ABS-CBN) 1.7%; Pinoy MD Mga Doktor Ng Bayan (GMA-7) 2.5%; Scooby-Doo! Mystery Incorporated (GMA-7) 5.8%
Swak Na Swak (ABS-CBN) 2.7%; Super Book (GMA-7) 9%
Honey Watch Out (ABS-CBN) 2.6%; Angry Birds Toons (GMA-7) 10.4%
Sineskwela (ABS-CBN) 3.4%; Hayate the Combat Butler (GMA-7) 9%
Teenage Mutant Ninja Turtles (ABS-CBN) 3.8%; Toriko (GMA-7) 8.8%
Spongebob Squarepants (ABS-CBN) 5.9%; Tropang Potchi (GMA-7) 6.7%
2014 NBA Playoffs Eastern Conference First Round Live (ABS-CBN) 7.6%; Sarap Diva (GMA-7) 6.3%; Maynila (GMA-7) 8.2%
Afternoon:
It's Showtime (ABS-CBN) 13.4%; Eat Bulaga! (GMA-7) 10.8%
Sabado Specials: Shake, Rattle and Roll 12 Punerarya (ABS-CBN) 10.7%; SOCO (ABS-CBN) 8.8%; GMA Blockbusters: Big Momma's Speed (GMA-7) 10.7%
Failon Ngayon (ABS-CBN) 6.5%; Wish Ko Lang (GMA-7) 9%
TV Patrol Weekend (ABS-CBN) 7.9%; 24 Oras Weekend (GMA-7) 7.3%; PLDT Home TVolution PBA 2014 Commissioner's Cup Live (TV5) 5.2%
Evening:
Bet On Your Baby (ABS-CBN) 16.8%; Picture Picture (GMA-7) 10.1%
ADVERTISEMENT - CONTINUE READING BELOW
Wansapanataym My Guardian Angel (ABS-CBN) 25.4%; Vampire Ang Daddy Ko (GMA-7) 15.7%; Tropa Mo Ko Unli (TV5) 3.6%
MMK: Ang Tahanan Mo Tutong (ABS-CBN) 30.4%; Magpakailanman (GMA-7) 19.1%; Celebrity Dance Battle (TV5) 1.4%
Pinoy Big Brother All In (ABS-CBN) 17.9%; Celebrity Bluff (GMA-7) 13.1%; One of the Boys (TV5) 2.6%; Kaya. (TV5) .7%
Banana Split Extra Scoop (ABS-CBN) 7.1%; i-Witness (GMA-7) 7.2%; Spin Nation (TV5) .3%
The Bottom Line With Boy Abunda (ABS-CBN) 2.1%; Reporter's Notebook (GMA-7) 5%
Sports Unlimited (ABS-CBN) 1.1%; O Shopping (ABS-CBN) 0.3%; Walang Tulugan With Master Showman (GMA-7) 1.7%; Pilipinas News Weekend (TV5) .4%
May 4, 2014 (Sunday)
Morning:
The Healing Eucharist (ABS-CBN) 3.4%; Grimm's Fairy Tales (GMA-7) 1.3%; Puppy in My Pocket (GMA-7) 2.6%; Scan 2go (GMA-7) 3.9%
Swak Na Swak (ABS-CBN) 2.5%; The Batman (GMA-7) 6.3%; Super Book (GMA-7) 8.2%
Salamat Dok (ABS-CBN) 2.7%; Hayate the Combat Butler (GMA-7) 9.5%; One Piece Strong World (GMA-7) 11.6%
Matanglawin (ABS-CBN) 4.4%; Aha! (GMA-7) 9.3%
2014 NBA Playoffs Eastern Conference First Round Live (ABS-CBN) 7.9%; Born To Be Wild (GMA-7) 9.8%; iBilib (GMA-7) 9.5%; My Love from the Star The Kilig Throwback (GMA-7) 13.5%
Afternoon:
ADVERTISEMENT - CONTINUE READING BELOW
ASAP 19 (ABS-CBN) 9.5%; Sunday All Stars (GMA-7) 9.7%
Luv U (ABS-CBN) 9.5%; Asian Horror Stories: Alone (GMA-7) 8.4%
Buzz Ng Bayan (ABS-CBN) 7.8%; Startalk (GMA-7) 7.1%
TV Patrol Weekend (ABS-CBN) 8.2%; 24 Oras Weekend (GMA-7) 6.7%; Sunday Sineplex (TV5) 3.4%
Evening:
Goin' Bulilit (ABS-CBN) 12%; Kap's Amazing Stories (GMA-7) 10.1%
Home Sweetie Home (ABS-CBN) 17.8%; Pepito Manaloto Ang Tunay Na Kuwento (GMA-7) 20.1%; Who Wants To Be A Millionaire (TV5) 3.4%
Rated K: Handa Na Ba Kayo? (ABS-CBN) 20.6%; Pinoy Big Brother All In (ABS-CBN) 18.3%; Kapuso Mo Jessica Soho (GMA-7) 21.8%; Wow Mali Pa Rin! (TV5) 3.8%; Juan Direction (TV5) 1.4%
Gandang Gabi Vice (ABS-CBN) 16%; Imbestigador (GMA-7) 12.2%; Beki Boxer Marathon (TV5) 1.4%
Sunday's Best: Kunlun Fight (ABS-CBN) 2.7%; Sunday Night Box Office: The Reunion (GMA-7) 9.5%; Pilipinas News Weekend (TV5) .6%
O Shopping (ABS-CBN) .5%; Diyos At Bayan (GMA-7) 1.3%;
May 5, 2014 (Monday)
Morning:
Kape't Pandesal (ABS-CBN) 0.2%; Aha! Replay (GMA-7) .8%
Sports Unlimited Replay (ABS-CBN) .4%; Umagang Kay Ganda (ABS-CBN) 2.5%; Unang Hirit (GMA-7) 3.5%
Kris TV (ABS-CBN) 4.5%; Jackie Chan Adventures (GMA-7) 10.4%; One Piece (GMA-7) 13.2%; Detective Conan (GMA-7) 13.3%; Inuyasha (GMA-7) 13.6%
ADVERTISEMENT - CONTINUE READING BELOW
Mr. Bean (ABS-CBN) 4.6%; Fairy Tail (GMA-7) 13.7%
Kapamilya Kiddie Blockbusters: Astroboy (ABS-CBN) 9.4%; Slam Dunk (GMA-7) 12.8%; Dragon Ball Z Kai (GMA-7) 13.3%; Kusina Master (GMA-7) 6.8%
The Singing Bee (ABS-CBN) 14.1%; Tunay Na Buhay (GMA-7) 5%; The Ryzza Mae Show (GMA-7) 6.9%
Afternoon:
Be Careful With My Heart (ABS-CBN) 17.7%; It's Showtime (ABS-CBN) 12.9%; Eat Bulaga! (GMA-7) 10.7%
Moon of Desire (ABS-CBN) 11.8%; Villa Quintana (GMA-7) 8.4%
Pinoy Big Brother All In Uber (ABS-CBN) 10%; Bistado (ABS-CBN) 10.1%; Innamorata (GMA-7) 9.6%
Meteor Garden (ABS-CBN) 11.5%; Mischievous Kiss: Love in Tokyo (GMA-7) 8.9%
Evening:
Mirabella (ABS-CBN) 17.8%; My Love from the Star (GMA-7) 11.2%
TV Patrol (ABS-CBN) 24.5%; 24 Oras (GMA-7) 14.4%; Aksyon (TV5) 3%; Beki Boxer (TV5) 3.8%
Dyesebel (ABS-CBN) 29.5%; Kambal Sirena (GMA-7) 15%; Confessions of a Torpe (TV5) 4.9%
Ikaw Lamang (ABS-CBN) 29.9%; Carmela (GMA-7) 14.6%;
The Legal Wife (ABS-CBN) 25.3%; Aquino & Abunda Tonight (ABS-CBN) 15.9%; Rhodora X (GMA-7) 11%; Demolition Job (TV5) 2.6%
Pinoy Big Brother All In (ABS-CBN) 12.6%; A 100-Year Legacy (GMA-7) 9.4%; Pilipinas News (TV5) 1.5%
Bandila (ABS-CBN) 4%; Saksi (GMA-7) 4.8%; Reaksyon (TV5) .7%; Showbiz Police Replay (TV5) .7%
Banana Nite (ABS-CBN) 2.4%; Front Row (GMA-7) 2.5%; T3 Reload Replay (TV5) .6%
ADVERTISEMENT - CONTINUE READING BELOW
O Shopping (ABS-CBN) .5%; The Medyo Late Night Show with Jojo A (GMA-7) 1.2%
May 6, 2014 (Tuesday)
Morning:
Kape't Pandesal (ABS-CBN) 0.2%; Mutya Ng Masa Replay (ABS-CBN) 0.4%; I-Witness Replay (GMA-7) .7%
Umagang Kay Ganda (ABS-CBN) 2.6%; Unang Hirit (GMA-7) 2.6%
Kris TV (ABS-CBN) 3.9%; Jackie Chan Adventures (GMA-7) 9.3%; One Piece (GMA-7) 13%; Detective Conan (GMA-7) 13.3%; Inuyasha (GMA-7) 13.5%
Mr. Bean (ABS-CBN) 4%; Fairy Tail (GMA-7) 13.8%
Kapamilya Kiddie Blockbusters: Ella Enchanted (ABS-CBN) 9.7%; Slam Dunk (GMA-7) 13.6%; Dragon Ball Z Kai (GMA-7) 12.7%; Kusina Master (GMA-7) 6.2%
The Singing Bee (ABS-CBN) 14.1%; Tunay na Buhay (GMA-7) 4.9%
Be Careful With My Heart (ABS-CBN) 17.2%; The Ryzza Mae Show (GMA-7) 6.6%
Afternoon:
It's Showtime (ABS-CBN) 13.9%; Eat Bulaga! (GMA-7) 10%
Moon of Desire (ABS-CBN) 11.8%; Villa Quintana (GMA-7) 8.8%
Pinoy Big Brother All In Uber (ABS-CBN) 10.3%; Innamorata (GMA-7) 9.2%
Mutya ng Masa (ABS-CBN) 10.5%; The Borrowed Wife (GMA-7) 9.9%
Meteor Garden (ABS-CBN) 10.9%; Mischievous Kiss: Love in Tokyo (GMA-7) 8.1%
Evening:
Mirabella (ABS-CBN) 17.1%; My Love from the Star (GMA-7) 12.4%
TV Patrol (ABS-CBN) 23.5%; 24 Oras (GMA-7) 14.1%; Aksyon (TV5) 3.1%; Beki Boxer (TV5) 4.1%; Confessions of a Torpe (TV5) 4.7%
ADVERTISEMENT - CONTINUE READING BELOW
Dyesebel (ABS-CBN) 29.9%; Kambal Sirena (GMA-7) 13.9%; Tuesday Happy Hour (TV5) 5.3%
Ikaw Lamang (ABS-CBN) 29.4%; Carmela (GMA-7) 13.4%
The Legal Wife (ABS-CBN) 28.1%; Rhodora X (GMA-7) 11.6%
Aquino & Abunda Tonight (ABS-CBN) 16.3%; Pinoy Big Brother All In (ABS-CBN) 13.2%; A 100-Year Legacy (GMA-7) 8.9%; Numero (TV5) 1%; Pilipinas News (TV5) .7%
Bandila (ABS-CBN) 4.2%; Saksi (GMA-7) 4.5%; Reaksyon (TV5) .2%; Showbiz Police Replay (TV5) .2%
Banana Nite (ABS-CBN) 2.3%; Alisto! (GMA-7) 2.8%; T3 Reload Replay (TV5) .2%
O Shopping (ABS-CBN) .5%; The Medyo Late Night Show (GMA-7) .8%
May 7, 2014 (Wednesday)
Morning:
Kape't Pandesal (ABS-CBN) 0.2%; My Puhunan Replay (ABS-CBN) .5%; Reporter's Notebook Replay (GMA-7) .8%
Umagang Kay Ganda (ABS-CBN) 2.5%; Unang Hirit (GMA-7) 2.8%
Kris TV (ABS-CBN) 3.9%; Jackie Chan Adventures (GMA-7) 10.7%; One Piece (GMA-7) 13.3%; Detective Conan (GMA-7) 13.5%
Mr. Bean (ABS-CBN) 4.8%; Inuyasha (GMA-7) 13.6%
Kapamilya Kiddie Blockbusters: Pinocchio (ABS-CBN) 9.7%; Fairy Tail (GMA-7) 13.1%; Slam Dunk (GMA-7) 14.3%; Dragon Ball Z Kai (GMA-7) 13%; Kusina Master (GMA-7) 5.1%
The Singing Bee (ABS-CBN) 13.9%; Tunay Na Buhay (GMA-7) 5.2%
Be Careful With My Heart (ABS-CBN) 16.2%; The Ryzza Mae Show (GMA-7) 7.5%
Afternoon:
It's Showtime (ABS-CBN) 13.4%; Eat Bulaga! (GMA-7) 9.9%
ADVERTISEMENT - CONTINUE READING BELOW
Moon of Desire (ABS-CBN) 12.7%; Villa Quintana (GMA-7) 9.4%
Pinoy Big Brother All In Uber (ABS-CBN) 10.3%; My Puhunan (ABS-CBN) 9.6%; Innamorata (GMA-7) 10.3%
Meteor Garden (ABS-CBN) 10%; The Borrowed Wife (GMA-7) 9.9%; Mischievous Kiss: Love in Tokyo (GMA-7) 8.5%
Evening:
Mirabella (ABS-CBN) 18.2%; My Love from the Star (GMA-7) 12.4%
TV Patrol (ABS-CBN) 24.6%; 24 Oras (GMA-7) 14.2%; Aksyon (TV5) 2.6%; Beki Boxer (TV5) 3.3%
Dyesebel (ABS-CBN) 28.9%; Kambal Sirena (GMA-7) 14.4%; Confessions of a Torpe (TV5) 4.6%
Ikaw Lamang (ABS-CBN) 28.6%; Carmela (GMA-7) 13.7%; PLDT Home Tvolution PBA 2014 Commissioner's Cup Live (TV5) 7.9%
The Legal Wife (ABS-CBN) 24%; Rhodora X (GMA-7) 11.7%
Aquino & Abunda Tonight (ABS-CBN) 13.7%; Pinoy Big Brother All In (ABS-CBN) 12.2%; A 100-Year Legacy (GMA-7) 9.7%; History with Lourd (TV5) 2.9%; Pilipinas News (TV5) 1.1%
Bandila (ABS-CBN) 4.3%; Saksi (GMA-7) 4.4%; Reaksyon (TV5) .7%
Banana Nite (ABS-CBN) 2.1%; Powerhouse (GMA-7) 2.1%; Showbiz Police Replay (TV5) .4%; T3 Reload Replay (TV5) .3%
O Shopping (ABS-CBN) .5%; The Medyo Late Night Show (GMA-7) .6%;
May 8, 2014 (Thursday)
Morning:
Kape't Pandesal (ABS-CBN) 0.2%; Tapatan ni Tunying Replay (ABS-CBN) .5%; Born to be Wild Replay (GMA-7) .9%
Umagang Kay Ganda (ABS-CBN) 2.7%; Unang Hirit (GMA-7) 2.9%
ADVERTISEMENT - CONTINUE READING BELOW
Kris TV (ABS-CBN) 4.5%; Jackie Chan Adventures (GMA-7) 10.4%; One Piece (GMA-7) 13.1%; Detective Conan (GMA-7) 14.5%
Mr. Bean (ABS-CBN) 5.8%; Inuyasha (GMA-7) 13.6%
Kapamilya Kiddie Blockbusters: Bridge to Terrabithia (ABS-CBN) 11.5%; Fairy Tail (GMA-7) 13.3%; Slam Dunk (GMA-7) 14.3%; Dragon Ball Z Kai (GMA-7) 11.9%;
The Singing Bee (ABS-CBN) 14.8%; Kusina Master (GMA-7) 5.3%; Tunay Na Buhay (GMA-7) 5.8%
Be Careful With My Heart (ABS-CBN) 17%; The Ryzza Mae Show (GMA-7) 8.1%
Afternoon:
It's Showtime (ABS-CBN) 13.5%; Eat Bulaga! (GMA-7) 10.1%
Moon of Desire (ABS-CBN) 12.6%; Villa Quintana (GMA-7) 9%
Pinoy Big Brother All In Uber (ABS-CBN) 10.1%; Innamorata (GMA-7) 9.5%
Tapatan ni Tunying (ABS-CBN) 10.3%; The Borrowed Wife (GMA-7) 10.1%
Meteor Garden (ABS-CBN) 12.4%; Mischievous Kiss: Love in Tokyo (GMA-7) 8.7%
Evening:
Mirabella (ABS-CBN) 19.8%; My Love from the Star (GMA-7) 12%
TV Patrol (ABS-CBN) 25.8%; 24 Oras (GMA-7) 14.2%; Aksyon (TV5) 2.6%; Beki Boxer (TV5) 3.2%; Confessions of a Torpe (TV5) 3.9%
Dyesebel (ABS-CBN) 31.9%; Kambal Sirena (GMA-7) 15.7%; Sine Ko 5ingko Prime (TV5) 3.8%
Ikaw Lamang (ABS-CBN) 30.3%; Carmela (GMA-7) 15%
The Legal Wife (ABS-CBN) 27.6%; Aquino & Abunda Tonight (ABS-CBN) 16.9%; Rhodora X (GMA-7) 12.5%; Bigtime (TV5) 1.4%
ADVERTISEMENT - CONTINUE READING BELOW
Pinoy Big Brother All In (ABS-CBN) 12.4%; A 100-Year Legacy (GMA-7) 9.6%; Pilipinas News (TV5) 1%; Reaksyon (TV5) .9%
Bandila (ABS-CBN) 4.4%; Saksi (GMA-7) 4.3%; Showbiz Police Replay (TV5) .4%
Banana Nite (ABS-CBN) 2.5%; Human Planet (GMA-7) 3.3%; T3 Reload Replay (TV5) .2%
O Shopping (ABS-CBN) .6%; The Medyo Late Night Show (GMA-7) 1%
May 9, 2014 (Friday)
Morning:
Kape't Pandesal (ABS-CBN) 0.3%; Red Alert Replay (ABS-CBN) .5%; Alisto! Replay (GMA-7) .7%
Umagang Kay Ganda (ABS-CBN) 2.7%; Unang Hirit (GMA-7) 2.8%
Kris TV (ABS-CBN) 4.3%; Jackie Chan Adventures (GMA-7) 10.4%; One Piece (GMA-7) 13.2%; Detective Conan (GMA-7) 13.4%
Mr. Bean (ABS-CBN) 5.3%; Inuyasha (GMA-7) 13.4%; Fairy Tail (GMA-7) 13.1%
Kapamilya Kiddie Blockbusters: Shaolin Soccer (ABS-CBN) 12.3%; Slam Dunk (GMA-7) 12.8%; Dragon Ball Z Kai (GMA-7) 11%; Kusina Master (GMA-7) 5%
The Singing Bee (ABS-CBN) 15.1%; Tunay Na Buhay (GMA-7) 4.3%
Be Careful With My Heart (ABS-CBN) 16.2%; The Ryzza Mae Show (GMA-7) 7.4%
Afternoon:
It's Showtime (ABS-CBN) 13.4%; Eat Bulaga! (GMA-7) 9.8%
Moon of Desire (ABS-CBN) 12.6%; Villa Quintana (GMA-7) 8.9%
Pinoy Big Brother All In (ABS-CBN) 10.1%; Innamorata (GMA-7) 10.6%
Red Alert (ABS-CBN) 10.7%; The Borrowed Wife (GMA-7) 10%
Meteor Garden (ABS-CBN) 12.5%; Mischievous Kiss: Love in Tokyo (GMA-7) 8.3%
ADVERTISEMENT - CONTINUE READING BELOW
Evening:
Mirabella (ABS-CBN) 19.1%; My Love from the Star (GMA-7) 12.4%
TV Patrol (ABS-CBN) 24.2%; 24 Oras (GMA-7) 13.8%; Aksyon (TV5) 3%; Beki Boxer (TV5) 4.1%; Confessions of a Torpe (TV5) 5.1%
Dyesebel (ABS-CBN) 30.2%; Kambal Sirena (GMA-7) 14.7%
Ikaw Lamang (ABS-CBN) 29%; Carmela (GMA-7) 14.3%; PLDT Home Tvolution PBA 2014 Commissioner's Cup Live (TV5) 8.6%
The Legal Wife (ABS-CBN) 23.6%; Rhodora X (GMA-7) 12.9%
Aquino & Abunda Tonight (ABS-CBN) 13.9%; Pinoy Big Brother All In (ABS-CBN) 11.3%; Bubble Gang (GMA-7) 9%; Astig: Sa Sports (TV5) 1.6%; Pilipinas News (TV5) .9%
Bandila (ABS-CBN) 3.4%; Saksi (GMA-7) 3.8%; Reaksyon (TV5) .4%; Showbiz Police Replay (GMA-7) .4%
Banana Nite (ABS-CBN) 2%; O Shopping (ABS-CBN) .5%; The Medyo Late Night Show (GMA-7) 1.2%; T3 Reload Replay (TV5) .5%
--
Here are the Top 10 daytime and primetime programs from May 3 to 9, 2014 among Total Philippines (Urban & Rural) households:
May 3, 2014 (Saturday)
DAYTIME:
It's Showtime (ABS-CBN) - 13.4%
Eat Bulaga! (GMA-7) - 10.8%
Sabado Specials: Shake, Rattle and Roll 12 Punerarya (ABS-CBN) / GMA Blockbusters: Big Momma's Speed (GMA-7) - 10.7%
Angry Birds Toons (GMA-7) - 10.4%
Super Book (GMA-7) / Hayate the Combat Butler (GMA-7) / Wish Ko Lang! (GMA-7) - 9%
SOCO (ABS-CBN) / Toriko (GMA-7) - 8.8%
Maynila 15 (GMA-7) - 8.2%
TV Patrol Weekend (ABS-CBN) - 7.9%
2014 NBA Playoffs Eastern Conference First Round Live (ABS-CBN) - 7.6%
24 Oras Weekend (GMA-7) - 7.3%
PRIMETIME:
MMK: Ang Tahanan Mo (ABS-CBN) - 30.4%
Wansapanataym (ABS-CBN) - 25.4%
Magpakailanman (GMA-7) - 19.1%
Pinoy Big Brother All In (ABS-CBN) - 17.9%
Bet On Your Baby (ABS-CBN) - 16.8%
Vampire Ang Daddy Ko (GMA-7) - 15.7%
Celebrity Bluff (GMA-7) - 13.1%
Picture! Picture! (GMA-7) - 10.1%
I-Witness (GMA-7) - 7.2%
Banana Split Extra Scoop (ABS-CBN) - 7.1%
May 4, 2014 (Sunday)
DAYTIME:
My Love from the Star The Kilig Throwback (GMA-7) - 13.5%
One Piece Strong World (GMA-7) - 11.6%
Born to be Wild (GMA-7) - 9.8%
Sunday All Stars (GMA-7) - 9.7%
Asian Horror Stories (GMA-7) - 9.6%
ASAP 19 (ABS-CBN) / Luv U (ABS-CBN) / Hayate the Combat Butler (GMA-7) / iBilib (GMA-7) - 9.5%
Aha! (GMA-7) - 9.3%
TV Patrol Weekend (ABS-CBN) / Super Book (GMA-7) - 8.2%
2014 NBA Playoffs Eastern Conference First Round Live (ABS-CBN) - 7.9%
Buzz ng Bayan (ABS-CBN) -7.8%
PRIMETIME:
Kapuso Mo, Jessica Soho (GMA-7) - 21.8%
Rated K: Handa na ba Kayo? (ABS-CBN) - 20.6%
Pepito Manaloto: Ang Tunay na Kuwento (GMA-7) - 20.1%
Pinoy Big Brother All In (ABS-CBN) - 18.3%
Home Sweetie Home (ABS-CBN) - 17.8%
Gandang Gabi Vice (ABS-CBN) - 16%
Imbestigador (GMA-7) - 12.2%
Goin' Bulilit (ABS-CBN) - 12%
Kap's Amazing Stories (GMA-7) - 10.1%
Sunday Night Box Office: The Reunion (GMA-7) - 9.5%
May 5, 2014 (Monday)
DAYTIME:
Be Careful With My Heart (ABS-CBN) - 17.7%
The Singing Bee (ABS-CBN) - 14.1%
Fairy Tail (ABS-CBN) - 13.7%
Inuyasha (GMA-7) - 13.6%
Detective Conan (GMA-7) / Dragon Ball Z Kai (GMA-7) - 13.3%
It's Showtime (ABS-CBN) - 12.9%
Slam Dunk (GMA-7) - 12.8%
Moon of Desire (ABS-CBN) - 11.8%
Meteor Garden (ABS-CBN) - 11.5%
Eat Bulaga! (GMA-7) - 10.7%
PRIMETIME:
Ikaw Lamang (ABS-CBN) - 29.9%
Dyesebel (ABS-CBN) – 29.5%
The Legal Wife (ABS-CBN) - 25.3%
TV Patrol (ABS-CBN) - 24.5%
Mirabella (ABS-CBN) - 17.8%
Aquino & Abunda Tonight (ABS-CBN) - 15.9%
Kambal Sirena (GMA-7) - 15%
Carmela (GMA-7) - 14.6%
24 Oras (GMA-7) - 14.4%
Pinoy Big Brother All In (GMA-7) - 12.6%
May 6, 2014 (Tuesday)
DAYTIME:
Be Careful With My Heart (ABS-CBN) - 17.2%
The Singing Bee (ABS-CBN) - 14.1%
It's Showtime (ABS-CBN) - 13.9%
Fairy Tail (ABS-CBN) - 13.8%
Slam Dunk (ABS-CBN) - 13.6%
Inuyasha (GMA-7) - 13.5%
Detective Conan (GMA-7) - 13.3%
One Piece (GMA-7) - 13%
Dragon Ball Z Kai (GMA-7) - 12.7%
Moon of Desire (ABS-CBN) - 11.8%
PRIMETIME:
Dyesebel (ABS-CBN) - 29.9%
Ikaw Lamang (ABS-CBN) - 29.4%
The Legal Wife (ABS-CBN) - 28.1%
TV Patrol (ABS-CBN) - 23.5%
Mirabella (ABS-CBN) - 17.1%
Aquino & Abunda Tonight (ABS-CBN) - 16.3%
24 Oras (GMA-7) - 14.1%
Kambal Sirena (GMA-7) - 13.9%
Carmela (GMA-7) - 13.4%
Pinoy Big Brother All In (GMA-7) - 13.2%
May 7, 2014 (Wednesday)
DAYTIME:
Be Careful With My Heart (ABS-CBN) - 16.2%
Slam Dunk (GMA-7) - 14.3%
The Singing Bee (ABS-CBN) - 13.9%
Inuyasha (GMA-7) - 13.6%
Detective Conan (GMA-7) - 13.5%
It's Showtime (ABS-CBN) - 13.4%
One Piece (GMA-7) - 13.3%
Fairy Tail (GMA-7) - 13.1%
Dragon Ball Z Kai (GMA-7) - 13%
Moon of Desire (ABS-CBN) - 12.7%
PRIMETIME:
Dyesebel (ABS-CBN) - 28.9%
Ikaw Lamang (ABS-CBN) - 28.6%
TV Patrol (ABS-CBN) - 24.6%
The Legal Wife (ABS-CBN) - 24%
Mirabella (ABS-CBN) - 18.2%
Kambal Sirena (GMA-7) - 14.4%
24 Oras (GMA-7) - 14.2%
Aquino & Abunda Tonight (ABS-CBN) / Carmela (GMA-7) - 13.7%
My Love from the Star (GMA-7) - 12.4%
Pinoy Big Brother All In (ABS-CBN) - 12.2%
May 8, 2014 (Thursday)
DAYTIME:
Be Careful With My Heart (ABS-CBN) - 17%
The Singing Bee (ABS-CBN) - 14.8%
Detective Conan (GMA-7) - 14.5%
Slam Dunk (GMA-7) - 14.3%
Inuyasha (GMA-7) - 13.6%
It's Showtime (ABS-CBN) - 13.5%
Fairy Tail (GMA-7) - 13.3%
One Piece (GMA-7) - 13.1%
Moon of Desire - 12.6%
Meteor Garden (ABS-CBN) - 12.4%
PRIMETIME:
Dyesebel (ABS-CBN) - 31.9%
Ikaw Lamang (ABS-CBN) - 30.3%
The Legal Wife (ABS-CBN) - 27.6%
TV Patrol (ABS-CBN) - 25.8%
Mirabella (ABS-CBN) - 19.8%
Aquino & Abunda Tonight (ABS-CBN) - 16.9%
Kambal Sirena (GMA-7) - 15.7%
Carmela (GMA-7) - 15%
24 Oras (GMA-7) - 14.2%
Rhodora X (GMA-7) - 12.5%
May 9, 2014 (Friday)
DAYTIME:
Be Careful With My Heart (ABS-CBN) - 16.2%
The Singing Bee (ABS-CBN) - 15.1%
It's Showtime (ABS-CBN) / Detective Conan (GMA-7) / Inuyasha (GMA-7) - 13.4%
One Piece (GMA-7) - 13.2%
Fairy Tail (GMA-7) - 13.1%
Slam Dunk (GMA-7) - 12.8%
Moon of Desire (ABS-CBN) - 12.6%
Meteor Garden (ABS-CBN) - 12.5%
Kapamilya Kiddie Blockbusters: Shaolin Soccer (ABS-CBN) - 12.3%
Dragon Ball Z Kai (GMA-7) - 11%
PRIMETIME:
Dyesebel (ABS-CBN) - 30.2%
Ikaw Lamang (ABS-CBN) - 29%
TV Patrol (ABS-CBN) - 24.2%
The Legal Wife (ABS-CBN) - 23.6%
Mirabella (ABS-CBN) - 19.1%
Kambal Sirena (GMA-7) - 14.7%
Carmela (GMA-7) - 14.3%
Aquino & Abunda Tonight (ABS-CBN) - 13.9%
24 Oras (GMA-7) - 13.8%
Rhodora X (GMA-7) - 12.9%



Source: Kantar/TNS