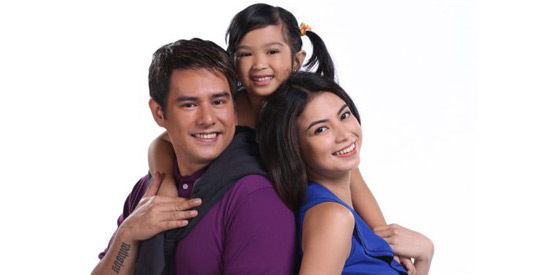 ---
ABS-CBN is still the most-watched network nationwide. This is according to data based on the overnight ratings of Kantar Media/TNS among Total Philippines (Urban & Rural) from June 23 to 26.
ABS-CBN has the most shows that win the ratings bout in their timeslots. Dyesebel is the ultimate ratings winner, being the most-watched show on primetime and overall day, Monday to Thursday.
Other Kapamilya shows follow Dyesebel's lead. Ikaw Lamang, TV Patrol and Sana Bukas Pa Ang Kahapon always place in the top four most-watched shows on primetime.
On daytime, the noontime show It's Showtime and long-running family comedy-drama Be Careful With My Heart are the ratings leaders, constantly beating its rivals Eat Bulaga! and The Ryzza Mae Show.
Other daytime winners from ABS-CBN include The Singing Bee, The Heirs and Moon of Desire.
A few shows from GMA-7 are beating ABS-CBN's counterparts, though. These include Dading, a new show that airs against Pinoy Big Brother All In Uber. Dading, which stars Gabby Eigenmann as a gay father, outshone the reality show update from Monday to Thursday.
Other GMA-7 shows that win ratings are Inuyasha, Fairy Tail, Slam Dunk, Mankind, Front Row and The Medyo Late Night Show.
Here are the comparative Household Ratings of ABS-CBN, TV5, and GMA-7 programs from June 23 to 26, 2014 based on the overnight ratings of Kantar Media/TNS among Total Philippines (Urban & Rural) households:
June 23, 2014 (Monday)
Morning:
Kape't Pandesal (ABS-CBN) 0.2%; Matanglawin Replay (ABS-CBN) 0.8%; Aha! Replay (GMA-7) .8%
Umagang Kay Ganda (ABS-CBN) 4.2%; Unang Hirit (GMA-7) 3.8%
Kris TV (ABS-CBN) 5.6%; Jackie Chan Adventures (GMA-7) 5.4%; One Piece (GMA-7) 7.6%; Detective Conan (GMA-7) 8.7%; Inuyasha (GMA-7) 10.4%
Mr. Bean (ABS-CBN) 4.6%; Fairy Tail (GMA-7) 11%
Kapamilya Kiddie Blockbusters: Bulletproof Monk (ABS-CBN) 9.5%; Slam Dunk (GMA-7) 11.3%; Dragon Ball Z Kai (GMA-7) 9.9%; Return of the Wife (GMA-7) 5.4%
The Singing Bee (ABS-CBN) 13%; Basta Everyday Happy (GMA-7) 5.6%
Be Careful With My Heart (ABS-CBN) 15.5%; The Ryzza Mae Show (GMA-7) 7.5%
ADVERTISEMENT - CONTINUE READING BELOW
Afternoon:
It's Showtime (ABS-CBN) 12.3%; Eat Bulaga! (GMA-7) 11.4%
Moon of Desire (ABS-CBN) 9.6%; The Half Sisters (GMA-7) 9.3%
Pinoy Big Brother All In Uber (ABS-CBN) 8.4%; Dading (GMA-7) 9.5%
Bistado (ABS-CBN) 8.7%; Alisto! (GMA-7) 6.6%
The Heirs (ABS-CBN) 11.3%; Jewel in the Palace (GMA-7) 8.3%
Evening:
Mirabella (ABS-CBN) 17.7%; My Love from the Star (GMA-7) 14.7%
TV Patrol (ABS-CBN) 27%; 24 Oras (GMA-7) 16.4%; Aksyon (TV5) 2.8%; Beki Boxer (TV5) 4.2%; Juan Direction (TV5) 3.8%
Dyesebel (ABS-CBN) 32.2%; Niño (GMA-7) 17.8%; PLDT Home TelPad 2014 PBA Governor's Cup Live (TV5) 7.6%
Ikaw Lamang (ABS-CBN) 31.1%; Kambal Sirena (GMA-7) 15.6%
Sana Bukas Pa Ang Kahapon (ABS-CBN) 23.8%; Ang Dalawang Mrs. Real (GMA-7) 12.8%
Aquino & Abunda Tonight (ABS-CBN) 14.8%; Pinoy Big Brother All In (ABS-CBN) 12.8%; The Master's Sun (GMA-7) 9.1%; Demolition Job (TV5) 3.4%; Pilipinas News (TV5) 1.5%; Reaksyon (TV5) .7%
Bandila (ABS-CBN) 5.3%; Saksi (GMA-7) 3.6%; T3 Reload Replay (TV5) .5%
Banana Nite (ABS-CBN) 2%; Front Row (GMA-7) 2%; Face the People (TV5) .3%
O Shopping (ABS-CBN) .6%; The Medyo Late Night Show with Jojo A (GMA-7) 1%; Shop Japan (TV5) .1%
June 24, 2014 (Tuesday)
Morning:
Kape't Pandesal (ABS-CBN) 0.2%; Mutya Ng Masa Replay (ABS-CBN) 0.5%; I-Witness Replay (GMA-7) 1%
Umagang Kay Ganda (ABS-CBN) 3.5%; Unang Hirit (GMA-7) 3.6%
Kris TV (ABS-CBN) 4.6%; Jackie Chan Adventures (GMA-7) 5.4%; One Piece (GMA-7) 7.5%; Detective Conan (GMA-7) 8.2%; Inuyasha (GMA-7) 9.1%
Mr. Bean (ABS-CBN) 4.5%; Fairy Tail (GMA-7) 9.8%
Kapamilya Blockbusters: Attack the Block (ABS-CBN) 8.4%; Slam Dunk (GMA-7) 10.3%; Dragon Ball Z Kai (GMA-7) 8.7%; Return of the Wife (GMA-7) 5.4%
The Singing Bee (ABS-CBN) 13.3%; Basta Everyday Happy (GMA-7) 4.2%
Be Careful With My Heart (ABS-CBN) 14.9%; The Ryzza Mae Show (GMA-7) 8%
Afternoon:
It's Showtime (ABS-CBN) 12%; Eat Bulaga! (GMA-7) 11.5%
Moon of Desire (ABS-CBN) 9.9%; The Half Sisters (GMA-7) 9.2%
Pinoy Big Brother All In Uber (ABS-CBN) 7.8%; Dading (GMA-7) 8.8%
Mutya ng Masa (ABS-CBN) 8.3%; Tunay na Buhay (GMA-7) 7%
The Heirs (ABS-CBN) 10.9%; Jewel in the Palace (GMA-7) 8.6%
Evening:
Mirabella (ABS-CBN) 17%; My Love from the Star (GMA-7) 14.7%
TV Patrol (ABS-CBN) 25.9%; 24 Oras (GMA-7) 15.7%; Aksyon (TV5) 2.8%; Beki Boxer (TV5) 4.2%
Dyesebel (ABS-CBN) 31.2%; Niño (GMA-7) 17.4%; Juan Direction (TV5) 3.1%
Ikaw Lamang (ABS-CBN) 29.7%; Kambal Sirena (GMA-7) 15.3%; PLDT Home TelPad 2014 PBA Governor's Cup Live (TV5) 6.1%
ADVERTISEMENT - CONTINUE READING BELOW
Sana Bukas Pa Ang Kahapon (ABS-CBN) 22%; Ang Dalawang Mrs. Real (GMA-7) 11.3%
Aquino & Abunda Tonight (ABS-CBN) 14.2%; Pinoy Big Brother All In (ABS-CBN) 12.2%; The Master's Sun (GMA-7) 8.6%; Miss Manila 2014 (TV5) 1%
Bandila (ABS-CBN) 4.2%; Saksi (GMA-7) 3.8%; Banana Nite (ABS-CBN) 1.9%; Serial Killer Earth (GMA-7) 2.5%
O Shopping (ABS-CBN) .4%; The Medyo Late Night Show (GMA-7) .7%; Pilipinas News (TV5) .1%; Shop Japan (TV5) 0%
June 25, 2014 (Wednesday)
Morning:
Kape't Pandesal (ABS-CBN) 0.2%; My Puhunan Replay (ABS-CBN) .5%; Reporter's Notebook Replay (GMA-7) .9%
Umagang Kay Ganda (ABS-CBN) 3.8%; Unang Hirit (GMA-7) 3.2%
Kris TV (ABS-CBN) 5.3%; Jackie Chan Adventures (GMA-7) 4.6%; One Piece (GMA-7) 6.4%; Detective Conan (GMA-7) 7.6%; Inuyasha (GMA-7) 8.2%
Mr. Bean (ABS-CBN) 4.6%; Fairy Tail (GMA-7) 9%
Kapamilya Blockbusters: So Close (ABS-CBN) 11%; Slam Dunk (GMA-7) 8.1%; Dragon Ball Z Kai (GMA-7) 7.5%; Return of the Wife (GMA-7) 4.3%
The Singing Bee (ABS-CBN) 13.5%; Basta Everyday Happy (GMA-7) 4%; Del Monte Kitchenomics (GMA-7) 4.9%
Be Careful With My Heart (ABS-CBN) 14.7%; The Ryzza Mae Show (GMA-7) 8.4%
Afternoon:
It's Showtime (ABS-CBN) 12.2%; Eat Bulaga! (GMA-7) 10.8%
Moon of Desire (ABS-CBN) 9.5%; The Half Sisters (GMA-7) 8.7%
Pinoy Big Brother All In Uber (ABS-CBN) 8%; Dading (GMA-7) 9.2%
My Puhunan (ABS-CBN) 8.7%; Power House (GMA-7) 8.5%
The Heirs (ABS-CBN) 12.5%; Jewel in the Palace (GMA-7) 8.4%
Evening:
Mirabella (ABS-CBN) 19.1%; My Love from the Star (GMA-7) 14.9%; Aksyon (TV5) 3.3%
TV Patrol (ABS-CBN) 27.4%; 24 Oras (GMA-7) 17%; Beki Boxer (TV5) 3.6%; Juan Direction (TV5) 3.5%
Dyesebel (ABS-CBN) 30.9%; Niño (GMA-7) 17.7%; PLDT Home TelPad 2014 PBA Governor's Cup Live (TV5) 9.3%
Ikaw Lamang (ABS-CBN) 29.2%; Kambal Sirena (GMA-7) 14.9%;
Sana Bukas Pa Ang Kahapon (ABS-CBN) 22.9%; Ang Dalawang Mrs. Real (GMA-7) 10.7%
Aquino & Abunda Tonight (ABS-CBN) 12.6%; Pinoy Big Brother All In (ABS-CBN) 10.7%; The Master's Sun (GMA-7) 8.4%; History with Lourd (TV5) 2.3%; Pilipinas News (TV5) 1.5%
Bandila (ABS-CBN) 4%; Saksi (GMA-7) 4.7%; Reaksyon (TV5) .7%; T3 Reload Replay (TV5) .5%
Banana Nite (ABS-CBN) 1.8%; Mankind (GMA-7) 2.8%; Face the People (GMA-7) .5%
O Shopping (ABS-CBN) .4%; The Medyo Late Night Show (GMA-7) 1.2%; Shop Japan (GMA-7) .1%
June 26, 2014 (Thursday)
Morning:
Kape't Pandesal (ABS-CBN) 0.3%; Tapatan ni Tunying Replay (ABS-CBN) .6%; Born to be Wild Replay (GMA-7) 1%
Umagang Kay Ganda (ABS-CBN) 4.4%; Unang Hirit (GMA-7) 3.7%
ADVERTISEMENT - CONTINUE READING BELOW
Kris TV (ABS-CBN) 6.2%; Jackie Chan Adventures (GMA-7) 5.5%; One Piece (GMA-7) 7.2%; Detective Conan (GMA-7) 7.5%; Inuyasha (GMA-7) 8.4%
Mr. Bean (ABS-CBN) 5.9%; Fairy Tail (GMA-7) 9.8%; Slam Dunk (GMA-7) 10.7%
Kapamilya Blockbusters: The Warrior's Way (ABS-CBN) 9.7%; Dragon Ball Z Kai (GMA-7) 8.8%; Return of the Wife (GMA-7) 5.6%
The Singing Bee (ABS-CBN) 12.8%; Basta Everyday Happy (GMA-7) 5.4%
Be Careful With My Heart (ABS-CBN) 16.2%; The Ryzza Mae Show (GMA-7) 7.7%
Afternoon:
It's Showtime (ABS-CBN) 13.2%; Eat Bulaga! (GMA-7) 11.6%
Moon of Desire (ABS-CBN) 10%; The Half Sisters (GMA-7) 9.1%
Pinoy Big Brother All In Uber (ABS-CBN) 9%; Dading (GMA-7) 9.4%
Tapatan ni Tunying (ABS-CBN) 9.6%; Reporter's Notebook (GMA-7) 8.8%
The Heirs (ABS-CBN) 14%; Jewel in the Palace (GMA-7) 11.2%
Evening:
Mirabella (ABS-CBN) 21.2%; My Love from the Star (GMA-7) 18.7%
TV Patrol (ABS-CBN) 28.4%; 24 Oras (GMA-7) 18.1%; Aksyon (TV5) 4%; Beki Boxer (TV5) 5.4%; Juan Direction (TV5) 4.3%
Dyesebel (ABS-CBN) 30.6%; Niño (GMA-7) 17.3%; PLDT Home TelPad 2014 PBA Governor's Cup Live (TV5) 8%
Ikaw Lamang (ABS-CBN) 29.6%; Kambal Sirena (GMA-7) 15.2%;
Sana Bukas Ang Kahapon (ABS-CBN) 22.7%; Ang Dalawang Mrs. Real (GMA-7) 11.2%
Aquino & Abunda Tonight (ABS-CBN) 12.3%; Pinoy Big Brother All In (ABS-CBN) 9.3%; The Master's Sun (GMA-7) 8.4%; Gilas Pilipinas Kuwentong Gilas (TV5) 1.6%
Bandila (ABS-CBN) 3.7%; Saksi (GMA-7) 4.2%; Bigtime (TV5) .6%
Banana Nite (ABS-CBN) 1.5%; Mankind (GMA-7) 3.1%; Pilipinas News (TV5) .4%
O Shopping (ABS-CBN) .3%; The Medyo Late Night Show (GMA-7) 1.3%; Reaksyon (TV5) .3%; T3 Reload (TV5) .3%; Face the People (TV5) .1%; Shop Japan (TV5) .1%
--


Here are the Top 10 daytime and primetime programs from June 23-26, 2014 among Total Philippines (Urban & Rural) households:



June 23, 2014 (Monday)
DAYTIME:
Be Careful With My Heart (ABS-CBN) - 15.5%
The Singing Bee (ABS-CBN) - 13%
It's Showtime (ABS-CBN) - 12.3%
Eat Bulaga! (GMA-7) - 11.4%
The Heirs (ABS-CBN) / Slam Dunk (GMA-7) - 11.3%
Fairy Tail (GMA-7) / Inuyasha (GMA-7) - 11%
Dragon Ball Z Kai (GMA-7) - 9.9%
Moon of Desire (ABS-CBN) - 9.6%
Kapamilya Kiddie Blockbusters: Bulletproof Monk (ABS-CBN) / Dading (GMA-7) - 9.5%
The Half Sisters (GMA-7) - 9.3%
PRIMETIME:
Dyesebel (ABS-CBN) - 32.2%
Ikaw Lamang (ABS-CBN) - 31.1%
TV Patrol (ABS-CBN) - 27%
Sana Bukas Pa Ang Kahapon (ABS-CBN) - 23.8%
Niño (GMA-7) - 17.8%
Mirabella (ABS-CBN) - 17.7%
24 Oras (GMA-7) - 16.4%
Kambal Sirena (GMA-7) - 15.6%
Aquino & Abunda Tonight (ABS-CBN) - 14.8%
My Love from the Star (GMA-7) - 14.7%


June 24, 2014 (Tuesday)
DAYTIME:
Be Careful With My Heart (ABS-CBN) - 14.9%
The Singing Bee (ABS-CBN) - 13.3%
It's Showtime (ABS-CBN) - 12%
Eat Bulaga! (GMA-7) - 11.5%
The Heirs (ABS-CBN) - 10.9%
Slam Dunk (ABS-CBN) - 10.3%
Moon of Desire (ABS-CBN) - 9.9%
Fairy Tail (GMA-7) - 9.8%
The Half Sisters (GMA-7) - 9.2%
Inuyasha (GMA-7) - 9.1%
PRIMETIME:
Dyesebel (ABS-CBN) - 31.2%
Ikaw Lamang (ABS-CBN) - 29.7%
TV Patrol (ABS-CBN) - 25.9%
Sana Bukas Pa Ang Kahapon (ABS-CBN) - 22%
Niño (GMA-7) - 17.4%
Mirabella (ABS-CBN) - 17%
24 Oras (GMA-7) - 15.7%
Kambal Sirena (GMA-7) - 15.3%
My Love from the Star (GMA-7) - 14.7%
Aquino & Abunda Tonight (ABS-CBN) - 14.2%


June 25, 2014 (Wednesday)
DAYTIME:
Be Careful With My Heart (ABS-CBN) - 14.7%
The Singing Bee (ABS-CBN) - 13.5%
The Heirs (ABS-CBN) - 12.5%
It's Showtime (ABS-CBN) - 12.2%
Kapamilya Blockbusters: So Close (ABS-CBN) - 11%
Eat Bulaga! (GMA-7) - 10.8%
Moon of Desire (ABS-CBN) - 9.5%
Dading (GMA-7) - 9.2%
Fairy Tail (GMA-7) - 9%
My Puhunan (ABS-CBN) / The Half Sisters (GMA-7) - 8.7%
PRIMETIME:
Dyesebel (ABS-CBN) - 30.9%
Ikaw Lamang (ABS-CBN) - 29.2%
TV Patrol (ABS-CBN) - 27.4%
Sana Bukas Pa Ang Kahapon (ABS-CBN) - 22.9%
Mirabella (ABS-CBN) - 19.1%
Niño (GMA-7) - 17.7%
24 Oras (GMA-7) - 17%
My Love from the Star (GMA-7) / Kambal Sirena (GMA-7) - 14.9%
Aquino & Abunda Tonight (ABS-CBN) - 12.6%


June 26, 2014 (Thursday)
DAYTIME:
Be Careful With My Heart (ABS-CBN) - 16.2%
The Heirs (ABS-CBN) - 14%
It's Showtime (ABS-CBN) - 13.2%
The Singing Bee (ABS-CBN) - 12.8%
Eat Bulaga! (GMA-7) - 11.6%
Jewel in the Palace (GMA-7) - 11.2%
Slam Dunk (ABS-CBN) - 10.7%
Moon of Desire (ABS-CBN) - 10%
Fairy Tail (GMA-7) - 9.8%
Kapamilya Blockbusters: The Warrior's Way (ABS-CBN) - 9.7%
PRIMETIME:
Dyesebel (ABS-CBN) - 30.6%
Ikaw Lamang (ABS-CBN) - 29.6%
TV Patrol (ABS-CBN) - 28.4%
Sana Bukas Pa Ang Kahapon (ABS-CBN) - 22.7%
Mirabella (ABS-CBN) - 21.2%
My Love from the Star (GMA-7) - 18.7%
24 Oras (GMA-7) - 18.1%
Niño (GMA-7) - 17.3%
Kambal Sirena (GMA-7) - 15.2%
Aquino & Abunda Tonight (ABS-CBN) - 12.3%


Source: Kantar/TNS