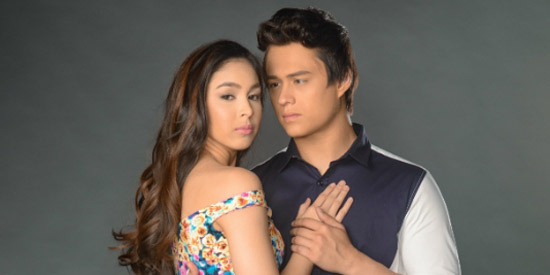 ---
GMA-7 premiered two new shows on primetime during this period, but ABS-CBN shows managed to outperform them. This is according to data based on the overnight ratings of Kantar Media/TNS among Total Philippines (Urban & Rural) on June 30 to July 3, 2014.
My Destiny premiered on June 30 as a replacement for Kambal Sirena. It stars Tom Rodriguez and Carla Abellana in a light-hearted tale of love and fate. It earned 15%, only half of ABS-CBN's Ikaw Lamang's 29.2%.
My BFF also premiered on June 30. My BFF, which replaced My Love from the Star in the early primetime slot, stars Jillian Ward and Mona Louise Rey in a family drama with supernatural elements.
My BFF only scored 11% for its first episode, much lower than Mirabella's 21.8%.
Mirabella stars Julia Barretto and Sam Concepcion in a love story with supernatural elements. It ended on July 4.
Here are the comparative Household Ratings of ABS-CBN, TV5, and GMA-7 programs from June 30 to July 3, 2014 based on the overnight ratings of Kantar Media/TNS among Total Philippines (Urban & Rural) households:
June 30, 2014 (Monday)
Morning:
Kape't Pandesal (ABS-CBN) 0.2%; Matanglawin Replay (ABS-CBN) 0.9%; Aha! Replay (GMA-7) .8%
Umagang Kay Ganda (ABS-CBN) 4%; Unang Hirit (GMA-7) 3.4%
Kris TV (ABS-CBN) 5.8%; One Piece (GMA-7) 5%; Jackie Chan Adventures (GMA-7) 6.3%; Detective Conan (GMA-7) 7.4%; Inuyasha (GMA-7) 8%
Mr. Bean (ABS-CBN) 5.5%; Fairy Tail (GMA-7) 9%
Kuroko's Basketball (ABS-CBN) 5.6%; Slam Dunk (GMA-7) 9.1%
Naruto Shippuuden (ABS-CBN) 6.2%; Dragon Ball Z Kai (GMA-7) 9.3%
Lovers in Paris (ABS-CBN) 7.2%; Return of the Wife (GMA-7) 5.9%
The Singing Bee (ABS-CBN) 11.1%; Basta Everyday Happy (GMA-7) 4.9%
Be Careful With My Heart (ABS-CBN) 14.1%; The Ryzza Mae Show (GMA-7) 7.5%
Afternoon:
It's Showtime (ABS-CBN) 12.7%; Eat Bulaga! (GMA-7) 11.3%
Moon of Desire (ABS-CBN) 11.7%; The Half Sisters (GMA-7) 10.4%
Pinoy Big Brother All In Uber (ABS-CBN) 9.5%; Dading (GMA-7) 10.4%
Bistado (ABS-CBN) 10.2%; Alisto! (GMA-7) 7.3%
The Heirs (ABS-CBN) 13.2%; Jewel in the Palace (GMA-7) 7.5%; My Love from the Star (GMA-7) 12.5%
Evening:
Mirabella (ABS-CBN) 21.8%; My BFF (GMA-7) 11%
TV Patrol (ABS-CBN) 27.3%; 24 Oras (GMA-7) 14.5%; Aksyon (TV5) 2.8%; Beki Boxer (TV5) 3.6%
ADVERTISEMENT - CONTINUE READING BELOW
Dyesebel (ABS-CBN) 30.1%; Niño (GMA-7) 16.3%; Juan Direction (TV5) 2.9%
Ikaw Lamang (ABS-CBN) 29.2%; My Destiny (GMA-7) 15%; Movie Max 5 (TV5) 3.7%
Sana Bukas Pa Ang Kahapon (ABS-CBN) 22.2%; Ang Dalawang Mrs. Real (GMA-7) 11.4%; Demolition Job (TV5) 1.9%
Aquino & Abunda Tonight (ABS-CBN) 12.7%; Pinoy Big Brother All In (ABS-CBN) 9.5%; The Master's Sun (GMA-7) 8.2%; Pilipinas News (TV5) 1.3%; Reaksyon (TV5) .5%
Bandila (ABS-CBN) 3.7%; Saksi (GMA-7) 3.3%; T3 Reload Replay (TV5) .3%
Banana Nite (ABS-CBN) 1.6%; Front Row (GMA-7) 1.6%; Face the People (TV5) .2%
O Shopping (ABS-CBN) .4%; The Medyo Late Night Show with Jojo A (GMA-7) .6%; Shop Japan (TV5) .1%

July 1, 2014 (Tuesday)
Morning:
Kape't Pandesal (ABS-CBN) .3%; Mutya Ng Masa Replay (ABS-CBN) .8%; I-Witness Replay (GMA-7) .8%
Umagang Kay Ganda (ABS-CBN) 4%; Unang Hirit (GMA-7) 3.2%
Kris TV (ABS-CBN) 5.1%; One Piece (GMA-7) 4.4%; Jackie Chan Adventures (GMA-7) 6.3%; Detective Conan (GMA-7) 7.7%
Mr. Bean (ABS-CBN) 5.3%; Inuyasha (GMA-7) 8.9%; Fairy Tail (GMA-7) 9.5%
Kuroko's Basketball (ABS-CBN) 5.9%; Slam Dunk (GMA-7) 9.7%
Naruto Shippuuden (ABS-CBN) 6.9%; Dragon Ball Z Kai (GMA-7) 9.1%
Lovers in Paris (ABS-CBN) 7.6%; Return of the Wife (GMA-7) 6.3%
The Singing Bee (ABS-CBN) 12.9%; Basta Everyday Happy (GMA-7) 4.9%
Be Careful With My Heart (ABS-CBN) 15.4%; The Ryzza Mae Show (GMA-7) 7.9%
Afternoon:
It's Showtime (ABS-CBN) 12.2%; Eat Bulaga! (GMA-7) 11.5%
Moon of Desire (ABS-CBN) 10.7%; The Half Sisters (GMA-7) 8.6%
Pinoy Big Brother All In Uber (ABS-CBN) 8.4%; Dading (GMA-7) 8.9%
Mutya ng Masa (ABS-CBN) 9.1%; Tunay na Buhay (GMA-7) 7.8%
The Heirs (ABS-CBN) 12.8%; Jewel in the Palace (GMA-7) 7.5%
Evening:
Mirabella (ABS-CBN) 21.3%; My BFF (GMA-7) 9.8%
TV Patrol (ABS-CBN) 27.5%; 24 Oras (GMA-7) 15.6%; Aksyon (TV5) 3.4%; Beki Boxer (TV5) 3.8%
Dyesebel (ABS-CBN) 29%; Niño (GMA-7) 16.9%; Juan Direction (TV5) 3.9%; PLDT Home TelPad 2014 PBA Governor's Cup Live (TV5) 10.6%
Ikaw Lamang (ABS-CBN) 27.8%; My Destiny (GMA-7) 14.7%
Sana Bukas Pa Ang Kahapon (ABS-CBN) 20%; Ang Dalawang Mrs. Real (GMA-7) 11.4%
Aquino & Abunda Tonight (ABS-CBN) 10.6%; Pinoy Big Brother All In (ABS-CBN) 9.1%; The Master's Sun (GMA-7) 7.6%; Numero (TV5) 1.9%; Pilipinas News (TV5) 1%
Bandila (ABS-CBN) 3.8%; Saksi (GMA-7) 3.7%; Reaksyon (TV5) .5%; T3 Reload Replay (TV5) .3%
Banana Nite (ABS-CBN) 2%; Serial Killer Earth (GMA-7) 1.8%; Face the People (TV5) .4%
O Shopping (ABS-CBN) .4%; The Medyo Late Night Show (GMA-7) .6%; Shop Japan (TV5) .1%

ADVERTISEMENT - CONTINUE READING BELOW
July 2, 2014 (Wednesday)
Morning:
Kape't Pandesal (ABS-CBN) 0.1%; My Puhunan Replay (ABS-CBN) .9%; Reporter's Notebook Replay (GMA-7) .6%
Umagang Kay Ganda (ABS-CBN) 4%; Unang Hirit (GMA-7) 3%
Kris TV (ABS-CBN) 4.2%; One Piece (GMA-7) 4.7%; Jackie Chan Adventures (GMA-7) 5.5%; Detective Conan (GMA-7) 6.6%; Inuyasha (GMA-7) 7.1%
Mr. Bean (ABS-CBN) 3.9%; Fairy Tail (GMA-7) 8.4%
Kuroko's Basketball (ABS-CBN) 4.6%; Slam Dunk (GMA-7) 8.1%
Naruto Shippuuden (ABS-CBN) 6.3%; Dragon Ball Z Kai (GMA-7) 7.4%
Lovers in Paris (ABS-CBN) 6.6%; Return of the Wife (GMA-7) 5.3%
The Singing Bee (ABS-CBN) 11.8%; Basta Everyday Happy (GMA-7) 4.1%
Be Careful With My Heart (ABS-CBN) 15%; The Ryzza Mae Show (GMA-7) 6.8%
Afternoon:
It's Showtime (ABS-CBN) 12.9%; Eat Bulaga! (GMA-7) 11.6%
Moon of Desire (ABS-CBN) 11.6%; The Half Sisters (GMA-7) 10.1%
Pinoy Big Brother All In Uber (ABS-CBN) 8.5%; Dading (GMA-7) 9.9%
My Puhunan (ABS-CBN) 9.3%; Power House (GMA-7) 7.8%
The Heirs (ABS-CBN) 12.6%; Jewel in the Palace (GMA-7) 7.2%
Evening:
Mirabella (ABS-CBN) 23%; My BFF (GMA-7) 9%
TV Patrol (ABS-CBN) 28%; 24 Oras (GMA-7) 14.5%; Aksyon (TV5) 3.6%; Beki Boxer (TV5) 3.8%; Juan Direction (TV5) 3%
Dyesebel (ABS-CBN) 30%; Niño (GMA-7) 17.6%; Movie Max 5 (TV5) 4%
Ikaw Lamang (ABS-CBN) 27.9%; My Destiny (GMA-7) 16.3%;
Sana Bukas Pa Ang Kahapon (ABS-CBN) 21.6%; Ang Dalawang Mrs. Real (GMA-7) 12.8%; Kuwentong Gilas (TV5) --%
Aquino & Abunda Tonight (ABS-CBN) 11.9%; Pinoy Big Brother All In (ABS-CBN) 8.3%; The Master's Sun (GMA-7) 9.2%; History with Lourd (TV5) 1.1%; Pilipinas News (TV5) .8%
Bandila (ABS-CBN) 2.9%; Saksi (GMA-7) 4.5%; Reaksyon (TV5) .5%; T3 Reload Replay (TV5) .3%
Banana Nite (ABS-CBN) 1.2%; Mankind (GMA-7) 2.5%; Face the People (GMA-7) .4%
O Shopping (ABS-CBN) .4%; The Medyo Late Night Show (GMA-7) .9%; Shop Japan (GMA-7) .1%

July 3, 2014 (Thursday)
Morning:
Kape't Pandesal (ABS-CBN) 0.4%; Tapatan ni Tunying Replay (ABS-CBN) 1%; Born to be Wild Replay (GMA-7) .7%
Umagang Kay Ganda (ABS-CBN) 4.3%; Unang Hirit (GMA-7) 3.1%
Kris TV (ABS-CBN) 5.1%; One Piece (GMA-7) 5.2%; Jackie Chan Adventures (GMA-7) 6.9%; Detective Conan (GMA-7) 7.7%; Inuyasha (GMA-7) 8.8%
Mr. Bean (ABS-CBN) 5.5%; Fairy Tail (GMA-7) 9.7%
Kuroko's Basketball (ABS-CBN) 5.9%; Slam Dunk (GMA-7) 9.7%
Naruto Shippuuden (ABS-CBN) 6.5%; Dragon Ball Z Kai (GMA-7) 9.2%
Lovers in Paris (ABS-CBN) 7.5%; Return of the Wife (GMA-7) 5.6%
The Singing Bee (ABS-CBN) 12.9%; Basta Everyday Happy (GMA-7) 5.4%
Be Careful With My Heart (ABS-CBN) 15.3%; The Ryzza Mae Show (GMA-7) 9%
ADVERTISEMENT - CONTINUE READING BELOW
Afternoon:
It's Showtime (ABS-CBN) 11.9%; Eat Bulaga! (GMA-7) 10.9%
Moon of Desire (ABS-CBN) 11.8%; The Half Sisters (GMA-7) 9.2%
Pinoy Big Brother All In Uber (ABS-CBN) 8.4%; Dading (GMA-7) 9.3%
Tapatan ni Tunying (ABS-CBN) 9.2%; Reporter's Notebook (GMA-7) 6.3%
The Heirs (ABS-CBN) 13.7%; Jewel in the Palace (GMA-7) 8.4%
Evening:
Mirabella (ABS-CBN) 26.2%; My BFF (GMA-7) 11.1%; Aksyon (TV5) 3.2%
TV Patrol (ABS-CBN) 29.3%; 24 Oras (GMA-7) 15.6%; Beki Boxer (TV5) 4.5%; Juan Direction (TV5) 3.9%
Dyesebel (ABS-CBN) 28.6%; Niño (GMA-7) 17%; PLDT Home TelPad 2014 PBA Governor's Cup Live (TV5) 10.1%
Ikaw Lamang (ABS-CBN) 27.2%; My Destiny (GMA-7) 15%;
Sana Bukas Ang Kahapon (ABS-CBN) 19.8%; Ang Dalawang Mrs. Real (GMA-7) 11.2%
Aquino & Abunda Tonight (ABS-CBN) 9.8%; Pinoy Big Brother All In (ABS-CBN) 8.5%; The Master's Sun (GMA-7) 7.3%; Bigtime (TV5) 2.4%
Bandila (ABS-CBN) 4.3%; Saksi (GMA-7) 3.8%; Pilipinas News (TV5) 1.2%; Reaksyon (TV5) .4%
Banana Nite (ABS-CBN) 2.1%; Mankind (GMA-7) 2.4%; T3 Reload (TV5) .3%
O Shopping (ABS-CBN) .5%; The Medyo Late Night Show (GMA-7) .7%; Face the People (TV5) .4%; Shop Japan (TV5) .2%
--
Here are the Top 10 daytime and primetime programs from June 30-July 3, 2014 among Total Philippines (Urban & Rural) households:


June 30, 2014 (Monday)
DAYTIME:
Be Careful With My Heart (ABS-CBN) - 14.1%
The Heirs (ABS-CBN) - 13.2%
It's Showtime (ABS-CBN) - 12.7%
Moon of Desire (ABS-CBN) - 11.7%
Eat Bulaga! (GMA-7) - 11.3%
The Singing Bee (ABS-CBN) - 11.1%
The Half Sisters (GMA-7) / Dading (GMA-7) - 10.4%
Bistado (ABS-CBN) - 10.2%
Pinoy Big Brother All In Uber (ABS-CBN) - 9.5%
Dragon Ball Z Kai (GMA-7) - 9.3%
PRIMETIME:
Dyesebel (ABS-CBN) - 30.1%
Ikaw Lamang (ABS-CBN) - 29.2%
TV Patrol (ABS-CBN) - 27.3%
Sana Bukas Pa Ang Kahapon (ABS-CBN) - 22.2%
Mirabella (ABS-CBN) - 21.8%
Niño (GMA-7) - 16.3%
My Destiny (GMA-7) - 15%
24 Oras (GMA-7) - 14.5%
Aquino & Abunda Tonight (ABS-CBN) - 12.7%
My Love from the Star (GMA-7) - 12.5%


July 1, 2014 (Tuesday)
DAYTIME:
Be Careful With My Heart (ABS-CBN) - 15.4%
The Singing Bee (ABS-CBN) - 12.9%
The Heirs (ABS-CBN) - 12.8%
It's Showtime (ABS-CBN) - 12.2%
Eat Bulaga! (GMA-7) - 11.5%
Moon of Desire (ABS-CBN) - 10.7%
Slam Dunk (ABS-CBN) - 9.7%
Fairy Tail (GMA-7) - 9.5%
Mutya ng Masa (ABS-CBN) / Dragon Ball Z Kai (GMA-7) - 9.1%
Inuyasha (GMA-7) / Dading (GMA-7) - 8.9%
PRIMETIME:
Dyesebel (ABS-CBN) - 29%
Ikaw Lamang (ABS-CBN) - 27.8%
TV Patrol (ABS-CBN) - 27.5%
Mirabella (ABS-CBN) - 21.3%
Sana Bukas Pa Ang Kahapon (ABS-CBN) - 20%
Niño (GMA-7) - 16.9%
24 Oras (GMA-7) - 15.6%
My Destiny (GMA-7) - 14.7%
Ang Dalawang Mrs. Real (GMA-7) - 11.4%
Aquino & Abunda Tonight (ABS-CBN) / PLDT Home TelPad 2014 PBA Governor's Cup Live (TV5) - 10.6%


July 2, 2014 (Wednesday)
DAYTIME:
Be Careful With My Heart (ABS-CBN) - 15%
It's Showtime (ABS-CBN) - 12.9%
The Heirs (ABS-CBN) - 12.6%
The Singing Bee (ABS-CBN) - 11.8%
Moon of Desire (ABS-CBN) / Eat Bulaga! (GMA-7) - 11.6%
The Half Sisters (GMA-7) - 10.1%
Dading (GMA-7) - 9.9%
My Puhunan (ABS-CBN) - 9.3%
Pinoy Big Brother All In Uber (ABS-CBN) - 8.5%
Fairy Tail (GMA-7) - 8.4%
PRIMETIME:
Dyesebel (ABS-CBN) - 30%
TV Patrol (ABS-CBN) - 28%
Ikaw Lamang (ABS-CBN) - 27.9%
Mirabella (ABS-CBN) - 23%
Sana Bukas Pa Ang Kahapon (ABS-CBN) - 21.6%
Niño (GMA-7) - 17.6%
My Destiny (GMA-7) - 16.3%
24 Oras (GMA-7) - 14.5%
Ang Dalawang Mrs. Real (GMA-7) - 12.8%
Aquino & Abunda Tonight (ABS-CBN) - 11.9%


July 3, 2014 (Thursday)
DAYTIME:
Be Careful With My Heart (ABS-CBN) - 15.3%
The Heirs (ABS-CBN) - 13.7%
The Singing Bee (ABS-CBN) - 12.9%
It's Showtime (ABS-CBN) - 11.9%
Moon of Desire (ABS-CBN) - 11.8%
Eat Bulaga! (GMA-7) - 10.9%
Fairy Tail (GMA-7) / Slam Dunk (ABS-CBN) - 9.7%
Dading (GMA-7) - 9.3%
Tapatan ni Tunying (ABS-CBN) / Dragon Ball Z Kai (GMA-7) / The Half Sisters (GMA-7) - 9.2%
The Ryzza Mae Show (GMA-7) - 9%
PRIMETIME:
TV Patrol (ABS-CBN) - 29.3%
Dyesebel (ABS-CBN) - 30.6%
Ikaw Lamang (ABS-CBN) - 29.6%
Mirabella (ABS-CBN) - 26.2%
Sana Bukas Pa Ang Kahapon (ABS-CBN) - 19.8%
Niño (GMA-7) - 17%
24 Oras (GMA-7) - 15.6%
My Destiny (GMA-7) - 15%
Ang Dalawang Mrs. Real (GMA-7) - 11.2%
My BFF (GMA-7) - 11.1%


Source: Kantar/TNS