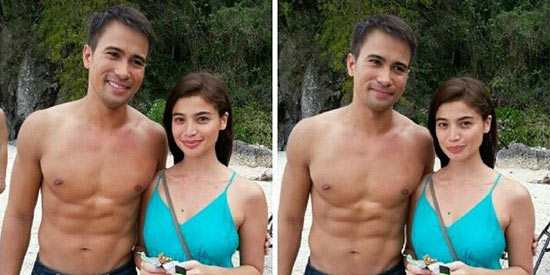 ---
Dyesebel's final episodes were among the most-watched on primetime nationwide. This is according to data based on the overnight ratings of Kantar Media/TNS among Total Philippines (Urban & Rural) from July 14-17.
Dyesebel placed first on the top ten list for top-rating shows during the given period. The Anne Curtis-starrer got higher than 20% scores daily, beating all primetime shows from both ABS-CBN and GMA-7.
In contrast, GMA-7's Niño only earned half of Dyesebel's ratings.
Two shows premiered during this period.
Korean series Secret Love debuted in GMA-7 on July 14, replacing The Master's Sun. ABS-CBN's Aquino & Abunda Tonight and Pinoy Big Brother All In got better ratings than the dubbed Kapuso series.
ABS-CBN brought back hit Korean series My Girl on July 14, for the afternoon slot. It got better ratings than GMA-7's Jewel in the Palace.
Here are the comparative Household Ratings of ABS-CBN, TV5, and GMA-7 programs from July 14 to July 17, 2014 based on the overnight ratings of Kantar Media/TNS among Total Philippines (Urban & Rural) households:


July 14, 2014 (Monday)
Morning:
Kape't Pandesal (ABS-CBN) .4%; Matanglawin Replay (ABS-CBN) 1%; Power House Replay (GMA-7) 1%
Umagang Kay Ganda (ABS-CBN) 4.2%; Unang Hirit (GMA-7) 3.7%
Kris TV (ABS-CBN) 4.8%; One Piece (GMA-7) 5.8%; Jackie Chan Adventures (GMA-7) 6.6%; Detective Conan (GMA-7) 7.6%; Inuyasha (GMA-7) 8.3%
Spongebob Squarepants (ABS-CBN) 4.9%; Fairy Tail (GMA-7) 8.5%
Kuroko's Basketball (ABS-CBN) 4.1%; Naruto Shippuuden (ABS-CBN) 4.5%; Slam Dunk (GMA-7) 9.6%
Lovers in Paris (ABS-CBN) 6.5%; Dragon Ball Z Kai (GMA-7) 10%; Return of the Wife (GMA-7) 6.3%
The Singing Bee (ABS-CBN) 11.2%; Basta Everyday Happy (GMA-7) 7%
Be Careful With My Heart (ABS-CBN) 14.7%; The Ryzza Mae Show (GMA-7) 10.6%
Afternoon:
It's Showtime (ABS-CBN) 11.4%; Eat Bulaga! (GMA-7) 13.2%
Moon of Desire (ABS-CBN) 9.6%; The Half Sisters (GMA-7) 10.9%
Pinoy Big Brother All In Uber (ABS-CBN) 7.8%; Dading (GMA-7) 10%
Bistado (ABS-CBN) 8.5%; Alisto! (GMA-7) 7.8%
My Girl (ABS-CBN) 11.6%; Jewel in the Palace (GMA-7) 8.9%
Evening:
Pure Love (ABS-CBN) 17%; News Patrol/Pinoy DAP Speech (ABS-CBN) 20%; My BFF (GMA-7) 9.9%
ADVERTISEMENT - CONTINUE READING BELOW
TV Patrol (ABS-CBN) 26.8%; 24 Oras (GMA-7) 17%; Aksyon (TV5) 2.8%; Bride of the Century (TV5) 2.6%
Dyesebel (ABS-CBN) 29.5%; Niño (GMA-7) 17.5%; Cool Guys Hot Ramen (TV5) 3.1%
Ikaw Lamang (ABS-CBN) 28.6%; My Destiny (GMA-7) 15.5%; 2014 FIBA Asia Cup (TV5) 6%
Sana Bukas Pa Ang Kahapon (ABS-CBN) 20.5%; Ang Dalawang Mrs. Real (GMA-7) 12%
Aquino & Abunda Tonight (ABS-CBN) 12.3%; Pinoy Big Brother All In (ABS-CBN) 8.9%; Secret Love (GMA-7) 7.3%; Pilipinas News (TV5) 2%; Reaksyon (TV5) 1%; Demolition Job (TV5) 1%
Bandila (ABS-CBN) 3.7%; Saksi (GMA-7) 3.5%; T3 Reload Replay (TV5) .5%
Banana Nite (ABS-CBN) 1.4%; Front Row (GMA-7) 1.5%; Face the People (TV5) .3%
O Shopping (ABS-CBN) .3%; The Medyo Late Night Show with Jojo A (GMA-7) .6%; Shop Japan (TV5) .1%
July 15, 2014 (Tuesday)
Morning:
Kape't Pandesal (ABS-CBN) .4%; Mutya Ng Masa Replay (ABS-CBN) 1%; I-Witness Replay (GMA-7) 1.4%
Umagang Kay Ganda (ABS-CBN) 4.3%; Unang Hirit (GMA-7) 3.9%
Kris TV (ABS-CBN) 4.5%; One Piece (GMA-7) 5.1%; Jackie Chan Adventures (GMA-7) 5.9%; Detective Conan (GMA-7) 6.2%; Inuyasha (GMA-7) 6.7%
Spongebob Squarepants (ABS-CBN) 4.8%; Fairy Tail (GMA-7) 7.2%
Kuroko's Basketball (ABS-CBN) 4.5%; Slam Dunk (GMA-7) 7.4%
Naruto Shippuuden (ABS-CBN) 5.1%; Dragon Ball Z Kai (GMA-7) 7.5%
Lovers in Paris (ABS-CBN) 6.3%; Return of the Wife (GMA-7) 5%
The Singing Bee (ABS-CBN) 9.8%; Basta Everyday Happy (GMA-7) 4.7%
Be Careful With My Heart (ABS-CBN) 11.5%; The Ryzza Mae Show (GMA-7) 6.6%
Afternoon:
It's Showtime (ABS-CBN) 9.7%; Eat Bulaga! (GMA-7) 9.2%; The Half Sisters (GMA-7) 7.8%
Moon of Desire (ABS-CBN) 8.9%; Pinoy Big Brother All In Uber (ABS-CBN) 6.9%; Dading (GMA-7) 7.8%
Mutya ng Masa (ABS-CBN) 7.7%; Tunay na Buhay (GMA-7) 7.8%
My Girl (ABS-CBN) 10.6%; Jewel in the Palace (GMA-7) 7.6%
Evening:
Pure Love (ABS-CBN) 17.1%; My BFF (GMA-7) 8.3%
TV Patrol (ABS-CBN) 22.6%; 24 Oras (GMA-7) 13.5%; Aksyon (TV5) 2.8%; Bride of the Century (TV5) 1.6%; Cool Guys Hot Ramen (TV5) 2.1%
Dyesebel (ABS-CBN) 22.7%; Niño (GMA-7) 11.6%; 2014 FIBA Asia Cup (TV5) 4.1%
Ikaw Lamang (ABS-CBN) 19.6%; My Destiny (GMA-7) 10.6%
Sana Bukas Pa Ang Kahapon (ABS-CBN) 13.8%; Ang Dalawang Mrs. Real (GMA-7) 7.6%
Aquino & Abunda Tonight (ABS-CBN) 8.7%; Pinoy Big Brother All In (ABS-CBN) 6.8%; Secret Love (GMA-7) 3.8%; Pilipinas News (TV5) 1.9%; Reaksyon (TV5) .6%; Numero (TV5) .5%
Bandila (ABS-CBN) 2.5%; Saksi (GMA-7) 2.2%; T3 Reload Replay (TV5) .2%
Banana Nite (ABS-CBN) 1%; Serial Killer Earth (GMA-7) 1.6%; Face the People (TV5) .3%
ADVERTISEMENT - CONTINUE READING BELOW
O Shopping (ABS-CBN) .4%; The Medyo Late Night Show (GMA-7) .3%; Shop Japan (TV5) .1%
---


July 16, 2014 (Wednesday)
Morning:
Kape't Pandesal (ABS-CBN) .2%; My Puhunan Replay (ABS-CBN) .4%; Reporter's Notebook Replay (GMA-7) .5%
Umagang Kay Ganda (ABS-CBN) 4.6%; Unang Hirit (GMA-7) 3.4%
Lovers in Paris (ABS-CBN) 4.6%; Return of the Wife (GMA-7) 2.7%
The Singing Bee (ABS-CBN) 7.4%; Basta Everyday Happy (GMA-7) 2.7%
Be Careful With My Heart (ABS-CBN) 8.5%; The Ryzza Mae Show (GMA-7) 3.7%
Afternoon:
It's Showtime (ABS-CBN) 7.3%; Eat Bulaga! (GMA-7) 4.5%
Moon of Desire (ABS-CBN) 6.1%; The Half Sisters (GMA-7) 4.7%
Pinoy Big Brother All In Uber (ABS-CBN) 5.5%; Dading (GMA-7) 5%
My Puhunan (ABS-CBN) 6.3%; Power House (GMA-7) 4.2%
My Girl (ABS-CBN) 8.6%; Jewel in the Palace (GMA-7) 4.8%
Evening:
Pure Love (ABS-CBN) 14.3%; My BFF (GMA-7) 6.1%
TV Patrol (ABS-CBN) 18.7%; 24 Oras (GMA-7) 10.6%; Aksyon (TV5) 1.9%; Bride of the Century (TV5) 1.6%; Cool Guys Hot Ramen (TV5) 2%
Dyesebel (ABS-CBN) 20.1%; Niño (GMA-7) 9.4%; Movie Max 5 (TV5) 3.2%
Ikaw Lamang (ABS-CBN) 15.9%; My Destiny (GMA-7) 9.1%
Sana Bukas Pa Ang Kahapon (ABS-CBN) 10%; Ang Dalawang Mrs. Real (GMA-7) 7%; Kuwentong PBA (TV5) 1.7%
Aquino & Abunda Tonight (ABS-CBN) 6.2%; Pinoy Big Brother All In (ABS-CBN) 4.4%; Secret Love (GMA-7) 3.5%; Pilipinas News (TV5) .7%; Reaksyon (TV5) .3%
Bandila (ABS-CBN) 2.1%; Saksi (GMA-7) 1.9%; History with Lourd (GMA-7) .1%; T3 Reload Replay (TV5) 0%;
Banana Nite (ABS-CBN) .9%; Mankind (GMA-7) 1%
O Shopping (ABS-CBN) .2%; The Medyo Late Night Show (GMA-7) .4%; Face the People (GMA-7) .2%; Shop Japan (GMA-7) 0%
---
July 17, 2014 (Thursday)
Morning:
Kape't Pandesal (ABS-CBN) 0.2%; Tapatan ni Tunying Replay (ABS-CBN) .5%; Born to be Wild Replay (GMA-7) .8%
Umagang Kay Ganda (ABS-CBN) 4%; Unang Hirit (GMA-7) 3.4%
Kris TV (ABS-CBN) 4.1%; One Piece (GMA-7) 4.3%; Jackie Chan Adventures (GMA-7) 4.6%; Detective Conan (GMA-7) 4%; Inuyasha (GMA-7) 4.8%
Spongebob Squarepants (ABS-CBN) 3.7%; Fairy Tail (GMA-7) 5.7%
Kuroko's Basketball (ABS-CBN) 4%; Slam Dunk (GMA-7) 5.2%
Naruto Shippuuden (ABS-CBN) 4.6%; Dragon Ball Z Kai (GMA-7) 5.2%
Lovers in Paris (ABS-CBN) 5%; Return of the Wife (GMA-7) 3.4%
The Singing Bee (ABS-CBN) 8.1%; Basta Everyday Happy (GMA-7) 3.1%
Be Careful With My Heart (ABS-CBN) 10.2%; The Ryzza Mae Show (GMA-7) 4.8%
Afternoon:
It's Showtime (ABS-CBN) 7.8%; Eat Bulaga! (GMA-7) 6.3%; The Half Sisters (GMA-7) 4.6%
ADVERTISEMENT - CONTINUE READING BELOW
Moon of Desire (ABS-CBN) 6.9%; Dading (GMA-7) 4.5%
Pinoy Big Brother All In Uber (ABS-CBN) 5.3%; Tapatan ni Tunying (ABS-CBN) 5.1%; Reporter's Notebook (GMA-7) 4.2%
My Girl (ABS-CBN) 7.4%; Jewel in the Palace (GMA-7) 4.3%
Evening:
Pure Love (ABS-CBN) 13.4%; My BFF (GMA-7) 5.8%
TV Patrol (ABS-CBN) 18.6%; 24 Oras (GMA-7) 11.7%; %; Aksyon (TV5) 1.9%; Bride of the Century (TV5) 1.4%; Cool Guys Hot Ramen (TV5) 1.6%
Dyesebel (ABS-CBN) 20.9%; Niño (GMA-7) 10.9%; 2014 FIBA Asia Cup (TV5) 4.3%
Ikaw Lamang (ABS-CBN) 18.1%; My Destiny (GMA-7) 10.5%
Sana Bukas Ang Kahapon (ABS-CBN) 12%; Ang Dalawang Mrs. Real (GMA-7) 7.8%; Pilipinas News (TV5) 1.9%
Aquino & Abunda Tonight (ABS-CBN) 8%; Pinoy Big Brother All In (ABS-CBN) 5.9%; Secret Love (GMA-7) 3.4%; Reaksyon (TV5) 1%; Bigtime (TV5) .6%
Bandila (ABS-CBN) 2.4%; Saksi (GMA-7) 1.6%; T3 Reload Replay (TV5) .4%
Banana Nite (ABS-CBN) .9%; Mankind (GMA-7) .8%; Face the People (TV5) .1%
O Shopping (ABS-CBN) .3%; The Medyo Late Night Show (GMA-7) .2%; Shop Japan (TV5) .1%



Here are the Top 10 daytime and primetime programs from July 14-17, 2014 among Total Philippines (Urban & Rural) households:


July 14, 2014 (Monday)
DAYTIME:
Be Careful With My Heart (ABS-CBN) - 14.7%
Eat Bulaga! (GMA-7) - 13.2%
My Girl (ABS-CBN) - 11.6%
It's Showtime (ABS-CBN) - 11.4%
The Singing Bee (ABS-CBN) - 11.2%
The Half Sisters (GMA-7) - 10.9%
The Ryzza Mae Show (GMA-7) - 10.6%
Dragon Ball Z Kai (GMA-7) / Dading (GMA-7) - 10%
Moon of Desire (ABS-CBN) / Slam Dunk (ABS-CBN) - 9.6%
Jewel in the Palace (GMA-7) - 8.9%
PRIMETIME:
Dyesebel (ABS-CBN) - 29.5%
Ikaw Lamang (ABS-CBN) - 28.6%
TV Patrol (ABS-CBN) - 26.8%
Sana Bukas Pa Ang Kahapon (ABS-CBN) - 20.5%
News Patrol/Pinoy DAP Speech (ABS-CBN) - 20%
Niño (GMA-7) - 17.5%
Pure Love (ABS-CBN) / 24 Oras (GMA-7) - 17%
My Destiny (GMA-7) - 15.5%
Aquino & Abunda Tonight (ABS-CBN) - 12.3%
Ang Dalawang Mrs. Real (GMA-7) - 12%



July 15, 2014 (Tuesday)
DAYTIME:
Be Careful With My Heart (ABS-CBN) - 11.5%
My Girl (ABS-CBN) - 10.6%
The Singing Bee (ABS-CBN) - 9.8%
It's Showtime (ABS-CBN) - 9.7%
Eat Bulaga! (GMA-7) - 9.2%
Moon of Desire (ABS-CBN) - 8.9%
The Half Sisters (GMA-7) / Dading (GMA-7) / Tunay na Buhay (GMA-7) - 7.8%
Mutya ng Masa (ABS-CBN) - 7.7%
Dragon Ball Z Kai (GMA-7) - 7.5%
Slam Dunk (ABS-CBN) - 7.4%
PRIMETIME:
Dyesebel (ABS-CBN) - 22.7%
TV Patrol (ABS-CBN) - 22.6%
Ikaw Lamang (ABS-CBN) - 19.6%
Pure Love (ABS-CBN) - 17.1%
Sana Bukas Pa Ang Kahapon (ABS-CBN) - 13.8%
24 Oras (GMA-7) - 13.5%
Niño (GMA-7) - 11.6%
My Destiny (GMA-7) - 10.6%
Aquino & Abunda Tonight (ABS-CBN) - 8.7%
My BFF (GMA-7) - 8.3%



July 16, 2014 (Wednesday)
DAYTIME:
My Girl (ABS-CBN) - 8.6%
Be Careful With My Heart (ABS-CBN) - 8.5%
The Singing Bee (ABS-CBN) - 7.4%
It's Showtime (ABS-CBN) - 7.3%
My Puhunan (ABS-CBN) - 6.3%
Moon of Desire (ABS-CBN) - 6.1%
Pinoy Big Brother All In Uber (ABS-CBN) - 5.5%
Dading (GMA-7) - 5%
Jewel in the Palace (GMA-7) - 4.8%
The Half Sisters (GMA-7) - 4.7%
PRIMETIME:
Dyesebel (ABS-CBN) - 20.1%
TV Patrol (ABS-CBN) - 18.7%
Ikaw Lamang (ABS-CBN) - 15.9%
Pure Love (ABS-CBN) - 14.3%
24 Oras (GMA-7) - 10.6%
Sana Bukas Pa Ang Kahapon (ABS-CBN) - 10%
Niño (GMA-7) - 9.4%
My Destiny (GMA-7) - 9.1%
Ang Dalawang Mrs. Real (GMA-7) - 7%
Aquino & Abunda Tonight (ABS-CBN) - 6.2%



July 17, 2014 (Thursday)
DAYTIME:
Be Careful With My Heart (ABS-CBN) - 10.2%
The Singing Bee (ABS-CBN) - 8.1%
It's Showtime (ABS-CBN) - 7.8%
My Girl (ABS-CBN) - 7.4%
Moon of Desire (ABS-CBN) - 6.9%
Eat Bulaga! (GMA-7) - 6.3%
Fairy Tail (GMA-7) - 5.7%
Pinoy Big Brother All In Uber (ABS-CBN) - 5.3%
Slam Dunk (ABS-CBN) / Dragon Ball Z Kai (GMA-7) - 5.2%
Tapatan ni Tunying (ABS-CBN) - 5.1%
PRIMETIME:
Dyesebel (ABS-CBN) - 20.9%
TV Patrol (ABS-CBN) - 18.6%
Ikaw Lamang (ABS-CBN) - 18.1%
Pure Love (ABS-CBN) - 13.4%
Sana Bukas Pa Ang Kahapon (ABS-CBN) - 12%
24 Oras (GMA-7) - 11.7%
Niño (GMA-7) - 10.9%
My Destiny (GMA-7) - 10.5%
Aquino & Abunda Tonight (ABS-CBN) - 8%
Ang Dalawang Mrs. Real (GMA-7) - 7.8%



Source: Kantar/TNS