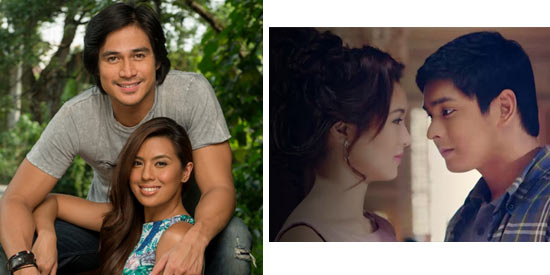 ---
ABS-CBN primetime shows Hawak Kamay and Ikaw Lamang were the only contenders for the title of most-watched program for this period. This is according to data based on the overnight ratings of Kantar Media/TNS among Total Philippines (Urban & Rural) on July 28-31, 2014.
Hawak Kamay, which stars Piolo Pascual as an adoptive father to a group of young children, topped the charts on July 29 and 31.
Ikaw Lamang, which stars Kim Chiu and Coco Martin in a story about class struggles and politics, was the winner for July 28 and 30. Last July 26, Mona, the character of Julia Montes, exited from the show when her character died because of a gunshot wound.
On daytime, ABS-CBN's Be Careful With My Heart and It's Showtime scored the highest ratings daily.
Here are the comparative Household Ratings of ABS-CBN, TV5, and GMA-7 programs from July 28 to July 31, 2014 based on the overnight ratings of Kantar Media/TNS among Total Philippines (Urban & Rural) households:
July 28, 2014 (Monday)
Morning:
Kape't Pandesal (ABS-CBN) .1%; Matanglawin Replay (ABS-CBN) .6%; Power House Replay (GMA-7) .7%
Umagang Kay Ganda (ABS-CBN) 4%; Unang Hirit (GMA-7) 4.1%
Kris TV (ABS-CBN) 4.9%; One Piece (GMA-7) 6.3%; Jackie Chan Adventures (GMA-7) 7.3%; Detective Conan (GMA-7) 8.3%; Inuyasha (GMA-7) 8.6%
Spongebob Squarepants (ABS-CBN) 5.4%; Fairy Tail (GMA-7) 8.7%
Kuroko's Basketball (ABS-CBN) 5.6%; Slam Dunk (GMA-7) 7.7%
Naruto Shippuuden (ABS-CBN) 6.3%; Dragon Ball Z Kai (GMA-7) 7.7%
Lovers in Paris (ABS-CBN) 6%; Return of the Wife (GMA-7) 6.7%
The Singing Bee (ABS-CBN) 10%; Basta Everyday Happy (GMA-7) 5.9%
Be Careful With My Heart (ABS-CBN) 13.9%; The Ryzza Mae Show (GMA-7) 8.7%
Afternoon:
It's Showtime (ABS-CBN) 12.5%; Eat Bulaga! (GMA-7) 11.5%
Moon of Desire (ABS-CBN) 10.8%; The Half Sisters (GMA-7) 9.1%
Ulat sa Bayan (ABS-CBN) 12.1%; SONA 2014 (GMA-7) 6.8%
Evening:
Pure Love (ABS-CBN) 18.7%; My BFF (GMA-7) 8.5%
TV Patrol (ABS-CBN) 26.8%; 24 Oras (GMA-7) 14.7%; Aksyon (TV5) 2.8%; Bride of the Century (TV5) 2.2%; Cool Guys Hot Ramen (TV5) 2.4%
Hawak-Kamay (ABS-CBN) 28%; Niño (GMA-7) 17.3%;
Ikaw Lamang (ABS-CBN) 28.6%; My Destiny (GMA-7) 16.6%; Movie Max 5 (TV5) 5.1%
Sana Bukas Pa Ang Kahapon (ABS-CBN) 20.2%; Ang Dalawang Mrs. Real (GMA-7) 15.7%
ADVERTISEMENT - CONTINUE READING BELOW
Aquino & Abunda Tonight (ABS-CBN) 12.7%; Pinoy Big Brother All In (ABS-CBN) 10.3%; Secret Love (GMA-7) 8.1%; Aksyon Tonite (TV5) 1.9%
Bandila (ABS-CBN) 4.7%; Saksi (GMA-7) 3.3%; NCAA Season 90 Men's Basketball (TV5) .5%
Banana Nite (ABS-CBN) 2.1%; Front Row (GMA-7) 2%
O Shopping (ABS-CBN) .4%; The Tim Yap Show (GMA-7) .9%; Shop Japan (TV5) 0%
---
July 29, 2014 (Tuesday)
Morning:
Kape't Pandesal (ABS-CBN) .1%; Mutya Ng Masa Replay (ABS-CBN) .2%; I-Witness Replay (GMA-7) .6%
Umagang Kay Ganda (ABS-CBN) 2.7%; Unang Hirit (GMA-7) 3.1%
Kris TV (ABS-CBN) 4.7%; One Piece (GMA-7) 8.4%; Jackie Chan Adventures (GMA-7) 11.3%; Detective Conan (GMA-7) 12.4%; Inuyasha (GMA-7) 12.3%
Spongebob Squarepants (ABS-CBN) 6.7%; Fairy Tail (GMA-7) 11.5%
Kuroko's Basketball (ABS-CBN) 8.3%; Slam Dunk (GMA-7) 10.2%
Naruto Shippuuden (ABS-CBN) 8.7%; Dragon Ball Z Kai (GMA-7) 10.5%
Lovers in Paris (ABS-CBN) 8%; Return of the Wife (GMA-7) 7.8%
The Singing Bee (ABS-CBN) 12.5%; Basta Everyday Happy (GMA-7) 5.8%
Be Careful With My Heart (ABS-CBN) 15.1%; The Ryzza Mae Show (GMA-7) 8.8%
Afternoon:
It's Showtime (ABS-CBN) 14.6%; Eat Bulaga! (GMA-7) 12.6%
Moon of Desire (ABS-CBN) 12.2%; The Half Sisters (GMA-7) 10.9%
Pinoy Big Brother All In Uber (ABS-CBN) 9%; Dading (GMA-7) 9.9%
Mutya ng Masa (ABS-CBN) 8.6%; Tunay na Buhay (GMA-7) 8%
My Girl (ABS-CBN) 10.3%; Jewel in the Palace (GMA-7) 7.5%
Evening:
Pure Love (ABS-CBN) 18.9%; My BFF (GMA-7) 8.2%
TV Patrol (ABS-CBN) 27.1%; 24 Oras (GMA-7) 15.1%; Aksyon (TV5) 2.8%; Bride of the Century (TV5) 2.3%; Cool Guys Hot Ramen (TV5) 2.4%
Hawak-Kamay (ABS-CBN) 27.5%; Niño (GMA-7) 18.1%
Ikaw Lamang (ABS-CBN) 27.4%; My Destiny (GMA-7) 17.8%; Movie Max 5 (TV5) 5%
Sana Bukas Pa Ang Kahapon (ABS-CBN) 19.6%; Ang Dalawang Mrs. Real (GMA-7) 16.7%
Aquino & Abunda Tonight (ABS-CBN) 12.4%; Pinoy Big Brother All In (ABS-CBN) 9.6%; Secret Love (GMA-7) 8.3%; Aksyon Tonite (TV5) 1.5%
Bandila (ABS-CBN) 3.6%; Saksi (GMA-7) 3.7%; T3 Enforced Replay (TV5) 1%; Face the People Replay (TV5) .6%
Banana Nite (ABS-CBN) 1.7%; Serial Killer Earth (GMA-7) 2.6%; Shop Japan (TV5) .1%
O Shopping (ABS-CBN) .4%; The Tim Yap Show (GMA-7) 1%
---
July 30, 2014 (Wednesday)
Morning:
Kape't Pandesal (ABS-CBN) .2%; My Puhunan Replay (ABS-CBN) .7%; Reporter's Notebook Replay (GMA-7) .9%
Umagang Kay Ganda (ABS-CBN) 3.4%; Unang Hirit (GMA-7) 3.2%
Kris TV (ABS-CBN) 4.5%; One Piece (GMA-7) 4.8%; Jackie Chan Adventures (GMA-7) 5.7%; Detective Conan (GMA-7) 5.9%; Inuyasha (GMA-7) 6.6%
ADVERTISEMENT - CONTINUE READING BELOW
Spongebob Squarepants (ABS-CBN) 4.3%; Fairy Tail (GMA-7) 7.8%
Kuroko's Basketball (ABS-CBN) 5.2%; Slam Dunk (GMA-7) 6.8%
Lovers in Paris (ABS-CBN) 5.6%; Return of the Wife (GMA-7) 6.4%
The Singing Bee (ABS-CBN) 9.6%; Basta Everyday Happy (GMA-7) 5.1%
Be Careful With My Heart (ABS-CBN) 12.8%; The Ryzza Mae Show (GMA-7) 7.5%
Afternoon:
It's Showtime (ABS-CBN) 11%; Eat Bulaga! (GMA-7) 10.9%
Moon of Desire (ABS-CBN) 8.3%; The Half Sisters (GMA-7) 7.9%
Pinoy Big Brother All In Uber (ABS-CBN) 6.8%; Dading (GMA-7) 6.9%
My Puhunan (ABS-CBN) 7.4%; Power House (GMA-7) 5.9%
My Girl (ABS-CBN) 10.3%; Jewel in the Palace (GMA-7) 7.9%
Evening:
Pure Love (ABS-CBN) 24%; My BFF (GMA-7) 8.5%
TV Patrol (ABS-CBN) 26.4%; 24 Oras (GMA-7) 15.1%; Aksyon (TV5) 2.5%; Bride of the Century (TV5) 2.4%; Cool Guys Hot Ramen (TV5) 2.7%
Hawak-Kamay (ABS-CBN) 27.1%; Niño (GMA-7) 17.8%; Movie Max 5 (TV5) 4.8%
Ikaw Lamang (ABS-CBN) 27.7%; My Destiny (GMA-7) 17.4%
Sana Bukas Pa Ang Kahapon (ABS-CBN) 18.6%; Ang Dalawang Mrs. Real (GMA-7) 16.7%
Aquino & Abunda Tonight (ABS-CBN) 12.5%; Pinoy Big Brother All In (ABS-CBN) 9.4%; Secret Love (GMA-7) 7.8%; Aksyon Tonite (TV5) 2%; T3 Enforced Replay (TV5) 1.3%
Bandila (ABS-CBN) 3.8%; Saksi (GMA-7) 3.7%; Face the People (GMA-7) .8%
Banana Nite (ABS-CBN) 1.4%; Mankind (GMA-7) 2%
O Shopping (ABS-CBN) .2%; The Tim Yap Show (GMA-7) .8%; Shop Japan (GMA-7) .4%
---
July 31, 2014 (Thursday)
Morning:
Kape't Pandesal (ABS-CBN) 0.3%; Tapatan ni Tunying Replay (ABS-CBN) .8%; Born to be Wild Replay (GMA-7) .8%
Umagang Kay Ganda (ABS-CBN) 3.8%; Unang Hirit (GMA-7) 3.7%
Kris TV (ABS-CBN) 4.6%; One Piece (GMA-7) 5.4%; Jackie Chan Adventures (GMA-7) 6.6%; Detective Conan (GMA-7) 7.3%; Inuyasha (GMA-7) 7.9%
Spongebob Squarepants (ABS-CBN) 4.9%; Fairy Tail (GMA-7) 9.2%
Kuroko's Basketball (ABS-CBN) 6.2%; Slam Dunk (GMA-7) 8.4%
Naruto Shippuuden (ABS-CBN) 6.2%; Dragon Ball Z Kai (GMA-7) 8.1%
Lovers in Paris (ABS-CBN) 6.5%; Return of the Wife (GMA-7) 6.7%
The Singing Bee (ABS-CBN) 11.1%; Basta Everyday Happy (GMA-7) 4.8%
Be Careful With My Heart (ABS-CBN) 13.8%; The Ryzza Mae Show (GMA-7) 8.2%
Afternoon:
It's Showtime (ABS-CBN) 11.4%; Eat Bulaga! (GMA-7) 10.4%
Moon of Desire (ABS-CBN) 8.7%; The Half Sisters (GMA-7) 8.7%
Pinoy Big Brother All In Uber (ABS-CBN) 6.6%; Dading (GMA-7) 8.2%
Tapatan ni Tunying (ABS-CBN) 7.8%; Reporter's Notebook (GMA-7) 7%
My Girl (ABS-CBN) 10.6%; Jewel in the Palace (GMA-7) 7.8%
Evening:
Pure Love (ABS-CBN) 19.2%; My BFF (GMA-7) 9.1%
ADVERTISEMENT - CONTINUE READING BELOW
TV Patrol (ABS-CBN) 26.3%; 24 Oras (GMA-7) 16%; Aksyon (TV5) 2.6%; Bride of the Century (TV5) 2.2%; Cool Guys Hot Ramen (TV5) 2.8%
Hawak-Kamay (ABS-CBN) 27.7%; Niño (GMA-7) 18.7%; Movie Max 5 (TV5) 4.7%
Ikaw Lamang (ABS-CBN) 27.6%; My Destiny (GMA-7) 17.9%
Sana Bukas Ang Kahapon (ABS-CBN) 19.6%; Ang Dalawang Mrs. Real (GMA-7) 17%; Gilas Pilipinas Kuwentong Gilas (TV5) 1.7%
Aquino & Abunda Tonight (ABS-CBN) 12.3%; Pinoy Big Brother All In (ABS-CBN) 9.7%; Secret Love (GMA-7) 8.8%; Aksyon Tonite (TV5) 1%
Bandila (ABS-CBN) 3.6%; Saksi (GMA-7) 3.6%; T3 Enforced Replay (TV5) .5%
Banana Nite (ABS-CBN) 1.1%; Mankind (GMA-7) 1.6%; Face the People (TV5) .3%
O Shopping (ABS-CBN) .3%; The Tim Yap Show (GMA-7) .5%; Shop Japan (TV5) 0%
--
Here are the Top 10 daytime and primetime programs from July 28-31, 2014 among Total Philippines (Urban & Rural) households:
July 28, 2014 (Monday)
DAYTIME:
Be Careful With My Heart (ABS-CBN) - 13.9%
It's Showtime (ABS-CBN) - 12.5%
Ulat sa Bayan (ABS-CBN) - 12.1%
Eat Bulaga! (GMA-7) - 11.5%
Moon of Desire (ABS-CBN) - 10.8%
The Singing Bee (ABS-CBN) - 10%
The Half Sisters (GMA-7) - 9.1%
Fairy Tail (GMA-7) / The Ryzza Mae Show (GMA-7) - 8.7%
Inuyasha (GMA-7) - 8.6%
Detective Conan (GMA-7) - 8.3%
PRIMETIME:
Ikaw Lamang (ABS-CBN) - 28.6%
Hawak-Kamay (ABS-CBN) - 28%
TV Patrol (ABS-CBN) - 26.8%
Sana Bukas Pa Ang Kahapon (ABS-CBN) - 20.2%
Pure Love (ABS-CBN) - 18.7%
Niño (GMA-7) - 17.3%
My Destiny (GMA-7) - 16.6%
Ang Dalawang Mrs. Real (GMA-7) - 15.7%
24 Oras (GMA-7) - 14.7%
Aquino & Abunda Tonight (ABS-CBN) - 12.7%
July 29, 2014 (Tuesday)
DAYTIME:
Be Careful With My Heart (ABS-CBN) - 15.1%
It's Showtime (ABS-CBN) - 14.6%
Eat Bulaga! (GMA-7) - 12.6%
The Singing Bee (ABS-CBN) - 12.5%
Detective Conan (GMA-7) - 12.4%
Inuyasha (GMA-7) - 12.3%
Moon of Desire (ABS-CBN) - 12.2%
Fairy Tail (GMA-7) - 11.5%
Jackie Chan Adventures (GMA-7) - 11.3%
The Half Sisters (GMA-7) - 10.9%
PRIMETIME:
Hawak-Kamay (ABS-CBN) - 27.5%
Ikaw Lamang (ABS-CBN) - 27.4%
TV Patrol (ABS-CBN) - 27.1%
Sana Bukas Pa Ang Kahapon (ABS-CBN) - 19.6%
Pure Love (ABS-CBN) - 18.9%
Niño (GMA-7) - 18.1%
My Destiny (GMA-7) - 17.8%
Ang Dalawang Mrs. Real (GMA-7) - 16.7%
24 Oras (GMA-7) - 15.1%
Aquino & Abunda Tonight (ABS-CBN) - 12.4%
July 30, 2014 (Wednesday)
DAYTIME:
Be Careful With My Heart (ABS-CBN) - 12.8%
It's Showtime (ABS-CBN) - 11%
Eat Bulaga! (GMA-7) - 10.9%
My Girl (ABS-CBN) - 10.3%
The Singing Bee (ABS-CBN) - 9.6%
Moon of Desire (ABS-CBN) - 8.3%
The Half Sisters (GMA-7) / Jewel in the Palace (GMA-7) - 7.9%
Fairy Tail (GMA-7) - 7.8%
Dragon Ball Z Kai (GMA-7) - 7.7%
The Ryzza Mae Show (GMA-7) - 7.5%
PRIMETIME:
Ikaw Lamang (ABS-CBN) - 27.7%
Hawak-Kamay (ABS-CBN) - 27.1%
TV Patrol (ABS-CBN) - 26.4%
Pure Love (ABS-CBN) - 20.4%
Sana Bukas Pa Ang Kahapon (ABS-CBN) - 18.6%
Niño (GMA-7) - 17.8%
My Destiny (GMA-7) - 17.4%
Ang Dalawang Mrs. Real (GMA-7) - 16.7%
24 Oras (GMA-7) - 15.1%
Aquino & Abunda Tonight (ABS-CBN) - 12.5%
July 31, 2014 (Thursday)
DAYTIME:
Be Careful With My Heart (ABS-CBN) - 13.8%
It's Showtime (ABS-CBN) - 11.4%
The Singing Bee (ABS-CBN) - 11.1%
My Girl (ABS-CBN) - 10.6%
Eat Bulaga! (GMA-7) - 10.4%
Fairy Tail (GMA-7) - 9.2%
Moon of Desire (ABS-CBN) / The Half Sisters (GMA-7) - 8.7%
Slam Dunk (GMA-7) - 8.4%
The Ryzza Mae Show (GMA-7) / Dading (GMA-7) - 8.2%
Dragon Ball Z Kai (GMA-7) - 8.1%
PRIMETIME:
Hawak-Kamay (ABS-CBN) - 27.7%
Ikaw Lamang (ABS-CBN) - 27.6%
TV Patrol (ABS-CBN) - 26.3%
Sana Bukas Pa Ang Kahapon (ABS-CBN) - 19.6%
Pure Love (ABS-CBN) - 19.2%
Niño (GMA-7) - 18.7%
My Destiny (GMA-7) - 17.9%
Ang Dalawang Mrs. Real (GMA-7) - 17%
24 Oras (GMA-7) - 16%
Aquino & Abunda Tonight (ABS-CBN) - 12.3%


Source: Kantar/TNS