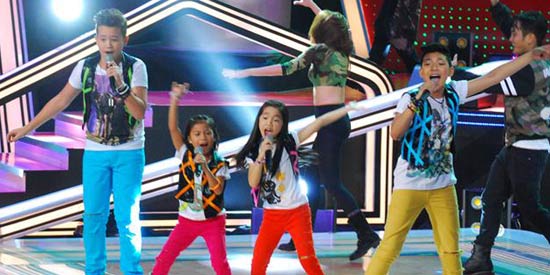 ---
A televised charity concert topped the weekend ratings chart. This is according to data based on the overnight ratings of Kantar Media/TNS among Total Philippines (Urban & Rural) on August 1 to 7, 2014.

Boses ng Bulilit... Kami Ulit, aired on August 2, was the most-watched show during the given period with 28.9%. The charity event featured the contestants of the recently-ended The Voice Kids competition.
ABS-CBN was also the winner on Sunday, August 3, with Wansapanataym's 26.5%.

The Kapamilya network's drama series Ikaw Lamang was the most-watched program for primetime and over-all day during the given period.
The political drama, which stars Coco Martin and Kim Chiu, scored as high as 30.7% on Wednesday, August 6.
Another ABS-CBN program placed second to Ikaw Lamang. Hawak-Kamay, which stars Piolo Pascual and Zaijian Jaranilla, even tied with Ikaw Lamang in first place on Monday, August 4.
The Kapamilya network also wins on daytime with its noontime shows Be Careful With My Heart and It's Showtime.
Here are the comparative Household Ratings of ABS-CBN, TV5, and GMA-7 programs from August 1 to 7, 2014 based on the overnight ratings of Kantar Media/TNS among Total Philippines (Urban & Rural) households:

August 1, 2014 (Friday)
Morning:
Kape't Pandesal (ABS-CBN) 0.1%; Red Alert Replay (ABS-CBN) .4%; Alisto! Replay (GMA-7) .9%
Umagang Kay Ganda (ABS-CBN) 3.8%; Unang Hirit (GMA-7) 4.3%
Kris TV (ABS-CBN) 5.1%; One Piece (GMA-7) 6.4%; Jackie Chan Adventures (GMA-7) 8.6%; Detective Conan (GMA-7) 8.6%; Inuyasha (GMA-7) 9.5%
Spongebob Squarepants (ABS-CBN) 5%; Fairy Tail (GMA-7) 10.3%
Kuroko's Basketball (ABS-CBN) 6.2%; Slam Dunk (GMA-7) 9.4%
Naruto Shippuuden (ABS-CBN) 6.6%; Dragon Ball Z Kai (GMA-7) 9.6%
Lovers in Paris (ABS-CBN) 6.3%; Return of the Wife (GMA-7) 8.1%
The Singing Bee (ABS-CBN) 11.2%; Basta Everyday Happy (GMA-7) 6.8%
Be Careful With My Heart (ABS-CBN) 13.8%; The Ryzza Mae Show (GMA-7) 9.1%
Afternoon:
It's Showtime (ABS-CBN) 12%; Eat Bulaga! (GMA-7) 12.7%
Moon of Desire (ABS-CBN) 9.5%; The Half Sisters (GMA-7) 10%
Pinoy Big Brother All In Uber (ABS-CBN) 8.3%; Dading (GMA-7) 9%
Red Alert (ABS-CBN) 8.5%; Love Hotline (GMA-7) 7.8%
My Girl (ABS-CBN) 9.8%; Jewel in the Palace (GMA-7) 8.9%
ADVERTISEMENT - CONTINUE READING BELOW
Evening:
Pure Love (ABS-CBN) 19.3%; My BFF (GMA-7) 9.4%
TV Patrol (ABS-CBN) 26.7%; 24 Oras (GMA-7) 15.6%; Aksyon (TV5) 1.9%; Bride of the Century (TV5) 2.1%
Hawak-Kamay (ABS-CBN) 27.1%; Niño (GMA-7) 19.3%; Cool Guys Hot Ramen (TV5) 2.2%
Ikaw Lamang (ABS-CBN) 28.4%; My Destiny (GMA-7) 18%; Movie Max 5 (TV5) 4%
Sana Bukas Pa Ang Kahapon (ABS-CBN) 20.3%; Ang Dalawang Mrs. Real (GMA-7) 17.3%
Aquino & Abunda Tonight (ABS-CBN) 12.9%; Pinoy Big Brother All In (ABS-CBN) 9.9%; Bubble Gang (GMA-7) 9.1%; Aksyon Tonite (TV5) 1.3%; T3 Enforced Replay (TV5) .9%
Bandila (ABS-CBN) 3.7%; Saksi (GMA-7) 3.2%; Face the People Replay (TV5) .5%
Banana Nite (ABS-CBN) 1.4%; O Shopping (ABS-CBN) .3%; The Tim Yap Show (GMA-7) .8%; Shop Japan (TV5) .1%



---




August 2, 2014 (Saturday)
Sa Kabukiran (ABS-CBN) .7%; Kapwa Ko Mahal Ko (GMA-7) 1.1%
Salamat Dok (ABS-CBN) 1.6%; Pinoy MD Mga Doktor Ng Bayan (GMA-7) 3.2%
Swak Na Swak (ABS-CBN) 2.5%; Puppy in My Pocket (GMA-7) 5.1%
Honey Watch Out (ABS-CBN) 2.3%; Hayate the Combat Butler (GMA-7) 7.2%
Sineskwela (ABS-CBN) 2.8%; Larva (GMA-7) 9.8%
Tuff Puppy (ABS-CBN) 3.3%; Angry Birds Toons (GMA-7) 10.4%
Spongebob Squarepants (ABS-CBN) 5.7%; Monsuno (GMA-7) 9.1%
Super Book Reimagined (ABS-CBN) 8.1%; Tropang Potchi (GMA-7) 5.7%
Promil Pre-School I Shine Talent Camp 3 (ABS-CBN) 6%; Sarap Diva (GMA-7) 4.9%
Kapamilya Blockbusters: The Three Musketeers (ABS-CBN) 10.1%; Maynila (GMA-7) 6.2%
Afternoon:
It's Showtime (ABS-CBN) 12%; Eat Bulaga! (GMA-7) 14.1%; GMA Tales of Horror: The Legend of Paranormal Story (GMA-7) 9%
Ipaglaban Mo (ABS-CBN) 11.4%; Startalk (GMA-7) 5.9%
Failon Ngayon (ABS-CBN) 7.9%; Wish Ko Lang (GMA-7) 7%
SOCO (ABS-CBN) 9.9%; Imbestigador (GMA-7) 9%
TV Patrol Weekend (ABS-CBN) 11.7%; 24 Oras Weekend (GMA-7) 10.6%; Movie Max 5 (TV5) 2.5%
Evening:
Home Sweetie Home (ABS-CBN) 16.4%; Pepito Manaloto: Ang Tunay na Kuwento (GMA-7) 15.9%
Boses ng Bulilit (ABS-CBN) 28.9%; Marian (GMA-7) 16.6%; Tropa Mo Ko Nice Di Ba?! (TV5) 2.6%
MMK: Ang Tahanan Mo: Stars (ABS-CBN) 24.8%; Magpakailanman (GMA-7) 19.4%; It Takes Gutz to be a Gutierrez (TV5) 1.5%; Kuwentong Gilas (TV5) 1.2%
Pinoy Big Brother All In (ABS-CBN) 13.6%; Celebrity Bluff (GMA-7) 12.2%; Kaya. (TV5) .8%; Numero (TV5) 1.1%;History with Lourd (TV5) .8%
I Heart You 2 (ABS-CBN) 3.7%; The Bottom Line With Boy Abunda (ABS-CBN) .4%; Sports Unlimited (ABS-CBN) .2%; i-Witness (GMA-7) 6.9%; Walang Tulugan With Master Showman (GMA-7) 1.2%; History with Lourd (TV5) 1.1%; Bigtime (TV5) .7%; Bigtime (TV5) .5%; Shop Japan (TV5) .1%
ADVERTISEMENT - CONTINUE READING BELOW
---
August 3, 2014 (Sunday)
Morning:
The Healing Eucharist (ABS-CBN) 4.1%; Family TV Mass (GMA-7) 1.9%
Swak Na Swak (ABS-CBN) 4.6%; Grimm's Fairy Tales (GMA-7) 4.9%
Salamat Dok (ABS-CBN) 3.9%; Hayate the Combat Butler (GMA-7) 6.5%; Tom & Jerry Kids Show (GMA-7) 8.7%
Voltron Force (ABS-CBN) 4.9%; Bleach Hell Verse (GMA-7) 8.7%
Max Steel (ABS-CBN) 5.5%; Super Book Classic (ABS-CBN) 7.8%; Aha! (GMA-7) 6.8%
Matanglawin (ABS-CBN) 8.1%; Born To Be Wild (GMA-7) 7.3%
The Heirs Royal Rewind (ABS-CBN) 10%; iBilib (GMA-7) 7.5%; Superhero Sunday (GMA-7) 9.7%
Afternoon:
ASAP 19 (ABS-CBN) 11.8%; Luv U (ABS-CBN) 8.5%; Kapuso Movie Festival: Fantastic Four (GMA-7) 14.9%; Sunday All Stars (GMA-7) 8.1%
The Buzz 15 (ABS-CBN) 9.4%; Asian Horror Stories: A Wicked Ghost (GMA-7) 9.2%
TV Patrol Weekend (ABS-CBN) 11.7%; 24 Oras Weekend (GMA-7) 10.8%
Evening:
Goin' Bulilit (ABS-CBN) 17.9%; Vampire Ang Daddy Ko (GMA-7) 15.7%; Movie Max 5 (TV5) 2.6%
Wansapanataym: Rod Santiagos Nato de Coco (ABS-CBN) 26.5%; Ismol Family (GMA-7) 18.6%
Rated K: Handa Na Ba Kayo? (ABS-CBN) 25.5%; Pinoy Big Brother All In (ABS-CBN) 18.2%; Kapuso Mo Jessica Soho (GMA-7) 21%; Who Wants To Be A Millionaire (TV5) 2.7%; Wow Mali Lakas ng Tama! (TV5) 2.8%
Gandang Gabi Vice (ABS-CBN) 13.8%; Sunday's Best: The Jed Madela 10th Anniversary Concert (ABS-CBN) 2.6%; Sunday Night Box Office: Who Am I (GMA-7) 12.5%; Jasmine Replay (TV5) .9%; Demolition Job (TV5) .7%; History with Lourd (TV5) .3%; Astig (TV5) .6%
O Shopping (ABS-CBN) .3%; Diyos at Bayan (GMA-7) .8%; Shop Japan (TV5) .1%
August 4, 2014 (Monday)
Morning:
Kape't Pandesal (ABS-CBN) .2%; Matanglawin Replay (ABS-CBN) .6%; Power House Replay (GMA-7) 1.1%
Umagang Kay Ganda (ABS-CBN) 4%; Unang Hirit (GMA-7) 4.5%
Kris TV (ABS-CBN) 6.8%; One Piece (GMA-7) 5.3%; Jackie Chan Adventures (GMA-7) 5.6%; Detective Conan (GMA-7) 6.8%; Inuyasha (GMA-7) 7.8%
Spongebob Squarepants (ABS-CBN) 5.1%; Fairy Tail (GMA-7) 8.5%
Kuroko's Basketball (ABS-CBN) 5.4%; Slam Dunk (GMA-7) 7.9%
Naruto Shippuuden (ABS-CBN) 5.7%; Dragon Ball Z Kai (GMA-7) 8.8%
Lovers in Paris (ABS-CBN) 5.7%; Return of the Wife (GMA-7) 6.6%
The Singing Bee (ABS-CBN) 10.3%; Basta Everyday Happy (GMA-7) 4.9%
Be Careful With My Heart (ABS-CBN) 13.1%; The Ryzza Mae Show (GMA-7) 8.3%
Afternoon:
It's Showtime (ABS-CBN) 11.3%; Eat Bulaga! (GMA-7) 11.2%
Moon of Desire (ABS-CBN) 9.6%; The Half Sisters (GMA-7) 9.4%
Pinoy Big Brother All In Uber (ABS-CBN) 8.3%; Dading (GMA-7) 9.4%
ADVERTISEMENT - CONTINUE READING BELOW
Bistado (ABS-CBN) 8.6%; Alisto! (GMA-7) 8%
My Girl (ABS-CBN) 11%; Jewel in the Palace (GMA-7) 9.1%
Evening:
Pure Love (ABS-CBN) 20.9%; My BFF (GMA-7) 10.9%
TV Patrol (ABS-CBN) 26.6%; 24 Oras (GMA-7) 17.9%
Hawak-Kamay (ABS-CBN) 27.6%; Niño (GMA-7) 18.9%
Ikaw Lamang (ABS-CBN) 27.6%; My Destiny (GMA-7) 17.2%
Sana Bukas Pa Ang Kahapon (ABS-CBN) 19.5%; Ang Dalawang Mrs. Real (GMA-7) 15.3%
Aquino & Abunda Tonight (ABS-CBN) 12.4%; Pinoy Big Brother All In (ABS-CBN) 9.3%; Secret Love (GMA-7) 8.4%; Aksyon Tonite (TV5) 1.2%; T3 Enforced Replay (TV5) .9%; Face the People Replay (TV5) .6%
Bandila (ABS-CBN) 3.4%; Saksi (GMA-7) 3.8%
Banana Nite (ABS-CBN) 1.6%; Front Row (GMA-7) 2%; Shop Japan (TV5) .2%
O Shopping (ABS-CBN) .3%; The Tim Yap Show (GMA-7) .8%
---
August 5, 2014 (Tuesday)
Morning:
Kape't Pandesal (ABS-CBN) .1%; Mutya Ng Masa Replay (ABS-CBN) .6%; I-Witness Replay (GMA-7) 1%
Umagang Kay Ganda (ABS-CBN) 3.9%; Unang Hirit (GMA-7) 4.6%
Kris TV (ABS-CBN) 5.8%; One Piece (GMA-7) 6.1%; Jackie Chan Adventures (GMA-7) 6.9%; Detective Conan (GMA-7) 6.8%; Inuyasha (GMA-7) 7.6%
Spongebob Squarepants (ABS-CBN) 5.5%; Fairy Tail (GMA-7) 8.2%
Kuroko's Basketball (ABS-CBN) 6.2%; Slam Dunk (GMA-7) 7.9%
Naruto Shippuuden (ABS-CBN) 6.3%; Dragon Ball Z Kai (GMA-7) 8.8%
Lovers in Paris (ABS-CBN) 6.2%; Return of the Wife (GMA-7) 6.4%
The Singing Bee (ABS-CBN) 11.9%; Basta Everyday Happy (GMA-7) 5.2%
Be Careful With My Heart (ABS-CBN) 14.6%; The Ryzza Mae Show (GMA-7) 8.6%
Afternoon:
It's Showtime (ABS-CBN) 11.3%; Eat Bulaga! (GMA-7) 12.1%
Moon of Desire (ABS-CBN) 10.7%; The Half Sisters (GMA-7) 10%
Pinoy Big Brother All In Uber (ABS-CBN) 8.8%; Dading (GMA-7) 9.7%
Mutya ng Masa (ABS-CBN) 7.8%; Tunay na Buhay (GMA-7) 9.3%
My Girl (ABS-CBN) 10.4%; Jewel in the Palace (GMA-7) 9.9%
Evening:
Pure Love (ABS-CBN) 19.9%; My BFF (GMA-7) 10.5%
TV Patrol (ABS-CBN) 27%; 24 Oras (GMA-7) 16.7%; Aksyon (TV5) 2.6%; Bride of the Century (TV5) 1.7%; Cool Guys Hot Ramen (TV5) 2.2%
Hawak-Kamay (ABS-CBN) 28.2%; Niño (GMA-7) 17.6%; Movie Max 5 (TV5) 3.9%
Ikaw Lamang (ABS-CBN) 29.3%; My Destiny (GMA-7) 15.5%
Sana Bukas Pa Ang Kahapon (ABS-CBN) 21.2%; Ang Dalawang Mrs. Real (GMA-7) 13.7%; Aksyon Tonite (TV5) 1.2%
Aquino & Abunda Tonight (ABS-CBN) 12.8%; Pinoy Big Brother All In (ABS-CBN) 9.7%; Secret Love (GMA-7) 9%; T3 Enforced Replay (TV5) .4%
Bandila (ABS-CBN) 3.2%; Saksi (GMA-7) 4.5%; Face the People Replay (TV5) .4%
Banana Nite (ABS-CBN) 1.6%; Serial Killer Earth (GMA-7) 2.9%; Shop Japan (TV5) .1%
ADVERTISEMENT - CONTINUE READING BELOW
O Shopping (ABS-CBN) .4%; The Tim Yap Show (GMA-7) 1.2%
---
August 6, 2014 (Wednesday)
Morning:
Kape't Pandesal (ABS-CBN) .2%; My Puhunan Replay (ABS-CBN) .7%; Reporter's Notebook Replay (GMA-7) 1.4%
Umagang Kay Ganda (ABS-CBN) 3.8%; Unang Hirit (GMA-7) 4.5%
Kris TV (ABS-CBN) 4.9%; One Piece (GMA-7) 5.8%; Jackie Chan Adventures (GMA-7) 6.3%; Detective Conan (GMA-7) 6.4%; Inuyasha (GMA-7) 7.5%
Spongebob Squarepants (ABS-CBN) 4.6%; Fairy Tail (GMA-7) 8.5%
Kuroko's Basketball (ABS-CBN) 6.6%; Slam Dunk (GMA-7) 8.2%
Naruto Shippuuden (ABS-CBN) 6.4%; Dragon Ball Z Kai (GMA-7) 9.6%
Lovers in Paris (ABS-CBN) 5.6%; Return of the Wife (GMA-7) 6.5%
The Singing Bee (ABS-CBN) 10.9%; Basta Everyday Happy (GMA-7) 5.9%
Be Careful With My Heart (ABS-CBN) 15.8%; The Ryzza Mae Show (GMA-7) 8%
Afternoon:
It's Showtime (ABS-CBN) 11.4%; Eat Bulaga! (GMA-7) 11.5%
Moon of Desire (ABS-CBN) 10%; The Half Sisters (GMA-7) 10%
Pinoy Big Brother All In Uber (ABS-CBN) 7.6%; Dading (GMA-7) 9.1%
My Puhunan (ABS-CBN) 8.2%; Power House (GMA-7) 7.5%
My Girl (ABS-CBN) 9.5%; Jewel in the Palace (GMA-7) 8.2%
Evening:
Pure Love (ABS-CBN) 18.7%; My BFF (GMA-7) 8.9%
TV Patrol (ABS-CBN) 26.7%; 24 Oras (GMA-7) 16.2%; Aksyon (TV5) 1.8%; Bride of the Century (TV5) 1.8%
Hawak-Kamay (ABS-CBN) 27.1%; Niño (GMA-7) 17.8%; Cool Guys Hot Ramen (TV5) 2.7%
Ikaw Lamang (ABS-CBN) 30.7%; My Destiny (GMA-7) 16.8%; Movie Max 5 (TV5) 3%
Sana Bukas Pa Ang Kahapon (ABS-CBN) 22.5%; Ang Dalawang Mrs. Real (GMA-7) 15.2%
Aquino & Abunda Tonight (ABS-CBN) 13.8%; Pinoy Big Brother All In (ABS-CBN) 10%; Secret Love (GMA-7) 9.5%; Aksyon Tonite (TV5) 1.3%; T3 Enforced Replay (TV5) .6%
Bandila (ABS-CBN) 3.2%; Saksi (GMA-7) 4.5%; Face the People (GMA-7) .5%
Banana Nite (ABS-CBN) 1.5%; Mankind (GMA-7) 2.5%; Shop Japan (GMA-7) .2%
O Shopping (ABS-CBN) .3%; The Tim Yap Show (GMA-7) 1.2%
August 7, 2014 (Thursday)
Morning:
Kape't Pandesal (ABS-CBN) 0.3%; Tapatan ni Tunying Replay (ABS-CBN) .7%; Born to be Wild Replay (GMA-7) 1.1%
Umagang Kay Ganda (ABS-CBN) 3.4%; Unang Hirit (GMA-7) 3.8%
Kris TV (ABS-CBN) 6.5%; One Piece (GMA-7) 5.6%; Jackie Chan Adventures (GMA-7) 5.9%; Detective Conan (GMA-7) 6%; Inuyasha (GMA-7) 6.5%
Spongebob Squarepants (ABS-CBN) 5.4%; Fairy Tail (GMA-7) 7.5%
Kuroko's Basketball (ABS-CBN) 6.7%; Slam Dunk (GMA-7) 7.2%
Naruto Shippuuden (ABS-CBN) 6.1%; Dragon Ball Z Kai (GMA-7) 8.1%
Lovers in Paris (ABS-CBN) 6.2%; Return of the Wife (GMA-7) 6.7%
The Singing Bee (ABS-CBN) 11.6%; Basta Everyday Happy (GMA-7) 5.1%
ADVERTISEMENT - CONTINUE READING BELOW
Be Careful With My Heart (ABS-CBN) 14.3%; The Ryzza Mae Show (GMA-7) 7.9%
Afternoon:
It's Showtime (ABS-CBN) 11.6%; Eat Bulaga! (GMA-7) 11.2%
Moon of Desire (ABS-CBN) 9.1%; The Half Sisters (GMA-7) 10.1%
Pinoy Big Brother All In Uber (ABS-CBN) 6.9%; Dading (GMA-7) 8.4%
Tapatan ni Tunying (ABS-CBN) 7.1%; Reporter's Notebook (GMA-7) 6.8%
My Girl (ABS-CBN) 8.6%; Jewel in the Palace (GMA-7) 7.2%
Evening:
Pure Love (ABS-CBN) 16.3%; My BFF (GMA-7) 8.2%
TV Patrol (ABS-CBN) 24.1%; 24 Oras (GMA-7) 16.1%; Aksyon (TV5) 1.9%; Bride of the Century (TV5) 2%
Hawak-Kamay (ABS-CBN) 28.6%; Niño (GMA-7) 18.7%; Cool Guys Hot Ramen (TV5) 2.8%
Ikaw Lamang (ABS-CBN) 28.9%; My Destiny (GMA-7) 17.6%; Movie Max 5 (TV5) 3.5%
Sana Bukas Ang Kahapon (ABS-CBN) 20.8%; Ang Dalawang Mrs. Real (GMA-7) 16.3%; Gilas Pilipinas Kuwentong Gilas (TV5) 1.6%
Aquino & Abunda Tonight (ABS-CBN) 13.4%; Pinoy Big Brother All In (ABS-CBN) 9.3%; Secret Love (GMA-7) 9.1%; Aksyon Tonite (TV5) 1%
Bandila (ABS-CBN) 3.2%; Saksi (GMA-7) 4%; T3 Enforced Replay (TV5) .9%
Banana Nite (ABS-CBN) 1.4%; Mankind (GMA-7) 1.9%; Face the People (TV5) .6%
O Shopping (ABS-CBN) .5%; The Tim Yap Show (GMA-7) .7%; Shop Japan (TV5) .2%
--


Here are the Top 10 daytime and primetime programs from August 1-7, 2014 among Total Philippines (Urban & Rural) households:

August 1, 2014 (Friday)
DAYTIME:
Be Careful With My Heart (ABS-CBN) - 13.8%
Eat Bulaga! (GMA-7) - 12.7%
It's Showtime (ABS-CBN) - 12%
The Singing Bee (ABS-CBN) - 11.2%
Fairy Tail (GMA-7) - 10.3%
The Half Sisters (GMA-7) - 10%
My Girl (ABS-CBN) - 9.8%
Dragon Ball Z Kai (GMA-7) - 9.6%
Moon of Desire (ABS-CBN) / Inuyasha (GMA-7) - 9.5%
Slam Dunk (GMA-7) / My BFF (GMA-7) - 9.4%
PRIMETIME:
Ikaw Lamang (ABS-CBN) - 26.5%
Hawak-Kamay (ABS-CBN) - 27.1%
TV Patrol (ABS-CBN) - 26.7%
Sana Bukas Pa Ang Kahapon (ABS-CBN) - 20.3%
Pure Love (ABS-CBN) / Niño (GMA-7) - 19.3%
My Destiny (GMA-7) - 18%
Ang Dalawang Mrs. Real (GMA-7) - 17.3%
24 Oras (GMA-7) - 15.6%
Aquino & Abunda Tonight (ABS-CBN) - 12.9%
Pinoy Big Brother All In (ABS-CBN) - 9.9%
August 2, 2014 (Saturday)
DAYTIME:
Eat Bulaga! (GMA-7) - 14.1%
It's Showtime (ABS-CBN) - 12%
TV Patrol Weekend (ABS-CBN) - 11.7%
Ipaglaban Mo (ABS-CBN) - 11.4%
24 Oras Weekend (GMA-7) - 10.6%
Angry Birds Toons (GMA-7) - 10.4%
Kapamilya Blockbusters: The Three Musketeers (ABS-CBN) - 10.1%
SOCO (ABS-CBN) - 9.9%
Larva (GMA-7) - 9.8%
Monsuno (GMA-7) - 9.1%
PRIMETIME:
Boses ng Bulilit (ABS-CBN) - 28.9%
MMK: Ang Tahanan Mo (ABS-CBN) - 24.8%
Magpakailanman (GMA-7) - 19.4%
Marian (GMA-7) - 16.6%
Home Sweetie Home (ABS-CBN) - 16.4%
Pepito Manaloto: Ang Tunay na Kuwento (GMA-7) - 15.9%
Pinoy Big Brother All In (ABS-CBN) - 13.6%
Celebrity Bluff (GMA-7) - 12.2%
I-Witness (GMA-7) - 6.9%
I Heart You 2 (ABS-CBN) - 3.7%
August 3, 2014 (Sunday)
DAYTIME:
Kapuso Movie Festival: Fantastic Four (GMA-7) - 14.9%
ASAP 19 (ABS-CBN) - 11.8%
TV Patrol Weekend (ABS-CBN) - 11.7%
24 Oras Weekend (GMA-7) - 10.8%
The Heirs Royal Rewind (ABS-CBN) - 10%
Superhero Sunday (GMA-7) - 9.7%
The Buzz 15 (ABS-CBN) - 9.4%
Asian Horror Stories: A Wicked Ghost (GMA-7) - 9.2%
Tom & Jerry Kids Show (GMA-7) / Bleach Hell Verse (GMA-7) - 8.7%
Luv U (ABS-CBN) - 8.5%
PRIMETIME:
Wansapanataym (ABS-CBN) - 26.5%
Rated K: Handa na ba Kayo? (ABS-CBN) - 25.5%
Kapuso Mo, Jessica Soho (GMA-7) - 21%
Ismol Family (GMA-7) - 18.6%
Pinoy Big Brother All In (ABS-CBN) - 18.2%
Goin' Bulilit (ABS-CBN) - 17.9%
Vampire Ang Daddy Ko (GMA-7) - 15.7%
Gandang Gabi Vice (ABS-CBN) - 13.8%
Sunday Night Box Office: Who Am I (GMA-7) - 12.5%
Wow Mali Lakas ng Tama! (TV5) - 2.8%



August 4, 2014 (Monday)
DAYTIME:
Be Careful With My Heart (ABS-CBN) - 13.1%
It's Showtime (ABS-CBN) - 11.3%
Eat Bulaga! (GMA-7) - 11.2%
My Girl (ABS-CBN) - 11%
The Singing Bee (ABS-CBN) - 10.3%
Moon of Desire (ABS-CBN) - 9.6%
The Half Sisters (GMA-7) / Dading (GMA-7) - 9.4%
Jewel in the Palace (GMA-7) - 9.1%
Dragon Ball Z Kai (GMA-7) - 8.8%
Bistado (ABS-CBN) - 8.6%
PRIMETIME:
Hawak-Kamay (ABS-CBN) / Ikaw Lamang (ABS-CBN) - 27.6%
TV Patrol (ABS-CBN) - 26.6%
Pure Love (ABS-CBN) - 20.9%
Sana Bukas Pa Ang Kahapon (ABS-CBN) - 19.5%
Niño (GMA-7) - 18.9%
24 Oras (GMA-7) - 17.9%
My Destiny (GMA-7) - 17.2%
Ang Dalawang Mrs. Real (GMA-7) - 15.3%
Aquino & Abunda Tonight (ABS-CBN) - 12.4%
My BFF (GMA-7) - 10.9%
August 5, 2014 (Tuesday)
DAYTIME:
Be Careful With My Heart (ABS-CBN) - 14.6%
Eat Bulaga! (GMA-7) - 12.1%
The Singing Bee (ABS-CBN) - 11.9%
It's Showtime (ABS-CBN) - 11.3%
Moon of Desire (ABS-CBN) - 10.7%
My Girl (ABS-CBN) - 10.4%
The Half Sisters (GMA-7) - 10%
Jewel in the Palace (GMA-7) - 9.9%
Dading (GMA-7) - 9.7%
Tunay na Buhay (GMA-7) - 9.3%
PRIMETIME:
Ikaw Lamang (ABS-CBN) - 29.3%
Hawak-Kamay (ABS-CBN) - 28.2%
TV Patrol (ABS-CBN) - 27%
Sana Bukas Pa Ang Kahapon (ABS-CBN) - 21.2%
Pure Love (ABS-CBN) - 19.9%
Niño (GMA-7) - 17.6%
24 Oras (GMA-7) - 16.7%
My Destiny (GMA-7) - 15.5%
Ang Dalawang Mrs. Real (GMA-7) - 13.7%
Aquino & Abunda Tonight (ABS-CBN) - 12.8%
August 6, 2014 (Wednesday)
DAYTIME:
Be Careful With My Heart (ABS-CBN) - 15.8%
Eat Bulaga! (GMA-7) - 11.5%
It's Showtime (ABS-CBN) - 11.4%
The Singing Bee (ABS-CBN) - 10.9%
Moon of Desire (ABS-CBN) / The Half Sisters (GMA-7) - 10%
Dragon Ball Z Kai (GMA-7) - 9.6%
My Girl (ABS-CBN) - 9.5%
Dading (GMA-7) - 9.1%
Fairy Tail (GMA-7) - 8.5%
My Puhunan (ABS-CBN) / Slam Dunk (GMA-7) / Jewel in the Palace (GMA-7) - 8.2%
PRIMETIME:
Ikaw Lamang (ABS-CBN) - 30.7%
Hawak-Kamay (ABS-CBN) - 28.6%
TV Patrol (ABS-CBN) - 26.7%
Sana Bukas Pa Ang Kahapon (ABS-CBN) - 22.5%
Pure Love (ABS-CBN) - 18.7%
Niño (GMA-7) - 18.5%
My Destiny (GMA-7) - 16.8%
24 Oras (GMA-7) - 16.2%
Ang Dalawang Mrs. Real (GMA-7) - 15.2%
Aquino & Abunda Tonight (ABS-CBN) - 13.8%
August 7, 2014 (Thursday)
DAYTIME:
Be Careful With My Heart (ABS-CBN) - 14.3%
The Singing Bee (ABS-CBN) / It's Showtime (ABS-CBN) - 11.6%
Eat Bulaga! (GMA-7) - 11.2%
The Half Sisters (GMA-7) - 10.1%
Moon of Desire (ABS-CBN) - 9.1%
My Girl (ABS-CBN) - 8.6%
Dading (GMA-7) - 8.4%
Dragon Ball Z Kai (GMA-7) - 8.1%
The Ryzza Mae Show (GMA-7) - 7.9%
Fairy Tail (GMA-7) - 7.5%
PRIMETIME:
Ikaw Lamang (ABS-CBN) - 28.9%
Hawak-Kamay (ABS-CBN) - 28.6%
TV Patrol (ABS-CBN) - 24.1%
Sana Bukas Pa Ang Kahapon (ABS-CBN) - 20.8%
Niño (GMA-7) - 18.4%
My Destiny (GMA-7) - 17.6%
Pure Love (ABS-CBN) / Ang Dalawang Mrs. Real (GMA-7) - 16.3%
24 Oras (GMA-7) - 16.1%
Aquino & Abunda Tonight (ABS-CBN) - 13.4%
Pinoy Big Brother All In (ABS-CBN) - 9.3%


Source: Kantar/TNS