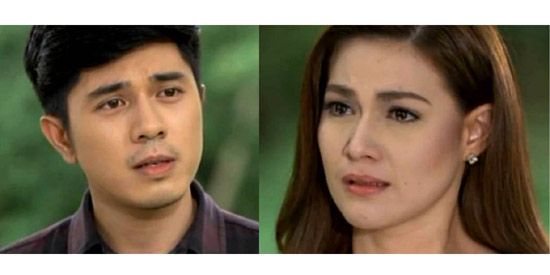 ---
ABS-CBN's primetime shows still have more viewers than its closest ratings rival. This is according to data based on overnight ratings of Kantar Media/TNS among Total Philippines (Urban & Rural) on September 22-28, 2014.
The most-watched show on weekday primetime is ABS-CBN's Hawak-Kamay, which stars Piolo Pascual and Iza Calzado. It received better ratings than GMA-7's Strawberry Lane during the given period.
Other Kapamilya primetime shows are scoring higher than their Kapuso counterparts. Ikaw Lamang outperformed My Destiny, and Sana Bukas Pa Ang Kahapon had better ratings than Hiram na Alaala, which premiered on September 22. Starring Bea Alonzo-Paulo Avelino, Sana Bukas Pa Ang Kahapon ranked at No. 5 with its rating of 18.9%.
Hiram na Alaala stars Dennis Trillo, Rocco Nacino, Kris Bernal and Lauren Young in a story about a soldier who lost the memory of his true love. This Kapuso teleserye was able to land in the No. 9 slot with its rating of 13.5%.
ABS-CBN also did better on weekday daytime with its shows It's Showtime, Be Careful With My Heart, and Kapamilya Blockbusters leading the charts.

The musical game show The Singing Bee was able to consistently beat GMA-7's new morning game show Don't Lose the Money. The Singing Bee was able to register a rating of 9.7% last September 22. This is higher compared to the 7.7% rating registered by the Kapuso game show hosted by Tom Rodriguez.
The Kapamilya network also won weekends with the shows Wansapanataym, TV Patrol Weekend and Maalaala Mo Kaya (MMK): Ang Tahanan Mo.

The September 27 episode of MMK featured the life story of Juan Karlos Labajo, second runner up of The Voice Kids PH. It was able to land in the No. 1 slot with its rating of 30.7%.

It is also interesting to note that the awards night of Himig Handog P-Pop Love Songs 2014, which aired onABS-CBN, emerged at the tenth most-watched program nationwide last September 28 with its rating of 4.7%.
ADVERTISEMENT - CONTINUE READING BELOW
Here are the comparative Household Ratings of ABS-CBN, TV5, and GMA-7 programs from September 22-28, 2014 based on the overnight ratings of Kantar Media/TNS among Total Philippines (Urban & Rural) households:


September 22, 2014 (Monday)
Morning:
Kape't Pandesal (ABS-CBN) .1%; Matanglawin Replay (ABS-CBN) .7%; Powerhouse (GMA-7) .9%
Umagang Kay Ganda (ABS-CBN) 3.6%; Unang Hirit (GMA-7) 4.4%
Kris TV (ABS-CBN) 4.4%; Doraemon (GMA-7) 5.3%; Ghost Fighter (GMA-7) 5.9%; Inuyasha (GMA-7) 7.4%; Bleach (GMA-7) 8.5%
Spongebob Squarepants (ABS-CBN) 4.5%; Hunter X Hunter (GMA-7) 9.7%
Kuroko's Basketball (ABS-CBN) 5.5%; Dragon Ball Z Kai (GMA-7) 8.7%
Naruto Shippuuden (ABS-CBN) 6.5%; Return of the Wife (GMA-7) 6.4%
Precious Hearts Romances Presents Martha Cecilia's Midnight Phantom (ABS-CBN) 6.8%; Basta Everyday Happy (GMA-7) 6.1%
The Singing Bee (ABS-CBN) 9.7%; Don't Lose the Money (GMA-7) 7.7%
Be Careful With My Heart (ABS-CBN) 13.3%; The Ryzza Mae Show (GMA-7) 10.8%
Afternoon:
It's Showtime (ABS-CBN) 12.5%; Eat Bulaga! (GMA-7) 11.9%
Kapamilya Blockbusters: Must Be Love (ABS-CBN) 12.2%; The Half Sisters (GMA-7) 11.6%; Dading (GMA-7) 10.1%
Bistado (ABS-CBN) 9.9%; May Queen (GMA-7) 8.2%; Alisto! (GMA-7) 7.5%
Bet On Your Baby (ABS-CBN) 12.9%; Full House (GMA-7) 8.8%
Evening:
Pure Love (ABS-CBN) 22.3%; My BFF (GMA-7) 11%
TV Patrol (ABS-CBN) 27.4%; 24 Oras (GMA-7) 17.7%; Aksyon (TV5) 2.5%; Wattpad Presents (TV5) 2.2%; Juan Direction (TV5) 1.5%
Hawak-Kamay (ABS-CBN) 28.9%; Strawberry Lane (GMA-7) 18.2%; 17th Asian Games Incheon 2014 Men's Basketball (TV5) 1.5%
Ikaw Lamang (ABS-CBN) 28.1%; My Destiny (GMA-7) 18.3%
Sana Bukas Pa Ang Kahapon (ABS-CBN) 18.9%; Aquino & Abunda Tonight (ABS-CBN) 10.3%; Hiram na Alaala (GMA-7) 13.5%; Aksyon Tonite (TV5) 1.6%
Miss Ripley (ABS-CBN) 6.7%; I Hear Your Voice (GMA-7) 7.8%; Demolition Job (TV5) 1%
Bandila (ABS-CBN) 3.4%; Saksi (GMA-7) 3.4%; T3 Enforced Replay (TV5) .7%; Face the People Replay (TV5) .4%
Mukha (ABS-CBN) 1.6%; Front Row (GMA-7) 1.9%
O Shopping (ABS-CBN) .4%; The Tim Yap Show (GMA-7) .9%; The Medyo Late Night Show (GMA-7) .4%; Shop Japan (TV5) .1%
---
September 23, 2014 (Tuesday)
Morning:
Kape't Pandesal (ABS-CBN) .1%; Mutya Ng Masa Replay (ABS-CBN) .6%; I-Witness Replay (GMA-7) 1.2%
Umagang Kay Ganda (ABS-CBN) 3.8%; Unang Hirit (GMA-7) 4%
Kris TV (ABS-CBN) 4.7%; Doraemon (GMA-7) 6.2%; Ghost Fighter (GMA-7) 7.3%; Inuyasha (GMA-7) 8%; Bleach (GMA-7) 8.1%
Spongebob Squarepants (ABS-CBN) 5.5%; Hunter X Hunter (GMA-7) 9.2%
Kuroko's Basketball (ABS-CBN) 5.8%; Dragon Ball Z Kai (GMA-7) 8.8%
ADVERTISEMENT - CONTINUE READING BELOW
Naruto Shippuuden (ABS-CBN) 6.5%; Return of the Wife (GMA-7) 7.2%
Precious Hearts Romances Presents Martha Cecilia's Midnight Phantom (ABS-CBN) 7.8%; Basta Everyday Happy (GMA-7) 6%
The Singing Bee (ABS-CBN) 11.7%; Don't Lose the Money (GMA-7) 7.8%
Be Careful With My Heart (ABS-CBN) 13.9%; The Ryzza Mae Show (GMA-7) 10.5%
Afternoon:
It's Showtime (ABS-CBN) 12.3%; Eat Bulaga! (GMA-7) 12.1%
Kapamilya Blockbusters: Superhero Movie (ABS-CBN) 12.4%; The Half Sisters (GMA-7) 10.8%; Dading (GMA-7) 10.4%
Mutya ng Masa (ABS-CBN) 9.3%; May Queen (GMA-7) 8.5%
Bet On Your Baby (ABS-CBN) 11.2%; Tunay na Buhay (GMA-7) 7.8%; Full House (GMA-7) 8.7%
Evening:
Pure Love (ABS-CBN) 22.3%; My BFF (GMA-7) 11.4%
TV Patrol (ABS-CBN) 28.1%; 24 Oras (GMA-7) 17.7%; Aksyon (TV5) 2.9%; Wattpad Presents (TV5) 2.8%; Juan Direction (TV5) 1.6%
Hawak-Kamay (ABS-CBN) 29.2%; Strawberry Lane (GMA-7) 20.1%; 17th Asian Games Incheon 2014 Men's Basketball Replay (TV5) 4.1%
Ikaw Lamang (ABS-CBN) 26.7%; My Destiny (GMA-7) 19%
Sana Bukas Pa Ang Kahapon (ABS-CBN) 18.1%; Hiram na Alaala (GMA-7) 13%
Aquino & Abunda Tonight (ABS-CBN) 10.3%; Miss Ripley (ABS-CBN) 6.9%; I Hear Your Voice (GMA-7) 8.2%; Aksyon Tonite (TV5) 1.9%; Numero (TV5) 1%; T3 Enforced Replay (TV5) .8%
Bandila (ABS-CBN) 2.9%; Saksi (GMA-7) 4.3%; Face the People Replay (TV5) .5%
Banana Nite (ABS-CBN) 1.6%; Serial Killer Earth (GMA-7) 2.5%
O Shopping (ABS-CBN) .5%; The Tim Yap Show (GMA-7) 1.2%; The Medyo Late Night Show (GMA-7) .6%; Shop Japan (TV5) .1%
---
September 24, 2014 (Wednesday)
Morning:
Kape't Pandesal (ABS-CBN) .3%; My Puhunan Replay (ABS-CBN) 1%; Tunay na Buhay Replay (GMA-7) 1.5%
Umagang Kay Ganda (ABS-CBN) 3.3%; Unang Hirit (GMA-7) 3.6%
Kris TV (ABS-CBN) 4.8%; Doraemon (GMA-7) 5.3%; Ghost Fighter (GMA-7) 6.4%; Inuyasha (GMA-7) 7.3%; Bleach (GMA-7) 7.8%
Spongebob Squarepants (ABS-CBN) 4.4%; Hunter X Hunter (GMA-7) 9.4%
Kuroko's Basketball (ABS-CBN) 4.5%; Dragon Ball Z Kai (GMA-7) 8.3%
Naruto Shippuuden (ABS-CBN) 5.1%; Return of the Wife (GMA-7) 7.1%
Precious Hearts Romances Presents Martha Cecilia's Midnight Phantom (ABS-CBN) 6.4%; Basta Everyday Happy (GMA-7) 5.9%
The Singing Bee (ABS-CBN) 10.8%; Don't Lose the Money (GMA-7) 9%
Be Careful With My Heart (ABS-CBN) 13.1%; The Ryzza Mae Show (GMA-7) 11.2%
Afternoon:
It's Showtime (ABS-CBN) 13.3%; Eat Bulaga! (GMA-7) 12.8%
Kapamilya Blockbusters: Segunda Mano (ABS-CBN) 10.1%; The Half Sisters (GMA-7) 11.4%; Dading (GMA-7) 10.6%
My Puhunan (ABS-CBN) 9.2%; May Queen (GMA-7) 8.9%
ADVERTISEMENT - CONTINUE READING BELOW
Bet On Your Baby (ABS-CBN) 11.7%; Powerhouse (GMA-7) 8%; Full House (GMA-7) 8.9%
Evening:
Pure Love (ABS-CBN) 23.2%; My BFF (GMA-7) 11.6%
TV Patrol (ABS-CBN) 28.5%; 24 Oras (GMA-7) 18.6%; Aksyon (TV5) 2.6%; Wattpad Presents (TV5) 2.6%
Hawak-Kamay (ABS-CBN) 29.9%; Strawberry Lane (GMA-7) 20.8%; Juan Direction (TV5) 1.8%; 17th Asian Games Incheon 2014 Men's Basketball (TV5) 2.1%
Ikaw Lamang (ABS-CBN) 29.2%; My Destiny (GMA-7) 18.8%
Sana Bukas Pa Ang Kahapon (ABS-CBN) 20.7%; Hiram na Alaala (GMA-7) 12.9%; 17th Asian Games Incheon 2014 Men's Basketball (TV5) 2.3%
Aquino & Abunda Tonight (ABS-CBN) 11.9%; Miss Ripley (ABS-CBN) 8.4%; I Hear Your Voice (GMA-7) 8.9%; Aksyon Tonite (TV5) 1.6%; History with Lourd (TV5) 1%
Bandila (ABS-CBN) 4.1%; Saksi (GMA-7) 4.2%; T3 Enforced Replay (TV5) .5%
Banana Nite (ABS-CBN) 1.9%; Planet Earth (GMA-7) 2.4%; Face the People Replay (TV5) .3%
O Shopping (ABS-CBN) .5%; The Tim Yap Show (GMA-7) 1.4%; The Medyo Late Night Show (GMA-7) .9%; Shop Japan (TV5) .2%
---
September 25, 2014 (Thursday)
Morning:
Kape't Pandesal (ABS-CBN) .3%; Tapatan ni Tunying Replay (ABS-CBN) .9%; Born to be Wild Replay (GMA-7) 1.1%
Umagang Kay Ganda (ABS-CBN) 4%; Unang Hirit (GMA-7) 3.8%
Kris TV (ABS-CBN) 5.9%; Doraemon (GMA-7) 5.4%; Ghost Fighter (GMA-7) 7.6%; Inuyasha (GMA-7) 8.4%; Bleach (GMA-7) 9.2%
Spongebob Squarepants (ABS-CBN) 5.6%; Hunter X Hunter (GMA-7) 10.7%
Kuroko's Basketball (ABS-CBN) 6%; Dragon Ball Z Kai (GMA-7) 9.3%
Naruto Shippuuden (ABS-CBN) 8.1%; Return of the Wife (GMA-7) 6.5%
Precious Hearts Romances Presents Martha Cecilia's Midnight Phantom (ABS-CBN) 8.7%; Basta Everyday Happy (GMA-7) 5.6%
The Singing Bee (ABS-CBN) 12.9%; Don't Lose the Money (GMA-7) 8.2%
Be Careful With My Heart (ABS-CBN) 14.4%; The Ryzza Mae Show (GMA-7) 11.5%
Afternoon:
It's Showtime (ABS-CBN) 12.4%; Eat Bulaga! (GMA-7) 12.7%
Kapamilya Blockbusters: Won't Last a Day Without You (ABS-CBN) 11.1%; The Half Sisters (GMA-7) 12.7%; Dading (GMA-7) 12.7%
Tapatan ni Tunying (ABS-CBN) 8.8%; May Queen (GMA-7) 12%; Alisto! (GMA-7) 9.4%
Bet On Your Baby (ABS-CBN) 13.4%; Full House (GMA-7) 11.7%
Evening:
Pure Love (ABS-CBN) 24.5%; My BFF (GMA-7) 13.4%
TV Patrol (ABS-CBN) 28.6%; 24 Oras (GMA-7) 18.6%; Aksyon (TV5) 3%; Wattpad Presents (TV5) 2.4%; Juan Direction (TV5) 1.7%
Hawak-Kamay (ABS-CBN) 29.4%; Strawberry Lane (GMA-7) 20.4%; 17th Asian Games Incheon 2014 Men's Basketball (TV5) 3.4%
Ikaw Lamang (ABS-CBN) 29.2%; My Destiny (GMA-7) 18.8%
Sana Bukas Ang Kahapon (ABS-CBN) 20.6%; Hiram na Alaala (GMA-7) 12.5%
ADVERTISEMENT - CONTINUE READING BELOW
Aquino & Abunda Tonight (ABS-CBN) 11.3%; Miss Ripley (ABS-CBN) 8.2%; I Hear Your Voice (GMA-7) 9.1%; Unang Tikim (TV5) .8%; Aksyon Tonite (TV5) 1.3%
Bandila (ABS-CBN) 2.5%; Saksi (GMA-7) 3.7%; T3 Enforced Replay (TV5) .5%
Banana Nite (ABS-CBN) 1.5%; Planet Earth (GMA-7) 1.7%; Face the People Replay (TV5) .6%
O Shopping (ABS-CBN) .5%; The Tim Yap Show (GMA-7) 1%; The Medyo Late Night Show (GMA-7) .6%; Shop Japan (TV5) .1%
--
September 26, 2014 (Friday)
Morning:
Kape't Pandesal (ABS-CBN) .2%; Red Alert Replay (ABS-CBN) .6%; Alisto! Replay (GMA-7) 1.3%
Umagang Kay Ganda (ABS-CBN) 3.5%; Unang Hirit (GMA-7) 3.7%
Kris TV (ABS-CBN) 5.6%; Doraemon (GMA-7) 7.5%; Ghost Fighter (GMA-7) 8.8%; Inuyasha (GMA-7) 10.1%; Bleach (GMA-7) 10.8%
Spongebob Squarepants (ABS-CBN) 5.1%; Hunter X Hunter (GMA-7) 11.7%
Kuroko's Basketball (ABS-CBN) 6.1%; Dragon Ball Z Kai (GMA-7) 10.4%
Naruto Shippuuden (ABS-CBN) 6.8%; Return of the Wife (GMA-7) 7.1%
Precious Hearts Romances Presents Martha Cecilia's Midnight Phantom (ABS-CBN) 7.7%; Basta Everyday Happy (GMA-7) 5.5%
The Singing Bee (ABS-CBN) 11.7%; Don't Lose the Money (GMA-7) 7.9%
Be Careful With My Heart (ABS-CBN) 13.7%; The Ryzza Mae Show (GMA-7) 10.3%
Afternoon:
It's Showtime (ABS-CBN) 13.2%; Eat Bulaga! (GMA-7) 12.3%
Kapamilya Blockbusters: Pak Pak My Dr Kwak (ABS-CBN) 14.9%; The Half Sisters (GMA-7) 12.7%; Dading (GMA-7) 12.1%; May Queen (GMA-7) 9.5%
Red Alert (ABS-CBN) 11.4%; Love Hotline (GMA-7) 8%
Bet On Your Baby (ABS-CBN) 12.5%; Full House (GMA-7)10.2%
Evening:
Pure Love (ABS-CBN) 21.7%; My BFF (GMA-7) 11.6%
TV Patrol (ABS-CBN) 26.6%; 24 Oras (GMA-7) 17.3%; Aksyon (TV5) 2.5%
Hawak-Kamay (ABS-CBN) 27.5%; Strawberry Lane (GMA-7) 20.9%; Wattpad Presents (TV5) 1.7%
Ikaw Lamang (ABS-CBN) 27.5%; My Destiny (GMA-7) 19.9%; Juan Direction (TV5) .8%; 17th Asian Games Incheon 2014 Update (TV5) 1.1%; 17th Asian Games Incheon 2014 Men's Basketball Replay (TV5) 1.5%
Sana Bukas Pa Ang Kahapon (ABS-CBN) 20.4%; Hiram na Alaala (GMA-7) 13.8%
Aquino & Abunda Tonight (ABS-CBN) 13.4%; Miss Ripley (ABS-CBN) 9.5%; Bubble Gang (GMA-7) 9.2%; Aksyon Tonite (TV5) .5%
Bandila (ABS-CBN) 3.4%; Saksi (GMA-7) 3.5%; Astig (TV5) .2%
Banana Nite (ABS-CBN) 1.9%; The Tim Yap Show (GMA-7) 1.5%; Shop Japan (TV5) .1%
O Shopping (ABS-CBN) .6%; The Medyo Late Night Show (GMA-7) .9%
---
September 27, 2014 (Saturday)
Sa Kabukiran (ABS-CBN) 1%; Kapwa Ko Mahal Ko (GMA-7) 1.9%
Salamat Dok (ABS-CBN) 2.4%;Pinoy MD Mga Doktor Ng Bayan (GMA-7) 4%
Swak Na Swak (ABS-CBN) 3.2%; Puppy in My Pocket (GMA-7) 6.4%
ADVERTISEMENT - CONTINUE READING BELOW
Honey Watch Out (ABS-CBN) 2.6%; Hayate the Combat Butler (GMA-7) 8.1%
Math Tinik (ABS-CBN) 2.7%; Larva (GMA-7) 10.6%
Tuff Puppy (ABS-CBN) 3.3%; Angry Birds Toons (GMA-7) 11.4%
Spongebob Squarepants (ABS-CBN) 5.3%; Monsuno (GMA-7) 9.9%
Super Book (ABS-CBN) 9.3%; Tropang Potchi (GMA-7) 5.9%
Kapamilya Blockbusters: Mighty Joe Young (ABS-CBN) 14.6%; Sarap Diva (GMA-7) 4.9%; Maynila (GMA-7) 6.4%
Afternoon:
It's Showtime (ABS-CBN) 14.7%; Eat Bulaga! (GMA-7) 13.7%; GMA Tales of Horror: The Legend of Paranormal Story (GMA-7) 7.7%
Ipaglaban Mo (ABS-CBN) 12.3%; Wish Ko Lang (GMA-7) 8%
Failon Ngayon (ABS-CBN) 9.6%; Startalk (GMA-7) 6.3%
SOCO (ABS-CBN) 12.2%; Imbestigador (GMA-7) 9.3%
TV Patrol Weekend (ABS-CBN) 14.7%; 24 Oras Weekend (GMA-7) 10.2%; 17th Asian Games Incheon 2014 Men's Boxing (TV5) 1.6%; 17th Asian Games Incheon 2014 Women's Boxing (TV5) 2.5%
Evening:
Mga Kwento ni Marc Logan (ABS-CBN) 22%; Pepito Manaloto: Ang Tunay na Kuwento (GMA-7) 16.9%
Home Sweetie Home (ABS-CBN) 25.4%; Wansapanataym: My App Boyfie (ABS-CBN) 29.5%; Marian (GMA-7) 16.6%; Talentadong Pinoy 2014 (TV5) 3.9%
MMK: Ang Tahanan Mo: Picture (ABS-CBN) 30.7%; Magpakailanman (GMA-7) 19.5%; Tropa Mo Ko Nice Di Ba?! (TV5) 1.9%; Trenderas (TV5) 1.2%
I Do (ABS-CBN) 9.9%; Celebrity Bluff (GMA-7) 16.8%; Yaman ng Bayan (TV5) 1.6%
Banana Split Extra Scoop (ABS-CBN) 4.2%; Sports Unlimited (ABS-CBN) .9%; O Shopping (ABS-CBN) .4%; i-Witness (GMA-7) 10.5%; Numero (TV5) .6%; History with Lourd (TV5) .3%
The Bottom Line With Boy Abunda (ABS-CBN) 1.6%; Walang Tulugan With Master Showman (GMA-7) 1.8%; Bigtime (TV5) .3%; Shop Japan (TV5) .2%
---
September 28, 2014 (Sunday)
Morning:
The Healing Eucharist (ABS-CBN) 4.9%; Family TV Mass (GMA-7) 2%
Swak Na Swak (ABS-CBN) 4.5%; Grimm's Fairy Tales (GMA-7) 5.4%
Salamat Dok (ABS-CBN) 3.5%; Hayate the Combat Butler (GMA-7) 7.3%; Pokemon (GMA-7) 10.2%
Voltron Force (ABS-CBN) 3.6%; Tom & Jerry Kids Show (GMA-7) 11.6%
Max Steel (ABS-CBN) 4.6%; Super Book Classic (ABS-CBN) 7.3%; Aha! (GMA-7) 8.9%
Matanglawin (ABS-CBN) 9.7%; Born To Be Wild (GMA-7) 8.8%; iBilib (GMA-7) 7.6%
Kapamilya Blockbusters: Tangled (ABS-CBN) 14.2%; Superhero Sunday: Dragon Ball Z (GMA-7) 10.6%
Afternoon:
ASAP 19 (ABS-CBN) 11.1%; Kapuso Movie Festival: Marmaduke (GMA-7) 15.7%; Sunday All Stars (GMA-7) 7.6%
Luv U (ABS-CBN) 8.8%; The Buzz 15 (ABS-CBN) 8.6%; GMA Blockbusters: Gulliver's Travels (GMA-7) 9.8%
TV Patrol Weekend (ABS-CBN) 15.1%; 24 Oras Weekend (GMA-7) 11.9%; 17th Asian Games Incheon 2014 Men's Boxing (TV5) 2.9%
Evening:
Goin' Bulilit (ABS-CBN) 21.6%; Vampire Ang Daddy Ko (GMA-7) 15.6%
ADVERTISEMENT - CONTINUE READING BELOW
Wansapanataym: My App Boyfie (ABS-CBN) 27.7%; Ismol Family (GMA-7) 18.3%; Who Wants to be a Millionaire (TV5) 3.6%
Rated K: Handa Na Ba Kayo? (ABS-CBN) 23.5%; I Do (ABS-CBN) 13.7%; Kapuso Mo Jessica Soho (GMA-7) 22.1%; Quiet Please! Bawal Ang Maingay (TV5) 2.6%; Wow Mali Lakas ng Tama! (TV5) 3.9%
Gandang Gabi Vice (ABS-CBN) 12.9%; Sa Puso ni Dok (GMA-7) 7.8%; Astig (TV5) 1%
Sunday's Best: Himig Handog P-Pop Love Songs 2014 (ABS-CBN) 4.7%; O Shopping (ABS-CBN) .4%; MP Featuring Sport Science (GMA-7) 4%; Diyos at Bayan (GMA-7) .7%; Numero (TV5) .5%; Demolition Job (TV5) .6%; History with Lourd (TV5) .3%; Shop Japan (TV5) .3%
--
Here are the Top 10 daytime and primetime programs from September 22-28, 2014 among Total Philippines (Urban & Rural) households:

September 22, 2014 (Monday)
DAYTIME:
Be Careful With My Heart (ABS-CBN) – 13.3%
Bet on Your Baby (ABS-CBN) – 12.9%
It's Showtime (ABS-CBN) – 12.5%
Kapamilya Blockbusters (ABS-CBN) – 12.2%
Eat Bulaga! (GMA-7) – 11.9%
The Half Sisters (GMA-7) – 11.6%
The Ryzza Mae Show (GMA-7) – 10.8%
Dading (GMA-7) – 10.1%
Bistado (ABS-CBN) – 9.9%
The Singing Bee (ABS-CBN) / Hunter X Hunter (GMA-7) – 9.7%
PRIMETIME:
Hawak-Kamay (ABS-CBN) – 28.9%
Ikaw Lamang (ABS-CBN) – 28.1%
TV Patrol (ABS-CBN) – 27.4%
Pure Love (ABS-CBN) – 22.3%
Sana Bukas Pa Ang Kahapon (ABS-CBN) – 18.9%
My Destiny (GMA-7) – 18.3%
Strawberry Lane (GMA-7) – 18.2%
24 Oras (GMA-7) – 17.7%
Hiram na Alaala(GMA-7) – 13.5%
My BFF (GMA-7) – 11%

September 23, 2014 (Tuesday)
DAYTIME:
Be Careful With My Heart (ABS-CBN) – 13.9%
Kapamilya Blockbusters (ABS-CBN) – 12.4%
It's Showtime (ABS-CBN) – 12.3%
Eat Bulaga! (GMA-7) – 12.1%
The Singing Bee (ABS-CBN) – 11.7%
Bet On Your Baby (ABS-CBN) – 11.2%
The Half Sisters (GMA-7) – 10.8%
The Ryzza Mae Show (GMA-7) – 10.5%
Dading (GMA-7) – 10.4%
Mutya ng Masa (ABS-CBN) – 9.3%
PRIMETIME:
Hawak-Kamay (ABS-CBN) – 29.2%
TV Patrol (ABS-CBN) – 28.1%
Ikaw Lamang (ABS-CBN) – 26.7%
Pure Love (ABS-CBN) – 22.3%
Strawberry Lane (GMA-7) – 20.1%
My Destiny (GMA-7) – 19%
Sana Bukas Pa Ang Kahapon (ABS-CBN) – 18.1%
24 Oras (GMA-7) – 17.7%
Hiram na Alaala (GMA-7) – 13%
My BFF (GMA-7) – 11.4%

September 24, 2014 (Wednesday)
DAYTIME:
It's Showtime (ABS-CBN) – 13.3%
Be Careful With My Heart (ABS-CBN) – 13.1%
Eat Bulaga! (GMA-7) – 12.8%
Bet on Your Baby (ABS-CBN) – 11.7%
The Half Sisters (GMA-7) – 11.4%
The Ryzza Mae Show (GMA-7) – 11.2%
The Singing Bee (ABS-CBN) – 10.8%
Dading (GMA-7) – 10.6%
Kapamilya Blockbusters (ABS-CBN) – 10.1%
Hunter X Hunter (GMA-7) – 9.4%
PRIMETIME:
Hawak-Kamay (ABS-CBN) – 29.9%
Ikaw Lamang (ABS-CBN) – 29.2%
TV Patrol (ABS-CBN) – 28.5%
Pure Love (ABS-CBN) – 23.2%
Strawberry Lane (GMA-7) – 20.8%
Sana Bukas Pa Ang Kahapon (ABS-CBN) – 20.7%
My Destiny (GMA-7) – 18.8%
24 Oras (GMA-7) – 18.6%
Hiram na Alaala (GMA-7) – 12.9%
Aquino & Abunda Tonight (ABS-CBN) – 11.9%

September 25, 2014 (Thursday)
DAYTIME:
Be Careful With My Heart (ABS-CBN) – 14.4%
Bet on Your Baby (ABS-CBN) – 13.4%
The Singing Bee (ABS-CBN) – 12.9%
Eat Bulaga! (GMA-7) / The Half Sisters (GMA-7) / Dading (GMA-7) – 12.7%
It's Showtime (ABS-CBN) – 12.4%
May Queen (GMA-7) – 12%
Full House (GMA-7) – 11.7%
The Ryzza Mae Show (GMA-7) – 11.5%
Kapamilya Blockbusters (ABS-CBN) – 11.1%
The Half Sisters (GMA-7) – 10.7%
PRIMETIME:
Hawak-Kamay (ABS-CBN) – 29.4%
Ikaw Lamang (ABS-CBN) – 28.1%
TV Patrol (ABS-CBN) – 28.6%
Pure Love (ABS-CBN) – 24.5%
Sana Bukas Pa Ang Kahapon (ABS-CBN) – 20.6%
Strawberry Lane (GMA-7) – 20.4%
My Destiny (GMA-7) – 18.8%
24 Oras (GMA-7) – 18.6%
My BFF (GMA-7) – 13.4%
Hiram na Alaala (GMA-7) – 12.5%

September 26, 2014 (Friday)
DAYTIME:
Kapamilya Blockbusters (ABS-CBN) – 14.9%
Be Careful With My Heart (ABS-CBN) – 13.7%
It's Showtime (ABS-CBN) – 13.2%
The Half Sisters (GMA-7) – 12.7%
Bet On Your Baby (ABS-CBN) – 12.5%
Eat Bulaga! (GMA-7) – 12.3%
Dading (GMA-7) – 12.1%
The Singing Bee (ABS-CBN) / Hunter X Hunter (GMA-7) – 11.7%
Red Alert (ABS-CBN) - 11.4%
Bleach (GMA-7) – 10.8%
PRIMETIME:
Hawak-Kamay (ABS-CBN) / Ikaw Lamang (ABS-CBN) – 27.5%
TV Patrol (ABS-CBN) – 26.6%
Pure Love (ABS-CBN) – 21.7%
Strawberry Lane (GMA-7) – 20.9%
Sana Bukas Pa Ang Kahapon (ABS-CBN) – 20.4%
My Destiny (GMA-7) – 19.9%
24 Oras (GMA-7) – 17.3%
Hiram na Alaala (GMA-7) – 13.8%
Aquino & Abunda Tonight (ABS-CBN) – 13.4%
My BFF (GMA-7) – 11.6%

September 27, 2014 (Saturday)
DAYTIME:
It's Showtime (ABS-CBN) / TV Patrol Weekend (ABS-CBN) – 14.7%
Kapamilya Blockbusters (ABS-CBN) – 14.6%
Eat Bulaga! (GMA-7) – 13.7%
Ipaglaban Mo (ABS-CBN) - 12.3%
SOCO (ABS-CBN) – 12.2%
Angry Birds Toons (GMA-7) – 11.4%
Larva (GMA-7) – 10.6%
24 Oras Weekend (GMA-7) – 10.2%
Monsuno (GMA-7) - 9.9%
Failon Ngayon (ABS-CBN) – 9.6%
PRIMETIME:
MMK: Ang Tahanan Mo (ABS-CBN) – 30.7%
Wansapanataym (ABS-CBN) – 29.5%
Home Sweetie Home (ABS-CBN) – 25.4%
Mga Kwento ni Marc Logan (ABS-CBN) – 22%
Magpakailanman (GMA-7) – 19.5%
Pepito Manaloto: Ang Tunay na Kuwento (GMA-7) – 16.9%
Celebrity Bluff (GMA-7) – 16.8%
Marian (GMA-7) – 16.6%
I-Witness (GMA-7) – 10.5%
I Do (ABS-CBN) – 9.9%

September 28, 2014 (Sunday)
DAYTIME:
Kapuso Movie Festival (GMA-7) – 15.7%
TV Patrol Weekend (ABS-CBN) – 15.1%
Kapamilya Blockbusters (ABS-CBN) – 14.2%
24 Oras Weekend (GMA-7) – 11.9%
Tom & Jerry Kids Show (GMA-7) – 11.6%
ASAP 19 (ABS-CBN) – 11.1%
Superhero Sunday (GMA-7) – 10.6%
Pokemon (GMA-7) – 10.2%
GMA Blockbusters (GMA-7) – 9.8%
10. Matanglawin (ABS-CBN) – 9.7%
PRIMETIME:
Wansapanataym (ABS-CBN) – 27.7%
Rated K: Handa na ba Kayo? (ABS-CBN) – 23.5%
Kapuso Mo, Jessica Soho (GMA-7) – 22.1%
Goin' Bulilit (ABS-CBN) – 21.6%
Ismol Family (GMA-7) – 18.3%
Vampire Ang Daddy Ko (GMA-7) – 15.6%
I Do (ABS-CBN) – 13.7%
Gandang Gabi Vice (ABS-CBN) – 12.9%
Sa Puso ni Dok (GMA-7) – 7.8%
Sunday's Best: Himig Handog P-Pop Love Songs 2014 (ABS-CBN) – 4.7%


Source: Kantar/TNS