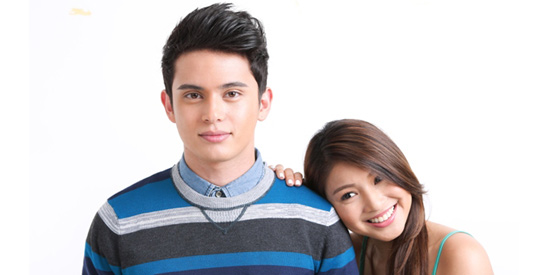 ---
ABS-CBN has regained daytime dominance from GMA-7. This is according to data based on the overnight ratings of Kantar Media/TNS among Total Philippines (Urban & Rural) on October 20 to 26, 2014.

During the given period, ABS-CBN has become the most-watched network on daytime with its programs It's Showtime, Be Careful With My Heart and Pedro Penduko.
In previous weeks, the Kapuso Network sat on the throne with its high-rating afternoon drama The Half Sisters.
The Kapamilya channel remains as the king of primetime. On this week, the most-watched program was Ikaw Lamang, which was on its finale week.
Ikaw Lamang starred Kim Chiu and Coco Martin in a love story that spanned generations. It started airing on March 10 and had a total of 162 episodes.
Other Kapamilya primetime winners include Hawak-Kamay, TV Patrol, Pure Love and Two Wives.
GMA-7 aired the pilot episode of a new series last October 20: Ilustrado, which stars Alden Richards as Jose Rizal. Ilustrado got a rating of 11.5%, much lower than its counterpart program Two Wives, which registered 20.9%.

ABS-CBN is also the winner of weekend ratings. It's Showtime and Wansapanataym topped the ratings charts on Saturday, October 25. TV Patrol Weekend and Wansapanataym were first-placers on Sunday, October 26.
Wansapanataym: My App Boyfie, starring James Reid and Nadine Lustre, was able to beat the two Kapuso pitted against it. The October 25 episode of My App Boyfie got 27.9%, which is much higher compared to the ratings of Marian Rivera's dance-musical show Marian that got 16.7%. The October 26 finale of My App Boyfie registered 28.4%, allowing it to beat its rival show, Ismol Family, that got 15.7%.
ADVERTISEMENT - CONTINUE READING BELOW
The second placer was the pilot episode of The Voice of the Philippines Season 2, a singing competition that features Sarah Geronimo, Bamboo Manalac, Lea Salonga and apl.de.ap as coaches. The Voice PH scored 28.3% while its rival show Kapuso Mo Jessica Soho registered 17.2%.
Here are the comparative Household Ratings of ABS-CBN, TV5, and GMA-7 programs from October 20 to 26, 2014 based on the overnight ratings of Kantar Media/TNS among Total Philippines (Urban & Rural) households.
October 20, 2014 (Monday)
Morning:
Kape't Pandesal (ABS-CBN) .2%; Matanglawin Replay (ABS-CBN) .7%; Powerhouse Replay (GMA-7) .8%
Umagang Kay Ganda (ABS-CBN) 3.3%; Unang Hirit (GMA-7) 3.8%
Kris TV (ABS-CBN) 6%; Doraemon (GMA-7) 8%; Ghost Fighter (GMA-7) 10.2%; Shaman King (GMA-7) 11.4%; Bleach (GMA-7) 11.6%; Hunter X Hunter (GMA-7) 12.4%
Spongebob Squarepants (ABS-CBN) 6.7%; Dragon Ball Z Kai (GMA-7) 12.7%
Princess Sarah (ABS-CBN) 9.1%; Marcelino Pan Y Vino (ABS-CBN) 11.7%; Return of the Wife (GMA-7) 7.1%
Pedro Penduko (ABS-CBN) 15.4%; Basta Everyday Happy (GMA-7) 5%
The Singing Bee (ABS-CBN) 14.5%; Don't Lose the Money (GMA-7) 6.3%
Be Careful With My Heart (ABS-CBN) 16.3%; The Ryzza Mae Show (GMA-7) 9.3%
Afternoon:
It's Showtime (ABS-CBN) 17.6%; Eat Bulaga! (GMA-7) 14.2%; The Half Sisters (GMA-7) 15.9%
Kapamilya Blockbusters: Tarot (ABS-CBN) 13.9%; Yagit (GMA-7) 11.2%; Ang Lihim ni Annasandra (GMA-7) 8.6%
Bistado (ABS-CBN) 9.9%; Alisto! (GMA-7) 7.9%
Bet On Your Baby (ABS-CBN) 12.5%; May Queen (GMA-7) 8%; Full House (GMA-7) 10%
Evening:
Pure Love (ABS-CBN) 25.1%; Seasons of Love Presents (GMA-7) 13.2%
TV Patrol (ABS-CBN) 29.8%; 24 Oras (GMA-7) 17.4%; Aksyon (TV5) 2.4%
Hawak-Kamay (ABS-CBN) 29.7%; Strawberry Lane (GMA-7) 17.8%; Movie Max 5 (TV5) 4.1%
Ikaw Lamang (ABS-CBN) 31.3%; Hiram na Alaala (GMA-7) 14.2%; The Amazing Race Philippines (TV5) 2%
Two Wives (ABS-CBN) 20.9%; Ilustrado (GMA-7) 11.5%; Wattpad Presents (TV5) 1.5%
Aquino & Abunda Tonight (ABS-CBN) 12.2%; Bet ng Bayan (GMA-7) 9%; Aksyon Tonite (TV5) 1.1%
ADVERTISEMENT - CONTINUE READING BELOW
Angel Eyes (ABS-CBN) 8%; Empress Ki (GMA-7) 7.3%; Demolition Job (TV5) 1%
Bandila (ABS-CBN) 4.1%; Saksi (GMA-7) 4.2%; T3 Enforced Replay (TV5) .6%; Face the People Replay (TV5) .6%
Mukha (ABS-CBN) 2.3%; Front Row (GMA-7) 2.3%
O Shopping (ABS-CBN) .6%; The Medyo Late Night Show (GMA-7) .9%; Shop Japan (TV5) .3%
---
October 21, 2014 (Tuesday)
Morning:
Kape't Pandesal (ABS-CBN) .3%; Red Alert Replay (ABS-CBN) .7%; I-Witness Replay (GMA-7) 1.3%
Umagang Kay Ganda (ABS-CBN) 3.2%; Unang Hirit (GMA-7) 4.4%
Kris TV (ABS-CBN) 5.1%; Doraemon (GMA-7) 9%; Ghost Fighter (GMA-7) 11.3%; Shaman King (GMA-7) 12.6%; Bleach (GMA-7) 13.3%
Spongebob Squarepants (ABS-CBN) 5.9%; Hunter X Hunter (GMA-7) 14.4%
Princess Sarah (ABS-CBN) 8.9%; Dragon Ball Z Kai (GMA-7) 12.9%
Marcelino Pan Y Vino (ABS-CBN) 12.7%; Return of the Wife (GMA-7) 7.6%
Pedro Penduko (ABS-CBN) 15.3%; Basta Everyday Happy (GMA-7) 5.6%
The Singing Bee (ABS-CBN) 14.1%; Don't Lose the Money (GMA-7) 7.7%
Be Careful With My Heart (ABS-CBN) 14.4%; The Ryzza Mae Show (GMA-7) 10.8%
Afternoon:
It's Showtime (ABS-CBN) 17.7%; Eat Bulaga! (GMA-7) 13.2%
Kapamilya Blockbusters: Abduction (ABS-CBN) 13%; The Half Sisters (GMA-7) 16%; Yagit (GMA-7) 12%; Ang Lihim ni Annasandra (GMA-7) 9.8%
Mutya ng Masa (ABS-CBN) 8.1%; Tunay na Buhay (GMA-7) 8.5%
Bet On Your Baby (ABS-CBN) 11.8%; May Queen (GMA-7) 9.1%; Full House (GMA-7) 10.8%
Evening:
Pure Love (ABS-CBN) 24.7%; Seasons of Love Presents (GMA-7) 13.4%
TV Patrol (ABS-CBN) 29%; 24 Oras (GMA-7) 16.6%; Aksyon (TV5) 3.1%
Hawak-Kamay (ABS-CBN) 28.9%; Strawberry Lane (GMA-7) 17.7%; 2014-2015 PBA Philippine Cup Live (TV5) 4.2%
Ikaw Lamang (ABS-CBN) 31.5%; Hiram na Alaala (GMA-7) 14.7%; Movie Max 5 (TV5) 3.4%
Two Wives (ABS-CBN) 21%; Ilustrado (GMA-7) 11.6%; The Amazing Race Philippines (TV5) 2.2%
Aquino & Abunda Tonight (ABS-CBN) 10.9%; Bet ng Bayan (GMA-7) 9.4%; Wattpad Presents (TV5) 1.9%
Angel Eyes (ABS-CBN) 8.1%; Empress Ki (GMA-7) 7%; Aksyon Tonite (TV5) 1.1%
Bandila (ABS-CBN) 4.1%; Saksi (GMA-7) 3.7%; Numero (TV5) .6%; T3 Enforced Replay (TV5) .5%
Banana Nite (ABS-CBN) 2.1%; The Blue Planet (GMA-7) 2.3%; Face the People Replay (TV5) .6%
ADVERTISEMENT - CONTINUE READING BELOW
O Shopping (ABS-CBN) .5%; The Medyo Late Night Show (GMA-7) 1.1%; Shop Japan (TV5) .1%
---
October 22, 2014 (Wednesday)
Morning:
Kape't Pandesal (ABS-CBN) .3%; My Puhunan Replay (ABS-CBN) .7%; Tunay na Buhay Replay (GMA-7) 1%
Umagang Kay Ganda (ABS-CBN) 3.5%; Unang Hirit (GMA-7) 3.7%
Kris TV (ABS-CBN) 5.3%; Doraemon (GMA-7) 9.3%; Ghost Fighter (GMA-7) 11.7%; Shaman King (GMA-7) 12.5%; Bleach (GMA-7) 11.5%; Hunter X Hunter (GMA-7) 12.3%
Spongebob Squarepants (ABS-CBN) 7.4%; Dragon Ball Z Kai (GMA-7) 12.6%
Princess Sarah (ABS-CBN) 10.8%; Marcelino Pan Y Vino (ABS-CBN) 13.9%; Return of the Wife (GMA-7) 7.1%
Pedro Penduko (ABS-CBN) 16.5%; Basta Everyday Happy (GMA-7) 5.2%
The Singing Bee (ABS-CBN) 15.1%; Don't Lose the Money (GMA-7) 7.1%
Be Careful With My Heart (ABS-CBN) 15.7%; The Ryzza Mae Show (GMA-7) 9.6%
Afternoon:
It's Showtime (ABS-CBN) 18%; Eat Bulaga! (GMA-7) 13.5%; The Half Sisters (GMA-7) 13.9%
Kapamilya Blockbusters (ABS-CBN) 15.2%; Yagit (GMA-7) 12.4%; Ang Lihim ni Annasandra (GMA-7) 10.7%
My Puhunan (ABS-CBN) 9.2%; Powerhouse (GMA-7) 8.2%
Bet On Your Baby (ABS-CBN) 11.9%; May Queen (GMA-7) 8.2%; Full House (GMA-7) 9.5%
Evening:
Pure Love (ABS-CBN) 23.5%; Seasons of Love Presents (GMA-7) 13.3%
TV Patrol (ABS-CBN) 27.4%; 24 Oras (GMA-7) 17.9%; Aksyon (TV5) 3.6%;
Hawak-Kamay (ABS-CBN) 28%; Strawberry Lane (GMA-7) 17.9%; 2014-2015 PBA Philippine Cup Live (TV5) 5%
Ikaw Lamang (ABS-CBN) 29%; Hiram na Alaala (GMA-7) 14.5%
Two Wives (ABS-CBN) 18.6%; Ilustrado (GMA-7) 10.1%; The Amazing Race Philippines (TV5) 2.7%
Aquino & Abunda Tonight (ABS-CBN) 10.7%; Bet ng Bayan (GMA-7) 7.6%
Angel Eyes (ABS-CBN) 7.3%; Empress Ki (GMA-7) 6.8%; Wattpad Presents (TV5) 1.3%
Bandila (ABS-CBN) 3.2%; Saksi (GMA-7) 4.1%; Aksyon Tonite (TV5) .8%; History with Lourd (TV5) .5%
Banana Nite (ABS-CBN) 1.9%; Planet Earth (GMA-7) 2.7%; T3 Enforced Replay (TV5) .4%
O Shopping (ABS-CBN) .6%; The Medyo Late Night Show (GMA-7) 1.1%; Shop Japan (TV5) .2%
---
October 23, 2014 (Thursday)
Morning:
Kape't Pandesal (ABS-CBN) .4%; Tapatan ni Tunying Replay (ABS-CBN) .7%; Born to be Wild Replay (GMA-7) .9%
ADVERTISEMENT - CONTINUE READING BELOW
Umagang Kay Ganda (ABS-CBN) 3.4%; Unang Hirit (GMA-7) 3.7%
Kris TV (ABS-CBN) 5.7%; Doraemon (GMA-7) 10%; Ghost Fighter (GMA-7) 12%; Shaman King (GMA-7) 12.7%; Bleach (GMA-7) 11.8%
Spongebob Squarepants (ABS-CBN) 6.4%; Hunter X Hunter (GMA-7) 13.7%
Princess Sarah (ABS-CBN) 8.6%; Marcelino Pan Y Vino (ABS-CBN) 22.3%; Dragon Ball Z Kai (GMA-7) 13.6%
Pedro Penduko (ABS-CBN) 14.2%; Return of the Wife (GMA-7) 7.6%
The Singing Bee (ABS-CBN) 13.7%; Basta Everyday Happy (GMA-7) 5.8%; Don't Lose the Money (GMA-7) 6.9%
Be Careful With My Heart (ABS-CBN) 15%; The Ryzza Mae Show (GMA-7) 8.8%
Afternoon:
It's Showtime (ABS-CBN) 18.6%; Eat Bulaga! (GMA-7) 12.3%
Kapamilya Blockbusters: The Waterboy (ABS-CBN) 13.2%; The Half Sisters (GMA-7) 14.6%; Yagit (GMA-7) 11.6%; Ang Lihim ni Annasandra (GMA-7) 10.3%
Tapatan ni Tunying (ABS-CBN) 7.9%; Reporter's Notebook (GMA-7) 7.7%
Bet On Your Baby (ABS-CBN) 11.3%; May Queen (GMA-7) 8.1%; Full House (GMA-7) 10.6%
Evening:
Pure Love (ABS-CBN) 24.4%; Seasons of Love Presents (GMA-7) 15%
TV Patrol (ABS-CBN) 29.8%; 24 Oras (GMA-7) 17.5%; Aksyon (TV5) 3.1%
Hawak-Kamay (ABS-CBN) 30.3%; Strawberry Lane (GMA-7) 17.5%; Movie Max 5 (TV5) 5%
Ikaw Lamang (ABS-CBN) 32.2%; Hiram na Alaala (GMA-7) 13.2% ; The Amazing Race Philippines (TV5) 1.7%
Two Wives (ABS-CBN) 20.5%; Ilustrado (GMA-7) 9.2%; Bet ng Bayan (GMA-7) 8.3%; Wattpad Presents (TV5) 1.3%; Aksyon Tonite (TV5) 1.1%
Aquino & Abunda Tonight (ABS-CBN) 10.4%; Angel Eyes (ABS-CBN) 6.4%; Empress Ki (GMA-7) 7.5%; Unang Tikim (TV5) .8%
Bandila (ABS-CBN) 3%; Saksi (GMA-7) 4.3%; T3 Enforced Replay (TV5) .4%
Banana Nite (ABS-CBN) 1.8%; Planet Earth (GMA-7) 2.8%; Face the People Replay (TV5) .2%
O Shopping (ABS-CBN) .6%; The Medyo Late Night Show (GMA-7) 1.2%; Shop Japan (TV5) .1%
--
October 24, 2014 (Friday)
Morning:
Kape't Pandesal (ABS-CBN) .2%; Mga Kwento ni Marc Logan Replay (ABS-CBN) .6%; Alisto! Replay (GMA-7) .8%
Umagang Kay Ganda (ABS-CBN) 2.7%; Unang Hirit (GMA-7) 3.4%
Kris TV (ABS-CBN) 4.7%; Doraemon (GMA-7) 8.4%; Ghost Fighter (GMA-7) 10.4%; Shaman King (GMA-7) 11.5%; Bleach (GMA-7) 12.2%
Spongebob Squarepants (ABS-CBN) 5.5%; Hunter X Hunter (GMA-7) 12.5%
ADVERTISEMENT - CONTINUE READING BELOW
Princess Sarah (ABS-CBN) 7.7%; Dragon Ball Z Kai (GMA-7) 11.9%
Marcelino Pan Y Vino (ABS-CBN) 11.3%; Return of the Wife (GMA-7) 5.9%
Pedro Penduko (ABS-CBN) 13.6%; Basta Everyday Happy (GMA-7) 4.1%
The Singing Bee (ABS-CBN) 13%; Don't Lose the Money (GMA-7) 5.2%
Be Careful With My Heart (ABS-CBN) 14.9%; The Ryzza Mae Show (GMA-7) 7.9%
Afternoon:
It's Showtime (ABS-CBN) 17.4%; Eat Bulaga! (GMA-7) 11.5%
Kapamilya Blockbusters: Tulak ng Bibig Kabig ng Dibdib (ABS-CBN) 14%; The Half Sisters (GMA-7) 13.4%; Yagit (GMA-7) 10.8%; Ang Lihim ni Annasandra (GMA-7) 7.9%
Red Alert (ABS-CBN) 8.4%; Love Hotline (GMA-7) 6.6%
Bet On Your Baby (ABS-CBN) 11.9%; May Queen (GMA-7) 7.6%; Full House (GMA-7) 9.7%
Evening:
Pure Love (ABS-CBN) 21.9%; Elemento (GMA-7) 14.4%
TV Patrol (ABS-CBN) 26.3%; 24 Oras (GMA-7) 16.8%; Aksyon (TV5) 2.8%
Hawak-Kamay (ABS-CBN) 29.6%; Strawberry Lane (GMA-7) 17.9%; 2014-2015 PBA Philippine Cup Live (TV5) 3.5%
Ikaw Lamang (ABS-CBN) 34.1%; Hiram na Alaala (GMA-7) 13.1%; The Amazing Race Philippines (TV5) 1.7%
Two Wives (ABS-CBN) 19.4%; Ilustrado (GMA-7) 10.1%; Wattpad Presents (TV5) 2%
Aquino & Abunda Tonight (ABS-CBN) 10.2%; Bet ng Bayan (GMA-7) 8.5%; Aksyon Tonite (TV5) .9%
Angel Eyes (ABS-CBN) 6.1%; Bandila (ABS-CBN) 2.7%; Bubble Gang (GMA-7) 7.6%; Astig (TV5) .5%; T3 Enforced Replay (TV5) .5%
Banana Nite (ABS-CBN) 2.7%; Saksi (GMA-7) 3.2%; Face the People Replay (TV5) .5%
O Shopping (ABS-CBN) .4%; The Medyo Late Night Show (GMA-7) 1.2%; Shop Japan (TV5) .2%
---
October 25, 2014 (Saturday)
Sa Kabukiran (ABS-CBN) .9%; Kapwa Ko Mahal Ko (GMA-7) 1.2%
Salamat Dok (ABS-CBN) 2.2%; Pinoy MD Mga Doktor Ng Bayan (GMA-7) 3.5%
Swak Na Swak (ABS-CBN) 3%; Puppy in My Pocket (GMA-7) 6.6%
Honey Watch Out (ABS-CBN) 2.4%; Kamen Rider Ooo (GMA-7) 9.6%
Math Tinik (ABS-CBN) 2.8%; Larva (GMA-7) 11.9%
Tuff Puppy (ABS-CBN) 3.7%; Angry Birds Toons (GMA-7) 10.8%
Spongebob Squarepants (ABS-CBN) 5.8%; Monsuno (GMA-7) 8.6%
Super Book (ABS-CBN) 9.3%; Tropang Potchi (GMA-7) 6.8%
Kapamilya Blockbusters: Enchanted (ABS-CBN) 14.2%; Sarap Diva (GMA-7) 4.6%; Maynila (GMA-7) 6.9%
ADVERTISEMENT - CONTINUE READING BELOW
Afternoon:
It's Showtime (ABS-CBN) 17.9%; Eat Bulaga! (GMA-7) 12%; True Horror Stories (GMA-7) 9.2%
Ipaglaban Mo (ABS-CBN) 12.8%; Wish Ko Lang (GMA-7) 8.1%
Failon Ngayon (ABS-CBN) 8.1%; Startalk (GMA-7) 6.5%
SOCO (ABS-CBN) 10.1%; Imbestigador (GMA-7) 7.7%
TV Patrol Weekend (ABS-CBN) 16.4%; 24 Oras Weekend (GMA-7) 10.6%; 2014-2015 PBA Philippine Cup Live (TV5) 4.6%
Evening:
Mga Kwento ni Marc Logan (ABS-CBN) 21.8%; Home Sweetie Home (ABS-CBN) 25.1%; Pepito Manaloto: Ang Tunay na Kuwento (GMA-7) 17%
Wansapanataym: My App Boyfie (ABS-CBN) 27.9%; Marian (GMA-7) 16.7%; Talentadong Pinoy 2014 (TV5) 3.9%
MMK: Ang Tahanan Mo: Bonnet (ABS-CBN) 25.3%; Magpakailanman (GMA-7) 18.8%; Tropa Mo Ko Nice Di Ba?! (TV5) 2.5%; The Amazing Race Philippines (TV5) 1.4%
I Do (ABS-CBN) 9.6%; Celebrity Bluff (GMA-7) 15%; i-Witness (GMA-7) 7.4%; Trenderas (TV5) .7%; Kaya. (TV5) .9%
Banana Split Extra Scoop (ABS-CBN) 4.2%; The Bottom Line With Boy Abunda (ABS-CBN) 1.5%; Sports Unlimited (ABS-CBN) .6%; O Shopping (ABS-CBN) .3%; Walang Tulugan With Master Showman (GMA-7) 1.4%; History with Lourd (TV5) .5%; Bigtime (TV5) .4%; Shop Japan (TV5) .1%
---
October 26, 2014 (Sunday)
Morning:
The Healing Eucharist (ABS-CBN) 4.7%; Family TV Mass (GMA-7) 1.9%
Swak Na Swak (ABS-CBN) 4.4%; Grimm's Fairy Tales (GMA-7) 5.3%; Kamen Rider Ooo (GMA-7) 8%
Salamat Dok (ABS-CBN) 3.3%; One Piece (GMA-7) 10.2%
Voltron Force (ABS-CBN) 4.3%; Tom & Jerry Kids Show (GMA-7) 11%
Max Steel (ABS-CBN) 4.6%; Aha! (GMA-7) 9.9%
Super Book Classic (ABS-CBN) 6.8%; Born To Be Wild (GMA-7) 9.3%
Matanglawin (ABS-CBN) 9.2%; iBilib (GMA-7) 7.5%
Kapamilya Blockbusters (ABS-CBN) 11.2%; Bonakid Pre-School Ready Set Laban! (GMA-7) 5.9%; Superhero Sunday (GMA-7) 11.5%
Afternoon:
ASAP 19 (ABS-CBN) 10.9%; Kapuso Movie Festival (GMA-7) 13.7%; Sunday All Stars (GMA-7) 6.9%
Luv U (ABS-CBN) 8.5%; The Buzz 15 (ABS-CBN) 8.1%; GMA Blockbusters (GMA-7) 8.5%
TV Patrol Weekend (ABS-CBN) 17.3%; 24 Oras Weekend (GMA-7) 10.4%; 2014-2015 PBA Philippine Cup Live (TV5) 5.9%
Evening:
Goin' Bulilit (ABS-CBN) 22.5%; Vampire Ang Daddy Ko (GMA-7) 14.5%
Wansapanataym: My App Boyfie (ABS-CBN) 28.4%; Ismol Family (GMA-7) 15.7%; Who Wants to be a Millionaire (TV5) 4.6%
ADVERTISEMENT - CONTINUE READING BELOW
Rated K: Handa Na Ba Kayo? (ABS-CBN) 24.2%; The Voice of the Philippines (ABS-CBN) 28.3%; Kapuso Mo Jessica Soho (GMA-7) 17.2%; Quiet Please! Bawal Ang Maingay (TV5) 2.6%; The Amazing Race Philippines (TV5) .8%
Gandang Gabi Vice (ABS-CBN) 17.9%; Bet ng Bayan (GMA-7) 7.8%; Wow Mali Lakas ng Tama! (TV5) 2.2%
Sunday's Best (ABS-CBN) 3.4%; URCC 25 (GMA-7) 4.2%; Wattpad Presents (TV5) 1.4%
O Shopping (ABS-CBN) .6%; Diyos at Bayan (GMA-7) .7%; Shop Japan (TV5) .2%
--
Here are the Top 10 daytime and primetime programs from October 20-26, 2014 among Total Philippines (Urban & Rural) households:
October 20, 2014 (Monday)
DAYTIME:
It's Showtime (ABS-CBN) - 17.6%
Be Careful With My Heart (ABS-CBN) – 16.3%
The Half Sisters (GMA-7) – 15.9%
Pedro Penduko (ABS-CBN) – 15.4%
The Singing Bee (ABS-CBN) – 14.5%
Eat Bulaga! (GMA-7) – 14.2%
Kapamilya Blockbusters (ABS-CBN) – 13.9%
Dragon Ball Z Kai (GMA-7) – 12.7%
Bet on Your Baby (ABS-CBN) – 12.5%
Hunter X Hunter (GMA-7) – 12.4%
PRIMETIME:
Ikaw Lamang (ABS-CBN) – 31.3%
TV Patrol (ABS-CBN) – 29.8%
Hawak-Kamay (ABS-CBN) – 29.7%
Pure Love (ABS-CBN) – 25.1%
Two Wives (ABS-CBN) – 20.9%
Strawberry Lane (GMA-7) – 17.8%
24 Oras (GMA-7) – 17.4%
Hiram na Alaala (GMA-7) – 14.2%
Seasons of Love Presents (GMA-7) – 13.2%
Aquino & Abunda Tonight (ABS-CBN) - 12.2%
October 21, 2014 (Tuesday)
DAYTIME:
It's Showtime (ABS-CBN) – 17.7%
The Half Sisters (GMA-7) – 16%
Pedro Penduko (ABS-CBN) – 15.3%
Be Careful With My Heart (ABS-CBN) / Hunter X Hunter (GMA-7) – 14.4%
The Singing Bee (ABS-CBN) – 14.1%
Bleach (GMA-7) – 13.3%
Eat Bulaga! (GMA-7) – 13.2%
Kapamilya Blockbusters (ABS-CBN) - 13%
Dragon Ball Z Kai (GMA-7) – 12.9%
Marcelino Pan Y Vino (ABS-CBN) - 12.7%
PRIMETIME:
Ikaw Lamang (ABS-CBN) – 31.5%
TV Patrol (ABS-CBN) – 29%
Hawak-Kamay (ABS-CBN) – 28.9%
Pure Love (ABS-CBN) – 24.7%
Two Wives (ABS-CBN) -21%
Strawberry Lane (GMA-7) – 17.7%
24 Oras (GMA-7) – 16.6%
Hiram na Alaala (GMA-7) – 14.7%
Seasons of Love Presents (GMA-7) - 13.4%
Ilustrado(GMA-7) – 11.6%
October 22, 2014 (Wednesday)
DAYTIME:
It's Showtime (ABS-CBN) – 18%
Pedro Penduko(ABS-CBN) – 16.5%
Be Careful With My Heart (ABS-CBN) – 15.7%
Kapamilya Blockbusters (ABS-CBN) – 15.2%
The Singing Bee (ABS-CBN) – 15.1%
Marcelino Pan Y Vino (ABS-CBN) / The Half Sisters (GMA-7) – 15.1%
Eat Bulaga! (GMA-7) – 13.5%
Dragon Ball Z Kai (GMA-7) – 12.6%
Shaman King (GMA-7) – 12.5%
Yagit (GMA-7) - 12.4%
PRIMETIME:
Ikaw Lamang (ABS-CBN) – 29%
Hawak-Kamay (ABS-CBN) – 28%
TV Patrol (ABS-CBN) - 27.4%
Pure Love (ABS-CBN) – 23.5%
Two Wives (ABS-CBN) – 18.6%
24 Oras (GMA-7) / Strawberry Lane (GMA-7) – 17.9%
Hiram na Alaala (GMA-7) – 14.5%
Seasons of Love Presents (GMA-7) – 13.3%
Aquino & Abunda Tonight (GMA-7) – 10.7%
Ilustrado(GMA-7) – 10.1%
October 23, 2014 (Thursday)
DAYTIME:
It's Showtime (ABS-CBN) - 18.6%
Be Careful With My Heart (ABS-CBN) - 15%
The Half Sisters (GMA-7) – 14.6%
Pedro Penduko (ABS-CBN) - 14.2%
The Singing Bee (ABS-CBN) / Hunter X Hunter (GMA-7) – 13.7%
Dragon Ball Z Kai (GMA-7) - 13.6%
Kapamilya Blockbusters (ABS-CBN) - 13.2%
Shaman King (GMA-7) – 12.7%
Eat Bulaga! (GMA-7) – 12.3%
Ghost Fighter (GMA-7) – 12%
PRIMETIME:
Ikaw Lamang (ABS-CBN) – 32.2%
Hawak-Kamay (ABS-CBN) – 30.3%
TV Patrol (ABS-CBN) – 29.8%
Pure Love (ABS-CBN) – 24.4%
Two Wives (ABS-CBN) - 20.5%
24 Oras (GMA-7) / Strawberry Lane (GMA-7) – 17.5%
Seasons of Love Presents (GMA-7) - 15%
Hiram na Alaala (GMA-7) – 13.2%
Aquino & Abunda Tonight (GMA-7) – 10.4%
Ilustrado (GMA-7) – 9.2%
October 24, 2014 (Friday)
DAYTIME:
It's Showtime (ABS-CBN) – 17.4%
Be Careful With My Heart (ABS-CBN) - 14.9%
Kapamilya Blockbusters (ABS-CBN) – 14%
Pedro Penduko (ABS-CBN) - 13.6%
The Half Sisters (GMA-7) – 13.4%
The Singing Bee (ABS-CBN) - 13%
Hunter X Hunter (GMA-7) – 12.5%
Bleach (GMA-7) – 12.2%
Bet On Your Baby (ABS-CBN) / Dragon Ball Z Kai (GMA-7) - 11.9%
Shaman King (GMA-7) / Eat Bulaga! (GMA-7) – 11.5%
PRIMETIME:
Ikaw Lamang (ABS-CBN) – 34.1%
Hawak-Kamay (ABS-CBN) – 29.6%
TV Patrol (ABS-CBN) – 26.3%
Pure Love (ABS-CBN) - 21.9%
Two Wives (ABS-CBN) - 19.4%
Strawberry Lane (GMA-7) – 17.9%
24 Oras (GMA-7) – 16.8%
Elemento (GMA-7) – 21.8%
Hiram na Alaala (GMA-7) – 13.1%
Aquino & Abunda Tonight (ABS-CBN) - 10.2%
October 25, 2014 (Saturday)
DAYTIME:
It's Showtime (ABS-CBN) – 17.9%
TV Patrol Weekend (ABS-CBN) – 16.4%
Kapamilya Blockbusters (ABS-CBN) – 14.2%
Ipaglaban Mo (ABS-CBN) – 12.8%
Eat Bulaga! (GMA-7) – 12%
Larva (GMA-7) – 11.9%
Angry Birds Toons (GMA-7) – 10.8%
24 Oras Weekend (GMA-7) – 10.6%
SOCO (ABS-CBN) – 10.1%
Kamen Rider Ooo (GMA-7) – 9.6%
PRIMETIME:
Wansapanataym (ABS-CBN) – 27.9%
MMK: Ang Tahanan Mo (ABS-CBN) – 25.3%
Home Sweetie Home (ABS-CBN) – 25.1%
Mga Kwento ni Marc Logan (ABS-CBN) – 21.8%
Magpakailanman (GMA-7) – 18.8%
Pepito Manaloto: Ang Tunay na Kuwento (GMA-7) – 17%
Marian (GMA-7) – 16.7%
Celebrity Bluff (GMA-7) – 15%
I Do(ABS-CBN) – 9.6%
I-Witness (GMA-7) – 7.4%
October 19, 2014 (Sunday)
DAYTIME:
TV Patrol Weekend (ABS-CBN) – 17.3%
Kapuso Movie Festival (GMA-7) – 13.7%
Superhero Sunday (GMA-7) – 11.5%
Kapamilya Blockbusters (ABS-CBN) – 11.2%
Tom & Jerry Kids Show (GMA-7) – 11%
ASAP 19 (ABS-CBN) – 10.9%
24 Oras Weekend (GMA-7) – 10.4%
One Piece (GMA-7) – 10.2%
9. Aha! (GMA-7) – 9.9%
10. Born to be Wild (GMA-7) – 9.3%
PRIMETIME:
Wansapanataym (ABS-CBN) – 28.4%
The Voice of the Philippines (ABS-CBN) – 28.3%
Rated K: Handa na ba Kayo? (ABS-CBN) – 24.2%
Goin' Bulilit (ABS-CBN) – 22.5%
Gandang Gabi Vice (ABS-CBN) – 17.9%
Kapuso Mo, Jessica Soho (GMA-7) – 17.2%
Ismol Family (GMA-7) – 15.7%
Vampire Ang Daddy Ko (GMA-7) – 14.5%
Bet ng Bayan (GMA-7) – 7.8%
Who Wants to be a Millionaire (TV5) - 4.6%



Source: Kantar/TNS