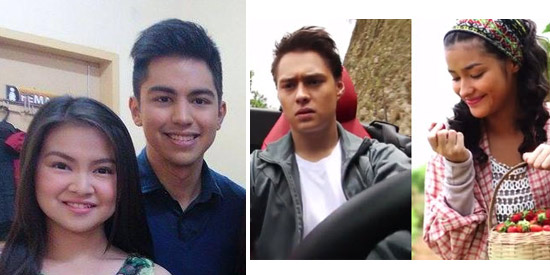 ---
ABS-CBN and GMA-7 are on a tight race to dominate the Philippine TV landscape. This is according to data based on the overnight ratings of Kantar Media/TNS among Total Philippines (Urban & Rural) on November 10-16, 2014.
During the given period, GMA-7 was the over-all winner on daytime while ABS-CBN was the leader on primetime.
GMA-7's afternoon series The Half Sisters was the most-watched show on daytime. The family drama that stars Barbie Forteza, Thea Tolentino, Derrick Monasterio and Andre Paras topped the charts from November 10 to 14. (ABS-CBN's Be Careful With My Heart tied on November 11.)
ABS-CBN is the weekday primetime winner with its shows Forevermore and the primetime newscast TV Patrol. Forevermore is a romantic drama starring Enrique Gil and Liza Soberano.
Other Kapamilya primetime shows also get better ratings than their Kapuso counterparts. Pure Love, which ended on November 14, got triple the ratings compared to GMA-7's Coffee Prince re-airing. The infidelity drama Two Wives defeated the finale week of the Kapuso bayani-serye Ilustrado.
ABS-CBN is also the frontrunner on weekends.
On Saturday, November 15, the best-rating show was Maalaala Mo Kaya: Ang Tahanan Mo. The MMK episode featured Ejay Falcon as one of the victims in the Tacloban storm surge tragedy. It registered a rating of 30.7%.
The winner on Sunday, November 16, is the second season of The Voice of the Philippines, a singing competition that features Sarah Geronimo, Bamboo Mañalac, Lea Salonga and apl.de.ap as coaches. It scored 30%.
Here are the comparative Household Ratings of ABS-CBN, TV5, and GMA-7 programs from November 10-16, 2014 based on the overnight ratings of Kantar Media/TNS among Total Philippines (Urban & Rural) households:
ADVERTISEMENT - CONTINUE READING BELOW
November 10, 2014 (Monday)
Morning:
Kape't Pandesal (ABS-CBN) .2%; Matanglawin Replay (ABS-CBN) .6%; Powerhouse Replay (GMA-7) .8%
Umagang Kay Ganda (ABS-CBN) 3.8%; Unang Hirit (GMA-7) 3.5%
Kris TV (ABS-CBN) 4.1%; Doraemon (GMA-7) 5.6%; Ghost Fighter (GMA-7) 6.7%; Shaman King (GMA-7) 7.6%;Bleach (GMA-7) 8.4%
Spongebob Squarepants (ABS-CBN) 4.5%; Hunter X Hunter (GMA-7) 9%
Princess Sarah (ABS-CBN) 5.7%; One Piece (GMA-7) 8.7%
Marcelino Pan Y Vino (ABS-CBN) 7.2%; Return of the Wife (GMA-7) 6.1%
Pedro Penduko (ABS-CBN) 9.6%; Basta Everyday Happy (GMA-7) 5.2%
The Singing Bee (ABS-CBN) 12%; Don't Lose the Money (GMA-7) 5.7%
Be Careful With My Heart (ABS-CBN) 13.7%; The Ryzza Mae Show (GMA-7) 9%
Afternoon:
It's Showtime (ABS-CBN) 12.5%; Eat Bulaga! (GMA-7) 12.8%
Kapamilya Blockbusters: Reign of Fire (ABS-CBN) 10.6%; The Half Sisters (GMA-7) 14.6%; Yagit (GMA-7) 11.6%; Ang Lihim ni Annasandra (GMA-7) 9.1%
Bistado (ABS-CBN) 9.2%; Alisto! (GMA-7) 6.2%
Bet On Your Baby (ABS-CBN) 13.9%; May Queen (GMA-7) 7.9%
Evening:
Pure Love (ABS-CBN) 26.6%; Coffee Prince (GMA-7) 10.4%
TV Patrol (ABS-CBN) 28.4%; 24 Oras (GMA-7) 15.6%; Aksyon (TV5) 2.5%
Hawak-Kamay (ABS-CBN) 26.1%; Strawberry Lane (GMA-7) 16.9%; Movie Max 5 (TV5) 4%
Forevermore (ABS-CBN) 26.9%; Hiram na Alaala (GMA-7) 12.9%; The Amazing Race Philippines (TV5) 2%
Two Wives (ABS-CBN) 20.8%; Ilustrado (GMA-7) 7.5%; Wattpad Presents (TV5) 1.5%
Aquino & Abunda Tonight (ABS-CBN) 11.3%; Bet ng Bayan (GMA-7) 7%; Aksyon Tonite (TV5) .7%
Angel Eyes (ABS-CBN) 6.2%; Empress Ki (GMA-7) 7.4%; Reaksyon (TV5) .6%; Demolition Job (TV5) .5%
Bandila (ABS-CBN) 3%; Saksi (GMA-7) 3.7%; T3 Enforced Replay (TV5) .6%
Mukha (ABS-CBN) 2.1%; Front Row (GMA-7) 2.1%; Shop Japan (TV5) .1%
O Shopping (ABS-CBN) .6%; The Tim Yap Show (GMA-7) 1.3%; The Medyo Late Night Show (GMA-7) .5%
---
November 11, 2014 (Tuesday)
Morning:
Kape't Pandesal (ABS-CBN) .1%; Red Alert Replay (ABS-CBN) .7%; I-Witness Replay (GMA-7) 1%
Umagang Kay Ganda (ABS-CBN) 3.8%; Unang Hirit (GMA-7) 3.1%
Kris TV (ABS-CBN) 5.4%; Doraemon (GMA-7) 4.7%; Ghost Fighter (GMA-7) 6.3%; Shaman King (GMA-7) 7.9%; Bleach (GMA-7) 8.3%;Hunter X Hunter (GMA-7) 9.1%
ADVERTISEMENT - CONTINUE READING BELOW
Spongebob Squarepants (ABS-CBN) 5.6%; One Piece (GMA-7) 8.6%
Princess Sarah (ABS-CBN) 6.3%; Marcelino Pan Y Vino (ABS-CBN) 8%; Bantatay: Ang Pagbabalik (GMA-7) 5.2%
Pedro Penduko (ABS-CBN) 9.8%; Basta Everyday Happy (GMA-7) 4.6%
The Singing Bee (ABS-CBN) 12.5%; Don't Lose the Money (GMA-7) 6.2%
Be Careful With My Heart (ABS-CBN) 14.8%; The Ryzza Mae Show (GMA-7) 8.5%
Afternoon:
It's Showtime (ABS-CBN) 12.9%; Eat Bulaga! (GMA-7) 13%
Kapamilya Blockbusters: My Amnesia Girl (ABS-CBN) 9.8%; The Half Sisters (GMA-7) 14.8%; Yagit (GMA-7) 11.4%; Ang Lihim ni Annasandra (GMA-7) 9.2%
Mutya ng Masa (ABS-CBN) 8.4%; Tunay na Buhay (GMA-7) 7.6%
Bet On Your Baby (ABS-CBN) 14%; May Queen (GMA-7) 8.1%
Evening:
Pure Love (ABS-CBN) 26.9%; Coffee Prince (GMA-7) 11.4%
TV Patrol (ABS-CBN) 29.1%; 24 Oras (GMA-7) 15.9%; Aksyon (TV5) 3%
Hawak-Kamay (ABS-CBN) 28.7%; Strawberry Lane (GMA-7) 17.8%; 2014-2015 PBA Philippine Cup Live (TV5) 3.9%
Forevermore (ABS-CBN) 30.2%; Hiram na Alaala (GMA-7) 13.2%; The Amazing Race Philippines (TV5) 1.6%
Two Wives (ABS-CBN) 22%; Ilustrado (GMA-7) 8.5%; Wattpad Presents (TV5) 1.3%
Aquino & Abunda Tonight (ABS-CBN) 12.5%; Bet ng Bayan (GMA-7) 7.5%; Aksyon Tonite (TV5) .6%
Angel Eyes (ABS-CBN) 6.5%;Empress Ki (GMA-7) 7.3%; Reaksyon (TV5) .3%
Bandila (ABS-CBN) 2.9%; Saksi (GMA-7) 3.4%; Numero (TV5) .5; T3 Enforced Replay (TV5) .3%
Banana Nite (ABS-CBN) 2.9%; The Blue Planet (GMA-7) 2.3%; Shop Japan (TV5) 0%
O Shopping (ABS-CBN) .4%;The Tim Yap Show (GMA-7) 1.1%; The Medyo Late Night Show (GMA-7) .5%
---
November 12, 2014 (Wednesday)
Morning:
Kape't Pandesal (ABS-CBN) .2%; My Puhunan Replay (ABS-CBN) .6%; Tunay na Buhay Replay (GMA-7) 1.2%
Umagang Kay Ganda (ABS-CBN) 3.4%; Unang Hirit (GMA-7) 3.5%
Kris TV (ABS-CBN) 5.1%; Doraemon (GMA-7) 4.6%; Ghost Fighter (GMA-7) 5.9%; Shaman King (GMA-7) 7.1%; Bleach (GMA-7) 7.2%
Spongebob Squarepants (ABS-CBN) 4.7%;Hunter X Hunter (GMA-7) 8.1%
Princess Sarah (ABS-CBN) 5.9%; One Piece (GMA-7) 7.8%
Marcelino Pan Y Vino (ABS-CBN) 7.6%; Bantatay: Ang Pagbabalik (GMA-7) 4.8%
Pedro Penduko (ABS-CBN) 9.6%; Basta Everyday Happy (GMA-7) 3.8%
The Singing Bee (ABS-CBN) 12.5%; Don't Lose the Money (GMA-7) 6%
ADVERTISEMENT - CONTINUE READING BELOW
Be Careful With My Heart (ABS-CBN) 14.3%; The Ryzza Mae Show (GMA-7) 8.8%
Afternoon:
It's Showtime (ABS-CBN) 13.3%; Eat Bulaga! (GMA-7) 13.5%
Kapamilya Blockbusters: Police Story III (ABS-CBN) 11.8%; The Half Sisters (GMA-7) 15.6%; Yagit (GMA-7) 11.7%; Ang Lihim ni Annasandra (GMA-7) 9.7%
My Puhunan (ABS-CBN) 7.6%; Powerhouse (GMA-7) 6.1%
Bet On Your Baby (ABS-CBN) 12%; May Queen (GMA-7) 7.6%
Evening:
Pure Love (ABS-CBN) 26.8%; Coffee Prince (GMA-7) 11.1%
TV Patrol (ABS-CBN) 27.6%; 24 Oras (GMA-7) 15.5%; Aksyon (TV5) 3.2%
Hawak-Kamay (ABS-CBN) 28.5%; Strawberry Lane (GMA-7) 17.8%; 2014-2015 PBA Philippine Cup Live (TV5) 5.2%
Forevermore (ABS-CBN) 26.9%; Hiram na Alaala (GMA-7) 14.6%; The Amazing Race Philippines (TV5) 1.7%
Two Wives (ABS-CBN) 22.5%; Ilustrado (GMA-7) 8.8%; Wattpad Presents (TV5) 1.8%
Aquino & Abunda Tonight (ABS-CBN) 12.8%; Bet ng Bayan (GMA-7) 8.2%; Aksyon Tonite (TV5) .8%
Angel Eyes (ABS-CBN) 6.7%; Empress Ki (GMA-7) 8.4%; Reaksyon (TV5) .6%
Bandila (ABS-CBN) 3.5%; Saksi (GMA-7) 4.2%; History with Lourd (TV5) .5%; T3 Enforced Replay (TV5) .3%
Banana Nite (ABS-CBN) 2.2%; Planet Earth (GMA-7) 2.2%; Shop Japan (TV5) .2%
O Shopping (ABS-CBN) .7%; The Tim Yap Show (GMA-7) .8%; The Medyo Late Night Show (GMA-7) .6%
---
November 13, 2014 (Thursday)
Morning:
Kape't Pandesal (ABS-CBN) .3%; Tapatan ni Tunying Replay (ABS-CBN) .6%; Born to be Wild Replay (GMA-7) 1%
Umagang Kay Ganda (ABS-CBN) 3.7%; Unang Hirit (GMA-7) 3.4%
Kris TV (ABS-CBN) 4.9%; Doraemon (GMA-7) 5.4%; Ghost Fighter (GMA-7) 6.6%; Shaman King (GMA-7) 7.6%; Bleach (GMA-7) 8%
Spongebob Squarepants (ABS-CBN) 5.3%; Hunter X Hunter (GMA-7) 8.7%
Princess Sarah (ABS-CBN) 6.1%; Dragon Ball Z Kai (GMA-7) 7.6%
Marcelino Pan Y Vino (ABS-CBN) 8.1%;Return of the Wife (GMA-7) 4.3%
Pedro Penduko (ABS-CBN) 10.5%; Basta Everyday Happy (GMA-7) 3.9%
The Singing Bee (ABS-CBN) 12.4%;Don't Lose the Money (GMA-7) 5.9%
Be Careful With My Heart (ABS-CBN) 14.2%; The Ryzza Mae Show (GMA-7) 8.6%
Afternoon:
It's Showtime (ABS-CBN) 13.3%; Eat Bulaga! (GMA-7) 12.5%
Kapamilya Blockbusters:Stormbreaker (ABS-CBN) 12.7%; The Half Sisters (GMA-7) 14.8%; Yagit (GMA-7) 10.8%; Ang Lihim ni Annasandra (GMA-7) 8.8%
ADVERTISEMENT - CONTINUE READING BELOW
Tapatan ni Tunying (ABS-CBN) 8.4%; Reporter's Notebook (GMA-7) 7.4%
Bet On Your Baby (ABS-CBN) 13.4%; May Queen (GMA-7) 7.6%
Evening:
Pure Love (ABS-CBN) 27.9%; Coffee Prince (GMA-7) 9.9%
TV Patrol (ABS-CBN) 29.4%; 24 Oras (GMA-7) 15%; Aksyon (TV5) 1.8%
Hawak-Kamay (ABS-CBN) 28.8%; Strawberry Lane (GMA-7) 17.7%; Movie Max 5 (TV5) 4.6%
Forevermore (ABS-CBN) 31%; Hiram na Alaala (GMA-7) 15.2% ; The Amazing Race Philippines (TV5) 2.1%
Two Wives (ABS-CBN) 24.3%; Ilustrado (GMA-7) 9.1%; Wattpad Presents (TV5) 1.8%
Aquino & Abunda Tonight (ABS-CBN) 12.5%; Bet ng Bayan (GMA-7) 7.9%; Aksyon Tonite (TV5) 1.1%
Angel Eyes (ABS-CBN) 6.2%;Empress Ki (GMA-7) 8.5%; Reaksyon (TV5) .6%
Bandila (ABS-CBN) 3%; Saksi (GMA-7) 4.1%; Unang Tikim (TV5) .5%; T3 Enforced Replay (TV5) .5%
Banana Nite (ABS-CBN) 1.3%; Planet Earth (GMA-7) 2.3%; Shop Japan (TV5) .1%
O Shopping (ABS-CBN) .5%; The Tim Yap Show (GMA-7) .8%; The Medyo Late Night Show (GMA-7) .4%
--
November 14, 2014 (Friday)
Morning:
Kape't Pandesal (ABS-CBN) .2%; Mga Kwento ni Marc Logan Replay (ABS-CBN) .6%; Alisto! Replay (GMA-7) .6%
Umagang Kay Ganda (ABS-CBN) 3%; Unang Hirit (GMA-7) 3.3%
Kris TV (ABS-CBN) 4.8%; Doraemon (GMA-7) 5.6%; Ghost Fighter (GMA-7) 7.4%; Shaman King (GMA-7) 8.3%; Bleach (GMA-7) 9.1%
Spongebob Squarepants (ABS-CBN) 5.3%; Hunter X Hunter (GMA-7) 9.6%
Princess Sarah (ABS-CBN) 6.7%; One Piece (GMA-7) 9.1%
Marcelino Pan Y Vino (ABS-CBN) 8.2%; Bantatay: Ang Pagbabalik (GMA-7) 5.2%
Pedro Penduko (ABS-CBN) 11.6%; Basta Everyday Happy (GMA-7) 4.9%
The Singing Bee (ABS-CBN) 13.2%; Don't Lose the Money (GMA-7) 5.9%
Be Careful With My Heart (ABS-CBN) 15%; The Ryzza Mae Show (GMA-7) 8.6%
Afternoon:
It's Showtime (ABS-CBN) 13.8%; Eat Bulaga! (GMA-7) 13.5%
Kapamilya Blockbusters : White Lady (ABS-CBN) 10.6%; The Half Sisters (GMA-7) 15.9%; Yagit (GMA-7) 12.4%
Red Alert (ABS-CBN) 8.2%;Ang Lihim ni Annasandra (GMA-7) 11.1%; Love Hotline (GMA-7) 9.4%
Bet On Your Baby (ABS-CBN) 12.5%; May Queen (GMA-7) 8.8%
Evening:
Pure Love (ABS-CBN) 29.2%; Coffee Prince (GMA-7) 11.2%
TV Patrol (ABS-CBN) 28.3%; 24 Oras (GMA-7) 16.1%; Aksyon (TV5) 3.2%
Hawak-Kamay (ABS-CBN) 27.5%; Strawberry Lane (GMA-7) 18.6%; 2014-2015 PBA Philippine Cup Live (TV5) 5.2%
ADVERTISEMENT - CONTINUE READING BELOW
Forevermore (ABS-CBN) 31%; Hiram na Alaala (GMA-7) 15.9%; The Amazing Race Philippines (TV5) 1.6%
Two Wives (ABS-CBN) 23.2%; Ilustrado (GMA-7) 9.9%; Wattpad Presents (TV5) 1.8%
Aquino & Abunda Tonight (ABS-CBN) 12.1%; Bet ng Bayan (GMA-7) 9.3%; Aksyon Tonite (TV5) .8%
Angel Eyes (ABS-CBN) 5.9%; Bandila (ABS-CBN) 2.6%;Bubble Gang (GMA-7) 8%; Reaksyon (TV5) .9%; Astig (TV5) .7%; T3 Enforced Replay (TV5) .5%
Banana Nite (ABS-CBN) 1.4%; Saksi (GMA-7) 3.3%; Shop Japan (TV5) .1%
O Shopping (ABS-CBN) .5%; The Tim Yap Show (GMA-7) 1.9%; The Medyo Late Night Show (GMA-7) .9%
---
November 15, 2014 (Saturday)
Sa Kabukiran (ABS-CBN) 1%; Kapwa Ko Mahal Ko (GMA-7) 1.2%
Salamat Dok (ABS-CBN) 2.2%; Pinoy MD Mga Doktor Ng Bayan (GMA-7) 3.5%
Swak Na Swak (ABS-CBN) 3%; Puppy in My Pocket (GMA-7) 5.7%
Honey Watch Out (ABS-CBN) 2.4%; Kamen Rider Ooo (GMA-7) 8.6%
Math Tinik (ABS-CBN) 3.1%; Larva (GMA-7) 10.7%
The Adventures of JImmy Neutron Boy Genius (ABS-CBN) 4.8%; Angry Birds Toons (GMA-7) 10.6%
Spongebob Squarepants (ABS-CBN) 7.2%; Monsuno (GMA-7) 8.6%
Super Book (ABS-CBN) 9.9%; Tropang Potchi (GMA-7) 6.3%
2014-2015 NBA Regular Season Live (ABS-CBN) 6.7%; Sarap Diva (GMA-7) 6.3%; Maynila (GMA-7) 9%
Afternoon:
It's Showtime (ABS-CBN) 13.7%; Eat Bulaga! (GMA-7) 13.3%; True Horror Stories (GMA-7) 8.8%
Ipaglaban Mo (ABS-CBN) 12%; Wish Ko Lang (GMA-7) 6.8%
Failon Ngayon (ABS-CBN) 8.7%; Startalk (GMA-7) 6.5%
SOCO (ABS-CBN) 13.2%; Imbestigador (GMA-7) 10.5%
TV Patrol Weekend (ABS-CBN) 19.1%; 24 Oras Weekend (GMA-7) 14.9%; 2014-2015 PBA Philippine Cup Live (TV5) 3.5%
Evening:
Mga Kwento ni Marc Logan (ABS-CBN) 22.4%; Pepito Manaloto: Ang Tunay na Kuwento (GMA-7) 20.3%
Home Sweetie Home (ABS-CBN) 24.1%; MMK: Ang Tahanan Mo: Pedicab(ABS-CBN) 30.7%; Magpakailanman (GMA-7) 23%; Talentadong Pinoy 2014 (TV5) 2.2%; Tropa Mo Ko Nice Di Ba?! (TV5) 1.9%
The Voice of the Philippines (ABS-CBN) 30.4%; Marian (GMA-7) 14.4%; Celebrity Bluff (GMA-7) 10.5%; The Amazing Race Philippines (TV5) 1%; Trenderas (TV5) .5%
I Do (ABS-CBN) 12.3%; i-Witness (GMA-7) 6.3%; Kaya. (TV5) .8%
Banana Split Extra Scoop (ABS-CBN) 4%; The Bottom Line With Boy Abunda (ABS-CBN) 1%; Sports Unlimited (ABS-CBN) .7%; O Shopping (ABS-CBN) .5%; Walang Tulugan With Master Showman (GMA-7) 1.3%; PXC 46 (TV5) 1.1%; Shop Japan (TV5) .2%
ADVERTISEMENT - CONTINUE READING BELOW
---
November 16, 2014 (Sunday)
Morning:
The Healing Eucharist (ABS-CBN) 5.4%; Family TV Mass (GMA-7) 1.4%
Swak Na Swak (ABS-CBN) 3.8%; Grimm's Fairy Tales (GMA-7) 5.1%;Kamen Rider Ooo (GMA-7) 7.7%
Salamat Dok (ABS-CBN) 3.6%;Tom & Jerry Kids Show (GMA-7) 9%
Voltron Force (ABS-CBN) 4%;Monsuno (GMA-7) 9.8%
Max Steel (ABS-CBN) 5.5%; Aha! (GMA-7) 7.5%
Super Book Classic (ABS-CBN) 7.9%; Born To Be Wild (GMA-7) 7.1%
Matanglawin (ABS-CBN) 11.5%;iBilib (GMA-7) 7.3%
Pinoy Pride 28 History in the Making (ABS-CBN) 16.2%; Pagara vs Hirales Jr (ABS-CBN) 15.1%; Bonakid Pre-School Ready Set Laban! (GMA-7) 7.1%
Afternoon:
Nietes vs Velarde (ABS-CBN) 17.6%; Superhero Sunday (GMA-7) 10.6%
ASAP 19 (ABS-CBN) 10.8%; Kapuso Movie Festival: Journey 2 The Mysterious Island (GMA-7) 17.8%; Sunday All Stars (GMA-7) 7.9%
Luv U (ABS-CBN) 10%;The Buzz 15 (ABS-CBN) 7.9%; GMA Blockbusters: Deep Impact (GMA-7) 10.5%
TV Patrol Weekend (ABS-CBN) 15.4%; 24 Oras Weekend (GMA-7) 12.2%; 2014-2015 PBA Philippine Cup Live (TV5) 5.7%
Evening:
Goin' Bulilit (ABS-CBN) 20.9%; Vampire Ang Daddy Ko (GMA-7) 15.2%
Wansapanataym: Puppy Ko si Papi (ABS-CBN) 25.5%; Ismol Family (GMA-7) 16.4%; Who Wants to be a Millionaire (TV5) 4.3%
Rated K: Handa Na Ba Kayo? (ABS-CBN) 26.9%; The Voice of the Philippines (ABS-CBN) 30%; Kapuso Mo Jessica Soho (GMA-7) 17.7%; Quiet Please! Bawal Ang Maingay (TV5) 1.9%; The Amazing Race Philippines (TV5).8%
Gandang Gabi Vice (ABS-CBN) 19%; Bet ng Bayan (GMA-7) 7.2%; Wow Mali Lakas ng Tama! (TV5) 2%
Sunday's Best: Bench The Naked Truth (ABS-CBN) 5.1%;Cue Ball Presents(GMA-7) 3.6%; Wattpad Presents (TV5) 1.5%
O Shopping (ABS-CBN) .4%; Diyos at Bayan (GMA-7) .4%; Shop Japan (TV5) .1%
--
Here are the Top 10 daytime and primetime programs from November 10-16, 2014 among Total Philippines (Urban & Rural) households:
November 10, 2014 (Monday)
DAYTIME:
The Half Sisters (GMA-7) – 14.6%
Bet on Your Baby (ABS-CBN) – 13.9%
Be Careful With My Heart (ABS-CBN) – 13.7%
Eat Bulaga! (GMA-7) - 12.8%
It's Showtime (ABS-CBN) - 12.5%
The Singing Bee (ABS-CBN) – 12%
Yagit(GMA-7) – 11.6%
Kapamilya Blockbusters (ABS-CBN) – 10.6%
Pedro Penduko (ABS-CBN) – 9.6%
Bistado (ABS-CBN) – 9.2%
PRIMETIME:
TV Patrol (ABS-CBN) – 28.4%
Forevermore (ABS-CBN) – 26.9%
Pure Love (ABS-CBN) – 26.6%
Hawak-Kamay (ABS-CBN) – 26.1%
Two Wives (ABS-CBN) – 20.8%
Strawberry Lane (GMA-7) – 16.9%
24 Oras (GMA-7) – 15.6%
Hiram na Alaala (GMA-7) – 12.9%
Aquino & Abunda Tonight (ABS-CBN) - 11.3%
Coffee Prince(GMA-7) - 10.4%
November 11, 2014 (Tuesday)
DAYTIME:
Be Careful With My Heart (ABS-CBN) / The Half Sisters (GMA-7) – 14.8%
Bet on Your Baby (ABS-CBN) – 14%
Eat Bulaga! (GMA-7) – 13%
It's Showtime (ABS-CBN) - 12.9%
The Singing Bee (ABS-CBN) – 12.5%
Yagit (GMA-7) – 11.4%
Pedro Penduko (ABS-CBN) / Kapamilya Blockbusters (ABS-CBN)– 9.8%
Ang Lihim ni Annasandra (GMA-7) – 9.2%
Hunter X Hunter (GMA-7) – 9.1%
One Piece (GMA-7) – 8.6%
The Ryzza Mae Show (GMA-7) – 8.5%
PRIMETIME:
Forevermore (ABS-CBN) – 30.2%
TV Patrol (ABS-CBN) – 29.1%
Hawak-Kamay (ABS-CBN) – 28.7%
Pure Love (ABS-CBN) – 26.9%
Two Wives (ABS-CBN) - 22%
Strawberry Lane (GMA-7) – 17.8%
24 Oras (GMA-7) – 15.9%
Hiram na Alaala (GMA-7) – 13.2%
Aquino & Abunda Tonight (ABS-CBN) - 12.5%
Coffee Prince(GMA-7) - 11.4%
November 12, 2014 (Wednesday)
DAYTIME:
The Half Sisters (GMA-7) – 15.6%
Be Careful With My Heart (ABS-CBN) - 14.3%
Eat Bulaga! (GMA-7) – 13.5%
It's Showtime (ABS-CBN) – 13.3%
The Singing Bee (ABS-CBN) - 12.5%
Bet on Your Baby (ABS-CBN) – 12%
Kapamilya Blockbusters (ABS-CBN)– 11.8%
Yagit (GMA-7) - 11.7%
Ang Lihim ni Annasandra (GMA-7) - 9.7%
Pedro Penduko (ABS-CBN) - 9.6%
PRIMETIME:
Forevermore (ABS-CBN) - 29.9%
Hawak-Kamay (ABS-CBN)– 28.5%
TV Patrol (ABS-CBN) - 27.6%
Pure Love (ABS-CBN) - 26.8%
Two Wives (ABS-CBN) – 22.5%
Strawberry Lane (GMA-7) – 17.8%
24 Oras (GMA-7) - 15.5%
Hiram na Alaala (GMA-7) – 14.6%
Aquino & Abunda Tonight (GMA-7) – 12.8%
Coffee Prince (GMA-7) – 11.1%
November 13, 2014 (Thursday)
DAYTIME:
The Half Sisters (GMA-7) – 14.8%
Be Careful With My Heart (ABS-CBN) - 14.2%
Bet on Your Baby (ABS-CBN) – 13.4%
It's Showtime (ABS-CBN) – 13.3%
Kapamilya Blockbusters (ABS-CBN) – 12.7%
Eat Bulaga! (GMA-7) – 12.5%
The Singing Bee (ABS-CBN) – 12.4%
Yagit(GMA-7) – 10.8%
Pedro Penduko (ABS-CBN) – 10.5%
Ang Lihim ni Annasandra (GMA-7) – 8.8%
PRIMETIME:
Forevermore (ABS-CBN) – 31%
TV Patrol (ABS-CBN) – 29.4%
Hawak-Kamay (ABS-CBN) – 28.8%
Pure Love (ABS-CBN) – 27.9%
Two Wives (ABS-CBN) - 24.3%
Strawberry Lane (GMA-7) – 17.7%
Hiram na Alaala (GMA-7) – 15.2%
24 Oras (GMA-7) – 15%
Aquino & Abunda Tonight (GMA-7) - 12.5%
Coffee Prince(GMA-7) – 9.9%
November 14, 2014 (Friday)
DAYTIME:
The Half Sisters (GMA-7) – 15.9%
Be Careful With My Heart (ABS-CBN) - 15%
It's Showtime (ABS-CBN) – 13.8%
Eat Bulaga! (GMA-7) – 13.5%
The Singing Bee (ABS-CBN) - 13.2%
Bet On Your Baby (ABS-CBN)- 12.5%
Yagit(GMA-7) – 12.4%
Pedro Penduko (ABS-CBN) - 11.6%
Ang Lihim ni Annasandra (GMA-7) - 11.1%
Kapamilya Blockbusters (ABS-CBN) – 10.6%
PRIMETIME:
Forevermore (ABS-CBN) - 31%
Pure Love (ABS-CBN) - 29.2%
TV Patrol (ABS-CBN) – 28.3%
Hawak-Kamay (ABS-CBN) – 27.5%
Two Wives (ABS-CBN) - 23.2%
Strawberry Lane (GMA-7) – 18.6%
24 Oras (GMA-7) – 16.1%
Hiram na Alaala (GMA-7) – 15.9%
Aquino & Abunda Tonight (ABS-CBN) - 12.1%
Coffee Prince (GMA-7) – 11.2%
November 15, 2014 (Saturday)
ADVERTISEMENT - CONTINUE READING BELOW
DAYTIME:
TV Patrol Weekend (ABS-CBN) – 19.1%
24 Oras Weekend (GMA-7) – 14.9%
It's Showtime (ABS-CBN) – 13.7%
Eat Bulaga! (GMA-7) – 13.3%
SOCO (ABS-CBN) – 13.2%
Ipaglaban Mo (ABS-CBN) – 12%
Larva (GMA-7) – 10.7%
Angry Birds Toons (GMA-7) – 10.6%
Imbestigador (GMA-7) – 10.5%
Super Book (ABS-CBN) – 9.9%
PRIMETIME:
MMK: Ang Tahanan Mo (ABS-CBN) – 30.7%
The Voice of the Philippines (ABS-CBN) – 30.4%
3. Home Sweetie Home (ABS-CBN) – 24.1%
Magpakailanman (GMA-7) – 23%
Mga Kwento ni Marc Logan (ABS-CBN) – 22.4%
Pepito Manaloto: Ang Tunay na Kuwento (GMA-7) – 20.3%
Marian (GMA-7) – 14.4%
I Do (ABS-CBN) – 12.3%
Celebrity Bluff (GMA-7) – 10.5%
i-Witness (GMA-7) – 6.3%
November 16, 2014 (Sunday)
DAYTIME:
Kapuso Movie Festival (GMA-7) – 17.8%
Pinoy Pride 28 History in the Making (ABS-CBN) – 16.2%
TV Patrol Weekend (ABS-CBN) – 15.4%
24 Oras Weekend (GMA-7) – 12.2%
Matanglawin (GMA-7) – 11.5%
ASAP 19 (ABS-CBN) - 10.8%
Superhero Sunday (GMA-7) – 10.6%
GMA Blockbusters(GMA-7) – 10.5%
Luv U (ABS-CBN) - 10%
Monsuno (GMA-7) –9.8%
PRIMETIME:
The Voice of the Philippines (ABS-CBN) – 30%
Rated K: Handa na ba Kayo? (ABS-CBN) – 26.9%
Wansapanataym (ABS-CBN) – 25.5%
Goin' Bulilit (ABS-CBN) – 20.9%
Gandang Gabi Vice (ABS-CBN) – 19%
Kapuso Mo, Jessica Soho (GMA-7) – 17.7%
Ismol Family (GMA-7) – 16.4%
Vampire Ang Daddy Ko (GMA-7) – 15.2%
Bet ng Bayan (GMA-7) – 7.2%
2014-2015 PBA Philippine Cup Live (TV5) - 5.7%
Source: Kantar/TNS