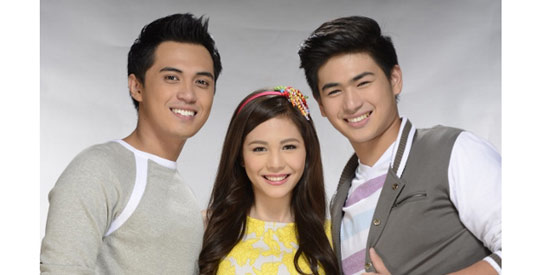 ---
ABS-CBN and GMA-7 continue to fight to lead nationwide TV dominance. This is according to data based on the overnight ratings of Kantar Media/TNS among Total Philippines (Urban & Rural) on January 17-23, 2015.
ABS-CBN is the leader for primetime programming, while GMA-7 has more shows that get better ratings on daytime.
The primetime leader is still ABS-CBN's Dream Dad. The lighthearted family drama that stars Zanjoe Marudo and child star Jana Agoncillo was the first placer in the top ten shows on primetime during the given period.
Following Dream Dad are Kapamilya shows Forevermore, TV Patrol and Two Wives.
ABS-CBN debuted Oh My G! on January 19, as the replacement for Give Love on Christmas. It got better ratings than GMA-7's The Ryzza Mae Show.
Oh My G! is a teen drama that stars Janella Salvador, Marlo Mortel and Manolo Pedrosa.
Oher Kapamilya shows are not doing so well. In fact, two highly-anticipated afternoon dramas lost to GMA-7's top-rating tearjerkers.
Flordeliza, the much talked about Kapamilya return of Jolina Magdangal and Marvin Agustin, lost to the Kapuso drama The Half Sisters. Its debut episode recorded 9.7% against the Barbie Forteza-starrer's 14.9% TV rating.
Nasaan Ka Nang Kailangan Kita, another Kapamilya afternoon drama, lost to the Kapuso channel's Yagit. Its first episode had a TV rating of 8.9%, against Yagit's 11.6%.
ABS-CBN is also the weekend winner with Maalaala Mo Kaya and Wansapanataym.
The January 17 MMK episode featured Venus Raj as deaf beauty queen Christine Balaguer.
The January 18 Wansapanataym episode is about a story titled "Wish Upon a Lusis that featured Inigo Pascual and Julia Barretto as lead characters.
ADVERTISEMENT - CONTINUE READING BELOW
Here are the comparative Household Ratings of ABS-CBN, TV5, and GMA-7 programs from January 17-23, 2015 based on the overnight ratings of Kantar Media/TNS among Total Philippines (Urban & Rural) households.
------
January 17, 2015 (Saturday)
Sa Kabukiran (ABS-CBN) 1.2%; Adyenda(ABS-CBN) 1%; Shop Japan (TV5) .1%
Pope Francis sa Pilipinas (GMA-7) 2.1%; Kapwa Ko Mahal Ko (GMA-7) 1.6%; Family Matters (TV5) .2%
Thank You sa Malasakit (ABS-CBN) 10%; Pinoy MD Mga Doktor Ng Bayan (GMA-7) 3.6%; Puppy in My Pocket (GMA-7) 4.9%; Kamen Rider Ooo (GMA-7) 7%; Tom & Jerry Kids Show (GMA-7) 8.9%; Angry Birds Toons (GMA-7) 9.6%; Ang People's Pope sa Pilipinas (GMA-7) 10.4%; Stitch (TV5) 1.2%; Kim Possible (TV5) 1.7%; Little Einsteins (TV5) 1.6%; Powerpuff Girls (TV5) 1.9%; #DearPopeFrancis (TV5) 1.6%
Afternoon:
It's Showtime (ABS-CBN) 11.5%; Eat Bulaga! (GMA-7) 11.4%; GMA Tales of Horror (GMA-7) 8.1%; Wish Ko Lang (GMA-7) 7.2%; Movie Max 5 (TV5) 3.6%
Thank You sa Malasakit (ABS-CBN) 11.4%; Startalk (GMA-7) 6.4%; Imbestigador (GMA-7) 9.1%; 24 Oras Weekend (GMA-7) 11.7%; Pastol sa Panahon ng Pagbabago (TV5) 1.7%; Movie Max 5 (TV5) 3.3%
Evening:
Mga Kwento ni Marc Logan (ABS-CBN) 19%; Home Sweetie Home (ABS-CBN) 21.4%; Pepito Manaloto: Ang Tunay na Kuwento (GMA-7) 17.4%
MMK: Ang Tahanan Mo: Kamay (ABS-CBN) 25.2%; Magpakailanman (GMA-7) 19.6%; Tropa Mo Ko Nice Di Ba?! (TV5) 2.8%; Iskul Bukol (TV5) 2.6%
The Voice of the Philippines (ABS-CBN) 20.2%; Dingdong & Marian Wedding Special The Ceremony (GMA-7) 15.3%; Everybody Hapi (TV5) 2.6%; Kaya. (TV5) .9%
Banana Split Extra Scoop (ABS-CBN) 7%; Celebrity Bluff (GMA-7) 8.7%; History with Lourd (TV5) .5%
The Bottomline (ABS-CBN) 2.4%; i-Witness (GMA-7) 3.9%; Bigtime (TV5) .2%
Sports Unlimited (ABS-CBN) 1.5%; O Shopping (ABS-CBN) .7%; Walang Tulugan with Master Showman (GMA-7) 1%; Shop Japan (TV5) 0%
---
January 18, 2015 (Sunday)
Morning:
The Healing Eucharist (ABS-CBN) 4%; Kapuso Sine Klasika (GMA-7) 2.4%; Family Matters (TV5) .3%
Swak Na Swak (ABS-CBN) 4.6%; The Tom & Jerry Kids Show (GMA-7) 5%; Monsuno (GMA-7) 6.8%; #DearPopeFrancis (TV5) 1.7%
ADVERTISEMENT - CONTINUE READING BELOW
Thank You sa Malasakit (ABS-CBN) 9.7%; Aha! (GMA-7) 7.2%; Born To Be Wild (GMA-7) 9.2%; Ang People's Pope sa Pilipinas (GMA-7) 9.4%
Afternoon:
ASAP 20 (ABS-CBN) 10.4%; Kapuso Movie Festival (GMA-7) 13.3%; Pastol sa Panahon ng Pagbabago (TV5) 1.4%
Thank You sa Malasakit (ABS-CBN) 14.1%; Ang People's Pope sa Pilipinas (GMA-7) 11.1%; 24 Oras Weekend (GMA-7) 14.4%; #DearPopeFrancis (TV%) 2.1%
Evening:
Goin' Bulilit (ABS-CBN) 19.5%; Vampire Ang Daddy Ko (GMA-7) 16.6%; Kaya. (TV5) 3.6%
Wansapanataym (ABS-CBN) 20.4%; Ismol Family (GMA-7) 17.4%; PBA Philippine Cup Finals Live (TV5) 7.7%
Rated K: Handa Na Ba Kayo? (ABS-CBN) 19%; The Voice of the Philippines (ABS-CBN) 17.7%; Kapuso Mo Jessica Soho (GMA-7) 13.8%; Wow Mali Lakas ng Tama! (TV5) 2.4%
Gandang Gabi Vice (ABS-CBN) 11.6%; MP Featuring Sport Science (GMA-7) 5.6%
Sunday's Best: Ako at ang Santo Papa (ABS-CBN) 1.9%; Mentalisn't (GMA-7) 3.2%; Wattpad Presents (TV5) 1%
O Shopping (ABS-CBN) .5%; Diyos at Bayan (GMA-7) .5%; Shop Japan (TV5) .2%
--
January 19, 2015 (Monday)
Morning:
Kape't Pandesal (ABS-CBN) .2%; Matanglawin Replay (ABS-CBN) .6%; Powerhouse Replay (GMA-7) .6%
Umagang Kay Ganda (ABS-CBN) 4.6%; Unang Hirit (GMA-7) 5.5%
Thank You sa Malasakit (ABS-CBN) 10.3%; Ang People's Pope sa Pilipinas (GMA-7) 11%; #DearPopeFrancis (TV5) 1.1%
Pedro Penduko (ABS-CBN) 8.2%; Fairytail (GMA-7) 8.7%; Hunter X Hunter (GMA-7) 8.6%; Healing Galing sa TV5 (ABS-CBN) .7%; Happy Wife Happy Life (TV5) 1.3%
The Singing Bee (ABS-CBN) 10.6%; Slam Dunk (GMA-7) 8.3%; The Ryzza Mae Show (GMA-7) 7.7%; Solved na Solved (TV5) 1.4%
Afternoon:
Oh My G! (ABS-CBN) 15.5%; It's Showtime (ABS-CBN) 11.9%; Eat Bulaga! (GMA-7) 10.9%
Flordeliza (ABS-CBN) 9.7%; The Half Sisters (GMA-7) 14.9%; Movie Max 5 (TV5) 3.3%
Nasaan Ka Nang Kailangan Kita (ABS-CBN) 8.9%; Yagit (GMA-7) 11.6%
Bistado (ABS-CBN) 5.8%; Ang Lihim ni Annasandra (GMA-7) 9.5%
Bet On Your Baby (ABS-CBN) 7.5%; Alisto! (GMA-7) 7.3%; My Name is Kim Sam Soon (GMA-7) 6.9%; Movie Max 5 (TV5) 3.5%
ADVERTISEMENT - CONTINUE READING BELOW
Evening:
Bagito (ABS-CBN) 14.6%; Prime Minister and I (GMA-7) 11.8%
TV Patrol (ABS-CBN) 22.9%; 24 Oras (GMA-7) 16.7%; Aksyon (TV5) 3%
Dream Dad (ABS-CBN) 25.6%; More Than Words (GMA-7) 15.2%; Movie Max 5 (TV5) 5.1%
Forevermore (ABS-CBN) 23%; Once Upon a Kiss (GMA-7) 14.7%; Wattpad Presents (TV5) 2.7%
Two Wives (ABS-CBN) 17.9%; Second Chances (GMA-7) 9.8%; Teen Wolf (TV5) 3.1%
Aquino & Abunda Tonight (ABS-CBN) 9.2%; Faith (ABS-CBN) 5.4%; Empress Ki (GMA-7) 10.2%; Aksyon Tonite (TV5) 1.2%; T3 Enforced Replay (TV5) .8%
Bandila (ABS-CBN) 2.4%; Saksi (GMA-7) 5.6%; Front Row (GMA-7) 2.4%; Demolition Job (TV5) .4%; Shop Japan (TV5) 0%
Mukha (ABS-CBN) .9% O Shopping (ABS-CBN) .4%; The Tim Yap Show (GMA-7) 1.1%
---
January 20, 2015 (Tuesday)
Morning:
Kape't Pandesal (ABS-CBN) .3%; Red Alert Replay (ABS-CBN) .6%; I-Witness Replay (GMA-7) .9%
Umagang Kay Ganda (ABS-CBN) 2.9%; Unang Hirit (GMA-7) 3.6%
Kris TV (ABS-CBN) 4.3%; Doraemon (GMA-7) 4.2%; Pokemon (GMA-7) 5.8%; One Piece (GMA-7) 7.2%
Spongebob Squarepants (ABS-CBN) 4.1%; Detective Conan (GMA-7) 7.5%
A Dog of Flanders (ABS-CBN) 4.8%; Bleach (GMA-7) 7.3%
Adventures of Tom Sawyer (ABS-CBN) 5.6%; Ghost Fighter (GMA-7) 7.6%
Pedro Penduko (ABS-CBN) 6.7%; Fairy Tail (GMA-7) 7.5%
The Singing Bee (ABS-CBN) 8.1%; Hunter X Hunter (GMA-7) 8.8%; Slam Dunk (GMA-7) 8.3%
Oh My G! (ABS-CBN) 12.9%; The Ryzza Mae Show (GMA-7) 8.4%
Afternoon:
It's Showtime (ABS-CBN) 10.4%; Eat Bulaga! (GMA-7) 11.9%
Floredeliza (ABS-CBN) 8.2%; The Half Sisters (GMA-7) 15.5%
Nasaan Ka Nang Kailangan Kita (ABS-CBN) 7.9%; Yagit (GMA-7) 11.9%; Ang Lihim ni Annasandra (GMA-7) 10.1%
Mutya ng Masa (ABS-CBN) 5.2%; Tunay na Buhay (GMA-7) 7.1%
Bet On Your Baby (ABS-CBN) 7.2%; My Name is Kim Sam Soon (GMA-7) 7.8%
Evening:
Bagito (ABS-CBN) 14.4%; Prime Minister and I (GMA-7) 12%
TV Patrol (ABS-CBN) 21.2%; 24 Oras (GMA-7) 14.7%; Aksyon (TV5) 3.1%
Dream Dad (ABS-CBN) 23.9%; More Than Words (GMA-7) 15.1%; Movie Max 5 (TV5) 6.1%
Forevermore (ABS-CBN) 23.2%; Once Upon A Kiss (GMA-7) 14.5%; Wattpad Presents (TV5) 2.7%
Two Wives (ABS-CBN) 18.2%; Second Chances (GMA-7) 10.8%; Teen Wolf (TV5) 3%
ADVERTISEMENT - CONTINUE READING BELOW
Aquino & Abunda Tonight (ABS-CBN) 9%; Faith (ABS-CBN) 5.7%; Empress Ki (GMA-7) 10.8%; Aksyon Tonite (TV5) .9%; Reaksyon (TV5) .5%
Bandila (ABS-CBN) 2.5%; Saksi (GMA-7) 4.3%; T3 Enforced Replay (TV5) .3%
Banana Nite (ABS-CBN) 1.2%; The Blue Planet (GMA-7) 1.9%; Numero (TV5) .2%
O Shopping (ABS-CBN) .5%; The Tim Yap Show (GMA-7) .8%
---
January 21, 2015 (Wednesday)
Morning:
Kape't Pandesal (ABS-CBN) .2%; My Puhunan Replay (ABS-CBN) .6%; Tunay na Buhay Replay (GMA-7) 1.2%
Umagang Kay Ganda (ABS-CBN) 2.9%; Unang Hirit (GMA-7) 3.5%
Kris TV (ABS-CBN) 4.8%; Doraemon (GMA-7) 4.7%; Pokemon (GMA-7) 5.5%; One Piece (GMA-7) 6.9%; Detective Conan (GMA-7) 8.1%
Spongebob Squarepants (ABS-CBN) 4.6%; Bleach (GMA-7) 8.3%
A Dog of Flanders (ABS-CBN) 5%; Adventures of Tom Sawyer (ABS-CBN) 5.6%; Ghost Fighter (GMA-7) 8.1%
Pedro Penduko (ABS-CBN) 7.2%; Fairy Tail (GMA-7) 8.1%
The Singing Bee (ABS-CBN) 10.6%; Hunter X Hunter (GMA-7) 8%; Slam Dunk (GMA-7) 7.3%
Oh My G! (ABS-CBN) 15.3%; The Ryzza Mae Show (GMA-7) 7.6%
Afternoon:
It's Showtime (ABS-CBN) 11.6%; Eat Bulaga! (GMA-7) 12%
Flordeliza (ABS-CBN) 9%; The Half Sisters (GMA-7) 14.8%
Nasaan Ka Nang Kailangan Kita (ABS-CBN) 8.7%; Yagit (GMA-7) 12.3%
My Puhunan (ABS-CBN) 6.7%; Ang Lihim ni Annasandra (GMA-7) 9.9%; Powerhouse (GMA-7) 6.8%
Bet On Your Baby (ABS-CBN) 8.4%; My Name is Kim Sam Soon (GMA-7) 7.1%
Evening:
Bagito (ABS-CBN) 15.9%; Prime Minister and I (GMA-7) 10.8%
TV Patrol (ABS-CBN) 21.4%; 24 Oras (GMA-7) 13.3%; Aksyon (TV5) 3.7%
Dream Dad (ABS-CBN) 23.8%; More Than Words (GMA-7) 13%; 2014-2015 PBA Philippine Cup Finals Live (TV5) 11.5%
Forevermore (ABS-CBN) 21.4%; Once Upon a Kiss (GMA-7) 12.3%
Two Wives (ABS-CBN) 16.3%; Second Chances (GMA-7) 8.7%
Aquino & Abunda Tonight (ABS-CBN) 9.5%; Faith (ABS-CBN) 6.4%; Empress Ki (GMA-7) 11.1%; Wattpad Presents (TV5) 2.5%; Teen Wolf (TV5) 2%
Bandila (ABS-CBN) 2.9%; Saksi (GMA-7) 4.3%; Frozen Planet (GMA-7) 2.3%; Aksyon Tonite (TV5) .5%; Reaksyon (TV5) .2%
Banana Nite (ABS-CBN) 1.8%; O Shopping (ABS-CBN) .4%; The Tim Yap Show (GMA-7) .9%; Shop Japan (TV5) .1%
---
January 22, 2015 (Thursday)
Morning:
ADVERTISEMENT - CONTINUE READING BELOW
Kape't Pandesal (ABS-CBN) .2%; TNT Replay (ABS-CBN) .5%; Born to be Wild Replay (GMA-7) .8%
Umagang Kay Ganda (ABS-CBN) 3.3%; Unang Hirit (GMA-7) 2.9%
Kris TV (ABS-CBN) 4.5%; Doraemon (GMA-7) 4.3%; Pokemon (GMA-7) 6.1%; One Piece (GMA-7) 7%
Spongebob Squarepants (ABS-CBN) 3.8%; Detective Conan (GMA-7) 7.9%
A Dog of Flanders (ABS-CBN) 4.3%; Bleach (GMA-7) 7.3%
Adventures of Tom Sawyer (ABS-CBN) 5.7%; Ghost Fighter (GMA-7) 7.2%
Pedro Penduko (ABS-CBN) 7.1%; Fairy Tail (GMA-7) 7.2%
The Singing Bee (ABS-CBN) 9.3%; Hunter X Hunter (GMA-7) 7.8%; Slam Dunk (GMA-7) 8%
Oh My G! (ABS-CBN) 13.1%; The Ryzza Mae Show (GMA-7) 7.1%
Afternoon:
It's Showtime (ABS-CBN) 12.5%; Eat Bulaga! (GMA-7) 11.2%
Flordeliza (GMA-7) 8.4%; The Half Sisters (GMA-7) 14.9%
Nasaan Ka Nang Kailangan Kita (ABS-CBN) 9.1%; Yagit (GMA-7) 11.8%
Tapatang ni Tunying (ABS-CBN) 6.4%; Ang Lihim ni Annasandra (GMA-7) 9.9%; Reporter's Notebook (GMA-7) 7.1%
Bet on Your Baby (ABS-CBN) 7.8%; Ny Name is Kim Sam Soon (GMA-7) 7%
Evening:
Bagito (ABS-CBN) 16.5%; Prime Minister and I (GMA-7) 10.6%
TV Patrol (GMA-7) 23.3%; 24 Oras (GMA-7) 14.3%; Aksyon (TV5) 2.9%
Dream Dad (ABS-CBN) 28.6%; More Than Words (GMA-7) 14.5%; Movie Max 5 (TV5) 5.4%
Forevermore (ABS-CBN) 26.6%; Once Upon a Kiss (GMA-7) 14.3%; Wattpad Presents (TV5) 2.6%
Two Wives (ABS-CBN) 20.4%; Second Chances (GMA-7) 10.4%; Teen Wolf (TV5) 3.7%
Aquino & Abunda Tonight (ABS-CBN) 9.7%; Faith (ABS-CBN) 6.3%; Empress Ki (GMA-7) 11.3%; Aksyon Tonite (TV5) .9%; Reaksyon (TV5) .3%
Bandila (ABS-CBN) 2.6%; Saksi (GMA-7) 4.2%; Frozen Planet (GMA-7) 2.7%; T3 Enforced Replay (TV5) .4%; Unang Tikim (TV5) .2%
Banana Nite (ABS-CBN) 1.2%; The Tim Yap Show (GMA-7) 1%; Shop Japan (TV5) .1%
--
January 23, 2015 (Friday)
Morning:
Kape't Pandesal (ABS-CBN) .1%; Mga Kwento ni Marc Logan Replay Replay (ABS-CBN) .3%; Alisto! Replay (GMA-7) .7%
Umagang Kay Ganda (ABS-CBN) 3.2%; Unang Hirit (GMA-7) 3.1%
Kris TV (ABS-CBN) 4.5%; Dragon Ball (GMA-7) 5.9%; Pokemon (GMA-7) 6.6%; One Piece (GMA-7) 7.5%
Spongebob Squarepants (ABS-CBN) 4.7%; Detective Conan (GMA-7) 8.5%
A Dog of Flanders (ABS-CBN) 5.9%; Bleach (GMA-7) 7.8%
ADVERTISEMENT - CONTINUE READING BELOW
Adventures of Tom Sawyer (ABS-CBN) 6.8%; Ghost Fighter (GMA-7) 8.1%
Pedro Penduko (GMA-7) 7.9%; Fairytail (GMA-7) 9.1%
The Singing Bee (ABS-CBN) 10.2%; Hunter X Hunter (GMA-7) 9%; Slam Dunk (GMA-7) 8.8%
Oh My G! (ABS-CBN) 14%; The Ryzza Mae Show (GMA-7) 7.7%
Afternoon:
It's Showtime (ABS-CBN) 12.3%; Eat Bulaga! (GMA-7) 12.3%
Flordeliza (ABS-CBN) 9.8%; The Half Sisters (GMA-7) 15.2%
Nasaan Ka Nang Kailangan Kita (ABS-CBN) 9.9%; Yagit (GMA-7) 11.9%
Red Alert (ABS-CBN) 7%; Ang Lihim ni Annasandra (GMA-7) 10.1%; Love Hotline (GMA-7) 9.1%
Bet On Your Baby (GMA-7) 9.6%; My Name is Kim Sam Soon (GMA-7) 8.3%
Evening:
Bagito (ABS-CBN) 17%; Prime Minister and I (GMA-7) 12.4%
Dream Dad (ABS-CBN) 26.3%; More Than Words (GMA-7) 12.8%; Movie Max 5 (TV5) 6.2%
Forevermore (ABS-CBN) 25.9%; Once Upon a Kiss (GMA-7) 13.1%
Two Wives (ABS-CBN) 21.4%; Second Chances (GMA-7) 9.7%; Wattpad Presents (TV5) 2.8%; Teen Wolf (TV5) 4.2%
Aquino & Abunda Tonight (ABS-CBN) 11.6%; Faith (ABS-CBN) 7.4%; Bubble Gang (GMA-7) 8.6%; Aksyon Tonite (TV5) 1%; Reaksyon (TV5) .5%
Bandila (ABS-CBN) 2.9%; Saksi (GMA-7) 4.3%; T3 Enforced Replay (TV5) .2%; Astig (TV5) .2%
Banana Nite (ABS-CBN) 1.8%; O Shopping (ABS-CBN) .7%; The Tim Yap Show (GMA-7) 1.7%; Shop Japan (TV5) .1%
---


Here are the Top 10 daytime and primetime programs from January 17-23, 2015 among Total Philippines (Urban & Rural) households:


January 17, 2015 (Saturday)
DAYTIME:
24 Oras Weekend (GMA-7) – 11.7%
It's Showtime (ABS-CBN) – 11.5%
Thank You sa Malasakit (ABS-CBN) / Eat Bulaga! (GMA-7) – 11.4%
Ang People's Pope sa Pilipinas (GMA-7) – 10.4%
Thank You sa Malasakit (ABS-CBN) - 10%
Angry Birds Toons (GMA-7) – 9.6%
Imbestigador (GMA-7) – 9.1%
Tom & Jerry Kids Show (GMA-7) – 8.9%
GMA Tales of Horror (GMA-7) – 8.1%
Wish Ko Lang! (GMA-7) – 7.2%


PRIMETIME:
MMK: Ang Tahanan Mo (ABS-CBN) – 25.2%
Home Sweetie Home (ABS-CBN) – 21.4%
The Voice of the Philippines (ABS-CBN) – 20.2%
Magpakailanman (GMA-7) – 19.6%
Mga Kwento ni Marc Logan (ABS-CBN) – 19%
Pepito Manaloto: Ang Tunay na Kuwento (GMA-7) – 17.4%
Dingdong & Marian Wedding Special (GMA-7) – 15.3%
Celebrity Bluff (GMA-7) – 8.7%
Banana Split Extra Scoop (ABS-CBN) – 7%
i-Witness (GMA-7) – 3.9%



January 18, 2015 (Sunday)
DAYTIME:
24 Oras Weekend (GMA-7) - 14.4%
Thank You sa Malasakit (ABS-CBN) - 14.1%
Kapuso Movie Festival(GMA-7) - 13.3%
Ang People's Pope sa Pilipinas (GMA-7) – 11.1%
ASAP 20 (ABS-CBN) - 10.4%
Thank You sa Malasakit (ABS-CBN) - 9.7%
Ang People's Pope sa Pilipinas (GMA-7) – 9.4%
Born to Be Wild (GMA-7) – 9.2%
Aha! (GMA-7) – 7.2%
Monsuno (GMA-7) - 6.8%


PRIMETIME:
Wansapanataym (ABS-CBN) – 20.4%
Goin' Bulilit (ABS-CBN) – 19.5%
Rated K: Handa na ba Kayo? (ABS-CBN) – 19%
The Voice of the Philippines (ABS-CBN) – 17.7%
Ismol Family (GMA-7) – 17.4%
Vampire Ang Daddy Ko (GMA-7) – 16.6%
Kapuso Mo, Jessica Soho (GMA-7) – 13.8%
Gandang Gabi Vice (ABS-CBN) - 11.6%
2014-2015 PBA Philippine Cup Live (TV5) - 7.7%
MP Featuring Sport Science (GMA-7) – 5.6%



January 19, 2015 (Monday)


DAYTIME:
Oh My G! (ABS-CBN) – 15.5%
The Half Sisters (GMA-7) – 14.9%
It's Showtime (ABS-CBN) - 11.9%
Yagit (GMA-7) – 11.6%
Ang People's Pope sa Pilipinas (GMA-7) - 11%
Eat Bulaga! (GMA-7) - 10.9%
The Singing Bee (ABS-CBN) - 10.6%
Thank You sa Malasakit (ABS-CBN) - 10.3%
Flordeliza(ABS-CBN) - 9.7%
Ang Lihim ni Annasandra (GMA-7) - 9.5%


PRIMETIME:
Dream Dad (ABS-CBN) – 25.6%
Forevermore (ABS-CBN) – 23%
TV Patrol (ABS-CBN) – 22.9%
Two Wives (ABS-CBN) – 17.9%
24 Oras (GMA-7) - 16.7%
More Than Words (GMA-7) – 15.2%
Once Upon a Kiss (GMA-7) - 14.7%
Bagito (ABS-CBN) – 14.6%
Prime Minister & I(GMA-7) - 11.8%
Empress Ki (GMA-7) - 10.2%



January 20, 2015 (Tuesday)
DAYTIME:
The Half Sisters (GMA-7) – 15.5%
Oh My G! (ABS-CBN) – 12.9%
Eat Bulaga! (GMA-7) / Yagit (GMA-7) – 11.9%
It's Showtime (ABS-CBN) - 10.4%
Ang Lihim ni Annasandra (GMA-7) – 10.1%
Hunter X Hunter (GMA-7) - 8.8%
The Ryzza Mae Show (GMA-7) - 8.4%
Slam Dunk (GMA-7) - 8.3%
Floredeliza (ABS-CBN) - 8.2%
The Singing Bee (ABS-CBN) – 8.1%


PRIMETIME:
Dream Dad (ABS-CBN) – 23.9%
Forevermore (ABS-CBN) - 23.2%
TV Patrol (ABS-CBN) - 21.2%
Two Wives (ABS-CBN) - 18.2%
More Than Words (GMA-7) - 15.1%
24 Oras (GMA-7) – 14.7%
Once Upon A Kiss (GMA-7) – 14.5%
Bagito (ABS-CBN) – 14.4%
Prime Minister & I (GMA-7) - 12%
Second Chances (GMA-7) / Empress Ki (GMA-7) - 10.8%
January 21, 2015 (Wednesday)
DAYTIME:
Oh My G! (ABS-CBN) – 15.3%
The Half Sisters (GMA-7) – 14.8%
Yagit (GMA-7) – 12.3%
Eat Bulaga! (GMA-7) – 12%
It's Showtime (ABS-CBN) - 11.6%
The Singing Bee (ABS-CBN) - 10.6%
Ang Lihim ni Annasandra (GMA-7) – 9.9%
Flordeliza (ABS-CBN) - 9%
Nasaan Ka Nang Kailangan Kita (ABS-CBN) – 8.7%
Bet On Your Baby (ABS-CBN) - 8.4%


PRIMETIME:
Dream Dad (ABS-CBN) – 23.8%
TV Patrol (ABS-CBN) / Forevermore (ABS-CBN) - 21.4%
Two Wives (ABS-CBN) – 16.3%
Bagito (ABS-CBN) - 15.9%
24 Oras (GMA-7) - 13.3%
More than Words (GMA-7) – 13%
Once Upon a Kiss (GMA-7) – 12.3%
2014-2015 PBA Philippine Cup Finals Live (TV5) - 11.5%
Empress Ki(GMA-7) - 11.1%
Prime Minister and I (GMA-7) – 10.8%



January 22, 2015 (Thursday)
DAYTIME:
The Half Sisters (GMA-7) – 14.9%
Oh My G! (ABS-CBN) – 13.1%
It's Showtime (ABS-CBN) - 12.5%
Yagit (GMA-7) – 11.8%
Eat Bulaga! (GMA-7) – 11.2%
Ang Lihim ni Annasandra (GMA-7) - 9.9%
The Singing Bee (ABS-CBN) - 9.3%
Nasaan Ka Nang Kailangan Kita (ABS-CBN) - 9.1%
Flordeliza (ABS-CBN) - 8.4%
Slam Dunk (GMA-7) - 8%


PRIMETIME:
Dream Dad (ABS-CBN) – 28.6%
Forevermore (ABS-CBN) - 26.6%
TV Patrol (ABS-CBN) - 23.3%
Two Wives (ABS-CBN) - 20.4%
Bagito (ABS-CBN) - 16.5%
More Than Words (GMA-7) - 14.5%
24 Oras (GMA-7) / Once Upon a Kiss (GMA-7) – 14.3%
Empress Ki (GMA-7) – 11.3%
Prime Minister and I (GMA-7) – 10.6%
Second Chances (GMA-7) – 10.4%



January 23, 2015 (Friday)
DAYTIME:
The Half Sisters (GMA-7) – 15.2%
Oh My G! (ABS-CBN) – 14%
It's Showtime (ABS-CBN) / Eat Bulaga! (GMA-7) – 12.3%
Yagit (GMA-7) – 11.9%
The Singing Bee(ABS-CBN) - 10.2%
Ang Lihim ni Annasandra (GMA-7) - 10.1%
Nasaan Ka Nang Kailangan Kita (ABS-CBN) - 9.9%
Flordeliza (ABS-CBN) - 9.8%
Bet On Your Baby (ABS-CBN) - 9.6%
Love Hotline (GMA-7) - 9.1%
PRIMETIME:
Dream Dad (ABS-CBN) – 26.3%
Forevermore (ABS-CBN) - 25.9%
TV Patrol (ABS-CBN) - 23%
Two Wives (ABS-CBN) - 21.4%
Bagito (ABS-CBN) - 17%
24 Oras (GMA-7) - 14.3%
Once Upon a Kiss (GMA-7) – 13.1%
More Than Words (GMA-7) - 12.8%
Prime Minister and I (GMA-7) – 12.4%
Aquino & Abunda Tonight (ABS-CBN) - 11.6%



Source: Kantar/TNS