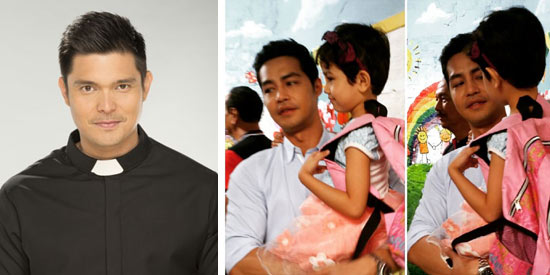 ---
ABS-CBN has finally overtaken GMA-7 in the daytime ratings game. This is according to data based on the overnight ratings of Kantar Media/TNS among Total Philippines (Urban & Rural) on March 1-10, 2015.
For months, GMA-7 has dominated the daytime ratings landscape with its hit afternoon drama series The Half Sisters. Now, however, the Kapamilya Network is the new leader with its pre-afternoon program Oh My G!
Oh My G! started airing on January 29, 2015 as the replacement to Give Love on Christmas. It is a light-hearted drama that stars Janella Salvador, Marlo Mortel and Monolo Pedrosa.
Despite winning first place on daytime on its first episode, Oh My G! spent weeks playing second fiddle to GMA-7's top-rating drama The Half Sisters.
But the primetime-worthy ratings of The Half Sisters is now waning, so ABS-CBN's shows are now performing better. The most dominant is Oh My G!
ABS-CBN's daytime lead is also duplicated in primetime. The most-watched nightly series is still Dream Dad, the family drama that features Zanjoe Marudo and child actress Jana Agoncillo.
Dream Dad is performing so well that it earned more than double the ratings of the finale of GMA-7's More Than Words and its replacement, Pari 'Koy.
More Than Words was a romantic comedy that starred Elmo Magalona and Janine Gutierrez. Its March 6 finale scored 17% against Dream Dad's 34.4%.
Dingdong Dantes portrays a parish priest in Pari 'Koy. Its March 9 pilot episode got a TV rating of 17% against Dream Dad's 32.5%.
Weekends, meanwhile, are on an even ground.
The second season of ABS-CBN's The Voice of the Philippines ended on March 1, with a 30.8% rating, making it the most-watched show that day.
The following Sunday, March 8, GMA-7 took first place with Kapuso Mo, Jessica Soho.
Saturday, March 7, was taken by Maalaala Mo Kaya with 29.5%. That episode featured Isabelle Daza and Miles Ocampo as sisters who grew jealous of each other.
ADVERTISEMENT - CONTINUE READING BELOW
Here are the comparative Household Ratings of ABS-CBN, TV5, and GMA-7 programs from March 1-10, 2015 based on the overnight ratings of Kantar Media/TNS among Total Philippines (Urban & Rural) households.
----
March 1, 2015 (Sunday)
Morning:
The Healing Eucharist (ABS-CBN) 4.7%; Kapuso Sine Klasika (GMA-7) 2.3%
Swak Na Swak (ABS-CBN) 3.8%; Grimm's Fairy Tales (GMA-7) 6.1%
Salamat Dok (ABS-CBN) 3%; Kamen Rider Ooo (GMA-7) 7.8%; The Tom & Jerry Kids Show (GMA-7) 9.9%
My Giant Friend (ABS-CBN) 4.4%; Monsuno (GMA-7) 10%
Max Steel (ABS-CBN) 4.6%; Super Book (ABS-CBN) 7%; Aha! (GMA-7) 8.9%
Matanglawin (ABS-CBN) 8.6%; Born To Be Wild (GMA-7) 10.5%
Kapamilya Blockbusters (ABS-CBN) 14.2%; iBilib (GMA-7) 9.4%; Superhero Sunday (GMA-7) 10%
Afternoon:
ASAP 20 (ABS-CBN) 13%; Kapuso Movie Festival (GMA-7) 15.1%
Luv U (ABS-CBN) 10.1%; Sunday All Stars (GMA-7) 8.2%
The Buzz 15 (ABS-CBN) 7.8%; GMA Blockbusters (GMA-7) 10%
TV Patrol Weekend (GMA-7) 8.7%; 24 Oras Weekend (GMA-7) 8.6%; PLDT Home TelPad PBA 2015 Commissioner's Cup Live (TV%) 6.6%
Evening:
Goin' Bulilit (ABS-CBN) 14.6%; Vampire Ang Daddy Ko (GMA-7) 11.1%
Wansapanataym: Remote ni Eric (ABS-CBN) 20.8%; Ismol Family (GMA-7) 15.7%
Rated K: Handa Na Ba Kayo? (ABS-CBN) 25.9%; Kapuso Mo Jessica Soho (GMA-7) 20.1%; Move It (TV5) 2.7%
The Voice of the Philippines (ABS-CBN) 30.8%; Chiz & Heart Love Finally (GMA-7) 9.7%; Mac and Chiz (TV5) 2.2%; Wow Mali Lakas ng Tama! (TV5) 2.7%; Wattpad Presents (TV5) 1.2%
Gandang Gabi Vice (ABS-CBN) 13.5%; Top 20 Funniest (GMA-7) 4.8%
Sunday's Best (ABS-CBN) 2.9%; O Shopping (ABS-CBN) .4%; Diyos at Bayan (GMA-7) .9%; Shop Japan (TV5) .3%
--
March 2, 2015 (Monday)
Morning:
Kape't Pandesal (ABS-CBN) .2%; Maniwala Ka Kaya Mo Replay (ABS-CBN) .6%; Powerhouse Replay (GMA-7) 1%
Umagang Kay Ganda (ABS-CBN) 3.5%; Unang Hirit (GMA-7) 3.2%
Kris TV (ABS-CBN) 4.6%; One Piece (GMA-7) 6.2%; Pokemon (GMA-7) 6.9%; Dragon Ball (GMA-7) 8.8%
Spongebob Squarepants (ABS-CBN) 4.4%; Detective Conan (GMA-7) 8.9%
Remi (ABS-CBN) 5.7%; Fairy Tail (GMA-7) 9.2%
Cedie (ABS-CBN) 6.7%; Slam Dunk (GMA-7) 8.4%
Kapamilya Blockbusters (ABS-CBN) 11.1%; Knock Out (GMA-7) 9%; Corazon Indomable (GMA-7) 7.2%; Women in the Sun (GMA-7) 7.7%
Oh My G! (ABS-CBN) 15%; The Ryzza Mae Show (GMA-7) 8.7%
Afternoon:
It's Showtime (ABS-CBN) 14.4%; Eat Bulaga! (GMA-7) 13.5%
Flordeliza (ABS-CBN) 12.9%;The Half Sisters (GMA-7) 15.2%
Nasaan Ka Nang Kailangan Kita (ABS-CBN) 13.3%; Yagit (GMA-7) 15.3%
ADVERTISEMENT - CONTINUE READING BELOW
Fated to Love You (ABS-CBN) 11.1%; Maniwala Ka Kaya Mo (ABS-CBN) 9.6%; Kailan Ba Tama Ang Mali? (GMA-7) 9.6%
Kapamilya Deal Or No Deal (ABS-CBN) 10.9%; Alisto! (GMA-7) 8%; Fall in Love With Me (GMA-7) 8.8%
Evening:
Bagito (ABS-CBN) 16.3%; Future's Choice (GMA-7) 10.5%
TV Patrol (ABS-CBN) 26.4%; 24 Oras (GMA-7) 17%; Aksyon (TV5) 3%
Dream Dad (ABS-CBN) 33.8%; More Than Words (GMA-7) 16.1%; Movie Max 5 (TV5) 7.2%
Forevermore (ABS-CBN) 31.5%; Once Upon a Kiss (GMA-7) 15.3%; Wattpad Presents (TV5) 3.5%
Two Wives (ABS-CBN) 21.7%; Second Chances (GMA-7) 12.3%; Marvel Agents of SHIELD (TV5) 3.2%
Aquino & Abunda Tonight (ABS-CBN) 10.6%; Unforgettable Love (ABS-CBN) 7.5%; Empress Ki (GMA-7) 12.7%; Extreme Series (TV5) .9%
Bandila (ABS-CBN) 3.6%; Saksi (GMA-7) 5.9%; Aksyon Tonite (TV5) .7%; Reaksyon (TV5) .5%
Mukha (ABS-CBN) 1.8%; Front Row (GMA-7) 3.1%; Demolition Job (TV5) .4%
O Shopping (ABS-CBN) .5%; The Tim Yap Show (GMA-7) 1.4%; Shop Japan (TV5) 0%
---
March 3, 2015 (Tuesday)
Morning:
Kape't Pandesal (ABS-CBN) .3%; 3-in-1 Replay (ABS-CBN) .6%; I-Witness Replay (GMA-7) 1.2%
Umagang Kay Ganda (ABS-CBN) 3.8%; Unang Hirit (GMA-7) 3.7%
Kris TV (ABS-CBN) 4.6%; One Piece (GMA-7) 5.8%; Pokemon (GMA-7) 6.9%; Dragon Ball (GMA-7) 8.4%
Spongebob Squarepants (ABS-CBN) 5.4%; Detective Conan (GMA-7) 9%
Remi (ABS-CBN) 6.3%; Fairy Tail (GMA-7) 9.1%
Cedie (ABS-CBN) 7.5%; Slam Dunk (GMA-7) 9.5%
Kapamilya Blockbusters (ABS-CBN) 11.4%; Knock Out (GMA-7) 8.8%; Corazon Indomable (GMA-7) 7.3%; Women in the Sun (GMA-7) 7.3%
Oh My G! (ABS-CBN) 13.6%; The Ryzza Mae Show (GMA-7) 8.9%
Afternoon:
It's Showtime (ABS-CBN) 14.4%; Eat Bulaga! (GMA-7) 13%
Flordeliza (ABS-CBN) 13.2%; The Half Sisters (GMA-7) 14.3%
Nasaan Ka Nang Kailangan Kita (ABS-CBN) 13.4%; Yagit (GMA-7) 13.1%
Fated to Love You (ABS-CBN) 12.4%; 3-in-1 (ABS-CBN) 9.1%; Kailan Ba Tama Ang Mali? (GMA-7) 9.7%
Kapamilya Deal or No Deal (ABS-CBN) 10.7%; Tunay na Buhay (GMA-7) 7.4%; Fall in Love With Me (GMA-7) 6.7%
Evening:
Bagito (ABS-CBN) 16.8%; Future's Choice (GMA-7) 9%
TV Patrol (ABS-CBN) 26.6%; 24 Oras (GMA-7) 15.5%; Aksyon (TV5) 3.5%
Dream Dad (ABS-CBN) 33.5%; More Than Words (GMA-7) 15.3%; PLDT Home Telpad PBA 2015 Commissioner's Cup Live (TV5) 6.3%
Forevermore (ABS-CBN) 30.9%; Once Upon A Kiss (GMA-7) 15.1%; Wattpad Presents (TV5) 3.6%
Two Wives (ABS-CBN) 21.8%; Second Chances (GMA-7) 12.4%; Marvel Agents of Shield (TV5) 2.8%
Aquino & Abunda Tonight (ABS-CBN) 11.5%; Unforgettable Love (ABS-CBN) 8.3%; Empress Ki (GMA-7) 12.1%; Extreme Series (TV5) 1%
ADVERTISEMENT - CONTINUE READING BELOW
Bandila (ABS-CBN) 3.9%; Saksi (GMA-7) 5.3%; Stan Lee's Superhumans (GMA-7) 2.7%; Aksyon Tonite (TV5) .5%; Reaksyon (TV5) .2%; Numero (TV5) .2%
Banana Nite (ABS-CBN) 2.1%; O Shopping (ABS-CBN) .4%; The Tim Yap Show (GMA-7) 1%; Shop Japan (TV5) 0%
---
March 4, 2015 (Wednesday)
Morning:
Kape't Pandesal (ABS-CBN) .3%; RealiTV Replay (ABS-CBN) .6%; Tunay na Buhay Replay (GMA-7) .8%
Umagang Kay Ganda (ABS-CBN) 3.6%; Unang Hirit (GMA-7) 3.1%
Kris TV (ABS-CBN) 4.8%; One Piece (GMA-7) 5.6%; Pokemon (GMA-7) 6.9%; Dragon Ball (GMA-7) 8.1%; Detective Conan (GMA-7) 8%
Spongebob Squarepants (ABS-CBN) 5%; Fairy Tail (GMA-7) 9.1%
Remi (ABS-CBN) 6.1%; Cedie (ABS-CBN) 7.5%; Slam Dunk (GMA-7) 9.2%
Kapamilya Blockbusters (ABS-CBN) 12.3%; Knock Out (GMA-7) 9.2%; Corazon Indomable (GMA-7) 7.9%; Women in the Sun (GMA-7) 7.5%
Oh My G! (ABS-CBN) 15.7%; The Ryzza Mae Show (GMA-7) 8.7%
Afternoon:
It's Showtime (ABS-CBN) 14.2%; Eat Bulaga! (GMA-7) 13.5%
Flordeliza (ABS-CBN) 11.5%; The Half Sisters (GMA-7) 14.8%
Nasaan Ka Nang Kailangan Kita (ABS-CBN) 12%; Yagit (GMA-7) 14%
Fated to Love You (ABS-CBN) 11.5%; RealiTV (ABS-CBN) 9.1%; Kailan Ba Tama Ang Mali? (GMA-7) 9.2%
Kapamilya Deal or No Deal (ABS-CBN) 8.9%; Powerhouse (GMA-7) 6.6%; Fall in Love With Me (GMA-7) 7%
Evening:
Bagito (ABS-CBN) 15.9%; Future's Choice (GMA-7) 8.7%
TV Patrol (ABS-CBN) 26.1%; 24 Oras (GMA-7) 15.3%; Aksyon (TV5) 2.8%
Dream Dad (ABS-CBN) 32.2%; More Than Words (GMA-7) 15.2%; Movie Max 5 (TV5) 5.3%
Forevermore (ABS-CBN) 31.7%; Once Upon A Kiss (GMA-7) 15.6%; Wattpad Presents (TV5) 2.4%
Two Wives (ABS-CBN) 20.9%; Second Chances (GMA-7) 12.7%; Marvel Agents of Shield (TV5) 3.3%
Aquino & Abunda Tonight (ABS-CBN) 10.7%; Empress Ki (GMA-7) 12.6%; Extreme Series (TV5) 1.5%
Unforgettable Love (ABS-CBN) 7.4%; Bandila (ABS-CBN) 3.5%; Saksi (GMA-7) 6.4%; Aksyon Tonite (TV5) .8%
Banana Nite (ABS-CBN) 1.8%; Earth Flight (GMA-7) 3.1%
O Shopping (ABS-CBN) .5%; The Tim Yap Show (GMA-7) 1.2%; Shop Japan (TV5) 0%
---
March 5, 2015 (Thursday)
Morning:
Kape't Pandesal (ABS-CBN) .1%; Sports U Replay (ABS-CBN) .5%; Born to be Wild Replay (GMA-7) 1%
Umagang Kay Ganda (ABS-CBN) 3.2%; Unang Hirit (GMA-7) 3.3%
Kris TV (ABS-CBN) 5.4%; One Piece (GMA-7) 7.2%; Pokemon (GMA-7) 9.3%; Dragon Ball (GMA-7) 10.4%; Detective Conan (GMA-7) 11.1%
Spongebob Squarepants (ABS-CBN) 6.4%; Remi (ABS-CBN) 6.9%; Fairy Tail (GMA-7) 11.2%
Cedie (ABS-CBN) 8.1%; Slam Dunk (GMA-7) 10.4%
Kapamilya Blockbusters (ABS-CBN) 14.2%; Knock Out (GMA-7) 10.3%; Corazon Indomable (GMA-7) 8.3%; Women in the Sun (GMA-7) 8%
Oh My G! (ABS-CBN) 16.8%; The Ryzza Mae Show (GMA-7) 9.2%
ADVERTISEMENT - CONTINUE READING BELOW
Afternoon:
It's Showtime (ABS-CBN) 15.2%; Eat Bulaga! (GMA-7) 13.7%
Flordeliza (ABS-CBN) 13.1%; The Half Sisters (GMA-7) 14.8%
Nasaan Ka Nang Kailangan Kita (ABS-CBN) 12.9%; Yagit (GMA-7) 14%
Fated to Love You (ABS-CBN) 13.4%; Sports U (ABS-CBN) 8.8%; Kailan Ba Tama Ang Mali? (GMA-7) 10.2%
Kapamilya Deal or No Deal (ABS-CBN) 10.2%; Reporter's Notebook (GMA-7) 7.5%; Fall in Love With Me (GMA-7) 7%
Evening:
Dream Dad (ABS-CBN) 32.5%; More Than Words (GMA-7) 15.8%; Movie Max 5 (TV5) 8.7%
Forevermore (ABS-CBN) 31.7%; Once Upon a Kiss (GMA-7) 14.9%; Wattpad Presents (TV5) 3.6%
Two Wives (ABS-CBN) 22.3%; Second Chances (GMA-7) 13.2%; Marvel Agents of SHIELD (TV5) 4.5%
Aquino & Abunda Tonight (ABS-CBN) 11.3%; Unforgettable Love (ABS-CBN) 7.6%; Empress Ki (GMA-7) 13.1%; Extreme Series (TV5) 1.4%
Bandila (ABS-CBN) 3.8%; Saksi (GMA-7) 5.8%; Aksyon Tonite (TV5) .5%; Reaksyon (TV5) .2%
Banana Nite (ABS-CBN) 2.1%; Earth Flight (TV5) 3.3%; Unang Tikim (TV5) .2%
O Shopping (ABS-CBN) .9%; The Tim Yap Show (GMA-7) 1.2%; Shop Japan (TV5) .1%
--
March 6, 2015 (Friday)
Morning:
Kape't Pandesal (ABS-CBN) .4%; TNT Replay (ABS-CBN) .8%; Alisto! Replay (GMA-7) 1.1%
Umagang Kay Ganda (ABS-CBN) 3.7%; Unang Hirit (GMA-7) 3.4%
Kris TV (ABS-CBN) 5.2%; One Piece (GMA-7) 5.5%; Pokemon (GMA-7) 6.7%; Dragon Ball (GMA-7) 7.8%
Spongebob Squarepants (ABS-CBN) 4.6%; Detective Conan (GMA-7) 9%
Remi (ABS-CBN) 5.8%; Fairy Tail (GMA-7) 9.2%
Cedie (ABS-CBN) 7.3%; Slam Dunk (GMA-7) 9.7%
Kapamilya Blockbusters (ABS-CBN) 11.6%; Knock Out (GMA-7) 9.1%; Corazon Indomable (GMA-7) 7.8%; Women in the Sun (GMA-7) 8%
Oh My G! (ABS-CBN) 14.5%; The Ryzza Mae Show (GMA-7) 8.7%
Afternoon:
It's Showtime (ABS-CBN) 15.5%; Eat Bulaga! (GMA-7) 13.1%
Flordeliza (ABS-CBN) 12.2%; The Half Sisters (GMA-7) 15.5%
Nasaan Ka Nang Kailangan Kita (ABS-CBN) 12.6%; Yagit (GMA-7) 14.1%
Fated to Love You (ABS-CBN) 12.1%; TNT (ABS-CBN) 9.6%; Kailan Ba Tama Ang Mali? (GMA-7) 10.4%
Kapamilya Deal or No Deal (ABS-CBN) 10.9%; Love Hotline (GMA-7) 7.5%; Fall in Love With Me (GMA-7) 6.9%
Evening:
Dream Dad (ABS-CBN) 34.4%; More Than Words (GMA-7) 17%; PBA All Star Palawan 2015 Live (TV5) 5.8%
Forevermore (ABS-CBN) 33.8%; Once Upon a Kiss (GMA-7) 16.8%; Wattpad Presents (TV5) 2.5%
Two Wives (ABS-CBN) 22.8%; Second Chances (GMA-7) 13.1%; The Vampire Diaries (TV5) 3.7%
Aquino & Abunda Tonight (ABS-CBN) 11.9%; Unforgettable Love (ABS-CBN) 8.2%; Bubble Gang (GMA-7) 11.5%; Extreme Series (TV5) 1.8%; Aksyon Tonite (TV5) .9%
Bandila (ABS-CBN) 3.5%; Saksi (GMA-7) 4.5%; Reaksyon (TV5) .3%; Astig (TV5) .2%
ADVERTISEMENT - CONTINUE READING BELOW
Banana Nite (ABS-CBN) 1.6%; O Shopping (ABS-CBN) .7%; The Tim Yap Show (GMA-7) 1.5%; Shop Japan (TV5) 0%
--
March 7, 2015 (Saturday)
Sa Kabukiran (ABS-CBN) .9%; Kapwa Ko Mahal Ko (GMA-7) 1.5%
Salamat Dok (ABS-CBN) 2.3%; Pinoy MD (GMA-7) 3.4%
Swak na Swak (ABS-CBN) 2.7%; The Smurfs (GMA-7) 7.2%
Angel Wings (ABS-CBN) 3.3%; Kamen Rider Ooo (GMA-7) 9.5%
Math Tinik (ABS-CBN) 3.1%; Tom & Jerry Kids Show (GMA-7) 10.9%
The Adventures of Jimmy Neutron Boy Genius (ABS-CBN) 3.6%; Angry Birds Toons (GMA-7) 11.5%
Spongebob Squarepants (ABS-CBN) 6%; Cross Fight B-Daman (GMA-7) 10.3%
Superbook (ABS-CBN) 7.8%; Magic Kaito (GMA-7) 10.3%
2014-2015 NBA Regular NBA Regular Season Live (ABS-CBN) 7.7%; Sarap Diva (GMA-7) 8.5%; Maynila (GMA-7) 10.3%
Afternoon:
It's Showtime (ABS-CBN) 14.8%; Eat Bulaga! (GMA-7) 13.2%; GMA Tales of Horror (GMA-7) 9.2%
Ipaglaban Mo (ABS-CBN) 14.4%; Wish Ko Lang! (GMA-7) 8.7%
Failon Ngayon (GMA-7) 9.1%; Startalk (GMA-7) 8%
SOCO (ABS-CBN) 9.9%; Imbestigador (GMA-7) 8.3%
TV Patrol Weekend (ABS-CBN) 9.6%; 24 Oras Weekend (GMA-7) 8.7%; Movie Max 5 (TV5) 3.6%
Evening:
Mga Kwento ni Marc Logan (ABS-CBN) 16.3%; Home Sweetie Home (ABS-CBN) 22.4%; Pepito Manaloto: Ang Tunay na Kuwento (GMA-7) 15.5%
MMK: Ang Tahanan Mo: Manika (ABS-CBN) 29.5%; Magpakailanman (GMA-7) 20.7%; Tropa Mo Ko Unli Spoof (TV5) 3.5%;2 1/2 Daddies (TV5) 3.5%
Ang Tinig Natin (ABS-CBN) 22.8%; Celebrity Bluff (GMA-7) 17.7%; i-Witness (GMA-7) 11.8%; Everybody Hapi (TV5) 3.5%
Banana Split Extra Scoop (ABS-CBN) 10.8%; The Bottomline (ABS-CBN) 2.5%; Kapuso Movie NIght (GMA-7) 9.3%; Call Me Papa Jack (TV5) 1.1%; Kaya. (TV5) .4%
O Shopping (ABS-CBN) .4%; Walang Tulugan with Master Showman (GMA-7) 1.5%; Shop Japan (TV5) .1%
--
March 8, 2015 (Sunday)
Morning:
The Healing Eucharist (ABS-CBN) 4.7%; Kapuso Sine Klasika (GMA-7) 3%
Swak Na Swak (ABS-CBN) 4%; Grimm's Fairy Tales (GMA-7) 7.7%
Salamat Dok (ABS-CBN) 3.2%; Kamen Rider Ooo (GMA-7) 8.8%; The Tom & Jerry Kids Show (GMA-7) 10.7%
My Giant Friend (ABS-CBN) 4.1%; Monsuno (GMA-7) 11%
Max Steel (ABS-CBN) 4.6%; Aha! (GMA-7) 9.2%
Super Book (ABS-CBN) 6.9%; Born To Be Wild (GMA-7) 10%
Matanglawin (ABS-CBN) 9%; iBilib (GMA-7) 8.9%
Kapamilya Blockbusters (ABS-CBN) 14.2%; Superhero Sunday (GMA-7) 13.9%
Afternoon:
ASAP 20 (ABS-CBN) 11.3%; Kapuso Movie Festival (GMA-7) 18.8%
Luv U (ABS-CBN) 9.9%; Sunday All Stars (GMA-7) 10.1%
The Buzz 15 (ABS-CBN) 7.1%; GMA Blockbusters (GMA-7) 12.6%
TV Patrol Weekend (GMA-7) 7.1%; Goin' Bulilit (ABS-CBN) 9.4%; 24 Oras Weekend (GMA-7) 9.2%; PBA All Star Palawan 2015 Live (TV%) 6.4%
ADVERTISEMENT - CONTINUE READING BELOW
Evening:
Wansapanataym: Remote ni Eric (ABS-CBN) 14.7%; Vampire Ang Daddy Ko (GMA-7) 13.1%
Rated K: Handa Na Ba Kayo? (ABS-CBN) 23%; Ismol Family (GMA-7) 19.4%
Ang Tinig Natin (ABS-CBN) 23.1%; Gandang Gabi Vice (ABS-CBN) 19.2%; Kapuso Mo, Jessica Soho (GMA-7) 23.2%; Mac and Chiz (TV5) 3.8%; Move It (TV5) 2.2%
Sunday's Best (ABS-CBN) 6.5%; Chiz & Heart Love Finally (GMA-7) 8.2%; Wow Mali Lakas ng Tama! (TV5) 2.1%; Wattpad Presents (TV5) 1.8%
O Shopping (ABS-CBN) .9%; Top 20 Funniest (GMA-7) 3.4%; Diyos at Bayan (GMA-7) .7%; Shop Japan (TV5) .3%
--
March 9, 2015 (Monday)
Morning:
Kape't Pandesal (ABS-CBN) .3%; Maniwala Ka Kaya Mo Replay (ABS-CBN) .6%; Powerhouse Replay (GMA-7) .6%
Umagang Kay Ganda (ABS-CBN) 3.4%; Unang Hirit (GMA-7) 3.3%
Kris TV (ABS-CBN) 4.1%; One Piece (GMA-7) 5.3%; Pokemon (GMA-7) 6.5%; Dragon Ball (GMA-7) 7.8%
Spongebob Squarepants (ABS-CBN) 3.7%; Detective Conan (GMA-7) 8.5%
Remi (ABS-CBN) 5.2%; Fairy Tail (GMA-7) 9.1%
Cedie (ABS-CBN) 6.6%; Slam Dunk (GMA-7) 9.1%
Kapamilya Blockbusters (ABS-CBN) 12.4%; Knock Out (GMA-7) 10.1%; Corazon Indomable (GMA-7) 8%; Women in the Sun (GMA-7) 9.2%
Oh My G! (ABS-CBN) 15.8%; The Ryzza Mae Show (GMA-7) 10.8%
Afternoon:
It's Showtime (ABS-CBN) 14.6%; Eat Bulaga! (GMA-7) 14%
Flordeliza (ABS-CBN) 12.1%; The Half Sisters (GMA-7) 15.2%
Nasaan Ka Nang Kailangan Kita (ABS-CBN) 12.5%; Yagit (GMA-7) 14.3%
Fated to Love You (ABS-CBN) 11.9%; Kailan Ba Tama Ang Mali? (GMA-7) 10.8%
Maniwala Ka Kaya Mo (ABS-CBN) 9.6%; Alisto! (GMA-7) 7.9%
Kapamilya Deal Or No Deal (ABS-CBN) 11.5%; Fall in Love With Me (GMA-7) 7.1%
Evening:
Bagito (ABS-CBN) 17%; Future's Choice (GMA-7) 9.4%
TV Patrol (ABS-CBN) 26.2%; 24 Oras (GMA-7) 16.2%; Aksyon (TV5) 3.3%
Dream Dad (ABS-CBN) 32.5%; Pari 'Koy (GMA-7) 17%; Movie Max 5 (TV5) 5.9%
Forevermore (ABS-CBN) 32.7%; Once Upon a Kiss (GMA-7) 15.9%; The Vampire Diaries (TV5) 2.3%; Wattpad Presents (TV5) 2.7%
Two Wives (ABS-CBN) 23%; Second Chances (GMA-7) 12.6%
Aquino & Abunda Tonight (ABS-CBN) 10.7%; Unforgettable Love (ABS-CBN) 7.1%; Empress Ki (GMA-7) 13.1%; Extreme Series (TV5) 1.3%; Aksyon Tonite (TV5) .8%
Bandila (ABS-CBN) 3.1%; Saksi (GMA-7) 5.4%; Front Row (GMA-7) 3%; Reaksyon (TV5) .2%; Demolition Job (TV5) .2%
Mukha (ABS-CBN) 1.2%; O Shopping (ABS-CBN) .3%; The Tim Yap Show (GMA-7) 1.5%; Shop Japan (TV5) 0%
---
March 10, 2015 (Tuesday)
Morning:
Kape't Pandesal (ABS-CBN) .2%; 3-in-1 Replay (ABS-CBN) .5%; I-Witness Replay (GMA-7) .7%
Umagang Kay Ganda (ABS-CBN) 3.7%; Unang Hirit (GMA-7) 2.8%
ADVERTISEMENT - CONTINUE READING BELOW
Kris TV (ABS-CBN) 4.9%; One Piece (GMA-7) 5.7%; Pokemon (GMA-7) 7.1%; Dragon Ball (GMA-7) 8.3%; Detective Conan (GMA-7) 9.5%
Spongebob Squarepants (ABS-CBN) 5.3%; Remi (ABS-CBN) 5.9%; Fairy Tail (GMA-7) 10.1%
Cedie (ABS-CBN) 6.4%; Slam Dunk (GMA-7) 9.9%
Kapamilya Blockbusters (ABS-CBN) 12.3%; Knock Out (GMA-7) 10.9%; Corazon Indomable (GMA-7) 8.6%; Women in the Sun (GMA-7) 8.7%
Oh My G! (ABS-CBN) 15.9%; The Ryzza Mae Show (GMA-7) 8.9%
Afternoon:
It's Showtime (ABS-CBN) 13.8%; Eat Bulaga! (GMA-7) 13.3%
Flordeliza (ABS-CBN) 12.8%; The Half Sisters (GMA-7) 15.1%
Nasaan Ka Nang Kailangan Kita (ABS-CBN) 13.3%; Yagit (GMA-7) 14.2%
Fated to Love You (ABS-CBN) 12.6%; Kailan Ba Tama Ang Mali? (GMA-7) 9.3%
3-in-1 (ABS-CBN) 9.4%; Tunay na Buhay (GMA-7) 6.4%
Kapamilya Deal or No Deal (ABS-CBN) 10.8%; Fall in Love With Me (GMA-7) 6.5%
Evening:
Bagito (ABS-CBN) 16.4%; Future's Choice (GMA-7) 8.7%
TV Patrol (ABS-CBN) 26.6%; 24 Oras (GMA-7) 14.6%; Aksyon (TV5) 3.1%
Dream Dad (ABS-CBN) 33.9%; Pari 'Koy (GMA-7) 15.7%; Movie Max 5 (TV5) 6.9%
Forevermore (ABS-CBN) 33.3%; Once Upon A Kiss (GMA-7) 16%; Wattpad Presents (TV5) 2.6%
Two Wives (ABS-CBN) 25.9%; Second Chances (GMA-7) 13%; The Vampire Diaries (TV5) 3.4%
Aquino & Abunda Tonight (ABS-CBN) 13.8%; Unforgettable Love (ABS-CBN) 8.3%; Empress Ki (GMA-7) 13.5%; Extreme Series (TV5) 1.4%; Aksyon Tonite (TV5) .6%
Bandila (ABS-CBN) 3.6%; Saksi (GMA-7) 5.7%; Reaksyon (TV5) .3%
Banana Nite (ABS-CBN) 1.9%; Stan Lee's Superhumans (GMA-7) 3%; Numero (TV5) .2%
O Shopping (ABS-CBN) .5%; The Tim Yap Show (GMA-7) 1.2%; Shop Japan (TV5) .1%
--
Here are the Top 10 daytime and primetime programs from March 1-10, 2015 among Total Philippines (Urban & Rural) households:
March 1, 2015 (Sunday)
DAYTIME:
1. Kapuso Movie Festival(GMA-7) - 15.1%
2. Kapamilya Blockbusters (ABS-CBN) - 14.2%
3. ASAP 20 (ABS-CBN) - 13%
4. Born to be Wild (GMA-7) – 10.5%
5. Luv U (ABS-CBN) - 10.1%
6. Monsuno (GMA-7) / Superhero Sunday (GMA-7) / GMA Blockbusters (GMA-7) – 10%
7. Tom & Jerry Kids Show (GMA-7) – 9.9%
8. iBilib (GMA-7) – 9.4%
9. Aha! (GMA-7) – 8.9%
TV Patrol Weekend (ABS-CBN) - 8.7%
PRIMETIME:
The Voice of the Philippines (ABS-CBN) – 30.8%
Rated K: Handa na ba Kayo? (ABS-CBN) – 25.9%
Wansapanataym (ABS-CBN) – 20.8%
Kapuso Mo, Jessica Soho (GMA-7) – 20.1%
Ismol Family (GMA-7) – 15.7%
Goin' Bulilit (ABS-CBN) – 14.6%
Gandang Gabi Vice (ABS-CBN) - 13.5%
Vampire Ang Daddy Ko (GMA-7) – 11.1%
Chiz & Heart Finally (GMA-7) – 9.7%
Top 20 Funniest(GMA-7) – 4.8%
March 2, 2015 (Monday)
DAYTIME:
Yagit (GMA-7) – 15.3%
The Half Sisters (GMA-7) – 15.2%
Oh My G! (ABS-CBN) - 15%
It's Showtime (ABS-CBN) - 14.4%
Eat Bulaga! (GMA-7) - 13.5%
Nasaan Ka Nang Kailangan Kita (ABS-CBN) - 13.3%
Flordeliza (ABS-CBN) - 12.9%
Kapamilya Blockbusters (ABS-CBN) / Fated to Love You (ABS-CBN) - 11.1%
Kapamilya Deal or No Deal (ABS-CBN) - 10.9%
Kailan Ba Tama Ang Mali? (GMA-7) - 10.5%
PRIMETIME:
Dream Dad (ABS-CBN) – 33.8%
Forevermore (ABS-CBN) – 31.5%
TV Patrol (ABS-CBN) – 26.4%
Two Wives (ABS-CBN) – 21.7%
24 Oras (GMA-7) - 17%
Bagito (ABS-CBN) – 16.3%
More Than Words (GMA-7) – 16.1%
Once Upon a Kiss (GMA-7) - 15.3%
Empress Ki(GMA-7) - 12.7%
Second Chances(GMA-7) - 12.3%
March 3, 2015 (Tuesday)
DAYTIME:
It's Showtime (ABS-CBN) - 14.4%
The Half Sisters (GMA-7) – 14.3%
Oh My G! (ABS-CBN) - 13.6%
Nasaan Ka Nang Kailangan Kita (ABS-CBN) – 13.4%
Flordeliza (ABS-CBN) – 13.2%
Yagit (GMA-7) – 13.1%
Eat Bulaga! (GMA-7) - 13%
Fated to Love You (ABS-CBN) - 12.4%
Kapamilya Blockbusters (ABS-CBN) - 11.4%
Kapamilya Deal or No Deal (ABS-CBN) - 10.7%
PRIMETIME:
Dream Dad(ABS-CBN) – 33.5%
Forevermore (ABS-CBN) - 30.9%
TV Patrol (ABS-CBN) - 26.6%
Two Wives (ABS-CBN) - 21.8%
Bagito (ABS-CBN) – 16.8%
24 Oras (GMA-7) – 15.5%
More Than Words (GMA-7) - 15.3%
Once Upon A Kiss (GMA-7) – 15.1%
Second Chances(GMA-7) - 12.4%
Empress Ki (GMA-7) - 12.1%
March 4, 2015 (Wednesday)
DAYTIME:
Oh My G! (ABS-CBN) - 15.7%
The Half Sisters (GMA-7) – 14.8%
It's Showtime (ABS-CBN) - 14.2%
Yagit (GMA-7) – 14%
Eat Bulaga! (GMA-7) - 13.5%
Kapamilya Blockbusters (ABS-CBN) - 12.3%
Nasaan Ka Nang Kailangan Kita (ABS-CBN) – 12%
Flordeliza (ABS-CBN) / Fated to Love You (ABS-CBN) – 11.5%
Slam Dunk (GMA-7) / Knock Out (GMA-7) / Kailan Ba Tama Ang Mali? (GMA-7) - 9.2%
Fairy Tail (GMA-7) / RealiTV (ABS-CBN) – 9.1%
PRIMETIME:
Dream Dad(ABS-CBN) – 32.2%
Forevermore (ABS-CBN) - 31.7%
TV Patrol (ABS-CBN) - 26.1%
Two Wives (ABS-CBN) - 20.9%
Bagito (ABS-CBN) – 15.9%
Once Upon A Kiss (GMA-7) – 15.6%
24 Oras (GMA-7) – 15.3%
More Than Words (GMA-7) - 15.2%
Second Chances(GMA-7) - 12.7%
Empress Ki (GMA-7) - 12.6%
March 5, 2015 (Thursday)
DAYTIME:
Oh My G! (ABS-CBN) - 16.8%
It's Showtime (ABS-CBN) - 15.2%
The Half Sisters (GMA-7) – 14.8%
Kapamilya Blockbusters (ABS-CBN) - 14.2%
Yagit (GMA-7) – 14%
Eat Bulaga! (GMA-7) – 13.7%
Fated to Love You (ABS-CBN) - 13.4%
Flordeliza (ABS-CBN) - 13.1%
Nasaan Ka Nang Kailangan Kita (ABS-CBN) - 12.9%
Fairy Tail (GMA-7) – 11.2%
PRIMETIME:
Dream Dad (ABS-CBN) – 32.5%
Forevermore (ABS-CBN) - 31.7%
TV Patrol (ABS-CBN) - 26.8%
Two Wives (ABS-CBN) - 22.3%
Bagito (ABS-CBN) - 16.6%
24 Oras (GMA-7) - 16.2%
More Than Words (GMA-7) - 15.8%
Once Upon a Kiss (GMA-7) – 14.9%
Second Chances(GMA-7) - 13.2%
Empress Ki (GMA-7) – 13.1%
March 6, 2015 (Friday)
DAYTIME:
It's Showtime (ABS-CBN) / The Half Sisters (GMA-7) - 15.5%
Oh My G! (ABS-CBN) - 14.5%
Yagit (GMA-7) – 14.1%
Eat Bulaga! (GMA-7) – 13.1%
Nasaan Ka Nang Kailangan Kita (ABS-CBN) - 12.6%
Flordeliza (ABS-CBN) - 12.2%
Fated to Love You (ABS-CBN) - 12.1%
Kapamilya Blockbusters (ABS-CBN) - 11.6%
Kapamilya Deal or No Deal (ABS-CBN) - 10.9%
Kailan Ba Tama Ang Mali? (GMA-7) – 10.4%
PRIMETIME:
Dream Dad(ABS-CBN) – 34.4%
Forevermore (ABS-CBN) - 33.8%
TV Patrol (ABS-CBN) - 27.9%
Two Wives (ABS-CBN) - 22.8%
Bagito (ABS-CBN) - 17.3%
More Than Words (GMA-7) - 17%
Once Upon a Kiss (GMA-7) – 16.8%
24 Oras (GMA-7) – 15.3%
Second Chances(GMA-7) - 13.1%
Aquino & Abunda Tonight (ABS-CBN) - 11.9%
March 7, 2015 (Saturday)
DAYTIME:
It's Showtime (ABS-CBN) – 14.8%
Ipaglaban Mo (ABS-CBN) - 14.4%
Eat Bulaga! (GMA-7) – 13.2%
Angry Birds Toons (GMA-7) – 11.5%
Tom & Jerry Kids Show (GMA-7) - 10.9%
Cross Fight B-Daman (GMA-7) / Magic Kaito (GMA-7) / Maynila (GMA-7) – 10.3%
SOCO (ABS-CBN) - 9.9%
TV Patrol Weekend (ABS-CBN) - 9.6%
Kamen Rider Ooo (GMA-7) - 9.5%
GMA Tales of Horror (GMA-7) - 9.2%
PRIMETIME:
MMK: Ang Tahanan Mo (ABS-CBN) – 29.5%
2. Ang Tinig Natin (ABS-CBN) – 22.8%
3. Home Sweetie Home (ABS-CBN) – 22.4%
Magpakailanman (GMA-7) – 20.7%
Celebrity Bluff (GMA-7) – 17.7%
Mga Kwento ni Marc Logan (ABS-CBN) – 16.3%
Pepito Manaloto: Ang Tunay na Kuwento (GMA-7) – 15.5%
i-Witness (GMA-7) – 11.8%
Banana Split Extra Scoop (ABS-CBN) - 10.8%
10. Kapuso Movie Night (GMA-7) – 9.3%
March 8, 2015 (Sunday)
DAYTIME:
1. Kapuso Movie Festival(GMA-7) - 18.8%
2. Superhero Sunday (GMA-7) - 13.9%
3. GMA Blockbusters (GMA-7) – 12.6%
4. ASAP 20 (ABS-CBN) - 11.3%
5. Monsuno (GMA-7) - 11%
6. Tom & Jerry Kids Show (GMA-7) – 10.7%
7. Sunday All Stars (GMA-7) – 10.1%
8. Born to be Wild (GMA-7) – 10%
9. Luv U (ABS-CBN) - 9.9%
10. Aha! (GMA-7) / 24 Oras Weekend (GMA-7) – 9.2%
PRIMETIME:
Kapuso Mo, Jessica Soho (GMA-7) – 23.2%
Ang Tinig Natin (ABS-CBN) – 23.1%
Rated K: Handa na ba Kayo? (ABS-CBN) – 23%
Ismol Family (GMA-7) – 19.4%
Gandang Gabi Vice (ABS-CBN) - 19.2%
Wansapanataym (ABS-CBN) – 14.7%
Vampire Ang Daddy Ko (GMA-7) – 13.1%
Goin' Bulilit (ABS-CBN) – 9.4%
Chiz & Heart Finally (GMA-7) – 8.2%
Sunday's Best (ABS-CBN) – 6.5%
March 9, 2015 (Monday)
DAYTIME:
Oh My G! (ABS-CBN) - 15.8%
The Half Sisters (GMA-7) – 15.2%
It's Showtime (ABS-CBN) - 14.6%
Yagit (GMA-7) – 14.3%
Eat Bulaga! (GMA-7) - 14%
Nasaan Ka Nang Kailangan Kita (ABS-CBN) - 12.5%
Kapamilya Blockbusters (ABS-CBN)- 12.4%
Flordeliza (ABS-CBN) - 12.1%
Fated to Love You (ABS-CBN) - 11.9%
Kapamilya Deal or No Deal (ABS-CBN) - 11.5%
PRIMETIME:
Forevermore (ABS-CBN) – 32.7%
Dream Dad (ABS-CBN) – 32.5%
TV Patrol (ABS-CBN) – 26.2%
Two Wives (ABS-CBN) – 23%
Bagito (ABS-CBN) / Pari 'Koy (GMA-7) – 17%
24 Oras (GMA-7) - 16.2%
Once Upon a Kiss (GMA-7) - 15.9%
Empress Ki(GMA-7) - 13.1%
Second Chances(GMA-7) - 12.6%
Aquino & Abunda Tonight (ABS-CBN) - 10.7%
March 10, 2015 (Tuesday)
DAYTIME:
Oh My G! (ABS-CBN) - 15.9%
The Half Sisters (GMA-7) – 15.1%
Yagit (GMA-7) – 14.2%
It's Showtime (ABS-CBN) - 13.8%
Nasaan Ka Nang Kailangan Kita (ABS-CBN) / Eat Bulaga! (GMA-7) – 13.3%
Flordeliza (ABS-CBN) – 13.2%
Fated to Love You (ABS-CBN) - 12.6%
Kapamilya Blockbusters (ABS-CBN) - 12.3%
Knock Out (GMA-7) – 10.9%
Kapamilya Deal or No Deal (ABS-CBN) - 10.8%
PRIMETIME:
Dream Dad(ABS-CBN) – 33.9%
Forevermore (ABS-CBN) - 33.3%
TV Patrol (ABS-CBN) - 26.6%
Two Wives (ABS-CBN) - 25.9%
Bagito (ABS-CBN) – 16.4%
Once Upon A Kiss (GMA-7) – 16%
Pari 'Koy (GMA-7) - 15.7%
24 Oras (GMA-7) – 14.6%
Aquino & Abunda Tonight (ABS-CBN) - 13.8%
Empress Ki (GMA-7) - 13.5%
Source: Kantar/TNS