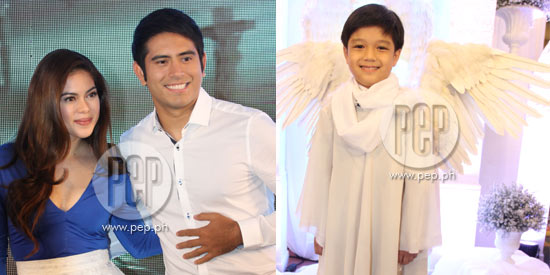 ---
ABS-CBN is still the most-preferred TV network nationwide. This is according to data based on the overnight ratings of Kantar Media/TNS among Total Philippines (Urban & Rural) fromApril 17-23, 2015.
The Kapamilya Network's new and old shows made a mark on primetime.
The new religion-themed series Nathaniel debuted well on April 20, earning 29.4% versus GMA-7's Pari 'Koy that got 15.3%. It also placed second on the top ten list of most-watched shows on primetime, behind ABS-CBN's hit romance drama Forevermore.
Nathaniel's performance only went better from there, placing first from April 21-23. Nathaniel is a values-oriented series that features a young angel played by child actor Marco Masa. Also part of the cast are Gerald Anderson, Shaina Magdayao, new Kapamilya star Isabelle Daza and Coney Reyes.
(Nathaniel is the replacement for Dream Dad, which ended on April 17. Its last episode scored 34.6%, the third-highest rating it has posted since its November 24, 2014 debut. The two highest are 34.9% on March 12 and 34.8% on March 16.)
Other ABS-CBN primetime shows that also ended up in the top five in primetime aside from Nathaniel and Forevermore are TV Patrol, Inday Bote and Bridges of Love.
The Kapamilya station did not do very well on daytime. GMA-7 shows The Half Sisters and Yagit were able to reach the No. 1 slot during the given period. The Half Sisters is pitted against Flordeliza while Yagit has the same timeslot as Nasaan Ka Nang Kailangan Kita.

Only one Kapamilya show, Oh My G, was able to beat its rival show, The Ryzza Mae Show.
The leading weekend program is Your Face Sounds Familiar, which got the highest ratings on Saturday, April 18, and Sunday, April 19.
Here are the comparative Household Ratings of ABS-CBN, TV5, and GMA-7 programs from April 17-23, 2015 based on the overnight ratings of Kantar Media/TNS among Total Philippines (Urban & Rural) households.
ADVERTISEMENT - CONTINUE READING BELOW
---
April 17, 2015 (Friday)
Morning:
Kape't Pandesal (ABS-CBN) .2%; TNT Replay (ABS-CBN) .6%; Alisto! Replay (GMA-7) .7%
Umagang Kay Ganda (ABS-CBN) 2.6%; Unang Hirit (GMA-7) 2.4%
Kris TV (ABS-CBN) 4.8%; Time Quest (GMA-7) 8.4%; Martin Mystery (GMA-7) 12.3%; Dragon Ball (GMA-7) 14.3%; Magi the Labyrinth of Magic (GMA-7) 16.1%
Naruto Shippuuden (ABS-CBN) 5.3%; Fairy Tail (GMA-7) 18.4%
Wansapanasummer (ABS-CBN) 7.9%; Slam Dunk (GMA-7) 16.9%; Knock Out (GMA-7) 14.1%
Summer Kapamilya Blockbusters: Superhero Movie (ABS-CBN) 17%; Two Mothers (GMA-7) 8.9%; Corazon Indomable (GMA-7) 10.6%
Oh My G! (ABS-CBN) 17.9%; The Ryzza Mae Show (GMA-7) 10.1%
Afternoon:
It's Showtime (ABS-CBN) 16.1%; Eat Bulaga! (GMA-7) 12.5%
Flordeliza (ABS-CBN) 15.5%;The Half Sisters (GMA-7) 16.5%
Nasaan Ka Nang Kailangan Kita (ABS-CBN) 15%; Yagit (GMA-7) 16.7%
Fated to Love You (ABS-CBN) 14.2%; Kailan Ba Tama Ang Mali? (GMA-7) 12.2%
TNT (ABS-CBN) 11.1%; Love Hotline (GMA-7) 7.5%
Kapamilya Deal or No Deal (ABS-CBN) 14.2%; Fall in Love With Me (GMA-7) 6.1%
Evening:
Inday Bote (ABS-CBN) 19.2%; My Love from the Star (GMA-7) 10%
TV Patrol (ABS-CBN) 27.5%; 24 Oras (GMA-7) 14.8%; Aksyon (TV5) 2.8%
Dream Dad (ABS-CBN) 34.6%; Pari 'Koy (GMA-7) 14.9%; PLDT Home TelPad PBA 2015 Commissioner's Cup Finals Live (TV5) 6.3%
Forevermore (ABS-CBN) 28.9%; Once Upon A Kiss (GMA-7) 16%
Bridges of Love (ABS-CBN) 18.9%; Second Chances (GMA-7) 14.3%; Wattpad Presents (TV5) 2.6%; Supernatural (TV5) 3.1%
Aquino & Abunda Tonight (ABS-CBN) 10.9%; Unforgettable Love (ABS-CBN) 8%; Bubble Gang (GMA-7) 9.5%; Extreme Series (TV5) 1.4%; Aksyon Tonite (TV5) .5%
Bandila (ABS-CBN) 3.5%; Saksi (GMA-7) 4%; Reaksyon (TV5) .2%
Banana Nite (ABS-CBN) 2%; O Shopping (ABS-CBN) .5%; The Tim Yap Show (GMA-7) 1.8%; Shop Japan (TV5) .1%
--
April 18, 2015 (Saturday)
Sa Kabukiran (ABS-CBN) .9%;Adyenda (TV5) 1%
Salamat Dok (ABS-CBN) 2.3%; Kapwa Ko Mahal Ko (GMA-7) 1.6%;Pinoy MD (GMA-7) 3.9%
Swak na Swak (ABS-CBN) 2.6%; The Smurfs (GMA-7) 8.3%
Angel Wings (ABS-CBN) 2.5%; Kamen Rider Ooo (GMA-7) 11.9%
Math Tinik (ABS-CBN) 2.3%; Tom & Jerry Kids Show (GMA-7) 13.4%
Kung Fu Panda: Legends of Awesomeness (ABS-CBN) 3.5%; Angry Birds Toons (GMA-7) 13.8%
Spongebob Squarepants (ABS-CBN) 5.7%; Cross Fight B-Daman (GMA-7) 12.7%
Superbook (ABS-CBN) 9.4%;Dragon Ball Fight (GMA-7) 13.1%; Sarap Diva (GMA-7) 7.8%
Summer Kapamilya Blockbusters: Tekken (ABS-CBN) 16.8%; Maynila (GMA-7) 9.2%
Afternoon:
It's Showtime (ABS-CBN) 14.9%; Eat Bulaga! (GMA-7) 13.1%
Ipaglaban Mo (ABS-CBN) 14.7%; Wish Ko Lang! (GMA-7) 11.6%; Karelasyon (GMA-7) 11.8%
ADVERTISEMENT - CONTINUE READING BELOW
Failon Ngayon (ABS-CBN) 10.7%; Startalk (GMA-7) 8.4%
SOCO (ABS-CBN) 11.8%; Imbestigador (GMA-7) 9.3%
TV Patrol Weekend (ABS-CBN) 12.2%; 24 Oras Weekend (GMA-7) 9.6%; Movie Max 5 (TV5) 3%
Evening:
Mga Kwento ni Marc Logan (ABS-CBN) 17.6%; Sabado Badoo (GMA-7) 10.9%
Home Sweetie Home (ABS-CBN) 20.9%; Pepito Manaloto: Ang Tunay na Kuwento (GMA-7) 17.4%; Tropa Mo Ko Unli Spoof (TV5) 2.7%
MMK: Ang Tahanan Mo: Bota (ABS-CBN) 27.3%; Magpakailanman (GMA-7) 22.2%; 2 1/2 Daddies (TV5) 1.5%
Your Face Sounds Familiar (ABS-CBN) 27.4%; Celebrity Bluff (GMA-7) 13.9%; Everybody Hapi (TV5) 1.7%
Banana Split Extra Scoop (ABS-CBN) 11.4%; i-Witness (GMA-7) 10.5%; Rising Stars (TV5) .9%
The Bottomline (ABS-CBN) 4.3%; Kapuso Movie NIght: The Hive (GMA-7) 8.9%; Kaya. (TV5) .6%
O Shopping (ABS-CBN) .8%; Walang Tulugan with Master Showman (GMA-7) 1.6%; Shop Japan (TV5) .1%
--
April 19, 2015 (Sunday)
Morning:
The Healing Eucharist (ABS-CBN) 4.5%; Kapuso Sine Klasika: All In Wonderland (GMA-7) 3.2%
Swak Na Swak (ABS-CBN) 3.9%; Grimm's Fairy Tales (GMA-7) 7.3%
Salamat Dok (ABS-CBN) 3.3%; Kamen Rider Ooo (GMA-7) 9.3%;The Tom & Jerry Kids Show (GMA-7) 10.8%
Kuroko's Basketball (ABS-CBN) 4%; Dragon Ball Fight (GMA-7) 12.4%
Haikyu!! (ABS-CBN) 5.4%;Aha! (GMA-7) 10%
Super Book (ABS-CBN) 7.3%; Born To Be Wild (GMA-7) 10.5%
Matanglawin (ABS-CBN) 10%; iBilib (GMA-7) 10.1%
Kapamilya Kiddie Blockbusters: The Incredibles (ABS-CBN) 13.9%; Kapuso Movie Festival: Flushed Away (GMA-7) 13.5%
Afternoon:
ASAP 20 (ABS-CBN) 12.1%; Kapuso Movie Festival: Garfield (GMA-7) 17.6%; Sunday All Stars (GMA-7) 9.1%
Kapamilya Mega Blockbusters: My Little Bossings (ABS-CBN) 15%; GMA Tales of Horror: Juhou 2405 (GMA-7) 5.4%
Luv U (ABS-CBN) 10.9%; Insta Dad (GMA-7) 6.1%; PLDT Home TelPad PBA 2015 Commissioner's Cup Finals Live (TV5) 5.4%
TV Patrol Weekend (GMA-7) 11.6%; 24 Oras Weekend (GMA-7) 6.3%
Evening:
Goin' Bulilit (ABS-CBN) 19.5%; Vampire Ang Daddy Ko (GMA-7) 10.4%
Wansapanataym: Yamishita's Treasures (ABS-CBN) 24.3%; Ismol Family (GMA-7) 15.4%
Rated K: Handa Na Ba Kayo? (ABS-CBN) 26.4%; Your Face Sounds Familiar (ABS-CBN) 29%; Kapuso Mo, Jessica Soho (GMA-7) 21.3%; Mac and Chiz (TV5) 2.4%; Move It (TV5) 1.1%; Wow Mali Lakas ng Tama! (TV5) 1.4%
Gandang Gabi Vice (ABS-CBN) 18.1%; Asia's Next Top Model (GMA-7) 10.1%; Call Me Papa Jack (TV5) .6%
Sunday's Best: Arise Gary V 3.0 (ABS-CBN) 3.4%; Sunday Night Box Office: Skyline (GMA-7) 9.6%; Demolition Job (TV5) .7%; History with Lourd (TV5) .4%
ADVERTISEMENT - CONTINUE READING BELOW
O Shopping (ABS-CBN) .6%; Diyos at Bayan (GMA-7) 1.6%; Shop Japan (TV5) .1%
--
April 20, 2015 (Monday)
Morning:
Kape't Pandesal (ABS-CBN) .2%; Maniwala Ka Kaya Mo Replay (ABS-CBN) .3%; Powerhouse Replay (GMA-7) .2%
Umagang Kay Ganda (ABS-CBN) 2.5%; Unang Hirit (GMA-7) 2.8%
Kris TV (ABS-CBN) 4.2%; Time Quest (GMA-7) 9.6%; Martin Mystery (GMA-7) 12.9%; Dragon Ball (GMA-7) 15.2%; Magi The Labyrinth of Magic (GMA-7) 16.3%
Naruto Shippuuden (ABS-CBN) 4.3%; Fairy Tail (GMA-7) 17.2%
Wansapanasummer (ABS-CBN) 6.6%; Slam Dunk (GMA-7) 16.1%; Knock Out (GMA-7) 14.3%
Summer Kapamilya Blockbusters: The Shaggy Dog (ABS-CBN) 14.9%; Two Mothers (GMA-7) 9%; Corazon Indomable (GMA-7) 10%
Oh My G! (ABS-CBN) 16.6%; The Ryzza Mae Show (GMA-7) 10.4%
Afternoon:
It's Showtime (ABS-CBN) 14.1%; Eat Bulaga! (GMA-7) 14.2%
Flordeliza (ABS-CBN) 13%; The Half Sisters (GMA-7) 17.4%
Nasaan Ka Nang Kailangan Kita (ABS-CBN) 13.3%; Yagit (GMA-7) 16.8%
Fated to Love You (ABS-CBN) 11.1%; Maniwala Ka Kaya Mo (ABS-CBN) 9%; Kailan Ba Tama Ang Mali? (GMA-7) 11.8%
Kapamilya Deal Or No Deal (ABS-CBN) 11.6%; Alisto! (GMA-7) 7.5%; Fall in Love With Me (GMA-7) 6.7%
Evening:
Inday Bote (ABS-CBN) 18.5%; My Love from the Star (GMA-7) 9.4%
TV Patrol (ABS-CBN) 25.2%; 24 Oras (GMA-7) 16.4%; Aksyon (TV5) 2.4%
Nathaniel (ABS-CBN) 29.4%; Pari 'Koy (GMA-7) 15.3%; Movie Max 5 (TV5) 8%
Forevermore (ABS-CBN) 29.5%; Once Upon a Kiss (GMA-7) 16.3%; Wattpad Presents (TV5) 3.7%
Bridges of Love (ABS-CBN) 20.4%; Second Chances (GMA-7) 13.9%; Supernatural (TV5) 3.5%
Aquino & Abunda Tonight (ABS-CBN) 12.2%; King of Ambition (GMA-7) 9.4%; Extreme Series (TV5) 2.2%
Unforgettable Love (ABS-CBN) 9.3%; Bandila (ABS-CBN) 3.6%; Saksi (GMA-7) 5%; Front Row (ABS-CBN) 2.8%; Aksyon Tonite (TV5) .9%; Reaksyon (TV5) .2%; Demolition Job (TV5) .2%
Mukha (ABS-CBN) 1.5%; O Shopping (ABS-CBN) .4%; The Tim Yap Show (GMA-7) 1.1%; Shop Japan (TV5) 0%
--
April 21, 2015 (Tuesday)
Morning:
Kape't Pandesal (ABS-CBN) .4%; 3-in-1 Replay (ABS-CBN) .4%; i-Witness Replay (GMA-7) .5%
Umagang Kay Ganda (ABS-CBN) 2.7%; Unang Hirit (GMA-7) 2.4%
Kris TV (ABS-CBN) 4.6%; Time Quest (GMA-7) 8.7%; Martin Mystery (GMA-7) 12.2%; Dragon Ball (GMA-7) 14.6%; Magi the Labyrinth of Magic (GMA-7) 15.7%
Naruto Shippuuden (ABS-CBN) 4.8%; Fairy Tail (GMA-7) 16.4%
Wansapanasummer (ABS-CBN) 6.9%; Slam Dunk (GMA-7) 16.2%
Summer Kapamilya Blockbusters: Mirror Mirror (ABS-CBN) 15.4%; Knock Out (GMA-7) 13.6%; Two Mothers (GMA-7) 8.6%; Corazon Indomable (GMA-7) 9.8%
Oh My G! (ABS-CBN) 16.7%; The Ryzza Mae Show (GMA-7) 9.4%
Afternoon:
ADVERTISEMENT - CONTINUE READING BELOW
It's Showtime (ABS-CBN) 13.7%; Eat Bulaga! (GMA-7) 13.3%
Flordeliza (ABS-CBN) 13.1%;The Half Sisters (GMA-7) 16.7%
Nasaan Ka Nang Kailangan Kita (ABS-CBN) 13.1%; Yagit (GMA-7) 16.7%
Fated to Love You (ABS-CBN) 11.4%; 3-in-1 (ABS-CBN) 9.1%; Kailan Ba Tama Ang Mali? (GMA-7) 12.5%
Kapamilya Deal or No Deal (ABS-CBN) 11.3%; Tunay na Buhay (GMA-7) 8.4%; Fall in Love With Me (GMA-7) 7.6%
Evening:
Inday Bote (ABS-CBN) 17.7%; My Love from the Star (GMA-7) 11.2%
TV Patrol (ABS-CBN) 26.2%; 24 Oras (GMA-7) 17.1%; Aksyon (TV5) 3.2%
Nathaniel (ABS-CBN) 31.5%; Pari 'Koy (GMA-7) 16.1%; Movie Max 5 (TV5) 7%
Forevermore (ABS-CBN) 29.7%; Once Upon A Kiss (GMA-7) 17.6%; Wattpad Presents (TV5) 3.7%
Bridges of Love (ABS-CBN) 19.7%; Second Chances (GMA-7) 15.4%; Supernatural (TV5) 3.5%
Aquino & Abunda Tonight (ABS-CBN) 11.7%; Unforgettable Love (ABS-CBN) 8.3%; King of Ambition (GMA-7) 11.3%; Extreme Series (TV5) 1.7%
Bandila (ABS-CBN) 3.6%; Saksi (GMA-7) 6%; Stan Lee's Superhumans (GMA-7) 3.1%; Aksyon Tonite (TV5) .9%; Reaksyon (TV5) .2%; Numero (TV5) .2%
Banana Nite (ABS-CBN) 1.9%; O Shopping (ABS-CBN) .7%; The Tim Yap Show (GMA-7) 1.2%; Shop Japan (TV5) 0%
---
April 22, 2015 (Wednesday)
Morning:
Kape't Pandesal (ABS-CBN) .2%; RealiTV Replay (ABS-CBN) .4%; Tunay na Buhay Replay (GMA-7) .5%
Umagang Kay Ganda (ABS-CBN) 2.7%; Unang Hirit (GMA-7) 2.6%
Kris TV (ABS-CBN) 4.7%; Time Quest (GMA-7) 8.7%; Martin Mystery (GMA-7) 13%; Dragon Ball (GMA-7) 15%; Magi the Labyrinth of Magic (GMA-7) 15.1%
Naruto Shippuuden (ABS-CBN) 4.7%; Fairy Tail (GMA-7) 16.2%
Wansapanasummer (ABS-CBN) 7.2%; Slam Dunk (GMA-7) 15.8%
Kapamilya Blockbusters: Mighty Joe Young (ABS-CBN) 16.4%; Knock Out (GMA-7) 13.2%; Two Mothers (GMA-7) 9.5%; Corazon Indomable (GMA-7) 10%
Oh My G! (ABS-CBN) 18.2%; The Ryzza Mae Show (GMA-7) 9.2%
Afternoon:
It's Showtime (ABS-CBN) 16%; Eat Bulaga! (GMA-7) 13.6%
Flordeliza (ABS-CBN) 15.9%; The Half Sisters (GMA-7) 17.6%
Nasaan Ka Nang Kailangan Kita (ABS-CBN) 14.8%; Yagit (GMA-7) 17.3%
Fated to Love You (ABS-CBN) 12%; RealiTV (ABS-CBN) 9.8%; Kailan Ba Tama Ang Mali? (GMA-7) 12.2%
Kapamilya Deal or No Deal (ABS-CBN) 10.7%; Powerhouse (ABS-CBN) 7.1%; Fall in Love With Me (GMA-7) 6.5%
Evening:
Inday Bote (ABS-CBN) 15.9%; My Love from the Star (GMA-7) 8.7%
TV Patrol (ABS-CBN) 25.4%; 24 Oras (GMA-7) 15.4%; Aksyon (TV5) 3.4%
Nathaniel (ABS-CBN) 33.1%; Pari 'Koy (GMA-7) 16.1%; PLDT Home TelPad PBA 2015 Commissioner's Cup Finals Live (TV5) 6.9%
Forevermore (ABS-CBN) 28.3%; Once Upon A Kiss (GMA-7) 17%
ADVERTISEMENT - CONTINUE READING BELOW
Bridges of Love (ABS-CBN) 20.2%; Second Chances (GMA-7) 14.7%; Wattpad Presents (TV5) 3.6%
Aquino & Abunda Tonight (ABS-CBN) 11.9%; King of Ambition (GMA-7) 10.7%; Supernatural (TV5) 3.2%
Unforgettable Love (ABS-CBN) 9.1%; Saksi (GMA-7) 5.4%; Extreme Series (TV5) 1.5%
Bandila (ABS-CBN) 4.3%; Human Planet (GMA-7) 3.6%; Aksyon Tonite (TV5) .5%
Banana Nite (ABS-CBN) 2.2%; O Shopping (ABS-CBN) .6%; The Tim Yap Show (GMA-7) 1.3%; Reaksyon (TV5) .2%; Shop Japan (TV5) .1%
--
April 23, 2015 (Thursday)
Morning:
Kape't Pandesal (ABS-CBN) .1%; Sports U Replay (ABS-CBN) .2%; Born to be Wild Replay (GMA-7) .3%
Umagang Kay Ganda (ABS-CBN) 2.4%; Unang Hirit (GMA-7) 2.5%
Kris TV (ABS-CBN) 4.4%; Time Quest (GMA-7) 8.2%; Martin Mystery (GMA-7) 12%; Dragon Ball(GMA-7) 15.9%; Magi the Labyrinth of Magic (GMA-7) 15%
Naruto Shippuuden (ABS-CBN) 4.8%; Fairy Tail (GMA-7) 16.3%
Wansapanasummer (ABS-CBN) 7.4%; Slam Dunk (GMA-7) 15.3%
Summer Kapamilya Blockbusters(ABS-CBN) 14.9%; Knock Out (GMA-7) 13%; Two Mothers (GMA-7) 9.4%; Corazon Indomable (GMA-7) 10.6%
Oh My G! (ABS-CBN) 15.7%; The Ryzza Mae Show (GMA-7) 9.8%
Afternoon:
It's Showtime (ABS-CBN) 14.1%; Eat Bulaga! (GMA-7) 13.3%
Flordeliza (ABS-CBN) 15.1%; The Half Sisters (GMA-7) 18.5%
Nasaan Ka Nang Kailangan Kita (ABS-CBN) 15.4%; Yagit (GMA-7) 17.5%
Fated to Love You (ABS-CBN) 11.8%; Sports U (ABS-CBN) 8.7%; Kailan Ba Tama Ang Mali? (GMA-7) 12.8%
Kapamilya Deal or No Deal (ABS-CBN) 11%; Reporter's Notebook (ABS-CBN) 6.7%; Fall in Love With Me (GMA-7) 7.1%
Evening:
Inday Bote (ABS-CBN) 17%; My Love from the Star (GMA-7) 10.1%
TV Patrol (ABS-CBN) 27.3%; 24 Oras (GMA-7) 15.7%; Aksyon (TV5) 2.1%
Nathaniel (ABS-CBN) 34.3%; Pari 'Koy (GMA-7) 15.7%; Movie Max 5 (TV5) 5%
Forevermore (ABS-CBN) 30%; Once Upon A Kiss (GMA-7) 17.1%; Wattpad Presents (TV5) 2.8%
Bridges of Love (ABS-CBN) 20.5%; Second Chances (GMA-7) 14.9%; Supernatural (TV5) 3.9%
Aquino & Abunda Tonight (ABS-CBN) 11.4%; King of Ambition (GMA-7) 9.8%; Extreme Series (TV5) 2.2%
Unforgettable Love (ABS-CBN) 8.7%; Saksi (GMA-7) 5.9%; Aksyon Tonite (TV5) 1%
Bandila (ABS-CBN) 3.2%; Human Planet (GMA-7) 4%; Reaksyon (TV5) .4%; Unang Tikim (TV5) .2%
Banana Nite (ABS-CBN) 1.8%; O Shopping (ABS-CBN) .5%; The Tim Yap Show (GMA-7) 1.2%; Shop Japan (TV5) 0%
--
Here are the Top 10 daytime and primetime programs from April 17-23, 2015 among Total Philippines (Urban & Rural) households:



April 17, 2015 (Friday)
DAYTIME:
Fairy Tail (GMA-7) - 18.4%
Oh My G! (ABS-CBN) - 17.9%
Summer Kapamilya Blockbusters (ABS-CBN) - 17%
Slam Dunk (GMA-7) - 16.9%
Yagit (GMA-7) – 16.7%
The Half Sisters (GMA-7) – 16.5%
Magi the Labyrinth of Magic (GMA-7) / It's Showtime (ABS-CBN) - 16.1%
Flordeliza (ABS-CBN) - 15.5%
Nasaan Ka Nang Kailangan Kita? (ABS-CBN) - 15%
Dragon Ball (GMA-7) - 14.3%
PRIMETIME:
Dream Dad(ABS-CBN) - 34.6%
Forevermore (ABS-CBN) - 28.9%
TV Patrol (ABS-CBN) - 27.5%
Inday Bote (ABS-CBN) – 19.2%
Bridges of Love (ABS-CBN) - 18.9%
Once Upon A Kiss (GMA-7) – 16%
Pari 'Koy (GMA-7) - 14.9%
24 Oras (GMA-7) – 14.8%
Second Chances(GMA-7) - 14.3%
Aquino & Abunda Tonight (ABS-CBN) - 10.9%



April 18, 2015 (Saturday)
DAYTIME:
Summer Kapamilya Blockbusters (ABS-CBN) - 16.8%
It's Showtime (ABS-CBN) – 14.9%
Ipaglaban Mo (ABS-CBN) – 14.7%
Angry Birds Toons (GMA-7) – 13.8%
Tom & Jerry Kids Show (GMA-7) - 13.4%
Dragon Ball Fight (GMA-7) / Eat Bulaga! (GMA-7) – 13.1%
Cross Fight B-Daman (GMA-7) - 12.7%
TV Patrol Weekend (ABS-CBN) - 12.2%
Kamen Rider Ooo (GMA-7) - 11.9%
SOCO (ABS-CBN) / Karelasyon (GMA-7) - 11.8%
PRIMETIME:
Your Face Sounds Familiar (ABS-CBN) – 27.9%
MMK: Ang Tahanan Mo (ABS-CBN) – 27.3%
Magpakailanman (GMA-7) – 22.2%
Home Sweetie Home (ABS-CBN) – 20.9%
Mga Kwento ni Marc Logan (ABS-CBN) – 17.6%
Pepito Manaloto: Ang Tunay na Kuwento (GMA-7) – 17.4%
Celebrity Bluff (GMA-7) – 13.9%
Banana Split Extra Scoop (ABS-CBN) - 11.4%
Sabado Badoo (GMA-7) – 10.9%
I-Witness (GMA-7) – 10.5%



April 19, 2015 (Sunday)
DAYTIME:
Kapuso Movie Festival: Garfield (GMA-7) - 17.6%
Kapamilya Mega Blockbusters(ABS-CBN) - 15%
Kapamilya Kiddie Blockbusters: The Incredibles (ABS-CBN) - 13.9%
Kapuso Movie Festival: Flushed Away (GMA-7) - 13.5%
Dragon Ball Fight(GMA-7) - 12.4%
ASAP 20 (ABS-CBN) - 12.1%
TV Patrol Weekend(ABS-CBN) - 11.6%
Luv U(ABS-CBN) - 10.9%
Tom & Jerry Kids Show (GMA-7) - 10.8%
Born to be Wild (GMA-7) - 10.5%
PRIMETIME:
Your Face Sounds Familiar (ABS-CBN) – 29%
Rated K: Handa na ba Kayo? (ABS-CBN) – 26.4%
Wansapanataym (ABS-CBN) – 24.3%
Kapuso Mo, Jessica Soho (GMA-7) – 21.3%
Goin' Bulilit (ABS-CBN) - 19.5%
Gandang Gabi Vice (ABS-CBN) - 18.1%
Ismol Family (GMA-7) – 15.4%
Vampire Ang Daddy Ko (GMA-7) – 10.4%
Asia's Next Top Model(GMA-7) – 10.1%
Sunday Night Box Office (GMA-7) – 9.6%



April 20, 2015 (Monday)
DAYTIME:
The Half Sisters (GMA-7) – 17.4%
Fairy Tail (GMA-7) - 17.2%
Yagit (GMA-7) – 16.8%
Oh My G! (ABS-CBN) - 16.6%
Magi the Labyrinth of Magic (GMA-7) - 16.3%
Slam Dunk (GMA-7) – 16.1%
Dragon Ball (GMA-7) - 15.2%
Summer Kapamilya Blockbusters (ABS-CBN) - 14.9%
Knock Out (GMA-7) - 14.3%
Eat Bulaga! (GMA-7) - 14.2%
PRIMETIME:
ADVERTISEMENT - CONTINUE READING BELOW
Forevermore (ABS-CBN) – 29.5%
Nathaniel (ABS-CBN) – 29.4%
TV Patrol (ABS-CBN) – 25.2%
Bridges of Love (ABS-CBN) – 20.4%
Inday Bote (ABS-CBN) - 18.5%
24 Oras (GMA-7) - 16.4%
Once Upon a Kiss (GMA-7) - 16.3%
Pari 'Koy (GMA-7) – 15.3%
Second Chances(GMA-7) - 13.9%
Aquino & Abunda Tonight (ABS-CBN) - 12.2%



April 21, 2015 (Tuesday)
DAYTIME:
Oh My G! (ABS-CBN) / The Half Sisters (GMA-7) / Yagit (GMA-7) - 16.7%
Fairy Tail (GMA-7) - 16.4%
Slam Dunk (GMA-7) - 16.2%
Magi the Labyrinth of Magic (GMA-7) - 15.7%
Summer Kapamilya Blockbusters (ABS-CBN) - 15.4%
Dragon Ball (GMA-7) - 14.6%
It's Showtime (ABS-CBN) - 13.7%
Knock Out (GMA-7) - 13.6%
Eat Bulaga! (GMA-7) - 13.3%
Flordeliza (ABS-CBN) / Nasaan Ka Nang Kailangan Kita?(ABS-CBN) - 13.1%
PRIMETIME:
Nathaniel(ABS-CBN) - 31.5%
Forevermore (ABS-CBN) - 29.7%
TV Patrol (ABS-CBN) - 26.2%
Bridges of Love (ABS-CBN) - 19.7%
Inday Bote (ABS-CBN) - 17.7%
Once Upon A Kiss (GMA-7) – 17.6%
24 Oras (GMA-7) – 17.1%
Pari 'Koy (GMA-7) - 16.1%
Second Chances(GMA-7) - 15.4%
Aquino & Abunda Tonight (ABS-CBN) - 11.7%



April 22, 2015 (Wednesday)
DAYTIME:
Oh My G! (ABS-CBN) - 18.2%
The Half Sisters (GMA-7) – 17.6%
Yagit (GMA-7) – 17.3%
Summer Kapamilya Blockbusters (ABS-CBN) - 16.4%
Fairy Tail (GMA-7) - 16.2%
It's Showtime (ABS-CBN) - 16%
Flordeliza (GMA-7) - 15.9%
Slam Dunk (GMA-7) - 15.8%
Magi the Labyrinth of Magic (GMA-7) - 15.1%
Dragon Ball (GMA-7) - 15%
PRIMETIME:
Nathaniel(ABS-CBN) - 33.1%
Forevermore (ABS-CBN) - 28.3%
TV Patrol (ABS-CBN) - 25.4%
Bridges of Love (ABS-CBN) - 20.2%
Once Upon A Kiss (GMA-7) – 17%
Pari 'Koy (GMA-7) - 16.1%
Inday Bote (ABS-CBN) – 15.9%
24 Oras (GMA-7) – 15.4%
Second Chances(GMA-7) - 14.7%
Aquino & Abunda Tonight (ABS-CBN) - 11.9%



April 23, 2015 (Thursday)
DAYTIME:
The Half Sisters (GMA-7) – 18.5%
Yagit (GMA-7) – 17.5%
Fairy Tail (GMA-7) - 16.3%
Dragon Ball (GMA-7) - 15.9%
Oh My G! (ABS-CBN) - 15.7%
Nasaan Ka Nang Kailangan Kita? (ABS-CBN) - 15.4%
Slam Dunk (GMA-7) - 15.3%
Flordeliza (GMA-7) - 15.1%
Magi the Labyrinth of Magic (GMA-7) - 15%
Summer Kapamilya Blockbusters (ABS-CBN) - 14.9%
PRIMETIME:
Nathaniel(ABS-CBN) - 34.3%
Forevermore (ABS-CBN) - 30%
TV Patrol (ABS-CBN) - 27.3%
Bridges of Love (ABS-CBN) - 20.5%
Once Upon A Kiss (GMA-7) – 17.1%
Inday Bote (ABS-CBN) – 17%
24 Oras (GMA-7) / Pari 'Koy (GMA-7) - 15.7%
Second Chances(GMA-7) - 14.9%
Aquino & Abunda Tonight (ABS-CBN) - 11.4%
My Love from the Star (GMA-7) - 10.1%



Source: Kantar/TNS