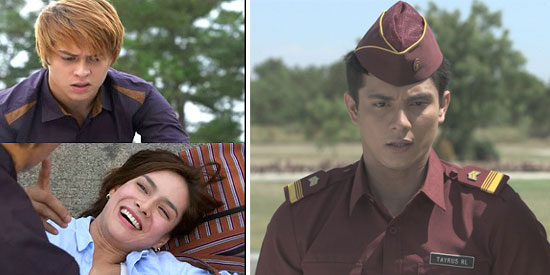 ---
�
ABS-CBN has more viewers nationwide. This is according to data based on the overnight ratings of Kantar Media/TNS among Total Philippines (Urban & Rural) from April 29-May 4, 2015.
The Kapamilya Network's shows had the highest viewership on weekdays and weekends of the given period.
The most-watched show on weekday primetime is Nathaniel, the Kapamilya network's newest primetime series that stars child actor Marco Masa. It also had the highest ratings on overall day.

GMA-7 aired the pilot episode of a new teleserye last Monday, May 4. Let The Love Begin, which is topbilled by Ruru Madrid and Gabbi Garcia, also marked the return of Ai-Ai delas Alas to the Kapuso Network. This new soap opera was beaten with its TV rating of 15.1% compared to its counterpart Forevermore, which got 33.2%. The May 4 episode of the Enrique Gil-Liza Soberano starrer introduced a new character in the person of Erich Gonzales.

Forevermore emerged as the second most-watched program that day while Let The Love Begin landed on the No. 8 slot.
ADVERTISEMENT - CONTINUE READING BELOW
The leader of weekday daytime is GMA-7's 11-month-old afternoon drama The Half Sisters, which stars Barbie Forteza and Thea Tolentino.
ABS-CBN was also the weekend winner with Ipaglaban Mo, Maalaala Mo Kaya and Your Face Sounds Familiar.
The May 2 MMK episode was the second part of the drama anthology's SAF commando tribute, which featured Coco Martin and Angel Locsin. This episode, which focused on Ejay Falcon, got a TV rating of 31.9%, which is higher than Magpakailanman's TV rating of 21.8%.
ABS-CBN's coverage of the Pacquiao vs Mayweather fight was also the most-watched among the major networks. Its airing of the main bout earned 26.7% versus GMA-7's 23.4% and TV5's 2.8%.
Here are the comparative Household Ratings of ABS-CBN, TV5, and GMA-7 programs from April 29-May 4, 2015 based on the overnight ratings of Kantar Media/TNS among Total Philippines (Urban & Rural) households.
--
April 29, 2015 (Wednesday)
Morning:
Kape't Pandesal (ABS-CBN) .2%; RealiTV Replay (ABS-CBN) .7%;Tunay na Buhay Replay (GMA-7) .7%
ADVERTISEMENT - CONTINUE READING BELOW
Umagang Kay Ganda (ABS-CBN) 3.8%; Unang Hirit (GMA-7) 3.8%��
Kris TV (ABS-CBN) 4.8%; Time Quest (GMA-7) 9.9%; Martin Mystery (GMA-7) 14%; Dragon Ball(GMA-7) 16.1%; Magi the Labyrinth of Magic (GMA-7) 16%
Naruto Shippuuden (ABS-CBN) 4%; Fairy Tail (GMA-7) 14.9%
Summer Kapamilya Blockbusters: Furry Vengeance (ABS-CBN) 12.3%;Slam Dunk (GMA-7) 14.2%; Knock Out (GMA-7) 12.6%; Two Mothers (GMA-7) 9.7%; Corazon Indomable (GMA-7) 10.7%
Oh My G! (ABS-CBN) 15%; The Ryzza Mae Show (GMA-7) 11.1%
Afternoon:
It's Showtime (ABS-CBN) 13.7%; Eat Bulaga! (GMA-7) 14.5%
Flordeliza (ABS-CBN) 14.9%; The Half Sisters (GMA-7) 18.9%
Nasaan Ka Nang Kailangan Kita (ABS-CBN) 15.3%; Yagit (GMA-7) 16.2%
Fated to Love You (ABS-CBN) 13.2%; RealiTV (ABS-CBN) 9.9%; Kailan Ba Tama Ang Mali? (GMA-7) 12.6%
Kapamilya Deal or No Deal (ABS-CBN) 10.9%; Powerhouse (GMA-7) 7.4%; Fall in Love With Me (GMA-7) 7.2%
Evening:
Inday Bote (ABS-CBN) 17.7%; My Love from the Star (GMA-7) 10.8%
TV Patrol (ABS-CBN) 27.9%; 24 Oras (GMA-7) 18.5%; PLDT Home TelPad PBA 2015 Commissioner's Cup Finals Live (TV5) 10.4%
Nathaniel (ABS-CBN) 31.8%; Pari 'Koy (GMA-7) 17.6%
Forevermore (ABS-CBN) 28.5%; Once Upon A Kiss (GMA-7) 16.3%
Bridges of Love (ABS-CBN) 18%; Second Chances (GMA-7) 11.7%;
ADVERTISEMENT - CONTINUE READING BELOW
Aquino & Abunda Tonight (ABS-CBN) 10.4%; My Lovely Girl (ABS-CBN) 7.2%; King of Ambition (GMA-7) 9.2%; Wattpad Presents (TV5) 2.7%
Bandila (ABS-CBN) 3.3%; Saksi (GMA-7) 5.9%; Supernatural (TV5) 1.9%
Banana Nite (ABS-CBN) 1.6%; Human Planet (GMA-7) 3.7%; Aksyon Tonite (TV5) .4%
O Shopping (ABS-CBN) .4%; The Tim Yap Show (GMA-7) 1.4%; Reaksyon (TV5) .2%; Shop Japan (TV5) .1%
--
April 30, 2015 (Tuesday)
Morning:
Kape't Pandesal (ABS-CBN) .1%; Sports U Replay (ABS-CBN) .5%; Born to be Wild Replay (GMA-7) .7%
Umagang Kay Ganda (ABS-CBN) 3.5%; Unang Hirit (GMA-7) 3.1%��
Kris TV (ABS-CBN) 4.4%; Time Quest (GMA-7) 9.3%; Martin Mystery (GMA-7) 12.9%; Dragon Ball (GMA-7) 15%; Magi the Labyrinth of Magic (GMA-7) 16.2%
Naruto Shippuuden (ABS-CBN) 6.1%; Fairy Tail (GMA-7) 14.9%
Summer Kapamilya Blockbusters: The Waterboy (ABS-CBN) 13.3%;Slam Dunk (GMA-7) 13.8%; Knock Out (GMA-7) 13%; Two Mothers (GMA-7) 9.8%; Corazon Indomable (GMA-7) 10.7%
Oh My G! (ABS-CBN) 16.8%; The Ryzza Mae Show (GMA-7) 10.4%
Afternoon:
It's Showtime (ABS-CBN) 14.8%; Eat Bulaga! (GMA-7) 14%
Flordeliza (ABS-CBN) 16.3%;The Half Sisters (GMA-7) 17.1%
Nasaan Ka Nang Kailangan Kita (ABS-CBN) 14.9%; Yagit (GMA-7) 15.3%
Fated to Love You (ABS-CBN) 12.5%; Kailan Ba Tama Ang Mali? (GMA-7) 11.4%
ADVERTISEMENT - CONTINUE READING BELOW
Sports U (ABS-CBN) 8.6%; Reporter's Notebook (GMA-7) 5.9%
Kapamilya Deal or No Deal (ABS-CBN) 11.2%; Fall in Love With Me (GMA-7) 6.1%
Evening:
Inday Bote (ABS-CBN) 17.2%; My Love from the Star (GMA-7) 9.4%
TV Patrol (ABS-CBN) 27.6%; 24 Oras (GMA-7) 17.3%; Aksyon (TV5) 2.9%
Nathaniel (ABS-CBN) 32.6%; Pari 'Koy (GMA-7) 16.6%; Movie Max 5 (TV5) 6.7%
Forevermore (ABS-CBN) 31.8%; Once Upon A Kiss (GMA-7) 17.7%; Wattpad Presents (TV5) 3.8%
Bridges of Love (ABS-CBN) 21.8%; Second Chances (GMA-7) 14.1%; Supernatural (TV5) 3.4%
Aquino & Abunda Tonight (ABS-CBN) 12.5%; My Lovely Girl (ABS-CBN) 8%; King of Ambition (GMA-7) 10%; Aksyon Tonite (TV5) 1.1%
Bandila (ABS-CBN) 3.5%; Saksi (GMA-7) 6.3%; Human Planet (GMA-7) 3.9%; Reaksyon (TV5) .4%; Unang Tikim (TV5) .2%
Banana Nite (ABS-CBN) 1.7%; O Shopping (ABS-CBN) .7%; The Tim Yap Show (GMA-7) 1.4%; Shop Japan (TV5) 0%
--
May 1, 2015 (Friday)
Morning:
Kape't Pandesal (ABS-CBN) .4%; TNT Replay (ABS-CBN) .6%; Alisto! Replay (GMA-7) .5%
Umagang Kay Ganda (ABS-CBN) 2.4%; Unang Hirit (GMA-7) 2.8%��
Kris TV (ABS-CBN) 4.4%; Time Quest (GMA-7) 9.3%; Martin Mystery (GMA-7) 12.5%; Dragon Ball (GMA-7) 14.6%; Magi the Labyrinth of Magic (GMA-7) 15.8%
Naruto Shippuuden (ABS-CBN) 5.1%; Fairy Tail (GMA-7) 15.6%
Summer Kapamilya Blockbusters: Die Another Day (ABS-CBN) 13.2%; Slam Dunk (GMA-7) 13.9%; Knock Out (GMA-7) 13.1%; Two Mothers (GMA-7) 9.3%; Corazon Indomable (GMA-7) 11%
ADVERTISEMENT - CONTINUE READING BELOW
Oh My G! (ABS-CBN) 14.5%; The Ryzza Mae Show (GMA-7) 9.8%
Afternoon:
It's Showtime (ABS-CBN) 13.8%; Eat Bulaga! (GMA-7) 13.5%
Flordeliza (ABS-CBN) 15.3%; The Half Sisters (GMA-7) 17.5%
Nasaan Ka Nang Kailangan Kita (ABS-CBN) 16.5%; Yagit (GMA-7) 15.4%
Fated to Love You (ABS-CBN) 13.1%; TNT (ABS-CBN) 9.9%; Kailan Ba Tama Ang Mali? (GMA-7) 10.8%
Kapamilya Deal or No Deal (ABS-CBN) 11.5%; Love Hotline (GMA-7) 7%; Fall in Love With Me (GMA-7) 7.4%
Evening:
Inday Bote (ABS-CBN) 17.7%; My Love from the Star (GMA-7) 10.6%
TV Patrol (ABS-CBN) 25.7%; 24 Oras (GMA-7) 16.1%; Aksyon (TV5) 2.7%
Nathaniel (ABS-CBN) 30.7%; Pari 'Koy (GMA-7) 16.3%; Movie Max 5 (TV5) 6.6%
Forevermore (ABS-CBN) 29%; Once Upon A Kiss (GMA-7) 18.3%; Wattpad Presents (TV5) 3.4%
Bridges of Love (ABS-CBN) 18.3%; Second Chances (GMA-7) 14.6%; Supernatural (TV5) 3.2%
Aquino & Abunda Tonight (ABS-CBN) 9.5%; My Lovely Girl (ABS-CBN) 6.6%; Bubble Gang (GMA-7) 10.3%; Aksyon Tonite (TV5) 1.4%
Bandila (ABS-CBN) 3.1%; Saksi (GMA-7) 4.7%; Reaksyon (TV5) .6%; Astig (TV5) .3%
Banana Nite (ABS-CBN) 1.7%; O Shopping (ABS-CBN) .6%; The Tim Yap Show (GMA-7) 1.6%; Shop Japan (TV5) .2%
--
May 2, 2015 (Saturday)
Sa Kabukiran (ABS-CBN) 1.4%;Adyenda (TV5) 1.2%; Kapwa Ko Mahal Ko (GMA-7) 1.3%
ADVERTISEMENT - CONTINUE READING BELOW
Salamat Dok (ABS-CBN) 2.2%; Pinoy MD (GMA-7) 3.3%
Swak na Swak (ABS-CBN) 2.5%; The Smurfs (GMA-7) 6.5%
Angel Wings (ABS-CBN) 2.5%; Kamen Rider Ooo (GMA-7) 9.3%
Math Tinik (ABS-CBN) 2.7%; Pac-Man and the Ghostly Adventures (GMA-7) 11.8%
Kung Fu Panda: Legends of Awesomeness (ABS-CBN) 3%; Angry Birds Toons (GMA-7) 13.1%
Spongebob Squarepants (ABS-CBN) 5.4%; Cross Fight B-Daman (GMA-7) 12.7%
Superbook (ABS-CBN) 9.4%; Dragon Ball Fight (GMA-7) 13.6%; Sarap Diva (GMA-7) 7.5%
Pacman Laban Kung Laban (ABS-CBN) 11.9%; Maynila (GMA-7) 10.4%
Afternoon:
It's Showtime (ABS-CBN) 14.8%; Eat Bulaga! (GMA-7) 15.1%
Ipaglaban Mo (ABS-CBN) 16.3%; Karelasyon (GMA-7) 12.6%
Failon Ngayon (ABS-CBN) 10.8%; Wish Ko Lang! (GMA-7) 10.8%
SOCO (ABS-CBN) 12.6%; Startalk (GMA-7) 7.6%
TV Patrol Weekend (ABS-CBN) 12.9%; Imbestigador (GMA-7) 9.9%; Movie Max 5 (TV5) 13.8%
Evening:
Mga Kwento ni Marc Logan (ABS-CBN) 17.5%; 24 Oras Weekend (GMA-7) 12.6%
Home Sweetie Home (ABS-CBN) 21.8%; Sabado Badoo (GMA-7) 14.1%
MMK: Ang Tahanan Mo: Plano (ABS-CBN) 31.9%; Pepito Manaloto: Ang Tunay na Kuwento (GMA-7) 19%; Magpakailanman (GMA-7) 21.8%; Tropa Mo Ko Unli Spoof (TV5) 2.3%; 2 1/2 Daddies (TV5) 2.2%
Your Face Sounds Familiar (ABS-CBN) 29.4%; Celebrity Bluff (GMA-7) 14.4%; Everybody Hapi (TV5) 1.2%
Banana Split Extra Scoop (ABS-CBN) 11.1%; i-Witness (GMA-7) 8.7%; Rising Stars (TV5) .9%
ADVERTISEMENT - CONTINUE READING BELOW
The Bottomline (ABS-CBN) 3.9%; Kapuso Movie Night: Vipers (GMA-7) 6.3%; Kaya. (TV5) .6%
O Shopping (ABS-CBN) .8%; Walang Tulugan with Master Showman (GMA-7) 1.4%; Shop Japan (TV5) .1%
--
May 3, 2015 (Sunday)
Morning:
The Healing Eucharist (ABS-CBN) 5.5%; Dragon Ball Z (GMA-7) 4.1%; Misa Nazareno (TV5) .5%
Swak Na Swak (ABS-CBN) 4.5%; Joe's Apartment (GMA-7) 13.1%; Power to Unite with Elvira (GMA-7) .3%
Salamat Dok (ABS-CBN) 5.3%; Kim Possible (TV5) 1.1%
Matanglawin (ABS-CBN) 9.4%; Isang Bayan kay Pacman (ABS-CBN) 13.3%; At Last Mayweather/Pacquiao (GMA-7) 13.3%; Little Einsteins (TV5) 2.1%; The Powerpuff Girls (TV5) 3.1%; Pacquiao vs Mayweather Laban Para sa Kasaysayan Sports 360 (TV5) 1.2%
OVERALL: Battle for Greatness Pacquiao vs Mayweather (ABS-CBN) 24%; Battle for Greatness Pacquiao vs Mayweather (ABS-CBN) 20.4%; Battle for Greatness Pacquiao vs Mayweather (TV5) 2.5%
UNDERCARD: Rodriguez vs Lomachenko (ABS-CBN) 21.2%; Rodriguez vs Lomachenko (GMA-7) 17.1%; Rodriguez vs Lomachenko (TV5) 2.1%
Afternoon:
MAIN EVENT: Pacquiao vs Mayweather (ABS-CBN) 26.7%; Pacquiao vs Mayweather (GMA-7) 23.4%; Pacquiao vs Mayweather (TV5) 2.8%
Kapamilya Mega Blockbusters: Bride for Rent (ABS-CBN) 11.6%; Kapuso Movie Festival: My Big Bossing (GMA-7) 15.6%; Rebisco 2015 Asian Women's U23 Volleyball Championship Live (TV5) 1.4%
ADVERTISEMENT - CONTINUE READING BELOW
Luv U (ABS-CBN) 10.3%; TV Patrol Weekend (GMA-7) 13.4%; 24 Oras Weekend (GMA-7) 12.3%; Rebisco 2015 Asian Women's U23 Volleyball Championship Live (TV5) 1.8%
Evening:
Goin' Bulilit (ABS-CBN) 21%; Vampire Ang Daddy Ko (GMA-7) 13%
Wansapanataym: Yamishita's Treasures (ABS-CBN) 26.3%; Ismol Family (GMA-7) 17.5%; Mac and Chiz (TV5) 2.2%
Rated K: Handa Na Ba Kayo? (ABS-CBN) 28.8%; Your Face Sounds Familiar (ABS-CBN) 29.1%; Kapuso Mo, Jessica Soho (GMA-7) 20.3%; Move It (TV5) 1.1%; Wow Mali Lakas ng Tama! (TV5) 1.4%
Gandang Gabi Vice (ABS-CBN) 17.6%; Asia's Next Top Model 3 (GMA-7) 9.2%; Pacquiao vs Mayweather Laban Para sa Kasaysayan Sports 360 (TV5) 1.1%
Sunday's Best (ABS-CBN) 2.9%; Battle vs Greatness Pacquiao vs Mayweather Replay (GMA-7) 3.2%; Demolition Job (TV5) .8%; History with Lourd (TV5) .5%
O Shopping (ABS-CBN) .5%; Diyos at Bayan (GMA-7) .5%; Shop Japan (TV5) .1%
--
May 4, 2015 (Monday)
Morning:
Kape't Pandesal (ABS-CBN) .4%; Maniwala Ka Kaya Mo Replay (ABS-CBN) .9%; Powerhouse Replay (GMA-7) .6%
Umagang Kay Ganda (ABS-CBN) 4.3%; Unang Hirit (GMA-7) 3.5%��
Kris TV (ABS-CBN) 5%; Time Quest (GMA-7) 9.6%; Martin Mystery (GMA-7) 12.7%; Magi The Labyrinth of Magic (GMA-7) 14.9%; Fairy Tail (GMA-7) 15.4%
ADVERTISEMENT - CONTINUE READING BELOW
Naruto Shippuuden (ABS-CBN) 5.4%; Slam Dunk (GMA-7) 13.5%
Summer Kapamilya Blockbusters: Sky High (ABS-CBN) 15.9%; Knock Out (GMA-7) 11.7%; Two Mothers (GMA-7) 8%; Corazon Indomable (GMA-7) 9.2%
Oh My G! (ABS-CBN) 15.2%; The Ryzza Mae Show (GMA-7) 9.3%
Afternoon:
It's Showtime (ABS-CBN) 14.8%; Eat Bulaga! (GMA-7) 13.9%
Flordeliza (ABS-CBN) 15.1%; The Half Sisters (GMA-7) 18%
Nasaan Ka Nang Kailangan Kita (ABS-CBN) 15%; Yagit (GMA-7) 17%
Let's Get Married (ABS-CBN) 12.5%; Maniwala Ka Kaya Mo (ABS-CBN) 9.7%; Kailan Ba Tama Ang Mali? (GMA-7) 13.9%
Kapamilya Deal Or No Deal (ABS-CBN) 12%; Alisto! (GMA-7) 9.4%; The Mermaid (GMA-7) 9%
Evening:
Inday Bote (ABS-CBN) 19.4%; My Love from the Star (GMA-7) 12.5%
TV Patrol (ABS-CBN) 29.5%; 24 Oras (GMA-7) 18%; Aksyon (TV5) 2.2%
Nathaniel (ABS-CBN) 35.3%; Pari 'Koy (GMA-7) 16.1%; Movie Max 5 (TV5) 6%
Forevermore (ABS-CBN) 33.2%; Let the Love Begin (GMA-7) 15.1%; Wattpad Presents (TV5) 3%
Bridges of Love (ABS-CBN) 20.3%; Second Chances (GMA-7) 11.9%; Supernatural (TV5) 3.4%
Aquino & Abunda Tonight (ABS-CBN) 10.3%; My Lovely Girl (ABS-CBN) 6.6%; King of Ambition (GMA-7) 9.1%; Aksyon Tonite (TV5) 1.2%; Reaksyon (TV5) .5%
Bandila (ABS-CBN) 3.6%; Saksi (GMA-7) 4.9%; Demolition Job (TV5) .5%
Mukha (ABS-CBN) 1.9%; Front Row (ABS-CBN) 2.2%; Shop Japan (TV5) .2%
ADVERTISEMENT - CONTINUE READING BELOW
O Shopping (ABS-CBN) .8%; The Tim Yap Show (GMA-7) .9%
--
Here are the Top 10 daytime and primetime programs from April 29-May 4, 2015 among Total Philippines (Urban & Rural) households:
April 29, 2015 (Wednesday)
DAYTIME:
The Half Sisters (GMA-7) – 18.9%
Yagit (GMA-7) – 16.2%
Dragon Ball (GMA-7) - 16.1%
Magi the Labyrinth of Magic (GMA-7) - 16%
Nasaan Ka Nang Kailangan Kita (ABS-CBN) - 15.3%
Oh My G! (ABS-CBN) - 15%
Flordeliza (ABS-CBN) / Fairy Tail (GMA-7) - 14.9%
Eat Bulaga! (GMA-7) - 14.5%
Slam Dunk (GMA-7) - 14.2%
Martin Mystery (GMA-7) - 14%
PRIMETIME:
Nathaniel(ABS-CBN) - 31.8%
Forevermore (ABS-CBN) - 28.5%
TV Patrol (ABS-CBN) - 27.9%
24 Oras (GMA-7) – 18.5%
Bridges of Love (ABS-CBN) - 18%
Inday Bote (ABS-CBN) – 17.7%
Pari 'Koy (GMA-7) - 17.6%
Once Upon A Kiss (GMA-7) – 16.3%
Second Chances(GMA-7) - 11.7%
Aquino & Abunda Tonight (ABS-CBN) / PLDT Home TelPad PBA 2015 Commissioner's Cup Finals Live(TV5) - 10.4%
April 30, 2015 (Friday)
DAYTIME:
The Half Sisters (GMA-7) – 17.1%
Oh My G! (ABS-CBN) - 16.8%
Flordeliza (ABS-CBN) - 16.3%
Magi the Labyrinth of Magic (GMA-7) - 16.2%
Yagit (GMA-7) – 15.3%
Dragon Ball (GMA-7) - 15%
Nasaan Ka Nang Kailangan Kita (ABS-CBN) / Fairy Tail (GMA-7) - 14.9%
It's Showtime (ABS-CBN) - 14.8%
Eat Bulaga! (GMA-7) - 14%
Slam Dunk (GMA-7) - 13.8%
PRIMETIME:
Nathaniel(ABS-CBN) - 32.6%
Forevermore (ABS-CBN) - 31.8%
TV Patrol (ABS-CBN) - 27.6%
Bridges of Love (ABS-CBN) - 21.8%
Once Upon A Kiss (GMA-7) – 17.7%
24 Oras (GMA-7) – 17.3%
Inday Bote (ABS-CBN) – 17.2%
Pari 'Koy (GMA-7) - 16.6%
Second Chances(GMA-7) - 14.1%
Aquino & Abunda Tonight (ABS-CBN) - 12.5%
May 1, 2015 (Friday)
DAYTIME:
The Half Sisters (GMA-7) – 17.5%
Nasaan Ka Nang Kailangan Kita (ABS-CBN) - 16.5%
Magi the Labyrinth of Magic (GMA-7) - 15.8%
Fairy Tail (GMA-7) - 15.6%
Yagit (GMA-7) – 15.4%
Flordeliza (ABS-CBN) - 15.3%
Dragon Ball (GMA-7) - 14.6%
Oh My G! (ABS-CBN) - 14.5%
Slam Dunk (GMA-7) - 13.9%
It's Showtime (ABS-CBN) - 13.8%
PRIMETIME:
Nathaniel(ABS-CBN) - 30.7%
Forevermore (ABS-CBN) - 29%
TV Patrol (ABS-CBN) - 25.7%
Bridges of Love (ABS-CBN) / Once Upon A Kiss (GMA-7) – 18.3%
Inday Bote (ABS-CBN) – 17.7%
Pari 'Koy (GMA-7) - 16.3%
24 Oras (GMA-7) – 16.1%
Second Chances(GMA-7) - 14.6%
Bubble Gang (GMA-7) - 10.3%
Aquino & Abunda Tonight (ABS-CBN) - 9.5%
May 2, 2015 (Saturday)
DAYTIME:
Ipaglaban Mo (ABS-CBN) - 16.3%
Eat Bulaga! (GMA-7) – 15.1%
It's Showtime (ABS-CBN) - 14.8%
Dragon Ball Fight (GMA-7) - 13.6%
Angry Birds Toons (GMA-7) – 13.1%
TV Patrol Weekend (ABS-CBN) - 12.9%
Cross Fight B-Daman (GMA-7) - 12.7%
SOCO (ABS-CBN) / Karelasyon (GMA-7) - 12.6%
Pacman Laban Kung Laban (ABS-CBN) - 11.9%
Pac-man and the Ghostly Adventures (GMA-7) – 11.9%
PRIMETIME:
MMK: Ang Tahanan Mo (ABS-CBN) – 31.9%
Your Face Sounds Familiar (ABS-CBN) – 29.4%
Home Sweetie Home (ABS-CBN) / Magpakailanman (GMA-7) – 21.8%
Pepito Manaloto: Ang Tunay na Kuwento (GMA-7) – 19%
Mga Kwento ni Marc Logan (ABS-CBN) – 17.5%
Celebrity Bluff (GMA-7) – 14.4%
Sabado Badoo (GMA-7) – 14.1%
24 Oras Weekend (ABS-CBN) - 12.6%
Banana Split Extra Scoop(ABS-CBN) - 11.1%
I-Witness (GMA-7) – 8.7%
May 3, 2015 (Sunday)
DAYTIME:
Pacquiao vs Mayweather(ABS-CBN) - 26.7%
Pacquiao vs Mayweather (GMA-7) - 23.4%
Rodriguez vs Lomachenko (ABS-CBN) - 21.2%
Rodriguez vs Lomachenko (GMA-7) - 17.1%
Kapuso Movie Festival: My Big Bossing (GMA-7) - 15.6%
TV Patrol Weekend(ABS-CBN) - 13.4%
Isang Bayan kay Pacman (ABS-CBN) / At Last Mayweather/Pacquiao (GMA-7) - 13.3%
Joe's Apartment (GMA-7) - 13.1%
24 Oras Weekend (ABS-CBN) - 12.3%
Kapamilya Mega Blockbusters: Bride for Rent (ABS-CBN) - 11.6%
PRIMETIME:
Your Face Sounds Familiar (ABS-CBN) – 29.1%
Rated K: Handa na ba Kayo? (ABS-CBN) – 28.8%
Wansapanataym (ABS-CBN) – 26.3%
Goin' Bulilit (ABS-CBN) - 21%
Kapuso Mo, Jessica Soho (GMA-7) – 20.3%
Gandang Gabi Vice (ABS-CBN) - 17.6%
Ismol Family (GMA-7) – 17.5%
Vampire Ang Daddy Ko (GMA-7) – 13%
Asia's Next Top Model 3(GMA-7) - 9.2%
Battle for Greatness Pacquiao vs Mayweather Replay(GMA-7) – 8.5%


May 4, 2015 (Monday)
DAYTIME:
The Half Sisters (GMA-7) – 18%
Yagit (GMA-7) – 17%
Summer Kapamilya Blockbusters (ABS-CBN) - 15.9%
Fairy Tail (GMA-7) - 15.4%
Oh My G! (ABS-CBN) - 15.2%
Flordeliza (ABS-CBN) - 15.1%
Nasaan Ka Nang Kailangan Kita (ABS-CBN) - 15%
Magi the Labyrinth of Magic (GMA-7) - 14.9%
It's Showtime (ABS-CBN) - 14.8%
Eat Bulaga! (GMA-7) / Kailan Ba Tama ang Mali? (GMA-7) - 13.9%
PRIMETIME:
Nathaniel (ABS-CBN) – 35.3%
Forevermore (ABS-CBN) – 33.2%
TV Patrol (ABS-CBN) – 29.5%
Bridges of Love (ABS-CBN) – 20.3%
Inday Bote (ABS-CBN) - 19.4%
24 Oras (GMA-7) - 18%
Pari 'Koy (GMA-7) – 16.1%
Let the Love Begin (GMA-7) - 15.1%
My Love from the Star(GMA-7) - 12.5%
Second Chances(GMA-7) - 11.9%
Source: Kantar/TNS