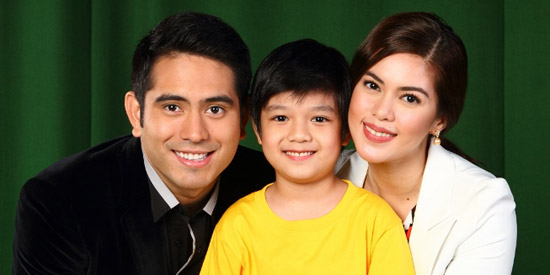 ---
�
Here are the significant details in the nationwide ratings game, according to data based on the overnight ratings of Kantar Media/TNS among Total Philippines (Urban & Rural) on May 12-18, 2015.
Public interest for Wowowin seems to have waned. The TV rating of its second episode on May 17 dropped to 13.6%, from the 18.7% on its May 10 debut.
Willie Revillame's variety show on GMA-7 lost to the TV premiere of the hit movie Diary ng Panget, which registered a TV rating of 17.4%, on ABS-CBN's Kapamilya Mega Blockbusters. The movie adaptation was even the No. 1 most-watched daytime program for that day.
Diary ng Panget is a 2014 movie from Viva Films that launched the love team of James Reid and Nadine Lustre.
ABS-CBN's other weekend programs that similarly placed first on the top 10 lists are Ipaglaban Mo, Maalaala mo Kaya and Your Face Sounds Familiar.

It is interesting to note that the May 16 episode of Ipaglaban Mo was able to tie with Eat Bulaga! for the No. 2 slot. Juan Karlos Labajo of The Voice Kids fame starred in Ipaglaban Mo as a young boy who caused a tragic vehicular accident.
ADVERTISEMENT - CONTINUE READING BELOW
Weekdays were split between ABS-CBN and GMA-7. The most-watched program for primetime was the Kapamilya Network's Nathaniel, a religion-themed drama that stars child actor Marco Masa, Gerald Anderson and Shaina Magdayao.

During this period, Nathaniel was able to emerge as the most-watched primetime show. It held the No. 1 slot in the primetime block, except on May 14 when it was beaten by the Kapamilya teleserye Forevermore.
GMA-7 won weekday daytime with its long-running afternoon drama The Half Sisters that features Barbie Forteza and Thea Tolentino.
Lastly, the Kapuso network's new LGBT-friendly primetime drama The Rich Man's Daughter, which premiered on May 11, continued to lose against ABS-CBN's Bridges of Love.
Here are the comparative Household Ratings of ABS-CBN, TV5, and GMA-7 programs from May 12-18, 2015 based on the overnight ratings of Kantar Media/TNS among Total Philippines (Urban & Rural) households:



May 12, 2015 (Tuesday)
Morning:
Kape't Pandesal (ABS-CBN) .1%; 3-in-1 Replay (ABS-CBN) .3%; i-Witness Replay (GMA-7) .7%
ADVERTISEMENT - CONTINUE READING BELOW
Umagang Kay Ganda (ABS-CBN) 2.5%; Unang Hirit (GMA-7) 2.9%��
Kris TV (ABS-CBN) 3.8%; Time Quest (GMA-7) 9.1%; Martin Mystery (GMA-7) 12.9%; Magi the Labyrinth of Magic (GMA-7) 14.2%; Fairy Tail (GMA-7) 14.3%
Naruto Shippuuden (ABS-CBN) 4.8%; Slam Dunk (GMA-7) 13.3%
Summer Kapamilya Blockbusters: The Sorcerer's Apprentice (ABS-CBN) 13.9%; Knock Out (GMA-7) 11.1%; Two Mothers (GMA-7) 9%; Corazon Indomable (GMA-7) 12.2%
Oh My G! (ABS-CBN) 15.2%; The Ryzza Mae Show (GMA-7) 10.2%
Afternoon:
It's Showtime (ABS-CBN) 14.6%; Eat Bulaga! (GMA-7) 13.3%
Flordeliza (ABS-CBN) 14.9%;The Half Sisters (GMA-7) 17.9%
Nasaan Ka Nang Kailangan Kita (ABS-CBN) 16.3%; Yagit (GMA-7) 15.8%
Let's Get Married (ABS-CBN) 12.9%; 3-in-1 (ABS-CBN) 9.7%; Healing Hearts (GMA-7) 10.3%
Kapamilya Deal or No Deal (ABS-CBN) 10.8%; Tunay na Buhay (GMA-7) 7.5%; The Mermaid (GMA-7) 7.7%
Evening:
Inday Bote (ABS-CBN) 16.3%; My Love from the Star (GMA-7) 9.9%
TV Patrol (ABS-CBN) 26.6%; 24 Oras (GMA-7) 16.1%; Aksyon (TV5) 3.3%
Nathaniel (ABS-CBN) 32.9%; Pari 'Koy (GMA-7) 16.5%; PLDT Home TVolution 2015 PBA Governor's Cup Live (TV5) 4.6%
Forevermore (ABS-CBN) 31.3%; Let the Love Begin (GMA-7) 15.8%
Bridges of Love (ABS-CBN) 21.1%; The Rich Man's Daughter (GMA-7) 14.5%; Wattpad Presents (TV5) 2.9%; Teen Wolf (TV5) 2.8%
ADVERTISEMENT - CONTINUE READING BELOW
Aquino & Abunda Tonight (ABS-CBN) 9.9%; My Lovely Girl (ABS-CBN) 5.6%;King of Ambition (GMA-7) 10.9%; Aksyon Tonite (TV5) .9%
Bandila (ABS-CBN) 2.8%; Saksi (GMA-7) 5.4%; Reaksyon (TV5) .2%
Banana Nite (ABS-CBN) 1.7%; Stan Lee's Superhumans (TV5) 3.4%; The Medyo Late Night Show with Jojo A (TV5) .1%
O Shopping (ABS-CBN) .6%; The Tim Yap Show (GMA-7) 1.2%; Shop Japan (TV5) 0%
May 13, 2015 (Wednesday)
Morning:
Kape't Pandesal (ABS-CBN) .1%; RealiTV Replay (ABS-CBN) .5%; Tunay na Buhay Replay (GMA-7) .4%
Umagang Kay Ganda (ABS-CBN) 4.8%; Unang Hirit (GMA-7) 2.5%��
Kris TV (ABS-CBN) 4.8%; Time Quest (GMA-7) 9.5%; Martin Mystery (GMA-7) 12.7%; Magi the Labyrinth of Magic (GMA-7) 14.5%
Naruto Shippuuden (ABS-CBN) 5%; Fairy Tail (GMA-7) 15.8%; Slam Dunk (GMA-7) 12.1%
Summer Kapamilya Blockbusters: Prince of Persia: The Sands of Time (ABS-CBN) 13.8%; Knock Out (GMA-7) 11%; Two Mothers (GMA-7) 8.9%; Corazon Indomable (GMA-7) 11.1%
Oh My G! (ABS-CBN) 16.6%; The Ryzza Mae Show (GMA-7) 9.7%
Afternoon:
It's Showtime (ABS-CBN) 14.7%; Eat Bulaga! (GMA-7) 13%
Flordeliza (ABS-CBN) 14.5%; The Half Sisters (GMA-7) 17.8%
Nasaan Ka Nang Kailangan Kita (ABS-CBN) 15.9%; Yagit (GMA-7) 15.5%
Let's Get Married (ABS-CBN) 13.4%; RealiTV (ABS-CBN) 9.7%; Healing Hearts (GMA-7) 11%
ADVERTISEMENT - CONTINUE READING BELOW
Kapamilya Deal or No Deal (ABS-CBN) 10.7%; Powerhouse (GMA-7) 8%; The Mermaid (GMA-7) 7.9%
Evening:
Inday Bote (ABS-CBN) 15.8%; My Love from the Star (GMA-7) 10.1%
TV Patrol (ABS-CBN) 26.2%; 24 Oras (GMA-7) 17.2%; Aksyon (TV5) 3.1%
Nathaniel (ABS-CBN) 34.2%; Pari 'Koy (GMA-7) 18.4%; PLDT Home TVolution 2015� PBA Governor's Cup Live (TV5) 6.3%
Forevermore (ABS-CBN) 31%; Let the Love� Begin (GMA-7) 15.8%
Bridges of Love (ABS-CBN) 21.2%; The Rich Man's Daughter (GMA-7) 14.9%; Wattpad Presents (TV5) 2.7%
Aquino & Abunda Tonight (ABS-CBN) 10.9%; My Lovely Girl (ABS-CBN) 7%; King of Ambition (GMA-7) 11.4%; Teen Wolf (TV5) 3.3%
Bandila (ABS-CBN) 3.9%; Saksi (GMA-7) 6.4%; Aksyon Tonite (TV5) .8%; Reaksyon (TV5) .2%
Banana Nite (ABS-CBN) 2%; Ancient Aliens (GMA-7) 4.1%; The Medyo Late Night Show (TV5) .2%
O Shopping (ABS-CBN) .9%; The Tim Yap Show (GMA-7) 1.7%; Shop Japan (TV5) .1%
May 14, 2015 (Thursday)
Morning:
Kape't Pandesal (ABS-CBN) .3%; Sports U Replay (ABS-CBN) .4%; Born to be Wild Replay (GMA-7) .5%
Umagang Kay Ganda (ABS-CBN) 2.9%; Unang Hirit (GMA-7) 2.9%��
Kris TV (ABS-CBN) 4.7%; Time Quest (GMA-7) 10.6%; Martin Mystery (GMA-7) 13.9%; Magi the Labyrinth of Magic (GMA-7) 14.9%; Fairy Tail (GMA-7) 14.8%
ADVERTISEMENT - CONTINUE READING BELOW
Naruto Shippuuden (ABS-CBN) 6.3%; Slam Dunk (GMA-7) 12.6%
Summer Kapamilya Blockbusters: The Princess Diaries 2 (ABS-CBN) 13.4%; Knock Out (GMA-7) 11.9%; Two Mothers (GMA-7) 8.7%; Corazon Indomable (GMA-7) 11.2%
Oh My G! (ABS-CBN) 15%; The Ryzza Mae Show (GMA-7) 10.2%
Afternoon:
It's Showtime (ABS-CBN) 14.3%; Eat Bulaga! (GMA-7) 14%
Flordeliza (ABS-CBN) 14.7%;The Half Sisters (GMA-7) 18.2%
Nasaan Ka Nang Kailangan Kita (ABS-CBN) 14.9%; Yagit (GMA-7) 16.1%
Let's Get Married! (ABS-CBN) 13.5%; Sports U (ABS-CBN) 9.4%; Haling Hearts (GMA-7) 10.3%
Kapamilya Deal or No Deal (ABS-CBN) 9.9%; Reporter's Notebook (GMA-7) 6.3%; The Mermaid (GMA-7) 7.6%
Evening:
Inday Bote (ABS-CBN) 15.6%; My Love from the Star (GMA-7) 9.4%
TV Patrol (ABS-CBN) 27.4%; 24 Oras (GMA-7) 16.7%; Aksyon (TV5) 2.6%
Nathaniel (ABS-CBN) 30.7%; Pari 'Koy (GMA-7) 16.5%; Movie Max 5 (TV5) 7.7%
Forevermore (ABS-CBN) 32.6%; Let the Love Begin (GMA-7) 15.4%; Wattpad Presents (TV5) 2.6%
Bridges of Love (ABS-CBN) 19.9%; The Rich Man's Daughter (GMA-7) 12.9%; Teen Wolf (TV5) 3.5%
Aquino & Abunda Tonight (ABS-CBN) 10.8%; My Lovely Girl (ABS-CBN) 7.3%; King of Ambition (GMA-7) 10.3%; Aksyon Tonite (TV5) 1.5%
Bandila (ABS-CBN) 3.2%; Saksi (GMA-7) 6.1%; Reaksyon (TV5) .7%
Banana Nite (ABS-CBN) 1.9%; Ancient Aliens (GMA-7) 3.2%; The Medyo Late Night Show with Jojo A (TV5) .4%
ADVERTISEMENT - CONTINUE READING BELOW
O Shopping (ABS-CBN) .7%; The Tim Yap Show (GMA-7) 1.2%; Shop Japan (TV5) .2%
May 15, 2015 (Friday)
Morning:
Kape't Pandesal (ABS-CBN) .3%; TNT Replay (ABS-CBN) .7%; Alisto! Replay (GMA-7) .2%
Umagang Kay Ganda (ABS-CBN) 3.3%; Unang Hirit (GMA-7) 2.9%��
Kris TV (ABS-CBN) 4.5%; Time Quest (GMA-7) 8.7%; Martin Mystery (GMA-7) 12.2%; Magi the Labyrinth of Magic (GMA-7) 13.5%
Naruto Shippuuden (ABS-CBN) 4.3%; Fairy Tail (GMA-7) 13.8%
Summer Kapamilya Blockbusters: The Cold Night of Day (ABS-CBN) 11.8%; Slam Dunk (GMA-7) 12.5%; Knock Out (GMA-7) 11.4%; Two Mothers (GMA-7) 9.3%; Corazon Indomable (GMA-7) 12.4%
Oh My G! (ABS-CBN) 13.2%; The Ryzza Mae Show (GMA-7) 9.5%
Afternoon:
It's Showtime (ABS-CBN) 13.7%; Eat Bulaga! (GMA-7) 11.7%
Flordeliza (ABS-CBN) 15.4%; The Half Sisters (GMA-7) 16.3%
Nasaan Ka Nang Kailangan Kita (ABS-CBN) 15.7%; Yagit (GMA-7) 14.6%
Let's Get Married! (ABS-CBN) 12.7%; TNT (ABS-CBN) 9.4%; Healing Hearts (GMA-7) 10.4%
Kapamilya Deal or No Deal (ABS-CBN) 10.4%; Love Hotline (GMA-7) 7%; The Mermaid (GMA-7) 6.4%
Evening:
Inday Bote (ABS-CBN) 15.7%; My Love from the Star (GMA-7) 8.8%
TV Patrol (ABS-CBN) 25.8%; 24 Oras (GMA-7) 15.2%; Aksyon (TV5) 2.6%
Nathaniel (ABS-CBN) 32.8%; Pari 'Koy (GMA-7) 16.2%; PLDT Home TVolution 2015 PBA Governor's Cup Live (TV5) 4.4%
ADVERTISEMENT - CONTINUE READING BELOW
Forevermore (ABS-CBN) 31.4%; Let the Love Begin (GMA-7) 14.3%; Wattpad Presents (TV5) 2.2%
Bridges of Love (ABS-CBN) 21.8%; The Rich Man's Daughter (GMA-7) 12.4%; Teen Wolf (TV5) 3.3%
Aquino & Abunda Tonight (ABS-CBN) 12.7%; My Lovely Girl (ABS-CBN) 7.9%; Bubble Gang (GMA-7) 8.7%; Aksyon Tonite (TV5) 1%
Bandila (ABS-CBN) 3.3%; Banana Nite (ABS-CBN) 2%; Saksi (GMA-7) 4.1%; Reaksyon (TV5) .4%; Astig (TV5) .3%
O Shopping (ABS-CBN) .5%;The Tim Yap Show (GMA-7) 1.6%; Shop Japan (TV5) .2%
May 16, 2015 (Saturday)
Sa Kabukiran (ABS-CBN) 1.2%; Kapwa Ko Mahal Ko (GMA-7) 1.3%
Salamat Dok (ABS-CBN) 2.4%; Swak na Swak (ABS-CBN) 3.1%; Pinoy MD (GMA-7) 3.5%
Angel Wings (ABS-CBN) 3%; The Smurfs (GMA-7) 6.7%
Math Tinik (ABS-CBN) 3.3%; Kamen Rider Ooo (GMA-7) 10.1%
Kung Fu Panda: Legends of Awesomeness (ABS-CBN) 3.5%; Pac-Man and the Ghostly Adventures (GMA-7) 11.9%; Angry Birds Toons (GMA-7) 12.4%
Spongebob Squarepants (ABS-CBN) 5.4%; Cross Fight B-Daman (GMA-7) 10.5%
Superbook (ABS-CBN) 8.4%; Dragon Ball Fight (GMA-7) 11%
2015 NBA Playoffs Eastern Conference Semifinals Live (ABS-CBN) 7.9%; Sarap Diva (GMA-7) 7.4%; Maynila (GMA-7) 10.1%
Afternoon:
It's Showtime (ABS-CBN) 13.9%; Eat Bulaga! (GMA-7) 13.8%
Ipaglaban Mo (ABS-CBN) 13.8%; Karelasyon (GMA-7) 10.7%;
Failon Ngayon (ABS-CBN) 8.3%; Wish Ko Lang! (GMA-7) 9.2%
ADVERTISEMENT - CONTINUE READING BELOW
SOCO (ABS-CBN) 9.8%; Startalk (GMA-7) 6.2%
TV Patrol Weekend (ABS-CBN) 10%; Imbestigador (GMA-7) 8.7%; PLDT Home TVolution 2015 PBA Governor's Cup Live (TV5) 3.8%
Evening:
Mga Kwento ni Marc Logan (ABS-CBN) 14.5%; 24 Oras Weekend (GMA-7) 9.6%
Home Sweetie Home (ABS-CBN) 20.4%; Sabado Badoo (GMA-7) 12.4%; Pepito Manaloto: Ang Tunay na Kuwento (GMA-7) 18.4%
MMK: Ang Tahanan Mo: Pagkain (ABS-CBN) 29.5%; Magpakailanman (GMA-7)21.4%; Tropa Mo Ko Unli Spoof (TV5) 2.1%; 2 1/2 Daddies (TV5) 1.8%
Your Face Sounds Familiar (ABS-CBN) 31.3%; Celebrity Bluff (GMA-7) 14.6%; Extreme Series (TV5) 1.3%
Banana Split Extra Scoop (ABS-CBN) 11.9%; i-Witness (GMA-7) 10.4%; Rising Stars (TV5) .9%
The Bottomline (ABS-CBN) 3.5%; Kapuso Movie Night: Sharknado 2 (GMA-7) 7.6%; Kaya. (TV5) .5%
O Shopping (ABS-CBN) .9%;Walang Tulugan with Master Showman (GMA-7) 1.8%; Shop Japan (TV5) 0%
May 17, 2015 (Sunday)
Morning:
The Healing Eucharist (ABS-CBN) 4.4%; Kapuso Sine Klasika (GMA-7) 3.6%
Swak Na Swak (ABS-CBN) 3.8%; Grimm's Fairy Tales (GMA-7) 7.1%;Kamen Rider Ooo (GMA-7) 8.4%
Salamat Dok (ABS-CBN) 3.4%; Pac-Man and the Ghostly Adventures (GMA-7) 9.9%
Kuroko's Basketball (ABS-CBN) 4.4%; Dragon Ball Fight (GMA-7) 11.9%
Haikyu!! (ABS-CBN) 4.9%; Aha! (GMA-7) 10.7%
Super Book (ABS-CBN) 6.3%; Born To Be Wild (GMA-7) 10.6%
ADVERTISEMENT - CONTINUE READING BELOW
Matanglawin (ABS-CBN) 8.5%; iBilib (GMA-7) 9.6%�
Kapamilya Kiddie Blockbusters: Girl vs Monster (ABS-CBN) 12.3%; Kapuso Movie Festival: Happy Feet Two (GMA-7) 12.8%
Afternoon:
ASAP 20 (ABS-CBN) 12.6%; Kapuso Movie Festival: Johnny English Reborn (GMA-7) 15.2%; Sunday All Stars (GMA-7) 10.1%
Kapamilya Mega Blockbusters: Diary ng Panget (ABS-CBN) 17.4%; Wowowin (GMA-7) 13.6%; Insta Dad (GMA-7) 7.5%
Luv U (ABS-CBN) 12.1%; 24 Oras Weekend (GMA-7) 6.5%
Evening:
TV Patrol Weekend (GMA-7) 10.8%; Vampire Ang Daddy Ko (GMA-7) 9.5%; PLDT Home TelPad PBA 2015 Commissioner's Cup Finals Live (TV5) 5.2%
Goin' Bulilit (ABS-CBN) 16.7%; Wansapanataym: Yamishita's Treasures (ABS-CBN) 23.7%; Ismol Family (GMA-7) 17.7%
Rated K: Handa Na Ba Kayo? (ABS-CBN) 26.8%; Your Face Sounds Familiar (ABS-CBN) 30%; Kapuso Mo, Jessica Soho (GMA-7) 21.7%;� Who Wants to be a Millionaire (TV5) 3.5%; Mac and Chiz (TV5) 1.7%; Wow Mali Lakas ng Tama! (TV5) 1.3%
Gandang Gabi Vice (ABS-CBN) 16.3%; Asia's Next Top Model (GMA-7) 9.8%; Wattpad Presents (TV5) 1%
Sunday's Best: Tron (ABS-CBN) 4%; O Shopping (ABS-CBN) 1%; Sunday Night Box Office: Contraband (GMA-7) 7%; Diyos at Bayan (GMA-7) 1.2%; Shop Japan (TV5) .1%
--
May 18, 2015 (Monday)
ADVERTISEMENT - CONTINUE READING BELOW
Morning:
O Shopping (ABS-CBN) .5%; Powerhouse Replay (GMA-7) .2%
Umagang Kay Ganda (ABS-CBN) 3.2%; Unang Hirit (GMA-7) 3%��
Kris TV (ABS-CBN) 5.2%; Time Quest (GMA-7) 7.9%; Martin Mystery (GMA-7) 10.8%; Magi The Labyrinth of Magic (GMA-7) 12.9%; Slam Dunk (GMA-7) 12.8%
Naruto Shippuuden (ABS-CBN) 5.2%; Knock Out (GMA-7) 11.5%
Summer Kapamilya Blockbusters: Casino Royale (ABS-CBN) 14.3%; Secret Garden (GMA-7) 8.5%; Two Mothers (GMA-7) 8.5%; Corazon Indomable (GMA-7) 9.9%
Oh My G! (ABS-CBN) 15.1%; The Ryzza Mae Show (GMA-7) 9.1%
Afternoon:
It's Showtime (ABS-CBN) 14.8%;Eat Bulaga! (GMA-7) 12.1%
Flordeliza (ABS-CBN) 16.1%; The Half Sisters (GMA-7) 17.4%
Nasaan Ka Nang Kailangan Kita (ABS-CBN) 16%; Yagit (GMA-7) 15.4%
Let's Get Married (ABS-CBN) 13%; Maniwala Ka Kaya Mo (ABS-CBN) 9.7%; Healing Hearts (GMA-7) 11%
Kapamilya Deal Or No Deal (ABS-CBN) 11.3%; Alisto! (GMA-7) 6.8%; The Mermaid (GMA-7) 7.4%
Evening:
Inday Bote (ABS-CBN) 16.9%; My Love from the Star (GMA-7) 9.3%
TV Patrol (ABS-CBN) 26.6%; 24 Oras (GMA-7) 15.9%; Aksyon (TV5) 3.2%
Nathaniel (ABS-CBN) 34.5%; Pari 'Koy (GMA-7) 17.9%; PLDT Home TVolution 2015 PBA Governor's Cup Live (TV5) 4.8%
Forevermore (ABS-CBN) 33.1%; Let the Love Begin (GMA-7) 17.1%
Bridges of Love (ABS-CBN) 20.1%; The Rich Man's Daughter (GMA-7) 14.2%; Wattpad Presents (TV5) 2.9%
ADVERTISEMENT - CONTINUE READING BELOW
Aquino & Abunda Tonight (ABS-CBN) 10.3%; My Lovely Girl (ABS-CBN) 5.8%;King of Ambition (GMA-7) 10.3%; Baker King (GMA-7) 2.7%; Teen Wolf (TV5) 2.7%
Bandila (ABS-CBN) 3%; Saksi (GMA-7) 4.8%
Mukha (ABS-CBN) 1.9%; O Shopping (ABS-CBN) .7%; Front Row (ABS-CBN) 2.3%; Aksyon Tonite (TV5) .6%; Reaksyon (TV5) .3%; The Medyo Late Night Show (TV5) .2%; Shop Japan (TV5) .1%
Here are the Top 10 daytime and primetime programs from May 12-18, 2015 among Total Philippines (Urban & Rural) households:


May 12, 2015 (Tuesday)
DAYTIME:
The Half Sisters (GMA-7) – 17.9%
Nasaan Ka Nang Kailangan Kita (ABS-CBN) - 16.3%
Yagit (GMA-7) – 15.8%
Oh My G! (ABS-CBN) - 15.2%
Flordeliza (ABS-CBN) - 14.9%
It's Showtime (ABS-CBN) - 14.6%
Fairy Tail (GMA-7) - 14.3%
Magi the Labyrinth of Magic (GMA-7) - 14.2%
Summer Kapamilya Blockbusters (ABS-CBN) - 13.9%
Eat Bulaga! (GMA-7) - 13.3%
PRIMETIME:
Nathaniel(ABS-CBN) - 32.9%
Forevermore (ABS-CBN) - 31.3%
TV Patrol (ABS-CBN) - 26.6%
Bridges of Love (ABS-CBN) - 21.1%
Pari 'Koy (GMA-7) - 16.5%
Inday Bote (ABS-CBN) - 16.3%
24 Oras (GMA-7) – 16.1%
Let the Love Begin (GMA-7) – 15.8%
The Rich Man's Daughter(GMA-7) - 14.5%
Aquino & Abunda Tonight (ABS-CBN) - 9.9%



May 13, 2015 (Wednesday)
DAYTIME:
The Half Sisters (GMA-7) – 17.8%
Oh My G! (ABS-CBN) - 16.6%
Nasaan Ka Nang Kailangan Kita (ABS-CBN) - 15.9%
Yagit (GMA-7) – 15.5%
It's Showtime (ABS-CBN) - 14.7%
Flordeliza (ABS-CBN) / Magi the Labyrinth of Magic(GMA-7) - 14.5%
Summer Kapamilya Blockbusters (ABS-CBN) - 13.8%
Let's Get Married (ABS-CBN) - 13.4%
Eat Bulaga! (GMA-7) - 13%
Martin Mystery (GMA-7) - 12.7%
PRIMETIME:
Nathaniel(ABS-CBN) - 34.2%
Forevermore (ABS-CBN) - 31%
TV Patrol (ABS-CBN) - 26.2%
Bridges of Love (ABS-CBN) - 21.2%
Pari 'Koy (GMA-7) - 18.4%
24 Oras (GMA-7) – 17.6%
Inday Bote (ABS-CBN) / Let the Love Begin (GMA-7) – 15.8%
The Rich Man's Daughter(GMA-7) - 14.9%
King of Ambition (GMA-7) – 11.4%
Aquino & Abunda Tonight (ABS-CBN) - 10.9%



May 14, 2015 (Thursday)
DAYTIME:
The Half Sisters (GMA-7) – 18.2%
Yagit (GMA-7) – 16.1%
Oh My G! (ABS-CBN) - 15%
Nasaan Ka Nang Kailangan Kita (ABS-CBN) / Magi the Labyrinth of Magic (GMA-7) - 14.9%
Fairy Tail (GMA-7) - 14.8%
Flordeliza (ABS-CBN) - 14.7%
It's Showtime (ABS-CBN) - 14.3%
Eat Bulaga! (GMA-7) - 14%
Martin Mystery (GMA-7) - 13.9%
Let's Get Married (ABS-CBN) - 13.5%
PRIMETIME:
Forevermore (ABS-CBN) - 32.6%
Nathaniel(ABS-CBN) - 30.7%
TV Patrol (ABS-CBN) - 27.4%
Bridges of Love (ABS-CBN) -19.9%
24 Oras (GMA-7) – 16.7%
Pari 'Koy (GMA-7) - 16.5%
Inday Bote (ABS-CBN) – 15.6%
Let the Love Begin (GMA-7) – 15.4%
The Rich Man's Daughter(GMA-7) - 12.9%
Aquino & Abunda Tonight (ABS-CBN) – 10.8%



May 15, 2015 (Friday)
DAYTIME:
The Half Sisters (GMA-7) – 16.3%
Nasaan Ka Nang Kailangan Kita (ABS-CBN) - 15.7%
Flordeliza (ABS-CBN) - 15.4%
Yagit (GMA-7) – 14.6%
Fairy Tail (GMA-7) - 13.8%
It's Showtime (ABS-CBN) - 13.7%
Magi the Labyrinth of Magic (GMA-7) - 13.5%
Oh My G! (ABS-CBN) - 13.2%
Let's Get Married (ABS-CBN) - 12.7%
Slam Dunk(GMA-7) - 12.5%
PRIMETIME:
Nathaniel(ABS-CBN) - 32.8%
Forevermore (ABS-CBN) - 31.4%
TV Patrol (ABS-CBN) - 25.8%
Bridges of Love (ABS-CBN) -21.8%
Pari 'Koy (GMA-7) - 16.2%
Inday Bote (ABS-CBN) – 15.7%
24 Oras (GMA-7) – 15.2%
Let the Love Begin (GMA-7) – 14.3%
Aquino & Abunda Tonight (ABS-CBN) – 12.7%
The Rich Man's Daughter (GMA-7) - 12.4%



May 16, 2015 (Saturday)
DAYTIME:
It's Showtime (ABS-CBN) – 13.9%
Ipaglaban Mo (ABS-CBN) / Eat Bulaga! - 13.8%
Angry Birds Toons (GMA-7) - 12.4%
Pac-man and the Ghostly Adventures (GMA-7) – 11.9%
Dragon Ball Fight (GMA-7) – 11%
Karelasyon (GMA-7) – 10.7%
Cross Fight B-Daman (GMA-7) – 10.5%
Kamen Rider Ooo / Maynila (GMA-7) - 10.1%
TV Patrol Weekend (ABS-CBN) - 10%
SOCO (ABS-CBN) – 9.8%
�
PRIMETIME:
Your Face Sounds Familiar (ABS-CBN) – 31.3%
MMK: Ang Tahanan Mo (ABS-CBN) – 29.5%
Magpakailanman (GMA-7) – 21.4%
Home Sweetie Home (ABS-CBN) – 20.4%
Pepito Manaloto: Ang Tunay na Kuwento (GMA-7) – 18.4%
Celebrity Bluff (GMA-7) – 14.6%
Mga Kwento ni Marc Logan (ABS-CBN) – 14.5%
Sabado Badoo (GMA-7) – 12.4%
Banana Split Extra Scoop (ABS-CBN) – 11.9%
I-Witness (GMA-7) – 10.4%
�
May 17, 2015 (Sunday)
DAYTIME:
Kapamilya Mega Blockbusters: Diary ng Panget (ABS-CBN) - 17.4%
Kapuso Movie Festival: Johnny English Reborn (GMA-7) - 15.2%
Wowowin (GMA-7) - 13.6%
Kapuso Movie Festival: Happy Feet Two (GMA-7) - 12.8%
ASAP 20 (ABS-CBN) - 12.6%
Kapamilya Kiddie Blockbusters: Girl vs Monster (ABS-CBN) - 12.3%
Luv U (ABS-CBN) - 12.1%
Dragon Ball Fight (GMA-7) - 11.9%
TV Patrol Weekend (ABS-CBN) - 10.8%
AHA (GMA-7) - 10.7%
PRIMETIME:
Your Face Sounds Familiar (ABS-CBN) – 30%
Rated K: Handa na ba Kayo? (ABS-CBN) – 26.8%
Wansapanataym (ABS-CBN) – 23.7%
Kapuso Mo, Jessica Soho (GMA-7) – 21.7%
Ismol Family (GMA-7) – 17.7%
Goin' Bulilit (ABS-CBN) - 16.7%
Gandang Gabi Vice (ABS-CBN) - 16.3%
Asia's Next Top Model 3(GMA-7) - 9.8%
Vampire Ang Daddy Ko (GMA-7) – 9.5%
Sunday Night Box Office: Contraband(GMA-7) – 7%
�
May 18, 2015 (Monday)
DAYTIME:
The Half Sisters (GMA-7) – 17.4%
Flordeliza (ABS-CBN) -16.1%
Nasaan Ka Nang Kailangan Kita (ABS-CBN) - 16%
Yagit (GMA-7) – 15.4%
Oh My G! (ABS-CBN) - 15.1%
It's Showtime (ABS-CBN) - 14.8%
Summer Kapamilya Blockbusters (ABS-CBN) - 14.3%
Let's Get Married (ABS-CBN) - 13%
Magi the Labyrinth of Magic (GMA-7) - 12.9%
Slam Dunk (GMA-7) - 12.8%
PRIMETIME:
Nathaniel (ABS-CBN) – 34.5%
Forevermore (ABS-CBN) – 33.1%
TV Patrol (ABS-CBN) – 26.6%
Bridges of Love (ABS-CBN) – 20.1%
Pari 'Koy (GMA-7) – 17.9%
Let the Love Begin (GMA-7) - 17.1%
Inday Bote (ABS-CBN) - 16.9%
24 Oras (GMA-7) - 15.9%
The Rich Man's Daughter(GMA-7) - 14.2%
Aquino & Abunda Tonight (ABS-CBN) / King of Ambition(GMA-7) - 10.3%



Source: Kantar/TNS