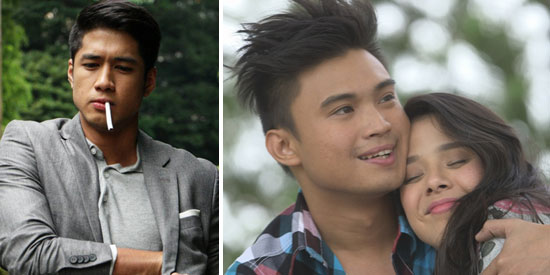 ---
Here are the highlights in the nationwide ratings game, according to data based on the overnight ratings of Kantar Media/TNS among Total Philippines (Urban & Rural) on July 15-22, 2015.
GMA-7's The Half Sisters went back to the No. 1 spot in the list of top 10 shows on weekday daytime. The Kapuso drama (which was pitted against ABS-CBN's Flordeliza) emerged as the most-watched daytime show on July 16, 20, 21 and 22. During this period, Aljur Abrenica was introduced on The Half Sisters as Malcolm, the guy who will help Thea Tolentino and her family escape to Japan.
In the previous ratings period, it was ABS-CBN's Nasaan Ka Nang Kailangan Kita that led the daytime slot. This time, even Yagit, which airs against Nasaan Ka Nang Kailangan Kita, got the number one spot.
Yagit earned higher TV ratings because it was already on its finale week. The Kapuso drama features child actors Chlaui Malayo, Zymic Jaranilla, Judie dela Cruz and Jemuell Ventinilla.
ABS-CBN's Oh My G! also started its finale week on the given period. The pre-noontime drama, which stars Janella Salvador, Marlo Mortel and Manolo Pedrosa, defeated GMA-7's The Ryzza Mae Show.
On weekday primetime, ABS-CBN shows Nathaniel and Pangako Sa 'Yo took turns being the No. 1 show. Nathaniel is a religion-themed series that stars child actor Marco Masa, while Pangako Sa 'Yo is a tale of love and revenge starring Daniel Padilla, Kathryn Bernardo, Jodi Sta. Maria and Angelica Panganiban.
ABS-CBN also won the weekend with its shows The Voice Kids, Kapamilya Blockbusters and Top Rank Boxing.

The Kapamilya drama anthology show Maalaala Mo Kaya featured the tandem of Edgar Allan Guzman and Maxene Magalona for the first time. On July 18, this MMK episode about ex-lovers caught in Baguio during the 1990 earthquake rated 34.5% while its GMA-7 counterpart Celebrity Bluff got 15% and the TV5 reality talent search Kispinoy The K-Pop Philippination registered 2%.
ADVERTISEMENT - CONTINUE READING BELOW
Here are the comparative Household Ratings of ABS-CBN, TV5, and GMA-7 programs from July 15-22, 2015 based on the overnight ratings of Kantar Media/TNS among Total Philippines (Urban & Rural) households.
--
July 15, 2015 (Wednesday)
Morning:
O Shopping (ABS-CBN) .5%; Tunay na Buhay Replay (GMA-7) 1%
Umagang Kay Ganda (ABS-CBN) 4.9%; Unang Hirit (GMA-7) 4%
Kris TV (ABS-CBN) 6.6%; Martin Mystery (GMA-7) 5.9%; Time Quest (GMA-7) 7.3%; Bleach (GMA-7) 8.1%; Magi the Labyrinth of Magic (GMA-7) 7.8%
Naruto Shippuuden (ABS-CBN) 7%;Knock Out (GMA-7) 7.6%
Kapamilya Blockbusters: Gallants (ABS-CBN) 14.5%; Secret Garden (GMA-7) 6.1%; Two Mothers (GMA-7) 7%; The King's Doctors (GMA-7) 7.8%
Oh My G! (ABS-CBN) 14.6%; The Ryzza Mae Show (GMA-7) 9.4%



Afternoon:
It's Showtime (ABS-CBN) 14.3%; Eat Bulaga! (GMA-7) 13.5%
Flordeliza (ABS-CBN) 15%; The Half Sisters (GMA-7) 13.9%
Nasaan Ka Nang Kailangan Kita (ABS-CBN) 16%; Yagit (GMA-7) 13.1%
Pinoy Big Brother 737 Gold (ABS-CBN) 11.2%;Healing Hearts (GMA-7) 11.5%
Red Alert (ABS-CBN) 10.8%; Powerhouse (GMA-7) 7.3%
Kapamilya Deal or No Deal (ABS-CBN) 13.4%; Birth of a Beauty (GMA-7) 6.9%
Evening:
Pasion de Amor (ABS-CBN) 20%; My Mother's Secret (GMA-7) 8.6%
TV Patrol (ABS-CBN) 27.8%; 24 Oras (GMA-7) 14.6%; Aksyon (TV5) 3.4%
Nathaniel (ABS-CBN) 36.1%; Pari 'Koy (GMA-7) 15.1%; PLDT Home TVolution 2015 PBA Governor's Cup Live (TV5) 7.9%
Pangako Sa 'Yo (ABS-CBN) 35.4%; Let the Love Begin (GMA-7) 12.7%
Bridges of Love (ABS-CBN) 23.9%; The Rich Man's Daughter (GMA-7) 10.9%; Wattpad Presents (TV5) 3.3%
Pinoy Big Brother 737 (ABS-CBN) 13.9%; Pinocchio (GMA-7) 7.3%; Baker King (TV5) 2.8%; Teen Wolf (TV5) 2%
Aquino & Abunda Tonight (ABS-CBN) 7.6%; Bandila (ABS-CBN) 3.5%; Saksi (GMA-7) 4.3%; Aksyon Tonite (TV5) .9%
Banana Nite (ABS-CBN) 1.8%; O Shopping (ABS-CBN) .8%; Ancient Aliens (GMA-7) 2%; Reaksyon (TV5) .4%; The Medyo Late Night Show (TV5) .1%; Shop Japan (TV5) .1%
--
July 16, 2015 (Thursday)
Morning:
O Shopping (ABS-CBN) .4%; Born to be Wild Replay (GMA-7) .8%
ADVERTISEMENT - CONTINUE READING BELOW
Umagang Kay Ganda (ABS-CBN) 4.5%; Unang Hirit (GMA-7) 3.9%
Kris TV (ABS-CBN) 5.7%; Martin Mystery (GMA-7) 5.8%;Time Quest (GMA-7) 7.2%; Bleach (GMA-7) 7.2%
Naruto Shippuuden (ABS-CBN) 7.9%; Magi the Labyrinth of Magic (GMA-7) 10.2%; Knock Out (GMA-7) 8.3%
Kapamilya Blockbusters: Legendary Amazons (ABS-CBN) 14.6%; Secret Garden (GMA-7) 6.2%; Two Mothers (GMA-7) 6.9%; The King's Doctor (GMA-7) 7.5%
Oh My G! (ABS-CBN) 14.3%; The Ryzza Mae Show (GMA-7) 9.4%
Afternoon:
It's Showtime (ABS-CBN) 13.4%; Eat Bulaga! (GMA-7) 13.6%
Flordeliza (ABS-CBN) 14.7%; The Half Sisters (GMA-7) 15%
Nasaan Ka Nang Kailangan Kita (ABS-CBN) 14.3%; Pinoy Big Brother 737 Gold (ABS-CBN) 10.5%; Yagit (GMA-7) 13.7%
Sports U (ABS-CBN) 9.9%; Healing Hearts (GMA-7) 11.9%
Kapamilya Deal or No Deal (ABS-CBN) 14.1%; Reporter's Notebook (GMA-7) 9.2%; Birth of a Beauty (GMA-7) 8.3%
Evening:
Pasion de Amor (ABS-CBN) 21.6%; My Mother's Secret (GMA-7) 10.1%
TV Patrol (ABS-CBN) 30%; 24 Oras (GMA-7) 15.5%; Aksyon (TV5) 3.5%
Nathaniel (ABS-CBN) 35.5%; Pari 'Koy (GMA-7) 14.9%; Movie Max 5 (TV5) 7.3%
Pangako Sa 'Yo (ABS-CBN) 36.3%; Let the Love Begin (GMA-7) 13.7%; Wattpad Presents (TV5) 2.9%
Bridges of Love (ABS-CBN) 25.3%; The Rich Man's Daughter (GMA-7) 11.5%; Baker King (TV5) 2.8%
Pinoy Big Brother 737 (ABS-CBN) 14.6%; Pinocchio (GMA-7) 6.9%; Teen Wolf (TV5) 2.9%
Aquino & Abunda Tonight (ABS-CBN) 7.2%; Bandila (ABS-CBN) 4.2%; Saksi (GMA-7) 4.4%; Aksyon Tonite (TV5) .9%; Reaksyon (TV5) .3%
Banana Nite (ABS-CBN) 1.9%; O Shopping (ABS-CBN) .7%; Ancient Aliens (GMA-7) 2.1%; The Medyo Late Night Show (TV5) .3%; Shop Japan (TV5) .1%
July 17, 2015 (Friday)
Morning:
O Shopping (ABS-CBN) .2%; Alisto! Replay (GMA-7) .6%
Umagang Kay Ganda (ABS-CBN) 3.6%; Unang Hirit (GMA-7) 3.7%
Kris TV (ABS-CBN) 6.5%; Martin Mystery (GMA-7) 10%; Time Quest (GMA-7) 12.8%; Bleach (GMA-7) 12.6%
Naruto Shippuuden (ABS-CBN) 7.3%; Magi the Labyrinth of Magic (GMA-7) 11.5%
Kapamilya Blockbusters: The Sorcerer & the White Snake (ABS-CBN) 20.7%; Knock Out (GMA-7) 11%; Secret Garden (GMA-7) 7.4%; Two Mothers (GMA-7) 8.1%; The King's Doctor (GMA-7) 8.1%
ADVERTISEMENT - CONTINUE READING BELOW
Oh My G! (ABS-CBN) 16.9%; The Ryzza Mae Show (GMA-7) 11.3%
Afternoon:
It's Showtime (ABS-CBN) 19.2%; Eat Bulaga! (GMA-7) 16%
Flordeliza (ABS-CBN) 17.5%; The Half Sisters (GMA-7) 16.6%
Nasaan Ka Nang Kailangan Kita (ABS-CBN) 16.9%; Yagit (GMA-7) 14.9%
Pinoy Big Brother 737 Gold (ABS-CBN) 12.4%; Healing Hearts (GMA-7) 12.8%
TNT (ABS-CBN) 11.3%; Love Hotline (GMA-7) 10%
Kapamilya Deal or No Deal (ABS-CBN) 15.6%; Birth of a Beauty (GMA-7) 8.8%
Evening:
Pasion de Amor (ABS-CBN) 21.5%; My Mother's Secret (GMA-7) 10.1%
TV Patrol (ABS-CBN) 30.6%; 24 Oras (GMA-7) 16.5%; Aksyon (TV5) 4.5%
Nathaniel (ABS-CBN) 37.3%; Pari 'Koy (GMA-7) 15.7%; PLDT Home TVolution 2015 PBA Governor's Cup Live (TV5) 8.7%
Pangako Sa 'Yo (ABS-CBN) 35.1%; Let the Love Begin (GMA-7) 12.8%
Bridges of Love (ABS-CBN) 26%; The Rich Man's Daughter (GMA-7) 11.2%
Pinoy Big Brother 737 (ABS-CBN) 16.2%; Aquino & Abunda Tonight (ABS-CBN) 7.1%; Bubble Gang (GMA-7) 8.5%; Wattpad Presents (TV5) 3.1%; Baker King (TV5) 2.5%
Bandila (ABS-CBN) 3.3%; Saksi (GMA-7) 4%; Teen Wolf (TV5) 2.4%; Aksyon Tonite (TV5) .6%
Banana Nite (ABS-CBN) 1.7%; O Shopping (ABS-CBN) .5%; Reaksyon (TV5) .3%; The Medyo Late Night Show (TV5) .2%; Shop Japan (TV5) .2%
July 18, 2015 (Saturday)
O Shopping (ABS-CBN) .4%; PJM Forum (GMA-7) .2%; Adyenda (GMA-7) .7%
Sa Kabukiran (ABS-CBN) 1.5%; Kapwa Ko Mahal Ko (GMA-7) 1.5%
Salamat Dok (ABS-CBN) 3.3%;Pinoy MD (GMA-7) 4.3%
Swak na Swak (ABS-CBN) 4.3%; The Smurfs (GMA-7) 8.8%
Angel Wings (ABS-CBN) 3.5%; Kamen Rider Ooo (GMA-7) 11.7%
Why Not? (ABS-CBN) 4.1%; Pac-Man and the Ghostly Adventures (GMA-7) 13.5%
Kung Fu Panda: Legends of Awesomeness (ABS-CBN) 5.1%;Angry Birds Toons (GMA-7) 15%
Spongebob Squarepants (ABS-CBN) 8.1%; Cross Fight B-Daman (GMA-7) 12.5%
The Flying House (ABS-CBN) 11.2%; Dragon Ball Fight (GMA-7) 12.7%
Kapamilya Blockbusters: The Last Legion (ABS-CBN) 20.5%; Sarap Diva (GMA-7) 6.6%; Maynila (GMA-7) 6.7%
Afternoon:
It's Showtime (ABS-CBN) 18.1%; Eat Bulaga! (GMA-7) 16.1%
Ipaglaban Mo (ABS-CBN) 16.5%; Karelasyon (GMA-7) 13%; Wish Ko Lang! (GMA-7) 10.5%
Failon Ngayon (ABS-CBN) 12.4%; Startalk (GMA-7) 8%
ADVERTISEMENT - CONTINUE READING BELOW
SOCO (ABS-CBN) 15.4%; Imbestigador (GMA-7) 10.1%
TV Patrol Weekend (ABS-CBN) 15.7%; 24 Oras Weekend (GMA-7) 12.4%; Movie Max 5 (TV5) 4.2%
Evening:
Mga Kwento ni Marc Logan (ABS-CBN) 20.5%; Sabado Badoo (GMA-7) 11.2%
Home Sweetie Home (ABS-CBN) 25.2%; Pepito Manaloto: Ang Tunay na Kuwento (GMA-7) 17.3%
The Voice Kids (ABS-CBN) 42%; Magpakailanman (GMA-7) 17.8%; Lola Basyang.com (TV5) 4.6%; Parang Normal Activity (TV5) 3.9%
MMK: Ang Tahanan Mo: Box (ABS-CBN) 34.5%; Celebrity Bluff (GMA-7) 15%; KisPinoy (TV5) 2%
Pinoy Big Brother 737 (ABS-CBN) 18.6%; i-Witness (GMA-7) 9.6%; History with Lourd (TV5) 1.7%
Banana Split Extra Scoop (ABS-CBN) 6.7%; The Bottom Line (ABS-CBN) 1.7%; Kapuso Movie Night: Mam Moth (GMA-7) 6.4%; Kaya. (TV5) 1.2%; Demolition Job (TV5) .4%; Shop Japan (TV5) .2%
O Shopping (ABS-CBN) .4%; Walang Tulugan with Master Showman (GMA-7) 1.5%
July 19, 2015 (Sunday)
Morning:
O Shopping (ABS-CBN) 1.1%; Jesus the Healer (GMA-7) .8%
The Healing Eucharist (ABS-CBN) 5.9%; Kapuso Sine Klasika: Enteng Manok (GMA-7) 4.3%
Swak Na Swak (ABS-CBN) 4.2%; Grimm's Fairy Tales (GMA-7) 9.4%
Salamat Dok (ABS-CBN) 4.3%; Kamen Rider Ooo (GMA-7) 11.7%; Pac-Man and the Ghostly Adventures (GMA-7) 12.2%
Haikyu!! (ABS-CBN) 4.4%; Dragon Ball Fight (GMA-7) 13.5%
Super Book (ABS-CBN) 8.7%; Aha! (GMA-7) 10.8%
Matanglawin (ABS-CBN) 10.7%; Born To Be Wild (GMA-7) 11.7%
Top Rank Boxing (ABS-CBN) 19.1%; iBilib (GMA-7) 11.8%; Kapuso Movie Festival: Shrek the Third (GMA-7) 16%
Afternoon:
ASAP 20 (ABS-CBN) 14.3%; Kapuso Movie Festival: The Scorpion King (GMA-7) 18.8%; Sunday All Stars (GMA-7) 10.6%
Kapamilya Mega Blockbusters: Third Eye (ABS-CBN) 16.4%; Wowowin (GMA-7) 13.4%; One Piece (GMA-7) 10.5%
Luv U (ABS-CBN) 10.8%; Alamat (GMA-7) 13.7%
TV Patrol Weekend (GMA-7) 13%; 24 Oras Weekend (GMA-7) 12.3%; Movie Max 5 (TV5) 4.1%
Evening:
Goin' Bulilit (ABS-CBN) 21.4%; Vampire Ang Daddy Ko (GMA-7) 12.3%
Wansapanataym: My Kung Fu Chinito (ABS-CBN) 34.1%; Ismol Family (GMA-7) 15.9%
The Voice Kids (ABS-CBN) 45.1%; Rated K: Handa Na Ba Kayo? (ABS-CBN) 25%; Kapuso Mo, Jessica Soho (GMA-7) 17.9%; No Harm No Foul (TV5) 2.5%; Who Wants to be a Millionaire (TV5) 1.9%; Movie Max 5 (TV5) 1.9%
ADVERTISEMENT - CONTINUE READING BELOW
Pinoy Big Brother 737 (GMA-7) 16.2%; Gandang Gabi Vice (ABS-CBN) 11.1%; Sunday Night Box Office: Safe House (GMA-7) 9.6%; Sports 360 (TV5) .3%
Sunday's Best: The Fighter (ABS-CBN) 2.2%; O Shopping (ABS-CBN) .3%; Top 20 Funniest (GMA-7) 3%; Diyos at Bayan (GMA-7) .5%; Shop Japan (TV5) 0%
July 20, 2015 (Monday)
Morning:
O Shopping (ABS-CBN) .4%; Powerhouse Replay (GMA-7) .7%
Umagang Kay Ganda (ABS-CBN) 4.5%; Unang Hirit (GMA-7) 3.9%
Kris TV (ABS-CBN) 6.3%; One Piece (GMA-7) 5.1%; Fairytail (GMA-7) 6.5%; Bleach (GMA-7) 7.2%; Magi The Labyrinth of Magic (GMA-7) 7.3%
Naruto Shippuuden (ABS-CBN) 5.9%; Knock Out (GMA-7) 7.1%
Kapamilya Blockbusters (ABS-CBN) 13.1%; Secret Garden (GMA-7) 5.7%; Two Mothers (GMA-7) 6.9%; The King's Doctor (GMA-7) 7%
Oh My G! (ABS-CBN) 15%; The Ryzza Mae Show (GMA-7) 8.4%
Afternoon:
It's Showtime (ABS-CBN) 14.3%; Eat Bulaga! (GMA-7) 15.1%
Flordeliza (ABS-CBN) 13.4%; The Half Sisters (GMA-7) 15.7%
Nasaan Ka Nang Kailangan Kita (ABS-CBN) 14.6%; Yagit (GMA-7) 14.2%
Pinoy Big Brother 737 Gold (ABS-CBN) 10.4%; Healing Hearts (GMA-7) 11.1%
Maniwala Ka Kaya Mo (ABS-CBN) 9.8%; Alisto! (GMA-7) 7.2%
Kapamilya Deal Or No Deal (ABS-CBN) 14.4%; Birth of a Beauty (GMA-7) 7.2%
Evening:
Pasion de Amor (ABS-CBN) 19.1%; My Mother's Secret (GMA-7) 9.1%
TV Patrol (ABS-CBN) 28.6%; 24 Oras (GMA-7) 15%; Aksyon (TV5) 2.9%
Nathaniel (ABS-CBN) 36.3%; Pari 'Koy (GMA-7) 14.8%; Movie Max 5 (TV5) 7.3%
Pangako Sa 'Yo (ABS-CBN) 35.4%; Let the Love Begin (GMA-7) 13.4%; Wattpad Presents (TV5) 2.9%
Bridges of Love (ABS-CBN) 24.4%; The Rich Man's Daughter (GMA-7) 10.9%; Baker King (TV5) 3.1%
Pinoy Big Brother 737 (ABS-CBN) 12.7%; Pinocchio (GMA-7) 6.7%; Teen Wolf (TV5) 2.8%
Aquino & Abunda Tonight (ABS-CBN) 6.5%; Saksi (GMA-7) 4.7%; Aksyon Tonite (TV5) 1.1%
Bandila (ABS-CBN) 3.1%; Mukha (ABS-CBN) 1.2%; Front Row (ABS-CBN) 2.3%; Reaksyon (TV5) .4%; The Medyo Late Night Show (TV5) .2%
O Shopping (ABS-CBN) .5%; Shop Japan (TV5) .1%
July 21, 2015 (Tuesday)
Morning:
O Shopping (ABS-CBN) .4%; i-Witness Replay (GMA-7) .6%
Umagang Kay Ganda (ABS-CBN) 4.3%; Unang Hirit (GMA-7) 4.1%
Kris TV (ABS-CBN) 5.7%; One Piece (GMA-7) 4.9%; Fairytail (GMA-7) 6.2%; Bleach (GMA-7) 7.8%
ADVERTISEMENT - CONTINUE READING BELOW
Naruto Shippuuden (ABS-CBN) 5.6%; Magi the Labyrinth of Magic (GMA-7) 7.9%
Kapamilya Blockbusters(ABS-CBN) 13.3%; Knock Out (GMA-7) 7.7%; Secret Garden (GMA-7) 5.6%; Two Mothers (GMA-7) 6.4%; The King's Doctor (GMA-7) 6.6%
Oh My G! (ABS-CBN) 14.7%; The Ryzza Mae Show (GMA-7) 8.9%
Afternoon:
It's Showtime (ABS-CBN) 14%; Eat Bulaga! (GMA-7) 14.4%
Flordeliza (ABS-CBN) 13.6%; The Half Sisters (GMA-7) 15.6%
Nasaan Ka Nang Kailangan Kita (ABS-CBN) 13.5%; Yagit (GMA-7) 14.8%
Pinoy Big Brother 737 Gold (ABS-CBN) 9.5%; Healing Hearts (GMA-7) 12.4%
My Puhunan (ABS-CBN) 9.6%; Tunay na Buhay (GMA-7) 8.3%
Kapamilya Deal or No Deal (ABS-CBN) 13.6%; Birth of a Beauty (GMA-7) 7.5%
Evening:
Pasion de Amor (ABS-CBN) 18.3%; My Mother's Secret (GMA-7) 9.1%
TV Patrol (ABS-CBN) 27%; 24 Oras (GMA-7) 14.7%; Aksyon (TV5) 3.1%
Nathaniel (ABS-CBN) 34.4%; Pari 'Koy (GMA-7) 14.1%; Movie Max 5 (TV5) 7.7%
Pangako Sa 'Yo (ABS-CBN) 34.4%; Let the Love Begin (TV5) 13.3%
Bridges of Love (ABS-CBN) 25.2%; The Rich Man's Daughter (GMA-7) 10.3%; Wattpad Presents (TV5) 3.4%; Baker King (TV5) 3.3%
Pinoy Big Brother 737 (ABS-CBN) 15.1%; Pinocchio (GMA-7) 5.8%; Teen Wolf (TV5) 3.4%
Aquino & Abunda Tonight (ABS-CBN) 7.3%; Saksi (GMA-7) 3.6%; Aksyon Tonite (TV5) 1.2%
Bandila (ABS-CBN) 3.5%; Banana Nite (ABS-CBN) 1.8%; O Shopping (ABS-CBN) .6%; Stan Lee's Superhumans (TV5) 2.2%; Reaksyon (TV5) .3%; The Medyo Late Night Show with Jojo A (TV5) .2%; Shop Japan (TV5) .1%
July 22, 2015 (Wednesday)
Morning:
O Shopping (ABS-CBN) .5%;Tunay na Buhay Replay (GMA-7) .8%
Umagang Kay Ganda (ABS-CBN) 4.8%; Unang Hirit (GMA-7) 3.7%
Kris TV (ABS-CBN) 6.6%; One Piece (GMA-7) 4.7%; Fairytail (GMA-7) 5.9%; Bleach (GMA-7) 7.2%; Magi the Labyrinth of Magic (GMA-7) 7.1%
Naruto Shippuuden (ABS-CBN) 6.9%; Knock Out (GMA-7) 8%
Kapamilya Blockbusters (ABS-CBN) 14%; Secret Garden (GMA-7) 5.9%; Two Mothers (GMA-7) 5.9%; The King's Doctors (GMA-7) 7%
Oh My G! (ABS-CBN) 14.6%; The Ryzza Mae Show (GMA-7) 9.2%
Afternoon:
It's Showtime (ABS-CBN) 13%; Eat Bulaga! (GMA-7) 14.4%
Flordeliza (ABS-CBN) 13.5%; The Half Sisters (GMA-7) 14.8%
ADVERTISEMENT - CONTINUE READING BELOW
Nasaan Ka Nang Kailangan Kita (ABS-CBN) 14%; Yagit (GMA-7) 14.8%
Pinoy Big Brother 737 Gold (ABS-CBN) 10.8%;Healing Hearts (GMA-7) 12%
Red Alert (ABS-CBN) 10.4%; Powerhouse (GMA-7) 8.9%
Kapamilya Deal or No Deal (ABS-CBN) 14.1%; Birth of a Beauty (GMA-7) 9%
Evening:
Pasion de Amor (ABS-CBN) 19.8%; My Mother's Secret (GMA-7) 11.1%
TV Patrol (ABS-CBN) 28.4%; 24 Oras (GMA-7) 16.2%; Aksyon (TV5) 3.8%
Nathaniel (ABS-CBN) 33.1%; Pari 'Koy (GMA-7) 14.5%; Movie Max 5 (TV5) 8.6%
Pangako Sa 'Yo (ABS-CBN) 32.3%; Let the Love Begin (GMA-7) 12.1%; Wattpad Presents (TV5) 3.4%
Bridges of Love (ABS-CBN) 24.7%; The Rich Man's Daughter (GMA-7) 9.8%; Baker King (TV5) 3%
Pinoy Big Brother 737 (ABS-CBN) 13.5%; Pinocchio (GMA-7) 6.4%; Teen Wolf (TV5) 2.4%
Aquino & Abunda Tonight (ABS-CBN) 6.2%; Bandila (ABS-CBN) 3.1%; Saksi (GMA-7) 3.7%; Aksyon Tonite (TV5) 1.5%; Reaksyon (TV5) .6%
Banana Nite (ABS-CBN) 1.3%; O Shopping (ABS-CBN) .3%; Planet Earth (GMA-7) 1.9%; The Medyo Late Night Show (TV5) .2%; Shop Japan (TV5) .1%
Here are the Top 10 daytime and primetime programs from July 15-22, 2015 among Total Philippines (Urban & Rural) households:
July 15, 2015 (Wednesday)
DAYTIME:
Nasaan Ka Nang Kailangan Kita (ABS-CBN) - 16%
Flordeliza (ABS-CBN) - 15%
Oh My G! (ABS-CBN) - 14.6%
Kapamilya Blockbusters (ABS-CBN) - 14.5%
It's Showtime (ABS-CBN) - 14.3%
The Half Sisters (GMA-7) - 13.9%
Eat Bulaga! (GMA-7) - 13.5%
Kapamilya Deal or No Deal (ABS-CBN) - 13.4%
Yagit (GMA-7) – 13.1%
Healing Hearts (GMA-7) – 11.5%
PRIMETIME:
Nathaniel(ABS-CBN) - 36.1%
Pangako Sa 'Yo (ABS-CBN) - 35.4%
TV Patrol (ABS-CBN) - 27.8%
Bridges of Love (ABS-CBN) - 23.2%
Pasion de Amor (ABS-CBN) - 20%
Pari 'Koy (GMA-7) - 15.1%
24 Oras (GMA-7) – 14.6%
Pinoy Big Brother 737 (ABS-CBN) - 13.9%
Let the Love Begin (GMA-7) – 12.7%
The Rich Man's Daughter(GMA-7) - 10.9%



July 16, 2015 (Thursday)
DAYTIME:
The Half Sisters (GMA-7) – 15%
Flordeliza (ABS-CBN) - 14.7%
Kapamilya Blockbusters (ABS-CBN) - 14.6%
Oh My G! (ABS-CBN) / Nasaan Ka Nang Kailangan Kita (ABS-CBN) - 14.3%
Kapamilya Deal or No Deal (ABS-CBN) - 14.1%
Yagit (GMA-7) - 13.7%
Eat Bulaga! (GMA-7) - 13.6%
It's Showtime (ABS-CBN) - 13.4%
Healing Hearts (GMA-7) – 11.9%
Pinoy Big Brother 737 Gold (ABS-CBN) - 10.5%
PRIMETIME:
Pangako Sa 'Yo (ABS-CBN) - 36.3%
Nathaniel(ABS-CBN) - 35.5%
TV Patrol (ABS-CBN) - 30%
Bridges of Love (ABS-CBN) - 25.3%
Pasion de Amor (ABS-CBN) - 21.6%
24 Oras (GMA-7) – 15.5%
Pari 'Koy (GMA-7) - 14.9%
Pinoy Big Brother 737 (ABS-CBN) - 14.6%
Let the Love Begin (GMA-7) – 13.7%
The Rich Man's Daughter(GMA-7) - 11.5%



July 17, 2015 (Friday)
DAYTIME:
Kapamilya Blockbusters (ABS-CBN) - 20.7%
It's Showtime (ABS-CBN) - 19.2%
Flordeliza (ABS-CBN) - 17.5%
Oh My G! (ABS-CBN) / Nasaan Ka Nang Kailangan Kita (ABS-CBN) - 16.9%
The Half Sisters (GMA-7) – 16.6%
Eat Bulaga! (GMA-7) - 16%
Kapamilya Deal or No Deal (ABS-CBN) - 15.6%
Yagit (GMA-7) - 14.9%
Time Quest (GMA-7) / Healing Hearts(GMA-7) - 12.8%
Bleach (GMA-7) - 12.6%
PRIMETIME:
Nathaniel(ABS-CBN) - 37.3%
Pangako Sa 'Yo (ABS-CBN) - 35.1%
TV Patrol (ABS-CBN) - 30.6%
Bridges of Love (ABS-CBN) -26%
Pasion de Amor (ABS-CBN) - 21.5%
24 Oras (GMA-7) – 16.5%
Pinoy Big Brother 737 (ABS-CBN) - 16.2%
Pari 'Koy (GMA-7) - 15.7%
Let the Love Begin (GMA-7) – 12.8%
The Rich Man's Daughter(GMA-7) - 11.2%



July 18, 2015 (Saturday)
DAYTIME:
Kapamilya Blockbusters (ABS-CBN) - 20.5%
It's Showtime (ABS-CBN) - 18.1%
Ipaglaban Mo (ABS-CBN) - 16.5%
Eat Bulaga! (GMA-7) - 16.1%
TV Patrol Weekend (ABS-CBN) - 15.7%
SOCO (ABS-CBN) - 15.4%
Angry Birds Toons (GMA-7) - 15%
Pac-man and the Ghostly Adventures (GMA-7) - 13.5%
Karelasyon (GMA-7) - 13%
Dragon Ball Fight (GMA-7) - 12.7%
PRIMETIME:
The Voice Kids (ABS-CBN) - 42%
MMK: Ang Tahanan Mo (ABS-CBN) – 34.5%
Home Sweetie Home (ABS-CBN) - 25.2%
Mga Kwento ni Marc Logan (ABS-CBN) - 20.5%
Pinoy Big Brother 737 (ABS-CBN)- 18.6%
Magpakailanman (GMA-7) – 17.8%
Pepito Manaloto: Ang Tunay na Kuwento (GMA-7) – 17.3%
Celebrity Bluff (GMA-7) – 15%
Sabado Badoo (GMA-7) – 11.2%
I-Witness (GMA-7) - 9.6%

July 19, 2015 (Sunday)
DAYTIME:
Top Rank Boxing (ABS-CBN) - 19.1%
Kapuso Movie Festival: The Scorpion King (GMA-7) - 18.8%
Kapamilya Mega Blockbusters: Third Eye (ABS-CBN) - 16.4%
Kapuso Movie Festival: Shrek the Third (GMA-7) - 16%
ASAP 20 (ABS-CBN) - 14.3%
Alamat (GMA-7) - 13.7%
Dragon Ball Fight (GMA-7) - 13.5%
Wowowin (GMA-7) – 13.4%
TV Patrol Weekend(ABS-CBN) - 13%
24 Oras Weekend (GMA-7) – 12.3%
PRIMETIME:
The Voice Kids (ABS-CBN) - 45.1%
Wansapanataym (ABS-CBN) – 34.1%
Rated K: Handa na ba Kayo? (ABS-CBN) – 25%
Goin' Bulilit (ABS-CBN) – 21.4%
Kapuso Mo, Jessica Soho (GMA-7) – 17.9%
Pinoy Big Brother 737 (ABS-CBN) - 16.2%
Ismol Family (GMA-7) – 15.9%
Vampire Ang Daddy Ko (GMA-7) – 12.3%
Gandang Gabi Vice (ABS-CBN) - 11.1%
Sunday Night Box Office(GMA-7) - 9.6%



July 20, 2015 (Monday)
DAYTIME:
The Half Sisters (GMA-7) – 15.7%
Eat Bulaga! (GMA-7) - 15.1%
Oh My G! (ABS-CBN) - 15%
Nasaan Ka Nang Kailangan Kita (ABS-CBN) - 14.6%
Kapamilya Deal or No Deal (ABS-CBN) - 14.4%
It's Showtime (ABS-CBN) - 14.3%
Yagit (GMA-7) – 14.2%
Flordeliza (ABS-CBN) - 13.4%
Kapamilya Blockbusters (ABS-CBN) - 13.1%
Healing Hearts (GMA-7) - 11.1%
PRIMETIME:
Nathaniel (ABS-CBN) – 36.3%
Pangako Sa 'Yo (ABS-CBN) – 35.4%
TV Patrol (ABS-CBN) – 28.6%
Bridges of Love (ABS-CBN) – 24.4%
Pasion de Amor (ABS-CBN) - 19.1%
24 Oras (GMA-7) - 15%
Pari 'Koy (GMA-7) – 14.8%
Let the Love Begin (GMA-7) - 13.4%
Pinoy Big Brother 737 (ABS-CBN) - 12.7%
The Rich Man's Daughter(GMA-7) - 10.9%



July 21, 2015 (Tuesday)
DAYTIME:
The Half Sisters (GMA-7) – 15.6%
Yagit (GMA-7) – 14.8%
Oh My G! (ABS-CBN) - 14.7%
Eat Bulaga! (GMA-7) - 14.4%
It's Showtime (ABS-CBN) - 14%
Flordeliza (ABS-CBN) / Kapamilya Deal or No Deal (ABS-CBN) - 13.6%
Nasaan Ka Nang Kailangan Kita (ABS-CBN) - 13.5%
Kapamilya Blockbusters (ABS-CBN) - 13.3%
Healing Hearts (GMA-7) - 12.4%
My Puhunan (ABS-CBN) - 9.6%
PRIMETIME:
Nathaniel(ABS-CBN) / Pangako Sa 'Yo (ABS-CBN) - 34.4%
TV Patrol (ABS-CBN) - 27%
Bridges of Love (ABS-CBN) - 25.2%
Pasion de Amor (ABS-CBN) - 18.3%
Pinoy Big Brother 737 (ABS-CBN) - 15.1%
24 Oras (GMA-7) - 14.7%
Pari 'Koy (GMA-7) - 14.1%
Let the Love Begin (GMA-7) – 13.3%
The Rich Man's Daughter(GMA-7) - 10.3%
My Mother's Secret(GMA-7) - 9.1%



July 22, 2015 (Wednesday)
DAYTIME:
The Half Sisters (GMA-7) / Yagit (GMA-7) – 14.8%
Oh My G! (ABS-CBN) - 14.6%
Eat Bulaga! (GMA-7) - 14.4%
Kapamilya Deal or No Deal (ABS-CBN) - 14.1%
Kapamilya Blockbusters (ABS-CBN) / Nasaan Ka Nang Kailangan Kita (ABS-CBN) - 14%
Flordeliza (ABS-CBN) - 13.5%
It's Showtime (ABS-CBN) - 13%
Healing Hearts (GMA-7) – 12%
Pinoy Big Brother 737 Gold (ABS-CBN) - 10.8%
Red Alert (ABS-CBN) - 10.4%
PRIMETIME:
Nathaniel(ABS-CBN) - 33.1%
Pangako Sa 'Yo (ABS-CBN) - 32.3%
TV Patrol (ABS-CBN) - 28.4%
Bridges of Love (ABS-CBN) - 24.7%
Pasion de Amor (ABS-CBN) - 19.8%
24 Oras (GMA-7) – 16.2%
Pari 'Koy (GMA-7) - 14.5%
Pinoy Big Brother 737 (ABS-CBN) - 13.5%
Let the Love Begin (GMA-7) – 12.1%
My Mother's Secret(GMA-7) - 11.1%


Source: Kantar/TNS