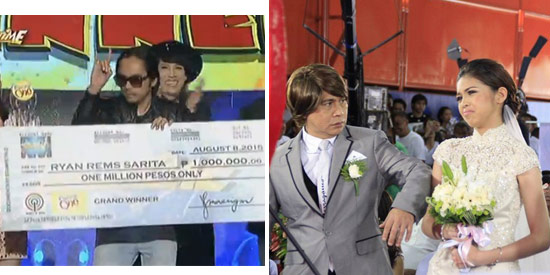 ---


Here are the highlights in the nationwide ratings game, according to data based on the overnight ratings of Kantar Media/TNS among Total Philippines (Urban & Rural) from August 8-13, 2015.
Eat Bulaga! still claimed its spot as the top show for weekday daytime. The long-running noontime show was No. 1 on weekdays of the given period.
However, ABS-CBN's It's Showtime defeated Eat Bulaga! on August 8, Saturday. The Kapamilya variety show featured the finale of its "Funny One" contest on that day, and it scored 27.1%. Comedian Ryan Rems Sarita bagged the P1 million cash prize from the competition.
Eat Bulaga, on the other hand, aired the wedding between Yaya Dub and villain Frankie (played by Jose Manalo). The ceremony did not push through since Yaya Dub fainted during the wedding. It got a TV rating of 21.1%.
ABS-CBN's ratings were less definitive on August 9, Sunday. ASAP, its flagship Sunday show, went head-to-head against GMA-7's new bets Sunday Pinasaya and Wowowin (which aired on an earlier timeslot).
ASAP registered a TV rating of 17.1% on that day, defeating Sunday Pinasaya's 16.1%. But it was lower than Wowowin's 18%.

Sunday Pinasaya, which replaced Sunday All Stars, is a new variety program hosted by Marian Rivera, Ai-Ai delas Alas, Alden Richards, Julie Ann San Jose, Jose Manalo, Wally Bayola, and other celebrities.
There were four new programs on weekday primetime that debuted on August 10.
First was Reply 1997, a Korean drama that replaced My Mother's Secret on GMA-7. Its pilot episode got 10% against Pasion de Amor's 21.2%.
Second on GMA-7 was Beautiful Strangers, a heavy drama that stars Lovi Poe and Heart Evangelista. Its pilot episode got 16.4%, about half of Pangako Sa 'Yo's 31.3%.
Two new shows battled on the same timeslot: GMA-7's My Faithful Husband and ABS-CBN's On the Wings of Love. The latter got 22.5%, higher than the new Kapuso program's 13%.
ADVERTISEMENT - CONTINUE READING BELOW
My Faithful Husband features Jennylyn Mercado and Dennis Trillo, while On the Wings of Love is led by Nadine Lustre and James Reid.
Here are the comparative ratings of ABS-CBN, TV5, and GMA-7 programs from August 8-13, 2015 based on the overnight ratings of Kantar Media/TNS among Total Philippines (Urban & Rural) households.
--
August 8, 2015 (Saturday)
O Shopping (ABS-CBN) .5%; PJM Forum (GMA-7) 0.2%;Adyenda (GMA-7) 0.8%
Sa Kabukiran (ABS-CBN) 1.5%; Kapwa Ko Mahal Ko (GMA-7) 1.9%
Salamat Dok (ABS-CBN) 3.3%; Pinoy MD (GMA-7) 4.9%
Swak na Swak (ABS-CBN) 3.9%; The Smurfs (GMA-7) 8.9%
Angel Wings (ABS-CBN) 3.2%; Kamen Rider Ooo (GMA-7) 10.8%
Why Not? (ABS-CBN) 2.7%;Pac-Man and the Ghostly Adventures (GMA-7) 12.6%
Kung Fu Panda: Legends of Awesomeness (ABS-CBN) 4%; Angry Birds Toons (GMA-7) 11.9%
Spongebob Squarepants (ABS-CBN) 5.8%; Cross Fight B-Daman (GMA-7) 10.1%
The Flying House (ABS-CBN) 8.1%; Dragon Ball Fight (GMA-7) 10.1%
Kapamilya Blockbusters: Olympus Has Fallen (ABS-CBN) 17.3%; Sarap Diva (GMA-7) 7%; Maynila (GMA-7) 8.3%



Afternoon:
It's Showtime (ABS-CBN) 27.1%; Eat Bulaga! (GMA-7) 21.1%; Karelasyon (GMA-7) 16.3%
Ipaglaban Mo (ABS-CBN) 18.6%; Wish Ko Lang! (GMA-7) 13.2%
Failon Ngayon (ABS-CBN) 12.2%; Startalk (GMA-7) 8.6%
SOCO (ABS-CBN) 14.5%; Imbestigador (GMA-7) 10.8%
TV Patrol Weekend (ABS-CBN) 16%; 24 Oras Weekend (GMA-7) 13.5%; Movie Max 5 (TV5) 4.2%
Evening:
Mga Kwento ni Marc Logan (ABS-CBN) 22%; Home Sweetie Home (ABS-CBN) 28.1%; Pepito Manaloto: Ang Tunay na Kuwento (GMA-7) 18%
The Voice Kids (ABS-CBN) 41.7%; Magpakailanman (GMA-7) 22.3%; Lola Basyang.com (TV5) 4.3%; Parang Normal Activity (TV5) 3%
MMK: Ang Tahanan Mo: Red Envelope (ABS-CBN) 36.4%; Celebrity Bluff (GMA-7) 14.8%; Movie Max 5 (TV5) 3.3%
Pinoy Big Brother 737 (ABS-CBN) 18%; To The Top (GMA-7) 7.2%; i-Witness (GMA-7) 5.2%; History with Lourd (TV5) 1.7%; Kaya. (TV5) .8%
Banana Split Extra Scoop (ABS-CBN) 7.4%; The Bottom Line (ABS-CBN) 2.3%; O Shopping (ABS-CBN) .5%; Walang Tulugan with Master Showman (GMA-7) 1.4%; Shop Japan (TV5) .3%
August 9, 2015 (Sunday)
Morning:
O Shopping (ABS-CBN) 1.2%; Jesus the Healer (GMA-7) .6%
The Healing Eucharist (ABS-CBN) 6.3%; Kapuso Sine Klasika (GMA-7) 4.4%
Swak Na Swak (ABS-CBN) 4.2%; Grimm's Fairy Tales (GMA-7) 10.4%; Kamen Rider Ooo (GMA-7) 12.1%
Salamat Dok (ABS-CBN) 3.7%; Pac-Man and the Ghostly Adventures (GMA-7) 13%; Dragon Ball Fight (GMA-7) 12.9%
Haikyu!! (ABS-CBN) 5.3%; Aha (TV5) 11.2%
ADVERTISEMENT - CONTINUE READING BELOW
Super Book (ABS-CBN) 8.3%;Born To Be Wild (GMA-7) 10.6%
Matanglawin (ABS-CBN) 11.1%; iBilib (GMA-7) 11.4%
Pinoy Pride 32 Pagara Brothers (ABS-CBN) 18.1%: Pagara vs Alcaraz: 17.9%; Pagara vs Rios: 18.4%; Kapuso Movie Festival: Journey to the Mysterious Island (GMA-7) 18.9%
Afternoon:
ASAP 20 (ABS-CBN) 17.1%;Sunday Pinasaya (GMA-7) 16.1%; Wowowin (GMA-7) 18%
Kapamilya Mega Blockbusters: My Little Bossings (ABS-CBN) 15.1%; GMA Blockbusters: Superman Returns (GMA-7) 14.2%
Luv U (ABS-CBN) 12.3%; Alamat (GMA-7) 14.4%; Movie Max 5 (TV5) 5.1%
TV Patrol Weekend (GMA-7) 15%; 24 Oras Weekend (GMA-7) 13.4%
Evening:
Goin' Bulilit (ABS-CBN) 23.6%; Vampire Ang Daddy Ko (GMA-7) 17.9%; Rise (TV5) 1.9%
Wansapanataym (ABS-CBN) 34.3%; Ismol Family (GMA-7) 20.3%; No Harm No Foul (TV5) 2%
The Voice Kids (ABS-CBN) 44.1%; Rated K: Handa Na Ba Kayo? (ABS-CBN) 22.1%; Kapuso Mo, Jessica Soho (GMA-7) 22%; Who Wants to be a Millionaire (TV5) 1.9%; Misterless Misis (TV5) .8%
Pinoy Big Brother 737 (GMA-7) 18.5%; To The Top (GMA-7) 8.6%; Sports 360 (TV5) .4%
Gandang Gabi Vice (ABS-CBN) 12.7%; Sunday Night Box Office: URCC (GMA-7) 4.4%; Demolition Job (TV5) .5%; History with Lourd (TV5) .5%
Sunday's Best(ABS-CBN) 4.9%; O Shopping (ABS-CBN) 1%; Diyos at Bayan (GMA-7) .6%; Shop Japan (TV5) 0%
August 10, 2015 (Monday)
Morning:
O Shopping (ABS-CBN) .2%; Powerhouse Replay (GMA-7) 1.1%
Umagang Kay Ganda (ABS-CBN) 5%; Unang Hirit (GMA-7) 4.6%
Kris TV (ABS-CBN) 6.3%; One Piece (GMA-7) 4.7%; Fairytail (GMA-7) 6.1%; Bleach (GMA-7) 6.6%; Magi The Labyrinth of Magic(GMA-7) 7.1%
Naruto Shippuuden (ABS-CBN) 6.2%; Knock Out (GMA-7) 7.3%
Kapamilya Blockbusters: Tekken (ABS-CBN) 13.9%; The Master's Sun (GMA-7) 6%; Two Mothers (GMA-7) 7.3%; The King's Doctor (GMA-7) 8.4%
Ningning (ABS-CBN) 17.9%; The Ryzza Mae Show (GMA-7) 10.1%
Afternoon:
It's Showtime (ABS-CBN) 15.5%; Eat Bulaga! (GMA-7) 18.9%
Flordeliza (ABS-CBN) 14.3%;The Half Sisters (GMA-7) 15.8%
Nasaan Ka Nang Kailangan Kita (ABS-CBN) 13.7%; Buena Familia (GMA-7) 12.6%
Pinoy Big Brother 737 Gold (ABS-CBN) 9.6%; Healing Hearts (GMA-7) 11.8%
Mission Possible (ABS-CBN) 9.1%; Alisto! (GMA-7) 8.6%
Kapamilya Deal or No Deal (ABS-CBN) 14.3%; Birth of a Beauty (GMA-7) 8.6%
Evening:
Pasion de Amor (ABS-CBN) 21.4%; Reply 1997 (GMA-7) 9.7%
TV Patrol (ABS-CBN) 28.2%; 24 Oras (GMA-7) 16.6%; Aksyon (TV5) 3%
Nathaniel (ABS-CBN) 32.5%; Pari 'Koy (GMA-7) 16.4%; Movie Max 5 (TV5) 6%
Pangako Sa 'Yo (ABS-CBN) 32.1%; Beautiful Strangers (GMA-7) 15.3%
On the Wings of Love (ABS-CBN) 22.1%; My Faithful Husband (GMA-7) 12.7%; Wattpad Presents (TV5) 2.2%; Baker King (TV5) 2%; Supernatural (TV5) 2.2%
ADVERTISEMENT - CONTINUE READING BELOW
Pinoy Big Brother 737 (ABS-CBN) 11%; Pinocchio (GMA-7) 6.4%;Aksyon Tonite (TV5) 1.4%
Aquino & Abunda Tonight (ABS-CBN) 6.1%; Saksi (GMA-7) 4.1%; Reaksyon (TV5) .5%
Bandila (ABS-CBN) 3.2%; Mukha (ABS-CBN) 1.4%; O Shopping (ABS-CBN) .5%; Front Row (ABS-CBN) 2.5%; The Medyo Late Night Show (TV5) .3%; Shop Japan (TV5) .1%
August 11, 2015 (Tuesday)
Morning:
O Shopping (ABS-CBN) .2%;i-Witness Replay (GMA-7) .9%
Umagang Kay Ganda (ABS-CBN) 4%; Unang Hirit (GMA-7) 3.6%
Kris TV (ABS-CBN) 6.1%; One Piece (GMA-7) 4.4%; Fairytail (GMA-7) 6.1%; Bleach(GMA-7) 6.9%
Naruto Shippuuden (ABS-CBN) 5.9%; Magi the Labyrinth of Magic (GMA-7) 6.6%; Knock Out (GMA-7) 6.8%
Kapamilya Blockbusters: Abduction (ABS-CBN) 13.5%; The Master's Sun (GMA-7) 5.7%; Two Mothers (GMA-7) 7.7%; The King's Doctor (GMA-7) 8.3%
Ningning (ABS-CBN) 17.8%; The Ryzza Mae Show (GMA-7) 10.6%
Afternoon:
It's Showtime (ABS-CBN) 13.6%; Eat Bulaga! (GMA-7) 19.7%
Flordeliza (ABS-CBN) 14.8%; The Half Sisters (GMA-7) 15.5%
Nasaan Ka Nang Kailangan Kita (ABS-CBN) 15.9%; Pinoy Big Brother 737 Gold (ABS-CBN) 10.2%; Buena Familia (GMA-7) 13%
My Puhunan (ABS-CBN) 9.7%; Healing Hearts (GMA-7) 13.2%
Kapamilya Deal or No Deal (ABS-CBN) 13.5%; Tunay na Buhay (GMA-7) 9.2%; Birth of a Beauty (GMA-7) 9.2%
Evening:
Pasion de Amor (ABS-CBN) 21.2%; Reply 1997 (GMA-7) 10%
TV Patrol (ABS-CBN) 29.7%; 24 Oras (GMA-7) 17.2%; Aksyon (TV5) 2.8%
Nathaniel (ABS-CBN) 33.7%; Pari 'Koy (GMA-7) 17.9%; Movie Max 5 (TV5) 6.4%
Pangako Sa 'Yo (ABS-CBN) 31.3%; Beautiful Strangers (TV5) 16.4%; Wattpad Presents (TV5) 2.3%
On the Wings of Love (ABS-CBN) 22.5%; My Faithful Husband (GMA-7) 13%; Baker King (TV5) 2.1%
Pinoy Big Brother 737 (ABS-CBN) 11.4%; Aquino & Abunda Tonight (ABS-CBN) 5.7%; Pinocchio (GMA-7) 7.2%; Supernatural (TV5) 2.4%; Aksyon Tonite (TV5) .9%
Bandila (ABS-CBN) 3.4%; Saksi (GMA-7) 4.7%; Reaksyon (TV5) .2%
Banana Nite (ABS-CBN) 2.3%; O Shopping (ABS-CBN) .7%; Stan Lee's Superhumans (TV5) 2.3%; The Medyo Late Night Show with Jojo A (TV5) .3%; Shop Japan (TV5) .1%
August 12, 2015 (Wednesday)
Morning:
O Shopping (ABS-CBN) .4%;Tunay na Buhay Replay (GMA-7) 1%
Umagang Kay Ganda (ABS-CBN) 4.9%; Unang Hirit (GMA-7) 3.8%��
Kris TV (ABS-CBN) 5.2%; One Piece (GMA-7) 4.7%; Fairytail (GMA-7) 5.9%; Bleach (GMA-7) 6.2%; Magi the Labyrinth of Magic (GMA-7) 7%
Naruto Shippuuden (ABS-CBN) 5.9%; Knock Out (GMA-7) 7.2%
Kapamilya Blockbusters: Once Upon a Time in China (ABS-CBN) 13.8%; The Master's Sun (GMA-7) 6.7%; Two Mothers (GMA-7) 8.7%; The King's Doctors (GMA-7) 8.9%
Ningning (ABS-CBN) 17.4%; The Ryzza Mae Show (GMA-7) 11.3%
ADVERTISEMENT - CONTINUE READING BELOW
Afternoon:
It's Showtime (ABS-CBN) 14%; Eat Bulaga! (GMA-7) 24%
Flordeliza (ABS-CBN) 15.2%;The Half Sisters (GMA-7) 17.8%
Nasaan Ka Nang Kailangan Kita (ABS-CBN) 14.8%; Buena Familia (GMA-7) 13.9%
Pinoy Big Brother 737 Gold (ABS-CBN) 9.6%; Red Alert (ABS-CBN) 9.2%; Healing Hearts (GMA-7) 13.8%
Kapamilya Deal or No Deal (ABS-CBN) 13.4%; Powerhouse (GMA-7) 9.2%; Birth of a Beauty (GMA-7) 8.6%
Evening:
Pasion de Amor (ABS-CBN) 20.6%; Reply 1997 (GMA-7) 10.3%
TV Patrol (ABS-CBN) 28.2%; 24 Oras (GMA-7) 17.9%; Aksyon (TV5) 3.6%
Nathaniel (ABS-CBN) 35.1%; Pari 'Koy (GMA-7) 17.7%; Movie Max 5 (TV5) 6%
Pangako Sa 'Yo (ABS-CBN) 32.9%; Beautiful Strangers (GMA-7) 16.2%; Wattpad Presents (TV5) 2.3%
On the Wings of Love (ABS-CBN) 21.1%; My Faithful Husband (GMA-7) 12.6%; Baker King (TV5) 1.9%
Pinoy Big Brother 737 (ABS-CBN) 10.6%; Aquino & Abunda Tonight (ABS-CBN) 5.1%; Pinocchio (GMA-7) 6.3%; Supernatural (TV5) 2.7%; Aksyon Tonite (TV5) 1.3%
Bandila (ABS-CBN) 2.6%; Saksi (GMA-7) 4.4%; Reaksyon (TV5) .5%; The Medyo Late Night Show (TV5) .3%
Banana Nite (ABS-CBN) .9%; O Shopping (ABS-CBN) .4%; Planet Earth (GMA-7) 2.5%; Shop Japan (TV5) .1%

August 13, 2015 (Thursday)
Morning:
O Shopping (ABS-CBN) .3%; Born to be Wild Replay (GMA-7) 1.1%
Umagang Kay Ganda (ABS-CBN) 4.5%; Unang Hirit (GMA-7) 4.2%
Kris TV (ABS-CBN) 7%; One Piece (GMA-7) 5.2%; Fairytail (GMA-7) 7.2%; Bleach (GMA-7) 7.7%; Magi the Labyrinth of Magic (GMA-7) 7.9%
Naruto Shippuuden (ABS-CBN) 7.4%; Knock Out(GMA-7) 7.7%
Kapamilya Blockbusters: The Wrath of Vajra (ABS-CBN) 15.7%; The Master's Sun (GMA-7) 7.2%; Two Mothers (GMA-7) 9%; The King's Doctors (GMA-7) 9.2%
Ningning(ABS-CBN) 17.5%; The Ryzza Mae Show (GMA-7) 11.2%
Afternoon:
It's Showtime (ABS-CBN) 14.1%; Eat Bulaga! (GMA-7) 22.5%
Flordeliza (ABS-CBN) 14.4%; The Half Sisters (GMA-7) 17.4%
Nasaan Ka Nang Kailangan Kita (ABS-CBN) 14.5%;Buena Familia (GMA-7) 14.6%
Pinoy Big Brother 737 Gold (ABS-CBN) 9.3%; Sports U (ABS-CBN) 8%; Healing Hearts (GMA-7) 15%
Kapamilya Deal or No Deal (ABS-CBN) 12.1%; Reporter's Notebook (GMA-7) 10.5%; Birth of a Beauty (GMA-7) 9.3%
Evening:
Pasion de Amor (ABS-CBN) 20.9%; Reply 1997 (GMA-7) 10.4%
TV Patrol (ABS-CBN) 28.4%; 24 Oras (GMA-7) 17.6%; Aksyon (TV5) 3%
Nathaniel (ABS-CBN) 33.6%; Pari 'Koy (GMA-7) 18.3%; Movie Max 5 (TV5) 6%
Pangako Sa 'Yo (ABS-CBN) 32%; Beautiful Strangers (GMA-7) 15%; Wattpad Presents (TV5) 2.4%
On the Wings of Love (ABS-CBN) 21.5%; My Faithful Husband (GMA-7) 12%; Baker King (TV5) 2.4%
Pinoy Big Brother 737 (ABS-CBN) 10.4%; Pinocchio (GMA-7) 6.4%; Supernatural (TV5) 2.8%
Aquino & Abunda Tonight (ABS-CBN) 5.2%; Bandila (ABS-CBN) 2.4%; Saksi (GMA-7) 3.9%; Aksyon Tonite (TV5) 1%; Reaksyon (TV5) .3%; The Medyo Late Night Show (TV5) .3%
ADVERTISEMENT - CONTINUE READING BELOW
Banana Nite (ABS-CBN) 1.1%; O Shopping (ABS-CBN) .3%; Planet Earth (GMA-7) 2.2%; Shop Japan (TV5) .1%
Here are the Top 10 daytime and primetime programs from August 8-13, 2015 among Total Philippines (Urban & Rural) households:


August 8, 2015 (Saturday)
DAYTIME:
It's Showtime (ABS-CBN) - 27.1%
Eat Bulaga! (GMA-7) - 21.1%
Ipaglaban Mo (ABS-CBN) - 18.6%
Kapamilya Blockbusters (ABS-CBN) - 17.3%
Karelasyon (GMA-7) - 16.3%
TV Patrol Weekend (ABS-CBN) - 16%
SOCO (ABS-CBN) - 14.5%
24 Oras Weekend (GMA-7) - 13.5%
Wish Ko Lang! (GMA-7) - 13.2%
Pac-man and the Ghostly Adventures (GMA-7) - 12.6%
PRIMETIME:
The Voice Kids (ABS-CBN) - 41.7%
MMK: Ang Tahanan Mo (ABS-CBN) – 36.4%
Home Sweetie Home (ABS-CBN) - 28.1%
Magpakailanman (GMA-7) – 22.3%
Mga Kwento ni Marc Logan (ABS-CBN) - 22%
Pinoy Big Brother 737 (ABS-CBN) / Pepito Manaloto: Ang Tunay na Kuwento (GMA-7) – 18%
Celebrity Bluff (GMA-7) – 14.8%
Banana Split Extra Scoop (ABS-CBN) - 7.4%
To The Top (GMA-7) – 7.2%
i-Witness (GMA-7) – 5.2%



August 9, 2015 (Sunday)
DAYTIME:
Kapuso Movie Festival (GMA-7) - 18.9%
Pinoy Pride 32 (ABS-CBN) - 18.1%
Wowowin (GMA-7) - 18%
ASAP 20 (ABS-CBN) - 17.1%
Sunday Pinasaya (GMA-7) - 16.1%
Kapamilya Mega Blockbusters (ABS-CBN) - 15.1%
TV Patrol Weekend(ABS-CBN) - 15%
Alamat (GMA-7) - 14.4%
GMA Blockbusters (GMA-7) - 14.2%
24 Oras Weekend (GMA-7) - 13.4%
PRIMETIME:
The Voice Kids (ABS-CBN) - 44.1%
Wansapanataym (ABS-CBN) – 34.3%
Goin' Bulilit(ABS-CBN) – 23.6%
Rated K: Handa na ba Kayo? (ABS-CBN) – 22.1%
Kapuso Mo, Jessica Soho (GMA-7) – 22%
Ismol Family (GMA-7) – 20.3%
Pinoy Big Brother 737 (ABS-CBN) - 18.5%
Vampire Ang Daddy Ko (GMA-7) – 17.9%
Gandang Gabi Vice (ABS-CBN) - 12.7%
To The Top(GMA-7) - 8.6%



August 10, 2015 (Monday)
DAYTIME:
Eat Bulaga! (GMA-7) - 18.9%
Ningning (ABS-CBN) - 17.9%
The Half Sisters (GMA-7) – 15.8%
It's Showtime (ABS-CBN) - 15.5%
Flordeliza (ABS-CBN) / Kapamilya Deal or No Deal (ABS-CBN) - 14.3%
Kapamilya Blockbusters (ABS-CBN) - 13.9%
Nasaan Ka Nang Kailangan Kita (ABS-CBN) - 13.7%
Buena Familia(GMA-7) – 12.6%
Healing Hearts(GMA-7) – 11.8%
The Ryzza Mae Show(GMA-7) – 10.1%
PRIMETIME:
Nathaniel(ABS-CBN) – 32.5%
Pangako Sa 'Yo (ABS-CBN) – 32.1%
TV Patrol (ABS-CBN) – 28.2%
On the Wings of Love (ABS-CBN) – 22.1%
Pasion de Amor (ABS-CBN) – 21.4%
24 Oras (GMA-7) - 16.6%
Pari 'Koy (GMA-7) – 16.4%
Beautiful Strangers (GMA-7) - 15.3%
My Faithful Husband(GMA-7) - 12.7%
Pinoy Big Brother 737 (ABS-CBN) - 11%
August 11, 2015 (Tuesday)
DAYTIME:
Eat Bulaga! (GMA-7) - 19.7%
Ningning (ABS-CBN) - 17.8%
Nasaan Ka Nang Kailangan Kita (ABS-CBN) - 15.9%
The Half Sisters (GMA-7) – 15.5%
Flordeliza (ABS-CBN) - 14.8%
It's Showtime (ABS-CBN) - 13.6%
Kapamilya Blockbusters (ABS-CBN) / Kapamilya Deal or No Deal (ABS-CBN) - 13.5%
Healing Hearts (GMA-7) - 13.2%
Buena Familia(GMA-7) – 13%
The Ryzza Mae Show(GMA-7) – 10.6%
PRIMETIME:
Nathaniel(ABS-CBN) - 33.7%
Pangako Sa 'Yo (ABS-CBN) - 31.3%
TV Patrol (ABS-CBN) - 29.7%
On the Wings of Love (ABS-CBN) – 22.5%
Pasion de Amor (ABS-CBN) - 21.2%
Pari 'Koy (GMA-7) - 17.9%
24 Oras (GMA-7) - 17.2%
Beautiful Strangers (GMA-7) - 16.4%
My Faithful Husband(GMA-7) - 13%
Pinoy Big Brother 737 (ABS-CBN) - 11.4%



August 12, 2015 (Wednesday)
DAYTIME:
Eat Bulaga! (GMA-7) - 24%
The Half Sisters (GMA-7) - 17.8%
Ningning (ABS-CBN) - 17.4%
Flordeliza (ABS-CBN) - 15.2%
Nasaan Ka Nang Kailangan Kita (ABS-CBN) -14.8%
It's Showtime (ABS-CBN) - 14%
Buena Familia (GMA-7) - 13.9%
Kapamilya Blockbusters (ABS-CBN) / Healing Hearts(GMA-7) – 13.8%
Kapamilya Deal or No Deal (ABS-CBN) - 13.4%
The Ryzza Mae Show(GMA-7) – 11.3%
PRIMETIME:
Nathaniel(ABS-CBN) - 35.1%
Pangako Sa 'Yo (ABS-CBN) - 32.9%
TV Patrol (ABS-CBN) - 28.2%
On the Wings of Love (ABS-CBN) – 21.1%
Pasion de Amor (ABS-CBN) - 20.6%
24 Oras (GMA-7) - 17.9%
Pari 'Koy (GMA-7) - 17.7%
Beautiful Strangers (GMA-7) - 16.2%
My Faithful Husband(GMA-7) - 12.6%
Pinoy Big Brother 737 (ABS-CBN) - 10.6%



August 13, 2015 (Thursday)
DAYTIME:
Eat Bulaga! (GMA-7) - 22.5%
Ningning (ABS-CBN) - 17.5%
The Half Sisters (GMA-7) – 17.4%
Kapamilya Blockbusters (ABS-CBN) - 15.7%
Healing Hearts(GMA-7) – 15%
Buena Familia(GMA-7) – 14.6%
Nasaan Ka Nang Kailangan Kita (ABS-CBN) - 14.5%
Flordeliza (ABS-CBN) - 14.4%
It's Showtime (ABS-CBN) - 14.1%
Kapamilya Deal or No Deal (ABS-CBN) - 12.1%
PRIMETIME:
Nathaniel(ABS-CBN) - 33.6%
Pangako Sa 'Yo (ABS-CBN) - 32%
TV Patrol (ABS-CBN) - 28.4%
On the Wings of Love (ABS-CBN) – 21.5%
Pasion de Amor (ABS-CBN) - 20.9%
Pari 'Koy (GMA-7) - 18.3%
24 Oras (GMA-7) – 17.6%
Beautiful Strangers (GMA-7) - 15%
My Faithful Husband(GMA-7) - 12%
Pinoy Big Brother 737 (ABS-CBN) / Reply 1997 (GMA-7) - 10.4%
Source: Kantar/TNS