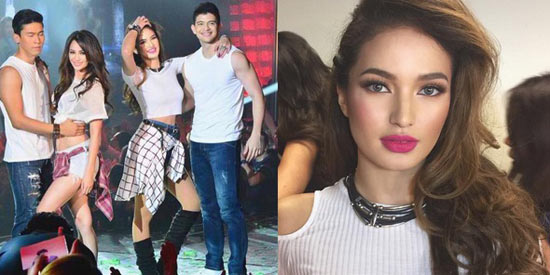 ---


Here are the highlights of the comparative ratings of programs of GMA-7, ABS-CBN and TV5, from August 14 to 16, 2015, according to Kantar Media/TNS survey of nationwide households.
Eat Bulaga! continues with its winning streak. The long-running noontime show from TAPE Inc. topped the daytime lists, making it the No. 1 most-watched daytime show on August 14 and 15.
On both days, Eat Bulaga! defeated It's Showtime by around 5 points.
The Kapamilya network, however, got the lead on August 16, Sunday. Kapamilya Mega Blockbusters, which aired The Gifted, got a TV rating of 17.2% to place first on the top 10 daytime list.
The Gifted is a 2014 comedy movie starring Anne Curtis, Cristine Reyes, and Sam Milby.
In second place is ASAP 20, which scored 15.9%. In contrast, its rivals on GMA-7 were Sunday Pinasaya, which got 14.8%, and Wowowin, which registered 15.1%.

The August 15 episode featured a performance from Sarah Lahbati, while "My Funny One" grand winner Ryan Rems had his time to shine that day.

ASAP 20's newest rating was an improvement because it lost to Wowowin the previous week. ASAP 20 got a TV rating of 17.1% last August 9 while Willie Revillame's variety show got 18%.
ABS-CBN is still the primetime leader, however, because its evening programs get ratings that are much higher than their Kapuso counterparts.
The No. 1 most-watched show on August 14, Friday, was Nathaniel. It was followed by Kapamilya shows Pangako Sa 'Yo, TV Patrol, On the Wings of Love and Pasion de Amor.
Moreover, the winner on weekend nights was still The Voice Kids, which continues to score record ratings: it got 40.5% last August 15 and 41% on August 16.
These two episodes were able to beat GMA-7's Magpakailanman (17.5%) on Saturday and Kapuso Mo, Jessica Soho (20.2%) on Sunday.

The competition has now narrowed down its contestants to the Top 4. The second season of ABS-CBN's reality singing competition is slated to end next weekend.

ABS-CBN's reality show Pinoy Big Brother 737 is also performing well, as it registers TV ratings double that of its GMA-7 rival. Last August 15, PBB 737 got a TV rating of 12.7%, while the Kapuso boy band search, To The Top, got 6.4%.

The following day, PBB 737 again prevailed in its timeslot with its rating of 13.5%, while To The Top got a TV rating of 9.3%.
ADVERTISEMENT - CONTINUE READING BELOW
Here are the comparative ratings of GMA-7, ABS-CBN and TV5 programs from August 14 to 16, 2015, according to Kantar Media/TNS survey of nationwide households.
--
August 14, 2015 (Friday)
Morning:
O Shopping (ABS-CBN) .3%; Alisto! Replay (GMA-7) .7%
Umagang Kay Ganda (ABS-CBN) 4.2%; Unang Hirit (GMA-7) 4.2%
Kris TV (ABS-CBN) 7.4%; One Piece (GMA-7) 4.4%; Fairytail (GMA-7) 6%; Bleach (GMA-7) 6.9%
Naruto Shippuuden (ABS-CBN) 6.4%; Magi the Labyrinth of Magic (GMA-7) 7.1%
Kapamilya Blockbusters (ABS-CBN) 15%; Knock Out (GMA-7) 7.3%; The Master's Sun (GMA-7) 6%; Two Mothers (GMA-7) 7.9%; The King's Doctor (GMA-7) 8.8%
Ningning (ABS-CBN) 18.6%; The Ryzza Mae Show (GMA-7) 10.6%



Afternoon:
It's Showtime (ABS-CBN) 15.2%; Eat Bulaga! (GMA-7) 20.3%
Flordeliza (ABS-CBN) 14.3%; The Half Sisters (GMA-7) 15.3%
Nasaan Ka Nang Kailangan Kita (ABS-CBN) 13.9%; Buena Familia (GMA-7) 12.8%
Pinoy Big Brother 737 Gold (ABS-CBN) 8.8%; TNT (ABS-CBN) 8.7%; Healing Hearts (GMA-7) 12.5%
Kapamilya Deal or No Deal (ABS-CBN) 12.1%; Love Hotline (GMA-7) 9.2%; Birth of a Beauty (GMA-7) 7.3%
Evening:
Pasion de Amor (ABS-CBN) 19.4%; Reply 1997 (GMA-7) 8.2%; Aksyon (TV5) 2.6%
TV Patrol (ABS-CBN) 26.9%; 24 Oras (GMA-7) 15.9%
Nathaniel (ABS-CBN) 32.6%; Pari 'Koy (GMA-7) 17.1%; Movie Max 5 (TV5) 6%
Pangako Sa 'Yo (ABS-CBN) 31.7%; Beatiful Strangers (GMA-7) 15.4%; Wattpad Presents (TV5) 2.2%
On the Wings of Love (ABS-CBN) 24.3%; My Faithful Husband (GMA-7) 13.3%; Baker King (TV5) 2.1%
Pinoy Big Brother 737 (ABS-CBN) 12.4%; Aquino & Abunda Tonight (ABS-CBN) 6%; Bubble Gang (GMA-7) 9.3%; Supernatural (TV5) 2.2%; Aksyon Tonite (TV5) .7%
Bandila (ABS-CBN) 3.3%;Saksi (GMA-7) 4.1%; Reaksyon (TV5) .2%; The Medyo Late Night Show (TV5) .3%
Banana Nite (ABS-CBN) 2%; O Shopping (ABS-CBN) .5%; Shop Japan (TV5) .1%
August 15, 2015 (Saturday)
O Shopping (ABS-CBN) .6%; PJM Forum (GMA-7) .2%;Adyenda (GMA-7) .8%
Sa Kabukiran (ABS-CBN) 1.6%; Kapwa Ko Mahal Ko (GMA-7) 1.4%
Salamat Dok (ABS-CBN) 2.9%; Pinoy MD (GMA-7) 4.9%
Swak na Swak (ABS-CBN) 3.3%; The Smurfs (GMA-7) 9%
Angel Wings (ABS-CBN) 2.4%; Kamen Rider Ooo (GMA-7) 11.7%
Why Not? (ABS-CBN) 2.8%; Pac-Man and the Ghostly Adventures (GMA-7) 12.7%
Kung Fu Panda: Legends of Awesomeness (ABS-CBN) 4.1%;Angry Birds Toons (GMA-7) 13%
Spongebob Squarepants (ABS-CBN) 5.7%; Cross Fight B-Daman (GMA-7) 11.3%
The Flying House (ABS-CBN) 8.8%; Dragon Ball Fight (GMA-7) 11.3%
Kapamilya Blockbusters (ABS-CBN) 17.5%; Sarap Diva (GMA-7) 7.6%; Maynila (GMA-7) 8.9%
Afternoon:
It's Showtime (ABS-CBN) 17.8%; Eat Bulaga! (GMA-7) 23%
ADVERTISEMENT - CONTINUE READING BELOW
Ipaglaban Mo (ABS-CBN) 17%; Karelasyon (GMA-7) 15.6%; Wish Ko Lang! (GMA-7) 10.9%
Failon Ngayon (ABS-CBN) 11.9%; Startalk (GMA-7) 8.6%
SOCO (ABS-CBN) 3.5%; Imbestigador (GMA-7) 10.6%
TV Patrol Weekend (ABS-CBN) 13.5%; 24 Oras Weekend (GMA-7) 12.4%; Movie Max 5 (TV5) 3.4%
Evening:
Mga Kwento ni Marc Logan (ABS-CBN) 18.2%; Home Sweetie Home (ABS-CBN) 24%; Pepito Manaloto: Ang Tunay na Kuwento (GMA-7) 17.5%; Lola Basyang.com (TV5) 4.5%
The Voice Kids (ABS-CBN) 40.5%; Magpakailanman (GMA-7) 17.5%; Parang Normal Activity (TV5) 4.1%
MMK: Ang Tahanan Mo (ABS-CBN) 32%; Celebrity Bluff (GMA-7) 13.7%; Movie Max 5 (TV5) 4.5%
Pinoy Big Brother 737 (ABS-CBN) 12.7%; To The Top (GMA-7) 6.4%; History with Lourd (TV5) 2.1%
Banana Split Extra Scoop (ABS-CBN) 7.4%; i-Witness (GMA-7) 5.2%; Kaya. (TV5) .6%
The Bottom Line (ABS-CBN) 1.8%; O Shopping (ABS-CBN) .3%; Walang Tulugan with Master Showman (GMA-7) 1.3%; Shop Japan (TV5) .2%
August 16, 2015 (Sunday)
Morning:
O Shopping (ABS-CBN) 1.2%; Jesus the Healer (GMA-7) .7%
The Healing Eucharist (ABS-CBN) 5.7%; Kapuso Sine Klasika (GMA-7) 3.9%
Swak Na Swak (ABS-CBN) 4.5%; Grimm's Fairy Tales (GMA-7) 9.5%; Kamen Rider Ooo (GMA-7) 11.8%
Salamat Dok (ABS-CBN) 4.8%; Dragon Ball Fight (GMA-7) 11.7%; Aha (TV5) 8.9%
Kuroko's Basketball (ABS-CBN) 5.6%; Haikyu!! (ABS-CBN) 5.2%; Born To Be Wild (GMA-7) 9.5%
Super Book (ABS-CBN) 8.6%; iBilib (GMA-7) 9%
Matanglawin (ABS-CBN) 10%; Kapamilya Kiddie Blockbusters (ABS-CBN) 13.6%; Kapuso Movie Festival (GMA-7) 15.2%
Afternoon:
ASAP 20 (ABS-CBN) 15.9%;Sunday Pinasaya (GMA-7) 14.8%; Wowowin (GMA-7) 15.1%
Kapamilya Mega Blockbusters (ABS-CBN) 17.2%; GMA Blockbusters (GMA-7) 11.7%
Luv U (ABS-CBN) 11.6%; Alamat (GMA-7) 14.2%; Kuwentong Gilas (TV5) 1.2%
TV Patrol Weekend (ABS-CBN) 14.3%; 24 Oras Weekend (GMA-7) 12.1%
Evening:
Goin' Bulilit (ABS-CBN) 22.4%; Vampire Ang Daddy Ko (GMA-7) 14.9%; Rise (TV5) 1%
Wansapanataym (ABS-CBN) 32.3%; Ismol Family (GMA-7) 19.5%; No Harm No Foul (TV5) 1.9%
The Voice Kids (ABS-CBN) 41%; Rated K: Handa Na Ba Kayo? (ABS-CBN) 24%; Kapuso Mo, Jessica Soho (GMA-7) 20.2%; Who Wants to be a Millionaire (TV5) 2.1%; Misterless Misis (TV5) .8%
Pinoy Big Brother 737 (ABS-CBN) 13.5%; To The Top (GMA-7) 9.3%; Sports 360 (TV5) .5%
Gandang Gabi Vice (ABS-CBN) 10.3%; MP Featuring Sport Science (GMA-7) 3.2%; Demolition Job (TV5) .3%
Sunday's Best(ABS-CBN) 3.9%; O Shopping (ABS-CBN) .6%; Diyos at Bayan (GMA-7) .5%; History with Lourd (TV5) .3%; Shop Japan (TV5) 0%

Here are the Top 10 daytime and primetime programs from August 14-16, 2015 among Total Philippines (Urban & Rural) households:


ADVERTISEMENT - CONTINUE READING BELOW
August 14, 2015 (Friday)
DAYTIME:
Eat Bulaga! (GMA-7) - 20.3%
Ningning (ABS-CBN) - 18.6%
The Half Sisters (GMA-7) – 15.3%
It's Showtime (ABS-CBN) - 15.2%
Kapamilya Blockbusters (ABS-CBN) - 15%
Flordeliza (ABS-CBN) - 14.3%
Nasaan Ka Nang Kailangan Kita (ABS-CBN) - 13.9%
Buena Familia(GMA-7) – 12.8%
Healing Hearts(GMA-7) – 12.5%
Kapamilya Deal or No Deal (ABS-CBN) - 12.1%
PRIMETIME:
Nathaniel(ABS-CBN) – 32.6%
Pangako Sa 'Yo (ABS-CBN) – 31.7%
TV Patrol (ABS-CBN) – 26.9%
On the Wings of Love (ABS-CBN) – 24.3%
Pasion de Amor (ABS-CBN) – 19.4%
Pari 'Koy (GMA-7) – 17.1%
24 Oras (GMA-7) - 15.9%
Beautiful Strangers (GMA-7) - 14.6%
My Faithful Husband(GMA-7) - 13.3%
Pinoy Big Brother 737 (ABS-CBN) - 12.4%



August 15, 2015 (Saturday)
DAYTIME:
Eat Bulaga! (GMA-7) - 23%
It's Showtime (ABS-CBN) - 17.8%
Kapamilya Blockbusters (ABS-CBN) - 17.5%
Ipaglaban Mo (ABS-CBN) - 17%
Karelasyon (GMA-7) - 15.6%
SOCO (ABS-CBN) / TV Patrol Weekend (ABS-CBN) - 13.5%
Angry Birds Toons (GMA-7) - 13%
Pac-man and the Ghostly Adventures (GMA-7) - 12.7%
24 Oras Weekend (GMA-7) - 12.4%
Failon Ngayon (ABS-CBN) - 11.9%
PRIMETIME:
The Voice Kids (ABS-CBN) - 40.5%
MMK: Ang Tahanan Mo (ABS-CBN) – 32%
Home Sweetie Home (ABS-CBN) - 24%
Mga Kwento ni Marc Logan (ABS-CBN) - 18.2%
Pepito Manaloto: Ang Tunay na Kuwento (GMA-7) / Magpakailanman (GMA-7) – 17.5%
Celebrity Bluff (GMA-7) – 13.7%
Pinoy Big Brother 737 (ABS-CBN) – 12.7%
To The Top (GMA-7) – 6.4%
Banana Split Extra Scoop (ABS-CBN) - 5.5%
Lola Basyang.com (TV5) / Movie Max 5 (TV5) - 4.5%



August 16, 2015 (Sunday)
DAYTIME:
Kapamilya Mega Blockbusters (ABS-CBN) - 17.2%
ASAP 20 (ABS-CBN) - 15.9%
Kapuso Movie Festival (GMA-7) - 15.2%
Wowowin (GMA-7) - 15.1%
Sunday Pinasaya (GMA-7) - 14.8%
TV Patrol Weekend(ABS-CBN) - 14.3%
Alamat (GMA-7) - 14.2%
Kapamilya Kiddie Blockbusters(ABS-CBN) - 13.6%
24 Oras Weekend (GMA-7) - 12.1%
Kamen Rider Ooo (GMA-7) - 11.8%
PRIMETIME:
The Voice Kids (ABS-CBN) - 41%
Wansapanataym (ABS-CBN) – 33.3%
Rated K: Handa na ba Kayo? (ABS-CBN) – 24%
Goin' Bulilit(ABS-CBN) – 22.4%
Kapuso Mo, Jessica Soho (GMA-7) – 20.2%
Ismol Family (GMA-7) – 19.5%
Vampire Ang Daddy Ko (GMA-7) – 14.9%
Pinoy Big Brother 737 (ABS-CBN) - 13.5%
Gandang Gabi Vice (ABS-CBN) - 10.3%
To The Top (GMA-7) - 9.3%


Source: Kantar/TNS