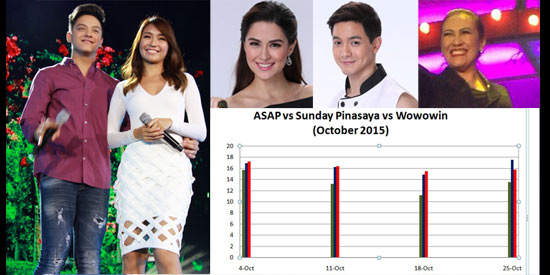 ---


Here are the highlights of the comparative ratings of GMA-7, ABS-CBN and TV5 programs from October 25-31, 2015, according to Kantar Media/TNS survey among nationwide households.
GMA-7 was the leader of daytime, while ABS-CBN ruled primetime.
The number one show on daytime was still Eat Bulaga! The Kapuso noontime show got higher than 20% ratings daily, defeating It's Showtime, which gets ratings below 14%.
For instance, the October 31 episode of Eat Bulaga! got 25.5%, an 11.7% margin over It's Showtime's 13.8%.

Meanwhile, the primetime leader was ABS-CBN's FPJ's Ang Probinsyano. The Coco Martin-starrer got 37% to 38% ratings daily.
Its highest rating during the given period was 38.7% on October 29, Thursday. In contrast, GMA-7's Marimar only garnered 17.9%.
On the weekends, the winners were Wansapanataym and Maalaala Mo Kaya.
A new show debuted on GMA-7 during the given period. Dangwa, a new morning drama on the weekdays, stars Janine Gutierrez, Mark Herras and Aljur Abrenica. The first episode on October 26 scored 10.4%, lower than the 17.8% taken by Kapamilya Blockbusters: She's Dating the Gangster.
She's Dating the Gangster is a 2014 romantic-comedy film that starred Kathryn Bernardo and Daniel Padilla.

GMA-7 also won first place on October 25, Sunday, with its variety program Sunday Pinasaya. It scored 17.5%, a four-point margin over ASAP's 13.5%.

During this ratings period, months has passed since Sunday Pinasaya made its debut on the Sunday noontime block. Since then, ABS-CBN's two-decade-old variety show has faced stiff competition from the Kapuso program that has been offering comedy skits and parlor games.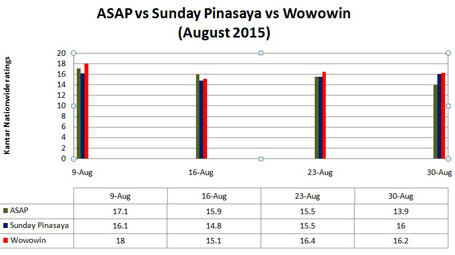 In September 2015, the only time ASAP was able to beat its rival Kapuso show was last September 13 when it got a national TV rating of 15.8% while Sunday Pinasaya registered 15.3%.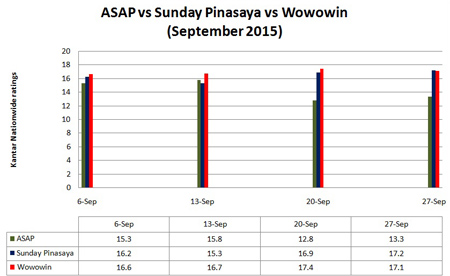 ASAP got its lowest national TV rating during this three-month period last October 11, when the Kapamilya show registered 11.2%. During the entire month of October 2015, ASAP got lower TV ratings than its rival show based on Kantar Media-TNS data.

ABS-CBN's noontime show used to dominate this timeslot nationwide but the Kapuso program featuring Marian Rivera, Alden Richards, Ai-Ai delas Alas, and other comedians is the leader during this ratings period.

ASAP was able to regain its lead last September 13 but since then, it has lost to its Kapuso counterpart. This means that ASAP has been defeated by Sunday Pinasaya for six consecutive weeks already (September 20, September 27, October 4, October 11, October 18, and October 25).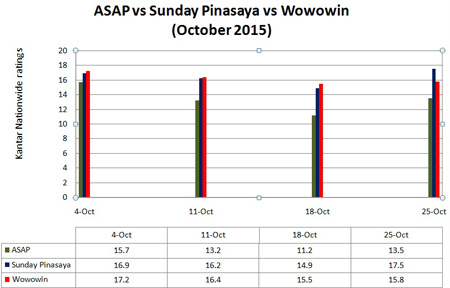 ADVERTISEMENT - CONTINUE READING BELOW
Here are comparative ratings of GMA-7, ABS-CBN and TV5 programs from October 25-31, 2015, according to Kantar Media/TNS survey of nationwide households.
--
October 25, 2015 (Sunday)
Morning:
O Shopping (ABS-CBN) 1.7%; Jesus the Healer (GMA-7) .7%
The Healing Eucharist (ABS-CBN) 5.9%; Kapuso Sine Klasika (GMA-7) 4.3%; Grimm's Fairy Tales (GMA-7) 9.5%
Swak Na Swak (ABS-CBN) 4.5%; Tobot (GMA-7) 12.4%
Salamat Dok (ABS-CBN) 4.1%; Detective Conan Captured in Her Eyes (GMA-7) 13.7%
Kuroko's Basketball (ABS-CBN) 4.6%; Aha (TV5) 13.1%
Haikyu!! (ABS-CBN) 4.6%; Born To Be Wild (GMA-7) 13.2%
Superbook (ABS-CBN) 8.4%; iBilib (GMA-7) 11.4%
Matanglawin (ABS-CBN) 9.2%; Kapamilya Kiddie Blockbusters: Spiders 3D (ABS-CBN) 13.2%; Kapuso Movie Festival: Barbie in a Mermaid Tail (GMA-7) 16.2%
Afternoon:
ASAP 20 (ABS-CBN) 13.5%; Sunday Pinasaya (GMA-7) 17.5%; Wowowin (GMA-7) 15.8%
Kapamilya Mega Blockbusters: Beauty in a Bottle (ABS-CBN) 13.4%; Luv U (ABS-CBN) 9.9%; GMA Blockbusters: I Robot (GMA-7) 13.4%
TV Patrol Weekend (GMA-7) 15%; Juan Tamad (GMA-7) 14.5%; Smart Bro 2016 PBA Philippine Cup Live (TV5) 8.2%
Evening:
Goin' Bulilit (ABS-CBN) 22.8%; 24 Oras Weekend (GMA-7) 19.3%
Wansapanataym (ABS-CBN) 26.2%; Vampire Ang Daddy Ko (GMA-7) 21.8%; Who Wants to be a Millionaire (TV5) 5.8%
Rated K: Handa Na Ba Kayo? (ABS-CBN) 26.1%; Ismol Family (GMA-7) 23.2%
Your Face Sounds Familiar (ABS-CBN) 21.6%; Pinoy Big Brother 737 (GMA-7) 14.3%; Kapuso Mo, Jessica Soho (GMA-7) 18.7%; No Harm No Foul (TV5) 2.2%; Digital 5 Originals (TV5) .9%; Sports 360 (TV5) .4%
Gandang Gabi Vice (ABS-CBN) 9.9%; Sunday's Best: Premonition (ABS-CBN) 2.9%; Sunday Night Box Office: The Raid Redemption (GMA-7) 7%; Countdown to Rio (TV5) .1%; History with Lourd (TV5) .1%
O Shopping (ABS-CBN) .6%; Diyos at Bayan (GMA-7) .7%; Shop Japan (TV5) .1%
October 26, 2015 (Monday)
Morning:
O Shopping (ABS-CBN) .2%; Powerhouse Replay (GMA-7) .5%
Umagang Kay Ganda (ABS-CBN) 3.3%; Unang Hirit (GMA-7) 4.2%
Kris TV (ABS-CBN) 4.8%; Hunter X Hunter (GMA-7) 11%; Toriko (GMA-7) 12%; Dragon Ball Z (GMA-7) 14.1%
ADVERTISEMENT - CONTINUE READING BELOW
Mr. Bean (ABS-CBN) 7.3%; Fairytail (GMA-7) 13.1%
Kapamilya Blockbusters: She's Dating the Gangster (ABS-CBN) 17.8%; Stairway to Heaven (GMA-7) 9.3%; Two Mothers (GMA-7) 9.1%; The King's Doctor (GMA-7) 9.7%; Dangwa (GMA-7) 10.4%
Ningning (ABS-CBN) 15.9%; The Ryzza Mae Show Presents Princess in the Palace (GMA-7) 14.4%
Afternoon:
It's Showtime (ABS-CBN) 12%; Eat Bulaga! (GMA-7) 24.6%
Doble Kara (ABS-CBN) 14.2%; The Half Sisters (GMA-7) 17.3%
All of Me (TV5) 13.6%; Walang Iwanan (ABS-CBN) 9.8%; Buena Familia (GMA-7) 14.6%
Mission Possible (ABS-CBN) 8.7%; Destiny Rose (GMA-7) 13.3%
Kapamilya Deal or No Deal (ABS-CBN) 14.5%; Alisto! (GMA-7) 10.8%
Evening:
Pasion de Amor (ABS-CBN) 25.4%; Starstruck (GMA-7) 13.4%
TV Patrol (ABS-CBN) 30.8%; 24 Oras (GMA-7) 18.9%; Aksyon (TV5) 3%
FPJ's Ang Probinsyano (ABS-CBN) 38.5%; Marimar (GMA-7) 18.1%; Movie Max 5 (TV5) 5.8%
Pangako Sa 'Yo (ABS-CBN) 33.8%; Beautiful Strangers (GMA-7) 16%; Wattpad Presents (TV5) 2.5%
On the Wings of Love (ABS-CBN) 22.3%; My Faithful Husband (GMA-7) 13.3%; My Fair Lady (TV5) 1.4%
Pinoy Big Brother 737 (ABS-CBN) 12.9%; Legendary Women (GMA-7) 8.5%; Amachan (TV5) .7%; Aksyon Tonite (TV5) .5%
Tonight with Boy Abunda (ABS-CBN) 6.8%; Bandila (ABS-CBN) 3.2%; Saksi (GMA-7) 4.8%; Reaksyon (TV5) .3%; The Medyo Late Night Show (TV5) 0.2%
Mukha (ABS-CBN) 1.4%; Front Row (ABS-CBN) 2.6%; Shop Japan (TV5) 0.1%
O Shopping (ABS-CBN) .7%; The Tim Yap Show (GMA-7) .9%
October 27, 2015 (Tuesday)
Morning:
O Shopping (ABS-CBN) .3%; i-Witness Replay (GMA-7) .9%
Umagang Kay Ganda (ABS-CBN) 3.6%; Unang Hirit (GMA-7) 4.3%
Kris TV (ABS-CBN) 5.5%; Hunter X Hunter (GMA-7) 11.5%; Toriko (GMA-7) 13.6%; Dragon Ball Z (GMA-7) 14.5%
Mr. Bean (ABS-CBN) 8.1%; Fairytail (GMA-7) 12.9%
Kapamilya Blockbusters: Diary ng Panget (ABS-CBN) 18.1%; Stairway to Heaven (GMA-7) 8%; Two Mothers (GMA-7) 8.2%; The King's Doctor (GMA-7) 9%; Dangwa (GMA-7) 9.6%
Ningning (ABS-CBN) 16.8%; The Ryzza Mae Show Presents Princess in the Palace (GMA-7) 13.8%
Afternoon:
It's Showtime (ABS-CBN) 13.7%; Eat Bulaga! (GMA-7) 23.3%
Doble Kara (ABS-CBN) 15.1%; The Half Sisters (GMA-7) 16.1%
ADVERTISEMENT - CONTINUE READING BELOW
All Of Me (ABS-CBN) 14.3%; Walang Iwanan (ABS-CBN) 10.7%; Buena Familia (GMA-7) 15.8%
My Puhunan (ABS-CBN) 8.6%; Destiny Rose (GMA-7) 15.2%
Kapamilya Deal or No Deal (ABS-CBN) 14%; Tunay na Buhay (GMA-7) 12.1%
Evening:
Pasion de Amor (ABS-CBN) 26.6%; Starstruck (GMA-7) 13%
TV Patrol (ABS-CBN) 31.5%; 24 Oras (GMA-7) 18.7%; Aksyon (TV5) 2.3%
FPJ's Ang Probinsyano (ABS-CBN) 37.2%; Marimar (GMA-7) 17.3%; Movie Max 5 (TV5) 4.7%
Pangako Sa 'Yo (ABS-CBN) 33.9%; Beautiful Strangers (TV5) 16.8%; Wattpad Presents (TV5) 2.2%
On the Wings of Love (ABS-CBN) 25.3%; My Faithful Husband (GMA-7) 14.4%; My Fair Lady (TV5) 1.1%
Pinoy Big Brother 737 (ABS-CBN) 14.5%; Legendary Women (GMA-7) 9.4%; Amachan (TV5) .8%; Aksyon Tonite (TV5) .6%
Tonight with Boy Abunda (ABS-CBN) 5.9%; Saksi (GMA-7) 5.9%
Bandila (ABS-CBN) 2.8%; Stan Lee's Superhumans (TV5) 2.9%; Reaksyon (TV5) .3%; The Medyo Late Night Show (TV5) .1%
Banana Nite (ABS-CBN) 1.1%; O Shopping (ABS-CBN) .5%; The Tim Yap Show (GMA-7) .9%; Shop Japan (TV5) .1%
�
October 28, 2015 (Wednesday)
Morning:
O Shopping (ABS-CBN) .2%; Tunay na Buhay Replay (GMA-7) .6%
Umagang Kay Ganda (ABS-CBN) 3.7%; Unang Hirit (GMA-7) 3.9%
Kris TV (ABS-CBN) 4.5%; Hunter X Hunter (GMA-7) 11.7%; Toriko (GMA-7) 12.9%; Dragon Ball Z (GMA-7) 13.7%
Mr. Bean (ABS-CBN) 7.9%; Fairytail (GMA-7) 12.7%
Kapamilya Blockbusters: She's the One (ABS-CBN) 15.9%; Stairway to Heaven (GMA-7) 8.6%; Two Mothers (GMA-7) 8.8%; The King's Doctor (GMA-7) 9.2%; Dangwa (GMA-7) 11.1%
Ningning (ABS-CBN) 16%; The Ryzza Mae Show Presents: Princess in the Palace (GMA-7) 13.1%
Afternoon:
It's Showtime (ABS-CBN) 13.7%; Eat Bulaga! (GMA-7) 22.4%
Doble Kara (ABS-CBN) 15.7%; The Half Sisters (GMA-7) 15.6%
All Of Me (ABS-CBN) 15.4%; Walang Iwanan (ABS-CBN) 10.8%; Buena Familia (GMA-7) 13%
Red Alert (ABS-CBN) 8.2%; Destiny Rose (GMA-7) 13.3%
Kapamilya Deal or No Deal (ABS-CBN) 14%; Powerhouse (GMA-7) 10.6%
Evening:
Pasion de Amor (ABS-CBN) 26.5%; Starstruck (GMA-7) 11.8%
TV Patrol (ABS-CBN) 31.7%; 24 Oras (GMA-7) 19%; Aksyon (TV5) 3.8%
FPJ's Ang Probinsyano (ABS-CBN) 38.5%; Marimar (GMA-7) 18.4%; Smart Bro 2016 PBA Philippine Cup Live (TV5) 5%
ADVERTISEMENT - CONTINUE READING BELOW
Pangako Sa 'Yo (ABS-CBN) 32.5%; Beautiful Strangers (TV5) 16.4%
On the Wings of Love (ABS-CBN) 23.2%; My Faithful Husband (GMA-7) 14.8%; Wattpad Presents (TV5) 1.8%
Pinoy Big Brother 737 (ABS-CBN) 13.7%; Tonight with Boy Abunda (ABS-CBN) 6.3%; Legendary Women (GMA-7) 8.7%; My Fair Lady (TV5) .8% ; Amachan (TV5) .6%; Aksyon Tonite (TV5) .5%
Bandila (ABS-CBN) 2.9%; Saksi (GMA-7) 5.3%; Serial Killer Earth (GMA-7) 3.5%; Reaksyon (TV5) .2%; The Medyo Late Night Show with Jojo A (TV5) 0%
Banana Nite (ABS-CBN) 1.5%; O Shopping (ABS-CBN) .6%; The Tim Yap Show (GMA-7) 1.2%; Shop Japan (TV5) 0%
October 29, 2015 (Thursday)
Morning:
O Shopping (ABS-CBN) .3%; Born to be Wild Replay (GMA-7) .9%
Umagang Kay Ganda (ABS-CBN) 3.5%; Unang Hirit (GMA-7) 3.8%
Kris TV (ABS-CBN) 4.6%; Hunter X Hunter (GMA-7) 11%; Toriko (GMA-7) 12.6%; Dragon Ball Z (GMA-7) 14.3%
Mr. Bean (ABS-CBN) 7.8%; Fairytail (GMA-7) 12.6%
Kapamilya Blockbusters: My Illegal Wife (ABS-CBN) 17.1%; Stairway to Heaven (GMA-7) 8.9%; Two Mothers (GMA-7) 9.6%; The King's Doctors (GMA-7) 10.3%; Dangwa (GMA-7) 10.8%
Ningning (ABS-CBN) 17.4%; The Ryzza Mae Show Presents: Princess in the Palace (GMA-7) 13.6%
Afternoon:
It's Showtime (ABS-CBN) 12.6%; Eat Bulaga! (GMA-7) 22.3%
Doble Kara (ABS-CBN) 15%; The Half Sisters (GMA-7) 15.2%
All Of Me (ABS-CBN) 14.4%; Walang Iwanan (ABS-CBN) 12%; Buena Familia (GMA-7) 13.7%
Sports U (ABS-CBN) 8.4%; Destiny Rose (GMA-7) 14.4%
Kapamilya Deal or No Deal (ABS-CBN) 13.7%; Reporter's Notebook (GMA-7) 11.4%
Evening:
Pasion de Amor (ABS-CBN) 25.3%; Starstruck (GMA-7) 12.9%
TV Patrol (ABS-CBN) 30.6%; 24 Oras (GMA-7) 18.8%; Aksyon (TV5) 3.1%
FPJ's Ang Probinsyano (ABS-CBN) 38.7%; Marimar (GMA-7) 17.9%
Pangako Sa 'Yo (ABS-CBN) 33.5%; Beautiful Strangers (GMA-7) 16.8%; Wattpad Presents (TV5) 1.8%
On the Wings of Love (ABS-CBN) 21.6%; My Faithful Husband (GMA-7) 14.7%; My Fair Lady (TV5) 1.1%
Pinoy Big Brother 737 (ABS-CBN) 13.1%; Tonight with Boy Abunda (ABS-CBN) 5.4%; Legendary Women (GMA-7) 8.9%; Amachan (TV5) .8%; Aksyon Tonite (TV5) .6%
Bandila (ABS-CBN) 2.4%; Saksi (GMA-7) 5.5%; Reaksyon (TV5) .2%; The Medyo Late Night Show (TV5) .1%; Big History (GMA-7) 2.8%
ADVERTISEMENT - CONTINUE READING BELOW
Banana Nite (ABS-CBN) 1.2%; O Shopping (ABS-CBN) .3%; The Tim Yap Show (GMA-7) 1%; Shop Japan (TV5) 0%
October 30, 2015 (Friday)
Morning:
O Shopping (ABS-CBN) .2%; Alisto! Replay (GMA-7) .7%
Umagang Kay Ganda (ABS-CBN) 3.7%; Unang Hirit (GMA-7) 4.5%
Kris TV (ABS-CBN) 5.1%; Hunter X Hunter (GMA-7) 12.5%; Toriko (GMA-7) 14.1%; Dragon Ball Z (GMA-7) 14.9%; Fairytail (GMA-7) 12.9%
Mr. Bean (ABS-CBN) 7.6%; Stairway to Heaven (GMA-7) 8.7%
Kapamilya Blockbusters (ABS-CBN) 19.4%; Two Mothers (GMA-7) 9.2%; The King's Doctors (GMA-7) 9.7%; Dangwa (GMA-7) 10.5%
Ningning (ABS-CBN) 17.5%; The Ryzza Mae Show Presents: Princess in the Palace (GMA-7) 13.2%
Afternoon:
It's Showtime (ABS-CBN) 13.3%; Eat Bulaga! (GMA-7) 22.2%
Doble Kara (ABS-CBN) 15.2%; The Half Sisters (GMA-7) 13.7%
All Of Me (ABS-CBN) 14.4%; Buena Familia (GMA-7) 11.8%
Walang Iwanan (ABS-CBN) 11.4%; Tapatan ni Tunying (ABS-CBN) 8.5%; Destiny Rose (GMA-7) 11.6%
Kapamilya Deal or No Deal (ABS-CBN) 14.5%; Love Hotline (GMA-7) 8.9%
Evening:
Pasion de Amor (ABS-CBN) 24.5%; Starstruck (GMA-7) 12.4%
TV Patrol (ABS-CBN) 28.8%; 24 Oras (GMA-7) 18.8%; Aksyon (TV5) 3.2%
FPJ's Ang Probinsyano (ABS-CBN) 37.7%; Marimar (GMA-7) 19%; Smart Bro 2016 PBA Philippine Cup Live (TV5) 5.5%
Pangako Sa 'Yo (ABS-CBN) 34.5%; Beautiful Strangers (GMA-7) 16.9%
On the Wings of Love (ABS-CBN) 22.5%; My Faithful Husband (GMA-7) 14.5%; Wattpad Presents (TV5) 1.4%; My Fair Lady (TV5) .9%
Pinoy Big Brother 737 (ABS-CBN) 12.4%; Bubble Gang (GMA-7) 9.3%; Amachan (TV5) .6%; Aksyon Tonite (TV5) .3%
Tonight with Boy Abunda (ABS-CBN) 5.6%; Bandila (ABS-CBN) 2.6%; Saksi (GMA-7) 4.6%; Reaksyon (TV5) .1%; ; The Medyo Late Night Show (TV5) .1%
Banana Nite (ABS-CBN) 1.4%; O Shopping (ABS-CBN) .6%; The Tim Yap Show (GMA-7) 1.7%; Shop Japan (TV5) 0%
October 31, 2015 (Saturday)
O Shopping (ABS-CBN) .7%; PJM Forum (GMA-7) .3%; Adyenda (GMA-7) 1%
Sa Kabukiran (ABS-CBN) 1.3%; Kapwa Ko Mahal Ko (GMA-7) 1.9%
Salamat Dok (ABS-CBN) 3.2%; Pinoy MD (GMA-7) 4.4%
Swak na Swak (ABS-CBN) 2.9%; The Smurfs (GMA-7) 9.8%
Angel Wings (ABS-CBN) 2.3%; Tobot (GMA-7) 14.7%
2015-2016 NBA Regular Season Live (ABS-CBN) 5.7%; Pac-Man and the Ghostly Adventures (GMA-7) 15.6%; Angry Birds Toons (GMA-7) 14.6%; Cross Fight B-Daman (GMA-7) 12.4%; Doraemon (GMA-7) 14%
ADVERTISEMENT - CONTINUE READING BELOW
Kapamilya Blockbusters (ABS-CBN) 13.5%; Maynila (GMA-7) 11.8%; Sarap Diva (GMA-7) 9.9%
Afternoon:
It's Showtime (ABS-CBN) 13.8%; Eat Bulaga! (GMA-7) 25.5%
Ipaglaban Mo (ABS-CBN) 13.7%; Karelasyon (GMA-7) 15.5%
Failon Ngayon (ABS-CBN) 9.2%; Wish Ko Lang! (GMA-7) 13.6%
SOCO (ABS-CBN) 11.2%; Mga Kwento ni Marc Logan (ABS-CBN) 14.8%; Celebri TV (GMA-7) 10%
TV Patrol Weekend (ABS-CBN) 19.5%; Imbestigador (GMA-7) 17.3%; Smart Bro 2016 PBA Philippine Cup Live (TV5) 6.2%
Evening:
Celebrity Playtime (ABS-CBN) 25.7%; 24 Oras Weekend (GMA-7) 21.1%
Home Sweetie Home (ABS-CBN) 24.1%; Pepito Manaloto: Ang Tunay na Kuwento (GMA-7) 24.2%
MMK: Ang Tahanan Mo (ABS-CBN) 26.1%; Magpakailanman (GMA-7) 25.5%; Lola Basyang.com (TV5) 5.1%; Parang Normal Activity (TV5) 3.5%
Your Face Sounds Familiar (ABS-CBN) 22%; Celebrity Bluff (GMA-7) 13.5%; Kano Luvs Pinay (TV5) 1%
Pinoy Big Brother 737 (ABS-CBN) 11.2%; i-Witness (GMA-7) 8.1%; History with Lourd (TV5) .5%; Politics for Beginners (TV5) .4%
Banana Split Extra Scoop (ABS-CBN) 4.6%; Kapuso Movie Night (GMA-7) 3.7%; Kaya. (TV5) .3%
The Bottom Line (ABS-CBN) 1.6%; O Shopping (ABS-CBN) .7%; Walang Tulugan with Master Showman (GMA-7) 1.3%; Shop Japan (TV5) .2%
Here are the Top 10 daytime and primetime programs from October 25-31, 2015 among Total Philippines (Urban & Rural) households:
October 25, 2015 (Sunday)
DAYTIME:
Sunday Pinasaya (GMA-7) - 17.5%
Kapuso Movie Festival (GMA-7) - 16.2%
Wowowin (GMA-7) - 15.8%
TV Patrol Weekend (ABS-CBN) - 15%
Juan Tamad (GMA-7) - 14.5%
Detective Conan Captured in Her Eyes (GMA-7) - 13.7%
ASAP 20 (ABS-CBN) - 13.5%
Kapamilya Mega Blockbusters (ABS-CBN) /GMA Blockbusters (GMA-7) - 13.4%
Kapamilya Kiddie Blockbusters (ABS-CBN) / Born to be Wild (GMA-7) - 13.2%
Aha (GMA-7) - 13.1%
PRIMETIME:
Wansapanataym (ABS-CBN) – 26.2%
Rated K: Handa na ba Kayo? (ABS-CBN) – 26.1%
Ismol Family (GMA-7) - 23.2%
Goin' Bulilit (ABS-CBN) – 22.8%
Vampire Ang Daddy Ko (GMA-7) – 21.8%
Your Face Sounds Familiar (ABS-CBN) – 21.6%
24 Oras Weekend (GMA-7) - 19.3%
Kapuso Mo, Jessica Soho (GMA-7) – 18.7%
Pinoy Big Brother 737 (ABS-CBN) - 14.3%
Gandang Gabi Vice (ABS-CBN) - 9.9%



October 26, 2015 (Monday)
DAYTIME:
Eat Bulaga! (GMA-7) - 24.6%
Kapamilya Blockbusters (ABS-CBN) - 17.8%
The Half Sisters (GMA-7) – 17.3%
Ningning (ABS-CBN) - 15.9%
Buena Familia (GMA-7) - 14.6%
Kapamilya Deal or No Deal (ABS-CBN) - 14.5%
The Ryzza Mae Show Presents: Princess in the Palace (GMA-7) - 14.4%
Doble Kara (ABS-CBN) – 14.2%
Dragon Ball Z(GMA-7) - 14.1%
All Of Me (ABS-CBN) - 13.6%
PRIMETIME:
FPJ's Ang Probinsyano (ABS-CBN) – 38.5%
Pangako Sa 'Yo (ABS-CBN) – 33.8%
TV Patrol (ABS-CBN) – 30.8%
Pasion de Amor (ABS-CBN) – 25.4%
On the Wings of Love (ABS-CBN) – 22.3%
24 Oras (GMA-7) - 18.9%
Marimar (GMA-7) – 18.1%
Beautiful Strangers (GMA-7) - 16%
Starstruck (GMA-7) - 13.6%
My Faithful Husband(GMA-7) - 13.3%



October 27, 2015 (Tuesday)
DAYTIME:
Eat Bulaga! (GMA-7) - 23.3%
Kapamilya Blockbusters (ABS-CBN) - 18.1%
Ningning (ABS-CBN) - 16.8%
The Half Sisters (GMA-7) - 16.1%
Buena Familia (GMA-7) - 15.8%
Destiny Rose(GMA-7) - 15.2%
Doble Kara (ABS-CBN) - 15.1%
Dragon Ball Z(GMA-7) - 14.5%
All Of Me (ABS-CBN) - 14.3%
Kapamilya Deal or No Deal (ABS-CBN) - 14%
PRIMETIME:
FPJ's Ang Probinsyano(ABS-CBN) - 37.2%
Pangako Sa 'Yo (ABS-CBN) - 33.9%
TV Patrol (ABS-CBN) - 31.5%
Pasion de Amor (ABS-CBN) - 26.6%
On the Wings of Love (ABS-CBN) – 25.3%
24 Oras (GMA-7) - 18.7%
Marimar (GMA-7) - 17.3%
Beautiful Strangers (GMA-7) - 16.8%
Pinoy Big Brother 737 (ABS-CBN) - 14.5%
My Faithful Husband(GMA-7) - 14.4%



October 28, 2015 (Wednesday)
DAYTIME:
Eat Bulaga! (GMA-7) - 22.4%
Ningning (ABS-CBN) - 16%
Kapamilya Blockbusters (ABS-CBN) - 15.9%
Doble Kara (ABS-CBN) - 15.7%
The Half Sisters (GMA-7) - 15.6%
All Of Me (ABS-CBN) - 15.4%
Kapamilya Deal or No Deal (ABS-CBN) - 14%
It's Showtime (ABS-CBN) / Dragon Ball Z(GMA-7) - 13.7%
Destiny Rose(GMA-7) - 13.3%
The Ryzza Mae Show Presents: Princess in the Palace (GMA-7) - 13.1%
PRIMETIME:
FPJ's Ang Probinsyano(ABS-CBN) - 38.5%
Pangako Sa 'Yo (ABS-CBN) - 32.5%
TV Patrol (ABS-CBN) - 31.7%
Pasion de Amor (ABS-CBN) - 26.5%
On the Wings of Love (ABS-CBN) – 23.2%
24 Oras (GMA-7) - 19%
Marimar (GMA-7) - 18.4%
Beautiful Strangers (GMA-7) - 16.4%
My Faithful Husband(GMA-7) - 14.8%
Pinoy Big Brother 737 (ABS-CBN) - 13.7%



October 29, 2015 (Thursday)
DAYTIME:
Eat Bulaga! (GMA-7) - 22.3%
Ningning (ABS-CBN) - 17.4%
Kapamilya Blockbusters (ABS-CBN) - 17.1%
The Half Sisters (GMA-7) - 15.2%
Doble Kara (ABS-CBN) - 15%
All Of Me (ABS-CBN) / Destiny Rose(GMA-7) - 14.4%
Dragon Ball Z (GMA-7) - 14.3%
Kapamilya Deal or No Deal (ABS-CBN) / Buena Familia (GMA-7) - 13.7%
The Ryzza Mae Show Presents: Princess in the Palace (GMA-7) - 13.6%
It's Showtime (ABS-CBN) - 12.6%
PRIMETIME:
FPJ's Ang Probinsyano(ABS-CBN) - 38.7%
Pangako Sa 'Yo (ABS-CBN) - 33.5%
TV Patrol (ABS-CBN) - 30.6%
Pasion de Amor (ABS-CBN) - 25.3%
On the Wings of Love (ABS-CBN) – 21.6%
24 Oras (GMA-7) - 18.8%
Marimar (GMA-7) - 17.9%
Beautiful Strangers (GMA-7) - 16.8%
My Faithful Husband(GMA-7) - 14.7%
Pinoy Big Brother 737 (ABS-CBN) - 13.1%



October 30, 2015 (Friday)
DAYTIME:
Eat Bulaga! (GMA-7) - 22.2%
Kapamilya Blockbusters (ABS-CBN) - 19.4%
Ningning (ABS-CBN) - 17.5%
Doble Kara (ABS-CBN) - 15.2%
Dragon Ball Z (GMA-7) - 14.9%
Kapamilya Deal or No Deal (ABS-CBN) - 14.5%
All Of Me (ABS-CBN) - 14.5%
Toriko (GMA-7) – 14.1%
The Half Sisters (GMA-7) – 13.7%
It's Showtime (ABS-CBN) - 13.3%
PRIMETIME:
FPJ's Ang Probinsyano(ABS-CBN) - 37.7%
Pangako Sa 'Yo (ABS-CBN) - 34.5%
TV Patrol (ABS-CBN) - 28.8%
Pasion de Amor (ABS-CBN) - 24.5%
On the Wings of Love (ABS-CBN) – 22.5%
Marimar (GMA-7) - 19%
24 Oras (GMA-7) – 18.8%
Beautiful Strangers (GMA-7) - 16.9%
My Faithful Husband(GMA-7) - 14.5%
Pinoy Big Brother 737 (ABS-CBN) / Starstruck(GMA-7) - 12.4%



October 31, 2015 (Saturday)
DAYTIME:
Eat Bulaga! (GMA-7) - 25.5%
TV Patrol Weekend (ABS-CBN) -19.5%
Imbestigador (GMA-7) - 17.3%
Pac-Man and the Ghostly Adventures (GMA-7) - 15.6%
Karelasyon (GMA-7) - 15.5%
Mga Kwento ni Marc Logan (ABS-CBN) - 14.8%
Tobot (GMA-7) - 14.7%
Angry Birds Toons (GMA-7) - 14.6%
Doraemon (GMA-7) - 14%
It's Showtime (ABS-CBN) - 13.8%
PRIMETIME:
MMK: Ang Tahanan Mo (ABS-CBN) – 26.1%
Celebrity Playtime (ABS-CBN) - 25.7%
Magpakailanman (GMA-7) – 25.5%
Pepito Manaloto: Ang Tunay na Kuwento (GMA-7) – 24.2%
Home Sweetie Home (ABS-CBN) - 24.1%
Your Face Sounds Familiar (ABS-CBN) - 22%
24 Oras Weekend (GMA-7) – 21.1%
Celebrity Bluff (GMA-7) – 13.5%
Pinoy Big Brother 737 (ABS-CBN) - 11.2%
i-Witness (GMA-7) – 8.1%


Source: Kantar/TNS