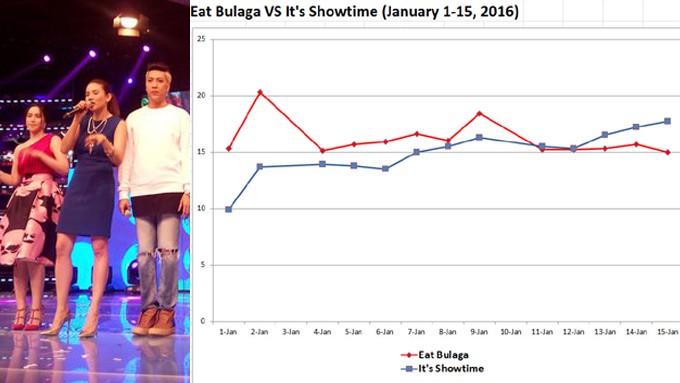 ---

Here are the highlights of the comparative ratings of GMA-7, ABS-CBN, and TV5 programs from January 1-15, 2015, based on Kantar Media/TNS survey among nationwide households.
2016 is shaping up to be a banner year for ABS-CBN. During the latter half of 2015, the Kapamilya Network was only dominant on primetime, because GMA-7's Eat Bulaga was the leader on daytime.
The last time that It's Showtime defeated Eat Bulaga was on August 8, 2015. This Saturday episode featured the finale of It's Showtime's Funny One segment, a contest for upcoming comedians.
Since then, It's Showtime had registered nationwide TV ratings that were lower than Eat Bulaga, which featured the successful AlDum tandem between Alden Richards and Maine Mendoza.
During this given ratings period, however, It's Showtime had outperformed Eat Bulaga. It started on January 11, Monday, when It's Showtime had a 0.3% margin over the long-running noontime show: 15.5% to 15.2%. Since then, the Kapamilya variety show has defeated Eat Bulaga daily.

In fact, the noontime show hosted by Vice Ganda, Anne Curtis, and other Kapamilya stars held the No. 1 slot on January 11, 12, and 14.
What helped It's Showtime recover was creating new segments like Trabahula and Tawag ng Tanghalan, since its previous efforts with Pastillas Girl and the Tommy Esguerra-Miho Nishida tandem did not generate enough viewership to topple the noontime juggernaut.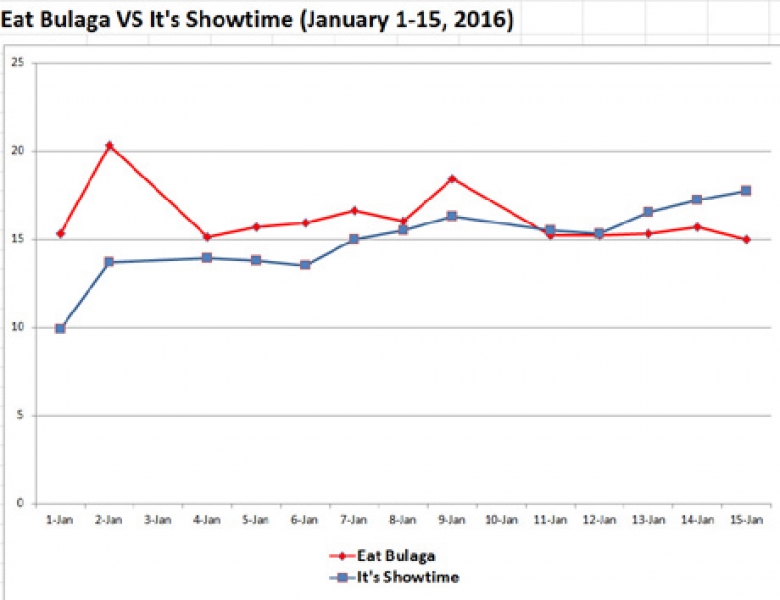 Several debuts and finales also occurred during the given period.
ADVERTISEMENT - CONTINUE READING BELOW
ABS-CBN's Ningning ended on January 15. Led by child actress Jana Agoncillo, the family drama got 18.8% in its finale episode, defeating The Ryzza Mae Show Presents: Princess in the Palace's 8.6% Ningning was even the most-watched daytime program for that day.
Two shows ended on GMA-7. The first was primetime drama Marimar, which ended on January 8 with a 20.3% rating. ABS-CBN's FPJ's Ang Probinsyano got a higher national TV rating: 37%.
Marimar was an adaptation of a popular Mexican telenovela, and it starred Megan Young and Tom Rodriguez.
The second Kapuso show that ended was The Half Sisters. Its January 15 finale received 15.4%, lower than Doble Kara's 16.7%.
The Half Sisters was a family drama that starred Barbie Forteza, Thea Tolentino, Andre Paras, and Jean Garcia. It aired for one year and seven months because it was a hit, and it occasionally even became the No. 1 daytime show here on Kantar's nationwide ratings poll in the first half of 2015.
GMA-7 also had a new show that aired its pilot episode during the given period. Temptation, a Korean drama about infidelity, premiered on January 11. Its pilot score was 9.4%, defeating Tonight with Boy Abunda's 4.7%.
Here are comparative ratings of GMA-7, ABS-CBN and TV5 programs from January 1-15, 2015, based on Kantar Media/TNS survey among nationwide households.
--
January 1, 2015 (Friday)
Morning:
O Shopping (ABS-CBN) .4%; Alisto! Replay (GMA-7) .3%
Umagang Kay Ganda (ABS-CBN) 2.1%; Unang Hirit (GMA-7) 2%  
Kris TV (ABS-CBN) 4.3%; Pokemon XY (GMA-7) 5.9%; GMA Christmas Cartoon Festival Presents (GMA-7) 7.5%; Ring ni Kakero (GMA-7) 9%; Toriko (GMA-7) 10.8%
ADVERTISEMENT - CONTINUE READING BELOW
Mr. Bean (ABS-CBN) 5.3%; Dragon Ball Z (GMA-7) 11.7%
Kapamilya Blockbusters (ABS-CBN) 10.7%; Someone Like You (GMA-7) 7.6%; Ice Adonis (GMA-7) 7.1%; Dangwa (GMA-7) 7.2%
Ningning (ABS-CBN) 12.3%; The Ryzza Mae Show Presents: Princess in the Palace (GMA-7) 8.6%
Afternoon:
It's Showtime (ABS-CBN) 9.9%; Eat Bulaga! (GMA-7) 15.3%
Doble Kara (ABS-CBN) 11.2%; The Half Sisters (GMA-7) 12.8%
All Of Me (ABS-CBN) 10.5%; Buena Familia (GMA-7) 10.1%
And I Even You Love So (ABS-CBN) 10.2%; Destiny Rose (GMA-7) 9.7%
Kapamilya Deal or No Deal (ABS-CBN) 11%; Love Hotline (GMA-7) 8.3%
Evening:
Pasion de Amor (ABS-CBN) 19.2%; The Producers (GMA-7) 10.4%
TV Patrol (ABS-CBN) 26.5%; 24 Oras (GMA-7) 17%; Aksyon (TV5) 3%
FPJ's Ang Probinsyano (ABS-CBN) 32.8%; Marimar (GMA-7) 16.9%; Movie Max 5 (TV5) 3.7%
Pangako Sa 'Yo (ABS-CBN) 28.6%; Little Nanay (GMA-7) 16.3%
On the Wings of Love (ABS-CBN) 17%; Because of You (GMA-7) 15.8%; Wattpad Presents (TV5) 1.4%; Wattpad Presents (TV5) 1%
You're My Home (ABS-CBN) 9%; Tonight with Boy Abunda (ABS-CBN) 5.4%; Bubble Gang (GMA-7) 10.8%; Amachan (TV5) .5%; Aksyon Tonite (TV5) .2%
Bandila (ABS-CBN) 3.1%; TNT (ABS-CBN) 1.6%; Saksi (GMA-7) 4.8%; Reaksyon (TV5) .1%; Bigtime (TV5) 0%
O Shopping (ABS-CBN) .6%; The 700 Club Asia (GMA-7) 1.7%; Shop TV (GMA-7) .5%; Shop Japan (TV5) .1%
--
January 2, 2015 (Saturday)
O Shopping (ABS-CBN) .7%; PJM Forum (GMA-7) .2%; Adyenda (GMA-7) .6%
Sa Kabukiran (ABS-CBN) 1.2%; Kapwa Ko Mahal Ko (GMA-7) 1.1%
Salamat Dok (ABS-CBN) 2.3%; Pinoy MD (GMA-7) 1.7%
Swak na Swak (ABS-CBN) 3.1%; The Smurfs (GMA-7) 3.7%
Angel Wings (ABS-CBN) 2.7%; Tobot (GMA-7) 7.8%
Why Not? (ABS-CBN) 2.7%; Pac-Man and the Ghostly Adventures (GMA-7) 10.2%
2015-2016 NBA Regular Season Live (ABS-CBN) 6.8%; Angry Birds Toons (GMA-7) 11.3%; Cross Fight B-Daman (GMA-7) 11%; Doraemon (GMA-7) 11.8%; Maynila (GMA-7) 10.3%
Kapamilya Blockbusters (ABS-CBN) 13.8%; Sarap Diva (GMA-7) 8.6%
Afternoon:
It's Showtime (ABS-CBN) 13.7%; Eat Bulaga! (GMA-7) 20.3%; Karelasyon (GMA-7) 15.1%
Ipaglaban Mo (ABS-CBN) 14.6%; Wish Ko Lang! (GMA-7) 11%
SOCO (ABS-CBN) 15.7%; Celebri TV (GMA-7) 8.1%
ADVERTISEMENT - CONTINUE READING BELOW
Celebrity Playtime (ABS-CBN) 13.2%; Mga Kwento ni Marc Logan (ABS-CBN) 14.6%; Imbestigador (GMA-7) 11.7%; Movie Max 5 (TV5) 3%
TV Patrol Weekend (ABS-CBN) 19.4%; 24 Oras Weekend (GMA-7) 16.1%
Evening:
Home Sweetie Home (ABS-CBN) 24%; Pepito Manaloto: Ang Tunay na Kuwento (GMA-7) 20.4%
Dance Kids (ABS-CBN) 29%; MMK: Ang Tahanan Mo (ABS-CBN) 31.9%; Magpakailanman (GMA-7) 22.8%; Celebrity Bluff (GMA-7) 15.8%; Lola Basyang.com (TV5) 3.2%; Parang Normal Activity (TV5) 3.1%
Kapamilya Weekend Specials (ABS-CBN) 21.3%; i-Witness (GMA-7) 11.1%; Movie Max 5 (TV5) 1.9%
Failon Ngayon (ABS-CBN) 4.9%; Kapuso Movie Night (GMA-7) 11%; History with Lourd (TV5) .5%; Politics for Beginners (TV5) .3%
The Bottom Line (ABS-CBN) 1.7%; O Shopping (ABS-CBN) .6%; Walang Tulugan with Master Showman (GMA-7) 1.6%; Kaya. (TV5) .4%; Shop Japan (TV5) .2%
--
January 3, 2015 (Sunday)
Morning:
O Shopping (ABS-CBN) .7%; Jesus The Healer (GMA-7) .4%
The Healing Eucharist (ABS-CBN) 4%; Kapuso Sine Klasika (GMA-7) 1.4%
Swak Na Swak (ABS-CBN) 3.7%; Grimm's Fairy Tales (GMA-7) 5.1%; Tobot (GMA-7) 9.6%
Salamat Dok (ABS-CBN) 3.4%; Doraemon (GMA-7) 11.3%
Spongebob Squarepants (ABS-CBN) 4.4%; Teenage Mutant Ninja Turtles (ABS-CBN) 4.9%; Aha (TV5) 9.8%
Kuroko's Basketball (ABS-CBN) 6.1%; Born To Be Wild (GMA-7) 10.5%
Superbook (ABS-CBN) 8.3%; iBilib (GMA-7) 9.4%
Matanglawin (ABS-CBN) 8.6%; Kapamilya Kiddie Blockbusters (ABS-CBN) 11.7%; Kapuso Movie Festival (GMA-7) 14.3%
Afternoon:
ASAP 20 (ABS-CBN) 13.1%; Sunday Pinasaya (GMA-7) 16.2%
Banana Sundae (ABS-CBN) 12.2%; Wowowin (GMA-7) 14.3%
Kapamilya Mega Blockbusters (ABS-CBN) 13.7%; GMA Blockbusters (GMA-7) 12.4%
Luv U (ABS-CBN) 9.9%; Juan Tamad (GMA-7) 8.7%
Evening:
TV Patrol Weekend (GMA-7) 10.6%; Goin' Bulilit (ABS-CBN) 19%; 24 Oras Weekend (GMA-7) 10.7%; Movie Max 5 (TV5) 3.5%
Dance Kids (ABS-CBN) 29.3%; Vampire Ang Daddy Ko (GMA-7) 14.9%
Wansapanataym (ABS-CBN) 32.4%; Ismol Family (GMA-7) 18.2%; Barangay Utakan (TV5) 1.3%; ; Masterchef Asia (TV5) .9%
Rated K: Handa Na Ba Kayo? (ABS-CBN) 23.7%; Gandang Gabi Vice (ABS-CBN) 16.6%; Kapuso Mo, Jessica Soho (GMA-7) 20.3%; Cool Guys, Hot Ramen (TV5) .5%
Kapamilya Weekend Specials Sunday (ABS-CBN) 10.8%; SNBO (GMA-7) 11.1%; UFC 195 (TV5) .7%
ADVERTISEMENT - CONTINUE READING BELOW
Sunday's Best (ABS-CBN) 1.6%; O Shopping (ABS-CBN) .3%; Diyos at Bayan (GMA-7) 1%; Countdown to Rio (TV5) .5%; Shop Japan (TV5) .2%
--
January 4, 2015 (Monday)
Morning:
O Shopping (ABS-CBN) .3%; Powerhouse Replay (GMA-7) .8%
Umagang Kay Ganda (ABS-CBN) 4.3%; Unang Hirit (GMA-7) 3.5%  
Kris TV (ABS-CBN) 5.3%; Doraemon (GMA-7) 5.8%; Pokemon XY (GMA-7) 7.6%; Ring ni Kakero (GMA-7) 8.4%
Mr Bean (ABS-CBN) 4.6%; Toriko (GMA-7) 9%
Kapamilya Blockbusters: You Changed My Life (GMA-7) 9.2%; Dragon Ball Z (GMA-7) 10.4%; Someone Like You (GMA-7) 6.8%; Ice Adonis (GMA-7) 6.8%; Dangwa (GMA-7) 7.5%
Ningning (ABS-CBN) 13.3%; The Ryzza Mae Show Presents Princess in the Palace (GMA-7) 9.2%
Afternoon:
It's Showtime (ABS-CBN) 13.9%; Eat Bulaga! (GMA-7) 15.1%
Doble Kara (ABS-CBN) 14.1%; The Half Sisters (GMA-7) 13.3%
All of Me (TV5) 12.2%; Buena Familia (GMA-7) 12.4%
And I Love You So (ABS-CBN) 10.8%; Destiny Rose (GMA-7) 11.8%
Kapamilya Deal or No Deal (ABS-CBN) 10.4%; Alisto! (GMA-7) 9.1%
Evening:
Pasion de Amor (ABS-CBN) 19.3%; The Producers (GMA-7) 11.4%
TV Patrol (ABS-CBN) 28.2%; 24 Oras (GMA-7) 17.4%; Aksyon (TV5) 3.6%
FPJ's Ang Probinsyano (ABS-CBN) 37.7%; Marimar (GMA-7) 17.4%; Smart Bro 2016 Philippine Cup Live (TV5) 6.4%
Pangako Sa 'Yo (ABS-CBN) 30.7%; Little Nanay (GMA-7) 17.4%
On the Wings of Love (ABS-CBN) 18.7%; Because of You (GMA-7) 17.2%; Wattpad Presents (TV5) 1.4%
You're My Home (ABS-CBN) 8.4%; Kapuso Primetime Cinema (GMA-7) 13.7%; Tonight with Boy Abunda (ABS-CBN) 3.8%; Wattpad Presents (TV5) .4%; Amachan (TV5) .1%; Aksyon Tonite (TV5) .2%
Bandila (ABS-CBN) 2.8%; Saksi (GMA-7) 4.7%; Reaksyon (TV5) .1%
Mission Possible (ABS-CBN) 1.8%; Front Row (GMA-7) 2.4%; Demolition Job (ABS-CBN) .1%
O Shopping (ABS-CBN) .5%; The 700 Club Asia (GMA-7) 1.2%; Shop TV (TV5) .3%; Shop Japan (TV5) 0%
--
January 5, 2015 (Tuesday)
Morning:
O Shopping (ABS-CBN) .5%; i-Witness Replay (GMA-7) .6%
Umagang Kay Ganda (ABS-CBN) 4.4%; Unang Hirit (GMA-7) 3.8%  
Kris TV (ABS-CBN) 5.8%; Doraemon (GMA-7) 5.2%; Pokemon XY (GMA-7) 7.2%; Ring ni Kakero (GMA-7) 7.9%
Mr. Bean (ABS-CBN) 5.7%; Toriko (GMA-7) 8.6%
ADVERTISEMENT - CONTINUE READING BELOW
Kapamilya Blockbusters: Home Along Da Riles Da Movie (ABS-CBN) 11%; Dragon Ball Z (GMA-7) 9.2%; Someone Like You (GMA-7) 6.3%; Ice Adonis (GMA-7) 5.9%; Dangwa (GMA-7) 5.9%
Ningning (ABS-CBN) 14.7%; The Ryzza Mae Show Presents Princess in the Palace (GMA-7) 8.6%
Afternoon:
It's Showtime (ABS-CBN) 13.8%; Eat Bulaga! (GMA-7) 15.7%
Doble Kara (ABS-CBN) 12.6%; The Half Sisters (GMA-7) 13.9%
All Of Me (ABS-CBN) 10.6%; Buena Familia (GMA-7) 12%
And I Love You So (ABS-CBN) 8.9%; Destiny Rose (GMA-7) 11.1%
Kapamilya Deal or No Deal (ABS-CBN) 10%; Tunay na Buhay (GMA-7) 7.9%
Evening:
Pasion de Amor (ABS-CBN) 19.2%; The Producers (GMA-7) 10.1%
TV Patrol (ABS-CBN) 26.4%; 24 Oras (GMA-7) 17%; Aksyon (TV5) 3.4%
FPJ's Ang Probinsyano (ABS-CBN) 37.6%; Marimar (GMA-7) 17.6%; Movie Max 5 (TV5) 6.1%
Pangako Sa 'Yo (ABS-CBN) 29.8%; Little Nanay (TV5) 17.8%
On the Wings of Love (ABS-CBN) 17.4%; Because of You (GMA-7) 17.3%; Wattpad Presents (TV5) 1.2%
You're My Home (ABS-CBN) 8.9%; Tonight with Boy Abunda (ABS-CBN) 4.7%; Kapuso Primetime Cinema (GMA-7) 14.8%; Wattpad Presents (TV5) .3%; Amachan (TV5) .1%; Aksyon Tonite (TV5) .4%
Bandila (ABS-CBN) 3%; My Puhunan (ABS-CBN) 1.8%; Saksi (GMA-7) 5.4%; Reaksyon (TV5) .2%; Numero (TV5) 0%
O Shopping (ABS-CBN) .6%; The 700 Club Asia (GMA-7) 1.8%; Shop TV (GMA-7) .6%; Shop Japan (TV5) 0%
--
January 6, 2015 (Wednesday)
Morning:
O Shopping (ABS-CBN) .4%; Tunay na Buhay Replay (GMA-7) .8%
Umagang Kay Ganda (ABS-CBN) 4.1%; Unang Hirit (GMA-7) 3.9%
Kris TV (ABS-CBN) 5.1%; Doraemon (GMA-7) 6.6%; Pokemon XY (GMA-7) 7.7%; Ring ni Kakero (GMA-7) 8.1%
Mr. Bean (ABS-CBN) 4.9%; Toriko (GMA-7) 8.2%
Kapamilya Blockbusters (ABS-CBN) 9%; Dragon Ball Z (GMA-7) 9.7%; Someone Like You (GMA-7) 5.5%; Ice Adonis (GMA-7) 6.6%; Dangwa (GMA-7) 7.8%
Ningning (ABS-CBN) 13.4%; The Ryzza Mae Show Presents: Princess in the Palace (GMA-7) 9.9%
Afternoon:
It's Showtime (ABS-CBN) 13.5%; Eat Bulaga! (GMA-7) 15.9%
Doble Kara (ABS-CBN) 13.9%; The Half Sisters (GMA-7) 13.1%
All Of Me (ABS-CBN) 11.5%; Buena Familia (GMA-7) 11.6%
ADVERTISEMENT - CONTINUE READING BELOW
And I Love You So (ABS-CBN) 10%; Destiny Rose (GMA-7) 11.9%
Kapamilya Deal or No Deal (ABS-CBN) 10.1%; Powerhouse (GMA-7) 9.3%
Evening:
Pasion de Amor (ABS-CBN) 18.7%; The Producers (GMA-7) 11.1%
TV Patrol (ABS-CBN) 27.1%; 24 Oras (GMA-7) 17%; Aksyon (TV5) 3.1%
FPJ's Ang Probinsyano (ABS-CBN) 38.2%; Marimar (GMA-7) 18%; Smart Bro 2016 PBA Philippine Cup Live (TV5) 6.8%
Pangako Sa 'Yo (ABS-CBN) 30.7%; Little Nanay (TV5) 18%
On the Wings of Love (ABS-CBN) 17.8%; Because of You (GMA-7) 18.2%; Wattpad Presents (TV5) 1.4%
You're My Home (ABS-CBN) 8.4%; Tonight with Boy Abunda (ABS-CBN) 3.8%; Kapuso Primetime Cinema (GMA-7) 12.1%; Wattpad Presents (TV5) .7%; Amachan (TV5) .5%; Aksyon Tonite (TV5) .4%
Bandila (ABS-CBN) 2.4%; Saksi (GMA-7) 4.2%; Reaksyon (TV5) .1%; History with Lourd (TV5) .3%
Red Alert (ABS-CBN) 1.2%; The 700 Club Asia (GMA-7) 1.4%; Shop Japan (TV5) .1%
O Shopping (ABS-CBN) .3%; Shop TV (GMA-7) .4%
--
January 7, 2015 (Thursday)
Morning:
O Shopping (ABS-CBN) .2%; Born to be Wild Replay (GMA-7) .8%
Umagang Kay Ganda (ABS-CBN) 3.5%; Unang Hirit (GMA-7) 3.7%  
Kris TV (ABS-CBN) 4.3%; Doraemon (GMA-7) 6.4%; Pokemon XY (GMA-7) 7.6%; Ring ni Kakero (GMA-7) 8.6%; Toriko (GMA-7) 9.4%
Mr. Bean (ABS-CBN) 4.5%; Dragon Ball Z (GMA-7) 10.5%
Kapamilya Blockbusters (ABS-CBN) 11.5%; Someone Like You (GMA-7) 7.3%; Ice Adonis (GMA-7) 7.1%; Dangwa (GMA-7) 7.5%
Ningning (ABS-CBN) 15.2%; The Ryzza Mae Show Presents: Princess in the Palace (GMA-7) 9.6%
Afternoon:
It's Showtime (ABS-CBN) 15%; Eat Bulaga! (GMA-7) 16.6%
Doble Kara (ABS-CBN) 14.1%; The Half Sisters (GMA-7) 14.1%
All Of Me (ABS-CBN) 12.1%; Buena Familia (GMA-7) 12.9%
And I Love You So (ABS-CBN)10.3%; Destiny Rose (GMA-7) 13%
Kapamilya Deal or No Deal (ABS-CBN) 10.1%; Reporter's Notebook (GMA-7) 9.1%
Evening:
Pasion de Amor (ABS-CBN) 19.8%; The Producers (GMA-7) 11.3%
TV Patrol (ABS-CBN) 28.3%; 24 Oras (GMA-7) 18.1%; Aksyon (TV5) 3.4%
FPJ's Ang Probinsyano (ABS-CBN) 39.3%; Marimar (GMA-7) 19.4%; Smart Bro 2016 PBA Philippine Cup Live (TV5) 6.8%
Pangako Sa 'Yo (ABS-CBN) 32.2%; Little Nanay (GMA-7) 18.5%
ADVERTISEMENT - CONTINUE READING BELOW
On the Wings of Love (ABS-CBN) 18.6%; Because of You (GMA-7) 17.9%; Wattpad Presents (TV5) 1.4%
You're My Home (ABS-CBN) 9%; Tonight with Boy Abunda (ABS-CBN) 4%; Kapuso Primetime Cinema (GMA-7) 14.6%; Wattpad Presents (TV5) .7%; Amachan (TV5) .3%; Aksyon Tonite (TV5) .2%
Bandila (ABS-CBN) 2.6%; Saksi (GMA-7) 5.4%; Reaksyon (TV5) .1%; Unang Tikim (TV5) .1%
Sports U (ABS-CBN) 1.6%; The 700 Club Asia (GMA-7) 1.5%; Shop Japan (TV5) .1%
O Shopping (ABS-CBN).5%; Shop TV (GMA-7) .3%
--
January 8, 2015 (Friday)
Morning:
O Shopping (ABS-CBN) .3%; Alisto! Replay (GMA-7) .6%; GMA Breaking News (GMA-7) 1.2%
Umagang Kay Ganda (ABS-CBN) 3.6%; Unang Hirit (GMA-7) 4.4%  
Kris TV (ABS-CBN) 4.7%; Doraemon (GMA-7) 7.3%; Pokemon XY (GMA-7) 8.4%; Ring ni Kakero (GMA-7) 8.7%
Mr. Bean (ABS-CBN) 5%; Toriko (GMA-7) 9.6%
Kapamilya Blockbusters (ABS-CBN) 10.8%; Dragon Ball Z (GMA-7) 10.5%; Someone Like You (GMA-7) 6.5%; Ice Adonis (GMA-7) 7%; Dangwa (GMA-7) 7.3%
Ningning (ABS-CBN) 15.2%; The Ryzza Mae Show Presents: Princess in the Palace (GMA-7) 9.8%
Afternoon:
It's Showtime (ABS-CBN) 15.5%; Eat Bulaga! (GMA-7) 16%
Doble Kara (ABS-CBN) 14.8%; The Half Sisters (GMA-7) 14.5%
All Of Me (ABS-CBN) 12.6%; Buena Familia (GMA-7) 13.1%
And I Even You Love So (ABS-CBN) 10.8%; Destiny Rose (GMA-7) 12.1%
Kapamilya Deal or No Deal (ABS-CBN) 10.6%; Love Hotline (GMA-7) 9.5%
Evening:
Pasion de Amor (ABS-CBN) 19.4%; The Producers (GMA-7) 11.6%
TV Patrol (ABS-CBN) 27.4%; 24 Oras (GMA-7) 18.5%; Aksyon (TV5) 3%
FPJ's Ang Probinsyano (ABS-CBN) 37%; Marimar (GMA-7) 20.3%; Smart Bro 2016 PBA Philippine Cup Live (TV5) 6.7%
Pangako Sa 'Yo (ABS-CBN) 30.2%; Little Nanay (GMA-7) 19.9%; Wattpad Presents (TV5) 1.8%
On the Wings of Love (ABS-CBN) 19.8%; Because of You (GMA-7) 18.5%; Wattpad Presents (TV5) 1%
You're My Home (ABS-CBN) 9.6%; Tonight with Boy Abunda (ABS-CBN) 4.6%; Bubble Gang (GMA-7) 13.1%; Amachan (TV5) .4%; Aksyon Tonite (TV5) .4%
Bandila (ABS-CBN) 2.6%; Saksi (GMA-7) 5.8%; Reaksyon (TV5) .2%; Bigtime (TV5) .2%
TNT (ABS-CBN) 1.7%; The 700 Club Asia (GMA-7) 1.8%; Shop Japan (TV5) 0%
ADVERTISEMENT - CONTINUE READING BELOW
O Shopping (ABS-CBN) .6%; Shop TV (GMA-7) .6%
--
January 9, 2015 (Saturday)
O Shopping (ABS-CBN) .5%; PJM Forum (GMA-7) .2%; Adyenda (GMA-7) .5%
Sa Kabukiran (ABS-CBN) 1.6%; Kapwa Ko Mahal Ko (GMA-7) 1.2%
Salamat Dok (ABS-CBN) 3.3%; Pinoy MD (GMA-7) 3.1%
Swak na Swak (ABS-CBN) 4.2%; The Smurfs (GMA-7) 6.9%; Hayate the Combat Butler (GMA-7) 10.2%
Angel Wings (ABS-CBN) 3.2%; Why Not? (ABS-CBN) 2.8%; Pac-Man and the Ghostly Adventures (GMA-7) 12%
2015-2016 NBA Regular Season Live (ABS-CBN) 5.4%; Angry Birds Toons (GMA-7) 13.4%; Cross Fight B-Daman (GMA-7) 13.3%; Magic Kaito (GMA-7) 13.9%; Maynila (GMA-7) 10.5%
Kapamilya Blockbusters (ABS-CBN) 11.9%; Sarap Diva (GMA-7) 8.7%
Afternoon:
It's Showtime (ABS-CBN) 16.3%; Eat Bulaga! (GMA-7) 18.4%; Karelasyon (GMA-7) 13.6%
Ipaglaban Mo (ABS-CBN) 18%; Wish Ko Lang! (GMA-7) 10.5%
SOCO (ABS-CBN) 13.7%; Celebrity Playtime (ABS-CBN) 12.1%; Celebri TV (GMA-7) 9.1%
Mga Kwento ni Marc Logan (ABS-CBN) 13.2%; Imbestigador (GMA-7) 10.5%; Smart Bro 2016 PBA Philippine Cup Live (TV5) 6.3%
TV Patrol Weekend (ABS-CBN) 18%; 24 Oras Weekend (GMA-7) 15.8%
Evening:
Home Sweetie Home (ABS-CBN) 21.9%; Pepito Manaloto: Ang Tunay na Kuwento (GMA-7) 22.3%
Dance Kids (ABS-CBN) 28.8%; MMK: Ang Tahanan Mo (ABS-CBN) 31.3%; Magpakailanman (GMA-7) 23.4%; Celebrity Bluff (GMA-7) 17.3%; Lola Basyang.com (TV5) 3.4%; Parang Normal Activity (TV5) 2.8%
Kapamilya Weekend Specials (ABS-CBN) 20.7%; i-Witness (GMA-7) 12.8%; Movie Max 5 (TV5) 2.4%
Failon Ngayon (ABS-CBN) 5.3%; Kapuso Movie Night (GMA-7) 8.2%; History with Lourd (TV5) 1%; Politics for Beginners (TV5) .6%
The Bottom Line (ABS-CBN) 1.8%; O Shopping (ABS-CBN) .5%; Walang Tulugan with Master Showman (GMA-7) 3.1%; Kaya. (TV5) .6%; Shop Japan (TV5) .2%
--
January 10, 2015 (Sunday)
Morning:
O Shopping (ABS-CBN) .9%; Jesus The Healer (GMA-7) .3%
The Healing Eucharist (ABS-CBN) 4.5%; Kapuso Sine Klasika (GMA-7) 2.4%
Swak Na Swak (ABS-CBN) 4.4%; Grimm's Fairy Tales (GMA-7) 7.3%; Hayate the Combat Butler (GMA-7) 10.8%
Salamat Dok (ABS-CBN) 3.5%; Larva (GMA-7) 13.4%
Spongebob Squarepants (ABS-CBN) 3.3%; Aha (TV5) 11.7%
Teenage Mutant Ninja Turtles (ABS-CBN) 3.7%; Kuroko's Basketball (ABS-CBN) 5.5%; Born To Be Wild (GMA-7) 10.7%
ADVERTISEMENT - CONTINUE READING BELOW
Superbook (ABS-CBN) 8.6%; Matanglawin (ABS-CBN) 9.6%; iBilib (GMA-7) 8.9%
Kapamilya Kiddie Blockbusters (ABS-CBN) 14.2%; Kapuso Movie Festival (GMA-7) 12.2%
Afternoon:
ASAP 20 (ABS-CBN) 14.4%; Sunday Pinasaya (GMA-7) 16.2%
Banana Sundae (ABS-CBN) 12.6%; Wowowin (GMA-7) 14.6%
Kapamilya Mega Blockbusters (ABS-CBN) 12.9%; GMA Blockbusters (GMA-7) 12.8%
Luv U (ABS-CBN) 9.9%; TV Patrol Weekend (GMA-7) 9.9%; Juan Tamad (GMA-7) 11%; Smart Bro 2016 PBA Philippine Cup Live (TV5) 5.7%
Evening:
Goin' Bulilit (ABS-CBN) 19.6%; 24 Oras Weekend (GMA-7) 13.3%
Dance Kids (ABS-CBN) 30.4%; Vampire Ang Daddy Ko (GMA-7) 16.2%
Wansapanataym (ABS-CBN) 34%; Ismol Family (GMA-7) 20.7%; Barangay Utakan (TV5) 1.4%
Rated K: Handa Na Ba Kayo? (ABS-CBN) 25.1%; Kapuso Mo, Jessica Soho (GMA-7) 21.3%; Masterchef Asia (TV5) .7%
Gandang Gabi Vice (ABS-CBN) 16.6%; Kapamilya Weekend Specials Sunday (ABS-CBN) 8.6%; SNBO (GMA-7) 12.4%; Cool Guys, Hot Ramen (TV5) .5%; Sports 360 (TV5) .4%; Countdown to Rio (TV5) .1%; History with Lourd (TV5) .1%
Sunday's Best (ABS-CBN) 2%; O Shopping (ABS-CBN) .6%; Diyos at Bayan (GMA-7) 1.2%; Shop Japan (TV5) .1%
--
January 11, 2015 (Monday)
Morning:
O Shopping (ABS-CBN) .3%; Powerhouse Replay (GMA-7) .7%
Umagang Kay Ganda (ABS-CBN) 3.9%; Unang Hirit (GMA-7) 4.7%  
Kris TV (ABS-CBN) 5.2%; Doraemon (GMA-7) 6.5%; Pokemon Black and White (GMA-7) 8.2%; Ring ni Kakero (GMA-7) 9%; Toriko (GMA-7) 9.1%
Mr Bean (ABS-CBN) 5.3%; Dragon Ball Z (GMA-7) 9.6%
Kapamilya Blockbusters: Maria Leonora Teresa (GMA-7) 11%; Someone Like You (GMA-7) 5.9%; Ice Adonis (GMA-7) 5.7%; Dangwa (GMA-7) 5.8%
Ningning (ABS-CBN) 15.4%; The Ryzza Mae Show Presents Princess in the Palace (GMA-7) 8.4%
Afternoon:
It's Showtime (ABS-CBN) 15.5%; Eat Bulaga! (GMA-7) 15.2%
Doble Kara (ABS-CBN) 14.8%; The Half Sisters (GMA-7) 12.6%
All of Me (TV5) 12.7%; Buena Familia (GMA-7) 12.2%
And I Love You So (ABS-CBN) 12.3%; Destiny Rose (GMA-7) 10.3%
Kapamilya Deal or No Deal (ABS-CBN) 11.9%; Alisto! (GMA-7) 8.1%
Evening:
Pasion de Amor (ABS-CBN) 19.8%; The Producers (GMA-7) 10.6%
TV Patrol (ABS-CBN) 27.4%; 24 Oras (GMA-7) 16.5%; Aksyon (TV5) 3.5%
FPJ's Ang Probinsyano (ABS-CBN) 37%; Little Nanay (GMA-7) 17.2%; Smart Bro 2016 Philippine Cup Live (TV5) 7.3%
ADVERTISEMENT - CONTINUE READING BELOW
Pangako Sa 'Yo (ABS-CBN) 28.4%; Because of You (GMA-7) 17%
On the Wings of Love (ABS-CBN) 18.4%; You're My Home (ABS-CBN) 9.3%; Kapuso Primetime Cinema (GMA-7) 14.2%; Wattpad Presents (TV5) 1.5%; Wattpad Presents (TV5) 1%; Amachan (TV5) .4%
Tonight with Boy Abunda (ABS-CBN) 4.7%; Temptation (GMA-7) 9.4%; Aksyon Tonite (TV5) .4%
Bandila (ABS-CBN) 2.4%; Saksi (GMA-7) 4.9%; Reaksyon (TV5) .2%; Demolition Job (ABS-CBN) .1%
Mission Possible (ABS-CBN) 1.4%; Front Row (GMA-7) 3.1%
O Shopping (ABS-CBN) .4%; The 700 Club Asia (GMA-7) 1.3%; Shop TV (TV5) .5%; Shop Japan (TV5) 0%
--
January 12, 2015 (Tuesday)
Morning:
O Shopping (ABS-CBN) .4%; i-Witness Replay (GMA-7) .7%
Umagang Kay Ganda (ABS-CBN) 4.2%; Unang Hirit (GMA-7) 3.8%  
Kris TV (ABS-CBN) 5.6%; Doraemon (GMA-7) 5.6%; Pokemon XY (GMA-7) 6.9%; Ring ni Kakero (GMA-7) 7.5%; Toriko (GMA-7) 7.5%
Mr. Bean (ABS-CBN) 5.3%; Kapamilya Blockbusters (ABS-CBN) 9.6%; Dragon Ball Z (GMA-7) 8.1%; Someone Like You (GMA-7) 5.7%; Ice Adonis (GMA-7) 6.2%; Dangwa (GMA-7) 6.7%
Ningning (ABS-CBN) 14.7%; The Ryzza Mae Show Presents Princess in the Palace (GMA-7) 9%
Afternoon:
It's Showtime (ABS-CBN) 15.3%; Eat Bulaga! (GMA-7) 15.2%
Doble Kara (ABS-CBN) 13.4%; The Half Sisters (GMA-7) 12.7%
All Of Me (ABS-CBN) 11.6%; Buena Familia (GMA-7) 12.9%
And I Love You So (ABS-CBN) 11%; Destiny Rose (GMA-7) 10.6%
Kapamilya Deal or No Deal (ABS-CBN) 10.5%; Tunay na Buhay (GMA-7) 8.4%
Evening:
Pasion de Amor (ABS-CBN) 19.5%; The Producers (GMA-7) 10.6%
TV Patrol (ABS-CBN) 27.5%; 24 Oras (GMA-7) 16.4%; Aksyon (TV5) 3.5%
FPJ's Ang Probinsyano (ABS-CBN) 37.8%; Little Nanay (GMA-7) 17.1%; Smart Bro 2016 PBA Philippine Cup Live (TV5) 5.9%
Pangako Sa 'Yo (ABS-CBN) 34.9%; Because of You (TV5) 17.2%
On the Wings of Love (ABS-CBN) 19.1%; You're My Home (GMA-7) 9.3%; Kapuso Primetime Cinema (GMA-7) 15.8%; Wattpad Presents (TV5) 1.3%; Wattpad Presents (TV5) .6%; Amachan (TV5) .4%
Tonight with Boy Abunda (ABS-CBN) 5.2%; Temptation (GMA-7) 8.8%; Aksyon Tonite (TV5) .7%
Bandila (ABS-CBN) 2.7%; Saksi (GMA-7) 4.3%; Reaksyon (TV5) .3%; Numero (TV5) .1%
ADVERTISEMENT - CONTINUE READING BELOW
My Puhunan (ABS-CBN) 1.6%; Stan Lee's Superhumans (GMA-7) 2.6%
O Shopping (ABS-CBN) .6%; The 700 Club Asia (GMA-7) 1.3%; Shop TV (GMA-7) .5%; Shop Japan (TV5) .1%
--
January 13, 2015 (Wednesday)
Morning:
O Shopping (ABS-CBN) .3%; Tunay na Buhay Replay (GMA-7) .8%
Umagang Kay Ganda (ABS-CBN) 4%; Unang Hirit (GMA-7) 3.8%
Kris TV (ABS-CBN) 5.2%; Doraemon (GMA-7) 4.8%; Pokemon Black and White (GMA-7) 6.8%; Ring ni Kakero (GMA-7) 7.7%
Mr. Bean (ABS-CBN) 5.5%; Toriko (GMA-7) 8%
Kapamilya Blockbusters (ABS-CBN) 10.5%; Dragon Ball Z (GMA-7) 9.4%; Someone Like You (GMA-7) 6.1%; Ice Adonis (GMA-7) 6.3%; Dangwa (GMA-7) 6.2%
Ningning (ABS-CBN) 16.5%; The Ryzza Mae Show Presents: Princess in the Palace (GMA-7) 8.2%
Afternoon:
It's Showtime (ABS-CBN) 16.5%; Eat Bulaga! (GMA-7) 15.3%
Doble Kara (ABS-CBN) 16.6%; The Half Sisters (GMA-7) 13.7%
All Of Me (ABS-CBN) 13%; Buena Familia (GMA-7) 13.8%
And I Love You So (ABS-CBN) 11.2%; Destiny Rose (GMA-7) 11.4%
Kapamilya Deal or No Deal (ABS-CBN) 10.6%; Powerhouse (GMA-7) 8.4%
Evening:
Pasion de Amor (ABS-CBN) 18.6%; The Producers (GMA-7) 9.5%
TV Patrol (ABS-CBN) 27.9%; 24 Oras (GMA-7) 17.3%; Aksyon (TV5) 4.2%
FPJ's Ang Probinsyano (ABS-CBN) 41.1%; Little Nanay (GMA-7) 17.7%; Smart Bro 2016 PBA Philippine Cup Live (TV5) 7.6%
Pangako Sa 'Yo (ABS-CBN) 31.1%; Because of You (TV5) 17.8%
On the Wings of Love (ABS-CBN) 19.7%; You're My Home (GMA-7) 9.5%; Kapuso Primetime Cinema (TV5) 14%; Wattpad Presents (TV5) 1.3%; Wattpad Presents (TV5) .7%; Amachan (TV5) .4%
Tonight with Boy Abunda (ABS-CBN) 4.7%; Temptation (GMA-7) 8.8%; Aksyon Tonite (TV5) .5%
Bandila (ABS-CBN) 3%; Saksi (GMA-7) 5.3%; Serial Killer Earth (GMA-7) 3.7%; Reaksyon (TV5) .1%; History with Lourd (TV5) .1%
Red Alert (ABS-CBN) 1.7%; The 700 Club Asia (GMA-7) 1.9%; Shop Japan (TV5) 0%
O Shopping (ABS-CBN) .6%; Shop TV (GMA-7) .2%
--
January 14, 2015 (Thursday)
Morning:
O Shopping (ABS-CBN) .4%; Born to be Wild Replay (GMA-7) .7%
Umagang Kay Ganda (ABS-CBN) 3.5%; Unang Hirit (GMA-7) 4.1%  
Kris TV (ABS-CBN) 4.3%; Doraemon (GMA-7) 7.1%; Pokemon Black and White (GMA-7) 8.3%; Ring ni Kakero (GMA-7) 9.1%
ADVERTISEMENT - CONTINUE READING BELOW
Mr. Bean (ABS-CBN) 4.9%; Toriko (GMA-7) 8.8%
Kapamilya Blockbusters (ABS-CBN) 11.6%; Dragon Ball Z (GMA-7) 9.4%; Someone Like You (GMA-7) 6.2%; Ice Adonis (GMA-7) 6.4%; Dangwa (GMA-7) 6.7%
Ningning (ABS-CBN) 17%; The Ryzza Mae Show Presents: Princess in the Palace (GMA-7) 8.6%
Afternoon:
It's Showtime (ABS-CBN) 17.2%; Eat Bulaga! (GMA-7) 15.7%
Doble Kara (ABS-CBN) 15.7%; The Half Sisters (GMA-7) 14.8%
All Of Me (ABS-CBN) 13.6%; Buena Familia (GMA-7) 14.8%
And I Love You So (ABS-CBN) 11.1%; Destiny Rose (GMA-7) 12.2%
Kapamilya Deal or No Deal (ABS-CBN) 10.5%; Reporter's Notebook (GMA-7) 8.6%
Evening:
Pasion de Amor (ABS-CBN) 19.5%; The Producers (GMA-7) 10.9%
TV Patrol (ABS-CBN) 29.7%; 24 Oras (GMA-7) 17.3%; Aksyon (TV5) 2.7%
FPJ's Ang Probinsyano (ABS-CBN) 41.5%; Little Nanay (GMA-7) 16.6%; Movie Max 5 (TV5) 5%
Pangako Sa 'Yo (ABS-CBN) 32.7%; Because of You (GMA-7) 17.7%; Wattpad Presents (TV5) 1.7%
On the Wings of Love (ABS-CBN) 19.8%; You're My Home (ABS-CBN) 10.2%; Kapuso Primetime Cinema (GMA-7) 16.7%; Wattpad Presents (TV5) 1.3%; Amachan (TV5) .6%; Aksyon Tonite (TV5) .6%
Tonight with Boy Abunda (ABS-CBN) 5%; Temptation (GMA-7) 9.3%; Reaksyon (TV5) .4%
Bandila (ABS-CBN) 2.8%; Saksi (GMA-7) 4.7%; Big History (GMA-7) 3.1%; Unang Tikim (TV5) .2%; Unang Tikim (TV5) .2%
Sports U (ABS-CBN) 1.6%; The 700 Club Asia (GMA-7) 1.3%; Shop Japan (TV5) .1%
O Shopping (ABS-CBN).5%; Shop TV (GMA-7) .4%
--
January 15, 2015 (Friday)
Morning:
O Shopping (ABS-CBN) .4%; Alisto! Replay (GMA-7) .8%
Umagang Kay Ganda (ABS-CBN) 3.7%; Unang Hirit (GMA-7) 3.7%  
Kris TV (ABS-CBN) 5%; Doraemon (GMA-7) 6.3%; Pokemon Black and White (GMA-7) 8.1%; Ring ni Kakero (GMA-7) 8.8%
Mr. Bean (ABS-CBN) 5.8%; Toriko (GMA-7) 8.8%
Kapamilya Blockbusters (ABS-CBN) 12.9%; Dragon Ball Z (GMA-7) 9.3%; Someone Like You (GMA-7) 5.7%; Ice Adonis (GMA-7) 5.8%; Dangwa (GMA-7) 6.2%
Ningning (ABS-CBN) 18.8%; The Ryzza Mae Show Presents: Princess in the Palace (GMA-7) 8.6%
Afternoon:
It's Showtime (ABS-CBN) 17.7%; Eat Bulaga! (GMA-7) 15%
Doble Kara (ABS-CBN) 16.7%; The Half Sisters (GMA-7) 15.4%
All Of Me (ABS-CBN) 12.8%; Buena Familia (GMA-7) 14.2%
ADVERTISEMENT - CONTINUE READING BELOW
And I Love You So (ABS-CBN) 10.4%; Destiny Rose (GMA-7) 11.8%
Kapamilya Deal or No Deal (ABS-CBN) 11.4%; Love Hotline (GMA-7) 8.1%
Evening:
Pasion de Amor (ABS-CBN) 20.3%; The Producers (GMA-7) 9.3%
TV Patrol (ABS-CBN) 28.5%; 24 Oras (GMA-7) 15.7%; Aksyon (TV5) 3.1%
FPJ's Ang Probinsyano (ABS-CBN) 40.9%; Little Nanay (GMA-7) 16.3%
Pangako Sa 'Yo (ABS-CBN) 29.6%; Because of You (GMA-7) 16.8%
On the Wings of Love (ABS-CBN) 19%; Temptation (GMA-7) 13.2%; Wattpad Presents (TV5) 1.7%; Wattpad Presents (TV5) 1.2%
You're My Home (ABS-CBN) 9.3%; Bubble Gang (GMA-7) 9.9%; Amachan (TV5) .4%
Tonight with Boy Abunda (ABS-CBN) 4.9%; Bandila (ABS-CBN) 2.4%; Saksi (GMA-7) 5.5%; The 700 Club Asia (GMA-7) 2.6%; Aksyon Tonite (TV5) .3%; Reaksyon (TV5) .1%; UFC 195 (TV5) .2%
TNT (ABS-CBN) 1%; O Shopping (ABS-CBN) .5%; Shop TV (GMA-7) .8%; Shop Japan (TV5) .1%

--


Here are the Top 10 daytime and primetime programs from January 1-15, 2015 among Total Philippines (Urban & Rural) households:
January 1, 2015 (Friday)
DAYTIME:
Eat Bulaga! (GMA-7) - 15.3%
The Half Sisters (GMA-7) – 12.8%
Ningning (ABS-CBN) - 12.3%
Dragon Ball Z (GMA-7) - 11.7%
Doble Kara (ABS-CBN) - 11.2%
Kapamilya Deal or No Deal (ABS-CBN) - 11%
Toriko (GMA-7) - 10.8%
Kapamilya Blockbusters (ABS-CBN) - 10.7%
All of Me (ABS-CBN) - 10.5%
And I Love You So (ABS-CBN) - 13.2%
PRIMETIME:
FPJ's Ang Probinsyano (ABS-CBN) - 32.8%
Pangako Sa 'Yo (ABS-CBN) - 28.6%
TV Patrol (ABS-CBN) - 26.5%
Pasion de Amor (ABS-CBN) - 19.2%
On the Wings of Love (ABS-CBN) / 24 Oras (GMA-7) – 17%
Marimar (GMA-7) - 16.9%
Little Nanay (GMA-7) - 16.3%
Because of You (GMA-7) - 15.8%
Bubble Gang (GMA-7) - 10.8%
The Producers (GMA-7) - 10.4%
January 2, 2015 (Saturday)
DAYTIME:
Eat Bulaga! (GMA-7) - 20.3%
TV Patrol Weekend (ABS-CBN) - 19.4%
24 Oras Weekend (GMA-7) - 16.1%
SOCO (ABS-CBN) - 15.7%
Karelasyon (GMA-7) - 15.1%
Ipaglaban Mo (ABS-CBN) / Mga Kwento ni Marc Logan (ABS-CBN) - 14.6%
Kapamilya Blockbusters (ABS-CBN) - 13.8%
It's Showtime (ABS-CBN) - 13.7%
Celebrity Playtime (ABS-CBN) - 13.2%
Doraemon (GMA-7) - 11.8%
PRIMETIME:
MMK: Ang Tahanan Mo (ABS-CBN) – 31.9%
Dance Kids (ABS-CBN - 29%
Home Sweetie Home (ABS-CBN) - 24%
Magpakailanman (GMA-7) – 22.8%
Kapamilya Weekend Specials (ABS-CBN) - 21.3%
Pepito Manaloto: Ang Tunay na Kuwento (GMA-7) – 20.4%
Celebrity Bluff (GMA-7) – 15.8%
i-Witness (GMA-7) – 11.1%
Failon Ngayon (ABS-CBN) - 4.9%
Lola Basyang.com (TV5) - 3.2%
January 3, 2015 (Sunday)
DAYTIME:
Sunday Pinasaya (GMA-7) - 16.2%
Kapuso Movie Festival (GMA-7) / Wowowin (GMA-7) - 14.3%
Kapamilya Mega Blockbusters (ABS-CBN) - 13.7%
ASAP 20 (ABS-CBN) - 13.1%
GMA Blockbusters (GMA-7) - 12.4%
Banana Sundae (ABS-CBN) - 12.2%
Kapamilya Kiddie Blockbusters (ABS-CBN) - 11.7%
Doraemon (GMA-7) - 11.3%
24 Oras Weekend (GMA-7) - 10.7%
TV Patrol Weekend (ABS-CBN) - 10.6%
PRIMETIME:
Wansapanataym (ABS-CBN) – 32.4%
Dance Kids (ABS-CBN) – 29.3%
Rated K: Handa na ba Kayo? (ABS-CBN) - 23.7%
Kapuso Mo, Jessica Soho (GMA-7) – 20.3%
Goin' Bulilit (ABS-CBN) – 19%
Ismol Family (GMA-7) - 18.2%
Gandang Gabing Vice (ABS-CBN) – 16.6%
Vampire Ang Daddy Ko (GMA-7) – 14.9%
SNBO (GMA-7) 11.1%
Kapamilya Weekend Specials (ABS-CBN) - 10.8%
January 4, 2015 (Monday)
DAYTIME:
Eat Bulaga! (GMA-7) - 15.1%
Doble Kara (ABS-CBN) - 14.1%
It's Showtime (ABS-CBN) - 13.9%
Ningning (ABS-CBN) / The Half Sisters (GMA-7) – 13.3%
Buena Familia (GMA-7) - 12.4%
All Of Me (ABS-CBN) - 12.2%
Destiny Rose (GMA-7) - 11.8%
And I Love You So (ABS-CBN) - 10.8%
Kapamilya Deal or No Deal (ABS-CBN) / Dragon Ball Z (GMA-7) - 10.4%
Kapamilya Blockbusters (ABS-CBN) / The Ryzza Mae Show Presents Princess in the Palace (GMA-7) - 9.2%
PRIMETIME:
FPJ's Ang Probinsyano (ABS-CBN) – 37.7%
Pangako Sa 'Yo (ABS-CBN) – 30.7%
TV Patrol (ABS-CBN) – 28.2%
Pasion de Amor (ABS-CBN) – 19.3%
On the Wings of Love (ABS-CBN) – 18.7%
24 Oras (GMA-7) / Marimar (GMA-7) / Little Nanay (GMA-7) - 17.4%
Because of You (GMA-7) - 17.2%
Kapuso Primetime Cinema (GMA-7) - 13.7%
The Producers (GMA-7) - 11.4%
You're My Home (ABS-CBN) – 8.4%
January 5, 2015 (Tuesday)
DAYTIME:
Eat Bulaga! (GMA-7) - 15.7%
Ningning (ABS-CBN) - 14.7%
The Half Sisters (GMA-7) – 13.9%
It's Showtime (ABS-CBN) - 13.8%
Doble Kara (ABS-CBN) - 12.6%
Buena Familia (GMA-7) - 12%
Destiny Rose (GMA-7) - 11.1%
Kapamilya Blockbusters (ABS-CBN) - 11%
All Of Me (ABS-CBN) - 10.6%
Kapamilya Deal or No Deal (ABS-CBN) - 10%
PRIMETIME:
FPJ's Ang Probinsyano (ABS-CBN) – 37.6%
Pangako Sa 'Yo (ABS-CBN) – 29.8%
TV Patrol (ABS-CBN) – 26.4%
Pasion de Amor (ABS-CBN) – 19.2%
Little Nanay (GMA-7) - 17.8%
Marimar (GMA-7) – 17.6%
On the Wings of Love (ABS-CBN) – 17.4%
Because of You (GMA-7) - 17.3%
24 Oras (GMA-7) - 17%
Kapuso Primetime Cinema (GMA-7) - 14.8%
January 6, 2015 (Wednesday)
DAYTIME:
Eat Bulaga! (GMA-7) - 15.9%
Doble Kara (ABS-CBN) - 13.9%
It's Showtime (ABS-CBN) - 13.5%
Ningning (ABS-CBN) - 13.4%
The Half Sisters (GMA-7) - 13.1%
Kapuso Primetime Cinema (GMA-7) - 12.1%
Destiny Rose (GMA-7) - 11.9%
Buena Familia (GMA-7) - 11.6%
All Of Me (ABS-CBN) - 11.5%
Kapamilya Deal or No Deal (ABS-CBN) - 10.1%
PRIMETIME:
FPJ's Ang Probinsyano (ABS-CBN) - 38.2%
Pangako Sa 'Yo (ABS-CBN) - 30.7%
TV Patrol (ABS-CBN) - 27.1%
Pasion de Amor (ABS-CBN) - 18.7%
Because of You (GMA-7) - 18.2%
Marimar (GMA-7) / Little Nanay (GMA-7) - 18%
On the Wings of Love (ABS-CBN) – 17.8%
24 Oras (GMA-7) - 17%
The Producers (GMA-7) - 11.1%
You're My Home (ABS-CBN) – 8.4%
January 7, 2015 (Thursday)
DAYTIME:
Eat Bulaga! (GMA-7) - 16.6%
Ningning (ABS-CBN) - 15.2%
It's Showtime (ABS-CBN)- 15%
Doble Kara (ABS-CBN) / The Half Sisters (GMA-7) - 14.1%
Destiny Rose (GMA-7) - 13%
Buena Familia (GMA-7) - 12.9%
All Of Me (ABS-CBN) - 12.1%
Kapamilya Blockbusters (ABS-CBN) - 11.5%
Dragon Ball Z (GMA-7) - 10.5%
And I Love You So (ABS-CBN) - 10.3%
PRIMETIME:
FPJ's Ang Probinsyano (ABS-CBN) - 39.3%
Pangako Sa 'Yo (ABS-CBN) - 32.2%
TV Patrol (ABS-CBN) - 28.3%
Marimar (GMA-7) - 19.4%
On the Wings of Love (ABS-CBN) – 18.6%
Little Nanay (GMA-7) - 18.5%
24 Oras (GMA-7) - 18.1%
Because of You (GMA-7) - 17.9%
Kapuso Primetime Cinema (GMA-7) - 14.6%
The Producers (GMA-7) - 11.3%
January 8, 2015 (Friday)
DAYTIME:
Eat Bulaga! (GMA-7) - 16%
It's Showtime (ABS-CBN) - 15.5%
Ningning (ABS-CBN) - 15.2%
Doble Kara (ABS-CBN) - 14.8%
The Half Sisters (GMA-7) – 14.5%
Buena Familia (GMA-7) - 13.1%
All of Me (ABS-CBN) - 12.6%
Destiny Rose (GMA-7) - 12.1%
Kapamilya Blockbusters (ABS-CBN) / And I Love You So (ABS-CBN) - 10.8%
Kapamilya Deal or No Deal (ABS-CBN) - 10.6%
PRIMETIME:
FPJ's Ang Probinsyano (ABS-CBN) - 37%
Pangako Sa 'Yo (ABS-CBN) - 30.2%
TV Patrol (ABS-CBN) - 27.4%
Marimar (GMA-7) - 20.3%
Little Nanay (GMA-7) - 19.9%
On the Wings of Love (ABS-CBN) - 19.8%
Pasion de Amor (ABS-CBN) - 19.4%
24 Oras (GMA-7) / Because of You (GMA-7) - 18.5%
Bubble Gang (GMA-7) - 13.1%
The Producers (GMA-7) - 11.6%
January 9, 2015 (Saturday)
DAYTIME:
Eat Bulaga! (GMA-7) - 18.4%
Ipaglaban Mo (ABS-CBN) / TV Patrol Weekend (ABS-CBN) - 18%
It's Showtime (ABS-CBN) - 16.3%
24 Oras Weekend (GMA-7) - 15.8%
Magic Kaito (GMA-7) - 13.9%
SOCO (ABS-CBN) - 13.7%
Karelasyon (GMA-7) - 13.6%
Angry Birds Toons (GMA-7) - 13.4%
Cross Fight B-Daman (GMA-7) - 13.3%
Mga Kwento ni Marc Logan (ABS-CBN) - 13.2%
PRIMETIME:
MMK: Ang Tahanan Mo (ABS-CBN) – 31.3%
Dance Kids (ABS-CBN - 28.8%
Magpakailanman (GMA-7) – 23.4%
Pepito Manaloto: Ang Tunay na Kuwento (GMA-7) – 22.3%
Home Sweetie Home (ABS-CBN) - 21.9%
Kapamilya Weekend Specials (ABS-CBN) - 20.7%
Celebrity Bluff (GMA-7) – 17.3%
i-Witness (GMA-7) – 12.8%
Kapuso Movie Night (GMA-7) – 8.2%
Failon Ngayon (TV5) - 5.3%
January 10, 2015 (Sunday)
DAYTIME:
Sunday Pinasaya (GMA-7) - 16.2%
Wowowin (GMA-7) - 14.6%
ASAP 20 (ABS-CBN) - 14.4%
Kapamilya Kiddie Blockbusters (ABS-CBN) - 14.2%
Larva (GMA-7) - 13.4%
Kapamilya Mega Blockbusters (ABS-CBN) - 12.9%
GMA Blockbusters (GMA-7) - 12.8%
Banana Sundae (ABS-CBN) - 12.6%
Kapuso Movie Festival (GMA-7) - 12.2%
Aha! (GMA-7) - 11.7%
PRIMETIME:
Wansapanataym (ABS-CBN) – 34%
Dance Kids (ABS-CBN) – 30.4%
Rated K: Handa na ba Kayo? (ABS-CBN) – 25.1%
Kapuso Mo, Jessica Soho (GMA-7) – 21.3%
Ismol Family (GMA-7) - 20.7%
Goin' Bulilit (ABS-CBN) – 19.6%
Gandang Gabi Vice (ABS-CBN) - 16.6%
Vampire Ang Daddy Ko (GMA-7) – 16.2%
24 Oras Weekend (GMA-7) - 13.3%
SNBO (GMA-7) - 12.4%
January 11, 2015 (Monday)
DAYTIME:
It's Showtime (ABS-CBN) - 15.5%
Ningning (ABS-CBN) - 15.4%
Eat Bulaga! (GMA-7) - 15.2%
Doble Kara (ABS-CBN) - 14.8%
All Of Me (ABS-CBN) - 14.2%
The Half Sisters (GMA-7) – 12.6%
And I Love You So (ABS-CBN) – 12.3%
Buena Familia (GMA-7) - 12.2%
Kapamilya Deal or No Deal (ABS-CBN) - 11.9%
Kapamilya Blockbusters (ABS-CBN) - 11%
PRIMETIME:
FPJ's Ang Probinsyano (ABS-CBN) – 37%
Pangako Sa 'Yo (ABS-CBN) – 28.4%
TV Patrol (ABS-CBN) – 27.4%
Pasion de Amor (ABS-CBN) – 19.8%
On the Wings of Love (ABS-CBN) – 18.4%
Little Nanay (GMA-7) – 17.2%
Because of You (GMA-7) - 17%
24 Oras (GMA-7) - 16.5%
Kapuso Primetime Cinema (GMA-7) - 14.2%
The Producers (GMA-7) - 10.6%
January 12, 2015 (Tuesday)
DAYTIME:
It's Showtime (ABS-CBN) - 15.3%
Eat Bulaga! (GMA-7) - 15.2%
Ningning (ABS-CBN) - 14.7%
Doble Kara (ABS-CBN) - 13.4%
Buena Familia (GMA-7) - 12.9%
The Half Sisters (GMA-7) - 12.7%
All Of Me (ABS-CBN) - 11.6%
And I Love You So (ABS-CBN) - 11%
Destiny Rose (GMA-7) - 10.6%
Kapamilya Deal or No Deal (ABS-CBN) - 10.5%
PRIMETIME:
FPJ's Ang Probinsyano (ABS-CBN) - 37.8%
Pangako Sa 'Yo (ABS-CBN) - 34.9%
TV Patrol (ABS-CBN) - 27.5%
Pasion de Amor (ABS-CBN) - 19.5%
On the Wings of Love (ABS-CBN) – 19.1%
Because of You (GMA-7) - 17.2%
Little Nanay (GMA-7) - 17.1%
24 Oras (GMA-7) - 16.4%
Kapuso Primetime Cinema (GMA-7) - 15.8%
The Producers (GMA-7) - 10.6%
January 13, 2015 (Wednesday)
DAYTIME:
Doble Kara (ABS-CBN) - 16.6%
Ningning (ABS-CBN) / It's Showtime (ABS-CBN) - 16.5%
Eat Bulaga! (GMA-7) - 15.3%
Buena Familia (GMA-7) - 13.8%
The Half Sisters (GMA-7) - 13.7%
All Of Me (ABS-CBN) - 13%
Destiny Rose (GMA-7) - 11.4%
And I Love You So (ABS-CBN) - 11.2%
Kapamilya Deal or No Deal (ABS-CBN) - 10.6%
Kapamilya Blockbusters (ABS-CBN) - 10.5%
PRIMETIME:
FPJ's Ang Probinsyano (ABS-CBN) - 41.1%
Pangako Sa 'Yo (ABS-CBN) - 31.1%
TV Patrol (ABS-CBN) - 27.9%
On the Wings of Love (ABS-CBN) – 19.7%
Pasion de Amor (ABS-CBN) - 18.6%
Because of You (GMA-7) - 17.8%
Little Nanay (GMA-7) - 17.7%
24 Oras (GMA-7) - 17.3%
Kapuso Primetime Cinema (GMA-7) - 14%
You're My Home (ABS-CBN) / The Producers (GMA-7) – 9.5%
January 14, 2015 (Thursday)
DAYTIME:
It's Showtime (ABS-CBN) - 17.2%
Ningning (ABS-CBN) - 17%
Doble Kara (ABS-CBN) / Eat Bulaga! (GMA-7) - 15.7%
The Half Sisters (GMA-7) / Buena Familia (GMA-7) - 14.8%
All Of Me (ABS-CBN) - 13.6%
Destiny Rose (ABS-CBN) - 12.2%
Kapamilya Blockbusters (ABS-CBN) - 11.6%
And I Love You So (ABS-CBN) - 11.1%
Kapamilya Deal or No Deal (ABS-CBN) - 10.5%
Dragon Ball Z (GMA-7) - 9.4%
PRIMETIME:
FPJ's Ang Probinsyano (ABS-CBN) - 41.5%
Pangako Sa 'Yo (ABS-CBN) - 32.7%
TV Patrol (ABS-CBN) - 29.7%
On the Wings of Love (ABS-CBN) – 19.8%
Pasion de Amor (ABS-CBN) - 19.5%
Because of You (GMA-7) - 17.7%
24 Oras (GMA-7) - 17.3%
Kapuso Primetime Cinema (GMA-7) - 16.7%
Little Nanay (GMA-7) - 16.6%
The Producers (GMA-7) – 10.9%
January 15, 2015 (Friday)
DAYTIME:
Ningning (ABS-CBN) - 18.8%
It's Showtime (ABS-CBN) - 17.7%
Doble Kara (ABS-CBN) - 16.7%
The Half Sisters (GMA-7) – 15.4%
Eat Bulaga! (GMA-7) - 15%
Buena Familia (GMA-7) - 14.2%
Kapamilya Blockbusters (ABS-CBN) - 12.9%
All of Me (ABS-CBN) - 12.8%
Destiny Rose (GMA-7) - 11.8%
Kapamilya Deal or No Deal (ABS-CBN) - 11.4%
PRIMETIME:
FPJ's Ang Probinsyano (ABS-CBN) - 40.9%
Pangako Sa 'Yo (ABS-CBN) - 29.6%
TV Patrol (ABS-CBN) - 28.5%
Pasion de Amor (ABS-CBN) - 20.3%
On the Wings of Love (ABS-CBN) - 19%
Because of You (GMA-7) - 16.8%
Little Nanay (GMA-7) - 16.3%
24 Oras (GMA-7) - 15.7%
Temptation (GMA-7) - 13.2%
Bubble Gang (GMA-7) - 9.9%
Source: Kantar/TNS