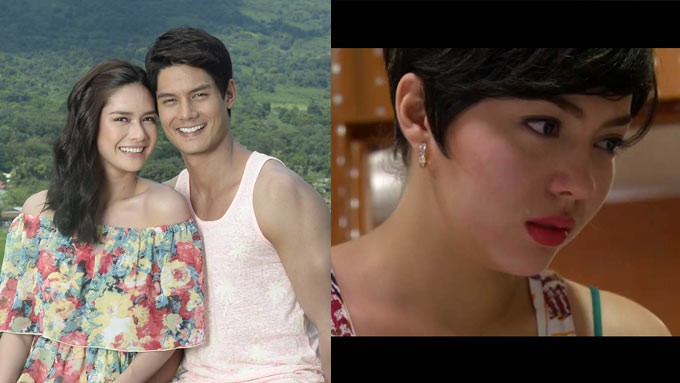 ---

Here are the highlights of the comparative ratings of GMA-7, ABS-CBN and TV5 programs from February 11-20, 2016, according to Kantar Media/TNS survey among nationwide households.
There were several pilots and finales that happened during this ratings period.
ABS-CBN's hit primetime series Pangako Sa 'Yo aired its finale episode on February 12. The heavy drama that starred Kathryn Bernardo, Daniel Padilla, Jodi Sta. Maria, Ian Veneracion, and Angelica Panganiban ran for 190 episodes.
Pangako Sa 'Yo's final episode got 44.5%, massively defeating its rival show on GMA-7. That's My Amboy only received a TV rating of 16.1% nationwide.
That's My Amboy is a romantic comedy series in GMA-7. It features Andre Paras and Barbie Forteza.
There were four shows that aired pilot episodes during this ratings period. Two were from ABS-CBN.
The first one was I Love OPM, a singing competition for foreigners. The Kapamilya reality series started on February 13, getting an initial rating of 24.8%. It was double the national TV rating of Celebrity Bluff's 11.1%.
The second Kapamilya show was Dolce Amore, the replacement for Pangako Sa 'Yo. Dolce Amore, which stars Liza Soberano and Enrique Gil, aired its first episode on February 15.
The first episode got 35.6%, twice the nationwide TV rating registered by That's My Amboy: 15.8%.
Bakit Manipis Ang Ulap? aired its pilot episode on TV5 on February 15. The rating of the heavy drama's first episode was 1.5%, against Dolce Amore and That's My Amboy.
Bakit Manipis Ang Ulap? marks the return of Claudine Barretto on primetime. The Kapatid drama also stars Diether Ocampo, Cesar Montano, and Meg Imperial.
ADVERTISEMENT - CONTINUE READING BELOW
The last show that premiered was Dear Uge, a weekly anthology comedy-drama presented by Eugene Domingo.
The pilot episode, which featured Tom Rodriguez as a blind masseur, got a 13.1% score. It was lower than Banana Sundae's 14.5%.
ABS-CBN continued to dominate nationwide ratings during this given period. It's Showtime is still the No. 1 daytime show during weekdays, edging out Eat Bulaga, which is usually in the No. 3 or No. 4 slot among the most-watched daytime programs.  

It is interesting to note that during this period, Be My Lady and Doble Kara have ranked higher than Eat Bulaga in daytime. The two Kapamilya shows occupy either the No. 2 or No. 3 slot during weekdays.

However, Be My Lady emerged as the No. 1 most-watched daytime program last February 12 with its rating of 19.1%.

The teleserye of Daniel Matsunaga and Erich Gonzales is pitted against the Kapuso show The Ryzza Mae Show Presents: Princess in the Palace.

Meanwhile, Doble Kara, topbilled by Julia Montes, has Wish I May as its counterpart.
Leading the charge on weekday primetime is the police-themed show, FPJ's Ang Probinsyano.

Starring Coco Martin, Ang Probinsyano has consistently been getting national TV ratings of over 40%. It usually gets more than the double the rating of its rival show, Little Nanay, which topbilled Kris Bernal and Nora Aunor.

The Kapamilya channel also had the number one shows on the weekends: TV Patrol Weekend, ASAP 20, Pilipinas Got Talent and Maalaala Mo Kaya (MMK).
Here are comparative ratings of GMA-7, ABS-CBN and TV5 programs from February 11-20, 2016, according to Kantar Media/TNS survey of nationwide households.
ADVERTISEMENT - CONTINUE READING BELOW
--
February 11, 2016 (Thursday)
Morning:
O Shopping (ABS-CBN) .7%; Born to be Wild Replay (GMA-7) .7%
Umagang Kay Ganda (ABS-CBN) 4.3%; Unang Hirit (GMA-7) 3.6%  
Kris TV (ABS-CBN) 5.4%; Doraemon (GMA-7) 7.2%; Pokemon Black and White (GMA-7) 9.5%; Ring ni Kakero (GMA-7) 9.4%
Mr. Bean (ABS-CBN) 6.3%; Detective Conan (GMA-7) 9.3%
Kapamilya Blockbusters: Barangay Edition (ABS-CBN) 11.7%; Dragon Ball Z (GMA-7) 9.2%; You're the Best (GMA-7) 7.2%; Ice Adonis (GMA-7) 8.4%; Carmina (GMA-7) 7.4%
Be My Lady (ABS-CBN) 19%; The Ryzza Mae Show Presents: Princess in the Palace (GMA-7) 8.5%
Afternoon:
It's Showtime (ABS-CBN) 20.1%; Eat Bulaga! (GMA-7) 15.1%
Doble Kara (ABS-CBN) 16.2%; Wish I May (GMA-7) 13.1%
Tubig at Langis (ABS-CBN) 12.6%; Buena Familia (GMA-7) 12.7%
And I Love You So (ABS-CBN)13%; Destiny Rose (GMA-7) 10.1%
Kapamilya Deal or No Deal (ABS-CBN) 12.7%; Reporter's Notebook (GMA-7) 8.4%
Evening:
Pasion de Amor (ABS-CBN) 19.2%; Wowowin (GMA-7) 15.1%
TV Patrol (ABS-CBN) 31.4%; 24 Oras (GMA-7) 20.9%; Aksyon (TV5) 2.7%
FPJ's Ang Probinsyano (ABS-CBN) 45.4%; Little Nanay (GMA-7) 18.9%; Movie Max 5 (TV5) 3.6%
Pangako Sa 'Yo (ABS-CBN) 42%; That's My Amboy (GMA-7) 16.7%
On the Wings of Love (ABS-CBN) 22.7%; Because of You (GMA-7) 15.7%; The Accidental Couple (TV5) 1.5%
You're My Home (ABS-CBN) 9.9%; Temptation (GMA-7) 9.2%; Amachan (TV5) .8%
Tonight with Boy Abunda (ABS-CBN) 5.1%; Saksi (GMA-7) 4.9%; Aksyon Tonite (TV5) .7%; Reaksyon (TV5) .2%
Bandila (ABS-CBN) 2.6%; Big History (GMA-7) 2.7%; Kaya. (TV5) .1%
Sports U (ABS-CBN) 1.5%; The 700 Club Asia (GMA-7) 1.1%
O Shopping (ABS-CBN) .7%; Shop TV (GMA-7) .2%; Shop Japan (TV5) .1%
--
February 12, 2016 (Friday)
Morning:
O Shopping (ABS-CBN) .4%; Alisto! Replay (GMA-7) .9%
Umagang Kay Ganda (ABS-CBN) 4%; Unang Hirit (GMA-7) 3.8%  
Kris TV (ABS-CBN) 5.3%; Doraemon (GMA-7) 7.2%; Pokemon Black and White (GMA-7) 8.8%; Ring ni Kakero (GMA-7) 8.8%
Mr. Bean (ABS-CBN) 5%; Dragon Ball Z (GMA-7) 10.4%
Kapamilya Blockbusters (ABS-CBN) 11.3%; You're the Best (GMA-7) 7.7%; Ice Adonis (GMA-7) 8.4%; Carmina (GMA-7) 7.7%
ADVERTISEMENT - CONTINUE READING BELOW
Be My Lady (ABS-CBN) 19.1%; The Ryzza Mae Show Presents: Princess in the Palace (GMA-7) 9.1%
Afternoon:
It's Showtime (ABS-CBN) 18.7%; Eat Bulaga! (GMA-7) 14.3%
Doble Kara (ABS-CBN) 17%; Wish I May (GMA-7) 12.1%
Tubig at Langis (ABS-CBN) 12.7%; Buena Familia (GMA-7) 12.7%
And I Love You So (ABS-CBN) 11.3%; Destiny Rose (GMA-7) 10.6%
Kapamilya Deal or No Deal (ABS-CBN) 9.9%; Love Hotline (GMA-7) 10%
Evening:
Pasion de Amor (ABS-CBN) 16.9%; Wowowin (GMA-7) 15.9%
TV Patrol (ABS-CBN) 28.9%; 24 Oras (GMA-7) 18.7%; Aksyon (TV5) 3.4%
FPJ's Ang Probinsyano (ABS-CBN) 43.5%; Little Nanay (GMA-7) 18.2%; 2016 Oppo PBA Commissioner's Cup Live (TV5) 5.8%
Pangako Sa 'Yo (ABS-CBN) 44.5%; That's My Amboy (GMA-7) 16.1%
On the Wings of Love (ABS-CBN) 21.6%; Because of You (GMA-7) 14.9%
You're My Home (ABS-CBN) 8.9%; Bubble Gang (GMA-7) 10.2%; The Accidental Couple (TV5) 1.9%; Amachan (TV5) .7%
Tonight with Boy Abunda (ABS-CBN) 4.1%; Saksi (GMA-7) 4.8%; Aksyon Tonite (TV5) .6%
Bandila (ABS-CBN) 2.1%; The 700 Club Asia (GMA-7) 2.2%; Reaksyon (TV5) .2%
TNT (ABS-CBN) 1.1%; O Shopping (ABS-CBN) .6%; Shop TV (GMA-7) .5%; Shop Japan (TV5) 0%
--
February 13, 2016 (Saturday)
O Shopping (ABS-CBN) .5%; PJM Forum (GMA-7) .3%; Adyenda (GMA-7) .5%
Sa Kabukiran (ABS-CBN) 1.4%; Kapwa Ko Mahal Ko (GMA-7) 1.3%
Salamat Dok (ABS-CBN) 2.8%; Pinoy MD (GMA-7) 4%
Swak na Swak (ABS-CBN) 3.7%; The Smurfs (GMA-7) 8.1%
Angel Wings (ABS-CBN) 3.3%; Hayate the Combat Butler (GMA-7) 10.7%
Why Not? (ABS-CBN) 3.2%; Pac-Man and the Ghostly Adventures (GMA-7) 12.6%
Kapamilya Blockbusters (ABS-CBN) 6.6%; Angry Birds Toons (GMA-7) 13.4%; Cross Fight B-Daman (GMA-7) 11.2%; Magic Kaito (GMA-7) 9.9%; Maynila (GMA-7) 8.6%
NBA All-Star Toronto 2016 BBVA Compass Rising Stars Challenge (ABS-CBN) 9.6%; Sarap Diva (GMA-7) 9.7%
Afternoon:
It's Showtime (ABS-CBN) 19%; Eat Bulaga! (GMA-7) 18.6%
Ipaglaban Mo (ABS-CBN) 19%; Karelasyon (GMA-7) 13.6%
SOCO (ABS-CBN) 17.2%; Wish Ko Lang! (GMA-7) 11.2%
Celebrity Playtime (ABS-CBN) 13.3%; Celebri TV (GMA-7) 8.1%
Mga Kwento ni Marc Logan (ABS-CBN) 14.7%; Imbestigador (GMA-7) 11%
ADVERTISEMENT - CONTINUE READING BELOW
TV Patrol Weekend (ABS-CBN) 21.8%; 24 Oras Weekend (GMA-7) 16.8%; 2016 Oppo PBA Commissioner's Cup Live (TV5) 5.5%
Evening:
Home Sweetie Home (ABS-CBN) 27.4%; Pepito Manaloto: Ang Tunay na Kuwento (GMA-7) 21.1%
Pilipinas Got Talent (GMA-7) 36%; MMK: Ang Tahanan Mo (ABS-CBN) 35.4%; Magpakailanman (GMA-7) 22%; Born to be a Star (TV5) 2.5%; Tasya Fantasya (TV5) 1.5%
I Love OPM (ABS-CBN) 24.8%; Celebrity Bluff (GMA-7) 11.1%; Wattpad Presents (TV5) .9%
Failon Ngayon (ABS-CBN) 6.1%; i-Witness (GMA-7) 6.1%; MTV Top 20 Pilipinas (TV5) .4%
The Bottom Line (ABS-CBN) 2.3%; Kapuso Movie Night (GMA-7) 4.6%; Shop Japan (TV5) 0%
O Shopping (ABS-CBN) .8%; Walang Tulugan with Master Showman (GMA-7) 1.7%
--
February 14, 2016 (Sunday)
Morning:
O Shopping (ABS-CBN) .8%; Jesus The Healer (GMA-7) .7%
The Healing Eucharist (ABS-CBN) 4.4%; Kapuso Sine Klasika (GMA-7) 1.7%; Grimm's Fairy Tales (GMA-7) 5.6%
Swak Na Swak (ABS-CBN) 4.3%; Hayate the Combat Butler (GMA-7) 8.8%
Salamat Dok (ABS-CBN) 4.1%; Larva (GMA-7) 12%; Aha (TV5) 11.1%
Spongebob Squarepants (ABS-CBN) 7.5%; Teenage Mutant Ninja Turtles (ABS-CBN) 6.8%; Born To Be Wild (GMA-7) 10.2%
Superbook (ABS-CBN) 8.6%; iBilib (GMA-7) 9.7%
Matanglawin (ABS-CBN) 10.2%; Kapamilya Kiddie Blockbusters (ABS-CBN) 13.8%; Kapuso Movie Festival (GMA-7) 12.3%
Afternoon:
ASAP 20 (ABS-CBN) 15.6%; Sunday Pinasaya (GMA-7) 15.4%
Banana Sundae (ABS-CBN) 14.5%; Dear Uge (GMA-7) 13.1%
Kapamilya Mega Blockbusters (ABS-CBN) 13.4%; GMA Blockbusters (GMA-7) 12.4%
Celebrity Playtime (GMA-7) 13%; Juan Tamad (GMA-7) 9.5%
TV Patrol Weekend (GMA-7) 15.2%; 24 Oras Weekend (GMA-7) 10.7%; 2016 Oppo PBA Commissioner's Cup Live (TV5) 6.8%
Evening:
Goin' Bulilit (ABS-CBN) 23.5%; Vampire Ang Daddy Ko (GMA-7) 13.8%
Wansapanataym (ABS-CBN) 31.4%; Pilipinas Got Talent (ABS-CBN) 37.8%; Ismol Family (GMA-7) 16.2%; Born to be a Star (TV5) 2.7%
Rated K: Handa Na Ba Kayo? (ABS-CBN) 26.1%; Kapuso Mo, Jessica Soho (GMA-7) 17.4%; Parangnormal Activity (TV5) 2%; Barangay Utakan (TV5) .9%
I Love OPM (ABS-CBN) 20%; Gandang Gabi Vice (ABS-CBN) 11.4%; SNBO (GMA-7) 6.1%; Sports 360 (TV5) .4%; Countdown to Rio (TV5) .2%; History with Lourd (TV5) .1%
ADVERTISEMENT - CONTINUE READING BELOW
Sunday's Best (ABS-CBN) 2.6%; O Shopping (ABS-CBN) .6%; Diyos at Bayan (GMA-7) 1%; Shop Japan (TV5) .1%
--
February 15, 2016 (Monday)
Morning:
O Shopping (ABS-CBN) .4%; Powerhouse Replay (GMA-7) .9%
Umagang Kay Ganda (ABS-CBN) 4.4%; Unang Hirit (GMA-7) 4.1%  
Kris TV (ABS-CBN) 4.6%; Ring ni Kakero 1 (GMA-7) 5.9%; Pokemon Black and White (GMA-7) 7.3%; Dragon Ball Z (GMA-7) 8.7%
Mr Bean (ABS-CBN) 5.1%; Kapuso Movie Festival (GMA-7) 9.6%
Kapamilya Blockbusters: Crazy Beautiful You (GMA-7) 11.4%; You're the Best (GMA-7) 7.5%; Carmina (GMA-7) 6.8%
Be My Lady (ABS-CBN) 17.5%; The Ryzza Mae Show Presents Princess in the Palace (GMA-7) 8.1%
Afternoon:
It's Showtime (ABS-CBN) 18.2%; Eat Bulaga! (GMA-7) 15.2%
Doble Kara (ABS-CBN) 16.5%; Wish I May (GMA-7) 11.9%
Tubig at Langis (ABS-CBN) 12.6%; Buena Familia (GMA-7) 11.6%
And I Love You So (ABS-CBN) 11.9%; Destiny Rose (GMA-7) 10.7%
Evening:
Kapamilya Deal or No Deal (ABS-CBN) 11.1%; Pasion de Amor (ABS-CBN) 18.1%; Wowowin (GMA-7) 14.6%
TV Patrol (ABS-CBN) 31.4%; 24 Oras (GMA-7) 19.6%; Aksyon (TV5) 3.2%
FPJ's Ang Probinsyano (ABS-CBN) 44.7%; Little Nanay (GMA-7) 18.2%; Movie Max 5 (TV5) 2.4%
Dolce Amore (ABS-CBN) 35.6%; That's My Amboy (GMA-7) 15.8%; Because of You (GMA-7) 13.6%; Bakit Manipis ang Ulap (TV5) 1.5%; The Accidental Couple (TV5) 1.1%
On the Wings of Love (ABS-CBN) 18%; You're My Home (ABS-CBN) 8%; Temptation (GMA-7) 8.8%; Amachan (TV5) .6%; Aksyon Tonite (TV5) .5%
Tonight with Boy Abunda (ABS-CBN) 3.6%; Saksi (GMA-7) 5.1%; Reaksyon (TV5) .2%
Bandila (ABS-CBN) 2%; Front Row (GMA-7) 3.2%; The 700 Club Asia (ABS-CBN) 1.5%
Mission Possible (ABS-CBN) 1.3%; O Shopping (ABS-CBN) .4%; Shop TV (TV5) .4%; Shop Japan (TV5) .1%
--
February 16, 2016 (Tuesday)
Morning:
O Shopping (ABS-CBN) .4%; i-Witness Replay (GMA-7) .6%
Umagang Kay Ganda (ABS-CBN) 3.9%; Unang Hirit (GMA-7) 3.1%  
Kris TV (ABS-CBN) 4.7%; Ring ni Kakero (GMA-7) 5%; Pokemon Black and White (GMA-7) 6.4%; Dragon Ball Z (GMA-7) 8.9%
Mr. Bean (ABS-CBN) 5.4%; Kapuso Movie Festival: Lastikman (GMA-7) 10.5%
ADVERTISEMENT - CONTINUE READING BELOW
Kapamilya Blockbusters: Starting Over Again (ABS-CBN) 9.6%; You're the Best (GMA-7) 8.1%; Carmina (GMA-7) 7.5%
Be My Lady (ABS-CBN) 18.1%; The Ryzza Mae Show Presents Princess in the Palace (GMA-7) 8%
Afternoon:
It's Showtime (ABS-CBN) 18.5%; Eat Bulaga! (GMA-7) 13.9%
Doble Kara (ABS-CBN) 16.4%; Wish I May (GMA-7) 11.9%
Tubig at Langis (ABS-CBN) 12.8%; Buena Familia (GMA-7) 11.1%
And I Love You So (ABS-CBN) 12%; Destiny Rose (GMA-7) 10.8%
Evening:
Kapamilya Deal or No Deal (ABS-CBN) 12%; Pasion de Amor (ABS-CBN) 18.2%; Wowowin (GMA-7) 16%
TV Patrol (ABS-CBN) 29.7%; 24 Oras (GMA-7) 20%; Aksyon (TV5) 2.5%; Born to be a Star (TV5) 2.3%
FPJ's Ang Probinsyano (ABS-CBN) 43%; Little Nanay (GMA-7) 18.2%; Bakit Manipis ang Ulap? (TV5) 1.5%
Dolce Amore (ABS-CBN) 36%; That's My Amboy (GMA-7) 16.3%; Bakit Manipis ang Ulap? (TV5) 1.4%
On the Wings of Love (ABS-CBN) 21.9%; Because of You (TV5) 14.6%; The Accidental Couple (TV5) 1.3%; Amachan (TV5) .6%
You're My Home (GMA-7) 9.3%; Temptation (GMA-7) 9%; Aksyon Tonite (TV5) .7%
Tonight with Boy Abunda (ABS-CBN) 5.2%; Saksi (GMA-7) 4.5%; Reaksyon (TV5) .3%
Bandila (ABS-CBN) 3.4%; Alisto! (GMA-7) 2.7%; History with Lourd (TV5) .3%
My Puhunan (ABS-CBN) 2.1%; The 700 Club Asia (GMA-7) 1.3%; Shop Japan (TV5) 0%
O Shopping (ABS-CBN) .7%; Shop TV (GMA-7) .4%
--
February 17, 2016 (Wednesday)
Morning:
O Shopping (ABS-CBN) .5%; Tunay na Buhay Replay (GMA-7) .6%
Umagang Kay Ganda (ABS-CBN) 4.6%; Unang Hirit (GMA-7) 3.9% 
Kris TV (ABS-CBN) 5%; Ring ni Kakero (GMA-7) 6%; Pokemon Black and White (GMA-7) 8.4%; Dragon Ball Z (GMA-7) 9.8%
Mr. Bean (ABS-CBN) 5.7%; Kapuso Movie Festival: My Best Friend's Girlfriend (GMA-7) 9.1%
Kapamilya Blockbusters: Unofficially Yours (ABS-CBN) 10%; You're the Best (GMA-7) 8%; Carmina (GMA-7) 8.3%
Be My Lady (ABS-CBN) 17.6%; The Ryzza Mae Show Presents: Princess in the Palace (GMA-7) 8.8%
Afternoon:
It's Showtime (ABS-CBN) 17.8%; Eat Bulaga! (GMA-7) 15%
Doble Kara (ABS-CBN) 16.2%; Wish I May (GMA-7) 11.8%
ADVERTISEMENT - CONTINUE READING BELOW
Tubig at Langis (ABS-CBN) 12.5%; Buena Familia (GMA-7) 11%
And I Love You So (ABS-CBN) 12%; Destiny Rose (GMA-7) 10.9%
Evening:
Kapamilya Deal or No Deal (ABS-CBN) 10.9%; Pasion de Amor (ABS-CBN) 17.4%; Wowowin (GMA-7) 15.3%
TV Patrol (ABS-CBN) 28.9%; 24 Oras (GMA-7) 19.4%; Aksyon (TV5) 3.2%; 2016  Oppo PBA Commissioner's Cup Live (TV5) 5.7%
FPJ's Ang Probinsyano (ABS-CBN) 42%; Little Nanay (GMA-7) 18.6%
Dolce Amore (ABS-CBN) 34.9%; That's My Amboy (GMA-7) 16.4%
On the Wings of Love (ABS-CBN) 22.4%; Because of You (TV5) 14.9%; Bakit Manipis ang Ulap? (TV5) 2.4%; The Accidental Couple (TV5) 1.3%
You're My Home (GMA-7) 9.9%; Temptation (TV5) 9.6%; Amachan (TV5) .4%; Aksyon Tonite (TV5) .7%
Tonight with Boy Abunda (ABS-CBN) 5%; Saksi (GMA-7) 5.2%
Bandila (ABS-CBN) 2.7%; Tunay na Buhay (GMA-7) 3.2%; Reaksyon (TV5) .3%; Bilang Pilipino 2016 (TV5) .1%
Red Alert (ABS-CBN) 1.9%; The 700 Club Asia (GMA-7) 1.5%; Shop Japan (TV5) 0%
O Shopping (ABS-CBN) .6%; Shop TV (GMA-7) .6%
--
February 18, 2016 (Thursday)
Morning:
O Shopping (ABS-CBN) .4%; Shop TV (GMA-7) .1%
O Shopping (ABS-CBN) .4%; Born to be Wild Replay (GMA-7) .5%
Umagang Kay Ganda (ABS-CBN) 4.2%; Unang Hirit (GMA-7) 3.9%  
Kris TV (ABS-CBN) 4.8%; Ring ni Kakero (GMA-7) 6.9%; Pokemon Black and White (GMA-7) 8.5%; Dragon Ball Z (GMA-7) 9.8%
Mr. Bean (ABS-CBN) 6.4%; Kapuso Movie Festival: Just One Summer (GMA-7) 8.5%
Kapamilya Blockbusters: Dalaw (ABS-CBN) 10%; You're the Best (GMA-7) 7.6%; Carmina (GMA-7) 7.6%
Be My Lady (ABS-CBN) 16.2%; The Ryzza Mae Show Presents: Princess in the Palace (GMA-7) 9%
Afternoon:
It's Showtime (ABS-CBN) 18.3%; Eat Bulaga! (GMA-7) 14.7%
Doble Kara (ABS-CBN) 16.6%; Wish I May (GMA-7) 11.7%
Tubig at Langis (ABS-CBN) 12.9%; Buena Familia (GMA-7) 11.4%
And I Love You So (ABS-CBN) 12.1%; Destiny Rose (GMA-7) 11.5%
Evening:
Kapamilya Deal or No Deal (ABS-CBN) 10.6%; Pasion de Amor (ABS-CBN) 16.8%; Wowowin (GMA-7) 15.7%
TV Patrol (ABS-CBN) 28.5%; 24 Oras (GMA-7) 19%; Aksyon (TV5) 2.5%; Bakit Manipis ang Ulap? (TV5) 1.9%
ADVERTISEMENT - CONTINUE READING BELOW
FPJ's Ang Probinsyano (ABS-CBN) 43.5%; Little Nanay (GMA-7) 18.2%; Bakit Manipis ang Ulap? (TV5) 1.6%
Dolce Amore (ABS-CBN) 36.1%; That's My Amboy (GMA-7) 16.6%; Bakit Manipis ang Ulap? (TV5) 1.5%
On the Wings of Love (ABS-CBN) 21.2%; Because of You (GMA-7) 15.4%; Bakit Manipis ang Ulap? (TV5) 2%; The Accidental Couple (TV5) 1.4%
You're My Home (ABS-CBN) 9.8%; Temptation (GMA-7) 8.8%; Amachan (TV5) .6%; Aksyon Tonite (TV5) 1.2%
Tonight with Boy Abunda (ABS-CBN) 4.8%; Saksi (GMA-7) 4.7%; Reaksyon (TV5) 1.1%
Bandila (ABS-CBN) 2.6%; Reporter's Notebook (GMA-7) 2.7%; Kaya. (TV5) .3%
Sports U (ABS-CBN) 1.4%; The 700 Club Asia (GMA-7) 1.1%; Shop Japan (TV5) .1%
O Shopping (ABS-CBN) .5%; Shop TV (GMA-7) .3%
--
February 19, 2016 (Friday)
Morning:
O Shopping (ABS-CBN) .4%; Alisto! Replay (GMA-7) .7%
Umagang Kay Ganda (ABS-CBN) 4.1%; Unang Hirit (GMA-7) 3.5%  
Kris TV (ABS-CBN) 4.5%; Ring ni Kakero (GMA-7) 6.8%; Pokemon Black and White (GMA-7) 8.7%; Dragon Ball Z (GMA-7) 10.7%
Mr. Bean (ABS-CBN) 5.4%; Kapuso Movie Festival (GMA-7) 10%
Kapamilya Blockbusters (ABS-CBN) 7.8%; Dream Home (GMA-7) 9.5%; Love Hotline (GMA-7) 9%
Be My Lady (ABS-CBN) 16.5%; The Ryzza Mae Show Presents: Princess in the Palace (GMA-7) 8.7%
Afternoon:
It's Showtime (ABS-CBN) 18%; Eat Bulaga! (GMA-7) 14.4%
Doble Kara (ABS-CBN) 17.4%; Wish I May (GMA-7) 11.5%
Tubig at Langis (ABS-CBN) 13.3%; Buena Familia (GMA-7) 11.2%
And I Love You So (ABS-CBN) 12.4%; Destiny Rose (GMA-7) 11.5%
Evening:
Kapamilya Deal or No Deal (ABS-CBN) 11.7%; Pasion de Amor (ABS-CBN) 17.1%; Wowowin (GMA-7) 15.1%
TV Patrol (ABS-CBN) 28.9%; 24 Oras (GMA-7) 18%; Aksyon (TV5) 3.2%
FPJ's Ang Probinsyano (ABS-CBN) 41.9%; Little Nanay (GMA-7) 17.6%; 2016 Oppo PBA Commissioner's Cup Live (TV5) 5.3%
Dolce Amore (ABS-CBN) 33.4%; That's My Amboy (GMA-7) 16.9%
On the Wings of Love (ABS-CBN) 21.4%; Because of You (GMA-7) 14.6%; The Accidental Couple (TV5) 1.4%
You're My Home (ABS-CBN) 9.6%; Tonight with Boy Abunda (ABS-CBN) 4%; Bubble Gang (GMA-7) 9.2%; Amachan (TV5) .5%; Aksyon Tonite (TV5) .4%; Reaksyon (TV5) .4%
ADVERTISEMENT - CONTINUE READING BELOW
Bandila (ABS-CBN) 2.3%; Saksi (GMA-7) 4.2%; Bilang Pilipino (TV5) .1%
TNT (ABS-CBN) 1.7%; The 700 Club Asia (GMA-7) 1.6%; Shop Japan (TV5) .1%
O Shopping (ABS-CBN) .5%; Shop TV (GMA-7) .3%
--
February 20, 2016 (Saturday)
O Shopping (ABS-CBN) .5%; Adyenda (GMA-7) .4%
Sa Kabukiran (ABS-CBN) 1%; Kapwa Ko Mahal Ko (GMA-7) .8%
Salamat Dok (ABS-CBN) 2.5%; Pinoy MD (GMA-7) 3.5%
Swak na Swak (ABS-CBN) 2.7%; The Smurfs (GMA-7) 9.5%
Angel Wings (ABS-CBN) 2.7%; Hayate the Combat Butler (GMA-7) 12%
Why Not? (ABS-CBN) 2.9%; Pac-Man and the Ghostly Adventures (GMA-7) 14.2%
2015-2016 NBA Regular Season Live (ABS-CBN) 5.2%; Angry Birds Toons (GMA-7) 13.5%; Cross Fight B-Daman (GMA-7) 11.1%; Magic Knight Rayearth (GMA-7) 10.3%; Maynila (GMA-7) 9.4%
Kapamilya Blockbusters (ABS-CBN) 12.1%; Sarap Diva (GMA-7) 8.6%
Afternoon:
It's Showtime (ABS-CBN) 17.7%; Eat Bulaga! (GMA-7) 16.9%
Ipaglaban Mo (ABS-CBN) 19%; Karelasyon (GMA-7) 12.3%
SOCO (ABS-CBN) 17%; Wish Ko Lang! (GMA-7) 9.7%
Celebrity Playtime (ABS-CBN) 13.1%; Celebri TV (GMA-7) 7.3%
Mga Kwento ni Marc Logan (ABS-CBN) 12.7%; Imbestigador (GMA-7) 11.2%
TV Patrol Weekend (ABS-CBN) 15.8%; 24 Oras Weekend (GMA-7) 17.2%; 2016 Oppo PBA Commissioner's Cup Live (TV5) 5.3%
Evening:
Pilipinas Got Talent (GMA-7) 31.6%; Home Sweetie Home (ABS-CBN) 22.8%; Pepito Manaloto: Ang Tunay na Kuwento (GMA-7) 22.7%; Born to be a Star (TV5) 2.4%
MMK: Ang Tahanan Mo (ABS-CBN) 34.2%; Magpakailanman (GMA-7) 20.9%; Tasya Fantasya (TV5) 1.4%
I Love OPM (ABS-CBN) 23.8%; Celebrity Bluff (GMA-7) 11.8%; Wattpad Presents (TV5) 1.4%
Failon Ngayon (ABS-CBN) 9.1%; i-Witness (GMA-7) 8.4%; MTV Top 20 Pilipinas (TV5) .4%
The Bottom Line (ABS-CBN) 3.2%; O Shopping (ABS-CBN) .6%; Midnight Horror Stories (TV5) 3.4%; Shop Japan (TV5) .2%
--


Here are the Top 10 daytime and primetime programs from February 11-20, 2016 among Total Philippines (Urban & Rural) households:
February 11, 2016 (Thursday)
DAYTIME:
It's Showtime (ABS-CBN) - 20.1%
Be My Lady (ABS-CBN) - 19%
Doble Kara (ABS-CBN) - 16.2%
Eat Bulaga! (GMA-7) - 15.1%
Wish I May (GMA-7) - 13.1%
And I Love You So (ABS-CBN) - 13%
Kapamilya Deal or No Deal (ABS-CBN) / Buena Familia (GMA-7) - 12.7%
Tubig at Langis (ABS-CBN) - 12.6%
Kapamilya Blockbusters (ABS-CBN) - 11.7%
Destiny Rose (GMA-7) - 10.1%
PRIMETIME:
FPJ's Ang Probinsyano (ABS-CBN) - 45.4%
Pangako Sa 'Yo (ABS-CBN) - 42%
TV Patrol (ABS-CBN) - 31.4%
On the Wings of Love (ABS-CBN) – 22.7%
24 Oras (GMA-7) - 20.9%
Pasion de Amor (ABS-CBN) - 19.2%
Little Nanay (GMA-7) - 18.9%
That's My Amboy (GMA-7) - 16.7%
Because of You (GMA-7) - 15.7%
Wowowin (GMA-7) - 15.1%
February 12, 2016 (Friday)
DAYTIME:
Be My Lady (ABS-CBN) - 19.1%
It's Showtime (ABS-CBN) - 18.7%
Doble Kara (ABS-CBN) - 17%
Eat Bulaga! (GMA-7) - 14.3%
Tubig at Langis (ABS-CBN) / Buena Familia (GMA-7) - 12.7%
Wish I May (GMA-7) - 12.1%
Kapamilya Blockbusters (ABS-CBN) / And I Love You So (ABS-CBN) - 11.3%
Destiny Rose (GMA-7) - 10.6%
Dragon Ball Z (GMA-7) - 10.4%
Love Hotline (GMA-7) - 10%
PRIMETIME:
Pangako Sa 'Yo (ABS-CBN) - 44.5%
FPJ's Ang Probinsyano (ABS-CBN) - 43.5%
TV Patrol (ABS-CBN) - 28.9%
On the Wings of Love (ABS-CBN) - 21.6%
24 Oras (GMA-7) - 18.7%
Little Nanay (GMA-7) - 18.2%
Pasion de Amor (ABS-CBN) - 16.9%
That's My Amboy (GMA-7) - 16.1%
Wowowin (GMA-7) - 15.9%
Because of You (GMA-7) - 14.9%
February 13, 2016 (Saturday)
DAYTIME:
TV Patrol Weekend (ABS-CBN) - 21.8%
It's Showtime (ABS-CBN) / Ipaglaban Mo (ABS-CBN) - 19%
Eat Bulaga! (GMA-7) - 18.6%
SOCO (ABS-CBN) - 17.2%
24 Oras Weekend (GMA-7) - 16.8%
Mga Kwento ni Marc Logan (ABS-CBN) - 14.7%
Karelasyon (GMA-7) - 13.6%
Angry Birds Toons (GMA-7) - 13.4%
Celebrity Playtime (ABS-CBN) - 13.3%
Pac-Man and the Ghostly Adventures (GMA-7) - 12.6%
PRIMETIME:
Pilipinas Got Talent (ABS-CBN) – 36%
MMK: Ang Tahanan Mo (ABS-CBN) - 35.4%
Home Sweetie Home (ABS-CBN) - 27.4%
I Love OPM (ABS-CBN) - 24.8%
Magpakailanman (GMA-7) – 22%
Pepito Manaloto: Ang Tunay na Kuwento (GMA-7) – 21.1%
Celebrity Bluff (GMA-7) – 11.1%
Failon Ngayon (TV5) / i-Witness (GMA-7) – 6.1%
2016 Oppo PBA Commissioner's Cup Live (TV5) - 5.5%
Born to be a Star (TV5) – 2.5%
February 14, 2016 (Sunday)
DAYTIME:
ASAP 20 (ABS-CBN) - 15.6%
Sunday Pinasaya (GMA-7) - 15.4%
TV Patrol Weekend (ABS-CBN) - 15.2%
Banana Sundae (ABS-CBN) - 14.5%
Kapamilya Kiddie Blockbusters (ABS-CBN) - 13.8%
Kapamilya Mega Blockbusters (ABS-CBN) - 13.4%
Dear Uge (GMA-7) - 13.1%
Celebrity Playtime (GMA-7) - 13%
GMA Blockbusters (GMA-7) - 12.4%
Kapuso Movie Festival (GMA-7) - 12.3%
PRIMETIME:
Pilipinas Got Talent (ABS-CBN) – 37.8%
Wansapanataym (ABS-CBN) – 31.4%
Rated K: Handa na ba Kayo? (ABS-CBN) – 26.1%
Goin' Bulilit (ABS-CBN) – 23.5%
I Love OPM (ABS-CBN) – 20%
Kapuso Mo, Jessica Soho (GMA-7) – 17.4%
Ismol Family (GMA-7) - 16.2%
Vampire Ang Daddy Ko (GMA-7) – 13.8%
Gandang Gabi Vice (ABS-CBN) - 11.4%
2016 Oppo PBA Commissioner's Cup Live (TV5) - 6.8%
February 15, 2016 (Monday)
DAYTIME:
It's Showtime (ABS-CBN) - 18.2%
Be My Lady (ABS-CBN) - 17.5%
Doble Kara (ABS-CBN) - 16.5%
Eat Bulaga! (GMA-7) - 15.2%
Tubig at Langis (ABS-CBN) - 12.6%
And I Love You So (ABS-CBN) / Wish I May (GMA-7) - 11.9%
Buena Familia (GMA-7) - 11.6%
Kapamilya Blockbusters (ABS-CBN) - 11.4%
Kapamilya Deal or No Deal (ABS-CBN) - 11.1%
Destiny Rose (GMA-7) – 10.7%
PRIMETIME:
FPJ's Ang Probinsyano (ABS-CBN) – 44.7%
Dolce Amore (ABS-CBN) – 35.6%
TV Patrol (ABS-CBN) – 31.4%
24 Oras (GMA-7) - 19.6%
Little Nanay (GMA-7) – 18.2%
Pasion de Amor (ABS-CBN) - 18.1%
On the Wings of Love (ABS-CBN) – 18%
That's My Amboy (GMA-7) - 15.8%
Wowowin (GMA-7) - 14.6%
Because of You (GMA-7) - 13.6%
February 16, 2016 (Tuesday)
DAYTIME:
It's Showtime (ABS-CBN) - 18.5%
Be My Lady (ABS-CBN) - 18.1%
Doble Kara (ABS-CBN) - 16.4%
Eat Bulaga! (GMA-7) - 13.9%
Tubig at Langis (ABS-CBN) - 12.8%
And I Love You So (ABS-CBN) / Kapamilya Deal or No Deal (ABS-CBN) - 12%
Wish I May (GMA-7) – 11.9%
Buena Familia (GMA-7) - 11.1%
Destiny Rose (GMA-7) - 10.8%
Kapuso Movie Festival (GMA-7) - 10.5%
PRIMETIME:
FPJ's Ang Probinsyano (ABS-CBN) - 43%
Dolce Amore (ABS-CBN) - 36%
TV Patrol (ABS-CBN) - 29.7%
On the Wings of Love (ABS-CBN) – 21.9%
24 Oras (GMA-7) - 20%
Pasion de Amor (ABS-CBN) / Little Nanay (GMA-7) - 18.2%
That's My Amboy (GMA-7) - 16.3%
Wowowin (GMA-7) - 16%
Because of You (GMA-7) - 14.6%
You're My Home (ABS-CBN) - 9.3%
February 17, 2016 (Wednesday)
DAYTIME:
ADVERTISEMENT - CONTINUE READING BELOW
It's Showtime (ABS-CBN) - 17.8%
Be My Lady (ABS-CBN) - 17.6%
Doble Kara (ABS-CBN) - 16.2%
Eat Bulaga! (GMA-7) - 15%
Tubig at Langis (ABS-CBN) - 12.5%
And I Love You So (ABS-CBN) - 12%
Wish I May (GMA-7) - 11.8%
Buena Familia (GMA-7) - 11%
Kapamilya Deal or No Deal (ABS-CBN)/ Destiny Rose (GMA-7) - 10.9%
Kapamilya Blockbusters (ABS-CBN) - 10%
PRIMETIME:
FPJ's Ang Probinsyano (ABS-CBN) - 42%
Dolce Amore (ABS-CBN) - 34.9%
TV Patrol (ABS-CBN) - 28.9%
On the Wings of Love (ABS-CBN) – 22.4%
24 Oras (GMA-7) - 19.4%
Little Nanay (GMA-7) - 18.6%
Pasion de Amor (ABS-CBN) - 17.4%
That's My Amboy (GMA-7) - 16.4%
Wowowin (GMA-7) – 15.3%
Because of You (GMA-7) - 14.9%
February 18, 2016 (Thursday)
DAYTIME:
It's Showtime (ABS-CBN)- 18.3%
Doble Kara (ABS-CBN) - 16.6%
Be My Lady (ABS-CBN) - 16.2%
Eat Bulaga! (GMA-7) - 14.7%
Tubig at Langis (ABS-CBN) - 12.9%
And I Love You So (ABS-CBN) - 12.1%
Wish I May (GMA-7) – 11.7%
Destiny Rose (GMA-7) - 11.5%
Buena Familia (GMA-7) - 11.4%
Kapamilya Deal or No Deal (ABS-CBN) - 10.6%
PRIMETIME:
FPJ's Ang Probinsyano (ABS-CBN) - 43.5%
Dolce Amore (ABS-CBN) - 36.1%
TV Patrol (ABS-CBN) - 28.5%
On the Wings of Love (ABS-CBN) – 21.2%
24 Oras (GMA-7) - 19%
Little Nanay (GMA-7) - 18.2%
Pasion de Amor (ABS-CBN) - 16.8%
That's My Amboy (GMA-7) - 16.6%
Wowowin (GMA-7) - 15.7%
Because of You (GMA-7) - 15.4%
February 19, 2016 (Friday)
DAYTIME:
It's Showtime (ABS-CBN) - 18%
Doble Kara (ABS-CBN) - 17.4%
Be My Lady (ABS-CBN) - 16.5%
Eat Bulaga! (GMA-7) - 4%
Tubig at Langis (ABS-CBN) - 13.3%
And I Love You So (ABS-CBN) - 12.4%
Kapamilya Deal or No Deal (ABS-CBN) - 11.7%
Wish I May (GMA-7) / Destiny Rose (GMA-7) - 11.5%
Buena Familia (GMA-7) - 11.2%
Dragon Ball Z (GMA-7) - 10.7%
PRIMETIME:
FPJ's Ang Probinsyano (ABS-CBN) - 41.9%
Dolce Amore (ABS-CBN) - 33.4%
TV Patrol (ABS-CBN) - 28.9%
On the Wings of Love (ABS-CBN) - 21.4%
24 Oras (GMA-7) - 18%
Little Nanay (GMA-7) - 17.6%
Pasion de Amor (ABS-CBN) - 17.1%
That's My Amboy (GMA-7) - 16.9%
Wowowin (GMA-7) - 15.1%
Because of You (GMA-7) - 14.6%
February 20, 2016 (Saturday)
DAYTIME:
Ipaglaban Mo (ABS-CBN) - 19%
It's Showtime (ABS-CBN) - 17.7%
24 Oras Weekend (GMA-7) - 17.2%
SOCO (ABS-CBN) - 17%
Eat Bulaga! (GMA-7) - 16.9%
TV Patrol Weekend (ABS-CBN) - 15.8%
Pac-Man and the Ghostly Adventures (GMA-7) - 14.2%
Angry Birds Toons (GMA-7) - 13.5%
Celebrity Playtime (ABS-CBN) - 13.1%
Mga Kwento ni Marc Logan (ABS-CBN) - 12.7%
PRIMETIME:
MMK: Ang Tahanan Mo (ABS-CBN) – 34.2%
Pilipinas Got Talent (ABS-CBN) – 31.6%
I Love OPM (ABS-CBN) - 23.8%
Home Sweetie Home (ABS-CBN) - 22.8%
Pepito Manaloto: Ang Tunay na Kuwento (GMA-7) – 22.7%
Magpakailanman (GMA-7) – 20.9%
Celebrity Bluff (GMA-7) – 11.8%
Failon Ngayon (ANS-CBN) - 9.1%
i-Witness (GMA-7) – 8.4%
2016 Oppo PBA Commissioner's Cup Live (TV5) - 5.3%


Source: Kantar Media/TNS