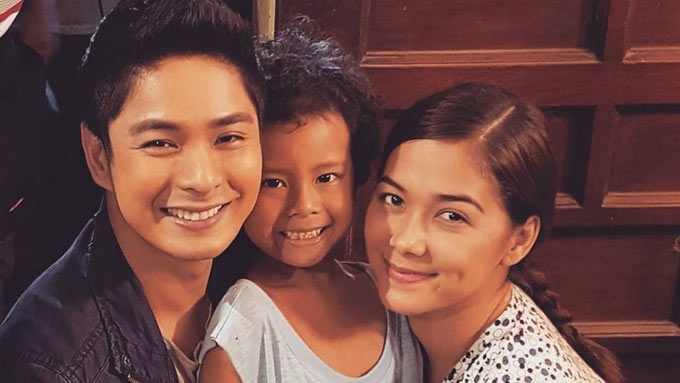 ---
Here are the highlights of the comparative ratings of GMA-7, ABS-CBN and TV5 programs from March 19-27, 2016, according to Kantar Media/TNS survey of nationwide households.
The Lenten season let GMA-7 top the ratings game for several days. This is in contrast to other non-Holy Week periods where ABS-CBN's shows have the highest ratings.
For instance, the Kapuso network had the number one shows on both daytime and primetime of March 24 and 25, Holy Thursday and Good Friday.
GMA-7 also won daytime of March 26, Black Saturday, while ABS-CBN had primetime.
The top-rater for March 24 daytime was the Mulawin the Movie, which aired on the Kapuso network  that afternoon. The 2005 film got 20.5%, defeating the 8.6% taken by Maging Akin Muli on ABS-CBN. Maging Akin Muli was a TV movie on ABS-CBN.
For March 24 primetime, number one went to the religious movie Son of God on GMA-7. It garnered 26.8%, beating the 19.9% that Maalaala Mo Kaya (MMK) earned.
The winner of March 25 daytime was a re-airing of the past Kapuso series Alamat. The episode received 18.1% against Sta. Nina's 17.7%. Sta Nina is a 2012 movie that stars Coco Martin and Alessandra de Rossi.
March 25 primetime went to The Ten Commandments, a 1956 epic film. Its Kapuso airing got 38.7%, the highest rating that any special program got during the Lenten days.
Daytime on March 26, Black Saturday, also went to GMA-7. It was a tie at 20.6% between two foreign films: Barbie in a Mermaid Tale 2 and Fantastic Four.
It seemed though that ABS-CBN had finally recovered on Saturday primetime, because Wansapanataym landed on number one. The Kapamilya fantasy series got 35.6%, miles ahead of Forgiven's 6.8% on GMA-7.
ADVERTISEMENT - CONTINUE READING BELOW
ABS-CBN was also the nation's chosen channel during the weekdays, with Be My Lady and FPJ's Ang Probinsyano dominating on daytime and primetime, respectively.
Weekends were a bit even. GMA-7 took daytime with 24 Oras Weekend and Sunday Pinasaya, while ABS-CBN ruled primetime with Pilipinas Got Talent.
Both networks also aired finales during the given period.
GMA-7 aired the final episode of Little Nanay on March 23, Wednesday. The family drama, which featured Kris Bernal as a mentally-challenged mother, scored 16.9%. It was much lower than FPJ's Ang Probinsyano, which rated 39.1%.
ABS-CBN's finale was of You're My Home, a family drama that starred the Dawn Zulueta-Richard Gomez tandem. It's finale episode had 14.4%, defeating Heart of Asia Presents on GMA-7, which got 8.3%.
Here are comparative ratings of GMA-7, ABS-CBN and TV5 programs from March 19-27, 2016, according to Kantar Media/TNS survey of nationwide households:
--
March 19, 2016 (Saturday)
O Shopping (ABS-CBN) .3%; Adyenda (GMA-7) .5%
Sa Kabukiran (ABS-CBN) .6%; Kapwa Ko Mahal Ko (GMA-7) 1.2%
Salamat Dok (ABS-CBN) 2%; Pinoy MD (GMA-7) 3.5%
Swak na Swak (ABS-CBN) 3%; Monsuno (GMA-7) 7.4%
Angel Wings (ABS-CBN) 2.6%; Hayate the Combat Butler (GMA-7) 9.5%
Why Not? (ABS-CBN) 2.7%; Pac-Man and the Ghostly Adventures (GMA-7) 11.5%
2015-2016 NBA Regular Season Live (ABS-CBN) 5%; Angry Birds Toons (GMA-7) 12.2%; Bakugan Mechtanium Surge (GMA-7) 12%; Magic Knight Rayearth (GMA-7) 11.8%; Maynila (GMA-7) 9.5%
Kapamilya Blockbusters (ABS-CBN) 12.7%; Sarap Diva (GMA-7) 6.9%
Afternoon:
It's Showtime Holy Week Special (ABS-CBN) 16.1%; Eat Bulaga! (GMA-7) 14.7%
Ipaglaban Mo (ABS-CBN) 15.2%; Karelasyon (GMA-7) 11.2%
SOCO (ABS-CBN) 12.8%; Wish Ko Lang! (GMA-7) 9.1%
Celebrity Playtime (ABS-CBN) 10.1%; Celebri TV (GMA-7) 7.2%; 2016 Oppo PBA Commissioner's Cup Live (TV5) 4.6%
Mga Kwento ni Marc Logan (ABS-CBN) 10.4%; Imbestigador (GMA-7) 11.7%
ADVERTISEMENT - CONTINUE READING BELOW
TV Patrol Weekend (ABS-CBN) 15.1%; Home Sweetie Home (ABS-CBN) 22.2%; 24 Oras Weekend (GMA-7) 16.8%
Evening:
Pilipinas Got Talent (GMA-7) 33.9%; Pepito Manaloto: Ang Tunay na Kuwento (GMA-7) 19.8%; Tasya Fantasya (TV5) 2%
MMK: Ang Tahanan Mo (ABS-CBN) 29.9%; Lip Sync Battle Philippines (GMA-7) 20.8%; Born to be a Star (TV5) 1.8%
I Love OPM (ABS-CBN) 14.7%; Magpakailanman (GMA-7) 18.8%; Wattpad Presents (TV5) 1.3%
Failon Ngayon (ABS-CBN) 5.6%; i-Witness (GMA-7) 7.6%; MTV Top 20 Pilipinas (TV5) .8%
The Bottom Line (ABS-CBN) 1.9%; O Shopping (ABS-CBN) .6%; Midnight Horror Stories (TV5) 2.7%; Shop Japan (TV5) .1%
--
March 20, 2016 (Sunday)
Morning:
O Shopping (ABS-CBN) 1.1%; Jesus The Healer (GMA-7) .6%; Kapuso Sine Klasika (GMA-7) 2.3%; Monsuno (GMA-7) 6.1%
Swak Na Swak (ABS-CBN) 3.9%; Hayate the Combat Butler (GMA-7) 9.1%
Salamat Dok (ABS-CBN) 3.5%; Larva (GMA-7) 11.1%; Aha (TV5) 10.5%
Spongebob Squarepants (ABS-CBN) 5.6%; Teenage Mutant Ninja Turtles (ABS-CBN) 5.4%; Born To Be Wild (GMA-7) 9.4%
Superbook (ABS-CBN) 8.1%; iBilib (GMA-7) 8.8%
Matanglawin (ABS-CBN) 9.6%; Kapamilya Kiddie Blockbusters (ABS-CBN) 14.1%; Kapuso Movie Festival (GMA-7) 13.8%
Afternoon:
ASAP (ABS-CBN) 13.3%; Sunday Pinasaya (GMA-7) 15.2%
Banana Sundae (ABS-CBN) 13%; Dear Uge (GMA-7) 10.7%
Kapamilya Mega Blockbusters (ABS-CBN) 11.5%; Celebrity Playtime (GMA-7) 10%; GMA Blockbusters (GMA-7) 11.3%
TV Patrol Weekend (GMA-7) 11.3%; 24 Oras Weekend (GMA-7) 10.5%; Pilipinas Debates 2016 (TV5) 8.5%
Evening:
Goin' Bulilit (ABS-CBN) 20.6%; Vampire Ang Daddy Ko (GMA-7) 11.8%
Wansapanataym (ABS-CBN) 26.8%; Ismol Family (GMA-7) 15.2%
Pilipinas Got Talent (ABS-CBN) 31.3%; Rated K: Handa Na Ba Kayo? (ABS-CBN) 21.4%; Kapuso Mo, Jessica Soho (GMA-7) 18.1%
I Love OPM (ABS-CBN) 15.7%; Gandang Gabi Vice (ABS-CBN) 10.4%; SNBO (GMA-7) 13%; Born to be a Star (TV5) 2.7%; BUFC Fight Night (TV5) 1.1%
Sunday's Best (ABS-CBN) 2.6%; O Shopping (ABS-CBN) .6%; Diyos at Bayan (GMA-7) 1.5%
--
March 21, 2016 (Monday)
Morning:
O Shopping (ABS-CBN) .4%; Reporter's Notebook Replay (GMA-7) .8%
Umagang Kay Ganda (ABS-CBN) 3%; Unang Hirit (GMA-7) 3.6%  
Kris TV (ABS-CBN) 3.9%; Dragon Ball Z (GMA-7) 8.2%; Pokemon Black and White (GMA-7) 10.6%; Knock Out (GMA-7) 10.7%
ADVERTISEMENT - CONTINUE READING BELOW
Mr Bean (ABS-CBN) 5.8%; Kapuso Movie Festival: Look Who's Talking Too (GMA-7) 9.5%
Kapamilya Blockbusters: Cedie (ABS-CBN) 12.5%; You're the Best (GMA-7) 6.8%; Carmina (GMA-7) 6.8%
Be My Lady (ABS-CBN) 18.2%; The Ryzza Mae Show Presents Princess in the Palace (GMA-7) 7.8%
Afternoon:
It's Showtime Holy Week Special (ABS-CBN) 17.9%; Eat Bulaga! Lenten Special (GMA-7) 14.1%
Doble Kara (ABS-CBN) 16.3%; Wish I May (GMA-7) 12.1%
Tubig at Langis (ABS-CBN) 14.2%; Hanggang Makita Kang Muli (GMA-7) 11.5%
My Love Donna (ABS-CBN) 8.6%; The Millionaire's Wife (GMA-7) 11.9%
Game ng Bayan (ABS-CBN) 7.5%; We Will Survive (ABS-CBN) 13.5%; Wowowin (GMA-7) 13.3%
Evening:
TV Patrol (ABS-CBN) 26.5%; 24 Oras (GMA-7) 18%; Aksyon (TV5) 5.2%; 2016 Oppo PBA Commissioner's Cup Live (TV5) 4.9%
FPJ's Ang Probinsyano (ABS-CBN) 41.3%; Little Nanay (GMA-7) 17.8%
Dolce Amore (ABS-CBN) 33.7%; That's My Amboy (GMA-7) 16.2%
The Story of Us (ABS-CBN) 18.3%; Because of You (GMA-7) 15.3%; PiliPinas Debates 2016 (TV5) 3.5%
You're My Home (ABS-CBN) 11.7%; Tonight with Boy Abunda (ABS-CBN) 5.6%; Heart of Asia Presents (GMA-7) 7.1%
Bandila (ABS-CBN) 3.1%; Saksi (GMA-7) 4.2%; Front Row (GMA-7) 2.6%
Mission Possible (ABS-CBN) 2.1%; The 700 Club Asia (ABS-CBN) 1%; Aksyon Tonite (TV5) 1.1%
O Shopping (ABS-CBN) .6%; Shop TV (TV5) .3%; Shop Japan (TV5) .3%
--
March 22, 2016 (Tuesday)
Morning:
O Shopping (ABS-CBN) .3%; i-Witness Replay (GMA-7) .6%
Umagang Kay Ganda (ABS-CBN) 3.1%; Unang Hirit (GMA-7) 2.9%  
Kris TV (ABS-CBN) 5.3%; Dragon Ball Z (GMA-7) 8.4%; Pokemon Black and White (GMA-7) 10.7%; Knock Out (GMA-7) 10.7%
Mr. Bean (ABS-CBN) 6.6%; Kapuso Movie Festival: Bitoy ang Itawag Mo Sa Akin (GMA-7) 10.5%
Kapamilya Blockbusters: Magkapatid (ABS-CBN) 11.6%; You're the Best (GMA-7) 7.4%; Carmina (GMA-7) 8.2%
Be My Lady (ABS-CBN) 17.6%; The Ryzza Mae Show Presents Princess in the Palace (GMA-7) 9%
Afternoon:
It's Showtime Holy Week Special (ABS-CBN) 17%; Eat Bulaga! Lenten Special (GMA-7) 13.4%
ADVERTISEMENT - CONTINUE READING BELOW
Doble Kara (ABS-CBN) 16.1%; Wish I May (GMA-7) 11.8%
Tubig at Langis (ABS-CBN) 13.9%; Hanggang Makita Kang Muli (GMA-7) 13%
My Love Donna (ABS-CBN) 8.5%; The Millionaire's Wife (GMA-7) 13.8%
Game ng Bayan (ABS-CBN) 8%; We Will Survive (ABS-CBN) 13.9%; Wowowin (GMA-7) 14.3%
Evening:
TV Patrol (ABS-CBN) 28%; 24 Oras (GMA-7) 18%; Aksyon (TV5) 1.8%; Ang Panday (TV5) 3.5%
FPJ's Ang Probinsyano (ABS-CBN) 41.8%; Little Nanay (GMA-7) 17.8%; Arrow (TV5) 3.2%
Dolce Amore (ABS-CBN) 34%; That's My Amboy (GMA-7) 17.1%; Supernatural (TV5) 2.7%
The Story of Us (ABS-CBN) 20.2%; Because of You (TV5) 15.8%; Bakit Manipis ang Ulap? (TV5) 1.1%
You're My Home (GMA-7) 13.2%; Heart of Asia Presents (GMA-7) 6.7%; PiliPinas Debates 2016 Behind the Scenes (TV5) 2.3%
Tonight with Boy Abunda (ABS-CBN) 6.5%; Heart of Asia Presents (GMA-7) 6.7%; Aksyon Tonite (TV5) 1.4%
Bandila (ABS-CBN) 3.8%; Saksi (GMA-7) 4%
My Puhunan (ABS-CBN) 2.3%; Alisto! (GMA-7) 2.8%; Reaksyon (TV5) .4%
O Shopping (ABS-CBN) .9%; The 700 Club Asia (GMA-7) 1.1%; Shop TV (GMA-7) .3%; Shop Japan (TV5) .2%
--
March 23, 2016 (Wednesday)
Morning:
O Shopping (ABS-CBN) .3%; Alisto! Replay (GMA-7) .6%
Umagang Kay Ganda (ABS-CBN) 2.9%; Unang Hirit (GMA-7) 3% 
Kris TV (ABS-CBN) 4.8%; Dragon Ball Z (GMA-7) 9.2%; Pokemon Black and White (GMA-7) 11.9%; Knock Out (GMA-7) 12.4%
Mr. Bean (ABS-CBN) 6.5%; Kapuso Movie Festival: Pitch Black (GMA-7) 12.3%
Kapamilya Blockbusters: Magnifico (ABS-CBN) 14.9%; You're the Best (GMA-7) 8.4%; Carmina (GMA-7) 8.4%
Be My Lady (ABS-CBN) 19.4%; The Ryzza Mae Show Presents: Princess in the Palace (GMA-7) 9.5%
Afternoon:
It's Showtime Holy Week Special (ABS-CBN) 17.8%; Eat Bulaga! Lenten Special (GMA-7) 15.9%
Doble Kara (ABS-CBN) 15.8%; Wish I May (GMA-7) 12.3%
Tubig at Langis (ABS-CBN) 14.9%; Hanggang Makita Kang Muli (GMA-7) 12.5%
My Love Donna (ABS-CBN) 9%; The Millionaire's Wife (GMA-7) 11.9%
Game ng Bayan (ABS-CBN) 8.1%; We Will Survive (ABS-CBN) 13.7%; Wowowin (GMA-7) 12.9%
Evening:
TV Patrol (ABS-CBN) 26.2%; 24 Oras (GMA-7) 17.9%; Aksyon (TV5) 1.6%
ADVERTISEMENT - CONTINUE READING BELOW
FPJ's Ang Probinsyano (ABS-CBN) 39.1%; Little Nanay (GMA-7) 16.9%; Arrow (TV5) 2.7%
Dolce Amore (ABS-CBN) 35%; That's My Amboy (GMA-7) 17.6%; Supernatural (TV5) 3.1%
The Story of Us (ABS-CBN) 22.1%; Because of You (TV5) 15.7%; Bakit Manipis Ang Ulap? (TV5) 1%
You're My Home (GMA-7) 14.4%; Heart of Asia Presents (TV5) 8.3%; Amachan (TV5) .5%; Aksyon Tonite (TV5) .7%
Tonight with Boy Abunda (ABS-CBN) 7%; Saksi (GMA-7) 4.9%; Reaksyon (TV5) .6%
Bandila (ABS-CBN) 4.2%; Tunay na Buhay (GMA-7) 3.5%; Bilang Pilipino 2016 (TV5) .5%
Red Alert (ABS-CBN) 2.7%; The 700 Club Asia (GMA-7) 2%; Shop Japan (TV5) .2%
O Shopping (ABS-CBN) 1%; Shop TV (GMA-7) .5%
--
March 24, 2016 (Thursday)
Morning:
Toy Story (ABS-CBN) 8.5%; Sa Mata ng Simbahan (GMA-7) 2.9%; Doraemon Nobita's Dinosaur (GMA-7) 10.5%
Superbook (ABS-CBN) 12.9%; Detective Conan The Time Bombed Skyscraper (GMA-7) 14.2%
Anak (ABS-CBN) 13.7%; Alamat (GMA-7) 16%; Alamat (GMA-7) 17.3%; Barbie: The Princess and the Popstar (GMA-7) 17.9%
Afternoon:
Maging Akin Muli (ABS-CBN) 8.6%; Mulawin the Movie (GMA-7) 20.5%
Awa Unawa Gawa (ABS-CBN) 4.3%; Crying Ladies (GMA-7) 14.8%
Moments (ABS-CBN) 2.9%; Inang Yaya (GMA-7) 13.5%
Celebration of the Lord's Supper (ABS-CBN) 5.1%; Sa Isang Iglap (GMA-7) 14.3%
Evening:
We Will Survive the Marathon Special (ABS-CBN) 21.4%; MMK Ang Tahanan Mo (ABS-CBN) 19.9%; Son of God (GMA-7) 26.8%; Kaya. (TV5) 3%; Movie Max 5 (TV5) 2.6%; Movie Max 5 (TV5) 2%
Sana Maulit Muli (ABS-CBN) 9.2%; San Pedro Calungsod (ABS-CBN) 2.1%; O Shopping (ABS-CBN) .6%; Miracle in Cell No 7 (GMA-7) 14.6%; Habag (TV5) .5%
--
March 25, 2016 (Friday)
Morning:
Finding Nemo (ABS-CBN) 6.7%; Doraemon Nobita's Dorabian Nights (GMA-7) 8.4%
The Flying House (ABS-CBN) 3.1%; Pokemon the Movie (GMA-7) 3.1%; Detective Conan The Fourteenth Target (GMA-7) 15.5%     
Sta Nina (ABS-CBN) 17.7%; Alamat (GMA-7) 17.3%; Alamat (GMA-7) 18.1%; Power to Unite (GMA-7) 5.4%
Afternoon:
7 Last Words (ABS-CBN) 11.3%; Siete Palabras 2016 (GMA-7) 8%
Moments (ABS-CBN) 5.4%; Francis the Pope from the New World (GMA-7) 8.3%
ADVERTISEMENT - CONTINUE READING BELOW
Veneration of the Cross (ABS-CBN) 4.2%; Sana Dati (GMA-7) 9.7%
Ako at ang Santo Papa (ABS-CBN) 8.4%; Tanikala (GMA-7) 17.3%
Evening:
The Story of Us Marathon (ABS-CBN) 12.8%; MMK Ang Tahanan Mo (ABS-CBN) 9.7%; Ang Mabuting Pastol (ABS-CBN) 1.5%; O Shopping (ABS-CBN) .4%; The Ten Commandments (GMA-7) 38.7%; Caregiver (GMA-7) 6%; Above the Clouds (TV5) 7.7%
--
March 26, 2015 (Saturday)
The Incredibles (ABS-CBN) 7.2%; Doraemon Nobita and the Giant's Legend of the Green Planet (GMA-7) 7.6%; Pokemon the Movie (GMA-7) 13.5%
Forever and a Day (ABS-CBN) 9%; Detective Conan The Last Wizard of the Century (GMA-7) 15.5%; Alamat (GMA-7) 16.5%
2015-2016 NBA Regular Season Live (ABS-CBN) 9.9%; Alamat (GMA-7) 20%; Barbie in a Mermaid Tale 2 (GMA-7) 20.6%; Fantastic Four (GMA-7) 20.6%
Afternoon:
CJ7 (ABS-CBN) 14.3%; Batman Begins (GMA-7) 16%
Sa 'Yo Lamang (ABS-CBN) 10.8%; Superman Returns (GMA-7) 15.6%
My Love Donna Catch-Up Marathon (ABS-CBN) 10.7%; Tanikala (GMA-7) 10.7%; Movie Max 5 (TV5) 2.4%
Evening:
Wansapanataym (GMA-7) 35.6%; Forgiven (GMA-7) 6.8%; Tasya Fantasya (TV5) 2.9%
MMK: Ang Tahanan Mo (ABS-CBN) 32.6%; Pagsubok (GMA-7) 12%; Born to be a Star (TV5) 1.3%; Wattpad Presents (TV5) 1.5%
It Takes a Man and a Woman (ABS-CBN) 11.9%; So It's You (GMA-7) 13.1%; i-Witness (GMA-7) 6.4%; MTV Top 20 Pilipinas (TV5) .8%
The Healing Eucharist (ABS-CBN) 1.8%; O Shopping (ABS-CBN) .5%; Front Row (GMA-7) 4.8%; Way of the Cross (GMA-7) 1.3%; History with Lourd (TV5) .3%; Shop Japan (TV5) .1%
--
March 27, 2016 (Sunday)
Morning:
O Shopping (ABS-CBN) 1.1%; Jesus The Healer (GMA-7) .7%
The Healing Eucharist (ABS-CBN) 4.7%; Kapuso Sine Klasika (GMA-7) 1.7%
Swak Na Swak (ABS-CBN) 4.1%; Monsuno (GMA-7) 6.1%; Hayate the Combat Butler (GMA-7) 8.8%
Salamat Dok (ABS-CBN) 4.7%; Larva (GMA-7) 11.4%; Aha (TV5) 10.9%
Spongebob Squarepants (ABS-CBN) 7.9%; Kung Fu Panda Legends of Awesomeness (ABS-CBN) 7.1%; Born To Be Wild (GMA-7) 9.2%
Superbook (ABS-CBN) 9.1%; Matanglawin (ABS-CBN) 9.3%; iBilib (GMA-7) 9.1%
Kapamilya Kiddie Blockbusters (ABS-CBN) 12.8%; Kapuso Movie Festival (GMA-7) 15%
ADVERTISEMENT - CONTINUE READING BELOW
Afternoon:
ASAP (ABS-CBN) 13%; Sunday Pinasaya (GMA-7) 12.4%
Banana Sundae (ABS-CBN) 12.8%; Dear Uge (GMA-7) 10.8%
Kapamilya Mega Blockbusters (ABS-CBN) 10.3%; Celebrity Playtime (GMA-7) 8.3%; GMA Blockbusters (GMA-7) 12.1%
TV Patrol Weekend (GMA-7) 10.3%; 24 Oras Weekend (GMA-7) 12%; 2016 Oppo PBA Commissioner's Cup Live (TV5) 6.5%
Evening:
Goin' Bulilit (ABS-CBN) 19.6%; Vampire Ang Daddy Ko (GMA-7) 13.5%
Wansapanataym (ABS-CBN) 29.2%; Ismol Family (GMA-7) 16.9%
Pilipinas Got Talent (ABS-CBN) 33.2%; Rated K: Handa Na Ba Kayo? (ABS-CBN) 22.3%; Kapuso Mo, Jessica Soho (GMA-7) 19.6%; Born to be a Star (TV5) 1.8%; Barangay Utakan (TV5) .9%
I Love OPM (ABS-CBN) 15.5%; Gandang Gabi Vice (ABS-CBN) 9%; Sunday's Best (ABS-CBN) 1.9%; SNBO (GMA-7) 8.2%; Sports 360 (TV5) .5%; Countdown to Rio (TV5) .2%; History with Lourd (TV5) .3%; Shop Japan (TV5) 0%
O Shopping (ABS-CBN) .6%; Diyos at Bayan (GMA-7) .8%
--
Here are the Top 10 daytime and primetime programs from March 19-27, 2016 among Total Philippines (Urban & Rural) households:
March 19, 2016 (Saturday)
DAYTIME:
24 Oras Weekend (GMA-7) - 16.8%
It's Showtime (ABS-CBN) - 16.1%
Ipaglaban Mo (ABS-CBN) - 15.2%
TV Patrol Weekend (ABS-CBN) - 15.1%
Eat Bulaga! (GMA-7) - 14.7%
SOCO (ABS-CBN) - 12.8%
Kapamilya Blockbusters (ABS-CBN) - 12.7%
Angry Birds Toons (GMA-7) - 12.2%
Bakugan Mechtanium Surge (GMA-7) - 12%
Magic Knight Rayearth (GMA-7) - 11.8%
PRIMETIME:
Pilipinas Got Talent (ABS-CBN) – 33.9%
MMK: Ang Tahanan Mo (ABS-CBN) – 29.9%
Home Sweetie Home (ABS-CBN) - 22.2%
Lip Sync Battle Philippines (GMA-7) - 20.8%
Pepito Manaloto: Ang Tunay na Kuwento (GMA-7) – 19.8%
Magpakailanman (GMA-7) – 18.8%
I Love OPM (ABS-CBN) - 14.7%
i-Witness (GMA-7) – 7.6%
Failon Ngayon (ABS-CBN) - 5.6%
Midnight Horror Stories (GMA-7) – 2.7%


March 20, 2016 (Sunday)
DAYTIME:
Sunday Pinasaya (GMA-7) - 15.2%
Kapamilya Kiddie Blockbusters (ABS-CBN) - 14.1%
Kapuso Movie Festival (GMA-7) - 13.8%
ASAP (ABS-CBN) - 13.3%
Banana Sundae (ABS-CBN) - 13%
Kapamilya Mega Blockbusters (ABS-CBN) - 11.5%
TV Patrol Weekend (ABS-CBN) / GMA Blockbusters (GMA-7) - 11.3%
Larva (GMA-7) - 11.1%
Dear Uge (GMA-7) - 10.7%
Aha! (GMA-7) / 24 Oras Weekend (GMA-7) - 10.5%
PRIMETIME:
Pilipinas Got Talent (ABS-CBN) – 31.3%
Wansapanataym (ABS-CBN) – 26.8%
Rated K: Handa na ba Kayo? (ABS-CBN) – 21.4%
Goin' Bulilit (ABS-CBN) – 20.6%
Kapuso Mo, Jessica Soho (GMA-7) – 18.1%
I Love OPM (ABS-CBN) - 15.7%
Ismol Family (GMA-7) – 15.2%
Sunday Night Box Office (GMA-7) – 13%
Vampire Ang Daddy Ko (GMA-7) – 11.8%
Gandang Gabi Vice (ABS-CBN) - 10.4%


March 21, 2016 (Monday)
DAYTIME:
Be My Lady (ABS-CBN) - 18.2%
It's Showtime Holy Week Special (ABS-CBN) - 17.9%
Doble Kara (ABS-CBN) - 16.3%
Tubig at Langis (ABS-CBN) - 14.2%
Eat Bulaga! Lenten Special (GMA-7) - 14.1%
Wowowin (GMA-7) - 13.3%
Kapamilya Blockbusters (ABS-CBN) - 12.5%
Wish I May (GMA-7) - 12.1%
The Millionaire's Wife (GMA-7) - 11.9%
Hanggang Makita Kang Muli (GMA-7) – 11.5%
PRIMETIME:
FPJ's Ang Probinsyano (ABS-CBN) – 41.3%
Dolce Amore (ABS-CBN) – 33.7%
TV Patrol (ABS-CBN) – 26.5%
The Story of Us (ABS-CBN) – 18.3%
24 Oras (GMA-7) - 18%
Little Nanay (GMA-7) – 17.8%
That's My Amboy (GMA-7) - 16.2%
Because of You (GMA-7) - 15.3%
We Will Survive (ABS-CBN) - 13.5%
You're My Home (ABS-CBN) - 11.7%


March 22, 2016 (Tuesday)
DAYTIME:
Be My Lady (ABS-CBN) - 17.6%
It's Showtime Holy Week Special (ABS-CBN) - 17%
Doble Kara (ABS-CBN) - 16.1%
Wowowin (GMA-7) - 14.3%
Tubig at Langis (ABS-CBN) - 13.9%
The Millionaire's Wife (GMA-7) - 13.8%
Eat Bulaga! Lenten Special (GMA-7) - 13.4%
Hanggang Makita Kang Muli (GMA-7) – 13%
Wish I May (GMA-7) - 11.8%
Kapamilya Blockbusters (ABS-CBN) - 11.6%
PRIMETIME:
FPJ's Ang Probinsyano (ABS-CBN) - 41.8%
Dolce Amore (ABS-CBN) - 34%
TV Patrol (ABS-CBN) - 28%
The Story of Us (ABS-CBN) - 20.2%
24 Oras (GMA-7) - 18%
Little Nanay (GMA-7) - 17.8%
That's My Amboy (GMA-7) - 17.1%
Because of You (GMA-7) - 15.8%
We Will Survive (ABS-CBN) - 13.9%
You're My Home (ABS-CBN) - 13.2%


March 23, 2016 (Wednesday)
DAYTIME:
Be My Lady (ABS-CBN) - 19.4%
It's Showtime Holy Week Special (ABS-CBN) - 17.8%
Eat Bulaga! Lenten Special (GMA-7) - 15.9%
Doble Kara (ABS-CBN) - 15.8%
Kapamilya Blockbusters (ABS-CBN) / Tubig at Langis (ABS-CBN) - 14.9%
Wowowin (GMA-7) – 12.9%
Hanggang Makita Kang Muli (GMA-7) – 12.5%
Knock Out (GMA-7) - 12.4%
Kapuso Movie Festival (GMA-7) / Wish I May (GMA-7) - 12.3%
Pokemon Black and White (GMA-7) / The Millionaire's Wife (GMA-7) - 11.9%
PRIMETIME:
FPJ's Ang Probinsyano (ABS-CBN) - 39.1%
Dolce Amore (ABS-CBN) - 35%
TV Patrol (ABS-CBN) - 26.2%
The Story of Us (ABS-CBN)- 22.1%
24 Oras (GMA-7) - 17.9%
That's My Amboy (GMA-7) - 17.6%
Little Nanay (GMA-7) - 16.9%
Because of You (GMA-7) - 15.7%
You're My Home (ABS-CBN) - 14.4%
We Will Survive (ABS-CBN) - 13.7%


March 24, 2016 (Holy Thursday)
DAYTIME:
Mulawin the Movie (GMA-7) – 20.5%
Barbie: The Princess & The Popstar (GMA-7) – 17.9%
Alamat (GMA-7) – 17.3%
Alamat (GMA-7) – 16%
Crying Ladies (GMA-7) – 14.8%
Sa Isang Iglap (GMA-7) - 14.3%
Detective Conan (GMA-7) – 14.2%
Anak (ABS-CBN) - 13.7%
Inang Yaya (GMA-7) – 13.5%
Superbook (ABS-CBN) - 12.9%
PRIMETIME:
Son of God (GMA-7) - 28.6%
We Will Survive The Marathon Special (ABS-CBN) - 21.4%
MMK: Ang Tahanan Mo (ABS-CBN) - 19.9%
Miracle in Cell No. 7 (GMA-7) – 14.6%
Sana Maulit Muli (ABS-CBN) - 9.2%
(TV5) - 3%
Movie Max 5 (TV5) - 2.6%
San Pedro Calungsod (ABS-CBN) - 2.1%
Movie Max 5 (TV5) - 2%
O Shopping (ABS-CBN) - .6%


March 25, 2016 (Good Friday)
DAYTIME:
Alamat (GMA-7) - 18.1%
Sta Nina (ABS-CBN) - 17.7%
Alamat (GMA-7) / Tanikala (GMA-7) - 17.3%
Detective Conan The Fourteenth Target (GMA-7) - 15.5%
Pokemon the Movie (GMA-7) - 14.1%
7 Last Words (ABS-CBN) - 11.3%
The Flying House (ABS-CBN) - 10.4%
Sana Dati (GMA-7) - 9.7%
Ako at Ang Santo Papa (ABS-CBN) / Doraemon: Nobita's Dorabian Nights (GMA-7) - 8.4%
Francis the Pope from the New World (GMA-7) - 3%
PRIMETIME:
The Ten Commandments (GMA-7) - 38.7%
The Story of Us Marathon (ABS-CBN) - 12.8%
MMK: Ang Tahanan Mo (ABS-CBN) - 9.7%
Above the Clouds (GMA-7) - 7.7%
Caregiver (GMA-7) - 6%
Ang Mabuting Pastol (ABS-CBN) - 1.5%
O Shopping (ABS-CBN) - .4%


March 26, 2016 (Black Saturday)
DAYTIME:
Barbie in a Mermaid Tale 2 (GMA-7) / Fantastic Four (GMA-7) - 20.6%
Alamat (GMA-7) - 20%
Alamat (GMA-7) - 16.5%
Batman Begins (GMA-7) - 16%
Superman Returns (GMA-7) - 15.6%
Detective Conan (GMA-7) - 15.5%
CJ7 (ABS-CBN) - 14.3%
Pokemon the Movie (GMA-7) - 15.5%
Sa 'Yo Lamang (ABS-CBN) - 10.8%
My Love Donna Catch-Up Marathon (ABS-CBN) / Tanikala (GMA-7) - 10.7%
PRIMETIME:
Wansapanataym (ABS-CBN) – 35.6%
MMK: Ang Tahanan Mo (ABS-CBN) – 32.6%
So It's You (GMA-7) – 13.1%
Pagsubok (GMA-7) – 12%
It Takes a Man and a Woman (ABS-CBN) – 11.9%
Forgiven (GMA-7) - 6.8%
i-Witness (GMA-7) – 6.4%
Front Row (GMA-7) – 4.8%
Tasya Fantasya (TV5) - 2.9%
The Healing Eucharist (ABS-CBN) - 1.8%


March 27, 2016 (Sunday)
DAYTIME:
Kapuso Movie Festival (GMA-7) - 15%
ASAP (ABS-CBN) - 13%
Kapamilya Kiddie Blockbusters (ABS-CBN) / Banana Sundae (ABS-CBN) - 12.8%
Sunday Pinasaya (GMA-7) - 12.4%
GMA Blockbusters (GMA-7) - 12.1%
24 Oras Weekend (GMA-7) - 12%
Larva (GMA-7) - 11.4%
Aha! (GMA-7) - 10.9%
Dear Uge (GMA-7) - 10.8%
Kapamilya Mega Blockbusters (ABS-CBN) / TV Patrol Weekend (ABS-CBN) - 10.3%
PRIMETIME:
Pilipinas Got Talent (ABS-CBN) – 33.2%
Wansapanataym (ABS-CBN) – 29.2%
Rated K: Handa na ba Kayo? (ABS-CBN) – 22.3%
Goin' Bulilit (ABS-CBN) / Kapuso Mo, Jessica Soho (GMA-7) – 19.6%
Ismol Family (GMA-7) – 16.9%
I Love OPM (ABS-CBN) - 15.5%
Vampire Ang Daddy Ko (GMA-7) – 13.5%
Gandang Gabi Vice (ABS-CBN) - 9%
Sunday Night Box Office (GMA-7) – 8.2%
2016 Oppo PBA Commissioner's Cup Live (TV5) - 6.5%


Source: Kantar Media/TNS