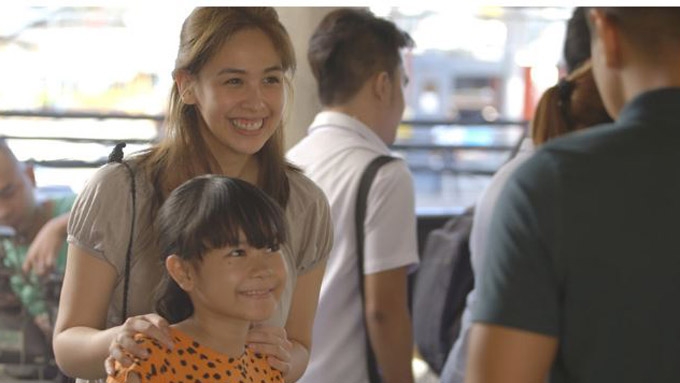 ---


Here are the highlights of the comparative ratings of GMA-7, ABS-CBN and TV5 programs from January 30-February 5, 2017, according to Kantar Media/TNS Total Philippines Household Ratings among nationwide households.
There are three highlights that can be discussed on this given period. First is the live telecast of the Miss Universe pageant held in Manila on January 30. Second is the premiere of Pinulot Ka Lang sa Lupa, a teledrama on GMA-7. Third is Empress Schuck's Ipaglaban Mo episode on February 4.
The Miss Universe pageant was aired on both ABS-CBN and GMA-7 at the same time. Based on Kantar Media data, more viewers preferred watching the contest on the Kapamilya network. Miss Universe on ABS-CBN rated 27.4%, while GMA-7's telecast only scored 17%.
The second highlight is the pilot week of Pinulot Ka Lang sa Lupa on the Kapuso network's Afternoon Primetime block. The romantic drama stars real-life couple Benjamin Alves and Julie Anne San Jose.
Pinulot Ka Lang sa Lupa's first episode on January 30 got a 12.8% rating, lower than The Greatest Love's 15.1%. The same scenario continued throughout the week.

The last highlight we will discuss is Empress Schuck's comeback on ABS-CBN via Ipaglaban Mo. The young actress has been absent from the spotlight for two years after revealing her pregnancy in 2015. This development halted her career in GMA-7, where she moved after feeling disappointed due to the lack of projects on her home channel.
In the particular Ipaglaban Mo episode that aired on February 4, Empress portrayed a mother who had to protect her adopted daughter from her abusive husband, played by RK Bagatsing. The episode got a 17% rating, defeating #Like's 11.1%. Ipaglaban Mo was also the highest-rated daytime program on that day.
Now, let's move on to the discussion of the rankings of shows for weekday daytime and primetime. Not much has changed there; ABS-CBN continued to get the number one spots for both, day in and day out.
ADVERTISEMENT - CONTINUE READING BELOW
FPJ's Ang Probinsyano still reigned as the highest-rated show on weekday primetime. Like last week, Coco Martin's action series had double-digit margins versus GMA-7's Encantadia.

Other Kapamilya primetime series also trumped their Kapuso counterparts. TV Patrol was the chosen primetime newscast nationwide.

More viewers also prefered My Dear Heart over Alyas Robin Hood.

TV watchers also tuned in to Bea Alonzo and Ian Veneracion on A Love To Last, instead of Barbie Forteza's Meant to Be.



Pinoy Big Brother had higher ratings than the Korean drama Pretty Woman, which started airing on January 30.

GMA-7's daytime dramas also did not fare well against their rival offerings on the Kapamilya network.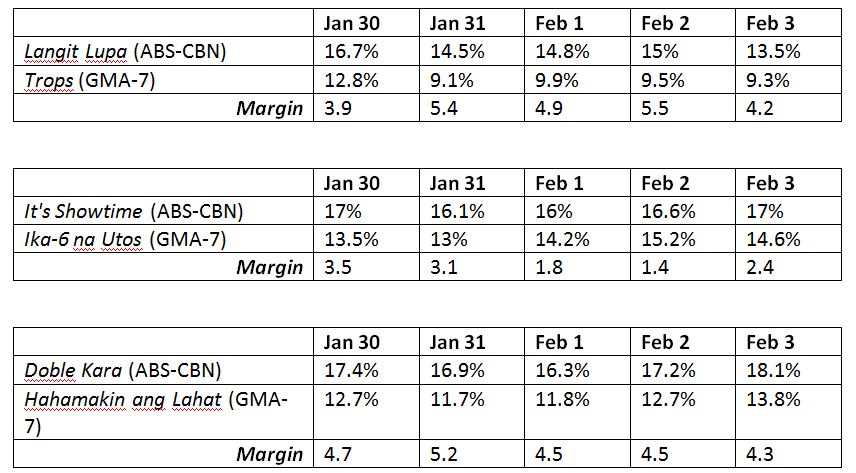 ABS-CBN also ruled weekend primetime with its singing competition Your Face Sounds Familiar Kids, the No. 1 show for February 4 and 5, Saturday and Sunday.
Here are comparative ratings of GMA-7, ABS-CBN and TV5 programs from January 30-February 5, 2017, according to Kantar Media/TNS survey among nationwide households.
JANUARY 30, 2017 (Monday)
Morning:
O Shopping (ABS-CBN) .4%; Mga Kwento ni Marc Logan Replay (ABS-CBN) 1%; Reporter's Notebook (GMA-7) 1.1%
Umagang Kay Ganda (ABS-CBN) 6.2%; Unang Hirit (GMA-7) 6.1%
Miss Universe: The Philippines Live (ABS-CBN) 27.4%; Miss Universe: The Philippines Live (GMA-7) 17%
News Patrol (ABS-CBN) 20.2%; The Big One (GMA-7) 17.2%
Langit Lupa (ABS-CBN) 16.7%; Trops (GMA-7) 12.8%
Afternoon:
It's Showtime (ABS-CBN) 17%; Eat Bulaga! (GMA-7) 13.5%; Ika-6 na Utos (GMA-7) 13.5%
Doble Kara (ABS-CBN) 17.4%; Hahamakin ang Lahat (GMA-7) 12.7%
The Greatest Love (ABS-CBN) 15.1%;Pinulot Ka Lang sa Lupa (GMA-7) 12.8%
Pinoy Big Brother Lucky 7: Ang Mga Kwento ng Dream Team (ABS-CBN) 12.3%; Minute To Win It: Last Man Standing (ABS-CBN) 18.2%; Wowowin (GMA-7) 18.1%
Evening:
TV Patrol (ABS-CBN) 30.3%; 24 Oras (GMA-7) 24.6%; Aksyon (TV5) 2.5%; Arrow (TV5) 1.6%
FPJ's Ang Probinsyano (ABS-CBN) 37.4%; Encantadia (GMA-7) 28%
My Dear Heart (ABS-CBN) 26.9%; Alyas Robin Hood (GMA-7) 20.5%; The Flash (TV5) 1.9%
A Love to Last (ABS-CBN) 17.1%; Meant to Be (GMA-7) 12.7%; Supernatural(TV5) 2.3%
Pinoy Big Brother Lucky 7 (ABS-CBN) 9.2%; Pretty Woman (GMA-7) 6.6%; Aksyon Tonite (TV5) 1.3%; Reaksyon (TV5) .6%
ADVERTISEMENT - CONTINUE READING BELOW
Tonight with Boy Abunda (ABS-CBN) 5.1%; Saksi (GMA-7) 3.7%; History with Lourd (TV5) .3%
Bandila (ABS-CBN) 3.6%; Front Row (GMA-7) 2.4%; Disaster Date (TV5) .2%
Mission Possible (ABS-CBN) 2.2%; O Shopping (ABS-CBN) .9%; The 700 Club Asia (GMA-7) .5%; Shop Japan (TV5) .1%; Miss Universe The Philippines Replay (ABS-CBN) .1%
JANUARY 31, 2017 (Tuesday)
Morning:
O Shopping (ABS-CBN) .7%;TNT (ABS-CBN) 1%;i-Witness (GMA-7) 1.1%
Umagang Kay Ganda (ABS-CBN) 5.2%; Unang Hirit (GMA-7) 4.2%
Magandang Buhay (ABS-CBN) 6.2%; Ghost Fighter (GMA-7) 5.4%; Pokemon XY (GMA-7) 6.1%; Bleach (GMA-7) 7.2%
Kapamilya Blockbusters: Attack on Titan (ABS-CBN) 10.9%; Mako Mermaids (GMA-7) 7%; The Big One (GMA-7) 6.8%; Kapuso Movie Festival: Tron (GMA-7) 7.6%
Langit Lupa (ABS-CBN) 14.5%; Trops (GMA-7) 9.1%
Afternoon:
It's Showtime (ABS-CBN) 16.1%; Eat Bulaga! (GMA-7) 13.3%; Ika-6 na Utos (GMA-7) 13%
Doble Kara (ABS-CBN) 16.9%; Hahamakin ang Lahat (GMA-7) 11.7%
The Greatest Love (ABS-CBN) 13.7%;Pinulot Ka Lang sa Lupa (GMA-7) 10.7%
Pinoy Big Brother Lucky 7: Ang Mga Kwento ng Dream Team (ABS-CBN) 10.3%; Minute To Win It: Last Man Standing (ABS-CBN) 16.9%; Wowowin (GMA-7) 14.7%
Evening:
TV Patrol (ABS-CBN) 29.2%; 24 Oras (GMA-7) 22.9%; Aksyon (TV5) 2.1%
FPJ's Ang Probinsyano (ABS-CBN) 37.7%; Encantadia (GMA-7) 26.9%; Scandal (TV5) 1.1%
My Dear Heart (ABS-CBN) 28.6%; Alyas Robin Hood (GMA-7) 22%; Nikita (TV5) 2.2%
A Love to Last (ABS-CBN) 19.5%; Meant to Be (GMA-7) 12.9%; Supernatural (TV5) 2.6%
Pinoy Big Brother Lucky Season 7 (ABS-CBN) 10.5%; Tonight with Boy Abunda (ABS-CBN) 5.5%; Pretty Woman (GMA-7) 6.8%; Aksyon Tonite (TV5) 1.5%; Reaksyon (TV5) 1%
Bandila (ABS-CBN) 3.2%; Saksi (GMA-7) 3.8%; Kaya. (TV5) .5%; Alisto! (GMA-7) 2.5%
My Puhunan (ABS-CBN) 1.9%; O Shopping (ABS-CBN) .6%; The 700 Club Asia (GMA-7) .9%; Disaster Date (TV5) .3%; Shop Japan (TV5) .1%
FEBRUARY 1, 2017 (Wednesday)
Morning:
O Shopping (ABS-CBN) .3%;Matanglawin Replay (ABS-CBN) .8%; Alisto Replay (GMA-7) .9%
Umagang Kay Ganda (ABS-CBN) 4.8%; Unang Hirit (GMA-7) 4%
Magandang Buhay (ABS-CBN) 5.7%; Ghost Fighter (GMA-7) 5.8%; Pokemon XY (GMA-7) 6.6%; Bleach (GMA-7) 7%; Mako Mermaids (GMA-7) 7.2%
Kapamilya Blockbusters: Escape Plan (ABS-CBN) 12%; The Big One (GMA-7) 7.3%; Kapuso Movie Festival: Warrior (GMA-7) 7.9%
Langit Lupa (ABS-CBN) 14.8%; Trops (GMA-7) 9.9%
Afternoon:
It's Showtime (ABS-CBN) 16%; Eat Bulaga! (GMA-7) 12.6%; Ika-6 na Utos (GMA-7) 14.2%
Doble Kara (ABS-CBN) 16.3%; Hahamakin ang Lahat (GMA-7) 11.8%
The Greatest Love (ABS-CBN) 14.6%;Pinulot Ka Lang sa Lupa (GMA-7) 11.8%
Pinoy Big Brother Lucky 7: Ang Mga Kwento ng Dream Team (ABS-CBN) 11.4%; Minute To Win It: Last Man Standing (ABS-CBN) 17.4%; Wowowin (GMA-7) 16.7%; Aksyon (TV5) 3.3%
ADVERTISEMENT - CONTINUE READING BELOW
Evening:
TV Patrol (ABS-CBN) 28.8%; 24 Oras (GMA-7) 21.3%; 2017 Oppo PBA Philippine Cup Live (TV5) 4.5%
FPJ's Ang Probinsyano (ABS-CBN) 37.4%; Encantadia (GMA-7) 25.6%
My Dear Heart (ABS-CBN) 28.7%; Alyas Robin Hood (GMA-7) 20.7%; Supernatural (TV5) 2.8%
A Love to Last (ABS-CBN) 18.3%; Meant to Be (GMA-7) 12.5%
Pinoy Big Brother Lucky 7 (ABS-CBN) 9.9%; Pretty Woman (GMA-7) 7.4%; Aksyon Tonite (TV5) 1.5%
Tonight with Boy Abunda (ABS-CBN) 5.1%;Bandila (ABS-CBN) 3.6%;Saksi (GMA-7) 3.6%;Insider (TV5) .3%
Red Alert (ABS-CBN) 2.2%; Tunay na Buhay (GMA-7) 1.7%; Disaster Date (TV5) .2%
O Shopping (ABS-CBN) .8%; The 700 Club Asia (GMA-7) .6%; O Shopping (ABS-CBN) .8%; Shop Japan (TV5) .1%
FEBRUARY 2, 2017 (Thursday)
Morning:
O Shopping (ABS-CBN) .4%;My Puhunan Replay (ABS-CBN) .7%;Tunay na Buhay Replay (GMA-7) .8%
Umagang Kay Ganda (ABS-CBN) 5.1%; Unang Hirit (GMA-7) 4%; Ghost Fighter (GMA-7) 6.5%
Magandang Buhay (ABS-CBN) 7.2%; Pokemon XY (GMA-7) 7.8%; Bleach (GMA-7) 8.4%; Mako Mermaids (GMA-7) 8.8%
Kapamilya Blockbusters: Special Forces (ABS-CBN) 11.4%; The Big One (GMA-7) 8.2%; Kapuso Movie Festival: The Myth (GMA-7) 9.9%
Langit Lupa (ABS-CBN) 15%; Trops (GMA-7) 9.5%
Afternoon:
It's Showtime (ABS-CBN) 16.6%; Eat Bulaga! (GMA-7) 12.9%; Ika-6 na Utos (GMA-7) 15.2%
Doble Kara (ABS-CBN) 17.2%; Hahamakin ang Lahat (GMA-7) 12.7%
The Greatest Love (ABS-CBN) 14.8%;Pinulot Ka Lang sa Lupa (GMA-7) 11.7%
Pinoy Big Brother Lucky 7: Ang Mga Kwento ng Dream Team (ABS-CBN) 11.9%; Minute To Win It: Last Man Standing (ABS-CBN) 18.4%; Wowowin (GMA-7) 15.8%
Evening:
TV Patrol (ABS-CBN) 29.8%; 24 Oras (GMA-7) 22%; Aksyon (TV5) 2.4%; The Walking Dead (TV5) 3.5%
FPJ's Ang Probinsyano (ABS-CBN) 38.5%; Encantadia (GMA-7) 26.7%
My Dear Heart (ABS-CBN) 30.4%; Alyas Robin Hood (GMA-7) 22.2% Teen Wolf (TV5) 1.9%
A Love to Last (ABS-CBN) 19.1%; Meant to Be (GMA-7) 14.3%; Supernatural (TV5) 2.5%
Pinoy Big Brother Lucky Season 7 (ABS-CBN) 11%; Pretty Woman (GMA-7) 7.6%; Aksyon Tonite (TV5) .7%; Reaksyon (TV5) .5%
Tonight with Boy Abunda (ABS-CBN) 5.1%;Saksi (GMA-7) 3.9%; Public Atorni (TV5) .2%
Bandila (ABS-CBN) 3.3%; Reporter's Notebook (GMA-7) 2.1%; Disaster Date (TV5) .2%
Sports U (ABS-CBN) 1.8%; O Shopping (ABS-CBN) .8%; The 700 Club Asia (GMA-7) .7%;Shop Japan (TV5) .1%
FEBRUARY 3, 2017 (Friday)
Morning:
O Shopping (ABS-CBN) .7%;Red Alert (ABS-CBN) .9%;Born to be Wild Replay (GMA-7) 1%
Umagang Kay Ganda (ABS-CBN) 5.2%; Unang Hirit (GMA-7) 4.2%
Magandang Buhay (ABS-CBN) 6%; Ghost Fighter (GMA-7) 6.3%; Pokemon XY (GMA-7) 7.6%; Bleach (GMA-7) 8.4%
ADVERTISEMENT - CONTINUE READING BELOW
Kapamilya Blockbusters: Barely Lethal (ABS-CBN) 10.3%; Mako Mermaids (GMA-7) 8.6%; The Big One (GMA-7) 7.7%; Kapuso Movie Festival: The Mummy Returns (GMA-7) 10.1%
Langit Lupa (ABS-CBN) 13.5%; Trops (GMA-7) 9.3%
Afternoon:
It's Showtime (ABS-CBN) 17%; Eat Bulaga! (GMA-7) 13.4%; Ika-6 na Utos (GMA-7) 14.6%
Doble Kara (ABS-CBN) 18.1%; Hahamakin ang Lahat (GMA-7) 13.8%
The Greatest Love (ABS-CBN) 14.6%; Sa Piling ni Nanay (GMA-7) 12.4%
Pinoy Big Brother Lucky 7: Ang Mga Kwento ng Dream Team (ABS-CBN) 11.2%; Minute To Win It: Last Man Standing (ABS-CBN) 16.9%; Wowowin (GMA-7) 15.3%
Evening:
TV Patrol (ABS-CBN) 28.9%; 24 Oras (GMA-7) 21.6%; Aksyon (TV5) 2.9%
FPJ's Ang Probinsyano (ABS-CBN) 37.3%; Encantadia (GMA-7) 24.3%; 2017 Oppo PBA Philippine Cup Live (TV5) 3.3%
My Dear Heart (ABS-CBN) 28.6%; Alyas Robin Hood (GMA-7) 20.3%
A Love to Last (ABS-CBN) 18.1%; Meant to Be (GMA-7) 12.9%; Supernatural (TV5) 2.4%
Pinoy Big Brother Lucky Season 7 (ABS-CBN) 10.7%; Tonight with Boy Abunda (ABS-CBN) 6.1%; Bubble Gang (GMA-7) 8.6%; Aksyon Tonite (TV5) 1.3%; Reaksyon (TV5) .6%; History with Lourd (TV5) .3%
Bandila (ABS-CBN) 3.5%; Saksi (GMA-7) 3.3%; Disaster Date (GMA-7) .1%
TNT (ABS-CBN) 2.1%; O Shopping (ABS-CBN) .6%; The 700 Club Asia (GMA-7) .9%; Shop Japan (TV5) .1%
FEBRUARY 4, 2017 (Saturday)
Morning:

O Shopping (ABS-CBN) .8%; Adyenda (GMA-7) .6%
Sa Kabukiran (ABS-CBN) 1.7%; Kapwa Ko Mahal Ko (GMA-7) 1.5%
Salamat Dok (ABS-CBN) 3.1%; Pinoy MD (GMA-7) 2.9%
Swak na Swak (ABS-CBN) 4%; My Little Pony (GMA-7) 6.4%
Angel Wings (ABS-CBN) 3.5%;Majin Bone (GMA-7) 9.1%
Why Not? (ABS-CBN) 3.7%;Larva (GMA-7) 10.9%
ABS-CBN NBA Sabados: Orlando Magic vs Toronto Raptors (ABS-CBN) 4.8%;Grab & Play Wonder Balls (GMA-7) 9.6%; Virtua Fighter (GMA-7) 10.9%; Bleach (GMA-7) 11.1%; Maynila (GMA-7) 9.7%
KB Family Weekend: 3 Ninjas Knuckle Up (ABS-CBN) 11.1%; Sarap Diva (GMA-7) 6.9%
Afternoon:
It's Showtime (ABS-CBN) 16.4%; Eat Bulaga! (GMA-7) 13.3%
Ipaglaban Mo (ABS-CBN) 17%; #Like (GMA-7) 11.1%
SOCO (ABS-CBN) 13.8%; Karelasyon (GMA-7) 10.1%
Mga Kwento ni Marc Logan (ABS-CBN) 11.7%; Wish Ko Lang! (GMA-7) 11.8%
Family Feud (ABS-CBN) 14.6%; Imbestigador (GMA-7) 15.2%; 2017 Oppo PBA Philippine Cup Live (TV5) 4.6%
Evening:
TV Patrol Weekend (ABS-CBN) 18.7%; Home Sweetie Home (ABS-CBN) 24.5%; 24 Oras Weekend (GMA-7) 18.9%
Your Face Sounds Familiar Kids (ABS-CBN) 35.9%; Pepito Manaloto: Ang Tunay na Kuwento (GMA-7) 21.4%; Sine Squad (TV5) 3.7%
MMK 25 (ABS-CBN) 31.7%; Magpakailanman (GMA-7) 22.5%
Pinoy Big Brother Lucky 7 (ABS-CBN) 14%; Failon Ngayon (GMA-7) 5%; Kapuso Movie Night: My Big Bossing (GMA-7) 15.3%;Tsinoy (TV5) 2.1%; Catfish TV Show (TV5) .6%
ADVERTISEMENT - CONTINUE READING BELOW
The Bottom Line (ABS-CBN) 2.1%; O Shopping (ABS-CBN) .6%; I-Witness (GMA-7) 4.9%; Shop Japan (TV5) .1%
FEBRUARY 5, 2017 (Sunday)
Morning:
O Shopping (ABS-CBN) .5%; In Touch (GMA-7) .3%; Jesus the Healer (TV5) .8%
The Healing Eucharist (ABS-CBN) 5.2%; Kapuso Sine Klasika: Huli Huli Yan (GMA-7) 1.8%; Oreca Battle (GMA-7) 4.4%
Swak Na Swak (ABS-CBN) 3.4%; Majin Bone (GMA-7) 7.9%
Salamat Dok (ABS-CBN) 3.5%; Magic Kaito (GMA-7) 8.9%
Spongebob (ABS-CBN) 4.8%; Aha (GMA-7) 8.5%
Avatar (GMA-7) 5.8%; Born to be Wild (GMA-7) 10.3%
Superbook (GMA-7) 9.2%;Matanglawin (GMA-7) 9.2%; iBilib (GMA-7) 9.9%
KB Family Weekend: Spy Kids 2(ABS-CBN) 12%; Kapuso Movie Festival: The Smurfs 2 (GMA-7) 13.6%
Afternoon:
ASAP (ABS-CBN) 15.2%; Sunday Pinasaya (GMA-7) 11.6%
Banana Sundae (GMA-7) 13.1%; Dear Uge (GMA-7) 10.4%
Kapamilya Mega Blockbusters: The Achy Breaky Hearts (ABS-CBN) 13.3%; GMA Blockbusters: Fantastic Four: Rise of the Silver Surfer (GMA-7) 11.9%
Family Feud (ABS-CBN) 13.2%; TV Patrol Weekend (ABS-CBN) 16.9%; People vs the Stars (GMA-7) 9.2%; 2017 Oppo PBA Philippine Cup Live (TV5) 5%
Evening:
Goin' Bulilit (GMA-7) 24.3%; 24 Oras Weekend (GMA-7) 15%
Your Face Sounds Familiar Kids (ABS-CBN) 37.1%; Tsuperhero (GMA-7) 16.3%; Hay Bahay (GMA-7) 16.4%; 2017 Oppo PBA Philippine Cup Live (TV5) 7.9%
Wansapanataym (ABS-CBN) 32.2%; Rated K (ABS-CBN) 19.5%; Pinoy Big Brother Lucky 7 (ABS-CBN) 13.8%; Kapuso Mo, Jessica Soho (GMA-7) 19.5%;Fiba World Basketball (TV5) 1.8%; FS1 UFC Fight Night (TV5) 1.9%
Gandang Gabi Vice (ABS-CBN) 10.9%; Sunday's Best: Miss Universe (ABS-CBN) 2.6%; SNBO: Miss Universe (GMA-7) 5.2%; Diyos at Bayan (TV5) .6%; Ridiculousness (TV5) .6%; Ridiculousness (TV5) .4%; Shop Japan (TV5) 0%

=====================================================


Here are the Top 10 daytime and primetime programs from January 30-February 5, 2017 among Total Philippines (Urban & Rural) households:
January 30, 2017 (Monday)
DAYTIME:
1.      Miss Universe the Philippines Live (ABS-CBN) - 27.4%
2.      News Patrol (ABS-CBN) - 20.2%
3.      Minute to Win It: Last Man Standing (ABS-CBN) - 18.2%
4.      Wowowin (GMA-7) - 18.1%
5.      Doble Kara (ABS-CBN) - 17.4%
6.      The Big One(GMA-7) - 17.2%
7.      It's Showtime (ABS-CBN) / Miss Universe the Philippines Live (GMA-7) - 17%
8.      Langit Lupa(ABS-CBN) - 16.7%
9.      The Greatest Love (ABS-CBN) - 15.1%
10.  Eat Bulaga! (GMA-7) / Ika-6 na Utos (GMA-7) - 13.5%
PRIMETIME:
1.      FPJ's Ang Probinsyano(ABS-CBN) - 37.4%
2.      TV Patrol (ABS-CBN) - 30.3%
3.      Encantadia (GMA-7) - 28%
4.      My Dear Heart(ABS-CBN) - 26.9%
ADVERTISEMENT - CONTINUE READING BELOW
5.      24 Oras (GMA-7) - 24.6%
6.      Alyas Robin Hood (GMA-7) - 20.5%
7.      A Love to Last (ABS-CBN) - 17.1%
8.      Meant to Be (GMA-7) - 12.7%
9.      Pinoy Big Brother Lucky 7 (ABS-CBN) -9.2%
10.  Pretty Woman (GMA-7) - 6.6%
January 31, 2017 (Tuesday)
DAYTIME:
1.      Doble Kara (ABS-CBN / Minute to Win It: Last Man Standing (ABS-CBN) - 16.9%
2.      It's Showtime (ABS-CBN) - 16.1%
3.      Wowowin (GMA-7) - 14.7%
4.      Langit Lupa(ABS-CBN) - 14.5%
5.      The Greatest Love (ABS-CBN) - 13.7%
6.      Eat Bulaga! (GMA-7) - 13.3%
7.      Ika-6 na Utos(GMA-7) - 13%
8.      Hahamakin ang Lahat(GMA-7) - 11.7%
9.      Pinulot Ka Lang sa Lupa(GMA-7) - 10.7%
10.  Pinoy Big Brother Lucky 7: Mga Kwento ng Dream Team (ABS-CBN) - 10.3%
PRIMETIME:
1.      FPJ's Ang Probinsyano(ABS-CBN) - 37.7%
2.      TV Patrol (ABS-CBN) - 29.2%
3.      My Dear Heart(ABS-CBN) - 28.6%
4.      Encantadia (GMA-7) - 26.9%
5.      24 Oras (GMA-7) - 22.9%
6.      Alyas Robin Hood (GMA-7) - 22%
7.      A Love to Last (ABS-CBN) - 19.5%
8.      Meant to Be (GMA-7) - 12.9%
9.      Pinoy Big Brother Lucky 7 (ABS-CBN) - 10.5%
10.  Pretty Woman (GMA-7) - 6.8%


February 1, 2017 (Wednesday)
DAYTIME:
1.      Minute to Win It: Last Man Standing (ABS-CBN) - 17.4%
2.      Wowowin (GMA-7) - 16.7%
3.      Doble Kara (ABS-CBN) - 16.3%
4.      It's Showtime (ABS-CBN) - 16%
5.      Langit Lupa(ABS-CBN) - 14.8%
6.      Ika-6 na Utos (GMA-7) - 14.2%
7.      Eat Bulaga! (GMA-7) - 12.6%
8.      Kapamilya Blockbusters(ABS-CBN) - 12%
9.      Hahamakin ang Lahat (GMA-7) - 11.8%
10.  Pinoy Big Brother Lucky 7: Mga Kwento ng Dream Team (ABS-CBN) - 11.4%
PRIMETIME:
1.      FPJ's Ang Probinsyano(ABS-CBN) - 37.4%
2.      TV Patrol (ABS-CBN) - 28.8%
3.      My Dear Heart(ABS-CBN) - 28.7%
4.      Encantadia (GMA-7) - 25.6%
5.      24 Oras (GMA-7) - 21.3%
6.      Alyas Robin Hood (GMA-7) - 20.7%
7.      A Love to Last (ABS-CBN) - 18.3%
8.      Meant to Be (GMA-7) - 12.5%
9.      Pinoy Big Brother Lucky 7 (ABS-CBN) - 9.9%
10.  Pretty Woman(GMA-7) - 7.4%


February 2, 2017 (Thursday)
DAYTIME:
1.      Minute to Win It: Last Man Standing (ABS-CBN) - 18.4%
2.      Doble Kara (ABS-CBN) - 17.2%
3.      It's Showtime (ABS-CBN)- 16.6%
4.      Wowowin (GMA-7) - 15.8%
5.      Ika-6 na Utos (GMA-7) - 15.2%
6.      Langit Lupa(ABS-CBN) - 15%
7.      The Greatest Love (ABS-CBN) - 14.8%
8.      Eat Bulaga! (GMA-7) - 12.9%
9.      Hahamakin ang Lahat (GMA-7) - 12.7%
10.  PBB Lucky 7: Ang Mga Kwento ng Dream Team ni Kuya (ABS-CBN) - 11.9%
ADVERTISEMENT - CONTINUE READING BELOW
PRIMETIME:
1.      FPJ's Ang Probinsyano (ABS-CBN) - 38.5%
2.      My Dear Heart(ABS-CBN) - 30.4%
3.      TV Patrol (ABS-CBN) - 29.8%
4.      Encantadia (GMA-7) - 26.7%
5.      Alyas Robin Hood (GMA-7) - 22.2%
6.      24 Oras (GMA-7) - 22%
7.      A Love to Last(ABS-CBN) - 19.1%
8.      Meant to Be(GMA-7) - 14.3%
9.      Pinoy Big Brother Lucky 7 (ABS-CBN) - 11%
10.  Pretty Woman(GMA-7) - 7.6%


February 3, 2017 (Friday)
DAYTIME:
1.      Doble Kara (ABS-CBN) - 18.1%
2.      It's Showtime (ABS-CBN) - 17%
3.      Minute to Win It: Last Man Standing (ABS-CBN) - 16.9%
4.      Wowowin (GMA-7) - 15.3%
5.      Ika-6 na Utos(GMA-7) / The Greatest Love (ABS-CBN) - 14.6%
6.      Hahamakin ang Lahat(GMA-7) - 13.8%
7.      Langit Lupa(ABS-CBN) - 13.5%
8.      Eat Bulaga! (GMA-7) - 13.4%
9.      Pinulot Ka Lang sa Lupa(GMA-7) - 12.4%
10.  PBB Lucky 7: Ang Mga Kwento ng Dream Team ni Kuya (ABS-CBN) - 11.2%
PRIMETIME:
1.      FPJ's Ang Probinsyano (ABS-CBN) - 37.3%
2.      TV Patrol (ABS-CBN) - 28.9%
3.      My Dear Heart (ABS-CBN) - 28.6%
4.      Encantadia (GMA-7) - 24.3%
5.      24 Oras (GMA-7) - 21.6%
6.      Alyas Robin Hood (GMA-7) - 20.3%
7.      A Love to Last(ABS-CBN) - 18.1%
8.      Meant to Be (GMA-7) - 12.9%
9.      Pinoy Big Brother Lucky 7 (ABS-CBN) - 10.7%
10.  Bubble Gang (GMA-7) - 8.6%


February 4, 2017 (Saturday)
DAYTIME:
1.      Ipaglaban Mo (ABS-CBN) - 17%
2.      It's Showtime (ABS-CBN) - 16.4%
3.      Imbestigador (GMA-7) - 15.2%
4.      Family Feud (ABS-CBN) - 14.6%
5.      SOCO (ABS-CBN) - 13.8%
6.      Eat Bulaga! (GMA-7) - 13.3%
7.      Wish Ko Lang! (GMA-7) - 11.8%
8.      Mga Kwento ni Marc Logan (ABS-CBN) - 11.7%
9.      KB Family Weekend (ABS-CBN) / Bleach (GMA-7) / #Like (GMA-7) - 11.1%
10.  Virtua Fighter (GMA-7) /Larva (GMA-7) - 10.9%
PRIMETIME:
1.      Your Face Sounds Familiar Kids (ABS-CBN) - 35.9%
2.      MMK 25 (ABS-CBN) - 31.7%
3.      Home Sweetie Home (ABS-CBN) - 24.5%
4.      Magpakailanman (GMA-7) - 22.5%
5.      Pepito Manaloto: Ang Tunay na Kuwento (GMA-7) - 21.4%
6.      24 Oras Weekend (GMA-7) - 18.9%
7.      TV Patrol Weekend (ABS-CBN) - 18.7%
8.      Kapuso Movie Night(GMA-7) - 15.3%
9.      Pinoy Big Brother Lucky 7 (ABS-CBN) - 14%
10.  Failon Ngayon (ABS-CBN) - 5%


February 5, 2017 (Sunday)
DAYTIME:
1.      ASAP (ABS-CBN) - 15.2%
2.      Kapuso Movie Festival (GMA-7) - 13.6%
3.      Kapamilya Mega Blockbusters (ABS-CBN) - 13.3%
4.      Family Feud (ABS-CBN) - 13.2%
5.      Banana Sundae (ABS-CBN) - 13.1%
6.      KB Family Weekend (ABS-CBN) - 12%
7.      GMA Blockbusters (GMA-7) - 11.9%
8.      Sunday Pinasaya (GMA-7) - 11.6%
ADVERTISEMENT - CONTINUE READING BELOW
9.      Dear Uge (GMA-7) - 10.4%
10.  Born to be Wild (GMA-7)- 10.3%
PRIMETIME:
1.      Your Face Sounds Familiar Kids (ABS-CBN) - 37.1%
2.      Wansapanataym (ABS-CBN) - 32.2%
3.      Goin' Bulilit (ABS-CBN) - 24.3%
4.      Rated K (ABS-CBN) / Kapuso Mo, Jessica Soho (GMA-7) - 19.5%
5.      TV Patrol Weekend (ABS-CBN) - 16.9%
6.      Hay Bahay! (GMA-7) - 16.4%
7.      Tsuperhero (GMA-7) - 16.3%
8.      24 Oras Weekend (GMA-7) - 15%
9.      Pinoy Big Brother Lucky 7 (ABS-CBN) - 13.8%
10.  Gandang Gabi Vice (ABS-CBN) - 10.9%


Source: Kantar/TNS