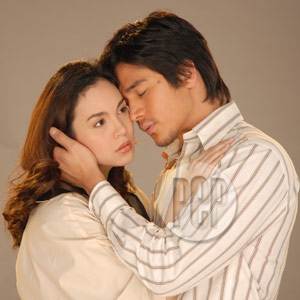 ---
For several months, viewers witnessed the passionate tale offorbidden love shared by step-siblings Melanie and Noel. Now that the soap isabout to end, join the cast of Walang Kapalit as the two lovers try toregain the love and trust of their son.
Noel (Piolo Pascual) and Melanie (Claudine Barretto) finallygot their son Ernest from Cynthia (Jodi Sta. Maria), who was sent to jail forkidnapping and murder. But since the latter took Ernest from his real motherafter birth, the child grew up thinking that Cynthia was his mother, and wastraumatized when he was separated from her. Desperately wanting to be close toher son, Melanie asked for Cynthia's help. Cynthia agrees but with thecondition that Noel will try to love her and visit her in prison everyday.Because of their love for their only child, Melanie and Noel consent toCynthia's deal.
After a while, Ernest learns to love his real parents.However, Cynthia has not given up on getting Noel for herself and has totallylost her sanity. She will even use Ernest's affections to exact revenge on Noeland Melanie. Will Cynthia succeed with her evil ploy or will Noel and Melaniebe able to stop her from putting their child in danger?
Don't miss the engaging finale of this teleserye. Catch thelast episodes of Walang Kapalit this week, after Kapamilya: Deal orNo Deal on ABS-CBN Primetime Bida.