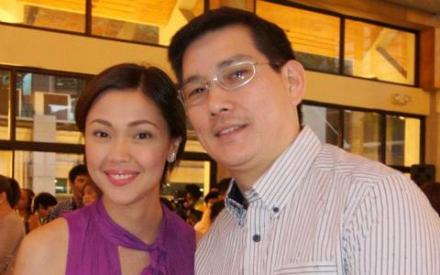 ---
PRESS STATEMENT FROM ABS-CBN:
"ABS-CBN Corporation continued its lead in TV ratings among urban and rural homes across the country for the month of July 2012, wrestling daytime leadership (6AM to 6PM) from rival station and maintaining its consistent supremacy on primetime (6PM to 12 MN) when most Filipinos watch TV and advertisers put a larger chunk of their investment in to reach more consumers efficiently.
"Data from Kantar Media show that ABS-CBN obtained an average national audience share of 42% for total day or a 12-point lead versus GMA's 30%, which suffered a two-point decline in viewership last month.
"Kantar Media is a leading television (TV) audience measurement provider with capabilities in gathering TV viewing data in both digital and analog platforms. It now has total of 6.315 million homes in rural areas across the Philippines (North Luzon, Central Luzon, South Luzon, Visayas and Mindanao) added to its existing 8.820 million homes in urban areas, bringing the total TV universe to 15.135 million homes nationwide. Kantar Media's audience panel now covers and represents 100% of the total Philippine TV viewing population.
"For the entire month of July, ABS-CBN surged ahead of its competitors in national daytime with an average audience share of 37%, higher by four points than GMA's 33%. More notably, Be Careful with My Heart on ABS-CBN even had more viewers than GMA's primetime shows. ABS-CBN's Be Careful With My Heart rated at 19.7% as compared to GMA primetime programs Kapuso Mo, Jessica Soho (15.9%), Luna Blanca (15.7%) and Makapiling Kang Muli (14.3%).
"And when primetime clocks in, ABS-CBN viewership soared to 49% or almost twice the number of households tuning to GMA that had 27% share.
"ABS-CBN also continued its winning streak across other territories in primetime. In Metro Manila, ABS-CBN beat its rival with an average primetime audience share of 37% vs GMA's 32%.
"In total Balance Luzon (areas in Luzon outside of Mega Manila), ABS-CBN's primetime audience share hit 51% vs GMA's 27%. The VisMin regions remained to be Kapamilya territories with ABS-CBN hitting an average primetime audience share of 58% in the Visayas compared to GMA's 23%, and 64% in Mindanao or four times GMA's primetime audience share of 16%.
ADVERTISEMENT - CONTINUE READING BELOW
"This dominance was mainly driven by ABS-CBN's weeklong top-caliber primetime offerings that continue to gain significant increases as more and more viewers watch them on both weekday and weekend nights. ABS-CBN made a clean sweep taking all 15 out of the top 15 slots in Kantar Media's list of most watched programs for July.

"Walang Hanggan continues to dominate the whole country as the number one program, hitting an average national TV rating of 39.2%, followed by leading weekend program "MMK" with a close 38.2% and royal teleserye "Princess and I" with 36.6%.
"TV Patrol, on the other hand, scored a national TV rating of 31.8% as opposed to rival 24 Oras with only 17.5%.
"ABS-CBN's morning drama series Be Careful with my Heart topped all daytime programs, including independent blocktimer Eat Bulaga, which only hit an average of 15.8%. The drama series secured the last spot in the top 15 with an average national TV rating of 19.7%.
"Weekend programs also proved to be strong contenders in the ratings game as they occupied the 5th to 10th slots in the top 15. These includes "Wansapanataym" (31%), "PBB Teen Edition 4 (Saturday)" (26.6%), "Rated K" (26.5%), "Kapamilya Deal or No Deal" (25.3%), "The X Factor Philippines (Saturday)" (24.8%), and "Goin Bulilit" (24.3%).
"Other Kapamilya programs in the top 15 are "Lorenzo's Time" (22.7%), "Aryana" (22.7%), "Sarah G Live" (20.4%), and "TV Patrol Weekend" (19.8%)
"ABS-CBN registered a net income of P2.4 billion for the full year 2011, while news media reported that GMA Network net income plummeted to P1.72 billion in the same period.

"Kantar Media, a multinational market research group that specializes in audience measurement in more than 80 countries, has 26 TV networks, ad agencies, and pan-regional networks subscribing to its ratings services. Among its current subscribers are ABS-CBN, NBN, Sky Cable, J. Romero and Associates, 720ConsumerConnect, Starcom, OMD, PhD, Mediacom, Mindshare, MEC, Maxus, Universal McCann, Wellmade Manufacturing Corporation, Brand Ideas, and MPG Havas. They also include pan-regional networks like CSM Media Inc., Fox International Channels, Star HK, Discovery, AXN, HBO, MTV, Sony Pictures Television International, Celestial Tiger, and A&E Television Network. Among these, the following subscribe to both urban and rural TV audience measurement: ABS-CBN, Brand Ideas, MPG Havas, and 720ConsumerConnect.

"ABS-CBN shifted to Kantar Media/TNS after filing a case vs. AGB Nielsen Media Research for failing to comply with its request to investigate alleged cheating and data tampering in TV ratings. The case is still pending in court contrary to claims by GMA, which is not a party to the case, that it has been resolved."



ADVERTISEMENT - CONTINUE READING BELOW
Ed's Note: When content falls under "Press Statement," this means that the material is fully and directly from the company issuing the press release. The use of open-and-close quotation marks to envelope the entire text shows as much. This also means that PEP is not the author of the statement being read. PEP is simply providing the information for readers who may be interested.