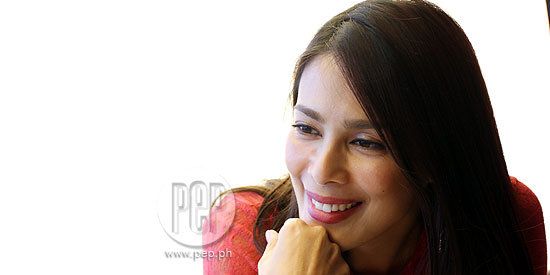 ---
Angel Aquino has accepted another kontrabida role in ABS-CBN's upcoming teleserye, Apoy sa Dagat.

Angel revealed that this project starring Piolo Pascual, Angelica Panganiban and Diether Ocampo will be airing by October this year.


"If Angelica is already there as the bida, she needs a kontrabida, and that's me," confirmed Angel.

In the meantime, viewers will get to see the artistic side of Angel as she hosts an interior design show on the Lifestyle Network.


The actress initially could not believe that she was asked to host a show about interior design.
At the press conference of Interior Motives yesterday, August 2, at Sumosam restaurant at The Podium mall in Mandaluyong City, the model/TV host/actress said that she felt dubious when the producers of the show came up to her.
"I was quite unsure if they really wanted me because I didn't know anything about interiors, I don't have any background in interior design.
"But then I realized I am someone who appreciates these beautiful things— that is the strength that I can bring to the show. I love beautiful interiors," Angel stated as she broke into a smile.
The project came in a timely manner. Us Girls, a weekly magazine show she co-hosted with Iya Villania and Cheska Garcia on Studio 23, concluded last June after airing for 6 years.
Angel previously hosted the defunct lifestyle show F! with Daphne Osmeña-Paez and Cher Calvin, as well as Tablescapes, a cooking and travel show in with Chef Bruce Lim on Asian Food Network (AFC).
Now the beauty and fashion icon extends the stylishness she is known for in Lifestyle Network's latest offering, Interior Motives.
Angel relayed that she had homework to do: "I had to read up— interior design magazines, architectural magazines— just so I can familiarize myself with the jargon.
ADVERTISEMENT - CONTINUE READING BELOW
"I had to know… how they describe texture and color. I had to brush up on that."
Interior Motives aims to educate its audience with the basics of interior design from color schemes to furniture and ornaments, meanwhile considering alternatives while on a budget.
For each episode, the program will feature Filipino interior designers, their works, and their perception about making use of space. As Angel interviews them, the audience will pick up recommendations, tips, and tricks in decorating.
Interior Motives, according to executive producer Apples de la Vega, most importantly features a "know, buy, fix" framework.She explains that the show will provide its audience with the knowledge or let them know about the jargons of design, meanwhile giving pointers on what products to buy, and giving tips on how to fix, carry out, or execute the design principles given beforehand.
"PERSONAL" MOTIVES
Has Angel always been fond of interior design?
She told the press, "I do what I can in my house. In my room at least, I choose the art work that should be up on the walls. I live with my mother so … of course, she rules in the house."
The actress-model said she was raised by her Nanay who had a style of her own. "She loves wood, she puts together what she thinks blend well."
"But me," conveyed Angel, "I appreciate spaces that are functional and beautiful at the same time. I don't like spaces that look like they're showcasing… everything is just there, everything is on display and you cannot touch them.
"I want a place where I can sit on my couch comfortably, watch TV, or read a book with my kids. I want spaces that breathe and live."
She believes that hosting the show is perfect for her, as well as "those who are still trying to look for the perfect style and the perfect design for their homes."
ADVERTISEMENT - CONTINUE READING BELOW
"Here they will see a lot of options in designs that would suit their lifestyle perfectly."
WHAT FASHION HAS TAUGHT ANGEL
Asked how she translates her flair for fashion in Interior Motives, Angel explained, "I featured the bedroom of Rajo Laurel."
Rajo is one of the country's top fashion designers.
She continued, "I asked the designer, 'How do you marry interior design and fashion design?'
"And she said, 'Rajo, being a designer would know which things would look good together. And even if they don't look like they match, you know, you can mix and match!'"
Angel said she applies mixing and matching clothing in designing her own bedroom.
"I tend to mix and match stuff. That's probably what fashion naman teaches me also."
INTERIOR DESIGN IS IMPORTANT
If there is anyting that Angel has learned so far from her latest venture, it is that interior design is important.
"At the end of the day you would like to come home to a place that relaxes you and that you'll like being in… a place where you can just breathe and be yourself and know that it's you.
"That is your space and you own it… and everything around it tells you that it's yours. That's what's important about interior design."
Catch the first episode of Interior Motives on August 4, Saturday at 7:00 PM on Lifestyle Network. The pilot episode will feature top interior designers Ivy and Cynthia Almario.