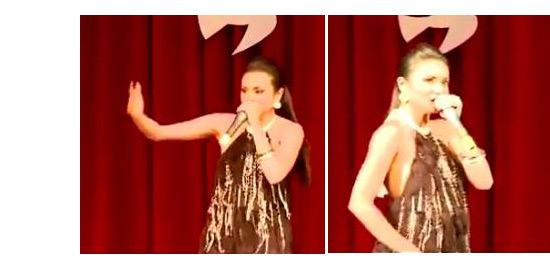 ---
She's got skillz.

Queenierich Rehman, the Philippines' official candidate in Miss World 2012, came out on stage wearing a bronze and gold halter gown, and wowed the crowd with her beatboxing skills during the talent portion of the beauty pageant.
The 23-year-old beauty queen was among the Top Five in the talent competition, which features 115 other contenders.
Queenierich surprised the audience when she suddenly beatboxed after singing a few lines from Far East Movement's "Rocketeer." She captured the attention of spectators when she mashed up Usher's "Yeah," Justin Timberlake's "Rock Your Body," and Cali Swag District's "Teach Me How To Dougie."
Foreign online publications praised the Filipina-Pakistani contestant for her unconventional skills, which sets her apart from the baton-twirling talents and chanteuses more commonly seen in the competition.
The video of Queenierich's beatboxing also went viral on the Internet.
Time.com mentioned in its newsfeed, "We'll say one thing for Queenierich Rehman: she can sure drop a beat."
Tim Newcomb of Time.com also wrote: "During the talent segment of the Miss World 2012 competition, Miss Philippines strode out on stage in an evening dress and began singing—but that was only a prelude to some serious funkiness. The 23-year-old then proceded to bust out some serious beat-boxing, '80s style, while singing and air-record scratching for good measure."
Meanwhile, Dailymail.co.uk's headline read "Miss Philippines beauty queen competitor reveals secret talent and stuns audience with awesome beatbox routine" as the news item described Queenierich's performance in detail.
MSN.com even called her the "Coolest pageant contestant ever."
On August 13, the grateful Filipino-Pakistani beauty queen posted on her Facebook fan page:
"thank you everyone for the prayers..let's not stop aiming for what we want to achieve in this wonderful journey..we have to fight till the end! lets go Philippines!!!!!!!!!!!!!!!!!!!!!!!!"
ADVERTISEMENT - CONTINUE READING BELOW
The coronation night will be held at the Dongsheng Fitness Center Stadium in Ordos, Inner Mongolia, China on August 18.
Miss World 2012 will be shown on TV5 on August 18 right after Untold Stories.

(CLICK HERE to watch Queenierich's beatboxing performance)