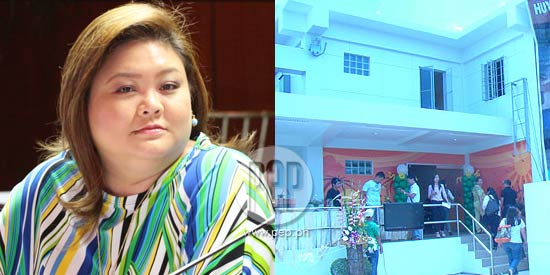 ---
Key executives of GMA Network recently met with select members of the press to discuss the launches of two additional originating stations in Luzon earlier this year.
Atty. Felipe Gozon, GMA-7's CEO and chairman, led the media briefing held on August 22, 2012 at the 16th floor boardroom of GMA Network.
In his opening remarks, Atty. Gozon said the Kapuso Network opened originating stations in Ilocos and Bicol "to grow our viewership levels and also to grow our revenues in those areas and, of course, in the entire Philippines.
"It is our hope that you will continue to give us your support as we expand our public service and reach nationwide."
In June 2012, the Kapuso Network opened its originating station in Ilocos thru Channel 5 in Ilocos Norte and Channel 48 in Ilocos Sur, covering parts of Abra.
The Ilocos station, an investment worth over P100 million, services over 218,000 estimated television households.
(CLICK HERE to read related article)


In August 2012, another originating station was launched in Bicol. GMA Bicol is now seen in the provinces of Camarines Sur and Albay, and will soon be seen in Sorsogon, Masbate, and Catanduanes for a total estimated television-households coverage of over 805,000.
ADVERTISEMENT - CONTINUE READING BELOW
GMA Ilocos and GMA Bicol are increments to GMA's four originating stations found in Cebu, Davao, Iloilo, and Dagupan.
According to a report prepared by the corporate communications department of GMA-7, all these stations are already revenue contributors since the start of regional operations in 2006 till present.
The report also indicated that the GMA Bicol originating station was opened following GMA Naga's "impressive bottom line performance" as a satellite station since its launch in 2009.
The report states that GMA Naga "consistently delivered double-digit annual net income growth" until its recent conversion to a full-blown originating station.
Atty. Gozon pointed out, "These two stations alone cost us more than P200 million. The cost in Ilocos is not the same as Bicol…There is no question that we have the money to do that."
When PEP.ph asked about the total cost of their investment, Engineer Elvis Ancheta, GMA-7's Vice-President of the Transmission Regional Engineering Department, explained:
ADVERTISEMENT - CONTINUE READING BELOW
"In Bicol, we have accounted for the building facility, a technical operations center, a studio facility, and we have a relay center somewhere in Albay. Also, we have offices and installation—the cost would be in the region of P120 million."
He also pointed out that there are now four transmitters operating in GMA Bicol.
Chief Financial Officer Felipe Yalong then mentioned that they have allocated P160 million for the Bicol project and P115 million for the Ilocos project.
Rikki Escudero, GMA-7's vice president for regional TV, added:
"We built a two-storey structure, this is part of the P120 million investment of GMA-7. It's a very sturdy structure since it was built to withstand winds of up to 250 kilometers per hour. All of the originating stations have these buildings for the programs. There's a studio and an OB [outside broadcast] van."
GMA says its localized programming content is now complemented by respective news and public affairs programs in the Ilocos and Bicol regions.
ADVERTISEMENT - CONTINUE READING BELOW
Balitang Ilokano, anchored by veteran broadcast journalist Jorge Guerrero, covers a broad range of topics from politics, religion, natural calamities, to regional festivals. The Ilokano-speaking newscast airs daily over GMA Ilocos from 5:10 p.m. to 5:50 p.m.
Meanwhile, Baretang Bikol brings a local flavor to GMA's brand of news delivery. Anchored by veteran journalist Elmer Caseles, the newscast will go on-air beginning September 17 from 5:10 p.m. to 5:50 p.m..
Both newscasts have multi-link systems that make it possible to air live reports from Laoag to Vigan (for Balitang Ilokano), and from Legazpi to Naga (for Baretang Bikol).
As for their future expansion plans, GMA President and COO Gilberto Duavit Jr. disclosed: "There are two possible additional originating stations being contemplated. One is in Mindanao and another in the Luzon area."
Why are they not planning to open an originating station in the Visayas area?
"The mathematics…It would be premature," admitted Duavit.
ADVERTISEMENT - CONTINUE READING BELOW