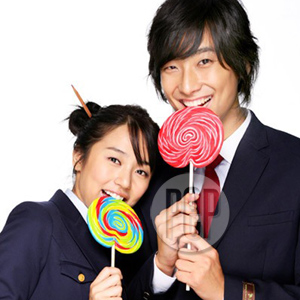 ---
Based on a comic book series, Princess Hours tells the story of two high school students—typical girl-next-door Janelle (Yoon Eun-hae) and heir to the throne Prince Gian (Joo-Ji Hoon)—who have been committed into an arranged marriage.
The crown prince of Korea is a smug, indifferent, and insensitive young boy who has to marry against his will. Gian is betrothed to an ordinary girl from an ordinary family, a girl who is clumsyand has average grades and average looks. In this Koreanovela—also known as Goong (Palace)—Janelle manages to sidestep the prejudice and barriers surrounding her.
There will be a definite struggle for the two teenagers who don't believe in the concept of pre-arranged marriages in this day and age. But will it all lead to disaster? Or is there a romance waiting to bloom?
This modern-day tale fancifully re-imagines present-day Korea as a constitutional monarchy with a royal family. A beautiful palace, sitting in the heart of Seoul, becomes home to a group of young teenagers pulled into the political rivalries, comical situations, and romantic entanglements of palace life. Sparks will fly when youthful romance meets palace politics in this colorful romantic comedy!
Catch the series of a princess-in-waiting and a possible romance in the making starting December 18, Monday, during ABS-CBN's Kapamilya Primetime Bida after Maging Sino Ka Man.