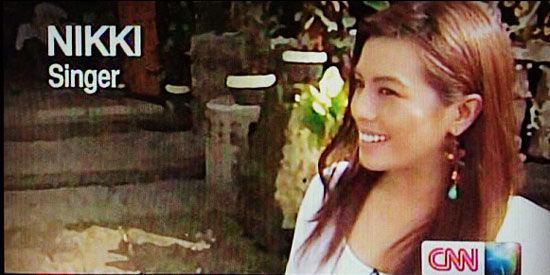 ---

Filipina singer-actress Nikki Gil and Filipino actor Ping Medina were chosen to be segment hosts of CNNGo. The said travel show was aired on CNN cable channel last Wednesday, October 10.


In her Twitter account, Nikki posted this update last October 10:

"CNNgo feature on Manila came out today! :) I went to my dad's hometown, Angono, Rizal, which is dubbed the art capital of the Philippines."


The singer-actress went to Angono to look at ancient petroglyphs that date back to 3000 BC. They are believed to be the oldest known artwork in the Philippines.


Nikki also tried exotic dishes at Balaw-Balaw restaurant, which she described as "very indigenous."


The singer-actress shared screencaps from the CNN feature and posted them on her Instagram account.


For his part, Ping Medina pointed out that Cubao X has evolved from being a shoe expo to an artist community. The actor also tried the dishes at the quirky Van Gogh is Bipolar restaurant in Quezon City.


Another portion of the show, hosted by food writers Claude Tayag and Mary Ann Quioc, featured Makati's Salcedo weekend market and Farmer's Market in Cubao.


For the last portion, magazine editor Cheryl Tiu rode a boat and a horse to visit Taal Volcano, the smallest active volcano in the world.


According to its official website, CNNGo is "a monthly 30-minute show featuring a unique take on global destinations, bringing views from genuine insiders on what gives dynamic cities in Asia and beyond their distinctive buzz."


The CNNGo episode on the Philippines will be replayed on October 13, 2012 at 12:30 p.m.; October 14 at 7:30 p.m.; November 10 at 7:30 p.m., and November 11, at 12:30 p.m. on CNN.