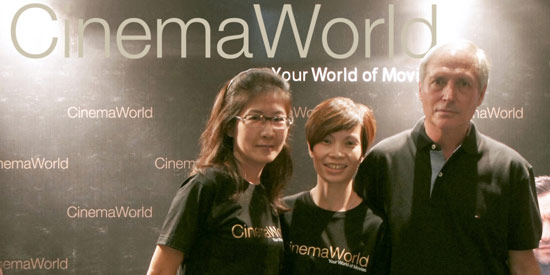 ---
Filipinos' passion for movies became the driving force for executives to offer CinemaWorld, a new international movie channel, in the Philippines.

Movie lovers now have the option to watch films round the clock should they want and the selected movies will have their Asian pay television premiere on CinemaWorld.

First launched in Singapore early this year, China was the second country to have access to this HD channel.

Officially launched in the country last October 1, the Philippines is the third country in the region to launch its local availability.

Founders Quek Toi Mien and Suarina Chua, along with James Marturano, were longtime colleagues at HBO Asia. Their years of experience in the pay television industry have given them insights regarding the viewing habits of people. CinemaWorld is commercial free and available in high definition.

Executive Vice President James Marturano promised that "subscribers can look forward to 15 to 17 new movies each month. The basic lineup right now is about 70 movies per month. It's a good mix."

Showcasing top box office hits and award winning films from around the world, CinemaWorld offers movies from Europe, Latin America, Australia, and North America, Asia, South Asia, and the Middle East.


MOVIE-LOVING MARKET. CinemaWorld was launched in Singapore before management decided to offer their services to China and then the Philippines. Among all Asian countries, why did they choose the Philippines?
"It's a natural market," explained Suarina Chua, co-founder and CEO of CinemaWorld, during the launch of the channel held at Draft Gastropub in The Fort.
ADVERTISEMENT - CONTINUE READING BELOW
"This is one movie-loving country. Very natural market. Filipinos love movies."
She also cited the fact that Pinoys who are active on social media were already looking forward to the movie channel even though CinemaWorld was not yet formally launched in the Philippines.
Suarina pointed out: "We launched our Facebook page in June this year and at the end of September, we had more than 6,500 fans in less than four months.

"The second largest fan base was from the Philippines as well as Filipinos working in Singapore. It's amazing--we're not in the Philippines yet and they love us!
"It's evident that this is a country that loves movies."
The former HBO executive then praised Pinoys by saying, "Filipinos are very open-minded and have a great capacity to embrace foreign culture.
"It helps that there is globalization through the Internet."
Since their cable channel is targeted to Asians, Suarina says that, "Asian movies are a majority, [especially those from] Bollywood and China.
"We could expand Asian [content] to 25 to 35 percent."
She also believes that locally made films have the potential to be tapped in this international movie channel.
"We're interested in Filipino movies because they are rarely seen outside the Philippines," she pointed out.
Suarina has been checking the films of mainstream producers as well as those that have been cited by award giving bodies in the movie industry.

"I would love to have some Filipino movies on CinemaWorld… I will buy some to put on the channel hopefully next year," said the executive.

Weekends on CinemaWorld will have a thematic focus. "Thriller Fridays" at 11 pm will showcase movies that promise to have moviegoers at the edge of their seats.

"Saturday Festival Picks" will highlight acclaimed movies exhibited in Cannes, Venice, Locarno, and Pusan, among other notable festivals.

"Sunday See the World" at 9 pm offers unique movies from around the world.

CinemaWorld is now available in Metro Manila on Cable Link. Starting November 1, CinemaWorld can also be watched in Metro Manila on a la carte subscription or the HD Movie Package of SkyCable.


OFFERINGS FOR NOVEMBER. For the month of November, movies from around the globe will be featured and highlighted on CinemaWorld for viewers to enjoy.
ADVERTISEMENT - CONTINUE READING BELOW
A VIEW OF LOVE
Happily married with a daughter, Marc is a successful real estate agent in Aix-en-Provence. One day, he has an appointment with a woman. A few hours later, Marc finally puts a name to her face – Cathy, the girl he was in love with growing up in Oran, Algeria, in the last days of the French colonial regime. They spend the night together. Then she is gone again. But Marc's mother tells him Cathy never left Algeria. Oscar winning actor Jean Dujardin stars in the 2010 French romantic thriller, A View of Love.
CHOCOLATE KISSES
Kamal's and Mattia's lives went in different directions after having won a competition: Mattia's gone back to construction but with little work, and Kamal has opened a chocolate shop but with no customers. These two former friends' paths cross again. Kamal has a new ambitious plan for making chocolates, and Mattia wants in. But Kamal still does not trust him especially now that his beautiful daughter Nawal has returned from studying abroad. It will not be long before things get complicated, and once again, among all the misunderstandings and plot twists, only chocolate can bring everyone together. Catch Luca Argentero of Eat, Pray, Love and Isabella Adriani of The American in this 2011 Italian romance movie.
THE DANCER AND THE THIEF
A Goya Awards 2012 Best Film Nominee, this adaptation of Antonio Skármeta's novel tells of an ageing ex-con who teams up with a small-time crook to pull off one last heist to steal a fortune. Their plans are complicated by the young man's romance with a mute ballerina. The 2009 Spanish thriller The Dancer and The Thief on CinemaWorld is made by Oscar-winning director Fernando Trueba.
ADVERTISEMENT - CONTINUE READING BELOW
JACKPOT
This movie is set in the border country between Norway and Sweden, where we meet a bunch of scruffy guys: Oscar, Thor, Billy and Tresko (The Clog), who share a criminal past. They are working in a strange factory in the middle of nowhere producing plastic Christmas trees. But they are also gamblers. Like most people they had never won anything – until now! Find out what happens to them in Jackpot, a 2011 Norwegian comedy.
ROUGH HANDS
In Casablanca, where the system can be bought, Zakia, a teacher uses forged documents to get a job as a strawberry picker in Spain to be with her fiancé. Her neighbor, Mustapha, a 40-year old barber, helps her through his side job of "facilitating" paperwork. But Zakia's smooth hands betray her. Rough Hands is a 2011 Moroccan drama, showing how destiny can lead us down an unexpected path.

SALVADOR
This movie depicts the true account of Salvador Puig Antich, a young militant in the Iberian Liberation Movement, who is the last political prisoner to be executed by the Spanish in 1974. Salvador, a 2006 Spanish drama, shows the story of his family, colleagues and lawyers' desperate attempts to save him from the garrote. This movie won Best Screenplay in the 2007 Goya Awards, and stars leading man Daniel Bruhl of Inglourious Basterds.