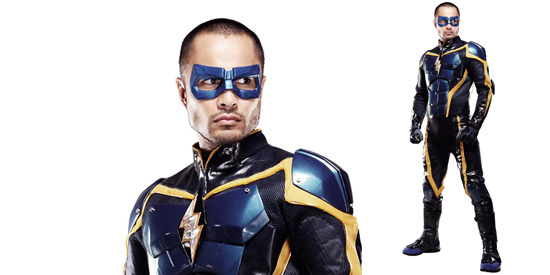 ---


Last December 16, TV5 unveiled the Kidlat billboard along EDSA-Orense with a light show. Lead actor Derek Ramsay wore his superhero costume as he was strapped into a harness to bring him to the top of the billboard.


According to information provided by the corporate communications department of TV5, the Kapatid Network sought out the best minds in the costume and comic book industry here and abroad to create Derek's costume. The design team is composed of Chester Ocampo, Dennis Crisostomo, and Greg Lipit who are seasoned Filipino costume designers, art director, graphic artists and comic book illustrators. The team is joined by Chris Donio, a renowned Hollywood costume engineer whose impressive portfolio includes costume work for superhero blockbuster movie X-Men: First Class. He joins the group as consultant and chief costume maker.


The process of making Kidlat's costume is no easy feat. Donio, who's known for his sculpting his creations, asked lead star Derek Ramsay to strip down to almost nothing and lie still for five hours to finish a full-body cast—a first in the actor's career.


In a recent interview, the Kapatid hunk admitted that it was the longest five hours of his life. "Ang hirap!" he exclaimed, laughing. "People used spatulas to cover me from head to toe with slime. They only leave space [around my nose] so I could breathe." The mold was necessary to ensure that the costume would fit Derek perfectly.


All the hard work was worth it though, Derek revealed. While standing atop the massive billboard overlooking the city, he admitted that for that moment he truly felt he was a superhero.


The costume shows Derek in a tight blue body suit trimmed with yellow-gold piping inspired by electric wires. It is built with specially-designed armor on his chest, knee, elbow and shoulder areas to give him added protection because unlike most superheroes with alien blood or extraordinary healing abilities, Kidlat is still very much human and remains susceptible to pain and injuries.


The body suit is mostly made up of Kevlar—a synthetic fiber that allows the wearer mobility and protection. The U.S. Military issues helmets and bullet proof vests made from this material. As a crime-fighting vigilante it is important to keep his identity hidden, thus Kidlat wears a matching dark blue mask with pointed edges in the shape of a lightning bolt. Finally, the most identifying mark of Kidlat's costume is his insignia—a lightning bolt emblem embossed on his armor plate. This icon lights up to indicate when Kidlat's power is in use.


When asked about how he feels about his costume Derek had only this to share: "The best advice I got was from Chris (Donio). He told me, 'You wear the costume. Don't let the costume wear you.'"


Catch Derek in his superhero suit as Kidlat debuts this coming 2013. Directed by Mike Tuviera, Kidlat also stars Baron Geisler, Nadine Samonte, Wendell Ramos and Ritz Azul.


Kidlat will premiere with a special movie feature on January 6, 2013 at 6:45 PM on TV5.


ADVERTISEMENT - CONTINUE READING BELOW