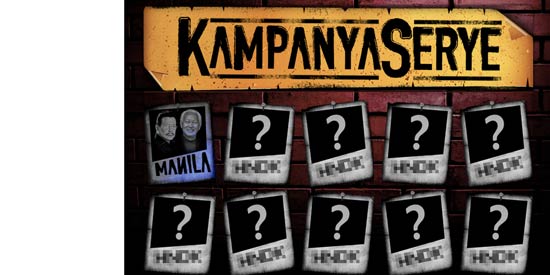 ---

PRESS STATEMENT FROM ABS-CBN:


"ABS-CBN News and Current Affairs lets you witness the drama inside the world of Philippine politics in the teleserye-like documentary KampanyaSerye, one of the highlights of ABS-CBN's Halalan 2013 coverage that aims to educate voters who are set to elect a new batch of leaders this May.


"KampanyaSerye tackles and probes the stories behind campaign promises and rhetorics to bring out the issues that matter to the electorate and show the competencies of aspiring leaders.


"It debuted last week in TV Patrol with Alvin Elchico's five-part report dubbed as "Giyera sa Kabisera" that followed the much talked-about battle for the Manila mayoralty post between mayor Alfredo "Dirty Harry" Lim and former president Joseph "Asiong Salonga" Estrada. Viewers learned about the humble beginnings of Lim and Estrada in politics, how they first competed for a government seat, why the former best friends are now enemies, and many other angles of the controversial feud.


"From frenemies to family feuds, KampanyaSerye has opened a brand new story last January 21 about the ongoing rift in the Villafuerte family in Ryan Chua's report titled "Ama, Anak, Apo." The Villafuertes of Camarines Sur are currently divided by how they envision Camarines Sur.


"Camarines Sur Rep. Luis Villafuerte Sr. proposed to divide Camarines Sur into two provinces, but his son Camarines Sur Gov. Luis "LRay" Villafuerte Jr. is opposing it.


"Tension further arose when LRay's son, Migz, chose to run against his grandfather, Luis Sr., for governor. How will this family feud end? Will they choose to severe family ties for the sake of politics?


"Don't miss ABS-CBN News and Current Affairs KampanyaSerye, weeknights on TV Patrol. Watch the whole episode on ANC, the ABS-CBN News Channel (SkyCable ch 27), in a special Producer's Cut version airing every Saturday, 2:30 PM, and every Sunday, 11 AM."



Ed's Note: When content falls under "Press Statement," this means that the material is fully and directly from the company issuing the press release. The use of open-and-close quotation marks to envelope the entire text shows as much. This also means that PEP is not the author of the statement being read. PEP is simply providing the information for readers who may be interested.
ADVERTISEMENT - CONTINUE READING BELOW