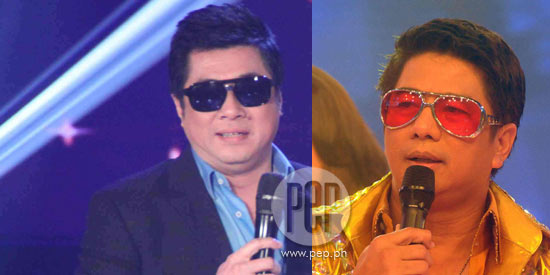 ---
"Bawal magtipid dito," says Willie Revillame during the pilot telecast of the latest reincarnation of his noontime variety game show called Wowowillie. And it shows. From the program's lavish opening number participated in by more than 350 dancers, to the show's grand set that includes high-tech LED displays and classy, non-plastic audience seats, Wowowillie sure looks like a show backed by huge monetary investment.
The program's launch marks TV5's re-entry into the noontime show wars, and Willie's return to timeslot long dominated by GMA-7's long-running
Eat Bulaga,
previously challenged only by ABS-CBN's
It's Showtime.
It's added fare to the Filipino's daily lunchtime habit, but does it offer anything new on the table?
(
CLICK HERE
to view the TV ratings of
Wowowillie
during its pilot episode)
Watching the first episode of Wowowillie, one can see that it is an entirely new concept. It's not even a new format. It simply banks on the aspects that made Willie's previous shows popular – Revillame's brand of entertainment, his humor and charisma, lots of prizes and lots of female skin.
A few minutes into the opening number and we can already see women dancers in skimpy clothing, whipping their hair all over the place, and making sexy hip and body movements. For a conservative country, it is odd how it has become rather acceptable for this kind of dancing to be shown on noontime TV.
But Willie's entry is still the highlight of the show, and the roaring welcome is obvious sign that he is well-liked by his fans, respected by his staff and needed by his guests. His guest list – a mix of showbiz stars and government officials – makes
Wowowillie
an arena where showbiz and politics meet.
ADVERTISEMENT - CONTINUE READING BELOW

One of the highlights of the show was when Randy Santiago appeared as a guest on the pilot episode of Willie's new noontime show. It will be recalled that Willie had a rift with Randy and John Estrada in the past when Randy and John accepted the job of hosting ABS-CBN's now defunct noontime show Happy Yipee Yehey.
ADVERTISEMENT - CONTINUE READING BELOW
Willie's show may not change a lot through its different reincarnations but his hosting style has evolved and matured. Gone are the risqué jokes and the suggestive interactions with the female members of his entourage, as he assumes the role of the patron saint of "saya at pag-asa." In exchange for this "maturity," there is subdued energy and apparent restraint, which may also be because of his past swipes from critics and regulatory bodies, or even maybe because of Revillame's age.
Wowowillie's pilot ran at a tiring length of 4 hours and 45 minutes and was marred by several technical glitches. The panic felt in the studio was felt through the TV screen when power went out twice. More than once, cameras captured yawns from viewers, including one from the show's very important political guest.
Technical problems aside,
Wowowillie
looks great on TV, making it look more similar to
ASAP
or
Party Pilipinas
rather than
Eat Bulaga
or
It's Showtime.
(
CLICK HERE
to read more about Willie's new program)
The band sounded great, and the guest performers delivered. Several times, the hosts compared it to
American Idol
– and this must be what they're going after as even the logo looks like a copy of the
Idol
's blue oval with spinning rings. But it is no
American Idol
yet in terms of production and writing. Let us not get too excited.
Wowowillie introduced a lineup of seven female co-hosts, some old some new, and it was hard for all of them to shine in their own respective moments throughout the show. The addition of Ethel Booba to the lineup helps in livening up the program but she overpowers the other ladies, with one or two of them looking out of place and needing to create chemistry with the other co-hosts.
The games sampled during the program were also ones we've all seen before but we expect Wowowillie to introduce more when regular programming resumes. Willie's "godfather of cash" persona is still evident, with him being ready to give out money to everyone who pleases him, guest stars or regular people.
Willie was originally deployed by TV5 in primetime, hoping to disrupt the formulaic and 'me too' programming across the major TV networks. But now, he's sent back to the noontime slot he once lorded over. With a more accessible studio and backing from TV5 and Willie's own Wil Productions (he acknowledged Viva Entertainment boss Vic Del Rosario as a partner too), Wowowillie could be an alternative in the existing two-way battle between Eat Bulaga and It's Showtime.
The studio and stars may have changed but not the show itself. It is still Willie's old show under a different title. Maybe this is intentional. Maybe this is meant to recapture the same crowd that once made Willie the formidable challenger that almost toppled Eat Bulaga as the most successful noontime show in the Philippines.