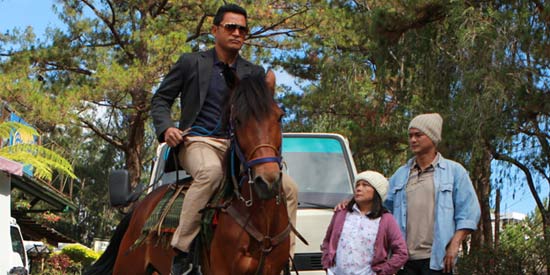 ---

PRESS STATEMENT FROM TV5:


"TV5 is set to prove once again that it can go head to head against its rivals in terms of quality drama with new romantic series Never Say Goodbye premiering on Monday (February 11) at 7:30 p.m. The project boasts of a stellar cast led by no less than the superstar Nora Aunor. At the helm of this project is TV5's top brass director and Talent Center head, Mac Alejandre.


"Set in beautiful locations across Benguet and Baguio City, Never Say Goodbye promises a different kind of cinematic experience on primetime television. Colorful blooms in a rose farm paint the entangled love stories of characters played by seasoned actors Aunor, Cesar Montano, Alice Dixson and Gardo Versoza. The project introduces Vin Abrenica and Sophie Albert after being proclaimed winners of Artista Academy. Also in the cast is talented young actor Edgar Allan Guzman.


"In a desperate attempt to run away from an arranged marriage, Kate (Sophie Albert) flees to Baguio. She meets William (Vin Abrenica) when she stays at the famous Manor Hotel. As the young man tries to help the damsel in distress, he decides to bring her to his hometown. Little did they know that their lives are connected by deep wounds from the past. William's mother, Marta (Nora Aunor), was framed by Kate's mother Criselda (Alice Dixson) for a crime she did not commit. Marta's former flame Javier (Cesar Montano) also ended up marrying Criselda. Pregnant with Javier's child, Marta's heart has become full of hate. While being transported between penal facilities, Marta escapes and meets Dindo (Gardo Versoza), who assumes the role of her child's father.


"Embittered by the past, Marta forbids William from pursuing a relationship with Kate. However, the young love-struck couple will do whatever it takes to be together. What happens when one is forced to say goodbye?


"Don't miss the pilot episode of TV5's Never Say Goodbye on Monday, February 11, at 7:30 p.m. right after Kidlat."


Ed's Note: When content falls under "Press Statement," this means that the material is fully and directly from the company issuing the press release. The use of open-and-close quotation marks to envelope the entire text shows as much. This also means that PEP is not the author of the statement being read. PEP is simply providing the information for readers who may be interested.


ADVERTISEMENT - CONTINUE READING BELOW