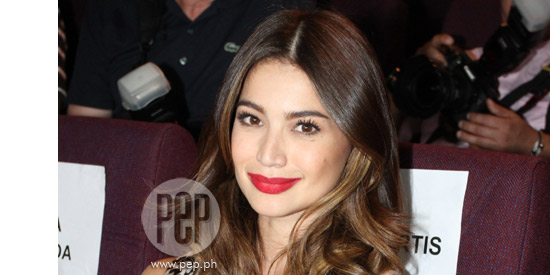 ---

Last month, Anne Curtis admitted that she was looking forward to doing a love scene with her leading man Robin Padilla.


In an interview published on PEP.ph last January 11, the Kailangan Ko'y Ikaw actress said: "I'm excited at the same time to see how the chemistry turns out."

(CLICK HERE to read related article)


However, during her February 19 interview for her Century Tuna endorsement, Anne revealed that things have changed since she learned about the marital problem that Robin experienced with his wife Mariel Rodriguez.


When asked if Anne is still open to doing a love scene with Robin, Anne said that she would rather not.


"Knowing how Mariel feels about her husband...I understand that and I'd ather not go to that extent to upset her. So siyempre as a woman I give respect to that. I'd rather not na lang," explained Anne.


It will be recalled that Mariel, who has been married to Robin for the past three years, became jealous after watching her husband's love scene shot in a jacuzzi with Kris Aquino.


(CLICK HERE to read related article)


To appease her, Kris talked with Mariel privately on the phone, prompting Mariel to apologize to her husband for "being such a brat."


Robin appeared on TV5's Wowowillie to give back the wedding ring that Mariel returned to him.


Since Mariel's outburst on Twitter, Anne said that the writers of their teleserye have become sensitive about the situation.


"I think even the writers are aware to avoid anyone getting hurt or offending anyone. So I think it's been understood already," she pointed out.


When asked if Kris's character will recover from her cancer, Anne said "Abangan!"


She went on to say: "I don't know where the story's going to lead us, but I do know we've always been one season. But we've been taping for one year.


"I think the problem is our schedules also...I have a daily [It's Showtime], Ate Kris has a daily [Kris TV], so it's kinda hard. But we're doing it, we're surviving, we're doing the tapings while we can."



ON WOWOWILLIE. Anne is currently one of the hosts of ABS-CBN's noontime show It's Showtime.


How did they react upon learning that they will be going up against Willie Revillame's show on the noontime slot?


"When we all met about it, of course, we were rattled," Anne admitted.


"It's a big step. There are different shows to watch and all of us agreed: 'Don't be competitive. Don't have that in your heart and in your mind because you'll get stressed. Mawawala yung magic ng show...yung kulitan.

"So we just continued to do what we do best. And that is to make people happy. And it works!


"I believe our market may be different from the two shows [referring to GMA-7's Eat Bulaga and TV5's Wowowillie].


"We have a lot more younger people coming in, which is what I noticed when I watch. "Maybe what we have to work on more is how we can relate to older viewers.


"But other than that, we aim to like Eat Bulaga. It lasted so long.


"So we don't wanna compete."


Did they reformat the show as a result of Willie moving his game show-slash-variety show from the primetime block to the noontime slot?


"We've done it already since a competition show can only go so far. How many grand finals can you have?


"So we keep on trying different elements."


How would Anne react if her younger sister, Jasmine Curtis Smith, becomes a mainstay in TV5's Wowowillie?


Anne said with a smile: "Just as long she doesn't forget her studies, then why not?"
ADVERTISEMENT - CONTINUE READING BELOW
SHARE THIS STORY Eat Bulaga."" data-url="https://www.pep.ph/guide/tv/11552/it39s-showtime-host-anne-curtis-admits-we-aim-to-be-like-eat-bulaga" data-desc="Anne will no longer do a love scene with Robin Padilla; Anne says they were "rattled" by the arrival of TV5's noontime show." data-image="https://contents.pep.ph/images2/guide/9e118acc5.jpg"> Eat Bulaga."" data-url="https://www.pep.ph/guide/tv/11552/it39s-showtime-host-anne-curtis-admits-we-aim-to-be-like-eat-bulaga" data-desc="Anne will no longer do a love scene with Robin Padilla; Anne says they were "rattled" by the arrival of TV5's noontime show." data-image="https://contents.pep.ph/images2/guide/9e118acc5.jpg"> Eat Bulaga."" data-url="https://www.pep.ph/guide/tv/11552/it39s-showtime-host-anne-curtis-admits-we-aim-to-be-like-eat-bulaga" data-desc="Anne will no longer do a love scene with Robin Padilla; Anne says they were "rattled" by the arrival of TV5's noontime show." data-image="https://contents.pep.ph/images2/guide/9e118acc5.jpg">
SHARE THIS STORY
Eat Bulaga."" data-url="https://www.pep.ph/guide/tv/11552/it39s-showtime-host-anne-curtis-admits-we-aim-to-be-like-eat-bulaga" data-desc="Anne will no longer do a love scene with Robin Padilla; Anne says they were "rattled" by the arrival of TV5's noontime show." data-image="https://contents.pep.ph/images2/guide/9e118acc5.jpg"> Eat Bulaga."" data-url="https://www.pep.ph/guide/tv/11552/it39s-showtime-host-anne-curtis-admits-we-aim-to-be-like-eat-bulaga" data-desc="Anne will no longer do a love scene with Robin Padilla; Anne says they were "rattled" by the arrival of TV5's noontime show." data-image="https://contents.pep.ph/images2/guide/9e118acc5.jpg"> Eat Bulaga."" data-url="https://www.pep.ph/guide/tv/11552/it39s-showtime-host-anne-curtis-admits-we-aim-to-be-like-eat-bulaga" data-desc="Anne will no longer do a love scene with Robin Padilla; Anne says they were "rattled" by the arrival of TV5's noontime show." data-image="https://contents.pep.ph/images2/guide/9e118acc5.jpg"> Eat Bulaga."" data-url="https://www.pep.ph/guide/tv/11552/it39s-showtime-host-anne-curtis-admits-we-aim-to-be-like-eat-bulaga" data-desc="Anne will no longer do a love scene with Robin Padilla; Anne says they were "rattled" by the arrival of TV5's noontime show." data-image="https://contents.pep.ph/images2/guide/9e118acc5.jpg">