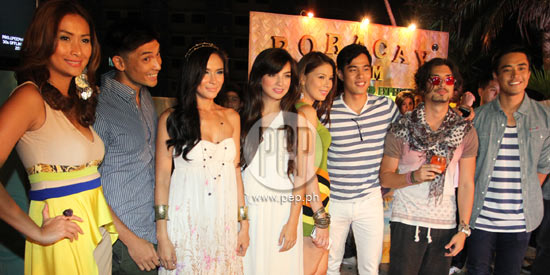 ---

PRESS STATEMENT FROM TV5:

"Summer just got hotter and sexier as TV5, in partnership with Boracay Rum, presents the newest primetime reality show Boracay Bodies, which will premiere on April 6 at 9:00PM.

"Follow the lives of eight individuals as they spend their summer together in the captivating island of Boracay. Join the party people: "the wiseman" Luke Jickain, "lover boy" Victor Silayan, "the jester" Joross Gamboa, "Mr. Boy-next-door" Brent Javier, "Ms. Righteous" Wendy Valdez, "the sweet girl" Helga Krapf, "mysterious" Krista Miller and the one and only "diva" Ethel Booba as they set out to complete specific daytime tasks and party at night with Boracay Rum.

"The contestants stand the chance to gain points from these exciting activities, which will help determine who wins and who loses each task. Watch for the much-awaited grand party where these eight individuals compete for the title of Ultimate Party Boy and Ultimate Party Girl and PhP 500,000 cash each, brought to you by Boracay Rum.

"Who will stand strong in the heat of the show's different challenges? What conflicts will arise and what kind of relationships will form during this seven-day holiday?

"Viewers will have to brace themselves for a more sizzling, more intriguing and more exciting Saturday night as Boracay Bodies premieres on April 6, 9:00PM on TV5.

"Phoemela Baranda will serve as the host of Boracay Bodies."


Here are the profiles of the contestants:



KRISTA MILLER – "The Mysterious Girl"
Krista was tagged as the "Mysterious Girl" in Boracay Bodies. A few months ago, she emerged in the limelight as one of the most hated celebrities because of a controversy involving her and it was never resolved. Now it is expected of her to reveal her real character in the show so as to clarify all the issues thrown at her.
ADVERTISEMENT - CONTINUE READING BELOW
(CLICK HERE to read PEP's article about Krista Miller wanting to talk to Sunshine Cruz to clear her name)
JOROSS GAMBOA – "The Jester"
Naturally funny and candid, Joross Gamboa has once again shown his flair in making people around him comfortable by being the group clown. This attribute was a welcome gesture to most of the cast especially the inhibited ones but bordered on being annoying to others. But he is what he is... hyperactive yet compassionate, loud yet sympathetic. The perennial funny man, Joross earned the character tag "The Jester" amongst his peers.
WENDY VALDEZ – "The Righteous"
Ever since Wendy Valdez became a born again Christian two years ago, the once feisty and sassy lady has mellowed down and exhibited a more pious attitude. As evidenced in most of her conversations with all of the cast members in this reality show, she would always preach the messages of the Lord thru bible verses to guide her co-actors to be morally upright. Hence, the title/description of being "Righteous."
HELGA KRAPF – "The Sweet Girl"
Helga has always been regarded as a sweet, almost naive girl since she joined the first batch of Star Circle Quest over ABS-CBN. A self confessed "late bloomer," one might even consider this lovely girl a push over especially to Wendy Valdez who is known to have a very strong personality. Being born and raised in Germany to very loving parents, this may have attributed to the innocence, optimism, and sweetness of this girl. She is the baby of the cast. But as she has already declared, she is now ready to experience everything and shed off her "Sweet Girl" image.

ADVERTISEMENT - CONTINUE READING BELOW
BRENT JAVIER – "The Boy Next Door"
Since winning the Mossimo Bikini Summit and MTV Best Model of the World-Philippines Manhunt Winner, Brent Javier has always been regarded as one of the country's sexiest men. But what makes him more attractive is his quiet and reserved demeanour. As manifested in the entire duration of the show, Brent was always proper and handsome. The perfect gentleman and the man every parent would want their daughter to marry. Wholesome, unassuming, charming... Brent Javier is the quintessential "Boy-Next-Door".
ETHEL BOOBA – "THE DIVA"
A glamorous and successful female performer, having been in the business for almost a decade. Despite the negative and often misunderstood personality, she's simply a doting sister, daughter and a loyal friend.
VICTOR SILAYAN – "The Lover Boy"
Victor's boy-next-door looks, quiet and accommodating charm and gentlemanly demeanor can surely make any girl fall head-over-heels for him. His fun-loving and easygoing nature also makes him a perfect buddy to hang out with. His willingness to try out anything shows that he really knows how to enjoy life to the fullest.
Luke Jickain – "The Wise Man"

They say that a wise man seeks not only to understand himself, but his friends and enemies as well. Upon first glance, Luke comes across as a quiet guy, always keeping to himself and saying only a few words. His quietness should not be mistaken for indifference though as throughout their seven day stay in the island, Luke has shown that he, among all the others, had the strongest desire to understand the members of their group. That is why he always acted as the peace maker during tense moments, and readily sacrificed himself in order to help his group members. It is no wonder that he came to be known amongst his peers as the wise man.
ADVERTISEMENT - CONTINUE READING BELOW