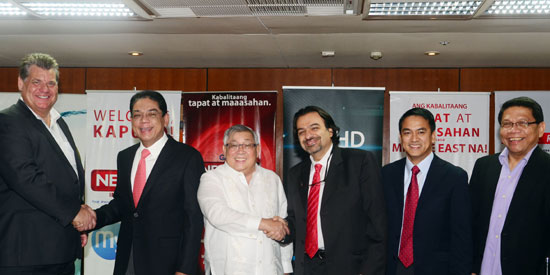 ---

PRESS STATEMENT FROM GMA-7:


"GMA Network, Inc. (GMA) thru its international business unit, GMA International, signed an exclusive agreement with Dubai-based pay-TV platform, My-HD, for the direct-to-home distribution of GMA News TV International in the Middle East.

"Starting April 5, GMA together with My-HD will offer Filipinos in the Middle East the opportunity to have access to the latest, most comprehensive and most credible news from home thru the Network's third international channel.

"GMA News TV International is powered by the country's leading news channel, GMA News TV, and the most trusted and most awarded broadcast news organization in the country, GMA News and Public Affairs, making it the ultimate news source of Filipinos across the globe.

"Leading the contract signing at the GMA Network headquarters in Quezon City, Philippines on April 5 were Atty. Felipe L. Gozon, Chairman and CEO of GMA Network; Gilberto R. Duavit, Jr., President and COO of GMA Network; Joseph T. Francia, Vice President and Head of Operations of GMA International; Mike C. Enriquez, GMA News Pillar and Consultant for Radio Operations; Ali Ajouz, Managing Director of SAWA Media; and Cliff Nelson, CEO of My-HD Media.

"We are banking on the quality of the programs shown on GMA News TV to primarily drive the subscriber uptake of its international channel in the Middle East," said Gozon. "Just recently, GMA News TV won its first George Foster Peabody Award for the documentary program Reel Time. This is also the third George Foster Peabody for GMA News and Public Affairs, as well as for the Philippines," he added.

"It is our goal to address the need to be informed of over 2.4 million Filipinos in the Middle East through the distribution of GMA News TV International in the area," said Duavit. "In addition to showing news programs that are aired nationwide on GMA News TV, plans are also underway for the airing of regional newscasts, which are produced by our various originating stations," he continued.

"Meanwhile, according to Nelson, "GMA's popular and widely regarded news and public affairs programs will enter the homes not only of the Filipino community, but also of those who enjoy outstanding entertainment series in High Definition quality. With this agreement, we add another feather in our cap as My-HD Media will not only increase its viewership base, but will also increase the growth potential for low pay-TV in High Definition quality."

"Separately, My-HD Media is working with content distribution company SAWA Media for IPTV and cable distribution of GMA News TV International in the Region.

"It is great to be partners with the leading network in the Philippines. This partnership will certainly benefit not only SAWA Media, My-HD and GMA, but also the UAE and the Middle East as a whole on many different aspects," said Ajouz.

"GMA News TV International is already available via My-HD in Bahrain, Cyprus, Iran, Iraq, Israel, Jordan, Kuwait, Lebanon, Libya, Oman, Palestine, Qatar, Saudi Arabia, Turkey, United Arab Emirates, and Yemen in the Middle East; and in Algeria, Chad, Djibouti Northern, Egypt, Malta, Mauritania, Morocco, Somalia, Sudan, Syria, and Tunisia in Northern Africa.

"The channel is also seen in Guam, Japan, Malaysia, Canada, Australia, New Zealand, UAE, Madagascar and Palau following its successful launches in these territories through other international carriers since 2011.
My-HD offers over 20 High Definition channels via satellite including all 8 MBC HD channels in the Middle East and North Africa (MENA). It has strong alliances with MENA region's leading satellite receiver brands, positioning My HD as the first Pay-TV platform to carry HD channels on a large number of Digital HD receiver brands such as Humax in GCC countries, NHE in Kuwait, Tru View and Dansat in Saudi Arabia and Tevicom in Morocco. My-HD distributes its products and services across several key satellite receivers' dealers and distributors and in major hypermarkets and department stores in the region.


"For details on how to subscribe, interested parties may call 971 4 4354 844, email info@my-hd.tv or visit www.my-hd.tv."


Ed's Note: When content falls under "Press Statement," this means that the material is fully and directly from the company issuing the press release. The use of open-and-close quotation marks to envelope the entire text shows as much. This also means that PEP is not the author of the statement being read. PEP is simply providing the information for readers who may be interested.


ADVERTISEMENT - CONTINUE READING BELOW