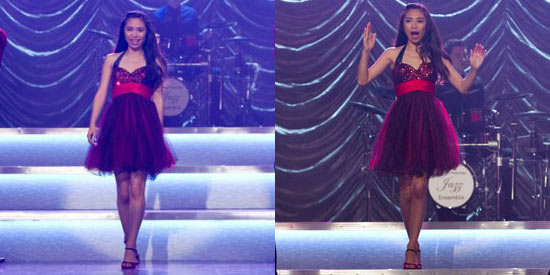 ---

Jessica Sanchez will get her share of the spotlight in the upcoming finale of Glee Season 4.

The American Idol Season 11 runner-up is expected to sing Zedd's "Clarity" and Little Mix's "Wings" on Glee.

Jessica plays "legendary diva" Frida Romero who poses a threat to William McKinley High School's New Directions Glee Club.

In an interview with The Hollywood Reporter, Glee co-star Chord Overstreet describes Jessica's character as "the big weapon for her squad and we're not really prepared for that."

Last April, the 17-year-old singer was shown briefly as she showcased her vocal prowess on Glee.

Will Schuester (played by Matthew Morrison) spied on Frida (Jessica) as she belted out "The Star-Spangled Banner" inside a classroom.

Frida is the leader of rival group HoosierDaddies who will face off with New Directions in the season finale.

Mr. Schuester's character told the members of New Directions:
"Guys, we got a problem. Her name is Frida Romero. With Regionals only a few weeks away, I went to scout out the competition.

"HoosierDaddies have a secret weapon. She's a tiny little sophomore--never competed before--but her voice could fill an arena. It's big. And the only way to beat them is to be huge.

"I'm talking stadium huge. Epic songs that will blow the heads off of 100,000 people at a time."

Glee co-creator Ryan Murphy previously admitted that he wanted Jessica to be in every episode of the musical dramedy series. However, this was not possible since the Fil-Mexican singer had prior commitments.

In an interview with the Manila Bulletin, Ryan Murphy was quoted as saying: "Well, when you have a voice like that, we wanted her to be in every episode this year. But she couldn't because of the tour."