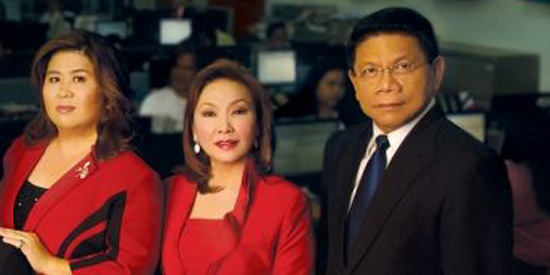 ---


PRESS STATEMENT FROM GMA-7:


"GMA News and Public Affairs' Eleksyon 2013 was the preferred election day coverage of Filipinos nationwide, based on overnight data from ratings service provider Nielsen TV Audience Measurement.

"On May 13, Election Day, GMA's Eleksyon 2013 special coverage between 6 am and midnight scored an average household rating of 11.6 percent in the National Urban Television Audience Measurement (NUTAM). ABS-CBN's election coverage (Bayan Mo I-Patrol Mo Halalan 2013, TV Patrol 25 and Bandila) managed only 10.6 percent, while TV5's coverage (Pagbabago 2013 and Aksyon) posted 2.8 percent.

"Meanwhile, in Urban Luzon, which accounts for 76 percent of the total urban TV household population of the Philippines, GMA's election coverage scored 13.5 percent, up by 3.7 points from ABS-CBN's 9.8 percent, and up by 10.7 points from TV5's 2.8 percent.

"In Mega Manila, the Network's bailiwick, which represents 59 percent of the total urban TV households nationwide, GMA's Eleksyon 2013 registered an even bigger margin over competitors with a household rating of 14.4 percent, ahead of ABS-CBN's 9.2 percent by 5.2 points, and ahead of TV5's 3.1 percent by 11.3 points.

"More importantly, GMA News and Public Affairs' Eleksyon 2013 coverage set the news agenda among television broadcasters.

"With its 47 strategically selected live remote points, GMA was able to report the biggest stories first: including police attempts to search the Revilla home in Cavite, bomb explosions in Shariff Aguak in Maguindanao, a mayor's supporter found dead in Abra, the commotion in a Manila school caused by armed members of the MNLF, faulty PCOS machines in many precincts. GMA was ahead of competition in airing live voting of many senatorial candidates in their hometowns. Also notable were heartwarming GMA news reports about persons with disabilities and the elderly fainting outside precincts yet still determined to cast their votes.

"GMA utilized the highly sophisticated Vizrt immersive graphics system interfaced with a tracking system to allow dynamic presentation of election related facts and figures – with anchors even managing to walk around the graphics. This was led by the video graphics of the 33 senatorial candidates who seemed to be posing live inside GMA's massive election set – a visual effect much lauded on social media.

"After the polls closed, GMA was the go-to channel for the latest count results, preempting its primetime soap operas to deliver this public service. Before midnight of election day, GMA was already documenting the proclamation of early winners in the local races.

"GMA News Online developed its own search engine thereby making count data easily accessible to the public at split second speed. Its count data is not just fast but deep: users can access election counts all the way down to the councilor level of every municipality of every province because of this smart search. Social media applications powered by US based Mass Relevance tracked Facebook and Twitter buzz about senatorial candidates and surveyed social media users about their voting experiences. In studio throughout the coverage, GMA's E13 call and data center manned by hundreds of AMA volunteers, mapped election related incidents all over the country.

"The song Dapat Tama, composed by rapper Gloc9 for GMA News and Public Affairs, became the anthem of the Eleksyon 2013 coverage, with many young voters singing it at the polls on election day.

"GMA News and Public Affairs landed first in content and first in nationwide ratings for Eleksyon 2013, proving once again that it is the Filipinos' most trusted news authority."


Ed's Note: When content falls under "Press Statement," this means that the material is fully and directly from the company issuing the press release. The use of open-and-close quotation marks to envelope the entire text shows as much. This also means that PEP is not the author of the statement being read. PEP is simply providing the information for readers who may be interested.



ADVERTISEMENT - CONTINUE READING BELOW