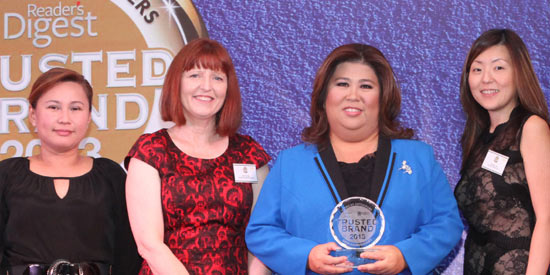 ---

PRESS STATEMENT FROM GMA-7:


"For the third consecutive year, GMA-7 Vice President for News Programs and State of the Nation anchor Jessica Soho was named 'Most Trusted News Presenter' by Reader's Digest Asia.


"The magazine described Soho's work as 'News Reporting with a Heart.'


"Voted for by its consumers, Reader's Digest Most Trusted Brand Awards have been given to people excelling in various fields for the past 15 years.


"Trust is a very big honor in itself but I know that it's also a major responsibility," says Soho in an interview.


Sue Carney, Editor-In-Chief of Reader's Digest Asia Pacific says: "Jessica seems to rate so highly.... of just somebody who really connects with the audience... that the audience feel as somebody that they can believe in, that they can trust what she says. She makes them feel comfortable and obviously, she does her job in a very professional way."


"The Reader's Digest award is among the string of achievements this year for both Soho and State of the Nation, following the Gandingan Awards' "Best News Program" and "Best Female News Anchor," Golden Screen Awards' "Outstanding News Program," and Gawad Tanglaw's "Best News Program."


"With almost three decades of experience as a journalist, Soho definitely set the bar for quality reportage in Philippine broadcasting. Her trademark straight to the point style of interviewing guests and reporters provide viewers with in-depth analysis and insights on local and international issues.


"It may well be remembered that Soho topped a previous survey by AGB Nielsen on Philippine television's most popular and most trusted names. Included in the survey's categories are "credibility," "competence in news reporting" and "interviewing skills".
Among her notable recent interviews are with US Deputy Defense Secretary Ashton Carter and Filipino immunologist Dr. Katherine Luzuriaga. Carter is the next most powerful official of the US Defense, while Dr. Luzuriaga, is among Time Magazine's 100 Most Influential People of 2013 for her discovery of a functional cure for infants with HIV.


"Apart from GMA News TV's flagship newscast, State of the Nation, Soho also banners the top-rating weekend news magazine program Kapuso Mo, Jessica Soho (One at Heart, Jessica Soho) on GMA-7 and the weekly public affairs program Brigada also on GMA News TV."


Ed's Note: When content falls under "Press Statement," this means that the material is fully and directly from the company issuing the press release. The use of open-and-close quotation marks to envelope the entire text shows as much. This also means that PEP is not the author of the statement being read. PEP is simply providing the information for readers who may be interested.


ADVERTISEMENT - CONTINUE READING BELOW