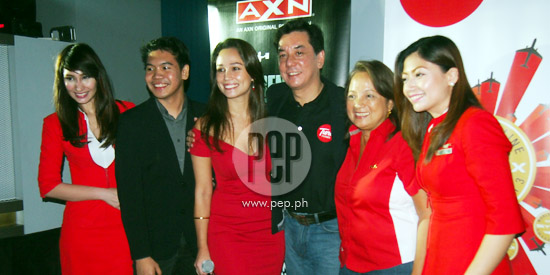 ---
Pinoy contenders for the maiden season of The Apprentice Asia—Jonathan Allen Yabut and Celina Le Neindre—graced the July 3 press conference and special screening of the reality show at Dillinger's 1903 Steak & Brew and Prohibition Lounge in Greenbelt 3, Makati City.
(View photos: Pinoys compete for the title in The Apprentice Asia)
In an interview with PEP.ph (Philippine Entertainment Portal) and other members of the press, Celina and Jon shared that "luck" is an important factor in the competition.
Celina explained, "Yes. Definitely, luck [contributed]. I mean, the way you're placed, the way you're put into teams is very important.
"The people around you really contribute to your win, if you're with the right people or not,whether you get along with them or not, that really does contribute.
"I think also the luck of...For example in my case, when I was project manager, I was elected project manager. It was not a personal choice but, of course, you step up to the plate and do you best but it wasn't your personal choice.
"So I don't think everyone realizes that you don't always have a say in what you do and a lot of times you have to sit in a series of events that happens and it's up to you to do the best possible outcome of that event. Definitely, luck is a big part."
For his part, Jon explained: "It's luck based on who are your team players. So in any team, you are only as good as your weakest player. And if, unfortunately, you are with the weakest players in the team, they can drive you down.
"As a project manager, you can be the best project manager but if your team players [are] not as good as you want or expect them to be, you can still lose."
ADVERTISEMENT - CONTINUE READING BELOW
"BEAUTY AND BRAINS." Dubbed as "beauty and brains" by fellow contestant Jonathan Allen Yabut, Celina Le Neindre admitted that it was "an emotional episode" for her.
The Davaoeña lass pointed out, "This is the first time I'm seeing the edited version and getting to relive what we went through."
Celina was eliminated from the competition last Wednesday, July 3. Team APEX, composed of Celina, Alexis Bauduin of China, and Samuel Nallaraj of India, fell short in the challenge aired last week: to design a new line of uniforms for Air Asia employees.
Celina expressed her dismay over teammate Alexis' "attack" on her during the team's boardroom discussion with Malaysian entrepreneur Tony Fernandes and his advisors Mark Lankester and Kathleen Tan.
"When I praised him [Alexis], I thought that he would understand that I really appreciated his work.
"He didn't throw it back to me and he instead attacked me because definitely I think he knew it would [bring] him down more than me. So he went for the strong ones and I think he got me in a very weak day.
"I woke up that day that if I were to fight on the boardroom that day, I wouldn't have much fight as I usually have so that's why I said in my final interview 'You know what? You knew my weak quality and you went for it, Congratulations to you.'
However, Celina assured that there are more exciting scenes to look forward to in the upcoming episodes of the Apprentice Asia.
"That's only one time 'cause I'll come back stronger so watch out for me hanggang sa dulo ng mga episode sa ng The Apprentice Asia kasi meron kayong aabangan."
After being part of this reality show, Celina says she would like to pursue a profession that involves hotel and restaurant management or anything that involves tourism.
ADVERTISEMENT - CONTINUE READING BELOW
"I can do much more, I can contribute to the tourism of the country—bringing more people to discover the Philippines and invite them to really help our economy grow because of tourism.
"That's where I think my strength will be played, that's where I think I can contribute."
The reason behind her decision to pursue a professional career in tourism is to break the model stereotype she has has been branded with.
"I'm trying to beat myself up from the typical 'Oh, she's a model,' you know?
"Definitely, I've proved to every one that I am a professional. I don't want to go back to just being that model."
Nevertheless, Celina is thankful for her modeling experiences that helped finance her studies.
"I started from the bottom. I don't come from a rich family as people think.
"When they see mestizas, they think 'Hoy, mayaman siguro ang dad niya' or what.
"I really came from the bottom and my modelling always helped me in my studies, which are expensive.
"I'm a graduate of culinary school...coming here, these have 1 million tuition fees per year.
"So, I really have to use my added gifts and talents to contribute to what I really wanted, which is a career in the Hotel and Tourism industry."
LONE PINOY CONTENDER. With Celina's departure from the show, Jonathan Allen Yabut admittedly felt the pressure of being the lone Filipino representative left in the competition.
"I just need to continue raising the flag. The journey is not yet over, there are still four other contenders," said the Filipino contestant who is a senior project manager of a pharmaceutical company.
"So, I wanna seek vengeance for [Celina]. That's what I felt when she got booted out."
The UP Economics major added, "I think there's no more point of hiding, whoever's the contestant who hides because Tony [Hernandes] will see that, because there's only a few of us left.
ADVERTISEMENT - CONTINUE READING BELOW
"So it's all about putting your neck on the line, showing what you're really capable of, and as I always say the boardroom is always half the battle.
"If you lose the task, make sure you survive in the boardroom."
With only five contenders left, who does he think is his biggest competition in the show?
"I felt [Alexis Bauduin] and Andrea [Loh] are the biggest competition, so far. And even when I was in Team Mavericks, I felt Alex was my biggest competition and when Andrea came in, I thought she's also a big competition for me."
During the press conference, Jonathan revealed the best strategy that worked for him.
"My strategy is if someone feels that that if he's more specialized to it, then I'll give it to him."
Jonathan further explained, "My philosophy of the game is, the project manager becomes less and less important as you go through the game. Why?
"Because if there's only three or four of you, the decision making becomes evenly distributed to each player so you can easily veto the project manager."
Nonetheless, as the end of competition draws near, Jon shared that being part of The Apprentice Asia has been an amazing experience for him. "I feel like I was back in my college days having to live with people.
"The idea of, you know, doing things on your own, ironing your own clothes, cooking your own breakfast, cooking your own dinner, and sharing that experience with the other contentants, I felt your luxury of time being away from the stress."


Shot in Kuala Lumpur and Singapore, The Apprentice Asia airs on AXN every Wednesday night at 9 pm.