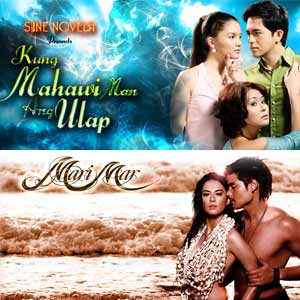 ---
As the plot of Marimar becomes more interesting with thediscovery that Marimar/Bella (Marian Rivera) is the real heiress of Don GustavoAldama (Jestoni Alarcon), its ratings continue to soar. GMA-7's primetime soapopera also maintains its overall lead among primetime and daytime programs, according to the overnight ratings conducted by AGB Nielsen Philippines amongMega Manila households from October 16 to 18.
Marimar posted its highest rating, so far, last Tuesday(October 16) with a staggering 44.6 percent. The following night (October 17),however, its rating fell to 44.3 percent, and last night, October 18, to41.7 percent. But still, it is the only show now that surpasses the 40-percentmark.
Coming in at distant second is the Kapuso fantaserye Zaido,which consistently trailed behind Marimar throughout this week.
Hwang Jini placed third last Tuesday andWednesday, but GMA-7's primetime newscast 24 Oras managed to grab the No. 3 spotlast night, Thursday, October 18.
ABS-CBN's fantaseryes, Lastikman and Kokey, continue to bethe top crowd-drawers among Kapamilya shows, grabbing the fourth and fifthspots consistently.
ADVERTISEMENT - CONTINUE READING BELOW
After being out of the Top 10 in its first three nights,Pinoy Big Brother Celebrity Edition 2 finally squeezed into No. 9 last night,October 18, by virtue of its 21.6 percent rating.
As for the daytime programs, the afternoon soap Kung MahawiMan ang Ulap is proving to be the biggest threat to usual toprater Eat Bulaga.Although the longest-running noontime show placed No. 1 last Tuesday, theDennis Trillo-Nadine Samonte soap opera grabbed the top spot Wednesday andThursday.
The battle of the daily game shows is beginning to be moreexciting as Kris Aquino's Kapamilya, Deal or No Deal and Paolo Bediones andRufa Mae Quinto's Whammy! Push Your Luck are engaged in a seesaw battle.
While Deal or No Deal rated higher last Tuesday (tied at No.6 with another ABS-CBN game show, Pilipinas, Game KNB?) and Wednesday (No. 5), GMA-7's Whammy!took the upper hand Thursday (No. 4).
Here are the Top 10 daytime and primetime programs lastOctober 16 to 18:
ADVERTISEMENT - CONTINUE READING BELOW
October 16 (Tuesday)
Daytime:
Eat Bulaga! (GMA-7) - 20.9%
Kung Mahawi Man ang Ulap (GMA-7) - 20.4%
Pasan Ko ang Daigdig (GMA-7) 20%
Wowowee (ABS-CBN) - 19.5%
Daisy Siete (GMA-7) - 18.8%
Pilipinas, Game KNB (ABS-CBN) / Kapamilya, Deal Or No Deal (ABS-CBN) - 18.3%
Whammy! Push Your Luck (GMA-7) - 18.2%
Takeshi's Castle (GMA-7) - 14.6%
SiS (GMA-7) - 13.8%
Couple or Trouble (GMA-7) - 13.6%
Primetime:
Marimar (GMA-7) - 44.6%
Zaido (GMA-7) - 35.7%
Hwang Jini (GMA-7) - 30.1%
24 Oras (GMA-7) - 28.2%
Kokey (ABS-CBN) - 25.8%
Lastikman (ABS-CBN) - 25.7%
TV World Patrol (ABS-CBN) - 23.9%
Jumong (GMA-7) - 23.8%
Ysabella (ABS-CBN) - 22.1%
Pangarap na Bituin (ABS-CBN) - 21.4%
October 17 (Wednesday)
Daytime:
Kung Mahawi Man ang Ulap (GMA-7) - 22.3%
Pasan Ko ang Daigdig (GMA-7) - 22%
Eat Bulaga! (GMA-7) - 21.1%
Daisy Siete (GMA-7) - 20.6%
Kapamilya, Deal or No Deal (ABS-CBN) - 18.3%
Whammy! Push Your Luck (GMA-7) - 18.2%
Couple or Trouble (GMA-7) - 18.1%
Wowowee (ABS-CBN) - 16.7%
Pilipinas, Game KNB? (ABS-CBN) - 15.6%
Takeshi's Castle (GMA-7) - 15.1%
Primetime:
Marimar (GMA-7) - 44.3%
Zaido (GMA-7) - 34.8%
Hwang Jini (GMA-7) - 30.5%
24 Oras (GMA-7) - 29%
Lastikman (ABS-CBN) - 27%
Kokey (ABS-CBN) - 25.3%
Jumong (GMA-7) - 23.9%
Pangarap na Bituin (ABS-CBN) - 23.2%
TV Patrol World (ABS-CBN) - 23%
Ysabella (ABS-CBN) - 22%
October 18 (Thursday)
Daytime:
Kung Mahawi Man ang Ulap (GMA-7) - 23.6%
Pasan Ko ang Daigdig (GMA-7) - 22.5%
Eat Bulaga! (GMA-7) - 20.1%
Daisy Siete (GMA-7) / Whammy! Push Your Luck (GMA-7) - 19.7%
Kapamilya, Deal or No Deal (ABS-CBN) - 18.9%
Pilipinas, Game KNB? (ABS-CBN) - 17.8%
Wowowee (ABS-CBN) - 17.2%
Couple or Trouble (GMA-7) - 16.9%
Takeshi's Castle (GMA-7) - 14.4%
Prinsesa ng Banyera (ABS-CBN) - 12.6%
Primetime:
Marimar (GMA-7) - 41.7%
Zaido (GMA-7) - 34.5%
24 Oras (GMA-7) - 30.6%
Hwang Jini (GMA-7) - 29.2%
Lastikman (ABS-CBN) - 24.8%
Kokey (ABS-CBN) - 23.7%
Jumong (GMA-7) - 23.1%
TV Patrol World (ABS-CBN) - 22.7%
Pinoy Big Brother Celebrity Edition 2 (ABS-CBN) - 21.6%
Ysabella (ABS-CBN) - 21.3%
Source: AGB Nielsen Philippines